LSU recruiting: Positions of need
July, 2, 2013
7/02/13
10:00
AM ET
BATON ROUGE, La. -- LSU is targeting many of the top athletes in the ESPN 300, some because the Tigers' strong brand name makes it an attractive option and others because the fertile Louisiana recruiting base is strong this year, even by the state's lofty standards.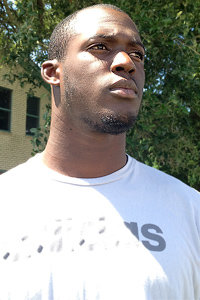 Alex Scarborough/ESPNLSU has its eyes on top recruit Leonard Fournette.
But what needs is LSU trying to meet?
That's a little trickier to figure out at LSU than many other schools because the frequency of underclassmen departures. But we can take a guess based on likely attrition.
To continue reading this article you must be an Insider
Insider
John Chavis Suing Texas A&M, LSU
ESPN.com SEC reporter Sam Khan Jr. reports the latest on Texas A&M defensive coordinator John Chavis, who has sued both LSU and Texas A&M over a buyout he claims he doesn't owe.
John Chavis Suing Texas A&M, LSU
VIDEO PLAYLIST
LSU FB RECRUITING SCORECARD
Nike Youth Lsu Tigers White #18 Football Game Jersey Shop »
dandydonlsu

Dandy Don LSU Sports


FINAL: LSU 15 Princeton 4. Tigers sweep the series and are now 10-1.
6 minutes ago

RandyRosetta

Randy Rosetta


FINAL SCORE: #LSU 15, Princeton 4. Rout from the 3rd inning on as LSU rattles out 19 hits. Lange imrpoves to 3-0 for 10-1 Tigers.
6 minutes ago

dandydonlsu

Dandy Don LSU Sports


RT @geauxMiLB: Kyle Bouman gets LSU's 20th hit of the ballgame. An infield single to the short stop.
14 minutes ago

RandyRosetta

Randy Rosetta


MIDDLE 8th | #LSU 15, Princeton 4: A little life from the visitors with 5 hits and 4 runs. Too little, too late.
21 minutes ago

LSUbaseball

LSU Baseball


Another run for Princeton to make it 15-4 in the top of the eighth inning.
21 minutes ago

LSUSportsNow

LSU Sports Now


Ernest Wins 200; Track & Field in Top-5 at SEC's http://t.co/Ac7GejpPWf
22 minutes ago

dandydonlsu

Dandy Don LSU Sports


Princeton gets on the board with two RBI singles. LSU 15 Princeton 3. Walk-on Ryan May coming in to pitch for LSU with 2 on, 2 out, T8.
24 minutes ago

SEC_Craig

Craig Pinkerton


The Road To Nashville: What the SEC Tournament matchups would look like if the tournament started tomorrowhttp://t.co/L1Mn3ZFCtL
32 minutes ago

dandydonlsu

Dandy Don LSU Sports


RBI by Chinea, Papierski and Sciambra make it LSU 15 Princeton 0, end 7. Evidently mercy rule is not in effect.
43 minutes ago

ESPN_SEC

ESPN_SEC


No. 14 Trayvon Mullen names a leader http://t.co/zL7rQX9d7E
49 minutes ago

RandyRosetta

Randy Rosetta


MID 7th | #LSU 11, Princeton 0: Bain was just as nasty as Lange, fannning two and getting Princeton 1-2-3.
about an hour ago

RandyRosetta

Randy Rosetta


END 6th | #LSU 11, Princeton 0: Up and down for LSU. Austin Bain takes over on the mound for Lange -- 6 IP, 3 H, 0 R, 6 K/2 BB.
about an hour ago

RandyRosetta

Randy Rosetta


Princeton C Andrew Christie is the son of N.J. Gov. Christie.
about an hour ago

RandyRosetta

Randy Rosetta


MIDDLE 6th | #LSU 11, Princeton 0: Lange in cruise control after 6. Allowed 3 hits, struck out 6, walked 2. Will be 3-0.
about an hour ago

LSUSportsNow

LSU Sports Now


Rewind: LSU 7, Princeton 2 http://t.co/GLQuFs1X2m
about an hour ago

LSUsportsNEWS

LSUsports News Feed


Ernest Wins 200; Track & Field in Top-5 at SEC's: LEXINGTON, Ky. – Senior sprinter Aaron Ernest was crowned th... http://t.co/dotb5CD4bD
about an hour ago

RandyRosetta

Randy Rosetta


END 5th | #LSU 11, Princeton 0: 2 HRs anchor a 5-run frame as this one is all over but the cryin'.
about an hour ago

dandydonlsu

Dandy Don LSU Sports


Alex Bregman 2-run broomstick! LSU 11-0.
about an hour ago

RandyRosetta

Randy Rosetta


This is gettin' ugly. Bregman blasts a 2-run shot to LF and it's 11-0 #LSU.
about an hour ago

dandydonlsu

Dandy Don LSU Sports


You can pucker up and kiss that baby goodbye! Jared Foster's 3-run homer makes it LSU 9 Princeton 0, 1 out B5.
about an hour ago

RandyRosetta

Randy Rosetta


Jared Foster just unloaded a bomb that was in Mollywhopper range, @LukeJohnsonAdv . #LSU up 9-0 after 3-run bomb.
about an hour ago

RandyRosetta

Randy Rosetta


MID 5th | #LSU 6, Princeton 0: Gritty inning for Lange. Struck out side -- the last hitter on a bender after allowing a BB and 1B. Nasty.
about an hour ago

LSUSportsNow

LSU Sports Now


LSU pitcher Jake Godfrey said he was 'grinding it out' after the second inning vs. Princeton | Video http://t.co/nuczMlELJj
about an hour ago

LSUSportsNow

LSU Sports Now


GAMETHREAD: LSU vs Princeton, GM3, 7:30pm, SECN+ http://t.co/tgWJ9GcBve
about an hour ago

LSUSportsNow

LSU Sports Now


Alabama offers 2016 Rummel defensive tackle Briston Guidry http://t.co/q5MvVmIMyx
about an hour ago

LSUSportsNow

LSU Sports Now


Game 3: Princeton-LSU baseball in-game updates & lineups http://t.co/SVOeliU1is
about an hour ago

LSUSportsNow

LSU Sports Now


Lady Tigers to Face No. 12 Texas A&M in Home Finale http://t.co/97RWUr8uL7
about an hour ago

Lions_Baseball

SLU Lions Baseball


Lions Win! Lions Win! Lions beat Northwestern University 4-3 to sweep the weekend series. #LionUp
about an hour ago

dandydonlsu

Dandy Don LSU Sports


Two hits in the 4th including an RBI by Chinea make it LSU 6 Princeton 0.
about an hour ago

RandyRosetta

Randy Rosetta


END 4th | #LSU 6, Princeton 0: Nice tack-on run, as Laird's speed turns a 1B into an extra base, then he steals one and scores on Chinea 1B.
about an hour ago

RandyRosetta

Randy Rosetta


Chinea rips an RBI 1B through the right side to score Laird, who 1Bd, got to second on an E-9 and stole third. #LSU cruising 6-0.
about an hour ago

LSUsportsNEWS

LSUsports News Feed


Lady Tigers to Face No. 12 Texas A&M in Home Finale: BATON ROUGE – The LSU women's basketball team looks to sn... http://t.co/lOcEFRalI2
about an hour ago

LSUsportsNEWS

LSUsports News Feed


UPDATE: Baseball Takes Game 1 of DH, 7-2: BATON ROUGE, La. -- Jake Fraley tallied two triples to lead LSU to a... http://t.co/tg1HXhrNHi
about an hour ago

RandyRosetta

Randy Rosetta


Might just be me, but the guest PA kid sounds like a young @HuntPalmer88 .
about an hour ago

RandyRosetta

Randy Rosetta


Laird, Bregman and Chinea up for #LSU.
about an hour ago

RandyRosetta

Randy Rosetta


MID 4th | #LSU 5, Princeton 0: Lange issues a leadoff walk, then gets a 1st-pitch F8 and a smoked liner at 1B that becomes a DP.
about an hour ago

RandyRosetta

Randy Rosetta


END 3rd | #LSU 5, Princeton 0: 3 XBHs, an E-7 and Zardon's 2-out RBI 1B turn the inning into a crooked number.
about 2 hours ago

dandydonlsu

Dandy Don LSU Sports


Bregman RBI 3B, WP, back-to-back 2Bs by Hale & Scivique, an error & Zardon's RBI make it LSU 5 Princeton 0, end 3
about 2 hours ago

RandyRosetta

Randy Rosetta


Wheels falling off for Princeton, as an E7 on a Fraley fly ball opens door for two more #LSU runs and a 5-0 lead.
about 2 hours ago

RandyRosetta

Randy Rosetta


Back-to-back ringing 2Bs by Hale and Scivicque push the #LSU lead to 3-0. Smithers not fooling anybody any more.
about 2 hours ago

RandyRosetta

Randy Rosetta


#LSU up 2-0 after Bregman's delayed dash home on a WP.
about 2 hours ago

RandyRosetta

Randy Rosetta


There's a little thunder from #LSU SS Alex Bregman. Plugs the gap in RCF to score Laird and put LSU up 1-0 in 3rd.
about 2 hours ago

RandyRosetta

Randy Rosetta


Foster, Laird and Bregman coming up for #LSU.
about 2 hours ago

RandyRosetta

Randy Rosetta


MID 3rd | Princeton 0, #LSU 0: Lange gets a 1-2-3 frame and showed me something by going right at hitter with a 3-and-1 count.
about 2 hours ago

LSUSportsNow

LSU Sports Now


LSU takes Game 1 of doubleheader, 7-2 http://t.co/rDrMnh8cRQ
about 2 hours ago

LSUSportsNow

LSU Sports Now


Lashley talks LSU offer http://t.co/J4pD1gyF1g
about 2 hours ago

LSUSportsNow

LSU Sports Now


Rewind: LSU 73, Ole Miss 63 http://t.co/wUJgyY1imF
about 2 hours ago

LSUSportsNow

LSU Sports Now


COLUMN: Tigers in line for Dance http://t.co/LpoPwUzF4u
about 2 hours ago

RandyRosetta

Randy Rosetta


END 2nd | Princeton 0, #LSU 0: Smithers makes quick work of LSU again, wokring around a Zardon 1B.
about 2 hours ago

RandyRosetta

Randy Rosetta


MID 2nd | Princeton 0, #LSU 0: Lange sharp so far. A harmless 1B is all he gave up in 2nd. Scivicque, Fraley, Zardon coming up.
about 2 hours ago

RandyRosetta

Randy Rosetta


END 1st | Princeton 0, #LSU 0: Tigers threaten, but Hale rolls out to 2B to end the inning.
about 2 hours ago

RandyRosetta

Randy Rosetta


MID 1st | Princeton 0, #LSU 0: Silky smooth opening for Alex Lange -- 3 up, 3 down with a K. Foster, Laird, Bregman coming up.
about 2 hours ago

RandyRosetta

Randy Rosetta


#LSU-Princeton, Game 3 is underway.
about 3 hours ago

LSUsoftball

LSU Softball


LSU scores six runs on three hits and two FAU errors to go up 6-1 over the Owls after two
about 3 hours ago

LSUSportsNow

LSU Sports Now


UPDATE: Baseball Takes Game 1 of DH, 7-2 http://t.co/2bo12HOEYg
about 3 hours ago

LSUSportsNow

LSU Sports Now


LSU baseball beats Princeton, 7-2, in first game of doubleheader http://t.co/RSyNXG26jR
about 3 hours ago

SEC_Craig

Craig Pinkerton


Congrats to @UFCoachBillyD on career win No. 500. He is the second coach ever to reach the milestone before their 50th birthday
about 3 hours ago

RandyRosetta

Randy Rosetta


Game 3: Princeton-LSU baseball in-game updates & lineups http://t.co/YHaJtimuvI via @nolanews
about 3 hours ago

RandyRosetta

Randy Rosetta


Game 3: Princeton-#LSU baseball in-game updates & lineups http://t.co/YHaJtimuvI via @nolanews
about 3 hours ago

eagle0981

Eagle 98.1


LSU Baseball vs. Princeton, 2nd game of the doubleheader will start at 7:30 on Eagle 98.1 @eagle0981 @1045ESPN @Talk1073
about 3 hours ago

LSUtigers

LSU Tigers Football


SEC top 10 early commits from 2016 class http://t.co/19Yj3frz5E
about 3 hours ago

RandyRosetta

Randy Rosetta


G3 #LSU vs. Princeton | Foster RF, Laird CF, Bregman SS, Chinea DH, Hale 1B, Scivicque C, Fraley LF, Zardon 3B, Robertson 2B, Lange RHP
about 3 hours ago

JimKleinpeter

Jim Kleinpeter


#LSU vs. #Princeton: Mainieiri said Godfrey was a little better than last time & last time was little better than 1st time. He can be better
about 3 hours ago

SEC

SEC Sports


Congratulations, Gator men on winning the 2015 SEC Indoor Track & Field championship! #ItsGreatUF http://t.co/88U8qu8xKX
about 3 hours ago

SEC

SEC Sports


Arkansas women win the 2015 SEC Indoor Track & Field title! #WoooPig http://t.co/HJYUeqGMhA
about 3 hours ago

gatorhoops

Kevin Brockway


Final: Florida 66, Tennessee 49. Billy Donovan picks up 500th career win.
about 3 hours ago

JimKleinpeter

Jim Kleinpeter


#LSU vs. #Princeton: LSU coach Paul Mainieri said Andrew Stevenson won't play in second game of DH, but could if needed. Precautionary
about 3 hours ago

RandyRosetta

Randy Rosetta


From @jimkleinpeter | #LSU baseball beats Princeton in first game of doubleheader | @dandydonlsu | http://t.co/5jbJd5ZsLM via @nolanews
about 3 hours ago

RandyRosetta

Randy Rosetta


FINAL SCORE: #LSU 7, Princeton 2 in first game of a Saturday DH. Game 3 starts around 7:30 p.m. Godfrey gets the W (2-0).
about 3 hours ago

LSUSportsNow

LSU Sports Now


VIDEO: Patterson recaps win over Ole Miss http://t.co/JSQcf8Nh5u
about 3 hours ago

dandydonlsu

Dandy Don LSU Sports


FINAL: LSU 7 Princeton 2. Game 2 of double-header to start at 7:30. Follow @LSUbaseball for frequent updates on that game.
about 3 hours ago

dandydonlsu

Dandy Don LSU Sports


LSU is three outs from victory, leading Princeton 7-2 after 8. Kyle Bouman in to close it out.
about 4 hours ago

LSUBeatTweet

Glenn Guilbeau


Everyone was at the Maravich Assembly Center - Maravich, Shaq, Pettit, Karl Malone, and Tim Quarterman? -My column:http://t.co/UC15yf6Y53
about 4 hours ago

LSUsports

LSUsports.net


.@LSUsoftball start time now 6:40 p.m. CT, as early games of Purple & Gold Challenge went long. Results: http://t.co/RFbtaraXoB
about 4 hours ago

LSUSportsNow

LSU Sports Now


LSU Defeats Ole Miss, 73-63 http://t.co/YUYG0RFDY4
about 4 hours ago

LSUSportsNow

LSU Sports Now


LSU guard Keith Hornsby said best 20 minutes of the season was needed to rally past Ole Miss | Video http://t.co/o0aTkzpW2v
about 4 hours ago

LSUSportsNow

LSU Sports Now


No. 3 Men's Golf Takes Momentum to Mexico http://t.co/QOGoLGfKlL
about 4 hours ago

LSUSportsNow

LSU Sports Now


Every facet of Tim Quarterman's performance showed how locked in he was, LSU coach Johnny Jones says | Video http://t.co/1uBL3yzPFJ
about 4 hours ago

dandydonlsu

Dandy Don LSU Sports


At the 7th inning stretch, score remains LSU 7 Princeton 2.
about 4 hours ago

LSUtigers

LSU Tigers Football


Comparing SEC teams to pro sports franchises in 2015 http://t.co/tZ8FG8dovR
about 4 hours ago

RandyRosetta

Randy Rosetta


FINAL RECAP | #LSU surges back from offensive struggles, barrels past Ole Miss 73-63 http://t.co/smNvtgl6r0 via @nolanews
about 4 hours ago

dandydonlsu

Dandy Don LSU Sports


Andrew Stevenson's 2nd hit of the day, an RBI single, makes it LSU 7 Princeton 2, end 5.
about 4 hours ago

SEC_Sean

Sean Cartell


The Florida men and Arkansas women have won the 2015 #SEC Indoor Track and Field Championships. #SECTF
about 5 hours ago

ESPN_SEC

ESPN_SEC


News and notes: Nike Football The Opening Miami Regional http://t.co/GWk6FeGQ99
about 5 hours ago

LSUSportsNow

LSU Sports Now


VIDEO: Quarterman on historic triple-double http://t.co/cVRwARihyX
about 5 hours ago

LSUSportsNow

LSU Sports Now


LIVE THREAD: LSU 73, Ole Miss 63 http://t.co/7YbOpFHU0p
about 5 hours ago

SEC_Craig

Craig Pinkerton


With @KentuckyMBB's 29th straight win to open the season today, the Wildcats have earned the 2015 SEC regular season title outright
about 5 hours ago

dandydonlsu

Dandy Don LSU Sports


Score remains LSU 6 PU 2, end 4.
about 5 hours ago

LSUsportsNEWS

LSUsports News Feed


No. 3 Men's Golf Takes Momentum to Mexico: BATON ROUGE – After opening up their 2015 spring season with a four... http://t.co/vD37Jg3tj6
about 5 hours ago

LSUbaseball

LSU Baseball


Godfrey gets out of a jam in the top of the fourth inning. LSU continues to lead 6-2 with Zardon, Byrd and Fraley due to the plate.
about 5 hours ago

dandydonlsu

Dandy Don LSU Sports


Back to back doubles by Chinea & Hale extend LSU's lead to 6-2, end 3.
about 5 hours ago

LSUSportsNow

LSU Sports Now


Quarterman's Triple-Double Highlights LSU Comeback http://t.co/Gul7fP5wdI
about 5 hours ago

LSUbaseball

LSU Baseball


Two innings. Two Triples. Three RBIs. Jake Fraley is the man. http://t.co/WOAynyuVeU
about 5 hours ago

dandydonlsu

Dandy Don LSU Sports


RT @DellengerAdv: Jake Fraley is the 13th player to hit two triples in a game in #LSU history. That's the record.
about 5 hours ago

dandydonlsu

Dandy Don LSU Sports


Jake Fraley's on fire! With bases juiced & 2-outs, he ropes a base-clearing 3B to RF & then scores on an errant throw. LSU 5 PU 1, end 2
about 5 hours ago

dandydonlsu

Dandy Don LSU Sports


RT @geauxMiLB: Tigers have 17 errors on the season. 5 of which are E5s, 6 total are on all other position players. 6 on pitchers.
about 5 hours ago

dandydonlsu

Dandy Don LSU Sports


A pair of walks & a costly LSU error at 3rd base load the bases, & Princeton makes it hurt with a 2-RBI single. LSU 1 Princeton 2, mid-2.
about 6 hours ago

LSUSportsNow

LSU Sports Now


Defense made LSU's Tim Quarterman as proud as anything he did Saturday | Video http://t.co/zVInMUov5a
about 6 hours ago

LSUSportsNow

LSU Sports Now


Princeton-LSU baseball: In-game updates http://t.co/M1yWRoVAug
about 6 hours ago

LSUSportsNow

LSU Sports Now


GAMETHREAD: LSU vs Princeton, GM2, 4pm, SECN+ http://t.co/GTGa1OnHrc
about 6 hours ago
SEC SCOREBOARD
Thursday, 9/3
Saturday, 9/5
BLOG ARCHIVE:
CATEGORIES: