GTN Mailbag: LSU built for the new park?
June, 14, 2013
6/14/13
10:00
AM ET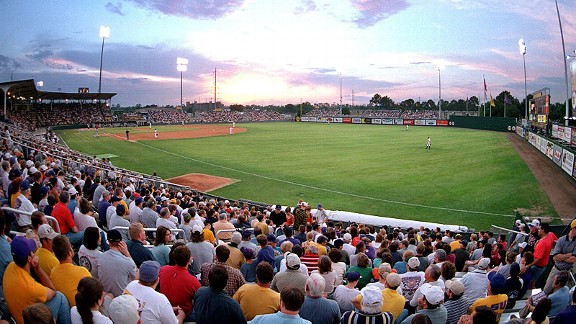 Louisiana State University/Getty ImagesThe Tigers move from familiar Alex Box Stadium to new T.D. Ameritrade Park in the CWS.
BATON ROUGE, La. -- GTN writer Gary Laney took your questions:
From Bryan (Houston):
LSU used to own Rosenblatt. Will the Tigers like the new stadium in Omaha?
Gary Laney:
Skip Bertman's LSU teams, in particular, were built for Rosenblatt Stadium, which was a hitter-friendly park for most of the Tigers' run. LSU was the team in mind when the term "Gorilla Ball" was coined. To me, it was a huge advantage for LSU to play in that venue for national championships, because it played similar to Alex Box Stadium.
To continue reading this article you must be an Insider
Insider
Rabalais looks ahead at LSU's FB schedule
Paul Finebaum and Scott Rabalais discuss the LSU 2015 football schedule.
Rabalais looks ahead at LSU's FB schedule
VIDEO PLAYLIST
LSU FB RECRUITING SCORECARD
Nike Men's Lsu Tigers Grey 'win!' Local Characteristic T-shirt Shop »
SEC

SEC Sports


#SECWBB: @VandyWBB wins 66-56 over @AlabamaWBBBe safe if you're traveling to Arkansas and see you tomorrow! http://t.co/kDmAHWJAk9
15 minutes ago

LSUsportsNEWS

LSUsports News Feed


Red-Hot Tennessee Hands Hoops Loss in Home Finale: BATON ROUGE -- Tennessee shot nearly 70 percent from the fi... http://t.co/Zvix4dTBVM
16 minutes ago

dandydonlsu

Dandy Don LSU Sports


Hornsby brought his A game (career-high 25 points). Unfortunately can't say the same for the rest of the Tigers. That's just the way it is.
37 minutes ago

dandydonlsu

Dandy Don LSU Sports


Ouch! Tigers lose to Tennessee 78-63. Awful loss for LSU puts Tigers' backs against the wall and makes the Arkansas game a must-win.
42 minutes ago

LSUBeatTweet

Glenn Guilbeau


Tennessee's 78 points is its most ALL season.
45 minutes ago

LSUBeatTweet

Glenn Guilbeau


LSU loses to No. 105 RPI Tennessee, 78-63.
46 minutes ago

RandyRosetta

Randy Rosetta


FINALSCORE: Tennessee 78, #LSU 63. The Tigers have a new clunker for their collection and now head to Arkansas in likely must-win mode.
46 minutes ago

LSUBeatTweet

Glenn Guilbeau


Auburn had lost 4 straight when it won at LSU Feb. 5. Tennessee had lost 5 straight entering this game at LSU and ads 74-61 w/1:30 to go.
49 minutes ago

LSUBeatTweet

Glenn Guilbeau


Tennessee 70, LSU 59 with 3:12 to go.
about an hour ago

LSUBeatTweet

Glenn Guilbeau


LSU now may have to win one or two in the SEC Tournament.
about an hour ago

LSUBeatTweet

Glenn Guilbeau


Tennessee 70, LSU 59, NCAA Tournament 0 with 3:54 to go.
about an hour ago

LSUBeatTweet

Glenn Guilbeau


LSU mounting a comeback of sorts. Jordan Mickey makes layup and is fouled to cut it to 64-51 with 6:44 to go. He missed FT.
about an hour ago

LSUSportsNow

LSU Sports Now


LSU SS Alex Bregman is looking forward to playing in the Houston Classic this weekend | Video http://t.co/1XdGCGOQOE
about an hour ago

LSUSportsNow

LSU Sports Now


LSU pitchers dominate in 7-1 win vs Grambling http://t.co/aAYDEVtAmn
about an hour ago

LSUSportsNow

LSU Sports Now


Tennessee at LSU: Stats & scoring http://t.co/dXQWE6ZJ5f
about an hour ago

LSUSportsNow

LSU Sports Now


Baseball Readies for Trip with Win Over Grambling http://t.co/7MVxKauQMG
about an hour ago

LSUSportsNow

LSU Sports Now


LSU Football Concept Uniforms http://t.co/KtqTCJxkQS
about an hour ago

LSUBeatTweet

Glenn Guilbeau


Curse of John Brady. First-year Tennessee coach Donnie Tyndall was LSU assistant under Brady from 1997-2001.
about an hour ago

RandyRosetta

Randy Rosetta


It's like the ball has Crisco on it when #LSU goes up for a rebound.
about an hour ago

LSUBeatTweet

Glenn Guilbeau


And another 3-pointer by the Vols, and he's fouled. Vols are on the verge of 20-point lead.
about an hour ago

LSUBeatTweet

Glenn Guilbeau


It's my fault. I started looking at the NCAA Tournament first round sites in the first half.
about an hour ago

RandyRosetta

Randy Rosetta


Wheels are off for #LSU now. UT up 59-44 with 9:02 to play. Nothing working. This one will sting if it holds up.
about an hour ago

LSUBeatTweet

Glenn Guilbeau


LSU tried to work it in, turned it over for an easy Tennessee bucket. Time Out Tigers. Down 59-44 with 9:02 to go.
about an hour ago

RandyRosetta

Randy Rosetta


#LSU is having to hunt for shots on offense and taking lots of tiime offf the clock. Down 57-44.
about an hour ago

LSUBeatTweet

Glenn Guilbeau


And another trey from Tennessee, which takes a 57-44 lead at 10 minutes mark.
about an hour ago

RandyRosetta

Randy Rosetta


Not sure how #LSU can turn switch on at this point..
about an hour ago

RandyRosetta

Randy Rosetta


#LSU is 3-for-9 from the floor since halftime, Tennessee 9-for-13. Amazingly, Vols still with 0 FTAs.
about an hour ago

LSUBeatTweet

Glenn Guilbeau


Wake Up Call: Tigers need to stop hitting the snooz button and wake up.
about an hour ago

RandyRosetta

Randy Rosetta


Tennessee offense is slicing and dicing an #LSU defense that has been veery good for the last seven games.
about an hour ago

RandyRosetta

Randy Rosetta


#LSU down 54-44 with 10:52 to go. UT having a shooting half liek Auburn did when it won here -- 9-of-13 this half, 3-of-5 from long range.
about an hour ago

LSUBeatTweet

Glenn Guilbeau


It's raining threes off Rocky Top. Vols up 54-44 with 10:52 to go.
about an hour ago

LSUBeatTweet

Glenn Guilbeau


Upset Alert: Tennessee takes a 52-42 lead at 12 minute mark of 2nd half.
about an hour ago

RandyRosetta

Randy Rosetta


#LSU also needs somebody other than Hornsby to hit a 3-pointer to loosen the Vols' defense up. He is 3-for-5, rest of team is 1-for-6.
about an hour ago

LSUBeatTweet

Glenn Guilbeau


Tennessee is 3 of 5 from 3-point range in the second half and has a 48-42 lead at 13-minute mark.
about an hour ago

RandyRosetta

Randy Rosetta


Tennessee up to 11 second-chance points to #LSU's 6.
about an hour ago

RandyRosetta

Randy Rosetta


#LSU down 48-42 with 13:24 to play. Tigers are struggling in a game they need to win. Not matching UT's energy like they need to.
about an hour ago

RandyRosetta

Randy Rosetta


#LSU has as many TOs as made shots since halftime (2). UT is 5-of-7, 2-of-3 from 3-point range.
about an hour ago

RandyRosetta

Randy Rosetta


Tennessee on a hot spell, with a 7-2 burst to push the lead to 45-39 over #LSU with 15:22 to go. Vols' defense giving the Tigers fits.
about an hour ago

LSUBeatTweet

Glenn Guilbeau


Uh-Oh. Tennessee takes a 45-39 lead over LSU at 15:22 mark of 2nd half.
about an hour ago

CodyWorsham

Cody Worsham


Josh Richardson: 14 points, 6 of 11 shooting (55%). Rest of UT: 19 points, 9 of 26 shooting (35%).
about an hour ago

RandyRosetta

Randy Rosetta


#LSU big men Jarell Martin and Jordan Mickey have to be stronger going to get the ball.
about an hour ago

RandyRosetta

Randy Rosetta


In fact, efffort not an issue at all. Locking down defensive glass is the major issue. UT has shot so badly, some are expected.
about an hour ago

RandyRosetta

Randy Rosetta


Josh Richardson has 14 points for the Vols -- he had 15 in the first game vs. #LSU. Effort not an issue -- Quarterman has been on him.
about an hour ago

RandyRosetta

Randy Rosetta


Key numbers from 1st half: UT only 2 TO, but no FTA. #LSU has 4 TO and is 10-for-14 from stripe.
about an hour ago

RandyRosetta

Randy Rosetta


To fend off this feisty effort by Tennessee, #LSU needs to hit the defensive glass like mad men in the 2nd half.
about an hour ago

RandyRosetta

Randy Rosetta


Keith Hornsby (12 pts) was a go-to scorer for #LSU in the 1st half. Was aggressive and drew lots of fouls, other contact that wasn't called.
about an hour ago

RandyRosetta

Randy Rosetta


HALFTIME: UT 33, #LSU 33. It was a grinder for 20 minutes. Tigers need to crank it up over the next 20.
about an hour ago

LSUBeatTweet

Glenn Guilbeau


At the half, LSU 33, Tennessee 33.
about an hour ago

LSUBeatTweet

Glenn Guilbeau


I don't want to meet Coach Tyndall's tailor. http://t.co/xTBPuCwULJ
about an hour ago

RandyRosetta

Randy Rosetta


Would love to know the average age of three guys in stripes tonight. Lots of gray hair.
about an hour ago

RandyRosetta

Randy Rosetta


#LSU annd UT deadlocked 26-26 at the last TV timeout at 3:32. Martin with 2 fouls and on the bench. 2nd one was dubious at best.
about an hour ago

JimKleinpeter

Jim Kleinpeter


UPDATED STORY: #LSU baseball beats #Grambling, 7-1 @lsubaseball, @geauxlsu http://t.co/KSPs7Ov2wl via @nolanews
about 2 hours ago

RandyRosetta

Randy Rosetta


Been a lot of jostling, over-the-back battles on the Tennessee end. Martin called for jumping over a guy and grabbing the ball.
about 2 hours ago

RandyRosetta

Randy Rosetta


#LSU is staying patient against UT's zone, which is much better tonight than it looked on Feb. 14.
about 2 hours ago

RandyRosetta

Randy Rosetta


#LSU up 22-20 on UT at the TV timeout at 7:03. Tigers shooting 44.4% (8-18) but can't shake Vols, who are at just 33.3% (9-27).
about 2 hours ago

LSUBeatTweet

Glenn Guilbeau


LSU leading Tennessee in a sluggish game so far, 22-20, with 7:03 to go in 1st half.
about 2 hours ago

RandyRosetta

Randy Rosetta


#LSU up 20-16 and UT just had to call a timeout at 8:34 to maintain possession after a Quarterman block.
about 2 hours ago

LSUBeatTweet

Glenn Guilbeau


Hornsby strings a three to give LSU an 18-14 lead at 10-minute mark. Tennessee answers to cut to 18-16.
about 2 hours ago

RandyRosetta

Randy Rosetta


Tennessee roared in front with an 11-0 burst, #LSU has answered with 7-0 run. Tigers 6-of-11 from the floor.
about 2 hours ago

RandyRosetta

Randy Rosetta


#LSU and UT tied 14-14 at the 11:37 mark of the 1st half. Vols winning battle on the glass 9-6 and creating lots of second chances.
about 2 hours ago

RandyRosetta

Randy Rosetta


Martin never had a chance to land. Block/charge calls are so awful in college basketball.
about 2 hours ago

SEC

SEC Sports


#SECWBB FINAL SCORE: @AuburnWBB 71, @GatorZoneWBK 49.Auburn will play @AggieWBB tomorrow. http://t.co/nbpnKdAJU5
about 2 hours ago

LSUBeatTweet

Glenn Guilbeau


Jarell Martin off to a strong start in what could be his last LSU home game. Ties game at 14-14 with old-fashioned 3-point play.
about 2 hours ago

LSUsportsNEWS

LSUsports News Feed


Baseball Readies for Trip with Win Over Grambling: BATON ROUGE, La. – Second-ranked LSU (11-1) extended its wi... http://t.co/dDaRPGKFPy
about 2 hours ago

RandyRosetta

Randy Rosetta


Tennessee at #LSU: Stats & scoring http://t.co/volxIZmr2q via @nolanews
about 2 hours ago

LSUBeatTweet

Glenn Guilbeau


Tigers fall behind early 12-7 to Tennessee, similar to the Ole Miss game Saturday.
about 2 hours ago

RandyRosetta

Randy Rosetta


Tennessee, meanwhile, has made its last 4 FGAs and is playing with a lot of energy for a team that is fighting to stay above .500. #LSU
about 2 hours ago

LSUBeatTweet

Glenn Guilbeau


Gymnastics coach D-D Breaux at another LSU basketball game. She is a "front row lunatic," for our classic LSU basketball fans.
about 2 hours ago

LSUSportsNow

LSU Sports Now


Three LSU-signed recruits lead in hitting as No. 3 Delgado climbs poll http://t.co/x0aH9MuoAl
about 2 hours ago

LSUSportsNow

LSU Sports Now


LSU baseball beats Grambling, 7-1, for 9th straight victory http://t.co/BKOU8FSJ8S
about 2 hours ago

LSUSportsNow

LSU Sports Now


LIVE THREAD: LSU vs. Tennessee http://t.co/jLCVOMriND
about 2 hours ago

LSUSportsNow

LSU Sports Now


Ole Miss hires Sean Patterson, brother of 2016 QB commit Shea Patterson, website reports http://t.co/wj7DuxNDxQ
about 2 hours ago

LSUSportsNow

LSU Sports Now


Tennessee-LSU in-game updates: Game looms large for NCAA hopes http://t.co/ASyO6MdwBG
about 2 hours ago

RandyRosetta

Randy Rosetta


First TV timeout with UT up 12-7 and on a 9-0 run. #LSU has missed last three shots -- all from perimeter against Vols zone.
about 2 hours ago

RandyRosetta

Randy Rosetta


Two good follows for #LSU's game vs. Tennessee -- @Ben_Fred and @Strangemike44 .
about 2 hours ago

RandyRosetta

Randy Rosetta


Tennessee snuck a new starter by me -- Tariq Owens instead of Willie Carmichael.
about 2 hours ago

RandyRosetta

Randy Rosetta


Tennessee-LSU in-game updates: Game looms large for NCAA hopes http://t.co/ltbNzUV6nl via @nolanews
about 2 hours ago

RandyRosetta

Randy Rosetta


Tennessee at LSU: Chalk talk http://t.co/2Cri8SReIw via @nolanews
about 2 hours ago

RandyRosetta

Randy Rosetta


Hard-charging #LSU doesn't need any help to get motivated for Tennessee http://t.co/e3B1YmLOPO via @nolanews
about 2 hours ago

JHS1037

Jordy Hultberg Show


#ICYMI my interview with #LSUHoops Assistant Coach Charlie Leonard: http://t.co/EgaOS8vOZe
about 2 hours ago

RandyRosetta

Randy Rosetta


Tennessee starters vs. #LSU | Kevin Punter, Josh Richardson, Robert Hubbs, Armani Moore and Willie Carmichael
about 2 hours ago

RandyRosetta

Randy Rosetta


#LSU starters vs. Tennessee | Jarell Martin, Jordan Mickey, Tim Quarterman, Keith Hornsby and Jalyn Pattterson
about 2 hours ago

RandyRosetta

Randy Rosetta


Jim Burr is one of the refs tonight. I thinl I might've been able to say that when I was in high school, and I'm old.
about 2 hours ago

JimKleinpeter

Jim Kleinpeter


#LSU baseball beats #Grambling, 7-1, for 9th straight victory @tigerdroppings, @dandydonlsu http://t.co/KSPs7Ov2wl via @nolanews
about 3 hours ago

JimKleinpeter

Jim Kleinpeter


#LSU baseball beats #Grambling, 7-1, for 9th straight victory @tigerdroppings, @dandydonlsu http://t.co/KSPs7Ov2wl via @nolanews
about 3 hours ago

LSUbaseball

LSU Baseball


Jared Foster with a home run over the left field wall to give LSU a 7-1 lead.
about 3 hours ago

LSUbaseball

LSU Baseball


Reynolds and Cartwright retire Grambling in order in the top of eighth inning. LSU continues to lead 6-1.
about 3 hours ago

LSUsports

LSUsports.net


Get to the PMAC for the last @LSUBasketball home game! 6 p.m. CT v. Tennessee. On @eagle0981 @SECNetwork http://t.co/iNDx9ZwUW0
about 3 hours ago

RandyRosetta

Randy Rosetta


Tennessee-#LSU in-game updates: Game looms large for NCAA hopes http://t.co/ltbNzUV6nl via @nolanews
about 3 hours ago

LSUSportsNow

LSU Sports Now


Former LSU star Aaron Nola reports to his first training camp eager 'to learn as much as I can' http://t.co/9bzf2bVzpg
about 3 hours ago

LSUSportsNow

LSU Sports Now


4-star CB Nigel Knott says LSU offer 'means a lot because it's "DBU"' http://t.co/NGAo7tBAYJ
about 3 hours ago

LSUSportsNow

LSU Sports Now


Tigers offer Florida LB Jones http://t.co/p7YWwyh0Id
about 3 hours ago

SEC_Courtney

Courtney Fritts


#SECWBB game one is underway with @AuburnWBB vs @GatorZoneWBK. Watch live on @SECNetwork or at http://t.co/ykMCTDAKCf http://t.co/c8wZyWY3tZ
about 4 hours ago

RandyRosetta

Randy Rosetta


Tennessee at #LSU: Chalk talk http://t.co/2Cri8SReIw via @nolanews
about 4 hours ago

RandyRosetta

Randy Rosetta


Hard-charging #LSU doesn't need any help to get motivated for Vols http://t.co/e3B1YmLOPO via @nolanews
about 4 hours ago

LSUmiketiger

Mike the Tiger


Its a beautiful day to be outside in Baton Rouge! Mike is seaux ready for spring! #GeauxTigers http://t.co/BlIDDXmJbJ
about 4 hours ago

LSUBeatTweet

Glenn Guilbeau


"We can't look at their record and just show up," LSU coach Johnny Jones on hosting Tennessee (14-15, 6-10) tonight.http://t.co/LpSav2fV4H
about 4 hours ago

LSUBonnette

Michael Bonnette


Sitting in crowd at Peyton's game,Grant asked Robin if she had money, Max w/out hesitation said "nope our family is broke" everyone laughed
about 4 hours ago

LSUSportsNow

LSU Sports Now


Miami Nike camp 1-on-1s video features several LSU targets http://t.co/HpM2ZF1EL7
about 4 hours ago

LSUSportsNow

LSU Sports Now


LSU targets Trayvon Mullen, Shyheim Carter and Cameron Lewis | Talkin' Tigers http://t.co/Oo8KWxgFIT
about 4 hours ago
SEC SCOREBOARD
Thursday, 9/3
Saturday, 9/5
BLOG ARCHIVE:
CATEGORIES: