For LSU's Wilson, no time for sleep
February, 7, 2013
2/07/13
9:00
AM ET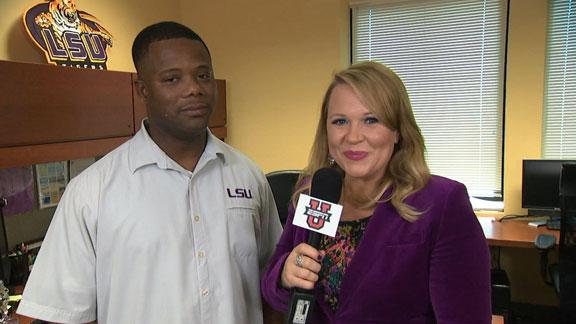 BATON ROUGE, La. -- The night before signing day, Frank Wilson slept on an air mattress in his office
But only for a few hours.
LSU's recruiting coordinator doesn't have much time for that during the height of the recruiting season, especially with LSU's frantic recruiting cycle.
To continue reading this article you must be an Insider
Insider
Coach Chiz's Film Room: Week 1
Gene Chizik reviews film from the season openers for LSU, Georgia, Auburn and Arkansas.
Coach Chiz's Film Room: Week 1
VIDEO PLAYLIST
LSU FB RECRUITING SCORECARD
Distant Replays Men's Lsu Tigers Purple Vault T-shirt Shop »
Sheadixon

Shea Dixon


Les Miles broke his silence on when the suspended players at #LSU would return to the field. Here's the latest: http://t.co/X4zQ8nX1gl
12 minutes ago

ESPN_SEC

ESPN_SEC


Forget Kiffin and QBs, Tide D needs work http://t.co/u8TNBslAGb
13 minutes ago

ESPN_SEC

ESPN_SEC


As @AschoffESPN writes, LSU's comeback win proved there's always a method to Les Miels' madness http://t.co/LSSkvs3kJj
24 minutes ago

LSUtigers

LSU Tigers Football


QB controversy over: Anthony Jennings will start for LSU going forward http://t.co/E1f0HK1Xqj
31 minutes ago

LSUtigers

LSU Tigers Football


SEC boasts four Top 10 teams in Week 1 AP Top 25 http://t.co/YrSC2JHsII
38 minutes ago

LSUsportsNEWS

LSUsports News Feed


Miles Previews Football Home Opener: BATON ROUGE -- Leading up to Saturday's 2014 football home opener, LSU he... http://t.co/YnuL3iCtXY
41 minutes ago

LSUtigers

LSU Tigers Football


LSU's suspended players reinstated; WR Dupre to practice http://t.co/ST1Mxf3zRh
47 minutes ago

ESPN_SEC

ESPN_SEC


Trill QB: Kenny Hill has own nickname http://t.co/iZWVFWbZ5O
49 minutes ago

LSUtigers

LSU Tigers Football


LSU moves up to No. 12 in AP poll after beating Wisconsin http://t.co/9lvVrWR6qm
about an hour ago

Sheadixon

Shea Dixon


Travonte Valentine is on #LSU's campus. He's practicing and in school. He just can't play yet. Full update: http://t.co/1UPJ7xNRGX
about an hour ago

SEC

SEC Sports


#SEC Announces Volleyball Players of the Week: http://t.co/M9Ft0OzVtP
about an hour ago

LSUfball

LSU Football


#LSU is also up to No. 12 in the AP Poll. http://t.co/Js3CSgsCau
about an hour ago

RandyRosetta

Randy Rosetta


That's a wrap from #LSU coach Les Miles.Edit (in 3 minutes)
about an hour ago

ESPN_SEC

ESPN_SEC


SEC power rankings: Week 1 http://t.co/qMn8mPhWvA
about an hour ago

LSUBeatTweet

Glenn Guilbeau


True freshman Devonte Valentine cleared to practice by SEC, not to play yet. Still working on that.
about an hour ago

AschoffESPN

Edward Aschoff


YES to this RT @skhanjr: OC/QB coach Jake Spavital, when asked about Kenny Hill's quick rise in popularity, just called him "Kenny Trill."
about an hour ago

LSUBeatTweet

Glenn Guilbeau


Miles Mystery Tour: He explained that rs fr. Frank Herron did not play as he wanted to go w vets at DT, but played true fr. Davon Godchaux
about an hour ago

AschoffESPN

Edward Aschoff


Take Two: Alabama or Georgia's RBs? I took #Bama http://t.co/SMcD3hcDBx
about an hour ago

LSUfball

LSU Football


Coach Miles on freshman WR Malachi Dupre: He practiced yesterday. We'd expect him to compete for playing time in this next game.
about an hour ago

RandyRosetta

Randy Rosetta


#LSU coach Les Miles: Says Malachi Dupre practiced Monday and could vie for time this week.
about an hour ago

RandyRosetta

Randy Rosetta


#LSU coach Les Miles: Praises Jalen Collins for solid tackling. Let UW know 'there's nothing easy in this one.'
about an hour ago

RandyRosetta

Randy Rosetta


#LSU coach Les Miles: Says o-line was more consistent and made adjustments in technique.'
about an hour ago

LSUfball

LSU Football


Miles on Davon Godchaux: He's tough and not afraid to mix it up. We see him developing into the type of guy we're used to having up front.
about an hour ago

LSUBeatTweet

Glenn Guilbeau


True freshman Travonte Valentine had grades cleared and practiced last week, Miles said.
about an hour ago

ScarboroughMike

Mike Scarborough


TigerBait - From the Road: Texas recruits Defense http://t.co/gHoSio0EVc #LSU
about an hour ago

Sheadixon

Shea Dixon


Also, Miles said the guys who didn't travel as a result of disciplinary reasons will play this weekend. Just a one-game deal. @Geaux247
about an hour ago

RandyRosetta

Randy Rosetta


#LSU coach Les Miles: "(Jennings) sees the decision-making process much better."
about an hour ago

Sheadixon

Shea Dixon


I asked Les Miles about Travonte Valentine. He said the SEC is still reviewing the case, but Valentine is in B.R. and practiced last week.
about an hour ago

LSUBeatTweet

Glenn Guilbeau


Suspended players CB Rashard Robinson, C Elliott Porter and DT Maquedius Bain to play this week vs Sam Houston St, Miles said.
about an hour ago

RandyRosetta

Randy Rosetta


#LSU coach Les Miles: Says Travonte Valentine practiced last week and 'really did nicely.'
about an hour ago

RandyRosetta

Randy Rosetta


#LSU coach Les Miles: Says Travonte Valentine has passed through the NCAA Clearinghouse. SEC is still vetting the talented freshmen.
about an hour ago

RandyRosetta

Randy Rosetta


#LSU coach Les Miles: On suspended players returning this week 'Yeah absolutely.'
about an hour ago

LSUBeatTweet

Glenn Guilbeau


DT Frank Herron was neither injured nor suspended. Just didn't play. "Hopefully, we can get Frank coached up and get him on field," Les said
about an hour ago

JacquesDoucet

Jacques Doucet


Miles applauding Fournette. We were thrilled with their performances. Harris is coming. Fournette needs to relax. They're fine. #LSU
about an hour ago

RandyRosetta

Randy Rosetta


#LSU coach Les Miles: 'We were thrilled with (freshmen's) performance.'
about an hour ago

RandyRosetta

Randy Rosetta


#LSU coach Les Miles: Frank Herron was NOT suspended. 'We would've loved to have gotten Frank in.'
about an hour ago

DellengerAdv

Ross Dellenger


Miles asked about Sam Houston running over 100 plays last wk: "That's a lot of snaps. Let's u know how fast they go. They'll throw it" #LSU
about an hour ago

RandyRosetta

Randy Rosetta


#LSU coach Les Miles: Amazed at # of spans SHSU had lat week (105).
about an hour ago

RandyRosetta

Randy Rosetta


#LSU coach Les Miles: Notes that the Bearkats have several D-I transfers. Something I notcied at first glance at their roster.
about an hour ago

LSUBeatTweet

Glenn Guilbeau


"This could be as good a specialists (group) as we've ever had," Miles said of Ks Cameron Gamble, Trent Domingue.
about an hour ago

RandyRosetta

Randy Rosetta


#LSU coach Les Miles: Calls Sam Houston State offense 'pretty dang special.'
about an hour ago

RabalaisAdv

Scott Rabalais


Miles on delay of game to start 2nd half: Asked the ref to help Gamble out, a freshman, don't cost me 5 yds again. #LSU
about an hour ago

RandyRosetta

Randy Rosetta


#LSU coach Les Miles: 'This could be as good a group of specialists as we've ever had.'
about an hour ago

RandyRosetta

Randy Rosetta


#LSU coach Les Miles: Praises KO man Cameron Gamble for booming kicks, but also needled him a bit for getting a 5-yard penalty.
about an hour ago

LSUSportsNow

LSU Sports Now


Live updates from 'Lunch with Les Miles' http://t.co/EQr8y1zdhX
about an hour ago

LSUSportsNow

LSU Sports Now


After Comeback, Football Advances in Polls http://t.co/Y4WbCYsTl8
about an hour ago

LSUSportsNow

LSU Sports Now


Tracking the former LSU women's basketball players in the WNBA playoffs http://t.co/vymnYpRc2t
about an hour ago

LSUSportsNow

LSU Sports Now


Updated Coaches Poll Released http://t.co/B93hTdvDSf
about an hour ago

LSUSportsNow

LSU Sports Now


Tim Brando Thinks LSU Is A Top 10 Team After Week 1 http://t.co/fZL89eUSTr
about an hour ago

LSUSportsNow

LSU Sports Now


LSU Gets No. 1 Vote From AP Pollster http://t.co/ZVKEEdGibV
about an hour ago

LSUSportsNow

LSU Sports Now


Brent Musburger & Jesse Palmer To Call LSU-Sam Houston Game http://t.co/UjS77Ekr9T
about an hour ago

LSUSportsNow

LSU Sports Now


LSU's season starts off in heart-attack fashion, but sets momentum going forward | Talkin' Tigers http://t.co/tb85Puc991
about an hour ago

LSUSportsNow

LSU Sports Now


Dunc Shot: Don't doubt SEC teams' ability to finish strong http://t.co/xs4LV4rhda
about an hour ago

ScarboroughMike

Mike Scarborough


#LSU coach Miles says Kwon Alexander was the teams MVP.
about an hour ago

RandyRosetta

Randy Rosetta


#LSU coach Les Miles: 'LaCouture and Godchaux were really evident when they were in the game.'
about an hour ago

LSUBeatTweet

Glenn Guilbeau


OLB Kwon Alexander defensive MVP, had 8 tackles.
about an hour ago

ScarboroughMike

Mike Scarborough


#LSU coach Miles singles out interceptions by Mills and Martin as keys to getting the win.
about an hour ago

RandyRosetta

Randy Rosetta


#LSU coach Les Miles: 'That defense played so hard in the back half.'
about an hour ago

LSUBeatTweet

Glenn Guilbeau


Miles Presser: Brandon Harris will continue to be put out there at QB. Will not be predetermined or scripted. Will remain a feel thing.
about an hour ago

RandyRosetta

Randy Rosetta


#LSU coach Les Miles: Says lots of defensive miscues can be corrected. Not lack of athleticism.
about an hour ago

RandyRosetta

Randy Rosetta


#LSU coach Les Miles: 'John (Diarse) is a guy who can run with the ball in his hands. We really enjoy what he's doing.'
about an hour ago

LSUfball

LSU Football


Coach Miles on Travin Dural's big-play ability: It's becoming part of who he is. We're excited about his growth.
about an hour ago

DellengerAdv

Ross Dellenger


Miles on Jennings: "If he continues to play like that we'll have a certain amount of excellence at that spot." #LSU
about an hour ago

RabalaisAdv

Scott Rabalais


Miles on Jennings: If he continues to play like that we'll have a level of excellence at that spot. #LSU
about an hour ago

RandyRosetta

Randy Rosetta


#LSU coach Les Miles: Expects Anthony Jennings to 'really improve' from Wisconsin performance.
about an hour ago

ScarboroughMike

Mike Scarborough


#LSU coach Les Miles says it was nice to see Kenny Hilliard break it off for a long one in the second half.
about an hour ago

Sheadixon

Shea Dixon


Les Miles pretty clear on the QB situation. Says right now, the goal is to get Anthony Jennings comfortable and "let him play." #LSU
about an hour ago

LSUBeatTweet

Glenn Guilbeau


To answer that chat question, LSU played 9 true freshmen-Fournette,Harris,Quinn,Adams,Godchaux,Clark, Paris, Alexander and Gamble
about an hour ago

RandyRosetta

Randy Rosetta


#LSU coach Les Miles: Says playing time for Brandon Harris will not be pre-determined.
about an hour ago

RandyRosetta

Randy Rosetta


#LSU coach Les Miles: 'The quarterback, in my opinion, functioned the way he needed to."
about an hour ago

LSUfball

LSU Football


Miles: It's nice to be a part of an organization that has the resolve to fight like hell to win every game they're in.
about an hour ago

ScarboroughMike

Mike Scarborough


#LSU Les Miles says he is pround to be a part of an organization that is willing to fight like hell.
about an hour ago

RandyRosetta

Randy Rosetta


#LSU coach Les Miles: "It's nice to be part of an organization that has a resolve to fight like hell.'
about an hour ago

RandyRosetta

Randy Rosetta


#LSU coach Les Miles: 'I appreciate that this team continued to fight hard and gave great efffort.'
about an hour ago

RandyRosetta

Randy Rosetta


#LSU coach Les Miles: 'We knew we were going to have play 4 quarters. We just didn't know we were going to be down 24-7.'
about an hour ago

ScarboroughMike

Mike Scarborough


#LSU coach Les Miles says he and the team are looking forward to Saturday and playing in the new digs.
about an hour ago

RandyRosetta

Randy Rosetta


#LSU coach Les Miles: Praises the LSU crowd for putting out 'loud decibels.'
about an hour ago

RandyRosetta

Randy Rosetta


#LSU coach Les Miles: The requisite updates on his football-playing sons, Manny at U-High and Ben at Catholic High.
about an hour ago

brnola

Baton Rouge News


Follow our live updates NOW during "Lunch with Les" as @CoachMiles chats about Saturday's Sam Houston game http://t.co/QiYPA8LPwg
about an hour ago

NOLATigers

NOLATigers


Follow our live updates NOW during "Lunch with Les" as @CoachMiles chats about Saturday's Sam Houston game http://t.co/QXTyuxm4z7
about an hour ago

LSUfball

LSU Football


Coach Miles on the home opener vs Sam Houston State: We're looking forward to Saturday and the new digs. We're awfully excited about it.
about an hour ago

RandyRosetta

Randy Rosetta


#LSU coach Les Miles: 'Looking forward to be at home in Tiger Stadium. Excited about the new digs.'
about an hour ago

RandyRosetta

Randy Rosetta


#LSU coach Les Miles is here and ready to roll.
about an hour ago

KatFansDotCom

Katfans.com


What does Les Miles of #LSU have to say ahead of game vs #SHSU? @RandyRosetta has updates from weekly presser http://t.co/NWsEjw7hyj
about an hour ago

khuber15

Kyle Huber


4 days until it's Saturday Night in Death Valley! @LSUfball #LSU #transformationtuesday http://t.co/xAhvnJS80B
about an hour ago

RandyRosetta

Randy Rosetta


It's almost 12:30 and #LSU coach Les Miles is ready to go (we think). Stay tuned...
about an hour ago

RandyRosetta

Randy Rosetta


#LSU football | Live updates from 'Lunch with Les Miles,' which gets rolling at 12:30 p.m. Tuesday http://t.co/uspRbBYaQW via @nolanews
about an hour ago

ESPN_SEC

ESPN_SEC


Just what Auburn needs, another weapon on offense. Meet D'haquille "Duke" Williams http://t.co/bB4AnJpuX3
about an hour ago

LSUsportsNEWS

LSUsports News Feed


Holman Nabs SEC Offensive POW Honor: BATON ROUGE – LSU sophomore middle blocker Briana Holman was named the So... http://t.co/H0Q2vnoQm2
about 2 hours ago

Sheadixon

Shea Dixon


Deontay Anderson, Eric Monroe, Derrius Guice, Blake Ferguson and more watched #LSU win in person. Their thoughts: http://t.co/zKILcfJw4k
about 2 hours ago

RandyRosetta

Randy Rosetta


A microphone, @LSUCoachMiles and half an hour. Who's in?: http://t.co/YVmLzNVEsS
about 2 hours ago

RandyRosetta

Randy Rosetta


#LSU football | Live updates from 'Lunch with Les Miles' http://t.co/uspRbBYaQW via @nolanews
about 2 hours ago

ESPN_SEC

ESPN_SEC


Les Miles proves (again) not to doubt him http://t.co/pBtJMq3W2i
about 2 hours ago

RandyRosetta

Randy Rosetta


From @JeffDuncan_ | Dunc Shot: Don't doubt SEC teams' ability to finish strong http://t.co/ImN21hwxFJ via @nolanews
about 2 hours ago

LSUfball

LSU Football


Coach Miles will host his weekly press luncheon at 12:30 pm. Check out this week's game notes to get you ready: http://t.co/dphihmaLuP
about 2 hours ago

SEC_Sean

Sean Cartell


#SEC announces Cross Country Athletes of the Week: http://t.co/QFO8ogV1kf #SEC #SECPursuit
about 2 hours ago

LSUsportsNEWS

LSUsports News Feed


After Comeback, Football Advances in Polls: BATON ROUGE -- Coming a 28-24 victory over then-No. 14 Wisconsin o... http://t.co/XmJG318Hqn
about 2 hours ago

SEC_Craig

Craig Pinkerton


Texas A&M's Monogue, South Carolina's D'Angelo and Vanderbilt's Ciarrocca earn week SEC Soccer honors http://t.co/LniKSgEvuM
about 2 hours ago

LSUtigers

LSU Tigers Football


8 SEC teams appear in first Amway Coaches Poll http://t.co/PhEtnGsr1y
about 2 hours ago

LSUSportsNow

LSU Sports Now


Race to the Bottom Power Rankings: Week 1 http://t.co/7d6WICI98Y
about 2 hours ago
BLOG ARCHIVE:
CATEGORIES: