A look at possible LSU candidates
April, 6, 2012
4/06/12
5:20
PM ET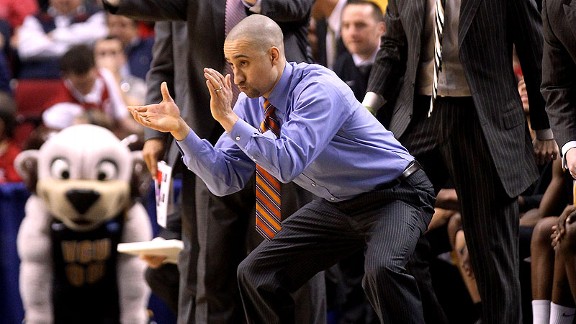 Jed Jacobsohn/Getty ImagesShaka Smart will surely bring energy as host of a rally for President Barack Obama on Saturday.
Now that we've reported that LSU's Trent Johnson is leaving for TCU, it's time to look at possible replacements.
We've broken it into three categories: LSU/region connected guys, Duke-connected guys (LSU athletic director Joe Alleva was the AD at Duke before coming to Baton Rouge) and go-for-broke national candidates (don't rule these out. Remember, women's coach Nikki Caldwell was not somebody with LSU ties and was a hot name in her sport).
To continue reading this article you must be an Insider
Insider
LSU To Start Freshman QB
Brad Edwards discusses LSU coach Les Miles' decision to start freshman QB Brandon Harris on the road vs. Auburn.
LSU To Start Freshman QB
VIDEO PLAYLIST
LSU FB RECRUITING SCORECARD
AschoffESPN

Edward Aschoff


Mississippi's historic college football weekend as told by superstar @ClowESPN http://t.co/iET83DhPEs via @espncfb
7 minutes ago

ESPN_SEC

ESPN_SEC


SEC playoff tracker: Oct. 1 http://t.co/Ji2rGKhAvJ
11 minutes ago

ESPN_SEC

ESPN_SEC


How Lane Kiffin improved Bama's offense http://t.co/E9ZknoR2XR
20 minutes ago

RandyRosetta

Randy Rosetta


Now that Harris is in charge of the #LSU offense, how much production does he need to provide? http://t.co/PaBG8knway via @nolanews
34 minutes ago

RandyRosetta

Randy Rosetta


#LSU secondary puts 'next-man-up' mantra to a test with Thomas injured & out for the rest of the season http://t.co/r2N2DYnsfm via @nolanews
35 minutes ago

DellengerAdv

Ross Dellenger


Arizona Daily Star reports ex-#LSU DE Jordan Allen has left Arizona football team and is likely done with football. http://t.co/G6Kh1iuAet
36 minutes ago

ESPN_SEC

ESPN_SEC


SEC Freshman Tracker: Week 5 http://t.co/aq1lq7ZBK0
41 minutes ago

LSUSportsNow

LSU Sports Now


Four-Down Territory: Mississippi rising, Michigan under fire, Todd Gurley is a Heisman 'machine' http://t.co/MZShGVozCR
43 minutes ago

Sheadixon

Shea Dixon


Malachi Dupre is ready to see the 2014 class break out together this weekend at Auburn. #LSU #Bolts http://t.co/psmb6EY7pz
44 minutes ago

AschoffESPN

Edward Aschoff


History hasnt been kind to the Rebels in big games but #OleMiss can make a statement vs. #Bama http://t.co/sxQNz9mcGY
48 minutes ago

SEC

SEC Sports


VIDEO - Feature on South Carolina men's tennis player Thiago Pinheiro: http://t.co/dUKxhgTKUX #SEC
about an hour ago

LSUsports

LSUsports.net


#LSU Update for Oct. 1 [.mp3] @LSUfball @TJRibsAcadianhttp://t.co/ZX16D9kq6V
about an hour ago

ESPN_SEC

ESPN_SEC


Ole Miss can make a statement vs. Bama http://t.co/nLu3Po66oY
about an hour ago

LSUtigers

LSU Tigers Football


LSU's defense must prove it belongs http://t.co/nGvLL1Unn6
about 2 hours ago

LSUSportsNow

LSU Sports Now


How Drew Brees is preparing for Tampa Bay; Auburn-LSU analysis (5 Things to Know for Wednesday) http://t.co/auNjfMFryB
about 2 hours ago

ESPN_SEC

ESPN_SEC


Watch: SEC Spreecast, 3 ET http://t.co/NR6G2Drfk2
about 2 hours ago

LSUSportsNow

LSU Sports Now


If LSU has any hope to revive its season, it'll have to overcome the haunting memories of some of the program's... http://t.co/c52qY8CBMF
about 2 hours ago

LSUSportsNow

LSU Sports Now


GUILBEAU: Auburn is not setting the world on fire just yet http://t.co/ooIsnE8wSQ
about 2 hours ago

ESPN_SEC

ESPN_SEC


SEC morning links http://t.co/MI3B1LykxL
about 2 hours ago

LSUtigers

LSU Tigers Football


LSU releases incredible hype video for Auburn game http://t.co/cFYiTWbPSy
about 2 hours ago

RandyRosetta

Randy Rosetta


Minimum of three more games of this. And I can't wait.
about 9 hours ago

RandyRosetta

Randy Rosetta


Still waiting for my breathing to get back to normal.
about 9 hours ago

RandyRosetta

Randy Rosetta


I spent most of my adult life trying to get over not being able to be the next George Brett. After tonight, I'm right back where I started.
about 9 hours ago

RandyRosetta

Randy Rosetta


OK, @JeffDuncan_ and @BStockberger , let's see if your guys can top THAT!
about 9 hours ago

LSUSportsNow

LSU Sports Now


Now that Brandon Harris is in charge of the LSU offense, how much production does he need to provide? http://t.co/LID9qto979
about 9 hours ago

RandyRosetta

Randy Rosetta


Now that Brandon Harris is in charge of the #LSU offense, how much production does he need to provide? http://t.co/PaBG8knway via @nolanews
about 9 hours ago

LSUBeatTweet

Glenn Guilbeau


Bring On October! What a game. I started watching in 8th with A's up 7-4. Royals win 9-8 in 12.
about 9 hours ago

RandyRosetta

Randy Rosetta


Had to wait to break this out since it was Sept. 30. Safe now, though. http://t.co/P19yRK0KCG
about 9 hours ago

RandyRosetta

Randy Rosetta


Perfect time for it ... https://t.co/cWMbwB54VG
about 9 hours ago

RandyRosetta

Randy Rosetta


And another incredibly profound glimpse of the man, George Brett. Perfect.
about 9 hours ago

LSUBeatTweet

Glenn Guilbeau


George Brett just said holy bleep! Royals win it 9-8 in 12. Moneyball bounced again.
about 9 hours ago

RandyRosetta

Randy Rosetta


Baseball is so awesome. It breaks your heart and gives you a chance to mend it all in the same incredible night.
about 9 hours ago

RandyRosetta

Randy Rosetta


SALVY!!!!
about 9 hours ago

SportsMotto

Great Sports Quotes


No Quit! ⚾ ⚾ ⚾#AllOrNothing #Royals #Athletics
about 9 hours ago

LSUtigers

LSU Tigers Football


Monitoring explosive plays: big gainers destroy South Carolina's season http://t.co/aEvQh2KvlL
about 9 hours ago

LSUBeatTweet

Glenn Guilbeau


A Royal-A Classic. 8-8.
about 10 hours ago

RandyRosetta

Randy Rosetta


YESSSS!!!!
about 10 hours ago

RandyRosetta

Randy Rosetta


Unbelievable
about 10 hours ago

RandyRosetta

Randy Rosetta


Alright, here we go again: https://t.co/JDnJgKzZ2k
about 10 hours ago

RandyRosetta

Randy Rosetta


A spiked breaking ball and a too-fat high fastball. Dangit.
about 10 hours ago

RandyRosetta

Randy Rosetta


I believe the torch was just passed from Shields to Finnegan in that video clip.
about 10 hours ago

RandyRosetta

Randy Rosetta


Relentless
about 10 hours ago

RandyRosetta

Randy Rosetta


That was filthy by Brandon Finnegan.
about 10 hours ago

RandyRosetta

Randy Rosetta


Win or lose, thanks to Jerrod Dyson, I may start doing this each time I post a story: https://t.co/hQ1VETM8Ya
about 10 hours ago

RandyRosetta

Randy Rosetta


Royals may lose James Shields, but they may have found his replacement in Brandon Finnegan.
about 10 hours ago

RandyRosetta

Randy Rosetta


This is emotionally draining. And awesome. I'm a loyal, rabid Red Sox fan, too. This just feels different because of how KC is built.
about 10 hours ago

LSUSportsNow

LSU Sports Now


Twitter Mailbag: Tight ends, freshmen (not) playing and missing pieces http://t.co/ZHunKIW0GB
about 10 hours ago

LSUSportsNow

LSU Sports Now


Miss St. commit open to LSU http://t.co/gwZw206wx9
about 10 hours ago

LSUSportsNow

LSU Sports Now


Tigers talk Auburn http://t.co/umG3zkaSix
about 10 hours ago

RandyRosetta

Randy Rosetta


Brandon Finnegan. Nails.
about 10 hours ago

RandyRosetta

Randy Rosetta


Well, by God, @mrzoombiya, you nailed it!
about 10 hours ago

RandyRosetta

Randy Rosetta


Jerrod Dyson, from the same hometown as my man @JohnBrady_Coach famously said earlier this season 'That what speed do.'
about 10 hours ago

LSUBeatTweet

Glenn Guilbeau


Extra innings sounds a little like Pitchers and Catchers report. Welcome to October a bit early - but midnights approaching.
about 10 hours ago

RandyRosetta

Randy Rosetta


With apologies to all my sports desk buddies, I am glad as hell you're busting deadline tonight!
about 10 hours ago

RandyRosetta

Randy Rosetta


YESSSSS!!!!
about 10 hours ago

LSUBeatTweet

Glenn Guilbeau


"Good piece of hitting," I just heard. Just say, "Good hitting," already.
about 11 hours ago

RandyRosetta

Randy Rosetta


Win or lose, these dudes are just fun to watch. No quit.
about 11 hours ago

dham18

Darryl Hamilton


Perez showed lack of discipline at the plate with tying score 90 feet away. I've been there but taking 3 big hacks? #makeadjustment
about 11 hours ago

RandyRosetta

Randy Rosetta


Salvy Perez not having a night to remember.
about 11 hours ago

LSUBeatTweet

Glenn Guilbeau


What A Game! A's lead Royals 7-6 in top 9th. Pulling for Royals and I-70 Series. But I like Moneyball, too.
about 11 hours ago

AschoffESPN

Edward Aschoff


@TravHaneyESPN Ha! Well you do HATE the way I dress and all ...
about 11 hours ago

RandyRosetta

Randy Rosetta


Surely this can't happen, right? I mean, right?
about 11 hours ago

AschoffESPN

Edward Aschoff


I now envy you RT @travhaneyespn: Like a few other sports media pals, teenage-me is beyond honored to be followed by @MelissaJoanHart.
about 11 hours ago

RandyRosetta

Randy Rosetta


Shields being lifted isn't the issue. Who replaced him at that point is the issue.
about 12 hours ago

RandyRosetta

Randy Rosetta


All these people harping on James Shields' low pitch count crack me up. If yoou've watched him at all, it was obvious he was struggling.
about 12 hours ago

daniellenkelley

Danielle Kelley


If you attend church, please take this ten-minute survey for my @LSU_Honors thesis, "Social Media and the Church." https://t.co/PZSlwCHm67
about 12 hours ago

ChrisFisher247

Chris Fisher


Five-star SG Antonio Blakeney tells CatsPause he'll take an unofficial visit to Kentucky for Big Blue Madness Oct. 17 @jerrymeyer247 #BBN
about 12 hours ago

LSUSportsNow

LSU Sports Now


How LSU will replace Dwayne Thomas http://t.co/rhIOzKHtOT
about 12 hours ago

LSUSportsNow

LSU Sports Now


LSU secondary puts'next-man-up' mantra to a test with Dwayne Thomas injured and out for the rest of the season http://t.co/4QmsiaXB9J
about 12 hours ago

RandyRosetta

Randy Rosetta


Because of my job, I am condionted to not criticize coaches a lot. But in that spot, why not a LH reliever instead of the No. 3 starter?
about 12 hours ago

erumfola

Elizabeth Rumfola


@SDS #SDSNation geaux Tigers!🐯 http://t.co/RzR4jZzcfF
about 12 hours ago

RandyRosetta

Randy Rosetta


I believe Big Game James has now arrived.
about 13 hours ago

LSUBeatTweet

Glenn Guilbeau


It's amazing how similar Brady Hoke's voice is to Gerry Faust's, and that's apparently fitting.
about 13 hours ago

RandyRosetta

Randy Rosetta


YES! Moose! Cain! Hos!
about 13 hours ago

LSUSportsNow

LSU Sports Now


LSU Tigers in the NFL – Week 4 of NFL '14 Season http://t.co/OoP2nxFxMx
about 13 hours ago

LSUSportsNow

LSU Sports Now


2014 ATVS – Geaux Show Pick'em Challenge – Week 6 http://t.co/W6MBE3xXfD
about 13 hours ago

RandyRosetta

Randy Rosetta


#LSU secondary puts'next-man-up' mantra to a test with Thomas injured & out for the rest of the season http://t.co/r2N2DYnsfm via @nolanews
about 13 hours ago

LSUBeatTweet

Glenn Guilbeau


"I've got to get better, and we've got to get better," LSU TB Leonard Fournette on Auburn game.http://t.co/CWpURNivhT
about 14 hours ago

LSUSportsNow

LSU Sports Now


Maquedius Bain Talks About LSU's Young DT's http://t.co/d1R9I9P1EG
about 14 hours ago

SEC

SEC Sports


VIDEO - LSU head coach Les Miles talks about his team's quarterback situation: http://t.co/uVDefRGJ6E #SEC
about 14 hours ago

SEC

SEC Sports


South Carolina women's golf, Dreher capture inaugural ANNIKA Intercollegiate titles. Recap: http://t.co/EXRaKTtc4B #SEC
about 14 hours ago

LSUSportsNow

LSU Sports Now


LSU in the NFL: Week 4 http://t.co/9byQ9W4Rzv
about 14 hours ago

SEC

SEC Sports


VIDEO - Alabama head coach Nick Saban talks about facing Ole Miss: http://t.co/V0djo1tI6Q #SEC
about 15 hours ago

Royals

Kansas City Royals


Baseball royalty. #TakeTheCrown http://t.co/0wvkDjNFlh
about 15 hours ago

LSUsportsNEWS

LSUsports News Feed


Vale Costa Drops Tight Match at ITA All-American: PACIFIC PALISADES, Calif. – LSU sophomore Joana Vale Costa w... http://t.co/NUbt6zrE0r
about 15 hours ago

LSUsportsNEWS

LSUsports News Feed


Lipani Named SEC Freshman Runner of the Week: BATON ROUGE -- LSU men's cross country runner DC Lipani has been... http://t.co/gjizYrJkhz
about 15 hours ago

RandyRosetta

Randy Rosetta


Just because I haven't seen it in a while ... http://t.co/GMFJISLr2V
about 15 hours ago

LSUSportsNow

LSU Sports Now


Ben Beckwith To Start At Center Vs. Texas A&M http://t.co/af5V8El4y5
about 15 hours ago

LSUSportsNow

LSU Sports Now


Want to see the SEC's best Saturday? Have no fear, Lear is here! http://t.co/8MFQmbqvVC
about 15 hours ago

NHollingsworth_

Nick Hollingsworth


Who were the top performers at the #CITC and who was the best overall? Find out here. http://t.co/ITrHSCuQTH via @247Sports
about 15 hours ago

SportsMotto

Great Sports Quotes


Begin while others make excuses. Work while others are wishing. Persist while others are quitting.
about 16 hours ago

RandyRosetta

Randy Rosetta


Watch Gus Malzahn preview #LSU, answer questions about offense's hiccups http://t.co/J0xHRbimTo via @aldotcom
about 16 hours ago

LSUmiketiger

Mike the Tiger


Mike is at Aaron's in Denham Springs with @LSUCheer! We're giving away tix to the @LSUfball Kentucky game! http://t.co/VROWHi9iHj
about 16 hours ago

LSUBeatTweet

Glenn Guilbeau


Good Interview With New LSU starting QB Brandon Harris by LSU's Emily Dixon at Inside the Huddle.http://t.co/0tfWr5A4wX
about 16 hours ago

LSUtigers

LSU Tigers Football


SEC turnover scoreboard: Bo Wallace holding back Ole Miss http://t.co/f4sbOQt0mK
about 16 hours ago

LSUmiketiger

Mike the Tiger


Tiger Fans! It's #TwitterTuesday and Mike will be at Aaron's in Denham Springs with free tix to @LSUfball vs. Kentucky! See you there at 5!
about 17 hours ago

LSUSportsNow

LSU Sports Now


LSU Vs. Auburn TV Commentators http://t.co/4dMOzMhEMi
about 17 hours ago

LSUSportsNow

LSU Sports Now


Video: LSU Vs. Auburn Trailer http://t.co/57TqzgEcrl
about 17 hours ago

ScarboroughMike

Mike Scarborough


#LSU in pursuit of Miss St. DT commitment and he's interested. $ http://t.co/CNDSY74TxO
about 17 hours ago

ESPN_SEC

ESPN_SEC


What are Tennessee and Lil Jon up to? http://t.co/zv0g50MzXP
about 17 hours ago
BLOG ARCHIVE:
CATEGORIES: