2014 LSU recruiting preview: QB and RB
February, 27, 2013
2/27/13
8:00
AM ET
The second in a series of previews of players LSU might target in the 2014 recruiting class. Tuesday, we looked at wide recievers and tight ends.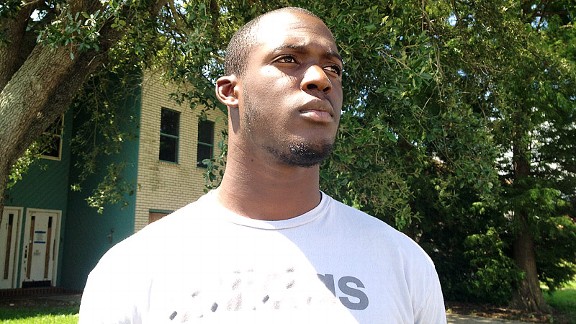 Alex Scarborough/ESPN.comLSU has tried to make itself as attractive as possible to running back Leonard Fournette.
BATON ROUGE, La. -- Will LSU sign a quarterback in 2014? And how many running backs will the Tigers pursue after not signing one in 2013?
Those are the questions for LSU as it approaches its offensive backfield recruiting for 2014. The guess here is LSU will take a quarterback and about three running backs, one of whom it hopes is the player who is probably the biggest priority recruit in the class.
Here are the potential targets:
To continue reading this article you must be an Insider
Insider
Marcus Spears reviews LSU Pro Day
Paul Finebaum and ESPN's Marcus Spears discuss LSU Pro Day and players that stood out.
Marcus Spears reviews LSU Pro Day
VIDEO PLAYLIST
LSU FB RECRUITING SCORECARD
Nike Men's Lsu Tigers Grey 'win!' Local Characteristic T-shirt Shop »
SEC

SEC Sports


Six different SEC teams (Arkansas, Florida, Georgia, Kentucky, LSU and Mississippi State) have appeared in the NCAA Final Four.
3 minutes ago

SEC

SEC Sports


Kentucky is making its 17th appearance in the Final Four, tying UCLA for second-most in NCAA history. #SEC
6 minutes ago

SEC

SEC Sports


This is the fourth time in the last five years that the SEC has had at least one team in the NCAA Men's Final Four. #SEC
6 minutes ago

LSUSportsNow

LSU Sports Now


Dylan Moses is not normal http://t.co/AtcBBkn5yE
7 minutes ago

LSUSportsNow

LSU Sports Now


LSU Recruiting Notes – Opening Regional: NOLA http://t.co/LmCwAWZelS
7 minutes ago

LSUSportsNow

LSU Sports Now


Two LSU commits invited to The Opening http://t.co/9qLea1FQu1
7 minutes ago

LSUmiketiger

Mike the Tiger


Bad news: The ice cream machine is broken :(Good news: @LSUbaseball wins against Kentucky! http://t.co/DO69ggWMBk
8 minutes ago

KentuckyMBB

Kentucky Basketball


CATS WIN! http://t.co/50jGR0mtqe
10 minutes ago

LSUBeatTweet

Glenn Guilbeau


No. 1 Kentucky edges Notre Dame 68-66. Kentucky baseball team loses to No. 1 LSU, 7-3.
11 minutes ago

dandydonlsu

Dandy Don LSU Sports


FINAL: LSU 7 Kentucky 3. Rubber game of the series tomorrow at 11.
12 minutes ago

TheOpening

The Opening


Congrats to #TheOpening Finals 2015 invitee, Archbishop Rummel DB Kristian Fulton. #GOTOPEN http://t.co/h6elArjWcU
16 minutes ago

dandydonlsu

Dandy Don LSU Sports


Tigers are 3 outs from victory leading UK 7-2. Cartwright in to close. #LSU
20 minutes ago

RandyRosetta

Randy Rosetta


END 8th | #LSU 7, UK 2: Big round send game to the 9th with Tigers in control. Alden Cartwright in to finish.
21 minutes ago

LSUBeatTweet

Glenn Guilbeau


All no huddle teams huddle here and there, Les.
21 minutes ago

DellengerAdv

Ross Dellenger


#FosterBatToss #LSU https://t.co/GJcphN4f8G
24 minutes ago

dandydonlsu

Dandy Don LSU Sports


FOSTER 2-RUN BROOMSTICK! LSU 7 UK 2, 1 out B8.
25 minutes ago

FauxPelini

Fake Bo Pelini


.@CoachBrianKelly TURN ON TBS
26 minutes ago

dandydonlsu

Dandy Don LSU Sports


Ball was lodged under fence but retrievable. Was ruled GR double at first before argument. @helmetstudio: @dandydonlsu what happened?
26 minutes ago

LSUBeatTweet

Glenn Guilbeau


After Chinea's 3-pointer, Foster with a 2-run HR and Tigers lead Kentucky 7-2.
27 minutes ago

RandyRosetta

Randy Rosetta


Jared Foster HR, bat flip and 7-2 #LSU lead.
27 minutes ago

dandydonlsu

Dandy Don LSU Sports


What a weird and wacky series this has been so far! Kudos to Mainieri for making his case on Chinea's inside-the-park HR. LSU 5 Kentucky 2.
29 minutes ago

RandyRosetta

Randy Rosetta


That's #LSU's second inside-the-parker in three games. Little difference in the speed demons involved -- Mark Laird and Chris Chinea.
31 minutes ago

LSUBeatTweet

Glenn Guilbeau


LSU takes a 5-2 lead on an inside the park, three-run HR by Chris Chinea in bottom of the 8th.
31 minutes ago

RandyRosetta

Randy Rosetta


Well, the play stands and Chinea has an inside-the-park 3-run HR for a 5-2 #LSU lead.
32 minutes ago

LSUBeatTweet

Glenn Guilbeau


Kentucky's baseball team has had more huddles tonight than its football team.
33 minutes ago

RandyRosetta

Randy Rosetta


Might be the right call, but it's chintzy. That ball is easy to pick up and play -- not UK fielder's fault for trying, though.
34 minutes ago

geauxMiLB

Tigers in the Minors


Chinea hits an inside the park HR that the Kentucky player deemed out of play, was under the fence. Umpire walked right up and picked it up.
35 minutes ago

RandyRosetta

Randy Rosetta


Play has been ruled a ground-rule double, which means Stevenson will have to go to third. Still two in scoring position for Sciambra.
35 minutes ago

RandyRosetta

Randy Rosetta


Huge swing by Chris Chinea as he drops a hit into CF to score Kade Scivicque with the go-ahead run as #LSU goes in front 3-2.
36 minutes ago

LSUSportsNow

LSU Sports Now


Helm, Greef Conclude Careers at NCAA's http://t.co/Hqo4dIaMZA
38 minutes ago

LSUSportsNow

LSU Sports Now


Lady Tigers Set Records on Day 2 at Golf Classic http://t.co/XGzdmja3I3
38 minutes ago

LSUBeatTweet

Glenn Guilbeau


Notre Dame, which beat 88-0 UCLA by 71-70 on Jan. 19, 1974, is leading 37-0 Kentucky 59-53 with 6:10 to go tonight.
40 minutes ago

RandyRosetta

Randy Rosetta


So neither Lange nor Beggs will get a win tonight. Booth were marvelous on the mound.
44 minutes ago

dandydonlsu

Dandy Don LSU Sports


Fraley makes a potential game-saving catch at the LF fence, but not before the Wildcats tie it up 2-2. Hale, Scivicque, Stevenson up for LSU
45 minutes ago

RandyRosetta

Randy Rosetta


Hale, Scivicque and Stevenson coming up for #LSU in a 2-2 tie game.
45 minutes ago

LSUBeatTweet

Glenn Guilbeau


at the left field wall, that is.
47 minutes ago

LSUBeatTweet

Glenn Guilbeau


Jake Fraley with a super catch at the left field to end the top of the 8th.
47 minutes ago

RandyRosetta

Randy Rosetta


Whoa! Jake Fraley just saved at least two runs with a dazzling running catch at the left-field wall. #LSU-UK tied 2-2 after 7 1/2.
47 minutes ago

RandyRosetta

Randy Rosetta


All tied up again as another light-hitting Wildcat produces an RBI single. #LSU's missed chances loom large right now.
48 minutes ago

LSUBeatTweet

Glenn Guilbeau


Kentucky (baseball team) ties it 2-2 at LSU in the 8th.
49 minutes ago

LSUBeatTweet

Glenn Guilbeau


Notre Dame 50, Kentucky 46 at 10 minute mark of game.
50 minutes ago

LSUBeatTweet

Glenn Guilbeau


Sciambra triple clearly landed foul, but it was ruled fair because it hit 1B's glove. U can see ball's course altered after glove on replay.
about an hour ago

dandydonlsu

Dandy Don LSU Sports


RT @valleyshook: Person in for the 8th, here's Lange's final line http://t.co/GhvbQuH0c4
about an hour ago

geauxMiLB

Tigers in the Minors


Wasted the leadoff 3B. & Bregman hits another screamer, right at a fielder! I feel like a broken record. Can't wait til they start falling!
about an hour ago

RandyRosetta

Randy Rosetta


Zac Person takes over on the mound for #LSU. Lange's line: 7 IP, 6 H, 1 R (UE), 13 K,. 5 BB.
about an hour ago

RandyRosetta

Randy Rosetta


END 7th | #LSU 2, UK 1: Nice escape act by Beggs as the Tigers can't push a run home -- 0-for-3 w/RISP in the inning.
about an hour ago

LSUBeatTweet

Glenn Guilbeau


Bregman lines out to SS. Through 7, LSU 2, Kentucky 1.
about an hour ago

LSUBeatTweet

Glenn Guilbeau


Alex Bregman up with two outs and two on in bottom of 7th and LSU leading 2-1.
about an hour ago

RandyRosetta

Randy Rosetta


Beggs is close to escaping after he gets Fraley on a chopper to 1B that becomes a 3-2 putout. Fraley at 1B, 2 outs.
about an hour ago

RandyRosetta

Randy Rosetta


Beggs gets the first huge out as Foster rolls to third with the UK infield in. Sciambra still on 3B with one out.
about an hour ago

RandyRosetta

Randy Rosetta


Review goes in #LSU's favor. Sciambra's 3B holds. He is at third with no outs, Foster will bat. Beggs will stay in. Tigers lead 2-1.
about an hour ago

RandyRosetta

Randy Rosetta


Ok, so apparently this play is under video review. Believe this is the first time it's happened in an #LSU game under the new rules.
about an hour ago

LSUBeatTweet

Glenn Guilbeau


One of better actual crowds of season at Alex Box. About 8,300. Tigers leading 2-1 in seventh. Chris Sciambra leads off 7th with triple.
about an hour ago

RandyRosetta

Randy Rosetta


Leadoff 3B for Chris Sciambra on a full-count pitch. Gary Henderson out to argue ... something???
about an hour ago

dandydonlsu

Dandy Don LSU Sports


Lang issues a walk but faces the minimum in inning thanks to a line drive DP. LSU 2 Kentucky 1 at the stretch. Hell of an outing for Lange.
about an hour ago

RandyRosetta

Randy Rosetta


Sciambra, Foster and Fraley due up for #LSU.
about an hour ago

RandyRosetta

Randy Rosetta


MID 7th | #LSU 2, UK 1: Lange gets the pesky Torn on a can of corn to CF. 7 real solidd innings for the Tigers' freshman.
about an hour ago

RandyRosetta

Randy Rosetta


Huge break for #LSU, as Barrett broke on a hit-and-run and White rifled a liner right at Bregman, who turned it into a 6-3 line-drive DP.
about an hour ago

dandydonlsu

Dandy Don LSU Sports


Hale scores on Stevenson's ground out DP. LSU 2 Kentucky 1, end 6. Lange back out to start the 7th. He's at 106 pitches.
about an hour ago

RandyRosetta

Randy Rosetta


Lange back out for the 7th and will face top of the UK order, which has been a pest. Key inning here for Lange and #LSU.
about an hour ago

RandyRosetta

Randy Rosetta


END 6th | #LSU 2, UK 1: More unconventional baseball, but Tigers lead. Beggs has been eevery bit as good as Lange, without the Ks.
about an hour ago

RandyRosetta

Randy Rosetta


Stevenson taps into a 4-3 DP, but Hale scores the go-ahead run. #LSU leads 2-1.
about an hour ago

RandyRosetta

Randy Rosetta


Hitting behind the runner also works with Scivicque, esp. when the UK SS boots it for an E. #LSU runners on the corners, no outs.
about an hour ago

dandydonlsu

Dandy Don LSU Sports


Hale yeah! RT @geauxMiLB: LEADOFF DOUBLE, CONNER HALE!!! Let's get some runs!!
about an hour ago

RandyRosetta

Randy Rosetta


Hale starts #LSU 6th with a 2B. Would be surprised if Scivicque bunts -- has a chance to drive in with a hit/move with fly ball.
about an hour ago

RandyRosetta

Randy Rosetta


Hale, Scivicque and Stevenson coming up for #LSU.
about an hour ago

dandydonlsu

Dandy Don LSU Sports


RT @LSUbaseball: Mid 6: Kentucky leaves one stranded. Hale, Scivicque and Stevenson are coming up to the plate with the score tied at 1.
about an hour ago

RandyRosetta

Randy Rosetta


MID 6th | #LSU 1, UK 1: Cats match Tigers unconventional run with one on a leadoff BB, PB and flair 1B. Lange up to 13 Ks.
about an hour ago

dandydonlsu

Dandy Don LSU Sports


Lange has now tied his career high with 13 strikeouts. Had 13 against Ole Miss too. Still going strong at 102 pitches.
about an hour ago

LSUBeatTweet

Glenn Guilbeau


Les Miles wanted to keep def. coordinator John Chavis, but with a few tweaks:http://t.co/7nmsVj26M1
about an hour ago

RandyRosetta

Randy Rosetta


UK 3B RIley Mahan did try to bunt on first two pitches and struck out.
about an hour ago

dandydonlsu

Dandy Don LSU Sports


Tied 1-1 MT @RandyRosetta: Of note, UK hitter Marcus Carson did not bunt with man on 2B and no outs. Delivered an RBI 1B instead.
about an hour ago

geauxMiLB

Tigers in the Minors


That's the first passed ball of the season for Scivicque.
about an hour ago

RandyRosetta

Randy Rosetta


Of note, light-hitting UK hitter Marcus Carson did not bunt with man on 2B and no outs. Delivered an RBI 1B instead.
about an hour ago

SECNetwork

SEC Network


The #LadyVols are ELITE!@LadyVol_Hoops beats Gonzaga, 73-69 in OT. Tennessee is headed back to the #Elite8. http://t.co/IMolHTd2q1
about an hour ago

RandyRosetta

Randy Rosetta


4-pitch BB, PB and a dunker to LF and #LSU and UK are tied 1-1.
about an hour ago

RandyRosetta

Randy Rosetta


Yeesh. Lange just 4-pitch walked a guy, Storm Wilson, that he he had fanned twice. UK with leadoff man on base.
about an hour ago

RandyRosetta

Randy Rosetta


END 5th | #LSU 1, UK 0: Another runner stranded in scoring spot. Those are going to haunt if Tigers aren't careful.
about an hour ago

LSUsportsNEWS

LSUsports News Feed


Helm, Greef Conclude Careers at NCAA's: IOWA CITY, Iowa – Seniors Daniel Helm and Frank Greeff wrapped up thei... http://t.co/1iOfTWt8Y2
about an hour ago

LSUsportsNEWS

LSUsports News Feed


Lady Tigers Set Records on Day 2 at Golf Classic: BATON ROUGE – The LSU women's golf team more than lived up t... http://t.co/FlSy6mrkHm
about an hour ago

bldore

Bryan Lazare


There have been 14 innings this season when runner has reached 2nd base off Lange. Teams have scored runs in just 3 of those 14 innings.
about an hour ago

dandydonlsu

Dandy Don LSU Sports


Lange's K count is up to 11. Score remains Tigers 1 Wildcats 0, mid-5. Foster, Fraley, Laird up for #LSU.
about an hour ago

RandyRosetta

Randy Rosetta


Foster, Fraley and Laird coming up for #LSU. Lots of speed for UK to contend with.
about an hour ago

RandyRosetta

Randy Rosetta


MID 5th | #LSU 1, UK 0: Lange works around a leadoff 1B much more seamlessly this time with 2 more Ks. 11 so far.
about an hour ago

RandyRosetta

Randy Rosetta


Lange records his 10th K. Two games in three with double digits for the #LSU freshman RHP. He's pretty good.
about 2 hours ago

NeilatTheState

Neil White


Georgia 4, USC 3, FINAL. Bulldogs win series. W: McLaughlin. L: Scott. HR: Martin. Records: USC 18-9, 4-4 SEC, Georgia 18-10, 5-3 SEC.
about 2 hours ago

dandydonlsu

Dandy Don LSU Sports


Chinea's RBI sac fly makes it LSU 1 Kentucky 0, end 4.
about 2 hours ago

RandyRosetta

Randy Rosetta


END 4th | #LSU 1, UK 0: Wasn't pretty, but it ccounts as Tigers push home the first run of the night. Lange on the spot to hold lead here.
about 2 hours ago

RandyRosetta

Randy Rosetta


#LSU generates a run with an E5 (two bases), 3U by Stevenson and Chinea's sac fly to deep CF. 1-0 lead.
about 2 hours ago

dandydonlsu

Dandy Don LSU Sports


LSU & Kentucky remain scoreless, mid-4. Nine Ks so far for Lange.
about 2 hours ago

LSUSportsNow

LSU Sports Now


Watch Nike Football hand out The Opening invitations at the Louisiana regional: Video http://t.co/44BchijUbz
about 2 hours ago

LSUSportsNow

LSU Sports Now


Kristian Fulton, Stephen Sullivan, Dylan Moses earn invitations to The Opening 2015 http://t.co/BzwPE9SDkj
about 2 hours ago

RandyRosetta

Randy Rosetta


Scivicque, Stevenson and Chinea headed up for #LSU.
about 2 hours ago

RandyRosetta

Randy Rosetta


MID 4th | UK 0, #LSU 0: Back to nasty for Lange as he gets Cats bottom third 1-2-3 with two more Ks -- 9 in 4 IP.
about 2 hours ago

ScarboroughMike

Mike Scarborough


TigerBait - Postcard: Talent on display in Houston http://t.co/ZIlV1QYyxa
about 2 hours ago

RandyRosetta

Randy Rosetta


END 3rd | UK 0, #LSU 0: Struggles to produce runs starting to mount for the Tigers. 0-for-3 w/RISP after Fraley's leaddoff 1B and SB.
about 2 hours ago

dandydonlsu

Dandy Don LSU Sports


Lange gets out of a bases loaded jam unscathed on back-to-back strikeouts. LSU-Kentucky scoreless, mid-3.
about 2 hours ago

RandyRosetta

Randy Rosetta


Top of the #LSU order coming up -- Fraley, Laird and Bregman.
about 2 hours ago

RandyRosetta

Randy Rosetta


MID 3rd | UK 0, #LSU 0: Cats threaten with a 1B and 2 BBs to load bases with one out, but Lange answers with 2 Ks on 6 pitches.
about 2 hours ago

RandyRosetta

Randy Rosetta


#LSU's Alex Lange loads the bases, gets a visit from Alan Dunn, throws 6 consecutive strikes to squash the UK threat. Nasty.
about 2 hours ago
SEC SCOREBOARD
Thursday, 9/3
Saturday, 9/5
BLOG ARCHIVE:
CATEGORIES: