RN asks: Item you'd bring on a visit
January, 27, 2013
Jan 27
5:07
PM ET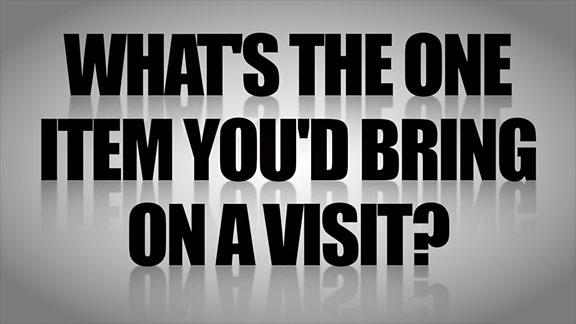 Top recruits Robert Nkemdiche, Kelvin Taylor, Keith Ford, Cooper Bateman and others talk about the one item they'd bring along on an official visit. They thought of everything from a toothbrush to a horse.
SEC recruiting rewind: Dec. 9
Derek Tyson wraps up LSU's big recruiting weekend, Johnnie Dixon's decision delay and top weekend performances.
SEC recruiting rewind: Dec. 9
VIDEO PLAYLIST
SEC recruiting rewind: Dec. 9

SEC recruiting rewind: Dec. 9

Derek Tyson wraps up LSU's big recruiting weekend, Johnnie Dixon's decision delay and top weekend performances.

Zach Mettenberger's NFL Draft Stock

Zach Mettenberger's NFL Draft Stock

LSU's Mettenberger Done For Season

LSU's Mettenberger Done For Season
LSU FB RECRUITING SCORECARD
lsubuzztap

LSU Tigers Buzz


Tiger Bait (Rivals) >> Top Performers: AL-MS All-Star Classic http://t.co/3jxzEDMK3d
about 5 hours ago

lsubuzztap

LSU Tigers Buzz


Tiger Bait (Rivals) >> McDowell impressed by Saban http://t.co/ZCvLPQLwti
about 5 hours ago

lsubuzztap

LSU Tigers Buzz


Tiger Bait (Rivals) >> Midlands Mailbag: Longhorns get boost http://t.co/ZNswpSke9j
about 5 hours ago

lsubuzztap

LSU Tigers Buzz


Tiger Bait (Rivals) >> Around the Midlands: LSU's big weekend http://t.co/Wo9kHxYnfp
about 5 hours ago

lsubuzztap

LSU Tigers Buzz


Tiger Bait (Rivals) >> Numbers Crunch: Hail to the SEC http://t.co/5tMj3d8yHW
about 5 hours ago

lsubuzztap

LSU Tigers Buzz


Tiger Bait (Rivals) >> AL-MS All-Star Notebook: Humphrey close? http://t.co/W2IsOzpvYT
about 5 hours ago

lsubuzztap

LSU Tigers Buzz


Tiger Bait (Rivals) >> Commits React to Reagan Departure http://t.co/7KuTGREFFQ
about 5 hours ago

lsubuzztap

LSU Tigers Buzz


Tiger Bait (Rivals) >> Recapping the rest of the Chicago Elite Classic http://t.co/VXfyhSxXV5
about 5 hours ago

lsubuzztap

LSU Tigers Buzz


Tiger Bait (Rivals) >> Around the West: Changes shaking things up http://t.co/cVnlzVgy2R
about 5 hours ago

lsubuzztap

LSU Tigers Buzz


Tiger Bait (Rivals) >> West Mailbag: Where does Arizona go next? http://t.co/E0Zi4J5MVJ
about 5 hours ago

lsubuzztap

LSU Tigers Buzz


Tiger Bait (Rivals) >> Shaw inks agreement with Cards http://t.co/AvqKVWzqBr
about 5 hours ago

lsubuzztap

LSU Tigers Buzz


Tiger Bait (Rivals) >> MSU visit makes Evans' decision difficult http://t.co/SSoR6LtaI8
about 5 hours ago

lsubuzztap

LSU Tigers Buzz


Tiger Bait (Rivals) >> Rivals250 DE Sawyer talks SEC finalists http://t.co/s3Q11jJ3ew
about 5 hours ago

LSUSportsNow

LSU Sports Now


Commit No. 15 (2014): RB Darrel Williams http://t.co/q5clBYWyl5
about 6 hours ago

lsubuzztap

LSU Tigers Buzz


Tiger Bait (Rivals) >> Around the Southwest: A&M's roll continues http://t.co/d4SexjA3D6
about 6 hours ago

lsubuzztap

LSU Tigers Buzz


Tiger Bait (Rivals) >> Southwest Mailbag: The Robinson watch http://t.co/tzIpHNnl7j
about 6 hours ago

lsubuzztap

LSU Tigers Buzz


Tiger Bait (Rivals) >> USC bridges the gap for McQuay http://t.co/VAtRJ1jXs2
about 6 hours ago

lsubuzztap

LSU Tigers Buzz


Tiger Bait (Rivals) >> What we learned: AL-MS All-Star Classic http://t.co/1Ui93cZ9kv
about 6 hours ago

lsubuzztap

LSU Tigers Buzz


Tiger Bait (Rivals) >> What we learned: Shrine Bowl of the Carolinas http://t.co/GGmTtKlOfd
about 6 hours ago

lsubuzztap

LSU Tigers Buzz


Tiger Bait (Rivals) >> Rivals100 defender talks visits http://t.co/LEWzENvREj
about 6 hours ago

lsubuzztap

LSU Tigers Buzz


Tiger Bait (Rivals) >> Shrine Bowl: Who shined and declined? http://t.co/ucuEp1NSkY
about 6 hours ago

ScarboroughMike

Mike Scarborough


#LSU picks up the commitment of #Rivals250 RB Darrel Williams of Marrero, La. John Ehret. FREE story... http://t.co/6wEC3ffdoC
about 9 hours ago

SEC

SEC Sports


Get scores and recaps from Tuesday's SEC men's basketball action here: http://t.co/o0VBLIZ7vk #SEC
about 9 hours ago

LSUSportsNow

LSU Sports Now


Ron Higgins' Eyeballin' the SEC | Proving the SEC's dominance http://t.co/MuYHnrMQbI
about 9 hours ago

LSUSportsNow

LSU Sports Now


Recruiting: Darrell Williams Jr. commits to LSU http://t.co/88SIYKnNf6
about 9 hours ago

LSUSportsNow

LSU Sports Now


Ehret running back Darrel Williams commits to LSU http://t.co/v47wLYGzMe
about 9 hours ago

LSUSportsNow

LSU Sports Now


Darrel Williams picks LSU http://t.co/MYidCsu9vD
about 9 hours ago

LSUSportsNow

LSU Sports Now


Arizona Cardinal's FS Tyrann Mathieu Attacking Rehab with Perfect Mindset http://t.co/7MZSAGgohv
about 9 hours ago

LSUSportsNow

LSU Sports Now


LSU Commitment Trey Quinn Honored as Player of the Year Finalist http://t.co/IsTPKOyxgg
about 9 hours ago

ESPNLSU

ESPN LSU


LSU adds three-star RB Darrel Williams http://t.co/MJhlonWKiD
about 9 hours ago

lsubuzztap

LSU Tigers Buzz


Tiger Bait (Rivals) >> Top Performers: AL-MS All-Star Classic http://t.co/c7vi8JMom0
about 10 hours ago

LSUSportsNow

LSU Sports Now


LSU lands Darrel Williams http://t.co/6Edt4v4pCP
about 10 hours ago

ScarboroughMike

Mike Scarborough


#Rivals100 LB Clifton Garrett @CG340 is now on the clock. ;) December 17 is approaching fast.
about 10 hours ago

RandyRosetta

Randy Rosetta


RT @JimmyDetail: FYI...Darrel Williams is a running back commitment for #LSU . Talk of athlete is long gone.
about 10 hours ago

ScarboroughMike

Mike Scarborough


RT @DellengerAdv: Quick story up: John Ehret RB Darrel Williams commits to #LSU, reports @ScarboroughMike - http://t.co/41HRbWK1Lv
about 10 hours ago

RandyRosetta

Randy Rosetta


RT @JeritRoser: We're now accepting nominations for our football fan voting awards. Who should be on the ballot? Let us know! http://t.co/5…
about 10 hours ago

RandyRosetta

Randy Rosetta


From @JimmyDetail | Ehret running back Darrel Williams commits to #LSU http://t.co/C09Rh0jOPn
about 10 hours ago

RandyRosetta

Randy Rosetta


RT @brnola: Ron Higgins' Eyeballin' the SEC | Proving the SEC's dominance http://t.co/IL8GiA8mIq
about 10 hours ago

lsubuzztap

LSU Tigers Buzz


The Times-Picayune >> Ron Higgins' Eyeballin' the SEC | Proving the SEC's dominance http://t.co/ud4rfkZZ2z
about 10 hours ago

lsubuzztap

LSU Tigers Buzz


The Times-Picayune >> Ehret running back Darrel Williams commits to LSU http://t.co/rW9v3ZgVRD
about 10 hours ago

dandydonlsu

Dandy Don LSU Sports


RB Darrell Williams (6'1", 213, John Ehret) has committed to #LSU. Great get for the Tigers!
about 10 hours ago

ScarboroughMike

Mike Scarborough


#LSU has jumped 4 spots in the Rivals team recruiting rankings with the commitment of #Rivals250 RB Darrel Williams http://t.co/TGulXHyA1E
about 11 hours ago

ScarboroughMike

Mike Scarborough


#LSU has jumped 4 spots in the Rivals team recruiting rankings with the commitment of #Rivals250 RB Darrel... http://t.co/5x049k3J7W
about 11 hours ago

lsubuzztap

LSU Tigers Buzz


Tiger Bait (Rivals) >> Darrel Williams picks LSU http://t.co/ZdJmo0srVv
about 11 hours ago

lsubuzztap

LSU Tigers Buzz


Tiger Bait (Rivals) >> McDowell impressed by Saban http://t.co/qkU5LAP9CJ
about 11 hours ago

Sheadixon

Shea Dixon


I've confirmed RB Darrel Williams has committed to #LSU. @Geaux247
about 11 hours ago

ScarboroughMike

Mike Scarborough


#Rivals250 RB Darrel Williams of Marrero-John Ehret is now a #LSU commitment. http://t.co/BufuGIUl19 http://t.co/ieTY4V45fC
about 11 hours ago

LSUSportsNow

LSU Sports Now


Looking forward to 2014 postseason http://t.co/50CpWykrTf
about 11 hours ago

lsubuzztap

LSU Tigers Buzz


Tiger Bait (Rivals) >> Looking forward to 2014 postseason http://t.co/sg9FRWo8s6
about 11 hours ago

LSUSportsNow

LSU Sports Now


Six Graphs – 12/10 http://t.co/2ryKtozUZx
about 12 hours ago

ScarboroughMike

Mike Scarborough


Looking forward to the 2014 football postseason. Analysis from TigerBait senior writer Bryan Lazare @bldore. $... http://t.co/aXu6MRYQoo
about 12 hours ago

lsubuzztap

LSU Tigers Buzz


Tiger Bait (Rivals) >> Around the Midlands: LSU's big weekend http://t.co/dtipXRhgyp
about 12 hours ago

lsubuzztap

LSU Tigers Buzz


Tiger Bait (Rivals) >> Numbers Crunch: Hail to the SEC http://t.co/D4RLBp4ET5
about 12 hours ago

lsubuzztap

LSU Tigers Buzz


Tiger Bait (Rivals) >> AL-MS All-Star Notebook: Humphrey close? http://t.co/S6fHB3WPlp
about 12 hours ago

lsubuzztap

LSU Tigers Buzz


Tiger Bait (Rivals) >> Commits React to Reagan Departure http://t.co/IY6VKp1eLC
about 12 hours ago

LSUsportsNEWS

LSUsports News Feed


Lady Tigers Advance to No. 13 in Coaches Poll: BATON ROUGE – Following a 7-1 start to the season – its best st... http://t.co/cx1xxhhUpG
about 13 hours ago

LSUSportsNow

LSU Sports Now


Cookin' ATVS Style: Lean Turkey/Deer Chili http://t.co/AlWFg4fLMw
about 13 hours ago

LSUtigers

LSU Tigers Football


Ranking the 2013-14 #SEC bowl games from worst to first http://t.co/fZ6pamsqXi - @SECfootball @SDS
about 13 hours ago

lsubuzztap

LSU Tigers Buzz


LSU Tigers (Official Site) >> Lady Tigers Advance to No. 13 in Coaches Poll http://t.co/owfbQbf4ZY
about 13 hours ago

lsubuzztap

LSU Tigers Buzz


Tigers Sports Digest (Scout) >> Six Graphs – 12/10 http://t.co/izElxdJxVA
about 13 hours ago

lsubuzztap

LSU Tigers Buzz


And the Valley Shook >> Cookin' ATVS Style: Lean Turkey/Deer Chili http://t.co/0E6ORqMbVP
about 14 hours ago

ESPN_SEC

ESPN_SEC


McCarron spoke to A-Rod prior to Iron Bowl http://t.co/w1z53uZOyO
about 14 hours ago

LSUSportsNow

LSU Sports Now


LSU vs. Iowa in the Outback Bowl: Talkin' Tigers http://t.co/MIrIUABPcp
about 14 hours ago

lsubuzztap

LSU Tigers Buzz


The Times-Picayune >> LSU vs. Iowa in the Outback Bowl: Talkin' Tigers http://t.co/HO1yYLbwaF
about 14 hours ago

lsubuzztap

LSU Tigers Buzz


LSU Tigers (Official Site) >> Holman Named AVCA Freshman of the Year http://t.co/ejfo4lomhn
about 14 hours ago

LSUSportsNow

LSU Sports Now


Holman Named AVCA Freshman of the Year http://t.co/V2VI3q8ZPa
about 14 hours ago

LSUSportsNow

LSU Sports Now


2013 All-SEC Football Team Announced http://t.co/AKyBrOC045
about 14 hours ago

SEC

SEC Sports


RT @SECNetwork: We're thrilled to have Joe Tessitore host #SECNation, our traveling pregame show starting in August!
about 14 hours ago

SEC

SEC Sports


RT @SEC_Sean: The @SEC places 23 volleyball student-athletes on @AVCAVolleyball All-Region Teams: http://t.co/jsaEIm737I #SEC
about 15 hours ago

LSUsportsNEWS

LSUsports News Feed


Holman Named AVCA Freshman of the Year: LEXINGTON, Ky. – LSU middle blocker Briana Holman not only secured Ame... http://t.co/8lPh4IiixG
about 15 hours ago

SEC

SEC Sports


SEC Lands 23 on 2013 AVCA All-Region Teams: http://t.co/N36xDStfHl
about 15 hours ago

ESPN_SEC

ESPN_SEC


Alabama leads coaches All-SEC team http://t.co/KD3x3lryjp
about 15 hours ago

ESPNLSU

ESPN LSU


Alabama leads coaches All-SEC team http://t.co/L2ufq6WuqM
about 15 hours ago

lsubuzztap

LSU Tigers Buzz


The Shreveport Times >> Six LSU Tigers earn Coaches All-SEC honors http://t.co/0UHvDXIyto
about 15 hours ago

LSUSportsNow

LSU Sports Now


Six LSU Tigers earn Coaches All-SEC honors http://t.co/Yn61BP2OrK
about 15 hours ago

Sheadixon

Shea Dixon


RT @lukejohnson44: LSU the first team in #SEC history with two 1,000-yard receivers (Landry, OBJ), a 1,000-yard running back (Hill) and a 3…
about 15 hours ago

lsubuzztap

LSU Tigers Buzz


LSU Tigers (Official Site) >> Tiger Tracks to Feature Football, Gymnastics http://t.co/awtTZ3clgc
about 15 hours ago

SEC

SEC Sports


Kentucky's Jennifer O'Neill named Drysdale National Player of the Week: http://t.co/geUg6FnO0f
about 15 hours ago

LSUsportsNEWS

LSUsports News Feed


Tiger Tracks to Feature Football, Gymnastics: BATON ROUGE, La. – This week's edition of LSU Tiger Tracks, a pr... http://t.co/MiKxeac6IM
about 15 hours ago

LSUSportsNow

LSU Sports Now


Six LSU football players receive All-SEC honors http://t.co/C6t52mAVbR
about 15 hours ago

LSUSportsNow

LSU Sports Now


LSU commitment, Barbe receiver Trey Quinn honored to be finalist for U.S. Army Player of the Year award http://t.co/rqg0MsbzUn
about 15 hours ago

LSUSportsNow

LSU Sports Now


Arizona's Tyrann Mathieu is placed on injured reserve http://t.co/KoHYLfKsGc
about 15 hours ago

LSUtigers

LSU Tigers Football


#LSU loses commitment, but might be sign of something big brewing http://t.co/QfbSb4S5m2 via @SDS
about 16 hours ago

lsubuzztap

LSU Tigers Buzz


The Times-Picayune >> Six LSU football players receive All-SEC honors http://t.co/Aed6f88x9w
about 16 hours ago

lsubuzztap

LSU Tigers Buzz


The Times-Picayune >> LSU commitment, Barbe receiver Trey Quinn honored to be finalist for U.S. Army Player of http://t.co/mztuCKf1La
about 16 hours ago

SEC

SEC Sports


RT @TheSECU: Best of luck to our #SEC students who are taking final exams this week!
about 16 hours ago

lsubuzztap

LSU Tigers Buzz


LSU Tigers (Official Site) >> Six Named to Coaches' All-SEC Football Teams http://t.co/v2wrmmGy0r
about 16 hours ago

Sheadixon

Shea Dixon


Just posted an update on @Geaux247 about two big #LSU 2014 official visitors for next weekend.
about 16 hours ago

LSUsportsNEWS

LSUsports News Feed


Six Named to Coaches' All-SEC Football Teams: BIRMINGHAM, Ala. – LSU's Odell Beckham Jr. was named to the Coac... http://t.co/p23W1oE7Br
about 16 hours ago

AschoffESPN

Edward Aschoff


So the new Godzilla trailer is out ... gotta be a way to incorporate that with a fun post. I mean he's the best and all ...
about 16 hours ago

ESPNLSU

ESPN LSU


Sizing up the SEC resumes http://t.co/iTA3fxnh5K
about 16 hours ago

RandyRosetta

Randy Rosetta


RT @ZacEllis: Look, Texas, this is really a no-brainer. http://t.co/usZ9IMCQOC
about 16 hours ago

ESPN_SEC

ESPN_SEC


Sizing up the SEC resumes http://t.co/N0UeklIGnR
about 16 hours ago

RandyRosetta

Randy Rosetta


RT @BFeldmanCBS: #Texas source tells CBS "Mack (Brown) hasn't had any meeting & has not told anyone he's stepping down."
about 17 hours ago

LSUtigers

LSU Tigers Football


Final regular season #SEC standings for 2013 http://t.co/DCQDknq7Va - @SECfootball @SDS
about 17 hours ago

SEC

SEC Sports


2013 Coaches All-SEC Football Teams Announced: http://t.co/3GQ2ySyZ3K #SEC
about 17 hours ago

lsubuzztap

LSU Tigers Buzz


The Times-Picayune >> SEC+ Bonus: My SEC award winners http://t.co/5HAyuzevP5
about 17 hours ago

lsubuzztap

LSU Tigers Buzz


The Times-Picayune >> Arizona's Tyrann Mathieu is placed on injured reserve http://t.co/b5kj9tb30A
about 17 hours ago

ESPN_SEC

ESPN_SEC


Clowney ticketed for going 110 mph http://t.co/knYhiXVPRX
about 17 hours ago

LSUSportsNow

LSU Sports Now


What the national media are saying about LSU football http://t.co/KikiezVIKG
about 18 hours ago
BLOG ARCHIVE:
CATEGORIES: