LSU recruiting: Scrimmage notes
August, 20, 2012
8/20/12
10:40
AM ET
For high school prospects, just as much as the much-discussed LSU football team, practice is getting old.
[+] Enlarge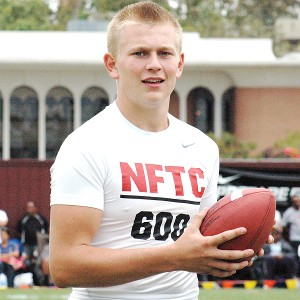 Garry Paskwietz/WeAreSC.comLSU QB commit Hayden Rettig performed well in his high school's recent scrimmage.
After several weeks of running the same drills and seeing the same faces, the monotony of fall camp has set in. Unfortunately for the Tigers, they still have two weeks to wait for a true opponent. That's not the case at the high school level, where schools (and recruits across the state) got their first taste of live action in scrimmages this weekend.
A quick look at some prospects in LSU's sights from this past weekend:
To continue reading this article you must be an Insider
Insider
Fournette Runs Over Aggie On 22-Yd TD
LSU RB Leonard Fournette rushes 22 yards for a second-quarter touchdown in the Tigers' 23-17 win over Texas A&M.
Fournette Runs Over Aggie On 22-Yd TD
VIDEO PLAYLIST
LSU FB RECRUITING SCORECARD
SEC

SEC Sports


Get scores and recaps from Friday's #SEC men's basketball action here: http://t.co/g2LTRiDtut
30 minutes ago

SEC

SEC Sports


Top-ranked South Carolina women's basketball rallies to defeat Syracuse. Recap: http://t.co/O7tJwYaW1f #SEC
32 minutes ago

SEC

SEC Sports


No. 2 FSU ends No. 18 South Carolina soccer's run in NCAA quarterfinal. Recap: http://t.co/EFlqCgyLjG #SEC
36 minutes ago

SEC

SEC Sports


RT @ESPNPR: Calm before the storm: @CollegeGameDay is live from the Iron Bowl on Saturday morning http://t.co/nPBtJ5P44b
37 minutes ago

SEC

SEC Sports


#SEC Nation originates from Oxford, Miss., on Saturday. Details: http://t.co/hwbCN57aDf
54 minutes ago

SEC

SEC Sports


Texas A&M volleyball rallies to defeat Ole Miss in five. Highlights: http://t.co/fDjLmbizDi #SEC
about an hour ago

SEC

SEC Sports


No. 9 Kentucky women's basketball holds off Oklahoma in overtime. Recap: http://t.co/6skJPWHpLf #SEC
about an hour ago

SEC

SEC Sports


Arkansas women's basketball upsets No. 17 Iowa. Recap: http://t.co/ZMhgYR2Tym #SEC
about an hour ago

ESPN_SEC

ESPN_SEC


Chat: CFB Saturday Live http://t.co/ojiHsXDv3H
about an hour ago

RandyRosetta

Randy Rosetta


LSU's focus is on being good at the finish line after two games that got away http://t.co/loNlbS3RVz http://t.co/e2rFAdiLja
about an hour ago

RandyRosetta

Randy Rosetta


Ready to contribute, LSU senior John Odo emerges as an option as fifth starter http://t.co/E6sRSH9sE3 http://t.co/y9iHhblRwc
about an hour ago

RandyRosetta

Randy Rosetta


McNeese State at LSU: CHALK TALK http://t.co/3gsiHUtHgZ http://t.co/vAQIhXweir
about an hour ago

LSUSportsNow

LSU Sports Now


LSU's focus is on being good at the finish line after two games that got away http://t.co/D7Tp7C2VhE
about 2 hours ago

LSUSportsNow

LSU Sports Now


LSU-Texas A&M report card http://t.co/eCv5GPyjvC
about 2 hours ago

LSUSportsNow

LSU Sports Now


LSU-A&M Postgame Videos http://t.co/2rlJunChUq
about 2 hours ago

LSUSportsNow

LSU Sports Now


Ready to contribute, LSU senior John Odo emerges as an option as fifth starter http://t.co/WU6fTCpiZZ
about 2 hours ago

LSUSportsNow

LSU Sports Now


Leonard Fournette Gets the J.R. Treatment http://t.co/zwjdiKhCDv
about 2 hours ago

LSUSportsNow

LSU Sports Now


NOTEBOOK: Leonard Fournette said Running Backs Coach Frank Wilson isn't going anywhere http://t.co/YYUbLRAbVn
about 2 hours ago

LSUSportsNow

LSU Sports Now


NOTEBOOK: Leonard Fournette said Running Backs Coach Frank Wilson isn't going anywhere http://t.co/7N2B5S77aN
about 2 hours ago

Darrin_Horn

Darrin Horn


30 min til @RazorbackMBB goes for 5-0 vs @MeanGreenMBB. Hogs lead @SEC in 6 stat categories! On the call w/ @DougBellESPN on @SECNetwork
about 3 hours ago

SEC

SEC Sports


Missouri Returns To #SEC Championship Game; Defeats Arkansas on Friday. Recap/Highlights: http://t.co/0sqPbvTBS6
about 3 hours ago

AschoffESPN

Edward Aschoff


OK so after the first two games in the SEC this week, Saturday is gonna be nuts, right? I mean it just has to be
about 4 hours ago

ScarboroughMike

Mike Scarborough


The grades are in! #LSU - Texas A&M report card. Position grades for each unit. $ http://t.co/kMcqxqIgSV
about 4 hours ago

RandyRosetta

Randy Rosetta


#LSU's focus is on being good at the finish line after two games that got away http://t.co/0pUnHvSscn via @nolanews
about 4 hours ago

LSUtigers

LSU Tigers Football


Predicting the SEC's Week 14 headlines http://t.co/7ELkhmKwZq
about 4 hours ago

RandyRosetta

Randy Rosetta


Ready to contribute, #LSU senior John Odo emerges as an option as fifth starter http://t.co/tmGlEFG2oS via @nolanews
about 5 hours ago

ESPN_SEC

ESPN_SEC


Instant Analysis: No. 17 Missouri 21, Arkansas 14 http://t.co/v9ygHgBsb2
about 5 hours ago

AschoffESPN

Edward Aschoff


DO NOT let them take away yo shine! RT @dirtdobber54: we don't care! We going to Atlanta baby!
about 5 hours ago

AschoffESPN

Edward Aschoff


Hogs fan hating on Arkansas now ... RT @cridings1: LOL. Dont rave like a 21-14 win over a 6-6 at home is something impressive
about 5 hours ago

ESPN_SEC

ESPN_SEC


Watch: Kirk Herbstreit previews Egg Bowl, Iron Bowl http://t.co/515NAd8mdO
about 5 hours ago

AschoffESPN

Edward Aschoff


SEC folks will NOT let Mizzou libe today. I mean they can't help that the East wasn't great
about 5 hours ago

AschoffESPN

Edward Aschoff


People hating on Mizzou -- and it's not an elite team -- but the Tigers did what they needed to and won the East again. Hats off
about 5 hours ago

LSUtigers

LSU Tigers Football


National bowl projections heading into Rivalry Saturday http://t.co/MN9Ug3jVD6
about 5 hours ago

AschoffESPN

Edward Aschoff


Love the heart of this Mizzou team. Better than I thought. Tough win and now ATL bound
about 5 hours ago

AschoffESPN

Edward Aschoff


Dude I just complimented Mizzou RT @EvanEdwards8: oh ok.. And what did Florida say?
about 5 hours ago

LSUSportsNow

LSU Sports Now


LSU coach Johnny Jones says team must have better shot selection | Video http://t.co/J26Y75G9wa
about 5 hours ago

LSUSportsNow

LSU Sports Now


Grading LSU's 23-17 victory against Texas A&M: Tigers dominate Aggies, but struggle with the finish http://t.co/EimKdsBBaV
about 5 hours ago

SEC

SEC Sports


#Mizzou will represent the #SEC East in Atlanta next Saturday.
about 5 hours ago

AschoffESPN

Edward Aschoff


Mizzou said "Nahhhh we still don't belong in the SEC (Hi hater smile)"
about 5 hours ago

AschoffESPN

Edward Aschoff


Looks like a fumble to me ...
about 6 hours ago

AschoffESPN

Edward Aschoff


You're gonna get flagged for that every single time. Everyone stopped
about 6 hours ago

AschoffESPN

Edward Aschoff


You have to get Brandon Allen out. He's hurt and not playing well at all
about 6 hours ago

AschoffESPN

Edward Aschoff


See what had happened was ... RT @rumilb: stop it Ed look what you've done
about 6 hours ago

AschoffESPN

Edward Aschoff


Marcus Murphy with the I WANT AN SEC EAST TITLE AGAIN run!!
about 6 hours ago

AschoffESPN

Edward Aschoff


Mizzou is just destroying Arkansas up front
about 6 hours ago

AschoffESPN

Edward Aschoff


So impressed with this second half by Mizzou RT @dirtdobber54: we might play ugly but I love these dudes heart!
about 6 hours ago

RandyRosetta

Randy Rosetta


From @JimKleinpeter | Grading #LSU's 23-17 victory: Tigers dominate Aggies, but struggle with finish http://t.co/rC8BI8dVhD via @nolanews
about 6 hours ago

AschoffESPN

Edward Aschoff


Mizzou has ALL the momentum
about 6 hours ago

ESPN_SEC

ESPN_SEC


Texas A&M fires DC Mark Snyder http://t.co/mJ5yppQpvu
about 6 hours ago

RandyRosetta

Randy Rosetta


Dominic Magee departing from Memphis -- could #LSU be his next basketball stop? http://t.co/JPGAgf6vIB via @nolanews
about 6 hours ago

LSUSportsNow

LSU Sports Now


LSU victorious at Texas A&M: Les Miles Post Game Press Conference http://t.co/76kz5neYzH
about 6 hours ago

AschoffESPN

Edward Aschoff


What a catch! MIZZOU
about 6 hours ago

LSUBeatTweet

Glenn Guilbeau


Final LSU-Texas A&M Game Story from Thursday Night:http://t.co/KxuRuM5QjU
about 7 hours ago

LSUSportsNow

LSU Sports Now


Was LSU offsides on the clinching interception vs. Texas A&M? | Video http://t.co/2Ip5sqDPmW
about 7 hours ago

AschoffESPN

Edward Aschoff


Mizzou grinding, grinding, grinding. I feel like I've seen this movie before ...
about 7 hours ago

AschoffESPN

Edward Aschoff


OH THE NFC SOUTH! Ahhhhh LAWD! RT @ZeeDustin: no doubt. Better than NFC South.
about 7 hours ago

AschoffESPN

Edward Aschoff


Honestly could have gone either way. I thought he tried to tuck it at first RT @deardorff24: after that fumble* lol
about 8 hours ago

AschoffESPN

Edward Aschoff


Mizzou working down the field well. Gotta give Mauk some confidence going into the half and he's doing well after that incomplete pass
about 8 hours ago

AschoffESPN

Edward Aschoff


Yeah that is a good point RT @dirtdobber54: I think it looked that way because he got hit in the face BUT tough call
about 8 hours ago

AschoffESPN

Edward Aschoff


Looks like Mauk was trying to tuck that ball back but we'll see
about 8 hours ago

AschoffESPN

Edward Aschoff


ANOTHER turnover in this Arkansas-Mizzou game. The Hogs are in great position to score
about 8 hours ago

AschoffESPN

Edward Aschoff


D.J. Dean's interception looked eerily similar to the one I had yesterday in the family football game. I'm so athletic
about 8 hours ago

AschoffESPN

Edward Aschoff


Mizzou's defense is NOT tired right now
about 8 hours ago

brnola

Baton Rouge News


Baton Rouge area mom-and-pop stores want to feel the retail love on #SmallBusinessSaturday http://t.co/qdBQBkqfHt
about 8 hours ago

AschoffESPN

Edward Aschoff


Must ... re ... sist ... RT @Hogcrazy99: we waiting for u aschoff.. come jump on this hog wagon
about 8 hours ago

AschoffESPN

Edward Aschoff


Hahahahaha of course an instant turnover. THIS GAME
about 8 hours ago

AschoffESPN

Edward Aschoff


Wow Arkansas had ALL the momentum and then coughs it up. Mizzou ball
about 8 hours ago

AschoffESPN

Edward Aschoff


The SEC West next year might eat this year's SEC West for breakfast
about 8 hours ago

AschoffESPN

Edward Aschoff


Oh man Mizzou's offense on that drive ...
about 8 hours ago

AschoffESPN

Edward Aschoff


So Arkansas is up 14-3 on TWO passing touchdowns
about 8 hours ago

AschoffESPN

Edward Aschoff


I know a few teams in the SEC that would love to have Jonathan Williams. Kid is a beast
about 8 hours ago

AschoffESPN

Edward Aschoff


The Grove the day before #OleMiss #HailState @ The Grove http://t.co/ZZczRVzGnZ
about 8 hours ago

RandyRosetta

Randy Rosetta


Besides that, A&M QB deserves some blame for throwing risky pass w/out knowing for 100% sure a flag had dropped. Can't risk it there.
about 8 hours ago

AschoffESPN

Edward Aschoff


RT @RazorJamon: Booing hurt Ark OL Skipper walking off field. RT @AschoffESPN: Are Mizzou fans booing something or someone? What did I miss?
about 8 hours ago

LSUSportsNow

LSU Sports Now


McNeese State at LSU: CHALK TALK http://t.co/H0mRetgptH
about 8 hours ago

LSUSportsNow

LSU Sports Now


Different results from two Tigers http://t.co/IVCdggKnDX
about 8 hours ago

LSUSportsNow

LSU Sports Now


Q & A: Keith Hornsby http://t.co/gGsgSecJ56
about 8 hours ago

LSUSportsNow

LSU Sports Now


LSU offers 'Black Friday' deals on tickets for hoops, gymnastics and baseball http://t.co/wsUeLAEwxh
about 8 hours ago

LSUSportsNow

LSU Sports Now


Five from Texas: Takeaways from win over A&M http://t.co/e1INsTxFn3
about 8 hours ago

LSUSportsNow

LSU Sports Now


LSU RB Leonard Fournette on his TD run: 'It felt great; it was normal.' | Video http://t.co/LJdSeRLgzn
about 8 hours ago

RandyRosetta

Randy Rosetta


Hard for me to see the offsides non-call as blatantly wrong from every clip I've seen. Aggies' C tilted ball back & changed neutral zone.
about 8 hours ago

AschoffESPN

Edward Aschoff


Are Mizzou fans booing something or someone? What did I miss?
about 8 hours ago

AschoffESPN

Edward Aschoff


Great job by Mizzou's defensive line there to sniff out the draw. Take the running game away and you take away Arkansas' offense
about 8 hours ago

AschoffESPN

Edward Aschoff


So Marshall-Western Kentucky ... Basketball game?
about 8 hours ago

AschoffESPN

Edward Aschoff


Of course the first points Arkansas gives up in like a decade come on a field goal. So Arkansas-Mizzou
about 8 hours ago

AschoffESPN

Edward Aschoff


This Arkansas defense has improved so much this season. Not afraid to play straight up and go right at the QB. So much more comfortable
about 9 hours ago

AschoffESPN

Edward Aschoff


Beastly running and poor tackle attempts = Mizzou first down
about 9 hours ago

AschoffESPN

Edward Aschoff


Mizzou just wants to be in third-and-long. Alllll part of the plan
about 9 hours ago

AschoffESPN

Edward Aschoff


Ohhhh gotta catch easy one
about 9 hours ago

RandyRosetta

Randy Rosetta


McNeese State at #LSU: CHALK TALK http://t.co/oq2mUfvNY6 via @nolanews
about 9 hours ago

AschoffESPN

Edward Aschoff


People will be hurting for days after this Arkansas-Mizzou game
about 9 hours ago

LSUtigers

LSU Tigers Football


Vegas sharp breaks down Week 14 SEC games http://t.co/Uk3KoxAn6j
about 10 hours ago

NWARobbie

Robbie Neiswanger


Arkansas QB Brandon Allen is in uniform taking snaps during pregame. So are Austin Allen and Damon Mitchell, who went back to QB this week.
about 10 hours ago

SEC

SEC Sports


Three #SEC soccer teams are playing in the #NCAA Quarterfinals beginning today, looking to punch their tickets to the College Cup.
about 10 hours ago

SEC_Chuck

Chuck Dunlap


What's at stake today: If Missouri defeats Arkansas, Tigers advance to Atlanta for second straight year. If Arkansas wins, Georgia goes.
about 10 hours ago

SEC

SEC Sports


If you're away from your TV today, watch Arkansas vs. Mizzou online at http://t.co/RwAvuOqzxz at 2:30 p.m. ET. #SEC
about 10 hours ago

SEC

SEC Sports


We're an hour away from Friday football in the #SEC. Arkansas vs. Missouri at 2:30 p.m. ET on @SEConCBS.
about 10 hours ago

SEC

SEC Sports


Tony Barnhart's (@MrCFB) weekly column focuses on Rivalry Week in the #SEC: http://t.co/QUGBy7D1Cr
about 10 hours ago

LSUtigers

LSU Tigers Football


SEC vs. Pac-12: Week 13 http://t.co/4bxLN0gbbq
about 10 hours ago

RandyRosetta

Randy Rosetta


Scrawny-arms Rob Lowe: 'It looks like I'm not having any mayonaise.' Just awesome.
about 11 hours ago
SEC SCOREBOARD
Friday, 11/28
Thursday, 11/27
Saturday, 11/29
BLOG ARCHIVE:
CATEGORIES: