Five things to know: Offensive line
June, 11, 2012
6/11/12
9:37
AM ET
When one thinks of LSU's offense, the thought of a physical running game comes to mind.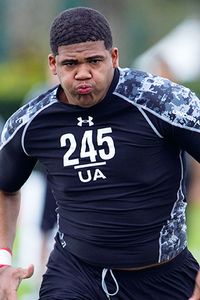 Davide De Pas La'el Collins could make an immediate impact on LSU's offensive line in 2012.
And make no mistake about it, that starts up front with a quality offensive line.
LSU had a good offensive line last season and may have a better one in 2012. Here are five things to know about the Tigers' offensive line this off-season.
To continue reading this article you must be an Insider
Insider
LSU understands what is needed to win
LSU coach Les Miles addressed the media about how the Tigers are bouncing back and preparing for Texas A&M.
LSU understands what is needed to win
VIDEO PLAYLIST
LSU FB RECRUITING SCORECARD
LSUtigers

LSU Tigers Football


Week 14 College Football Playoff Top 25 http://t.co/1mj1pIwoSd
14 minutes ago

LSUSportsNow

LSU Sports Now


TV Commentators For LSU Vs. Texas A&M http://t.co/Tc7kC0tsR2
22 minutes ago

LSUSportsNow

LSU Sports Now


TV Commentators For Week 14 SEC Games http://t.co/hwD9eiAhk3
22 minutes ago

LSUSportsNow

LSU Sports Now


RECRUITING: How Are We Looking? http://t.co/vzxLh2i53y
22 minutes ago

LSUSportsNow

LSU Sports Now


Santa Clara Holds Off Lady Tigers in Mexico http://t.co/Hbez4ujf68
22 minutes ago

LSUtigers

LSU Tigers Football


Inside the Numbers: Texas A&M offense faces test against LSU http://t.co/MTKFUTp8bK
42 minutes ago

LSUsportsNEWS

LSUsports News Feed


Santa Clara Holds Off Lady Tigers in Mexico: PUERTO VALLARTA, Mexico – Despite cutting an 11-point halftime de... http://t.co/cfDTwok3OF
about an hour ago

AschoffESPN

Edward Aschoff


The stakes are very high in Oxford this weekend as the Bulldogs travel to take on Ole Miss http://t.co/0MoNP7dtDU
about an hour ago

ESPN_SEC

ESPN_SEC


Egg Bowl stakes never higher http://t.co/yaCNtxam4m
about an hour ago

LSUtigers

LSU Tigers Football


Monitoring Explosive Plays: Gators passing game comes alive against EKU http://t.co/xvepIGsugP
about an hour ago

LSUSportsNow

LSU Sports Now


Tigers talk Aggies and more http://t.co/owgq3h6Nru
about an hour ago

LSUSportsNow

LSU Sports Now


Injury Update On DB Dwayne Thomas http://t.co/rwsH5E4yk7
about an hour ago

LSUtigers

LSU Tigers Football


Inside the Numbers: LSU's offense has a chance to wake up vs. Texas A&M http://t.co/K9zMk2btBU
about an hour ago

LSUSportsNow

LSU Sports Now


Times of Interest: LSU vs. Texas A&M http://t.co/tQEA1PGmXu
about an hour ago

LSUSportsNow

LSU Sports Now


Feinswog: From Down Under to Death Valley http://t.co/HN31w2buDx
about an hour ago

LSUSportsNow

LSU Sports Now


Recruiting roundup: Tony Bridges, Javon Patterson continue trend of Mississippi players staying home http://t.co/qrIV6AeV1T
about an hour ago

LSUSportsNow

LSU Sports Now


LSU CB Dwayne Thomas eyes a spring return to the field http://t.co/ZKK1VNA4rD
about an hour ago

LSUSportsNow

LSU Sports Now


Odell Beckham's catch was the week's top highlight for LSU players in the NFL http://t.co/GbPhxpnXU5
about an hour ago

LSUSportsNow

LSU Sports Now


Ailing LSU offense has a chance to get well vs. porous Texas A&M defense http://t.co/FFRVwqjECh
about an hour ago

LSUSportsNow

LSU Sports Now


LSU signee Ben Simmons' prep team to be featured twice on ESPN showcase http://t.co/lwP1GdP8bi
about an hour ago

LSUSportsNow

LSU Sports Now


Five in-state prospects LSU needs to sign for the 2015 class http://t.co/lnTUQrzrL9
about an hour ago

LSUSportsNow

LSU Sports Now


Dominic Magee departing from Memphis — could LSU be his next basketball stop? http://t.co/BLHhrt7abG
about an hour ago

LSUSportsNow

LSU Sports Now


Five Texas A&M players to watch vs. LSU http://t.co/pga32ZtxuD
about an hour ago

LSUsportsNEWS

LSUsports News Feed


Feinswog: From Down Under to Death Valley: Jamie Keehn was 21, working in retail outside Melbourne, Australia,... http://t.co/qx7VHqp5l5
about 2 hours ago

LSUtigers

LSU Tigers Football


SEC strength of schedule based on bowl eligibility http://t.co/MW5oEXyrex
about 2 hours ago

LSUsportsNEWS

LSUsports News Feed


Tiger Tracks Features Football, Basketball: BATON ROUGE, La. – LSU Tiger Tracks, a program highlighting variou... http://t.co/pHnHu2RvwA
about 2 hours ago

LSUSportsNow

LSU Sports Now


Tiger Tracks Features Football, Basketball http://t.co/n2eqlPeiNl
about 3 hours ago

LSUSportsNow

LSU Sports Now


Video: Les Miles On Odell Beckham's TD Catch http://t.co/1IJQmhfMVS
about 3 hours ago

LSUSportsNow

LSU Sports Now


Auburn Loses Two D-Linemen For Iron Bowl http://t.co/vumTX14MwC
about 3 hours ago

LSUSportsNow

LSU Sports Now


Report: Alabama & FSU To Play In 2017 http://t.co/LOjuh88cJp
about 3 hours ago

LSUSportsNow

LSU Sports Now


2014 ATVS – Geaux Show Pick'em Challenge – Week 14 http://t.co/WcWM2jqtFE
about 3 hours ago

LSUSportsNow

LSU Sports Now


Anthony Jennings On Texas A&M's Defense http://t.co/P90s4Jg13e
about 3 hours ago

LSUSportsNow

LSU Sports Now


Red Sox Finalize 5-Year Deal With Pablo Sandoval http://t.co/XhL69tjBP9
about 3 hours ago

LSUtigers

LSU Tigers Football


Ranking every SEC team's rivalries http://t.co/l5CIweiyrE
about 3 hours ago

RandyRosetta

Randy Rosetta


#LSU signee Ben Simmons' prep team to be featured twice on ESPN showcase http://t.co/nWLFbCC9ZH via @nolanews
about 3 hours ago

RandyRosetta

Randy Rosetta


From @JimmyDetail | Five in-state prospects #LSU needs to sign for the 2015 class http://t.co/qAcUuPLhDY via @nolanews
about 3 hours ago

RandyRosetta

Randy Rosetta


From @JimKleinpeter | 5 Texas A&M players to watch vs. #LSU http://t.co/5qBJglg9il via @nolanews
about 3 hours ago

RandyRosetta

Randy Rosetta


From @RonHigg | 5 things you didn't know about Texas A&M | http://t.co/ZqKfwDuDnn via @nolanews
about 3 hours ago

RandyRosetta

Randy Rosetta


Former Helen Cox star @Youngindnic is leaving Memphis. Could #LSU be next? | http://t.co/c7P8CYMAyZ
about 3 hours ago

ESPN_SEC

ESPN_SEC


Can Will Muschamp pull a Zooker vs. FSU? http://t.co/P56zNXZHGH
about 3 hours ago

RandyRosetta

Randy Rosetta


Dominic Magee departing from Memphis -- could #LSU be his next basketball stop? http://t.co/JPGAgf6vIB via @nolanews
about 3 hours ago

RandyRosetta

Randy Rosetta


Waiting might be hard part, but is also seems best for Byrd star & #LSU target Chad Lott http://t.co/5qiUUhbeDW via @nolanews
about 3 hours ago

LSUtigers

LSU Tigers Football


List of TV commentators for every SEC game in Week 14 http://t.co/NfJ6l51XvE
about 3 hours ago

LSUtigers

LSU Tigers Football


Turnover Scoreboard: Ole Miss commits six turnovers in ugly loss http://t.co/ug5zE7whrz
about 3 hours ago

CBSSportsGang

CBS Sports PR


Get ready for story time with Uncle Verne. "In Your Life" doc debuts Nov. 29 at 1:30 ET on CBS. Check out this clip: http://t.co/z94zD0C4sZ
about 3 hours ago

SECNetwork

SEC Network


The new #CFBPlayoff rankings come out tonight!Who's in your Top 4? Reply with #My4 & let us know who you have IN. http://t.co/8119U49fVb
about 4 hours ago

LSUwbkb

LSUWomensBasketball


10 minutes to tipoff between #LSU and Santa Clara in Puerta Vallarta! Listen now on Talk 107.3 FM in BR and http://t.co/wguSMTf9pb.
about 4 hours ago

ESPN_SEC

ESPN_SEC


Weekend slate will have big impact on SEC recruiting http://t.co/R3caqJHlaH
about 4 hours ago

LSUtigers

LSU Tigers Football


SEC Wide Receiver Power Rankings: Week 14 http://t.co/NZu7h5FsmJ
about 4 hours ago

LSUtigers

LSU Tigers Football


Early Opponent Analysis: Texas A&M http://t.co/VeURtyjdxB
about 4 hours ago

LSUSportsNow

LSU Sports Now


Former LSU running back Jeremy Hill wondering how Tigers lost at all last year http://t.co/MLFNi32KlP
about 4 hours ago

LSUSportsNow

LSU Sports Now


College Basketball Polls Nov. 24th http://t.co/8OWp4EwsGi
about 4 hours ago

LSUSportsNow

LSU Sports Now


Odell Beckham Jr. Is A Hot Commodity Now http://t.co/1p8wjgQC4i
about 4 hours ago

LSUSportsNow

LSU Sports Now


Mickey Named to All-Tournament at Paradise Jam http://t.co/tt5AgcjPhD
about 4 hours ago

LSUSportsNow

LSU Sports Now


Texas A&M's potent offense will test LSU's open-field defenders | Talkin' Tigers http://t.co/ciTVWkoxkk
about 4 hours ago

LSUSportsNow

LSU Sports Now


LSU players were amazed by Beckham catch, but used to seeing it http://t.co/KvF6gjPdA1
about 4 hours ago

LSUSportsNow

LSU Sports Now


Jeremy Hill Tweets About The 2013 LSU Team http://t.co/EeeyWAkLMR
about 4 hours ago

LSUSportsNow

LSU Sports Now


LSU QB Anthony Jennings: 'We're going to take shots' on Texas A&M | Video http://t.co/sdXdrpieX8
about 4 hours ago

LSUSportsNow

LSU Sports Now


LSU RB Terrence Magee: 'We're ready to show we still have a good offense' | Video http://t.co/wuPhIPJgV1
about 4 hours ago

ESPN_SEC

ESPN_SEC


Remembering the Choke at Doak http://t.co/I2bi8nEzlV
about 5 hours ago

ESPN_SEC

ESPN_SEC


Accountability theme boosts morale at LSU http://t.co/NZaBTAKnID
about 5 hours ago

RandyRosetta

Randy Rosetta


Just spoke to soon-to-be ex-Memphis guard @Youngindnic from Helen Cox. Strong interest in #LSU as a landing place for freshman combo guuard.
about 5 hours ago

LSUfball

LSU Football


Kickoff is only two days away! #LSU #GeauxTigers http://t.co/CBzLkAiDeh
about 5 hours ago

AschoffESPN

Edward Aschoff


Arkansas-Missouri game deserves respect -- DO NOT sleep on this game y'all http://t.co/idODYfNeKO
about 5 hours ago

LSUfball

LSU Football


Kickoff is only two days way! #LSU #GeauxTigers http://t.co/xyn9WzcqDH
about 6 hours ago

Youngindnic

Dominic Magee??


The road don't end here,just another bump in the road until I reach the finish line,It's been real Memphis💯👍👌 http://t.co/xJiImGVT8W
about 6 hours ago

Youngindnic

Dominic Magee??


Fresh start now ,God gone give me a second chance✊
about 6 hours ago

LSUSportsNow

LSU Sports Now


LSU Tigers vs Texas A&M Aggies: News & Notes http://t.co/yi7oXFqdaJ
about 6 hours ago

LSUSportsNow

LSU Sports Now


LSU-A&M: From old rivalry comes new tradition http://t.co/uZ25OEmBAX
about 6 hours ago

LSUSportsNow

LSU Sports Now


Playin' Nice: Good Bull Hunting http://t.co/xCK1YENZTf
about 6 hours ago

LSUSportsNow

LSU Sports Now


LSU-Texas A&M Recruiting Battles http://t.co/kLjErnTHyt
about 6 hours ago

LSUsportsNEWS

LSUsports News Feed


Mickey Named to All-Tournament at Paradise Jam: CHARLOTTE AMALIE, St. Thomas, U.S. Virgin Islands – LSU sophom... http://t.co/lCQG6Io3uS
about 6 hours ago

LSUtigers

LSU Tigers Football


SDS playoff predictor: Final spot still too close to call http://t.co/IMynDQIpIm
about 6 hours ago

ESPN_SEC

ESPN_SEC


Arkansas-Missouri game deserves respect http://t.co/QZK6JuxoCE
about 6 hours ago

AschoffESPN

Edward Aschoff


This was easily the toughest week for picks on the SEC blog. I'm sure I got most of them wrong this week. Just so sure
about 6 hours ago

LSUtigers

LSU Tigers Football


A&M/LSU this Thursday is the cheapest meeting of the past 4 seasons. You can get in the door for as low as $41 here http://t.co/fGBtgTlDHU
about 6 hours ago

RandyRosetta

Randy Rosetta


#LSU chat with Randy Rosetta: In progress http://t.co/xFmtUUwrZq via @nolanews
about 6 hours ago

AschoffESPN

Edward Aschoff


You'll find out tomorrow but I'll probably be wrong RT @Hunter_Lance11: who you picking in that game?
about 6 hours ago

outbackbowl

Outback Bowl


New @outbackbowl trophy is unveiled! @SEC and @B1Gfootball will be battling for this @Tampa Bay Treasure on NYD. http://t.co/t24kr50klY
about 7 hours ago

AschoffESPN

Edward Aschoff


It's rivalry week but I'm pretty excited about Arkansas-Mizzou. Some pain will be inflicted in that one
about 7 hours ago

RandyRosetta

Randy Rosetta


#LSU fan panic is a beautiful thing. Basketball team loses to a veteran ODU team and an ACC team and the fans are ready to end the season,
about 7 hours ago

LSUSportsNow

LSU Sports Now


Pre-Thanksgiving LSU sports chat as an appetizer — noon Tuesday http://t.co/QV80Z3H3fA
about 7 hours ago

LSUSportsNow

LSU Sports Now


GUILBEAU: Give me Liberty … or give me Shreveport? http://t.co/5OgH1IYgYw
about 7 hours ago

LSUSportsNow

LSU Sports Now


PALMER: For LSU, the pieces are in place for the future http://t.co/TOjRROB7NC
about 7 hours ago

LSUSportsNow

LSU Sports Now


STEWART: So where did all those passing attempts go? http://t.co/B7Zw0TVq6K
about 7 hours ago

LSUSportsNow

LSU Sports Now


LSU's passing game has been stuck in neutral this season, all due to predictability, youth and crucial mistakes http://t.co/JgC1PG1ylt
about 7 hours ago

AschoffESPN

Edward Aschoff


I appreciate it but I still have to earn it RT @belkbowl: the committee has guaranteed you the number 1 overall seed next year...
about 7 hours ago

LSUBeatTweet

Glenn Guilbeau


A November Not To Remember for Saints and Tiger Fans:http://t.co/mfGHihr8e7
about 7 hours ago

AschoffESPN

Edward Aschoff


Gotta rep the fam! RT @belkbowl: #UpsetAlert - @skhanjr is leading @NicoleAuerbach – VOTE: http://t.co/sqZSQE2kWM http://t.co/vQsZlOuZjx
about 7 hours ago

LSUtigers

LSU Tigers Football


Video: Texas A&M releases hype trailer for matchup with LSU http://t.co/xZs6PZFISx
about 7 hours ago

LSUSportsNow

LSU Sports Now


LSU's Keys to the Game: Texas A&M http://t.co/Qufm0on1Hy
about 7 hours ago

ESPN_SEC

ESPN_SEC


Rivalry rundown: Georgia Tech vs. Georgia http://t.co/W64jJ2PBNm
about 7 hours ago

SEC

SEC Sports


Alabama's Blake Sims named #SEC Football Community Service Team Player of the Week: http://t.co/07WIXFcb1v
about 8 hours ago

LSUtigers

LSU Tigers Football


Week 13: SEC vs. Big Ten http://t.co/TVN95Xz5hV
about 8 hours ago

RandyRosetta

Randy Rosetta


Pre-Thanksgiving #LSU sports chat as an appetizer -- noon Tuesday http://t.co/xFmtUUwrZq via @nolanews
about 8 hours ago

SECNetwork

SEC Network


It's been 15 years since @HailStateFB and @OleMissFB have met as ranked opponents. #EggBowl http://t.co/Xwjn6kIiUB
about 8 hours ago

RandyRosetta

Randy Rosetta


Would have thought I would have heard from my man @DerekPonamsky by now after last night. Sigh ....
about 8 hours ago

RowlandRIVALS

Justin Rowland


2017 athlete Malcolm Askew wants to visit three ($) https://t.co/C1pbqW1ZLg @MarcGivlerBG @EdwardLewisBSR @ScarboroughMike
about 8 hours ago

LSUtigers

LSU Tigers Football


SEC's top commits: Offensive Tackles http://t.co/4HkzXYAOxL
about 8 hours ago

LSUtigers

LSU Tigers Football


Early Opponent Analysis: LSU http://t.co/jaEzGCVRwx
about 8 hours ago
SEC SCOREBOARD
Thursday, 11/27
Friday, 11/28
Saturday, 11/29
BLOG ARCHIVE:
CATEGORIES: