August, 25, 2014
Aug 25
10:00
AM ET
BATON ROUGE, La. --
John Diarse
chuckled when he described himself as a veteran. He realizes how silly that sounds since he has yet to play in a college game, but it's the truth.
The funny thing is, having participated in two sets of spring and preseason practices, Diarse is actually one of the longest-tenured wide receivers on No. 13 LSU's roster.
"Seeing that I am a redshirt freshman, in some ways it does [feel absurd]," admitted Diarse, whose team opens the season against No. 14 Wisconsin on Saturday. "But I think I'm a vet in my mind, mentally, because I've been through the program and I know what it takes and the hard work that has to be done on and off the field. So in my mind I'm a vet, but as far as stats-wise and playing time, not really."
[+] Enlarge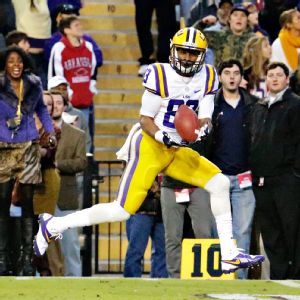 AP Photo/Bill HaberLSU's most experienced receiver is Travin Dural, who has all of seven career catches.
Take a gander at LSU's wideout depth chart.
Travin Dural
is the most experienced player, by far. He's a redshirt sophomore with all of seven catches for 145 yards to his credit. There is only one scholarship senior -- junior college transfer
Quantavius Leslie
-- on the roster. There are no scholarship juniors.
Once 2013 star juniors Odell Beckham and Jarvis Landry decided to enter the NFL draft, the Tigers' wideout depth chart now features that couple of inexperienced veterans and a host of guys like Diarse, who either redshirted last season or who will be enrolled in college for the first time this fall.
"We always joke about that in the receiving room about me being the oldest, but I take pride in being an older guy," said Leslie, who finished with one catch for 11 yards last season. "I just tell them what's right. I've been through this, so this is not my first year going through it."
But Leslie is unique in that regard at LSU. Many Tigers, like arguably the nation's top group of 2014 wideout signees, have only been on campus for a few months and still have plenty to learn.
Leslie and some of the older players like Diarse have learned all three wideout positions by now, but they only played one in their first seasons at LSU. That's a common trajectory for a newcomer, so a true freshman like
Trey Quinn
,
Malachi Dupre
or
D.J. Chark
-- all of whom are in the Tigers' plans for 2014 according to coach Les Miles -- would be well ahead of the curve if he becomes functional at more than one spot this fall.
"We've got a lot of smart guys," Diarse said. "Once these younger guys kind of catch the feel for it, they'll be able to do both inside and out."
Although he missed a portion of preseason practice, one skill that Dupre -- RecruitingNation's No. 1 wideout prospect for 2014 -- believes will help him contribute this season is his blocking ability. He played in a run-first offense at John Curtis in New Orleans, so clearing a path for running backs will be nothing new, even if the Tigers figure to put the ball in the air more frequently than what he's accustomed to seeing.
"I think that made me better coming into a situation like I am now where the ball will be in the air more," Dupre said. "But still remembering where I came from and thinking I had to make the best out of any opportunity I got in high school because I might not get another opportunity will definitely help now because I'll get more opportunities."
The greatest factor in the newcomers' development, though, will be time. They've had the summer and preseason practices to get a taste against all-conference-caliber defenders like
Tre'Davious White
,
Rashard Robinson
and
Jalen Collins
. Producing in games will be a different achievement.
That said, the freshmen have their veteran teammates excited about what they can accomplish in the future.
"All of them make plays. I was surprised at all of them," Leslie said. "They're not playing or practicing like no freshmen. They're practicing like they've been here."
And don't forget about Diarse's fellow redshirt freshmen
Avery Peterson
and
Kevin Spears
. Between those three and the Tigers' four true freshman wideouts, LSU has a huge group of pass-catchers preparing for their first college games on Saturday.
With that in mind -- plus the still-unannounced starting quarterback adding further uncertainty to the Tigers' passing game -- it would not be a surprise if offensive coordinator Cam Cameron plays it close to the vest on Saturday. But LSU's wideouts believe their summer practice time against a solid group of defensive backs has prepared them for this first test, even against a Wisconsin secondary that largely remains intact from a season ago.
"Everyone says that we're a young group and we have a young quarterback, whoever it's going to be, so it's like everyone says we're not going to be able to pass the ball," Dural said. "Being able to pass it in camp against our defense is exciting to us. We're moving the ball."
August, 25, 2014
Aug 25
8:30
AM ET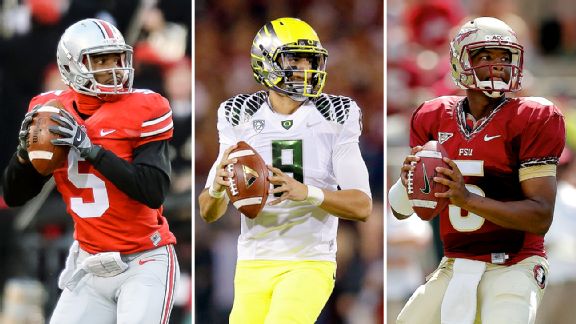 Getty ImagesSchools sell multiple jerseys with the numbers of Braxton Miller, Marcus Mariota and Jameis Winston.
Ohio State quarterback Braxton Miller missing the season could hit the school, retailers and Nike in the wallet.
Only four players in all of college football are more merchandised than Miller, according to jersey options matched to the most marketable players that are being sold on official school website stores.
Oregon is selling 25 different jerseys, counting colors and sizes, of No. 8, quarterback Marcus Mariota.
Michigan offers 17 different versions, in blue and white, in infant, youth, toddler, women's and men's cut, of No. 98, worn by its quarterback Devin Gardner.
Notre Dame has 15 different jerseys of its quarterback Everett Golson, who wears No. 5.
The University of Alabama website features 10 different jersey choices of No. 4, the same number worn by its star running back T.J. Yeldon.
Ohio State's official store is selling seven versions of Miller's No. 5.
That's even more jersey options (six) than Florida State fans have of No. 5 to choose from, the number worn by Heisman Trophy winner Jameis Winston.
The NCAA and its schools have long contended that numbers don't necessarily correspond to current players, but common sense, as proven by all the cases above, suggests otherwise.
While players one day might be able to realize a percentage of the business from their jersey sales, the recent O'Bannon ruling did not include commentary on this area.
It's not known how many No. 5 Ohio State jerseys have been produced for this season, but Miller's absence will be the biggest hit to the college jersey marketplace in two years. In August 2012, LSU safety Tyrann Mathieu was dismissed from the team weeks before Baton Rouge retailers got their shipment of No. 7 jerseys. The number is finally fashionable again thanks to it being given to Leonard Fournette, the nation's top running back recruit.
August, 24, 2014
Aug 24
9:35
PM ET
By
ESPN.com staff
| ESPN.com
August, 22, 2014
Aug 22
6:00
PM ET
Last year was possibly the best in recent memory for SEC quarterbacks. From Johnny Manziel and A.J. McCarron to Aaron Murray and Zach Mettenberger, the conference was loaded with a Heisman Trophy winner, a two-time national champ, school record-holders and NFL draft picks. Things are a little different this year. Outside of Auburn, most schools are dealing with major questions under center. Where do things stand as the season gets ready to kick off? Here's a look at how things went last year, what to watch for this year and a projected grade for how each team's quarterbacks will do in 2014.
The Established Star
Nick Marshall, Auburn Tigers
2013 in review:
Marshall made a huge splash in his first season as the Tigers' starter, rushing for 1,068 yards and 12 touchdowns and passing for another 1,976 yards and 14 scores as Auburn stunned the college football world by reaching the BCS championship game. He also completed one of the most memorable plays in Auburn football history when his tipped pass to Ricardo Louis went for the game-winning, 73-yard touchdown to beat Georgia.
What to watch:
One of the Tigers' big points of emphasis since the end of last season has been improving the passing game. Marshall and the rushing attack are lethal, but there were times Marshall was simply not accurate enough when the Tigers desperately needed a completion. If he shows in the opener against Arkansas that he's more than just a runner who can occasionally pull a rabbit out of his hat with one of his highlight-reel completions, Marshall might actually contend for the Heisman.
Projected 2014 grade:
A
Click here
for 13 more SEC QB breakdowns from David Ching.
August, 22, 2014
Aug 22
4:00
PM ET
BATON ROUGE, La. -- Because of their smaller rosters, NFL clubs love versatility among their offensive linemen. That being the case, pro scouts will probably take long looks at LSU's line, as several linemen have the position versatility they like to see.
But that could come in handy now, not just when they try to find homes on NFL rosters. Just as in the pros, should anyone go down with an injury, it will be extremely helpful that Tigers such as
La'el Collins
,
Vadal Alexander
,
Ethan Pocic
and
Evan Washington
are all capable of working at multiple positions.
"It's not easy to know how to snap, play guard and play tackle and play left side, play right side," senior center
Elliott Porter
said. "It's confusing to know the right side of the play and the left side. It gets confusing, so it gets hard. But we do hard things, and in the NFL that's what they do, so you have to prepare for it. I have to prepare to play guard. If I don't, you don't know how long you're going to make it."
[+] Enlarge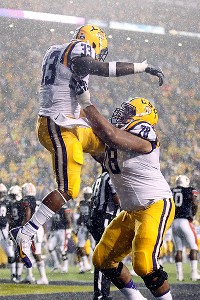 Crystal LoGiudice/USA TODAY SportsRunning behind Vadal Alexander and his linemates can be an uplifting experience.
Porter said he, too, has worked in multiple spots, but he apparently has a fight on his hands for the center job. LSU coach Les Miles has hinted several times lately that sophomore Pocic will play a lot in the Aug. 30 opener against Wisconsin, if not start.
At 6-foot-7, Pocic seems awfully tall for a center -- the average SEC starting center last season was 3 1/2 inches shorter -- and he might eventually land at guard or tackle, but Pocic's impressive athleticism allows him to fit well at any position along the line.
"When you bend like Ethan Pocic bends, it's easier for him," Porter said. "He has great hips. He's a phenomenal athlete. You ain't hearing me, he's phenomenal. He does everything right, and I expect him to be a great player and nothing less."
Pocic said he started working at multiple positions this spring after Jeff Grimes came on as the Tigers' new offensive line coach. He said his time at center made shifting to other spots an easier proposition.
"At first [it was tough]. And then as you mature and get older, you learn to do it," Pocic said. "I think just playing center, you've got to know what everyone's doing and that's what's helped me the most."
Collins and Alexander are entrenched at left tackle and left guard, respectively, but they provide excellent insurance policies in that they have started at other positions in their careers. Collins started at left guard as a sophomore before moving over one spot to tackle last season. And Alexander started nine games at right tackle as a freshman before moving to left guard in 2013, clearing the way for
Jerald Hawkins
to enter the starting lineup at right tackle.
It helps to be able to do both, but tackle is the most lucrative professional position. That was one factor in Collins' decision to return for his senior season -- to prove that he can play tackle in the NFL -- and it's part of the reason why Alexander wouldn't mind moving back out to the edge someday.
"I'd love to play tackle again," Alexander said. "If the opportunity presents itself, I think I can still play it. I played my freshman year, so I know every position. I've actually been taking some snaps, so I can play center, too. I can snap the ball. But I'm more of a guard-tackle guy. So I think I can play. If the opportunity presents itself, I can definitely do it."
Likewise, Washington played both guard and tackle in games last season and, while he's competing with
Fehoko Fanaika
for the starting spot at right guard, Miles hinted this week that LSU's coaches are willing to play him at any position except center.
"The one thing about it is Washington is going to play in four spots, so it's still … both guys will play," Miles said of the right guard battle after Tuesday's team scrimmage.
That's the name of the game with this group. Not only does LSU return four starters and a couple of reserves from a solid 2013 offensive line, but the group's improving versatility will be a great insurance policy for Grimes if injuries occur -- as they inevitably do on the line.
Combine that with the group's collective experience and it's clear why LSU's coaches seem to feel comfortable with the line as the opener approaches.
"It's critical," offensive coordinator Cam Cameron said of the line's experience. "Now if we didn't have it, I'd be sitting here saying we'll find a way. And we would. We really would. I think the best friend of any young quarterback, freshman or sophomore, any young running back, any young receiver, the best friend is a running game. And there's nobody running the ball out there week in and week out against good teams, much less in the SEC, without a dominant offensive line. So we're excited about our offensive line."
August, 22, 2014
Aug 22
11:44
AM ET
[+] Enlarge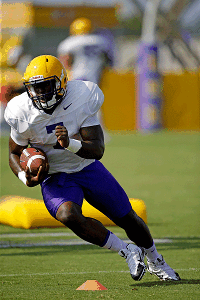 AP Photo/Gerald HerbertLeonard Fournette is one of several standout freshmen expected to get extensive playing time for LSU.
BATON ROUGE, La. -- Like many in his football-crazed hometown of New Orleans, Elliott Porter knew of Leonard Fournette before the young running back had even reached high school.
A superstar from the city's rec leagues, Fournette's legend had begun to spread years before he ever became the nation's most heavily recruited football prospect.
"He and my brother were in the same grade and I went to one of his games. It was really a man amongst boys," said Porter, a senior center who is now Fournette's teammate at LSU. "He didn't get much bigger from that because he was huge back then. I was like, 'Really? That's really an eighth-grade kid?'"
Since then, little has changed for Fournette. Listed at 6-foot-1 and 224 pounds, he's still bigger than many of those he competes against. He's still stronger than most, and LSU coach Les Miles has already speculated that the freshman might be the fastest player on an incredibly athletic roster.
August, 22, 2014
Aug 22
11:00
AM ET
BATON ROUGE, La. – Each week during LSU's preseason practice, we will review five things we learned that week.
Here are five items from the Tigers' third week of preseason camp:
1. Both QBs will play:
Les Miles has been incredibly tight-lipped about LSU's quarterback battle between
Anthony Jennings
and
Brandon Harris
. But this week he offered a few nuggets about the Tigers' plans for the quarterbacks.
For one thing, Miles said on his weekly radio show that he expects both of them to play in the Aug. 30 opener against Wisconsin. A day earlier, Miles said after a team scrimmage that he expects to inform the contenders who will start against the Badgers when the coaching staff nails down the specifics of the game plan next Thursday.
2. Pocic makes a move:
Miles hasn't out and out said
Ethan Pocic
will start at center against Wisconsin, but it's evident that Miles believes that he could. Each time the versatile sophomore's name has come up in news conferences in the last two weeks, Miles has said something along the lines of, "I think Pocic is looking forward to playing a lot of football in the first game."
Even if he he splits time with senior
Elliott Porter
, the more Pocic plays this season, the better. The Tigers will lose a ton of experience from this line after the season. Porter,
La'el Collins
,
Fehoko Fanaika
and
Evan Washington
are all seniors and underclassmen
Vadal Alexander
and
Jerald Hawkins
will be eligible for the NFL draft after the season.
It would be highly beneficial for what could be an explosive 2015 team if offensive line coach Jeff Grimes can get players such as Pocic and some of the other linemen who will play next season on the field this fall.
[+] Enlarge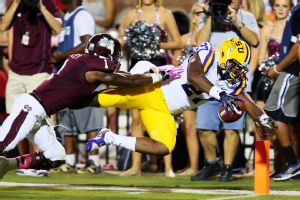 Spruce Derden/USA TODAY SportsKenny Hilliard will get his share of touches, even with Terrence Magee and Leonard Fournette around at LSU.
3. Good camp for Hilliard:
Leonard Fournette
mania is in full effect – and for good reason, as the freshman tailback is going to be a star – but
Kenny Hilliard
's name has consistently been the first one Miles mentioned when discussing the running backs lately. The senior has been something of an afterthought for much of his LSU career, rushing for a total of 1,100 yards and 21 touchdowns in his first three seasons, but he has trimmed down and reportedly has run the ball well in scrimmages.
We probably won't see a perfectly even time-share in the Tigers' backfield, but it seems clear that both Hilliard and freshman
Darrel Williams
will get their touches, too, alongside Fournette and senior
Terrence Magee
.
4. Highlight of the week:
Have you ever wondered whether teams practice the crazy lateral plays that sometimes occur at the end of games when one team is aiming for a last-second, desperation score? They do. In fact, LSU worked on that very scenario in practice this week. I off-handedly talked to a handful of players after Thursday's practice about memorable events from the week, and one that came up was how quickly an offensive lineman motored with the ball after catching one of those laterals. The lineman whose speed caught teammates' attention? Mr. Pocic. All 6-foot-7 and 300 pounds of him.
5. Valentine on his way?:
Defensive tackle signee
Travonte Valentine
's eligibility case might finally wrap up in the next several days. He told The (Baton Rouge) Advocate that he
tentatively plans to arrive at LSU on Saturday
, pending clearance from the SEC office. He hinted that another SEC program might have presented a case to the league office that delayed his enrollment, even after the NCAA recently cleared him academically. Miles said after Tuesday's scrimmage that he expected the big defensive lineman – the No. 164 prospect in the ESPN 300 and the No. 11 defensive tackle – to be on campus within the next several days, so perhaps the case will be resolved shortly.
August, 22, 2014
Aug 22
10:00
AM ET
The SEC is no stranger to losing underclassmen to the NFL draft each year, making finding true fourth-year stars harder than ever.
In the 2012 draft, the SEC saw 12 underclassmen bolt for the NFL early. That number jumped to a record 32 players -- counting dismissed LSU cornerback
Tyrann Mathieu
-- in 2013. The league then lost 28 underclassmen to this year's draft.
In the past, the SEC hasn't had a problem replacing its young stars, but things might be a little more difficult this time. The SEC didn't just lose a plethora of talent, it lost bona fide star power.
Here's a list of a few underclassmen who no longer suit up for their schools:
That's just a short list, but of the guys listed above, all but Easley, who suffered an ACL injury early last season, were first-team All-SEC members last year, and only Ealy and Mason were left out of the first round of this year's NFL draft.
That's quite the haul for the NFL, and the SEC finds itself in a bind at certain spots because of the mass exodus of experienced seniors and underclassmen. We already knew that the league would likely see its offenses take a couple of steps back with such a great quarterback class gone, but plenty of other positions have been affected.
The SEC lost four of its top five receivers from last year: Evans, Beckham, Ole Miss'
Donte Moncrief
and LSU's
Jarvis Landry
. That's 257 catches, 4,677 yards and 36 touchdowns gone. South Carolina also lost top receiving option
Bruce Ellington
, who led the Gamecocks with 775 yards and eight touchdowns. These losses sting even more for Texas A&M and LSU, who are breaking in new starting quarterbacks this season.
Once again, the team affected the most by the underclassmen migration was LSU. A year after losing 11 underclassmen -- including Mathieu -- to the draft, the Tigers said goodbye to seven more underclassmen, a number that led the conference.
For a team entering the season ranked 13th in the preseason AP poll, LSU has a lot of ground to make up with Beckham and Landry gone, along with beastly running back
Jeremy Hill
, who rushed for 1,401 yards and 16 touchdowns during his redshirt sophomore season in 2013. LSU also parted ways with starting defensive tackles
Ego Ferguson
and
Anthony Johnson
.
Have Alabama pegged as your early SEC champ and in the College Football Playoff? Well, think about the fact that its defense lost a chunk of experience and talent. We already knew that seniors C.J. Mosley,
Ed Stinson
and
Deion Belue
were going to be gone, but add guys like Clinton-Dix,
Jeoffrey Pagan
,
Adrian Hubbard
and
Vinnie Sunseri
, who surely would have been staples in this year's relatively younger defense, and Alabama has some holes that need tending to. And don't forget that All-American
Cyrus Kouandjio
will likely be replaced by true freshman Cam Robinson.
Remember, talent isn't everything. Experience goes a long way in this league.
Think Florida's defense will continue to be elite under Will Muschamp? (It hasn't finished worse than eighth nationally in total defense during Muschamp's three years). Well, Easley was arguably Florida's best player before his season-ending knee injury, and corners
Loucheiz Purifoy
and
Marcus Roberson
are both gone, leaving the Gators with an inexperienced secondary besides star cornerback Vernon Hargreaves III.
The departure of Clowney and
Kelcy Quarles
, who led South Carolina in sacks last year, makes the Gamecocks' defensive line less formidable, and while Texas A&M coach Kevin Sumlin might be a quarterback whiz, asking
Kenny Hill
to duplicate Johnny Football's success is a tall order.
Look, the SEC has gone through this before and come out fine. Last year, Auburn and Alabama finished the regular season ranked in the top four of the BCS standings, and seven league teams were ranked in the final AP Top 25. The loss of so many underclassmen didn't scare voters this year, either, as eight teams will enter the season ranked in the preseason AP poll.
Maybe it isn't anything to worry about, but if you're looking for a problem in the SEC, it's that the underclassmen who bolted manned very important positions for SEC squads.
August, 22, 2014
Aug 22
9:00
AM ET
A year removed from the deepest and one of the most talented quarterback classes in SEC history, the landscape has changed.
Some might say dramatically.
Consider this: The player who has dotted all of the preseason All-SEC teams as the top quarterback, Auburn's
Nick Marshall
, began his college career as a cornerback at Georgia.
What's that really mean?
Well,
Johnny Manziel
was just another unproven redshirt freshman two years ago at this time. Even at Texas A&M, nobody had any idea that Manziel was on the cusp of becoming a cult hero, not to mention a game-changing quarterback.
Now, you can't turn on the television without hearing Johnny Football's name.
[+] Enlarge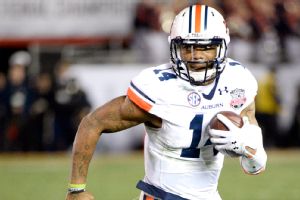 Richard Mackson/USA TODAY SportsLast season Nick Marshall became the fourth QB in SEC history to rush for at least 1,000 yards.
Marshall's rise to the top of the SEC's quarterback pecking order hasn't been that dramatic. Nonetheless, his second life in the SEC proved to be a rousing success last season as he led Auburn within seconds of a national championship. Even with
his trouble off the field this offseason
, a year of seasoning in Gus Malzahn's system should make him even more effective.
He's as explosive as they come as a runner and has become a more polished passer.
"You saw it as last season went on, that he became a much more confident passer," Malzahn said. "You'll see an even bigger jump in his overall game this season because he's much more in tune with what we're asking of him. We should be able to do more, and he should be able to do more."
Marshall, who won't start the opener against Arkansas because of the citation he received this summer for marijuana possession, just missed being a 2,000-yard passer and 1,000-yard rusher last season. He passed for 1,976 yards and rushed for 1,068 yards, becoming just the fourth quarterback in SEC history to rush for 1,000 yards.
His backup at Auburn,
Jeremy Johnson
, vowed this week that Marshall would win the Heisman Trophy this season. That might be a stretch, but whereas there were three SEC quarterbacks legitimately in that conversation entering last season -- Alabama's
AJ McCarron
, Georgia's
Aaron Murray
and Manziel -- it's a lot trickier to tab a big three in the SEC this season.
What's more, when you throw in South Carolina's
Connor Shaw
and LSU's
Zach Mettenberger
, it was really more of a big five a year ago.
All five are currently in NFL camps, meaning the door to join Marshall in the first-class quarterback cabin is wide open.
Two of the most experienced quarterbacks are Ole Miss'
Bo Wallace
and South Carolina's
Dylan Thompson
. Wallace is entering his third season as the starter, and more important, is finally healthy after being plagued with shoulder problems last season.
"I'm throwing it as well as I ever have," Wallace said. "Even the defensive guys are coming up to me and saying, 'Your arm is back.' So not only do I feel it, but guys are seeing a difference on the field."
Wallace passed for 3,346 yards and accounted for 24 touchdowns last season. He also cut his interceptions from 17 to 10. So by any standard, it was a very good season. But Wallace admits that he didn't really have his fastball.
"The way I've always played is that I've sort of been a gambler and not afraid to try and fit a pass in there," Wallace said. "I always thought I could make that throw, whatever throw it was. I had to change the way I played a little bit. Looking back on it now, it probably helped with my timing and anticipating the throw. And now that my shoulder is back to where it was, that's going to get me where I want to be."
Thompson, who like Wallace is a senior, finally gets his shot as the Gamecocks' starter after serving as an ace reliever any time Shaw went down over the past few years.
"Everybody wanted to label Connor as a runner, and he was," Thompson said. "But he did a really good job of managing the game. He didn't take too many risks. He just worked the ball down the field. You looked up and they were in the end zone. That was a credit to coach [G.A.] Mangus and coach [Steve] Spurrier, and that's what I want to do."
With Vanderbilt coach Derek Mason naming
Patton Robinette
as the Commodores' starter Thursday night, that leaves two starting jobs in the league unsettled. Alabama is trying to decide between
Blake Sims
and
Jake Coker
, and LSU is trying to sort it out between
Anthony Jennings
and
Brandon Harris
.
Among those four quarterbacks, they have one career start.
In fact, other than Marshall and Wallace, the only other two quarterbacks in the SEC who have more than 10 career starts are Arkansas'
Brandon Allen
and Florida's
Jeff Driskel
. Both dealt with injuries last season, and a broken leg sidelined Driskel for all but the first three games.
"The SEC is going to be the SEC," Thompson said. "You're going to look up, and you're still probably going to have four teams in the top 10 at the end of the year. Those guys [from 2013] were also nobodies at some point. I guess that's what everybody is making it out to be. It's going to play out the way it's supposed to. That's what we're excited about, not just the quarterbacks, but all the players on this team."
August, 21, 2014
Aug 21
3:00
PM ET
Pick a word, any word.
That's what I asked the 65 coaches from the Power Five conferences and Notre Dame to do. Describe their team in one word.
Some coaches were one-word wonders, but a few insisted they needed two words. That's fine because the descriptions shed some insight into how coaches view their team and/or what they want the public perception of their team to be.
[+] Enlarge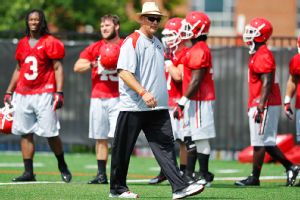 AP Photo/Athens Banner-HeraldGeorgia coach Mark Richt describes his team as 'wow.'
Of the 65 coaches, "hungry" was the most common description. Nine coaches went with it, making a "hungry" team the modern-day equivalent of the "taking it one game at a time" cliché. Four coaches used "unproven," another four "experienced" and three said "young." Two coaches each used "redemption," "committed," "improved" or "youthful."
In all, the 65 coaches used 44 different descriptions.
Well, here's to taking it one "word" at a time. My word: Enjoy.
SEC
Alabama's Nick Saban: Untested
Arkansas' Bret Bielema: Motivated
Auburn's Gus Malzahn: Experienced
Florida's Will Muschamp: Hungry
Georgia's Mark Richt: Wow
Kentucky's Mark Stoops: Improved
LSU's Les Miles: Unknown
Mississippi State's Dan Mullen: Hungry
Missouri's Gary Pinkel: Confident
Ole Miss' Hugh Freeze: Relentless
South Carolina's Steve Spurrier: Decent
Tennessee's Butch Jones: Committed
Texas A&M's Kevin Sumlin: Eager
Vanderbilt's Derek Mason: Audacious
August, 21, 2014
Aug 21
2:29
PM ET
Last year was possibly the best in recent memory for SEC quarterbacks. From Johnny Manziel and A.J. McCarron to Aaron Murray and Zach Mettenberger, the conference was loaded with a Heisman Trophy winner, a two-time national champ, school record-holders and NFL draft picks. Things are a little different this year. Outside of Auburn, most schools are dealing with major questions under center. Where do things stand as the season gets ready to kick off? Here's a look at how things went last year, what to watch for this year and a projected grade for how each team's quarterbacks will do in 2014.
The Established Star
August, 21, 2014
Aug 21
12:57
PM ET
Iman Marshall
hasn't said much when it comes to recruiting, constantly maintaining that he is wide open to the process and without any favorites. On Thursday, the No. 8 overall prospect and No.1 player in the West region took a significant step toward shedding some light on his recruiting situation, tweeting out the schools he will officially visit before making his decision. Of course, as always with recruiting, Marshall still provided for some grey area.
After announcing that he'd be listing his five official visits, Marshall tweeted six schools, as Florida State, LSU, Michigan, Notre Dame, Oklahoma and Texas all made the list. The five-star prospect offered a little clarity, saying he is town between Oklahoma and Texas, then asked the fan bases of those two schools to help him decide which to see for his fifth visit.
August, 21, 2014
Aug 21
12:05
PM ET
By
Mackenzie Kraemer
| ESPN.com
AP Photo/Gerald HerbertLeonard Fournette ran for 7,619 yards and scored 88 rushing TDs in his high school career
In January,
LSU
landed the top recruit in the
ESPN 300
, running back
Leonard Fournette
. The New Orleans product was the first running back to top our rankings since
Joe McKnight
in 2007.
Fournette should be relied upon right away after the team lost lead back
Jeremy Hill
, who was drafted in the second round of the 2014 NFL Draft by Cincinnati. Last season Hill ran for 1,401 yards while averaging a school-record 6.9 yards per carry (minimum 200 carries). However, given Fournette's size, speed and pedigree, he should be able to step right in to fill Hill's role, even as a true freshman.
Examining Fournette's Role
Fournette's upside was described this way by
RecruitingNation.com
. "If he can land in a downhill, two-back offense, we see big-time production at the next level."
If that description is accurate, Fournette landed in the right place. No BCS-AQ (automatic qualifying) team ran more often in a two-back set than LSU last season.
LSU was also fourth among BCS-AQ teams in rushing yards between the tackles (136.4 yards per game).
Hill excelled in LSU's downhill running scheme. He led all BCS-AQ backs, averaging 105.9 yards per game in two-back sets, and his average of 7.9 yards per carry between the tackles led BCS-AQ backs (minimum 50 carries).
With Hill gone, 203 carries have been freed up, with Fournette expected to take the majority of them. Physically, the two are very similar. At 6-foot-1, 230 pounds, the freshman is listed at one inch shorter and six pounds lighter than Hill. Yet Fournette has elite speed to go with that size. Last year, he ran a 10.68-second 100-meter dash to win Louisiana's 4A regional title.
How Successful Can He Be?
Fournette will have help in the trenches. LSU returns four starters from an offensive line that carved big holes up the middle. Last season, the Tigers' average of 3.9 yards before contact per carry on designed runs between the tackles was second-best among BCS-AQ teams.
Les Miles isn't afraid to use freshmen running backs either. Two years ago, Hill led the team in rushing and set a school freshman record in touchdowns with 12. As the schedule got tougher, Miles rode his freshman more. In LSU's last seven games – five against ranked opponents - Hill averaged 19.5 carries per game.
LSU did not sign a single running back in last year's recruiting class primarily because of its pursuit of Fournette, so the Tigers should ride their freshman heavily. Over the last two seasons, four different SEC freshmen have rushed for 1,000 yards.
Only one Tiger freshman has rushed for 1,000 yards in a season, Justin Vincent in 2003. That year, Vincent was named most valuable player of LSU's BCS Championship Game victory over Oklahoma. LSU hopes that Fournette can have a similar impact this season.
"We decided not to take a tailback," LSU head coach
Les Miles said at his signing day press conference
in February. "We will need a great one, one of those guys who has great speed, and ball skills and can run with power, and I'm thinking of him right now."
August, 21, 2014
Aug 21
10:00
AM ET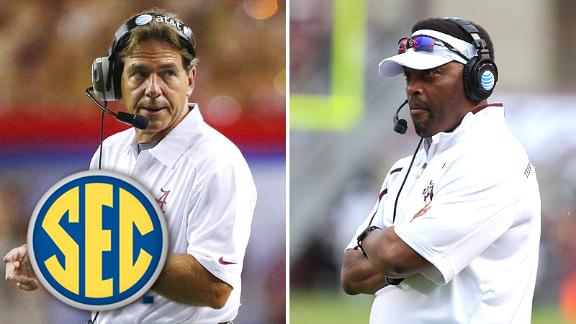 The SEC has a total of 237 verbal commitments. An incredible 82 prospects who are committed to SEC schools are ranked in the ESPN 300. Alabama leads the way with 16 ESPN 300 commits, but all 14 schools in the conference have at least one ESPN 300 commit. To say the SEC is off to a hot start would be quite an understatement. Six schools in the SEC have 20 or more commits as compared to the Big Ten who currently has no teams that have 20 commitments. Six SEC schools -- South Carolina, Georgia, Texas A&M, Auburn, Alabama and LSU -- are ranked in the top 10 of the class rankings. Here is a closer look at how the SEC is doing heading in to the season.
To continue reading this article you must be an Insider
Drive Through: Two Is Too Many
SEC SCOREBOARD
Thursday, 8/28
Saturday, 8/30
Sunday, 8/31