December, 18, 2014
Dec 18
12:30
PM ET
Les Miles said his discussions with the players haven't gone beyond the informal stage yet, but he knows that a number of LSU players are weighing the possibility of entering the NFL draft after the season.
That's nothing new for LSU's coach, who has lost 17 underclassmen to the draft in the last two years, but he also knows the potential that will exist for his 2015 team if juniors like offensive lineman
Vadal Alexander
, linebacker
Kwon Alexander
and defensive backs
Jalen Collins
and
Jalen Mills
opt to return.
"I think that this team has the potential to play in championships and should the juniors recognize how close we are to being in the [College Football Playoff] that frankly this could be a great class for quite some time and a great team for quite some time," Miles said this week.
Those upcoming decisions will be a major factor in whether LSU fulfills that potential next season. Miles said he has made and will make that point in further discussions with his underclassmen on whether another year in college would benefit them.
[+] Enlarge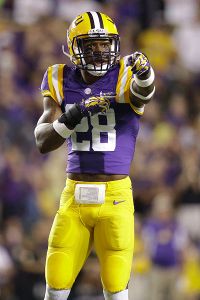 Gerald Herbert/AP PhotoJalen Mills is one of several LSU draft-eligible defenders with a decision to make.
"It's just basically revealing simple statistics about conference opponents and guys that are going to have senior quarterbacks and teams that are going to lose this and lose that, whereas we're really in pretty good shape should we return our junior class," Miles said.
Earlier today, we examined each position on LSU's offensive roster and which players have NFL decions to make. Now we turn to the defense:
DEFENSIVE LINE
Key departing seniors:
Defensive end
Jermauria Rasco
(63 tackles, 4 sacks, 6.5 tackles for loss)
Key draft-eligible player:
Junior defensive end
Danielle Hunter
(64 tackles, 1.5 sacks, 12 TFL)
Key underclassmen/not eligible for draft:
Sophomore defensive tackle
Christian LaCouture
(37 tackles, 2.5 sacks, 4 TFL), freshman defensive tackle
Davon Godchaux
(34 tackles, 1.5 TFL)
Comment:
Hunter refused to discuss his draft situation on Wednesday, but there is good reason to believe that he can and will jump to the pros after the bowl game. If he and Rasco are both gone, the Tigers might lean heavily on
Tashawn Bower
,
Lewis Neal
,
Deondre Clark
and
Sione Teuhema
to provide a pass rush next season. The good news is that the tackle spot will be much better off in 2015 now that LaCouture and Godchaux have established themselves, with junior
Quentin Thomas
and a number of freshmen and redshirt freshmen (look out for
Travonte Valentine
) capable of grabbing some playing time for themselves.
LINEBACKER
Key departing seniors:
D.J. Welter
(35 tackles)
Key draft-eligible players:
Junior Kwon Alexander (79 tackles, 7.5 TFL), junior
Lamar Louis
(29 tackles, 2.5 TFL)
Key underclassmen/not eligible for draft:
Sophomore
Kendell Beckwith
(68 tackles, 2 sacks, 6.5 TFL, INT)
Comment:
This figures to be a strong position even if Alexander jumps to the pros. Asked whether he requested an evaluation from the NFL's advisory committee, Alexander said, "One of the coaches told me to put it in. I just threw it in there, but I'm not worrying about that right now. I'm just trying to focus on this bowl game." He had a strong first season at weakside linebacker, posting a team-high 79 tackles and earning second-team All-SEC honors, but could certainly boost his draft stock by returning. Starting strongside linebacker Louis figures to return, and Beckwith should be a star next year in his first full season as the starter in the middle. Plus, the Tigers will have regulars
Deion Jones
and
Duke Riley
back, and freshman
Clifton Garrett
will be coming off his redshirt season. With so much depth and talent returning, Alexander predicted that his position group next year can be "the best linebackers in the country."
SECONDARY
Key departing seniors:
Safety
Ronald Martin
(66 tackles, 2 INT)
Key draft-eligible players:
Junior cornerback Jalen Collins (33 tackles, INT), junior safety Jalen Mills (54 tackles, 3 TFL, INT), redshift sophomore defensive back
Dwayne Thomas
(24 tackles, 2.5 TFL, INT)
Key underclassmen/not eligible for draft:
(Safety) sophomore
Rickey Jefferson
(23 tackles, 2 INT), freshman
Jamal Adams
(56 tackles, 3 TFL), (cornerback) sophomore
Tre'Davious White
(32 tackles, 3 TFL, 2 INT)
Comment:
Mills and Collins are both expected to explore their draft possibilities. Mills hasn't spoken to reporters since the end of the season, and Collins said Wednesday that "I've thought about it a couple times, but I haven't made any final decisions yet." ESPN's Mel Kiper Jr. rates Collins as the No. 8 draft-eligible cornerback prospect for 2015. Even if they both jump to the pros, the secondary should still be in good shape. Thomas and junior safety
Corey Thompson
will return from injury, while Adams, White and Jefferson have all established themselves as reliable contributors.
Rashard Robinson
is a wild card, as Miles hasn't announced whether the suspended cornerback will be allowed back on the team. "I would hope that he might be here [next season]," Miles said earlier this week. If Robinson is gone permanently, the Tigers might have to rely on a freshman like
Ed Paris
,
John Battle
or
Russell Gage
.
SPECIAL TEAMS
Key departing seniors:
None
Key draft-eligible players:
Junior punter
Jamie Keehn
(45.0 yards per punt), junior snapper
Reid Ferguson
Key underclassmen/not eligible for draft:
Sophomore kicker
Colby Delahoussaye
(11-15 FG, 34-36 PAT, 67 points)
Comment:
Keehn told reporters this week that he plans to return, so LSU's kicking game should remain intact. In fact, there could be added competition next season now that freshman kicker
Cameron Gamble
has had time to settle in and possibly challenge Delahoussaye and sophomore
Trent Domingue
for opportunities on field goal/PAT and kickoffs.
December, 18, 2014
Dec 18
12:00
PM ET
Connor Neighbors
will be long gone by then, but LSU's senior fullback believes the Tigers have championship potential in 2015 -- as long as the roster doesn't take too hard of a hit from the NFL draft.
"There's a bunch of personalities on this team that I don't think any other team has," Neighbors said. "So if the people that are eligible to stay, if they do stay, this team could be probably the best next year. Obviously they've got to improve in some areas, but what team doesn't?"
The Tigers' title possibilities might hinge on keeping more draft-eligible players on campus than they have in recent seasons. LSU lost a whopping 17 of them to the draft in the last two years, and the on-field product has suffered as a result.
Today we'll take a position-by-position look at LSU's roster positioning and which players have decisions to weigh, starting first with the offense and then with the defense:
[+] Enlarge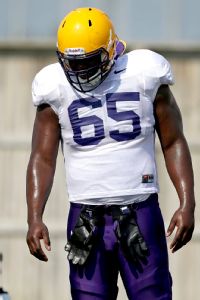 AP Photo/Gerald HerbertKeeping Jerald Hawkins would go a long way in stabilizing LSU's offensive line next season.
QUARTERBACK
Key departing seniors:
None
Key draft-eligible players:
None
Key underclassmen/not eligible for draft:
Sophomore
Anthony Jennings
(104-213, 1,460 yards, 10 TDs, 7 INTs), Freshman
Brandon Harris
(25-42, 452 yards, 6 TDs, 2 INTs)
Comment:
LSU doesn't figure to lose one of its quarterbacks, but it will remain the most scrutinized position on the offense. Jennings started most of the season and was not consistent enough, while Harris struggled in his one start and has barely seen the field since then. LSU coach Les Miles said this week that Harris "is being groomed" to compete for the starting spot in the future, so expect the Jennings-Harris battle to resume in the spring.
RUNNING BACK
Key departing seniors:
Tailbacks
Terrence Magee
(545 rushing yards, 3 TDs) and
Kenny Hilliard
(431 rushing yards, 6 TDs), fullback Connor Neighbors (four catches for 27 yards)
Key draft-eligible players:
None
Key underclassmen/not eligible for draft:
(Tailback) Freshman
Leonard Fournette
(891 rushing yards, 8 TDs), freshman
Darrel Williams
(280 rushing yards, 3 TDs), (fullback)
Melvin Jones
(five catches, 22 yards, TD)
Comment:
Nobody has a decision to make here. Magee, Hilliard and Neighbors are all seniors and Fournette, Williams and Jones will return in 2015. The Tigers are poised to add ESPN 300 tailbacks Nick Brossette and Derrius Guice to the backfield next season, and both will have the opportunity to contribute immediately following Magee and Hilliard's departures. The running game will still be in great shape.
WIDE RECEIVER/TIGHT END
Key departing seniors:
(Tight end)
Travis Dickson
(seven catches, 60 yards),
Logan Stokes
(one catch, 3 yards, TD)
Key draft-eligible players:
(Tight end) junior
Dillon Gordon
(no catches), (Receiver) redshirt sophomore
Travin Dural
(37 catches, 758 yards, 7 TDs)
Key underclassmen/not eligible for draft:
(Tight end) Sophomore
Colin Jeter
(no catches), sophomore
DeSean Smith
(no catches), (receiver) redshirt freshman
John Diarse
(13 catches, 199 yards, 2 TDs), freshman
Malachi Dupre
(14 catches, 318 yards, 5 TDs), freshman
Trey Quinn
(17 catches, 193 yards)
Comment:
The big news is that draft-eligible sophomore Dural said this week that he expects to be back at LSU next season. The speedster was the heart and soul of LSU's passing game, but he's probably making a good decision. A more consistent season in 2015 could improve his draft stock, as he started out with three 100-yard outings in the first four games, but hasn't had one since. Gordon should also return and will contribute heavily as a blocking tight end. Both positions have youngsters who are in line to contribute more heavily. Diarse, Dupre and Quinn are all freshmen who made some good things happen in their first game action, and several freshman receivers (keep an eye on
D.J. Chark
) are in line behind them. Same thing at tight end, where Colin Jeter, DeSean Smith and redshirting freshman
Jacory Washington
all could enjoy expanded roles in 2015.
OFFENSIVE LINE
Key departing seniors:
Left tackle La'el Collins, center
Elliott Porter
, right guard
Evan Washington
, right guard Fehoko Fanaika
Key draft-eligible players:
Junior left guard
Vadal Alexander
, right tackle
Jerald Hawkins
Key underclassmen/not eligible for draft:
Sophomore center/guard
Ethan Pocic
Comment:
This is the most important position group to watch. Collins has been outstanding at left tackle, winning the SEC's Jacobs Blocking Trophy as the conference's top blocker. He and Porter make two starters who are definitely leaving, and Washington and Fanaika are two of the top reserves. Where things could really go sideways is if Alexander and Hawkins opt to enter the draft, as well. LSU looks to be positioned well for a championship push next season, but having to replace four of the five starting offensive linemen would not be an encouraging sign. Both players were noncommittal when asked about the draft this week, but both of them requested draft grades from the NFL's advisory committee. Said Alexander, whom ESPN's Mel Kiper Jr. rated as the No. 7 guard prospect among draft-eligible players, "You want to focus on getting better because, stay or leave, you want the type of guy who can compartmentalize things and just focus on the here and now, and that's what I'm trying to do right now. Somebody'll lie to you and say they never think about it, but I'm not seriously thinking about it right now and I will make a quick decision after the bowl game."
December, 17, 2014
Dec 17
12:00
PM ET
When LSU and Notre Dame were ranked in the top 10 at points earlier in the season, nobody would have predicted that they would eventually meet in the Franklin American Mortgage Music City Bowl. And yet here we are.
LSU (8-4) and Notre Dame (7-5) stumbled down the stretch to land in Nashville, Tennessee, and set up their 11th all-time meeting -- the most between Notre Dame and any SEC program.
A bowl win will put a positive spin on a disappointing season for the Tigers or Fighting Irish. Here, LSU writer David Ching and Notre Dame writer Matt Fortuna discuss what a win would mean, as well as best- and worst-case scenarios for the two teams.
What a win would mean for LSU:
From a bragging-rights perspective, a win on Dec. 30 would give LSU a winning record (the programs are currently 5-5 head-to-head) against the Fighting Irish. Obviously that would make for a nice historical footnote. As for its modern-day impact, the Tigers are hoping to repeat what happened the last time they met Notre Dame in a bowl. LSU's 2006 team blasted Notre Dame to end that season and went on to win a BCS title the following year. LSU has some questions to answer this offseason -- particularly at quarterback -- but after enduring some growing pains with a young roster, the Tigers believe they can be playoff contenders next season. A win in Nashville would be a good way to kickstart the offseason.
What a win would mean for Notre Dame:
A win over No. 23 LSU would easily be Notre Dame's best victory of the season. More importantly, it would stop the bleeding that comes with a season-ending four-game losing streak. The Irish need positive momentum going into next season, especially with so many familiar faces expected to return in 2015. A lot of that could go out the door if this same cast of characters enters riding a five-game slide and wondering how it all went south so fast following a 6-0 start and No. 5 ranking.
LSU's best case for bowl:
Minus the narrow margin of victory, a game like LSU's regular-season finale against Texas A&M would be ideal. The Tigers' defense held a potent offense to just 228 total yards and their offensive scheme was perhaps the most ambitious it has been all year. Quarterback
Anthony Jennings
was outstanding on quarterback runs (he rushed for 119 yards) and completed passes to seven different teammates, freshman tailback
Leonard Fournette
was outstanding, and speedy receiver
Travin Dural
did some damage on jet sweeps. If LSU is to move back toward contender status in 2015, the offense has to be much more effective than it was this fall. Finishing the season with a productive outing against an underwhelming Notre Dame defense would do wonders for the young Tigers' confidence.
Notre Dame's best case for bowl:
In a weird way, the best-case scenario for Notre Dame would be that
Malik Zaire
emerges as a star, carves up a really, really good LSU defense, runs the offense to a T and looks like the Irish's quarterback of the future. That is not to say that the Irish cannot win with
Everett Golson
, or that it would necessarily be good to see him struggle in any way, shape or form. But the fact of the matter is that the Irish have seen all that Golson can and cannot do throughout the course of this season, with his 22 turnovers -- all over the final nine games -- contributing largely to this losing skid. Zaire has yet to start or see meaningful action in a close game, and if he looks great against a great defense, the Irish may just know where to start when it comes to finding the right guy to lead their offense in 2015. The defense needs to play better, sure, but much of that unit's demise can be chalked up to youth, inexperience and a litany of injuries. There are no excuses for the offense being as inconsistent as it has as of late, which means success from a fresh face could simplify things for this program moving forward.
LSU's worst case for bowl:
As with Notre Dame, another ugly outing on offense would be the wrong way to enter the offseason. Both teams have good reason to believe their defenses will be strong in 2015, but they need to figure out where they're going at quarterback (in LSU's case, is it going to be Jennings or freshman
Brandon Harris
?) and develop a dependable offensive identity. The power running game will continue to be LSU's bread and butter, but another game where its quarterback struggles to make drive-extending completions won't create much confidence that next season will be different for the Tigers' offense.
Notre Dame's worst case for bowl:
If the Irish look listless on offense, and if neither quarterback can get things going against the Tigers' defense -- or worse, turns the ball over frequently -- it will be back to the drawing board for Brian Kelly and his offense, which would be entering Year 6 with
still
no answer at quarterback. Golson cannot afford another outing like his last month of work, and Zaire cannot botch his first major opportunity to make a public statement and to show he is capable of answering the bell with the spotlight on him.
December, 17, 2014
Dec 17
11:30
AM ET
The Associated Press announced its
three-team list of All-Americans
for the 2014 season on Tuesday, and the SEC is represented by 15 players, including four on the first team.
A couple of obvious
first-team selections
were Alabama wide receiver
Amari Cooper
, who was only the nation's best receiver, Alabama safety
Landon Collins
and Ole Miss cornerback
Senquez Golson
. Mississippi State linebacker
Benardrick McKinney
and Missouri defensive end
Shane Ray
made the second team.
All good there.
But as you scan all three teams, you won't see Mississippi State quarterback
Dak Prescott
. No, the one-time Heisman Trophy front-runner, who set all kinds of Mississippi State records and helped lead the Bulldogs to their first 10-win season since 1999, didn't make it. Instead, Oregon Heisman winner
Marcus Mariota
, TCU's
Trevone Boykin
and Ohio State's
J.T. Barrett
made the cut.
Clearly, all three are worthy of All-America status, but so is Prescott after breaking 10 Mississippi State single-season records in 2014, including total offense (3,935), total offense per game (327.9) and touchdowns responsible for (37).
Four players for only three spots ...
Hey, there's always next season.
Here are the 15 SEC AP All-Americans:
FIRST TEAM
Offense
WR:
Amari Cooper, Jr., Alabama
C:
Reese Dismukes
, Sr., Auburn
Defense
CB:
Senquez Golson, Sr., Ole Miss
S:
Landon Collins, Jr., Alabama
SECOND TEAM
Offense
OT:
La'el Collins
, Sr., LSU
OG:
Arie Kouandjio
, Sr., Alabama
OG:
A.J. Cann
, Sr., South Carolina
Defense
DE:
Shane Ray, Jr., Missouri
DT:
Robert Nkemdiche
, So., Ole Miss
LB:
Benardrick McKinney, Jr., Mississippi State
CB:
Vernon Hargreaves III
, So., Florida
S:
Cody Prewitt
, Sr., Ole Miss
P:
JK Scott
, Fr., Alabama
THIRD TEAM
Offense
OT:
Cedric Ogbuehi
, Sr., Texas A&M
OG:
Ben Beckwith
, Sr., Mississippi State
December, 17, 2014
Dec 17
11:00
AM ET
LSU will enter 2015 with the same glaring question that faced the Tigers entering a roller coaster 2014 season: Who will be the starting quarterback?
The job belonged to
Anthony Jennings
for all but one game this fall – a blowout loss at Auburn – but freshman
Brandon Harris
hasn't been able to push past the inconsistent sophomore.
While LSU's defense rebounded from an awful start to eventually lead the SEC in total defense at 305.8 yards allowed per game, the quarterback issues plagued the offense for most of the season, and Cam Cameron's attack was frustratingly unproductive as a result.
It remains the leading storyline of the season as LSU (8-4, 4-4 SEC) prepares to conclude the season against Notre Dame in the Franklin American Mortgage Music City Bowl.
Here is a recap of the Tigers' season to this point:
Best win:
Rival Ole Miss came to Tigers Stadium undefeated and ranked third nationally, but the Rebels left with a disappointing 10-7 loss. Tight end
Logan Stokes
scored the game-winning touchdown on a 3-yard catch late in the fourth quarter – Stokes' only catch of the season – and senior safety
Ronald Martin
sealed the win with an interception at the goal line with 2 seconds remaining. The win briefly reignited LSU's hopes of sneaking back into the SEC West race, although an overtime loss to Alabama in its next game snuffed out those aspirations.
Worst loss:
A 41-7 loss at Auburn was the ugliest, but the Tigers' most painful defeat was probably its 20-13 overtime loss to Alabama. LSU was in position to upset the eventual SEC champs, grabbing a 13-10 lead on a
Colby Delahoussaye
field goal with 50 seconds to play. But Alabama drove for the game-tying field goal in the final minute and then won the game with a touchdown pass from
Blake Sims
to
DeAndrew White
in overtime. That gave the Crimson Tide, LSU's bitter rival, its fourth consecutive win in the series.
Player of the year: La'el Collins.
Although he could have entered the draft after last season like teammates Odell Beckham, Jarvis Landry and Jeremy Hill, Collins returned and almost certainly improved his draft stock. The senior left tackle won the SEC's Jacobs Blocking Trophy as the conference's top blocker and generally dominated opponents while becoming LSU's only first-team All-SEC selection. A three-year starter at LSU, Collins will leave an enormous hole on the left side of the line in 2015.
Breakout player: Leonard Fournette.
Receiver
Travin Dural
probably deserves mention here, too, after leading the team with 758 receiving yards and seven touchdowns, but we have to go with Fournette. The freshman running back – formerly the nation's No. 1 overall prospect – flashed moments of brilliance and carried the Tigers to narrow wins against Florida and Texas A&M. The SEC All-Freshman team member leads the team with 891 rushing yards and eight touchdowns and is averaging 126.8 all-purpose yards per game. It wasn't enough to maintain a Heisman Trophy campaign like some expected, but it was a solid debut effort.
Play of the year:
We have to go with Fournette's touchdown run against Texas A&M where he evoked memories of Heisman Trophy winner Herschel Walker by running over Aggies safety
Howard Matthews
on his way to the end zone. LSU fans can only hope it was another sign of great things to come.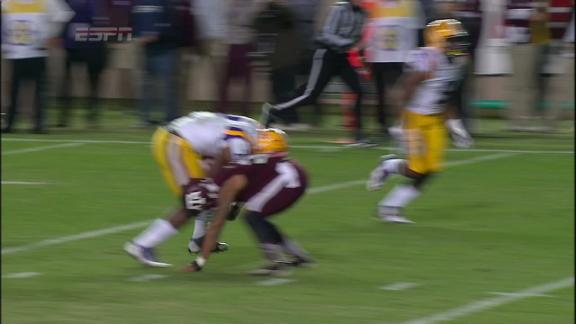 While Fournette's powerful run takes the cake, Dural's school-record 94-yard touchdown catch against Sam Houston State deserves a mention, too. The speedy wideout's catch from Jennings was a heck of a first offensive play in the Tigers' home opener at expanded Tiger Stadium.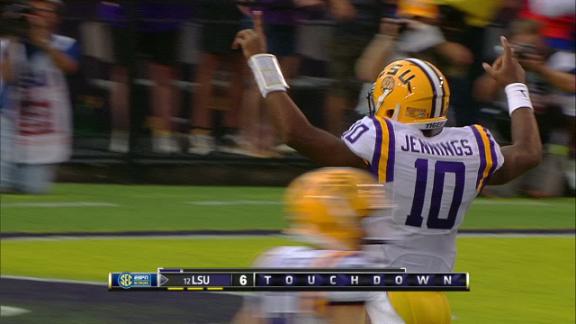 2015 outlook:
As has been the case in several recent seasons, LSU's success in 2015 might hinge on which underclassmen decide to enter the draft. The Tigers have been hit hard by the draft lately and might lose a handful of draft-eligible players again this year. Four of LSU's starting offensive linemen are eligible to enter the draft, as are defensive backs
Jalen Mills
and
Jalen Collins
and linebacker
Kwon Alexander
. This was a young team that should improve next year, and the Tigers could be Western Division contenders if the draft hit isn't too painful and a consistent quarterback emerges.
December, 15, 2014
Dec 15
9:26
PM ET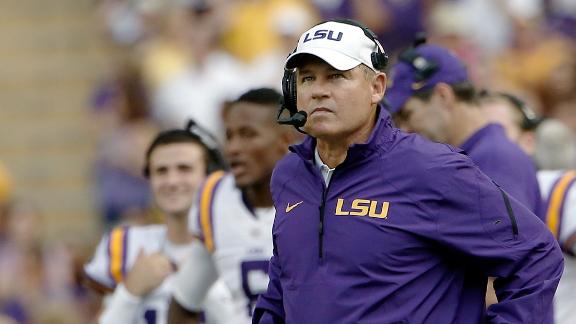 BATON ROUGE, La. -- Les Miles will not be the next coach at Michigan. So says Les Miles.
After LSU's Monday evening bowl practice, the Tigers' coach addressed persistent rumors that he will return to his alma mater, where he played under Bo Schembechler and spent a decade as an assistant coach.
Miles refused to be quoted on the record in the post-practice chat with reporters, but he sent a clear message: A return to Ann Arbor is not going to happen. He and his agent, George Bass, have not heard from Michigan, Miles said, and he would not change jobs even if Michigan made contact.
Miles also has told LSU athletic officials that he has not been contacted by Michigan and that he has no intention of leaving the Tigers, LSU spokesman Michael Bonnette said.
Miles is nearing the end of his 10th season at LSU, where he has won two SEC titles and one Bowl Championship Series crown. Miles-to-Michigan rumors have emerged in the past -- most notably late in the 2007 season, when he famously addressed reports on the subject prior to the SEC championship game -- but he has remained at LSU each time the Wolverines have had a coaching vacancy.
Since Michigan fired Brady Hoke on Dec. 2, Miles has shot down questions about a return to the Wolverines, but never as emphatically as he did Monday. After unofficially addressing the Michigan job opening, Miles went on to discuss several subjects related to his current job, including injuries, underclassmen who might become early entries in the 2015 NFL draft and the Tigers' upcoming bowl matchup with Notre Dame.
Information from The Associated Press was used in this report.
December, 15, 2014
Dec 15
7:26
PM ET
[+] Enlarge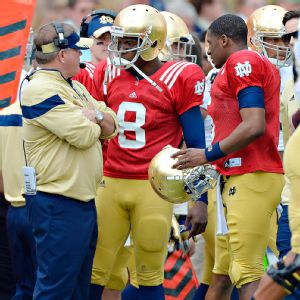 Robin Alam/Icon SMIBrian Kelly says quarterbacks Malik Zaire, left, and Everett Golson will both see playing time against LSU in the Franklin American Mortgage Music City Bowl.
Quarterbacks Everett Golson and Malik Zaire will both play for Notre Dame against LSU in the Franklin American Mortgage Music City Bowl, coach Brian Kelly said Monday.
"I think both of them have different traits and we need to find a way to win the game and I think both of them can help us win," said Kelly, who has not named a starter for the Dec. 30 contest in Nashville, Tennessee.
Golson, a redshirt junior, started all 12 games for the 7-5 Fighting Irish this season but was replaced by Zaire, a redshirt freshman, in the regular-season finale at USC, a 49-14 loss.
Zaire completed 9 of 20 passes in that game for 170 yards, adding 18 rushing yards and a touchdown on six carries.
Kelly said he would play both next year, too, if it's what's best for the team.
December, 15, 2014
Dec 15
10:00
AM ET
Now that Oregon quarterback
Marcus Mariota
has strutted away with the Heisman Trophy in an utter landslide, it's time to look into the future to see who could be up for that bronze beauty next year.
What's that? We haven't gotten to bowl season? Santa hasn't even come to fill our stockings?
Pssssh! It's
never
too early for some prognostication that has nothing to do with the current season. And looking ahead to the Heisman is so much fun.
So who could be in the mix for a trip to Times Square next December? I think the SEC has a few candidates to keep an eye on. Too bad
Todd Gurley
isn't returning, because he would be at the top of this list. In fact, if he didn't deal with that NCAA suspension or lose his season to an ACL injury, Gurley might have won the Heisman over Mariota. But that's a story for another day.
Also, Heisman finalist
Amari Cooper
isn't on our list because he would be crazy
not
to bolt to the NFL.
Here's our very early list of possible SEC Heisman candidates in 2015:
The NFL could claim these guys:
T.J. Yeldon, RB, Alabama: He leads Alabama with 932 rushing yards and has 10 touchdowns, but he could take his game to the next level. He wasn't completely healthy this season, but his vision and ball security improved a lot in 2014.
D'haquille Williams, WR, Auburn: He missed two games but still led the Tigers with 45 catches for 730 yards and five touchdowns. Another top-tier athlete, Williams made a ton of clutch plays for Auburn this fall. But with his incredible athleticism and size, he's very much a candidate to leave early.
Keep an eye on:
Speedy Noil, WR, Texas A&M: He had only 559 receiving yards and five touchdowns, but when you are regularly making plays like this, people better be on the lookout for you. Noil is a supreme athlete who will grow with more time in the Aggies' offense.
December, 12, 2014
Dec 12
2:32
PM ET
By
ESPN.com staff
| ESPN.com
[+] Enlarge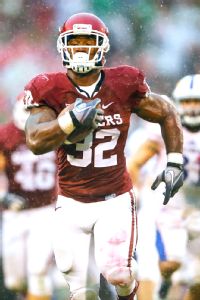 Kevin Jairaj/USA TODAY SportsSamaje Perine set the NCAA record for rushing yards in a single game. Not bad for a true freshman.
It seems like every year, true freshmen are having a greater impact on the game. This season continued that trend. There were so many good first-year running backs that great players such as Nick Chubb and Dalvin Cook couldn't find their way to this team. Meanwhile, a trio of SEC pass-rushers had immediate influence, with one even breaking Jadeveon Clowney's freshman sack record. Expect to hear a lot more from this group over the next few years.
Offense
QB: Brad Kaaya, Miami

This past summer was a disaster at quarterback for Miami, which lost starter Ryan Williams to injury and prospect Kevin Olsen to off-the-field issues, but Kaaya provided a resounding solution. After some early struggles on the road in his first start, Kaaya was exceptional and led the ACC in touchdowns (25), yards per attempt (8.6) and passer rating (148.2) while proving to be one of the best deep-ball threats in the country.
December, 12, 2014
Dec 12
10:00
AM ET
By
ESPN.com staff
| ESPN.com
Obviously when you take the opinions of six people -- in this case, our group of SEC writers -- we aren't going to agree about everything. Such was the case this week when we assembled our picks for the SEC blog's all-conference team.
Some picks were easy. For instance, Alabama's
Amari Cooper
might have been the easiest choice for All-SEC wide receiver in history. Others, not so much.
Here are some of the places where we were split on a decision or where we made a somewhat surprising omission, plus a couple of guys who we feel confident will make our team in the future -- possibly as soon as next season:
Sims vs. Prescott at QB
[+] Enlarge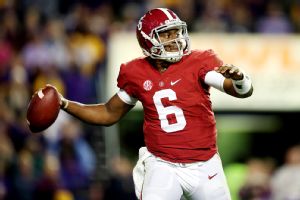 Chris Graythen/Getty ImagesBlake Sims consistently stepped up in crucial moments for the Crimson Tide over the second half of the season.
Alex Scarborough:
There's little doubt in my mind that Mississippi State's
Dak Prescott
is the more talented quarterback. He's got the stronger arm and generally has more polish than Alabama's
Blake Sims
. But that's not the point. This isn't the NFL. This is college football, where players like Eric Crouch and Tim Tebow can have stellar careers without possessing All-Pro tools.
With that in mind, my selection for All-SEC QB was simple. It was Sims over Prescott -- by a mile.
That's no knock on Prescott. Personally, I love watching him play. But when his Heisman Trophy campaign waned after Mississippi State reached No. 1 in the polls, he went sideways. Throwing out games against FCS Tennessee-Martin and woefully pathetic Vanderbilt, he threw more interceptions than touchdowns in the second half of the season.
Sims, meanwhile, was stellar in the biggest moments of the second half, whether it was the overtime affair in Death Valley, his 15-play drive against Mississippi State that Nick Saban ranked as one of the best in school history, or the end the regular season where he bounced back from three interceptions against Auburn to lead five consecutive touchdown drives.
If you need production, consider this: Sims ranks first or second in the SEC in completions, passing yards, passing touchdowns, yards per attempt and touchdown percentage. His Adjusted QBR (88.4) ranks second in the country, trailing only Oregon's
Marcus Mariota
. With 3,250 yards passing, he surpassed
AJ McCarron
for the school record in a single season.
David Ching:
Let's use a fancy-pants baseball statistic here: Wins Above Replacement Player. That stat assigns a number value to a player, reflecting the wins he individually added to his team's total compared to what an average player would add in the same circumstances.
For instance, Cy Young Award winner
Clayton Kershaw
led MLB this season with an 8.0 WARP, meaning that simply having Kershaw on the team gave the
Los Angeles Dodgers
eight wins more than they would have had with a replacement-level player (like a minor leaguer).
I'll get to the point. If there was such a thing as WARP in college football, Prescott would be a mile ahead of Sims. There isn't even much of a debate in my mind.
Sims had a good season, and was even great at times, but he also plays for a team that is stocked with future NFL talent. By far the biggest reason that Mississippi State was in the playoff conversation until the end of the season was that Prescott is the Bulldogs' quarterback.
This is a guy who's probably going to pass for 3,000 yards and run for 1,000 once bowl season is over, plus he's already thrown 24 touchdowns, caught one scoring pass and run for 13 more. I'm eminently confident that if the two players switched teams, Alabama would still be where it is in the national hierarchy. Could State say the same? I don't think so.
Where's Cedric Ogbuehi?
Texas A&M's 6-foot-5, 305-pound offensive tackle has a strong chance to be a first-round pick. In fact, he's currently No. 11 on
Mel Kiper's Big Board

and considering his athleticism, it seems to be a safe bet he'll perform well at the NFL scouting combine and improve his draft stock. However, 2014 wasn't quite the home run that many were expecting from Ogbuehi when he made the move from right tackle in 2013 to left tackle this season.
Ogbuehi was inconsistent at times and didn't always appear comfortable at left tackle. It's a position he didn't play in college before this season, so some transition was to be expected, especially with footwork when switching from the right side to the left as an offensive lineman. He had his moments when he looked the part, but others,
like this one vs. Robert Nkemdiche
or
this one vs. Kwon Alexander
where he didn't.
He moved back to right tackle for a few games as the Aggies tried to manage without starting right tackle
Germain Ifedi
, who missed time because of an injury and Ogbuehi looked more comfortable there, though even at that position, Missouri's
Markus Golden
gave Ogbuehi all he could handle when the Tigers came to town. Overall, it just didn't feel like a first-team All-SEC season for the future pro. (
Sam Khan Jr.
)
[+] Enlarge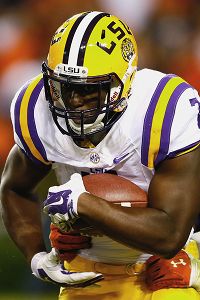 Kevin C. Cox/Getty ImagesLeonard Fournette didn't have the Heisman-worthy season some were projecting, but expect him to be in the conversation in 2015.
Wait until next year, offense:
Prior to the season,
Leonard Fournette
was generating Heisman Trophy buzz before he had even played a single down in college. Our bet is that the LSU freshman is a much bigger factor in that conversation next year. This season, he had some quiet games, as most freshmen do, but he also carried the Tigers' offense in narrow wins against Florida and Texas A&M. It hasn't been a Heisman-caliber season by any means, but Fournette can still post a 1,000-yard season if he rushes for 109 yards against Notre Dame in the Franklin American Mortgage Music City Bowl. That would still be a heck of a debut season, and more than enough reason to expect big things from Fournette next fall. (
David Ching
)
Wait until next year, defense:
Myles Garrett
is a star. There's no doubt about that. In most leagues, he probably makes first-team all-conference with the season he put together. But this is the SEC, with a lot of great defensive linemen, so Garrett -- while excellent this season -- must wait. The Texas A&M true freshman defensive end had 11 sacks this year, which ties him for second in the conference with Tennessee's
Curt Maggitt
, but Garret compiled eight of those against the following opponents: Lamar, Rice and Louisiana-Monroe. The sacks still count, but they aren't as impressive as they would have been if more had come during SEC play. Garrett did pick up a sack against South Carolina, Mississippi State and Ole Miss, all teams with quality offensive lines, so that is noteworthy. And had he not got injured against Auburn after being yanked to the ground by
Shon Coleman
, Garrett might have had a stronger finish (he missed the Missouri game because of the injury, though he did return to play against LSU). Garrett earned deserved honors by making it onto both the Associated Press and coaches All-SEC second teams and if he continues to improve at his current rate, you can bet he'll be a first-teamer across the board at this time next season. (
Sam Khan Jr.
)
December, 12, 2014
Dec 12
9:00
AM ET
Now that the Associated Press and the league coaches have spoken and cast their votes for their All-SEC teams, it's time for us to get in on the fun.
We here at the ESPN.com's SEC blog put our heads together for days trying to come up with what we thought was the perfect team, and, of course, we think we got it all right. Correction: We KNOW we got it right.
Here's what we came up with:
OFFENSE
QB: Dak Prescott, Mississippi State:
Prescott directed the Bulldogs to their first 10-win season since 1999. He led the SEC with 3,970 yards of offense and was responsible for 228 points (38 touchdowns), which ranks fifth nationally.
RB: Cameron Artis-Payne, Auburn:
Like
Tre Mason
before him, Artis-Payne finished the regular season leading the SEC in rushing. The senior rushed for 1,482 yards and 11 touchdowns.
RB: Nick Chubb, Georgia:
Only a true freshman, Chubb was second in the SEC with 1,281 rushing yards and tied for first in the league with 12 rushing touchdowns. Chubb rushed for at least 113 yards in the seven games he started.
WR: Amari Cooper, Alabama:
The record-breaking athlete and SEC Offensive Player of the Year is easily the nation's best wide receiver and led the nation with 115 receptions for 1,656 yards. He had seven 100-yard receiving games.
WR: D'haquille Williams, Auburn:
Just a freak of an athlete, Williams led the Tigers with 45 catches for 730 yards and five touchdowns despite missing two games near the end of the season.
TE: Evan Engram, Ole Miss:
Engram became the Rebels' top receiving target after
Laquon Treadwell
went down and finished second on the team with 37 receptions. His 651 receiving yards led all SEC tight ends.
OT/G: Sebastian Tretola, Arkansas:
He was one of the SEC's best linemen with his ability to play both inside and outside for the Razorbacks, and he even provided us with a touchdown pass this season.
OG: A.J. Cann, South Carolina:
The four-year starter has started 50 of the 51 games he's played in at South Carolina and is a top NFL draft guard prospect who is excellent blocking both the pass and rush.
C: Reese Dismukes, Auburn:
The two-time first-team All-SEC member has been the linchpin of the Tigers' offensive line the last two seasons and was excellent in 2014.
OG: Ben Beckwith, Mississippi State:
The burly Beckwith was the only player to be named SEC Offensive Lineman of the Week three times this season.
OT: La'el Collins, LSU:
Another top NFL draft prospect at his position, Collins was good enough to leave early last year, but got even better protecting LSU quarterbacks in 2014.
All-purpose: Pharoh Cooper, South Carolina:
Cooper finished the regular season with 1,242 all-purpose yards and was second in the SEC with 966 receiving yards.
DEFENSE
DL: Shane Ray, Missouri:
The SEC Defensive Player of the Year led the league with 14 sacks and 21 tackles for loss. Ray registered at least half a tackle for loss in 12 games this season.
DL: A'Shawn Robinson, Alabama:
He might not have had the numbers of other defensive linemen around him in this league because of a slow start, but Robinson proved to be one of the league's most disruptive defenders up front.
DL: Dante Fowler Jr., Florida:
The hybrid defender was one of the SEC's best pass-rushers this season, leading the Gators with 5.5 sacks, 12 tackles for loss and 15 quarterback hurries.
DL: Trey Flowers, Arkansas:
The Hogs' lineman faced more double-teams this season but still cranked out a productive season, leading the team with five sacks and 13.5 tackles for loss. He also totaled 63 tackles.
LB: Benardrick McKinney, Mississippi State:
Another guy who didn't put up monster stats, the possible first-round draft pick was the leader of Mississippi State's defense, the most consistent player for the Bulldogs and the unquestioned quarterback of the defense.
LB: Martrell Spaight, Arkansas:
He led the league with 123 total tackles and tied for the league lead with 60 solo stops. Spaight also forced two fumbles and recorded 8.5 tackles for loss.
LB: Kwon Alexander, LSU:
One of the SEC's most athletic linebackers, Alexander was the ultimate playmaker for the Tigers, leading LSU with 79 tackles with 32 being solo.
CB: Senquez Golson, Ole Miss:
Golson did a complete 180 in 2014, becoming one of the nation's best cover corners, as he was second nationally with nine interceptions and first in the SEC with 17 passes defensed.
S: Landon Collins, Alabama:
Another top NFL draft prospect, Collins played the role of dynamic ball hawk for the Crimson Tide and was able to make plays all over the field. He led the team with 91 tackles and three interceptions.
S: Cody Prewitt, Ole Miss:
An All-American last season, Prewitt didn't fall off. While he only registered two interceptions, Prewitt made plays all over the field for the Rebels, not shying away from combat in the box.
CB: Vernon Hargreaves III, Florida:
The youngster just keeps getting better. He grabbed just two interceptions, but was an excellent one-on-one defender, defending 15 passes.
SPECIAL TEAMS
P: JK Scott, Alabama:
There's a reason Alabama's fans joked about a potential Heisman run for Scott. He averaged 47 yards per punt with a long of 70 yards, downing 26 inside the 20-yard line and had 18 kicks go 50-plus yards.
K: Austin MacGinnis, Kentucky:
He connected on 21 of his 27 attempts and hit 8 of 12 from 40 yards and beyond, including a long of 54 yards.
KR: Marcus Murphy, Missouri:
Murphy averaged 29.9 yards per kickoff return (478 yards) and scored two touchdowns. He also had 273 punt return yards and a touchdown.
Intriguing SEC bowl games
SEC SCOREBOARD
Monday, 12/22
Saturday, 12/20
Tuesday, 12/23
Wednesday, 12/24
Friday, 12/26
Saturday, 12/27
Monday, 12/29
Tuesday, 12/30
Wednesday, 12/31
Thursday, 1/1
Friday, 1/2
Saturday, 1/3
Sunday, 1/4
Monday, 1/12