March, 27, 2015
Mar 27
8:31
PM ET
BATON ROUGE, La. -- LSU was one of the first schools to take advantage of signing seniors that plan to enroll early to financial aid agreements after the NCAA introduced the rule change in the fall of 2013. The Tigers were also one of the first schools, at least publicly, to be sanctioned for violating contact rules around the FAA agreement when the NCAA and Southeastern Conference banned LSU from signing early enrollees to the agreement for the next two years and stripped the program of 10 percent of its recruiting evaluation days in 2015.
At the center of the case was Matt Womack, a three-star offensive lineman from Senatobia (Mississippi) Magnolia High School, who signed a financial aid agreement with LSU last August with the intent to enroll at the school in January. Instead, Womack decommitted, like hundreds of prospects do every recruiting cycle, and signed with Alabama in February. LSU was punished because Tigers head coach Les Miles visited Womack's home on Oct. 28 -- a trip that was perfectly legal at the time because a school can have unlimited communication with a prospect once that prospect signs an FAA -- but when he didn't end up in Baton Rouge, the trip turned into a violation of NCAA contact rules.
[+] Enlarge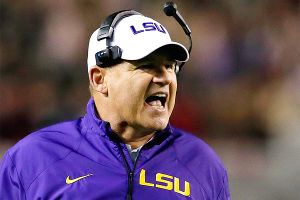 Kevin C. Cox/Getty ImagesLes Miles and LSU found themselves the victim of a hole in the financial aid agreement rules in recruiting.
The ruling was puzzling because there's a lot of discussion as to whether or not financial aid agreements will even be around in the future. An early signing period for football is expected to be approved by the Conference Commissioners Association in July and instituted this fall for a two-year trial period. The 72-hour early signing window starting on Dec. 16 would allow prospects to sign a national letter of intent, and some recruiters and conference officials believe it could render financial aid agreements obsolete.
Even if it doesn't and schools are still allowed to sign prospects to FAAs, it's still hard to fathom how LSU ended up being punished because a teenager decommitted. That was something LSU coach Les Miles agreed with during a Friday morning visit.
"How can you possibly blame the institution?" Miles said. "It basically amounts to this. You put up a sign where the speed limit is 45 mph. Then because a guy changes his mind, he takes down the 45-mph sign and puts up a 25-mph sigh. And then all those guys that went 45 back when it was legal to go 45, they're going to be punished? It doesn't make sense.
"They said we could not even communicate with him. I never had a conversation with Matt Womack after the time he said 'I would like to not sign early.' Think about that. He didn't say 'I'm going to another school.' He said 'I would like to not enroll early.' I didn't have the ability to ever talk to him because of our compliance department. We couldn't even call and recruit the guy."
Miles said in hindsight he doesn't know how he and his staff could have handled things any differently than what they did.
"We have always been compliant with the NCAA, and we do the right things," Miles said. "We stepped into the concrete before it hardened, and they pounded a nail in our finger for it. It doesn't make any sense to me."
The NCAA still has to accept the penalties imposed by the SEC, but LSU is not expected to appeal the sanctions. Also keep in mind, the ruling won't keep LSU from accepting commitments from players that want to enroll early. The only difference now is that they won't be allowed to sign the FAA -- where unlimited communication would be allowed -- and just enroll in school at the start of the second semester.
LSU associate head coach and recruiting coordinator Frank Wilson said the topic has already come up with some recruits, but he believes it won't hurt the Tigers' chances to land top prospects that want to become part of the program in January.
"It's made us vulnerable for conversation and to have to defend it," Wilson said. "It's information, or legislation, that the everyday parent doesn't quite understand. If you just read the papers or saw the scroll on ESPN, you'd think 'Oh you can't go to LSU if you're a mid-year.' So we've had to have educated conversations about it with parents and prospects.
"But we're able to present it in a manner where they know long term that it truly doesn't affect them. We've already got a few mid-term guys committed to us, and we know there are so many great reasons why the best players want to come to LSU."
Haskins, McElwain Shine At IMG Regional
SEC SCOREBOARD
Thursday, 9/3
Saturday, 9/5