December, 2, 2014
Dec 2
4:00
PM ET
As I wrote over the weekend, because of its fluid athletic director situation, Michigan should
aggressively pursue Jim Harbaugh or Les Miles
.
They are big enough names that the hiring of a permanent AD in 2015 wouldn't affect the way they did their jobs; they're bigger than the AD's office.
But what if neither Michigan Man is interested? Where would interim AD Jim Hackett and the school's administration then turn?
Michigan needs a coach who can catch up to the aggressive pace being set in the Big Ten by Urban Meyer and Ohio State. Meyer has moved the league into a new era. As positive as that is for competitive balance across the nation, it has forced discomfort from old-guard, slow-to-adapt Big Ten administrators.
I spoke this week with a Big Ten coach frustrated about his school's regents and their inability to understand that spending money is necessary to be competitive.
Michigan isn't that rigid in its thinking, but it needs a big hire to allow the program to catch up with Ohio State. That's why Harbaugh and Miles are the best fits and should be coveted. The message would be sent that Michigan is serious about regaining its footing in the league.
Also, the new staff, whenever it arrives, has work to do. There were four in-season decommitments, leaving Michigan just
seven prospects pledged
for the 2015 class. The recent defections caused UM to
drop 11 spots to No. 38
in the latest RecruitingNation class rankings.
Who else is out there?
1. Butch Jones, Tennessee head coach
December, 2, 2014
Dec 2
3:00
PM ET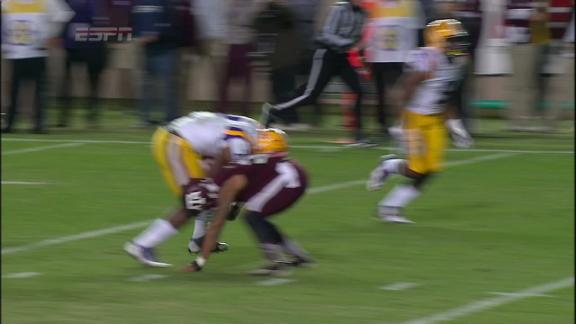 Approximately three hours after
Leonard Fournette
cemented himself into highlight reels everywhere with
his 22-yard, activated-the-truck-stick touchdown run
over Texas A&M safety
Howard Matthews
, Fournette's LSU teammate and fellow true freshman
Jamal Adams
searched for the proper word to describe it.
There were none, only a facial expression sufficed. A grimace, the one that is in the shape of a smile but isn't a smile, with the subject inhaling air through clenched teeth, making a sound that resembles a sizzle, signaling pain. Then Adams could only shake his head and think back to when he was the victim of a forceful Fournette run.
"That was my face," Adams said of his reaction. "I was like, 'Whoa!' Me and Leonard when we first got here, first day of pads we went at it and he got me and then the next play I came and got him."
Wait, he trucked you like that?
"Oh, yeah," Adams confirmed. "Oh, yeah."
Les Miles knows what he would do if he saw Fournette heading his direction.
"I would get out of the way if Leonard was running at me," Miles said. "I would tackle him low and away. You know what I mean? It's kind of like a pitcher, I would pitch him low and away, I would tackle him low and away."
Watching the 19-year-old perform feats more likely to be seen on Sundays than Saturdays isn't anything new for the Tigers. Senior offensive tackle La'el Collins remembers the first time he saw Fournette power over a defender.
"It just brought back memories of the first day he put on pads in camp," Collins said. "He did that and I remember that. I'll never forget. I always wanted to see a little bit more of that from him this year. He's going to be a great player."
Fournette showed glimpses of that potential greatness on Thursday in LSU's 23-17 win over Texas A&M. He carried the ball 19 times for a season-high 146 yards, which also netted a season-high 7.7 yards per carry. The touchdown run over Matthews will be the most talked about run from that day, but it's far from the only worthwhile thing Fournette did.
The performance was good enough to earn him SEC freshman of the week honors (the third time he has received that distinction) and he was consistent in helping the Tigers move the chains. He even showed some resiliency after a five-carry, 9-yard performance the previous week against Arkansas, evidence that growth is taking place.
"That's big right there," quarterback
Anthony Jennings
said. "A freshman running back, he's been doing that for a while now. We have great confidence in him to run the ball the way he did [Thursday]."
It hasn't been a perfect freshman season, though some might have expected it. As the No. 1 recruit in the 2014 ESPN 300, Fournette arrived at LSU with nearly impossible expectations to live up to. There were comparisons to Adrian Peterson. There were Miles' own comparisons at SEC media days of Fournette to Michael Jordan. The praise heaped upon, again, a 19-year-old, was immeasurable.
He saw only occasional carries in the season-opening win over Wisconsin (eight), then created a stir when he did a Heisman pose after a touchdown run the following week against FCS foe Sam Houston State. As the season progressed, so has Fournette, surpassing 100 rushing yards four times in LSU's last eight games. Those around him say he simply continues to work and do the right things.
"Leonard, he works hard in practice, man," Adams said. "He's a level-headed kid and he's going to keep getting better and better each and every day."
Added Jennings: "He's a powerful runner. He has great vision, great work ethic. Whatever's coming to him, he's been working for it throughout practice. I'm very happy for him and that run was big."
It was a strong way to end his debut regular season and gives Fournette a foundation to build on moving forward in his LSU career. Miles, who calls Fournette "a mature freshman" is expecting him to become a special player. At 6-foot-1, 230 pounds and the physical gifts the New Orleans native possesses, Fournette has what's necessary to become a true college football star.
Asked about his freshman season so far, Fournette admits that while he feels he has done well, he can get better. His demeanor suggests the level-headedness Adams alluded to and the maturity Miles cites. Surrounded by reporters in the aftermath of his SportsCenter top-10 touchdown, he offered brief, simple explanations to what occurred Thanksgiving night.
How good did the touchdown feel?
"It felt great. It was normal," Fournette said, eliciting laughs before chuckling himself.
Did you feel like you ran somebody over? Like somebody got in the way?
"Yeah, somebody did," Fournette said. "Our coach kept telling us, 'If one person's free, make them miss.' So I tried to my best ability to make him miss."
Did he ever.
December, 1, 2014
Dec 1
3:00
PM ET
LSU's season fell short of the expectations Les Miles has established as the Tigers' coach, with his team failing to achieve 10 wins for the first time since 2009.
But it wasn't all bad. Miles' young team made progress in several areas that could serve LSU well in 2015 and beyond.
Let's review three pluses and three minuses that marked 2014 for LSU, which finished the regular season at 8-4 following last Thursday's win over Texas A&M:
Pluses
Defensive line growth:
For years, LSU has been one of the nation's most effective programs at turning out NFL-caliber defensive linemen, but the Tigers looked anything but impressive early in the season. Opposing offenses were running right up the middle and around the edge for huge gains, and the Tigers frequently looked inept up front. Defensive ends
Jermauria Rasco
and
Danielle Hunter
typically played well, but the interior line was a work in progress. However, once freshman
Davon Godchaux
settled in alongside
Christian LaCouture
at defensive tackle, the Tigers' luck began to change. By the end of the season, the interior line was no longer a liability. That bodes well for next season, when the Tigers should have experience and depth in the middle.
[+] Enlarge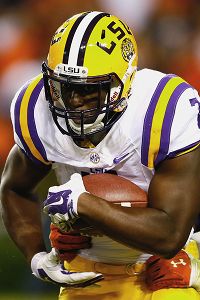 Kevin C. Cox/Getty ImagesFreshman Leonard Fournette needs 109 rushing yards in LSU's bowl game to reach 1,000 for the season.
Freshman stars emerge:
Excitement surrounded LSU's true freshman class, and we're only starting to see what the group can do. We got a good taste of tailback
Leonard Fournette
's capabilities, as the top overall prospect was the driving force in at least two Tigers wins (over Florida and A&M). And it's clear that safety
Jamal Adams
is a future star in a secondary that ranked among the nation's best. We also got glimpses of star potential from Godchaux, receiver
Malachi Dupre
, quarterback
Brandon Harris
and running back
Darrel Williams
. This season was only the tip of the iceberg, however. The 2014 class is off to a good start, but this group has yet to approach the enormous impact that it eventually will make.
Offensive line comes through:
We can't completely ignore LSU's 123-yard showing in a shutout loss to Arkansas, but that unbelievably poor effort only reinforced how much progress the starting offensive line had made to that point -- before injuries to left guard
Vadal Alexander
and center
Elliott Porter
forced the Tigers to play shorthanded against the Razorbacks. Up to that point, the offensive line had made enormous progress over the course of the season. The veteran group struggled early, but eventually became the most dependable bunch on the offense. The Tigers' 388 rushing yards against A&M (with Alexander back in the lineup) served as a suitable rebound from the disappointing night against Arkansas.
Negatives
Quarterback development:
Perhaps the most disappointing element of the season was that the Tigers failed to improve more at quarterback. The position was one of the team's biggest question marks entering the season, and Harris and sophomore
Anthony Jennings
both struggled. Sophomore Jennings started all but one game, but he was ineffective throughout the season. The problem was that Harris -- who was horrible in his lone start, a blowout loss to Auburn -- failed to take the job away from the underperforming Jennings. Miles acknowledged that Harris is the more explosive talent, but the coach said Harris is also more likely to make mistakes. This will be another huge offseason for the position, as Jennings and Harris were simply not good enough in 2014.
Impotent pass rush:
While the defensive line's overall play improved dramatically over the course of the season, the Tigers remained unsuccessful at rushing the quarterback throughout. LSU finished the regular season with 19 sacks, led by Rasco's four. Just a couple of years ago, the Tigers regularly posted seasons of 30-plus sacks. Today, they rank 13th in the SEC at taking down opposing quarterbacks, leading only South Carolina (12) in sacks. The lack of sacks made the Tigers' performance against the pass -- they are fifth nationally in passing yards allowed (162.3 ypg) and second in pass efficiency defense (98.7) -- even more impressive.
Spotty passing game:
Inconsistent quarterback play and the resulting run-heavy philosophy probably affected the development of LSU's young receiving corps, but Dupre and fellow freshman
Trey Quinn
disappeared for large stretches of the season. And all of the preseason talk about including the tight ends more in the passing game was apparently just talk, since the position accounted for eight receptions in the regular season. Sophomore
Travin Dural
(37 catches for 758 yards, 7 TDs) came into his own and redshirt freshman
John Diarse
had a couple of nice games, but the position still has a lot to prove in 2015. LSU's offense wasn't nearly balanced enough this fall, and it wasn't only because Jennings was an ineffective passer. The wideouts need to become more consistent route runners and pass catchers next year, as well.
December, 1, 2014
Dec 1
1:35
PM ET
[+] Enlarge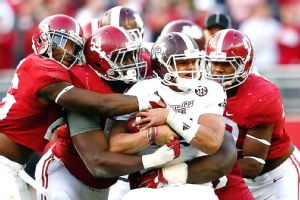 Kevin C. Cox/Getty ImagesAs the SEC West teams beat up on each other, parity became apparent.
It's been fun, SEC, really fun -- seven consecutive national championships, your own network, the undying enmity of the rest of the country. Really, it's been great. But as you limp into the SEC championship game on Saturday, with No. 1 Alabama playing -- ta-da! -- No. 17 Missouri, I think it's time to sit down and have a little talk.
We still like you. You still put on a great show every week. What the Iron Bowl lacked in, oh, I don't know, defense on Saturday night, it more than made up for in the pageantry and emotion that only a great college football rivalry can produce.
But let's be honest. You're not what you have been. You're not all that. You're not even all that good. And now that the season is concluding, and we can step back and gain the perspective that we lose in the Saturday-to-Saturday frenzy of the regular season, maybe we can figure out how the rest of us got hornswoggled into thinking you hadn't lost a step.
You don't understand? Let me lay it out for you.
For the first time in four seasons, the SEC won't have four 11-win teams. It very easily could have only one. Alabama is 11-1. Missouri and Mississippi State are 10-2.
The best running backs in the FBS play in the Big Ten. The best quarterbacks are in the Pac-12. So are the best defensive linemen. The ACC skunked you 4-0 this past Saturday. The Big 12 is the only conference with a chance of putting two teams in the playoff.
November, 30, 2014
Nov 30
4:00
PM ET
So many games, so many plays to choose from this week. Here are the ones we felt were the best plays in the SEC in Week 14:
Get out of his way
Leonard Fournette
is a true freshman. I repeat, a
true freshman
. So it's almost comical to see him do what he did to Texas A&M senior safety
Howard Matthews
, a guy who has a reputation for delivering big hits himself. The LSU running back didn't go around but
through
Matthews en route to this 22-yard touchdown run. As Les Miles said afterward if he saw Fournette coming his way, "I would get out of the way."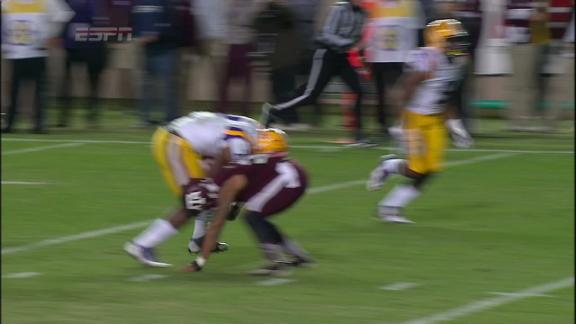 Speedy not only speedy
Thursday's game was a big one for Texas A&M true freshman receiver
Speedy Noil
personally. A New Orleans' native, Noil was focused and ready to face his home-state power, which was a finalist to land his signature. He showed how fired up he was on this leaping 27-yard touchdown catch over
Tre'Davious White
. The catch? Top-10 worthy. The celebration? Not so much.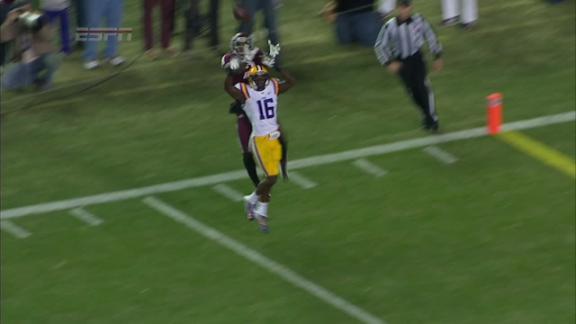 Gus with a gadget play
Bonus points for creativity. With time winding down in the first half and Auburn looking to add to its lead over Alabama, coach Gus Malzahn dialed up a trick play, calling for a reverse pass that involved a direct snap to
Quan Bray
and
Nick Marshall
lining up at receiver. Bray handed off to
Corey Grant
, who handed it to Marshall, who fired a bomb to
Sammie Coates
who made an impressive catch between two Alabama defenders at the 1-yard line.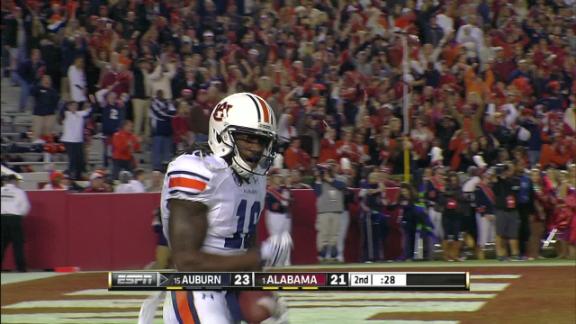 A two-touchdown swing
Coaches often preach to their players to "play to the whistle," and Georgia showed why that's advice worth heeding. Georgia Tech threatened and nearly scored a touchdown early in the third quarter but Georgia's
Damian Swann
had other ideas, stripping the ball from quarterback
Justin Thomas
and sprinting 99 yards for a touchdown. It didn't help translate to a Georgia win as the
Bulldogs lost in overtime
, but a big play nonetheless.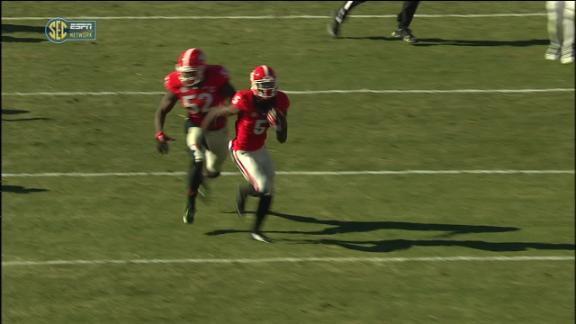 "Boom" delivers the boom
Stanley "Boom" Williams
proved worthy of his oft-used moniker on this 14-yard touchdown run. Williams powered his way through three Louisville defenders, keeping his feet moving until he crossed the goal line for a fourth-quarter touchdown in Kentucky's
44-40 loss
to No. 22 Louisville. The freshman is one of many bright young stars for Big Blue Nation.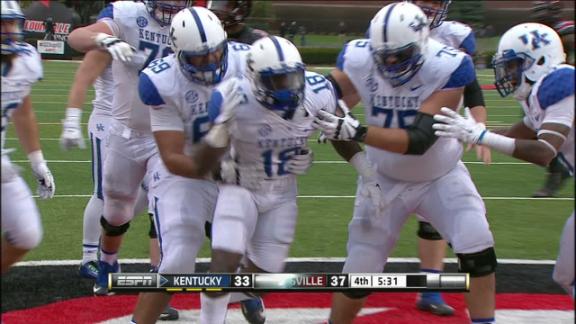 Diving pick and a beauty
Florida did a nice job of turning Florida State over, intercepting quarterback
Jameis Winston
four times. It wasn't enough for a win, but it was still impressive, like this diving interception by Florida defensive back
Quincy Wilson
. Not only did he dive, but he bobbled it and secured it on the way down.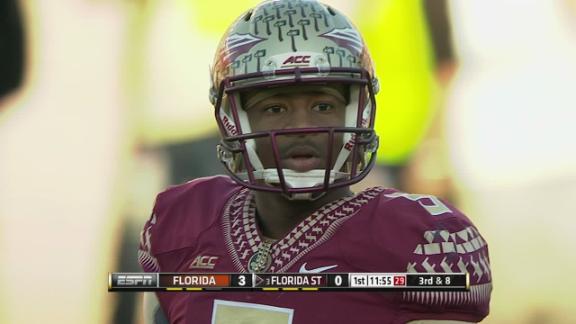 One heck of a halfback pass
A great call by Hugh Freeze to again put the Rebels up by two touchdowns.
Bo Wallace
pitched the ball to
Jordan Wilkins
who made a perfect pass to
Cody Core
, right in stride, for a 31-yard touchdown. Again, the Rebels went up by two touchdowns with the score and it served as the final margin of victory.
Walton shakes and bakes for 91
Hotty Toddy, gosh almighty, Ole Miss won the Egg Bowl. And one of the biggest plays in the game came courtesy of running back
Jaylen Walton
. Walton evaded at least even would-be Misississippi State tacklers as he reversed field, juked and sprinted to paydirt. It was a huge play that gave Ole Miss a two-touchdown lead and the cushion needed to keep the Bulldogs at arm's length the rest of the way.
Bear Force One goes airborne
They call
De'Runnya Wilson
"Bear Force One," in Starkville and the 6-foot-5, 215-pound former basketball player showed off some of his leaping skills with a 32-yard touchdown grab over Ole Miss defensive back
Kendarius Webster
. Wilson simply went airborne, and though he was well covered by Webster, secured the ball for six.
November, 30, 2014
Nov 30
2:00
PM ET
By
ESPN.com staff
| ESPN.com
When Alabama fell behind 33-21 in the Iron Bowl, the SEC's playoff chances were hanging in the balance. Luckily for the conference, the Crimson Tide roared back to solidify their top-four spot while also restoring order to the conference Power Rankings. It's no surprise Alabama is No. 1 here and -- sorry, Commodores -- Vanderbilt is No. 14. But in between, it's a bit of a mess.

Edward Aschoff, David Ching, Sam Khan Jr., Greg Ostendorf and Alex Scarborough contributed to these rankings.
November, 30, 2014
Nov 30
9:00
AM ET
Saturday might not have been the SEC's finest day, but the Thanksgiving weekend still provided plenty of impressive, helmet-sticker worthy performances across the conference. Here are the six we think are most deserving from Week 14.

Sammie Coates, WR, Auburn:
If not for a guy named Cooper (I'll get to him), Coates would have set the record for most receiving yards in Iron Bowl history. The junior wide receiver torched the Alabama defense all night and finished with five catches for 206 yards and two touchdowns. If he gets a step on the defense, it's over. Quarterback
Nick Marshall
is as good as there is in the SEC as throwing the deep ball, and he and Coates have a connection that dates back to last season. Marshall was no slouch either. He threw for an Auburn record 456 yards and three touchdowns. But in the end, it wasn't enough. The
Tigers lost, 55-44
.
Tony Conner, DB, Ole Miss:
It was quite a game for the Rebels.
Bo Wallace
turned in a gritty performance.
Jaylen Walton
rushed for nearly 150 yards and a touchdown. But it was the return of the Landsharks defense that pushed
Ole Miss past rival Mississippi State 31-17
on Saturday, and Conner was especially impressive. The sophomore defensive back finished with seven tackles, three tackles for loss, and a sack. He was all over the field for a defense that held
Dak Prescott
,
Josh Robinson
and Co. to a mere 163 yards rushing.
Amari Cooper, WR, Alabama:
If Cooper does leave early for the NFL, Auburn will not miss him. The junior wide receiver has played some of his best games in the Iron Bowl, and Saturday was no different. He finished with 13 catches for 224 yards (an Iron Bowl record), and three touchdowns. Now, in three career games against the Tigers, he has 24 catches for 511 yards and six touchdowns. On the season, he leads the SEC with 1,573 receiving yards and 15 touchdowns, and he's all but locked up his invitation to New York City for the Heisman Trophy presentation. He'd be just the fourth wide receiver to make the trip since 1998.
Leonard Fournette, RB, LSU:
It feels like ages ago since LSU took down Texas A&M,
23-17
, on Thanksgiving night, but if you need a reminder,
how about Fournette's 22-yard touchdown run
in the second quarter? He burst through a hole up the middle, trucked an Aggie defender and bounced outside into the end zone. He looked more like an NFL running back than a college freshman. The LSU star finished with a career-high 146 yards on 19 carries, averaging 7.7 yards per run. SEC defenses could be in trouble next season.
Blake Sims, QB, Alabama:
There was a point in Saturday's game when backup quarterback
Jake Coker
was warming up on the sideline. Sims had just thrown his third interception, Alabama trailed by two scores, and the Crimson Tide were in need of a spark. The coaches opted to stick with Sims, and he delivered. On the very next drive, Sims found Cooper wide open for a 39-yad touchdown pass. He went 10-of-12 for 183 after that third interception, and led Alabama on five consecutive scoring drives, accounting for four touchdowns.
Stanley Williams, RB, Kentucky:
We're all about handing out helmet stickers at the SEC blog so why not one more for "Boom" Williams. The freshman was terrific Saturday in Kentucky's
44-40 loss
to in-state rival Louisville. He finished with 18 carries for 126 yards and on his second touchdown run to put the Wildcats ahead late, he would not be denied. It was a career day for Williams, who clearly has a bright future in Lexington.
November, 30, 2014
Nov 30
9:00
AM ET
LSU wrapped up an 8-4 regular season by edging Texas A&M on Thursday -- with freshman running back
Leonard Fournette
leading the way.
Here is how Fournette and LSU's other true freshmen fared in the 23-17 victory over the Aggies:
S Jamal Adams
What he did:
Adams started for the second time in the past three games and tied for the team lead with eight tackles, plus he made a tackle for loss.
What it means:
The freshman safety was all over the place against the Aggies, including on an impressive third-down stop to force a punt in the second quarter. Adams is one of the most exciting young defensive players on LSU's roster. He'll be an All-SEC candidate next season once he enters the starting lineup full-time.
WR Malachi Dupre
What he did:
Dupre made one catch for a 41-yard gain deep into Texas A&M territory in the fourth quarter on Thursday.
What it means:
Dupre hasn't made many catches lately (three receptions for 28 yards in the previous five games), but he's made a couple of them count. He made highlight reels with a one-handed touchdown catch against Alabama, and his catch against A&M extended a late drive while the Tigers were trying to hold onto the lead.
RB Leonard Fournette
What he did:
Starting for the fifth time in the past six games, Fournette posted a new career high with 146 rushing yards on 19 carries. He also returned two kickoffs for a total of 34 yards.
What it means:
This was Fournette's fourth game with at least 100 rushing yards, and he produced one of the SEC's most memorable runs of the season by plowing over A&M safety
Howard Matthews
on a 22-yard touchdown in the second quarter. Fournette hasn't lived up to preseason Heisman hype, but he has been LSU's best running back with 891 rushing yards and eight touchdowns.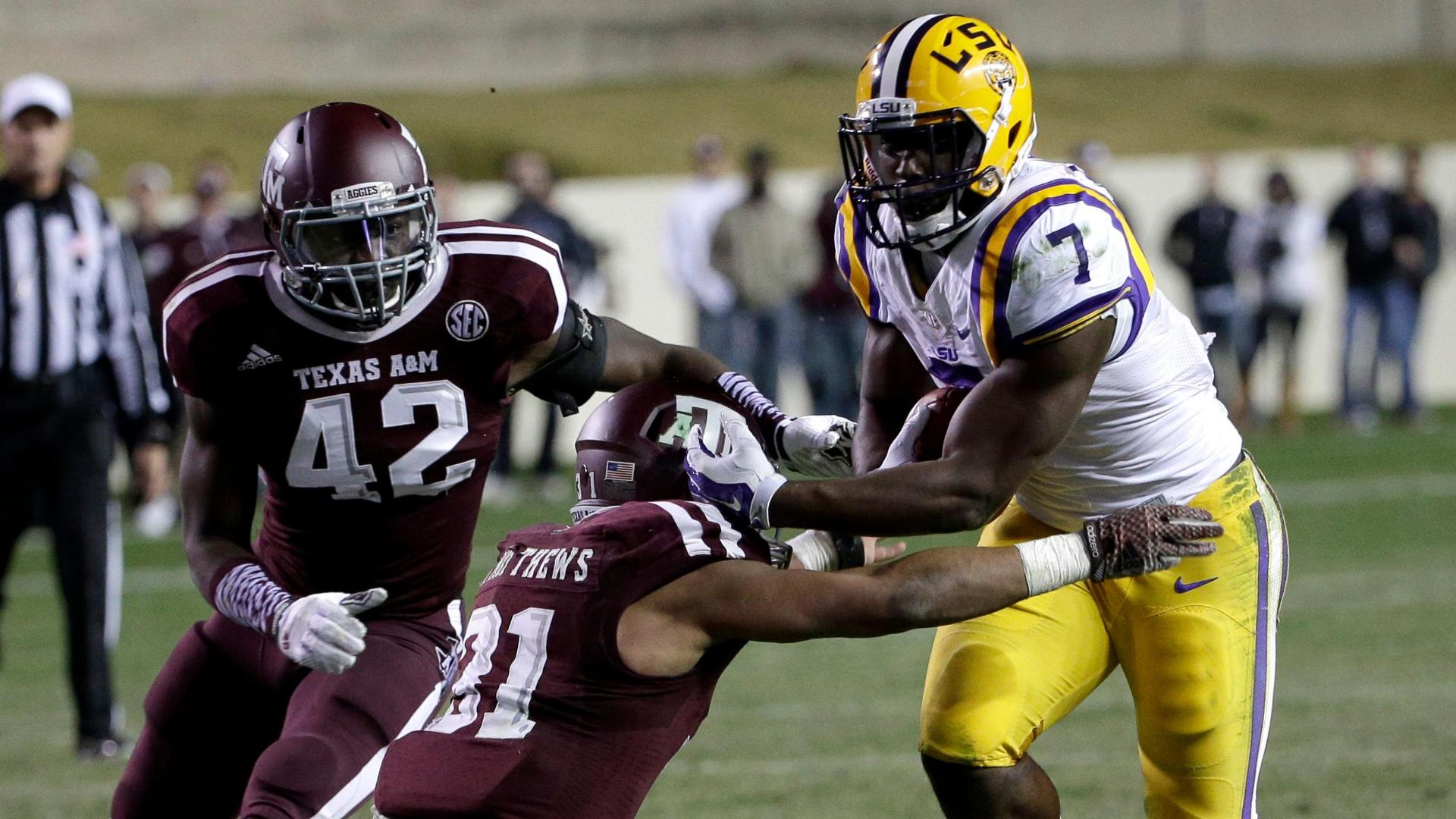 DT Davon Godchaux
What he did:
Godchaux started for the eighth consecutive game at defensive tackle and finished with one tackle.
What it means:
Clearly Godchaux is one of LSU's top options in the middle, as he has become a fixture in the starting lineup. Perhaps some of the Tigers' redshirt freshmen will create more of a rotation at tackle next season, but Godchaux and
Christian LaCouture
appear to have the top spots locked down. Thanks to their improved play, the position is no longer the liability that it was early in the season.
S Devin Voorhies
What he did:
Working on LSU's kickoff coverage unit, Voorhies stripped A&M return man
Speedy Noil
on a kickoff just before halftime, with LSU's
Duke Riley
recovering at the Aggies' 19-yard line. It was the little-used Voorhies' first career forced fumble.
What it means:
It would not be a surprise to see Voorhies play more on scrimmage downs next season after contributing almost exclusively on special teams this fall. He appeared in seven games and made two tackles this season. To date, Thursday's forced fumble, which led to a field goal and a 17-7 halftime lead, was easily his biggest play as a Tiger.
November, 29, 2014
Nov 29
3:15
PM ET
LSU beat Texas A&M on Thanksgiving night to complete an 8-4 regular season. So what did coach Les Miles do on Saturday?
Watch his alma mater, Michigan, face Ohio State in The Game.
And tweet about it.
Geaux Blue!!.... Beat em in the Horseshoe!!!

— Les Miles (@LSUCoachMiles) November 29, 2014
.
Oh, Les, you didn't.
Miles, no doubt, knew his tweet would draw plenty of attention as speculation swirls about the future of U-M coach Brady Hoke after the regular-season finale on Saturday in Columbus, Ohio. Miles' words were retweeted more than 1,000 times in the 30 minutes after he sent the 44-character message.
Mile, 61, played at Michigan and served as the offensive line coach in Ann Arbor under Lloyd Carr from 1987 to 1994. An Ohio native, Miles succeeded Nick Saban at LSU in 2005 and was considered a target at Michigan before the school hired Hoke in 2011.
Miles is under contract at LSU through 2019 and paid more than $4 million per year. Regardless, if Michigan finds itself in search of a new coach, Miles likely will again face questions about the job.
At least we know, on Saturday, he was rooting for Hoke and the Wolverines.
November, 27, 2014
Nov 27
11:12
PM ET
Associated Press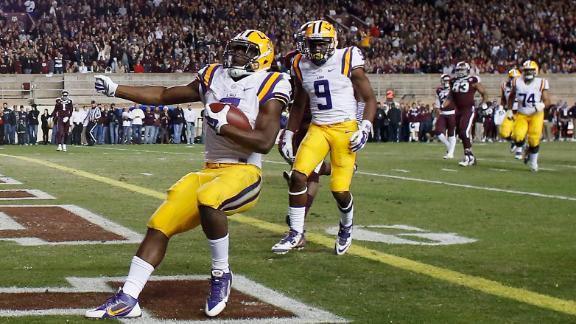 COLLEGE STATION, Texas -- Leonard Fournette ran for a career-high 146 yards and a touchdown, and Jalen Collins had a late interception to seal LSU's 23-17 win over Texas A&M on Thursday night.
Texas A&M was driving late when Kyle Allen threw an ill-advised pass, apparently thinking the Tigers had jumped offside. Collins grabbed the ball, ending the Aggies' last chance.
The victory gave LSU (8-4, 4-4 SEC) eight wins for the 15th straight season, the longest streak in school history. The Tigers have won four in a row over Texas A&M (7-5, 3-5).
The Tigers led by 10 at halftime and added two field goals in the second half.
Anthony Jennings threw for 107 yards and a touchdown for LSU, and the quarterback added a career-best 119 yards rushing.
November, 27, 2014
Nov 27
11:12
PM ET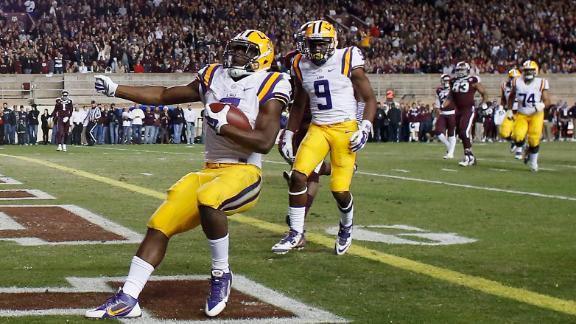 COLLEGE STATION, Texas -- LSU ran, ran and ran some more and survived some missed field goals to hang on to a narrow
23-17
Thanksgiving night win over Texas A&M on Saturday at Kyle Field. There were some highlight-worthy plays, a lot of silliness, and some drama at the end. A look at what transpired:
How the game was won:
LSU ran the ball at will to the tune of 384 yards and had two players who passed the century mark (
Leonard Fournette
and quarterback
Anthony Jennings
). Texas A&M might be known for its offense but it was the Tigers who were dominant in that category, outgaining the Aggies 491-228. The Tigers also survived a late A&M rally when defensive back
Jalen Collins
intercepted a deep pass from
Kyle Allen
after LSU defensive lineman
Sione Teuhema
appeared to be offside. There was no call, however, and the Tigers ran the clock out to secure the victory.
Game ball goes to:
Fournette. The true freshman finished with a season-high 146 yards and a touchdown on 19 carries. He averaged 7.7 yards per carry, broke his fair share of tackles and was consistent in falling forward for extra yardage. He wasn't the only one compiling big yardage against the Texas A&M defense, but he was the best of the bunch Thursday night.
What it means:
The Tigers wrap up their regular season on a positive note, ending their two-game losing streak. They never have lost three games in a row under Les Miles and keep that record intact. More importantly, the Tigers got the kind of offensive performance they needed after getting shut out at Arkansas 17-0 on Nov. 15. Meanwhile, the Aggies finish the regular season with two consecutive losses complete with brutal defensive performances.
Best play:
No doubt it was Fournette's 22-yard touchdown run with 4:33 to go in the second quarter. The true freshman showed off his sheer power and strength by running right through Texas A&M safety
Howard Matthews
on his way to the end zone. I repeat, Fournette is a
true freshman
.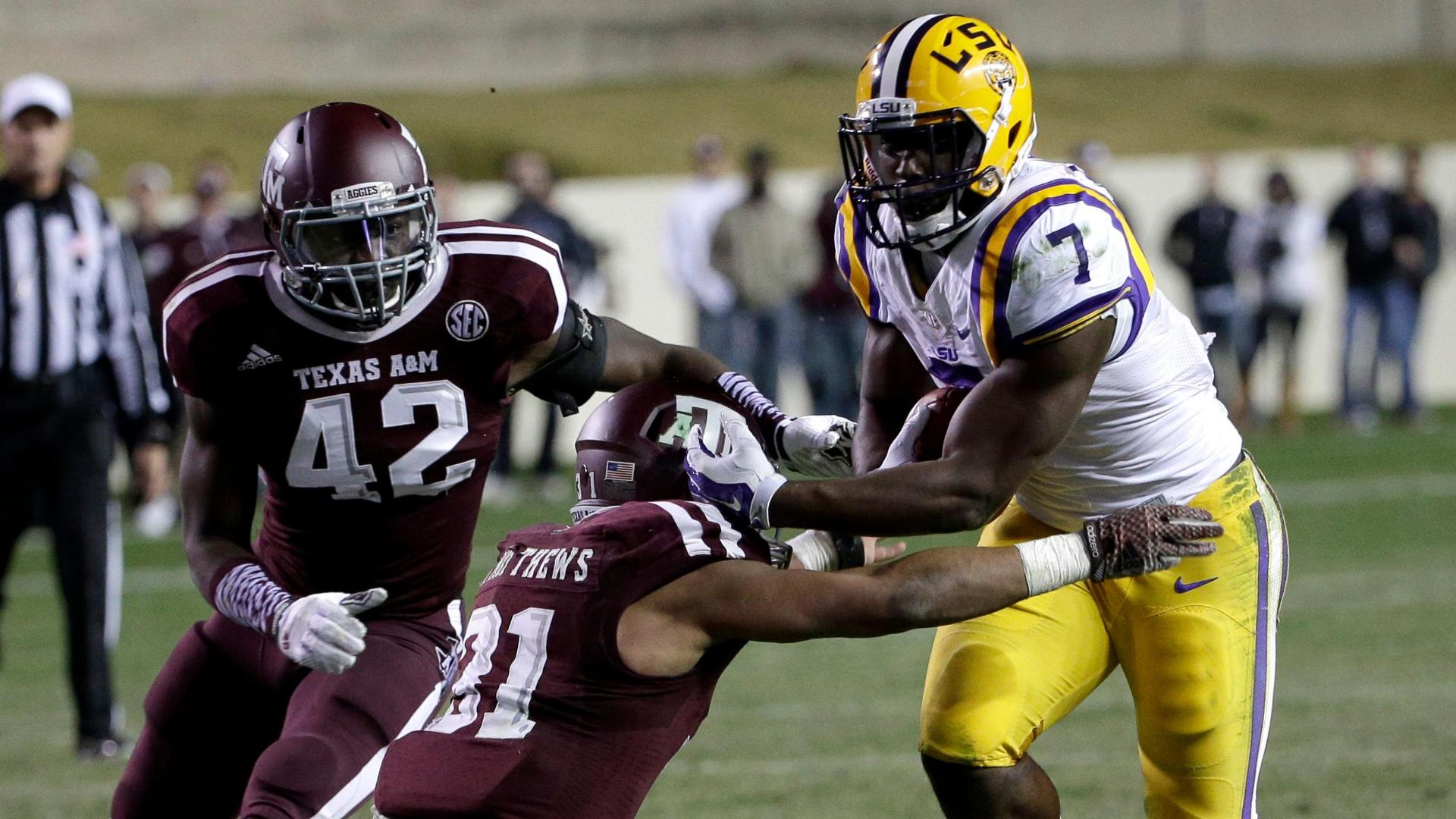 What's next:
The Tigers close out the regular season at 8-4 (4-4 in the SEC) while the Aggies fall to 7-5 (3-5). Both teams now await word on their bowl destinations.
Stadium upgrades spike SEC attendance
SEC SCOREBOARD
Saturday, 12/20
Monday, 12/22
Tuesday, 12/23
Wednesday, 12/24
Friday, 12/26
Saturday, 12/27
Monday, 12/29
Tuesday, 12/30
Wednesday, 12/31
Thursday, 1/1
Friday, 1/2
Saturday, 1/3
Sunday, 1/4
Monday, 1/12