March, 13, 2015
Mar 13
12:00
PM ET
BATON ROUGE, La. – Don't expect a straight answer from
Dwayne Thomas
if you ask him what position he plays for LSU. In his defense, it's complicated.
Between his multi-positional ability in the secondary and his responsibilities on special teams, Thomas simply responds to the question by saying that he considers himself a starter. Getting into specifics requires too much explanation.
"I start on the LSU defense. Defensive starter, that's how we all look at it," Thomas said. "If you start on special teams and somebody asks, 'What do you play?' well, 'I start.' Because you're tip of the spear. [Special teams coordinator Bradley Dale] Peveto always tells us that. Either you're going to start on kick return or you're going to start on 'attack,' which is kickoff, and you're going to start the game off.
"So I'm just happy to be out there. Nine [times] out of 10, I really am a starter because nickel is out there a majority of the game."
[+] Enlarge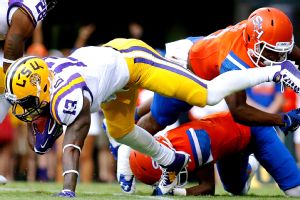 AP Photo/Jonathan BachmanIt really doesn't matter where Dwayne Thomas lines up in the LSU defense -- he simply makes plays.
Thomas' role as the nickelback -- where he regularly blitzes opposing quarterbacks off the edge -- is perhaps his best-known role on defense. In fact, he was blitzing during the fifth game of last season against New Mexico State when he tore the anterior cruciate ligament in his knee, an injury that forced him to miss the rest of the season.
Those circumstances gave Thomas pause in a practice earlier this week, when he was called upon to blitz for the first time since suffering the injury. After all, barely five months have passed since the injury occurred. Thomas' rehabilitation has gone exceptionally well, but it was perfectly understandable to feel some initial apprehension.
"All I could remember was last time I blitzed, I went down," Thomas said. "So I was like, 'Let's go.' But when I blitzed today, there was no issue. Came clean, felt normal again. I was just a little hesitant, but I got it going."
Thomas isn't entirely sure how much he'll play as a traditional defensive back when the Tigers get out of their nickel or dime packages that utilize five and six DBs. But because of the numerous spread offenses LSU will face, Thomas knows he'll be on the field a ton.
LSU ran a 4-3 base defense last season under John Chavis, but they lined up in the nickel and dime packages more than the 4-3 in most games. Thomas doesn't expect that to change much under Chavis' replacement as defensive coordinator, Kevin Steele.
"The way we run defense now, I'm pretty sure it will be like that the entire game, almost, unless we're playing somebody like Arkansas that's just going to stack the box all night," Thomas said.
Thomas practiced in a green non-contact jersey in each of LSU's first three spring workouts, but that would be the only way most casual viewers would even know that he had been injured in the recent past. He's already flying around the practice field like the guy who was one of LSU's top defensive playmakers before suffering the injury.
"He's looking better and better every day," safety
Jamal Adams
said. "[
Trey Quinn
] ran a fade route on him and he was running like the old Dwayne, pure 13 [Thomas' jersey number], so he's getting back and ready. He's going to be ready to go."
Added safety
Jalen Mills
, "He's ahead of schedule. I'm proud of him for that because he comes in two times, three times a day, getting his rehab in. He wasn't even supposed to be practicing in the springtime. He was supposed to be getting ready for camp. That's when he was supposed to come back, and he's out here making plays."
His rapid recovery can only be viewed as a positive development, but Thomas is smart enough to know that it's unnecessary to push himself too hard this spring.
Sure, he's much happier competing on the practice field than waving a towel as a sideline hype man – which he was relegated to after the injury – but he knows the season opener is still six months away.
"I just want to give it full go until it tells me to take a step back, take a day off and stuff like that and relax. Game time's not till September," Thomas said. "But I want to be out there. I'm a competitor and to watch those guys be out there busting their tails, I want to be out there just as well. I feel like I can go, so I'm going."
Marcus Spears reviews LSU Pro Day
SEC SCOREBOARD
Thursday, 9/3
Saturday, 9/5