July, 9, 2014
Jul 9
12:00
PM ET
How about that World Cup match yesterday? Germany 7, Brazil 1. As our esteemed colleague Chris Low tweeted yesterday -- he just started his own Twitter account, so
follow him here
-- "And we thought the defenses were down in the SEC last season."
July, 9, 2014
Jul 9
10:00
AM ET
Auburn is the favorite to win every game this season except the Iron Bowl, but the Tigers have only the fourth-best odds of winning the SEC title for a second straight season. This according to the preseason projections that ESPN's Stats and Information team released on Tuesday.
Using its preseason Football Power Index as a guide, the Stats and Information group's projections covered a wide range of categories including likelihood of going undefeated, odds of winning conference and division titles, likelihood of winning individual games and projected win totals.
The data showed Florida State as a heavy favorite to repeat as the national champion, with the Seminoles having a 40 percent chance of going undefeated and at least an 87 percent chance of winning each of its games. The next-closest team, Oregon, has a 13 percent chance of going undefeated.
At the other end of the spectrum, Kansas (projection of 3.3 wins), Purdue (3.6), Wake Forest (3.6) and California (3.8) are the teams from the Big Five conferences that are projected to win the fewest games.
The projections covered every FBS program, but we're here to discuss the SEC, where -- surprise, surprise -- Alabama is the favorite to hoist the conference championship trophy in Atlanta. Nick Saban's Crimson Tide has a 23 percent chance to win the conference title according to ESPN's projections, leading South Carolina (17 percent), Georgia (17) and Auburn (16), which was certainly a much bigger underdog at this point a season ago.
Obviously Gus Malzahn's 2013 club proved that things can change a great deal between July and December -- and the Stats and Information group's projections will be updated throughout the season -- but here's where each SEC team sits for now, a little less than a month away from the start of preseason practice.
Alabama:
The Crimson Tide is projected to win 9.9 games and has a 4 percent chance of going undefeated. In addition to its 22.6 percent chance of winning the SEC, Alabama has a 38 percent chance of winning the SEC West. Alabama is the favorite in every game and has at least a 64.5 percent chance of winning all but the LSU (57.5) and Auburn (57.8) games.
Arkansas:
The Razorbacks play the SEC's toughest schedule (No. 4 in the nation) and are projected to win 4.9 games. They have a 0 percent chance to win the conference title and a 0.01 percent chance of winning the West. In individual games, however, Arkansas is favored to win only against UAB (96.8 percent chance of a win), Nicholls State (96.7) and Northern Illinois (71.7).
Auburn:
The only other team in the nation's top 10 in strength of schedule (the Tigers are 10th), Auburn is projected to win 9.2 games. They have a 1 percent chance of going undefeated, a 16.3 percent chance of winning the SEC and a 26.7 percent chance of winning the West. The Tigers have at least a 60 percent chance to win every game except Alabama (42.2) and Georgia (54.4).
Florida:
Projected to win 7.6 games, Florida has a 6.2 percent chance of winning the SEC and a 16.3 percent chance of winning the SEC East. The Gators are favored in seven games and underdogs against LSU (49.9), South Carolina (45.6), Georgia (35.7), Alabama (20.7) and Florida State (8.9).
Georgia:
Oddly enough, while South Carolina has a slightly better chance of winning the SEC according to ESPN's projections, Georgia has a small edge over the Gamecocks with a projection of 9.1 wins. The Bulldogs have a 17.1 percent chance of winning the conference and a 37.5 percent chance of winning the East. They have at least at 63.4 percent chance of beating every opponent except South Carolina (41.1) and Auburn (45.6).
Kentucky:
ESPN's projections have Kentucky making a step forward in Year 2 under Mark Stoops, winning 5.5 games this fall. The Wildcats have a 0.03 percent chance of winning the SEC and a 0.09 percent chance of winning the East. They are favored to beat Tennessee-Martin, Ohio, Vanderbilt and Louisiana-Monroe, but there next-best chance of winning is 37.9 percent against Tennessee.

LSU:
Les Miles' Tigers are projected to win 8.0 games, with a 4.6 percent chance of winning the SEC and a 9.5 percent chance of winning the West. However, the Tigers are favored in nine games -- all but Auburn (26.8), Texas A&M (38.0) and Alabama (42.5).
Mississippi State:
The Bulldogs are projected to win 8.5 games, with a 4.7 percent chance of winning the conference and 9.7 percent chance of winning the West. Mississippi State is favored in eight games -- all but Ole Miss (47.0), Auburn (40.0), LSU (39.7) and Alabama (25.5).
Missouri:
Projected to win 7.0 games, Missouri has a 2.3 percent chance of winning the SEC and a 7.1 percent chance of representing the East in Atlanta for a second straight season. The Tigers are favored in eight games and underdogs against Georgia (36.6), Florida (32.3), Texas A&M (22.2) and South Carolina (21.9).
Ole Miss:
Hugh Freeze's club is projected to win 7.7 games and has a 2.9 percent chance of winning the conference and a 6.5 percent chance of winning the West. The Rebels are favored in eight games and are underdogs against Alabama (35.5), Auburn (35.0), LSU (34.7) and Texas A&M (31.2).
South Carolina:
The Gamecocks are projected to win 8.9 games, have a 17.9 percent chance of winning the SEC and a 37.2 percent chance of winning the East. South Carolina is favored in all games except Clemson (47.5) and Auburn (30.4).

Tennessee:
Projected to win 5.4 games, Butch Jones' Volunteers have a 0.02 percent chance of winning the SEC and a 0.1 percent chance of winning the East. The Vols are favored to win five games: Utah State, Arkansas State, Chattanooga, Kentucky and Vanderbilt.
Texas A&M:
The Aggies are projected to win 8.3 games and have a 4.8 percent chance of winning the SEC and a 9.5 percent chance of winning the West. Texas A&M is favored in eight games and is an underdog against Mississippi State (47.6), South Carolina (41.4), Alabama (30.5) and Auburn (30.1).
Vanderbilt:
The James Franklin-less Commodores are projected to drop to 4.9 wins under first-year coach Derek Mason. They have a 0 percent chance of winning the SEC and a 0.02 percent chance of winning the East. Vandy is favored against UMass, Charleston Southern, Temple and Old Dominion.
July, 8, 2014
Jul 8
11:17
PM ET
BEAVERTON, Ore. -- One of the many NFL players on hand at The Opening this week is former LSU All-American safety Tyrann Mathieu.
While Mathieu is most known for his two seasons with the Tigers and as an Arizona Cardinals defensive back, he played high school football at New Orleans St. Augustine, the same high school that produced 2014 No. 1 recruit and current LSU freshman
Leonard Fournette
.
Mathieu
"I grew up with him," Mathieu said. "I know his dad real well. He could never play park ball, he was always bigger than everybody else. So the parents would always say he's too big, they would write letters to the state. He couldn't play football so he always had to play what we called all-star football. They travel the state and play football."
It's not just that Fournette was big, but it was his natural strength that impressed Mathieu.
"I knew he was a grown man when I was in the 12th grade and he was in the 8th grade, he was always bigger than me and he (punched me in the chest) and it hurt a little bit. I didn't know if he was playing or serious because it hurt that bad. He has always been strong,"
Mathieu believes Fournette will not struggle with expectations that are already bordering on the unrealistic.
"I think he's hungry. I think he has what I didn't have, he has a great support system already. They've always been a great support system for him. (He believes in himself and the people around him believe in him. The thing is, he can't get down. I had great years at LSU, but every time I played Alabama I wasn't the same guy. So you're going to have bad games but you just can't down about it."
Now in a position to give younger players advice to help them not make the same mistakes he did, Mathieu recently had a conversation with Fournette about dealing the distractions and walked away impressed.
"I already told him," Mathieu said. "It's going to be a lot of hype, the girls. You're wearing the No. 7, they don't just let anybody wear No. 7. I told him to just stay balanced through it all, don't get too high or low. He's going to be all right."
July, 8, 2014
Jul 8
9:35
PM ET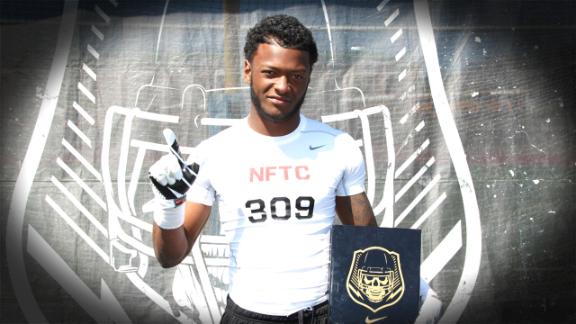 Cornerback
Xavier Lewis
has recommitted to LSU. Below, see what the Louisiana prospect adds to the Tigers' class:
July, 8, 2014
Jul 8
1:00
PM ET
Another day, another two college football award watch lists arrive.
Today we have the lists for the
Mackey Award
, which goes to the nation's top tight end, and the
Rimington Trophy
, which goes to the top center.
The SEC well represented on both lists, with seven players on the Mackey list and 11 on the Rimington. Here is a rundown:
Mackey
Rory Anderson
, South Carolina
Evan Engram
, Ole Miss
Hunter Henry
, Arkansas
O.J. Howard
, Alabama
Malcolm Johnson
, Mississippi State
Jay Rome
, Georgia
C.J. Uzomah
, Auburn
Rimington
David Andrews
, Georgia
Evan Boehm
, Missouri
Dillon Day
, Mississippi State
Reese Dismukes
, Auburn
Max Garcia
, Florida
Ryan Kelly
, Alabama
Mike Matthews
, Texas A&M
Elliott Porter
, LSU
Jon Toth
, Kentucky
Joe Townsend
, Vanderbilt
Cody Waldrop
, South Carolina
July, 8, 2014
Jul 8
12:00
PM ET
SEC media days will be in full swing by this time next week. But if baseball and the World Cup won't provide your sports fix until then, check out coverage of The Opening and Elite 11 on ESPNU and ESPN.com. (Like
this story
that features several future SEC quarterbacks.)
" Two more college football award watch lists will debut today: those for the
Mackey Award
(best tight end) and
Rimington Trophy
(best center). Check out the lists as they update on the
National College Football Awards Association website
.
" The NCAA on Monday suggested
new safety guidelines that would limit teams to two full-contact practices per week
during the season.
" Georgia quarterback Hutson Mason considered a transfer when he was stuck behind Aaron Murray on the depth chart. But that was nothing compared to what his coach, Mark Richt, faced as a player at Miami.
Richt discussed that 1982 logjam at quarterback
-- when he was a teammate of Jim Kelly, Vinny Testaverde and Bernie Kosar -- in a story for the Buffalo News.
" Mock-up magazine covers, cereal boxes, movie posters and more. All of those items are included in how
college programs are getting creative with their recruiting pitches
to high school prospects.
" Sean Lester of the Dallas Morning News examines
Texas A&M's depth chart at receiver and tight end
and projects the starters.
" Five more freshman signees
started classes in South Carolina's second summer semester
on Monday, bringing the total of 2014 Gamecock signees who have enrolled to 15.
" Ole Miss safety Anthony Alford is enjoying success in
limited work as a minor league baseball player
. In his five games with the Toronto Blue Jays' Class-A affiliate, the Lansing Lugnuts, he batted .320.
" Among those participating at The Opening in Oregon are
arguably the top prospect in the state of Kentucky
-- running back Damien Harris -- and many other players whom Kentucky's football program is recruiting.
" Athlon Sports polled 15 national college football media members on which programs have the best stadiums and game-day atmospheres.
LSU's Tiger Stadium was the runaway winner
, and five SEC programs ranked in the top 8.
" In its list of the 25 most important figures in Alabama's 2014 season, AL.com turns today to
new Crimson Tide offensive coordinator Lane Kiffin
.
" The Gainesville Sun's Pat Dooley lists his
top 10 nonconference games
of the upcoming season.
July, 8, 2014
Jul 8
11:55
AM ET
LAKE OSWEGO, Ore. -- The top-ranked prospect in the ESPN 300 at The Opening is offensive tackle
Martez Ivey
. The No. 2-ranked prospect overall began the recruiting process openly favoring the nearby Florida Gators.
To continue reading this article you must be an Insider
July, 8, 2014
Jul 8
11:42
AM ET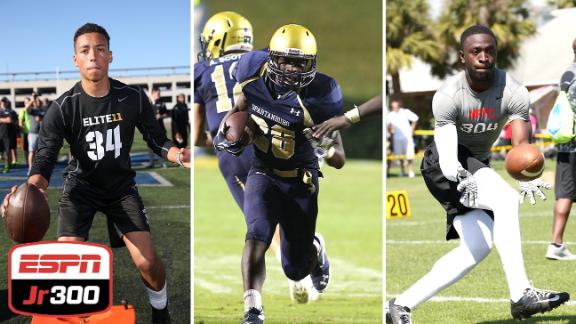 While recruiting remains a marathon and not a sprint, recent trends have shown that it is never too early to look ahead. With the release of the
ESPN Junior 300
it is a perfect time to see which programs are having early success. With roughly 10 percent of the prospects in the ESPN Junior 300 committed well over a year and a half before national signing day for the Class of 2016, plenty is still to be determined. Here are five programs, in alphabetical order, standing out early for the 2016 class:
To continue reading this article you must be an Insider
July, 8, 2014
Jul 8
9:00
AM ET
BATON ROUGE, La. -- In April, we broke down how
LSU's offense led the nation in third-down efficiency
last season by converting for a first down or touchdown 57.1 percent of the time.
The three key names in that endeavor were quarterback Zach Mettenberger, receiver Jarvis Landry and tailback Jeremy Hill -- all of whom ranked among the nation's most clutch third-down performers. All three are in the NFL now, however, so it will be important for LSU to identify new players capable of keeping drives alive on those all-important downs.
Let's take a look at what could become the key factors in LSU's attempt to remain successful on third down.
Quarterback efficiency, running ability
[+] Enlarge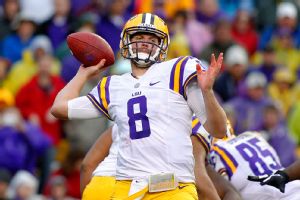 AP Photo, Cal Sport MediaLSU will have a hard time matching the success on third down of departed quarterback Zach Mettenberger.
One of the two April posts focused on the need for the Tigers' quarterbacks to play efficiently.
Let's face it, whoever wins the starting job -- whether it's freshman
Brandon Harris
or sophomore
Anthony Jennings
-- he's not going to zing third-down completions like Mettenberger did last year.
The fifth-year senior's 96.7 Total Quarterback Rating on third down trailed only that of Heisman Trophy winner
Jameis Winston
(96.9) among FBS quarterbacks. Mettenberger was 58-for-89 for 974 yards, nine touchdowns and one interception on third down according to ESPN Stats & Information. Of those 58 completions, 21 went for 20 yards or more -- a total that was second only to Louisville's Teddy Bridgewater (22).
Talented though they may be, a green freshman and a sophomore with one shaky start under his belt are not going to match that kind of passing production. As LSU offensive coordinator Cam Cameron indicated after the Tigers' spring game, they'll have to play it smart early in possessions in order to keep the offense in manageable down-and-distance situations.
Give the young quarterbacks this, though: both of them have an ability that Mettenberger simply does not possess, and it will almost certainly come in handy this fall. Both are good runners, so don't be surprised to see designed runs -- and scrambles after plays break down -- that result in first downs.
Jennings was credited with six rushing attempts on third downs last season, with two of them achieving first downs and another achieving a touchdown. Harris showed off some impressive wheels in LSU's spring game, rushing three times on third down for 45 yards and a touchdown. We'll certainly see more of that in 2014 than when the slow-footed Mettenberger was under center.
Filling Landry's shoes
The question isn't which LSU player replaces Landry's absurd production on third down. It's highly unlikely that one player will do that -- not this fall anyhow -- seeing as how Landry ranked third in the FBS in third-down receptions (28), second in receiving yards (474) and tied for first with six touchdown catches according to ESPN Stats & Information.
2013 FBS Leaders
Third-down receptions
35 -- Jace Amaro, Texas Tech
30 --
Justin Hardy
, East Carolina
28 -- Jarvis Landry, LSU
27 -- Allen Robinson, Penn State
26 -- Willie Snead, Ball State
Third-down receiving yards
478 -- Jace Amaro, Texas Tech
474 -- Jarvis Landry, LSU
432 --
Shaun Joplin
, Bowling Green
407 --
Ty Montgomery
, Stanford
402 --
Antwan Goodley
, Baylor
[+] Enlarge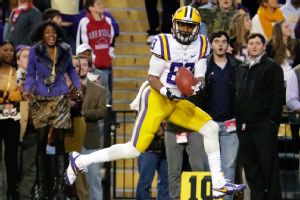 AP Photo/Bill HaberTravin Dural caught the game-winning touchdown against Arkansas on third down.
LSU has only one returning wide receiver who was even targeted with a third-down pass last season --
Travin Dural
caught 5 of 11 third-down passes where he was the intended target and scored two touchdowns, including the game winner against Arkansas -- so it would make sense for the Tigers to spread around the opportunities more evenly this fall.
But who will get those chances?
Dural is a given, followed by lots of uncertainty. Freshmen like
John Diarse
,
Malachi Dupre
,
Trey Quinn
,
D.J. Chark
and
Tony Upchurch
will be in the mix, but it's possible that the quarterbacks will look more often to players at other positions.
Using veterans at TE, RB in passing game
Since the receiving corps is loaded with inexperience, a good alternative might be the positions where the Tigers return some experience.
They're extremely deep at tight end, and one of the talking points of LSU's spring practice was about how the position should be more active this season.
Last season, the Tigers targeted the tight end 10 times on third down, but came away with only three completions for 35 yards and one first down. In other words, this will be a two-way street. The tight ends must hold onto the ball consistently if the quarterbacks are to look their way more often.
If LSU's spring game was any indication, the chances will be there. Jennings and Harris targeted tight ends on four of their 12 third-down passes, with
DeSean Smith
catching two of them for 36 yards and a touchdown.
Likewise, tailback
Terrence Magee
made it a point this spring that he'd like to catch more balls out of the backfield this fall. The former receiver could be dangerous as a third-down target judging by his three receptions for 46 yards in that role last season.
Fullback
Connor Neighbors
(one catch on two targets for 4 yards and a first down in 2013) could also become more of a factor in the passing games now that he's taking over for J.C. Copeland in the backfield.
Who handles the backfield workload?
Hill was arguably the nation's most explosive third-down back in 2013, leading the FBS with an average of 13.28 yards per carry on third down according to ESPN Stats & Information. Although dozens of players carried the ball more times on third down than Hill's 18 attempts, he ranked 10th nationally with 239 yards thanks in large part to his touchdown runs of 37, 49 and 69 yards.
2013 FBS Leaders
Third-down yards per carry
13.28 -- Jeremy Hill, LSU (18-239)
11.92 --
Kenneth Dixon
, Louisiana Tech (13-155)
10.76 --
Duke Johnson
, Miami (17-183)
10.50 --
Larry Dixon
, Army (12-126)
10.20 --
Tevin Coleman
, Indiana (10-102)
Seniors Magee (eight carries, 44 yards, three first downs, one touchdown in 2013) and
Kenny Hilliard
(eight carries, 36 yards, two first downs, two touchdowns) have handled short-yardage duty well in limited work, but the X-factors might be freshmen
Leonard Fournette
and
Darrel Williams
.
ESPN's No. 1 overall prospect for 2014, Fournette has LSU fans drooling over his combination of size, power and breakaway speed. He'll almost certainly play a leading role on third down -- and in every other type of running situation -- early in his college career. And Williams was no slouch himself as a prep star, rushing for 2,201 yards and 32 touchdowns as a senior at John Ehret High School in Marrero, Louisiana.
It's possible that LSU could use all four tailbacks in some capacity, similar to a 2011 backfield that utilized Hilliard, Spencer Ware,
Michael Ford
and Alfred Blue. Ware led the Tigers with 92 yards on 25 third-down rushing attempts that year, while Blue (16 carries for 85 yards) and Ford (13 carries for 77 yards) led the way with two touchdown runs apiece.
With inexperience at quarterback and receiver and a next-level talent like Fournette joining the backfield, conventional wisdom indicates that LSU will lean heavily on its veteran offensive line and the ground game, especially on third downs. The previously mentioned factors will certainly play an enormous role in LSU's attempt to remain effective on third down, but this might be a season where the rushing attack is the most important element in keeping the chains moving.
July, 7, 2014
Jul 7
3:17
PM ET
It's Insider's second go-round projecting college football's next three years in our Future Power Rankings.
What did we learn from our first edition? For one, teams can make a substantive move in just a year's time. Just look at Auburn, which jumped from 23rd to fifth after a run to the championship game. USC, now with coaching stability, made the biggest leap (25th to sixth). Oklahoma, UCLA, FSU and Baylor were among other risers, and you'll soon read why.
On the other side, we were high a year ago on Florida and Michigan. Oops. The Gators' injury-plagued 4-8 season dropped them from No. 4 to No. 14, while the Wolverines, who lost five of their last six games, fell from fifth to 20th. We know Will Muschamp's job is in danger, but is that an omen for Brady Hoke's future in Ann Arbor?
Alabama is again our No. 1 team, but with two losses to end the season, its lead shrank. Is that a subtle signal that the Tide might have peaked under Nick Saban?
We'll examine those topics and more in the Future Power Rankings.
Here's how we compiled it: Our panel -- myself, Brad Edwards, Brock Huard, Tom Luginbill and Mark Schlabach -- provided 1-10 ratings in five different categories that we found to be comprehensive in determining current positioning, as well as a projection for the 2015 and 2016 seasons.
Here are the top 25 college football teams over the next three years:
---
1

The bar graphs reflect the average points given by the voters for each category. Category averages are weighted by importance to generate overall score.
Coaching: Saban did not receive a perfect 10, as he did a year ago. Maybe the one panelist who gave him a nine dinged him for how he managed the final second of the Iron Bowl.
But seriously, Saban is still well ahead of No. 2 Urban Meyer (9.2) and No. 3 Bill Snyder (9.0). (Have to appreciate that Snyder gets that kind of love, even if K-State didn't break the Top 25.)
Edwards thinks 2014 is a big year for Saban because it will show whether he can adapt his defense to better handle tempo offenses. Look at how Saban's defenses mightily struggled last year against not only Texas A&M, but also Auburn and Oklahoma.
"You put them all together and you realize, 'You know what, Alabama might have an issue with this,'" Edwards said. "I happen to believe Saban and [defensive coordinator] Kirby Smart have done enough to deserve the benefit of the doubt. Let's see what they can come up with this year before I decide the dynasty is over. Saban is now recruiting to find those types of players [to defend tempo offenses]."
As for the best coach in the state?
"I want to see Gus Malzahn beat Nick Saban one more time before I say he's a better coach," Edwards said, "which is a conclusion a lot of people are already making."
Current talent: There are more positional questions than in the past few years, especially the offensive line and cornerback spots. Rival coaches are even rumbling about it. "I don't know about them," one SEC coordinator said. But do not be fooled for an instant into thinking the Tide have suddenly become as barren as a bachelor's refrigerator in terms of talent.
Bama still has the top running back group in the country with T.J. Yeldon, Kenyan Drake and Derrick Henry, who was a bright spot in the otherwise drab Sugar Bowl performance. The time could be now for LB Reuben Foster and FS Landon Collins to shine on defense. MLB Trey DePriest will be the defense's rock.
And what about QB Jake Coker? His old coach at FSU, Jimbo Fisher, believes Coker is capable, which is why Coker nearly beat out last year's Heisman Trophy winner to start at FSU.
Recruiting: This is why Alabama earned association with the word "dynasty" -- it started winning almost every major recruiting battle, and the program became the closest thing there is on the planet to the NFL's minor league system. It has not dipped, and there's no reason to believe it will as long as Saban is around; he will not let it slide.
Title path: It's going to happen, and it could happen this year: The SEC is going to knock itself out of the playoff. The strength of the top half of the league could turn out to be a bad thing in some seasons.
The Tide are regularly part of a kickoff game of some kind, playing the likes of Clemson, Virginia Tech or West Virginia, but the nonconference slate is typically manageable. The conference schedule always works for and against the SEC. For the Tide, Auburn is the new-slash-old menace.
The rating suggests that it isn't the ideal road to the playoff, but it should not be preventive for a power program such as Alabama.
Program power: Like the coaching category, Bama still received four 10s and a nine. The takeaway: It's hard to remain perfect.
"We all know that every dynasty comes to an end, but when you look back on every dynasty, you know where the turning point was," Edwards said. Will we say it was the Iron Bowl and Sugar Bowl, perhaps? "I think what you have is a lot of people trying to be the first one to predict the end of the dynasty," Edwards said. "They want to be the ones to say they didn't miss it. I think they're jumping the gun a little bit."
Which is why Alabama is still No. 1. But one program is making up ground in a hurry ...
To continue reading this article you must be an Insider
July, 7, 2014
Jul 7
12:00
PM ET
Did you know
today is Satchel Paige's 108th birthday
? (Or 107th. Or 109th. Nobody's exactly sure.) Not sure how much the native Alabamian knew about college football, but his most famous quote might be good advice for defending SEC champion Auburn once the season begins: "Don't look back; something might be gaining on you."
July, 7, 2014
Jul 7
9:00
AM ET
When a football coaching staff signs one of the top few recruits at any position, it's cause for celebration. Therefore, grabbing two of the top three prospects at that position might warrant an Animal House-style party.
Between 2006, when ESPN began assembling recruit rankings, and 2013, individual programs managed to sign at least two of the top three players at a position 16 times. In many cases, one -- and sometimes both -- of those players became instant stars as true freshmen. Think
Taylor Mays
and
Joe McKnight
at USC,
De'Anthony Thomas
at Oregon,
Laremy Tunsil
at Ole Miss and
Sean Spence
at Miami.
This was a relatively unique occurrence up until 2014, when it happened five times -- with four of the five instances occurring in the SEC: twice at Alabama, which signed the top two players at both center (No. 1
Josh Casher
and No. 2
J.C. Hassenauer
) and outside linebacker (No. 1
Christian Miller
and No. 2
Rashaan Evans
), plus at LSU (with No. 1 and 3 wide receivers
Malachi Dupre
and
Trey Quinn
) and Florida (with No. 2 and 3 defensive tackles
Gerald Willis
and
Thomas Holley
).
Clemson was the other school to accomplish the feat in 2014, signing No. 2 and 3 receiving tight ends
Milan Richard
and
Cannon Smith
.
In some of these cases -- particularly at LSU, which lost the vast majority of its receiving production from 2013 -- expectations are high that the star signees can immediately become valuable contributors as true freshmen. The Tigers have multiple alternatives at receiver, including
Travin Dural
and
John Diarse
, but Dupre and Quinn might rank among the leading contenders for playing time.
Judging by the long list of Freshman All-America and freshman all-conference honors won by those who previously signed as part of such a dynamic duo, perhaps it's not such a long shot that at least one of the newcomers will make a similar instant impact.
2006

Safety | USC
No. 2 Taylor Mays, No. 3 Antwine Perez
Mays appeared in all 13 games -- starting the last 12 at free safety after Josh Pinkard suffered a season-ending injury in the opener -- in 2006 and led the Trojans with three interceptions. Mays was fifth on the team with 62 tackles and tied for second with six passes defended, ending the season as Pac-10 Co-Freshman of the Year and as a member of multiple Freshman All-America teams. Perez played in seven games and recorded three tackles.
2007

Center | Auburn
No. 1 Ryan Pugh, No. 3 Chaz Ramsey
Pugh started six of Auburn's final nine games at left tackle and appeared in eight games overall. He also backed up Jason Bosley at center and earned Coaches' All-SEC Freshman team honors after the season. Like Pugh, Ramsey appeared for the first time in Week 4 and went on to start nine of the Tigers' last 10 games at right guard. He also made the Coaches' All-SEC Freshman team.

Running back | USC
No. 1 Joe McKnight, No. 2 Marc Tyler
McKnight played in all 13 games in 2007, ranked third on the team with 540 rushing yards and scored three touchdowns. He also caught 23 passes for 203 yards and a touchdown and served as the Trojans' primary punt returner, with his 8.4 yards per return helping him earn a All-Pac-10 honorable mention nod. Tyler redshirted in 2007 while recuperating from a high school leg injury.
2008

Inside linebacker | Ohio State
No. 1 Etienne Sabino, No. 2 Andrew Sweat
Sabino played in all 13 games and notched six tackles. He notched the only touchdown in the Buckeyes' 16-3 win against Purdue by returning a blocked punt 20 yards for a score. Sweat appeared in the last nine games and recorded five tackles, also contributing mostly on special teams.

Outside linebacker | Miami
No. 1 Arthur Brown, No. 2 Sean Spence, No. 3 Ramon Buchanan
Not only did Miami sign ESPN's top three outside linebacker prospects in 2008, it also signed No. 5 Jordan Futch. That's an outstanding haul for one year. At any rate, Spence emerged as the key member of this group from the get-go, ranking third on the team with 65 tackles and leading the Hurricanes with 9.5 tackles for a loss in 2008. He was ACC Defensive Rookie of the Year and made multiple Freshman All-America teams. Brown (who later transferred to Kansas State) played in 11 games as a freshman, notching four tackles and shifting from outside to inside linebacker. Buchanan had six tackles in nine games, playing mostly on special teams and also contributing at safety and linebacker.

Offensive tackle | Ohio State
No. 2 Michael Brewster, No. 3 J.B. Shugarts
Brewster played in 12 of the Buckeyes' 13 games in 2008 and started the last 10 at center, earning Freshman All-America honors in the process. Shugarts appeared in seven games at offensive tackle and missed six other games with a shoulder surgery that required offseason surgery.

Safety | Florida
No. 1 Will Hill, No. 2 Dee Finley
Hill played in 13 games and ranked sixth on the team with 48 tackles. He also picked off two passes and notched 1.5 sacks. He made the SEC All-Freshman team and led the Gators with 22 tackles on special teams. Finley did not qualify academically and spent the 2008 season at Milford Academy prep school. He eventually enrolled at Florida and shifted from safety to linebacker, but transferred away from Gainesville in 2011.
2009

Safety | South Carolina
No. 2 Stephon Gilmore, No. 3 DeVonte Holloman
Early enrollee Gilmore started all 13 games at cornerback, ranking fifth on the team with 56 tackles. He tied for the team lead with nine passes defended and ranked second with eight pass breakups, adding six tackles for a loss, three sacks, two fumble recoveries, two forced fumbles and an interception. The Freshman All-SEC and Freshman All-America honoree also averaged 10.1 yards per return as a punt return man. Another early enrollee, Hollomon also played in every game, notching 30 tackles, an interception (which he returned 54 yards against rival Clemson) and a tackle for a loss.
2010

Athlete | Florida
No. 1 Ronald Powell, No. 2 Matt Elam
Powell played in 13 games at strongside linebacker and recorded 25 tackles, three tackles for a loss and a sack en route to winning Freshman All-SEC honors. Elam also played in all 13 games, mostly on special teams and at defensive back, and notched 22 tackles, two tackles for a loss and a sack.

Defensive tackle | Florida
No. 1 Dominique Easley, No. 3 Sharrif Floyd
Easley recorded four tackles in six games. Floyd played in all 13 games, earning Coaches' Freshman All-SEC honors by making 23 tackles and 6.5 tackles for a loss.

Wide receiver | Texas
No. 2 Mike Davis, No. 3 Darius White
Davis ranked second on the team with 478 receiving yards and 47 receptions (a record for a Texas freshman). He became one of only three receivers in Longhorns history to post multiple 100-yard games as a freshman. White appeared in 10 games in 2010, but caught just one pass for 5 yards and eventually transferred to Missouri after two seasons, citing a need for a fresh start.
2011

Athlete | Oregon
No. 1 De'Anthony Thomas, No. 2 Devon Blackmon
The speedy Thomas earned Pac-12 Co-Offensive Freshman of the Year honors and was named an All-Pac-12 kick returner and a Freshman All-American. He was the only player in the nation to post at least 400 yards rushing, receiving and kick returning in 2011, ranking as the Ducks' second-leading receiver (595 yards on 46 catches) and third-leading rusher (608 yards and seven touchdowns). His 983 kickoff return yards ranked second in school history. Blackmon redshirted in 2011 and appeared in two games in 2012 before announcing his plan to transfer. He played at Riverside City College before signing with BYU as a juco transfer in 2014.
2012
Defensive end | Florida State
No. 1 Mario Edwards, No. 3 Chris Casher
Edwards became the only freshman to start all season for a loaded FSU defense when he replaced the injured Tank Carradine in the ACC Championship Game. He also started in the Orange Bowl win over Northern Illinois. In all, Edwards finished the season with 17 tackles, 2.5 tackles for a loss and 1.5 sacks. Casher played in two early games before suffering a season-ending injury and taking a redshirt in 2012.
2013

Offensive guard | Michigan
No. 2 David Dawson, No. 3 Patrick Kugler
Dawson and Kugler both redshirted in 2013. Dawson practiced during the spring at left guard and left tackle, while Kugler is among the candidates to start at center this fall.

Offensive tackle | Ole Miss
No. 1 Laremy Tunsil, No. 3 Austin Golson
Tunsil immediately became one of the better offensive tackles in the SEC, earning second-team All-SEC and Freshman All-America honors in 2013. He played in 12 games and started nine at left tackle, making him one of only two true full-time freshman starters at the position in the FBS. Tunsil allowed just one sack all season. Golson played in 12 games, mostly at guard, before missing the Rebels' bowl game because of shoulder surgery. He transferred to Auburn this summer, citing a family illness as the reason he wanted to move closer to his Alabama home.

Safety |
USC
No. 1 Su'a Cravens, No. 3 Leon McQuay III


A 2013 early enrollee, Cravens started 13 games at strong safety, ranked eighth on the team with 52 tackles and tied for second with four interceptions. He made multiple Freshman All-America teams and earned an All-Pac-12 honorable mention nod after the season. McQuay played in all 14 games, picked off one pass and recorded 19 tackles.
July, 7, 2014
Jul 7
9:00
AM ET
If you're just now jumping on board our little road trip, we at the SEC Blog have been getting you ready for the coming season by plotting out our top destinations for each week of the season.
So far we've been to some of the usual spots (Athens, Auburn, College Station, Tuscaloosa), and a few outside of the SEC footprint footprint in locals such as Houston and Norman, Oklahoma.
We've knocked out 10 weeks of trips in all, which means we've got only four more to go. The conference title game in Atlanta is right around the corner.
So without further pause, let's take a look at the best options for Week 10:
Nov. 8
Alabama at LSU
Texas A&M at Auburn
Florida at Vanderbilt
Georgia at Kentucky
Presbyterian at Ole Miss
UT Martin at Mississippi State


Alex Scarborough's pick:
Alabama at LSU
This game sells itself. The fact that it's in Death Valley this year only makes it more appealing.
When you think of the SEC, you think of physical, smash-mouth football. And Alabama-LSU is routinely an exhibition of those principles. It's the one game where offenses truly take a back seat to the defense. It's the one game where big uglies such as Booger McFarland,
Terrence Cody
and
Glenn Dorsey
can steal the show. Sure, the quarterbacks have been good at times, but this is a game for defensive backs such as
Mark Barron
,
Tyrann Mathieu
and
Eric Reid
.
Alabama-LSU has become arguably the most competitive rivalry in all of college football, with only one game decided by double digits since 2007. It's determined perfect seasons, SEC West championships, and even a national title. It's showcased countless future NFL draft picks and two of the most successful coaches in the game.
Les Miles versus Nick Saban. That alone is worth the price of admission.
This year's game has the chance to be another instant classic. The combined talent these two programs have on the defensive line is jaw-dropping. At the same time, the number of gifted running backs on the field will be something to see. And with two first-year starting quarterbacks projected under center, it should be fun to see a heavy dose of the running game for a show of strength versus strength.


Sam Khan's pick:
Texas A&M at Auburn
Let's be honest -- the only right answer here is Alabama vs. LSU. Given how often the two are in SEC title (and national title) contention, the amount of talent the two teams have on their rosters, and the personality of the two head coaches, that's the game everyone has their eyes on.
But in the interest of making this diverse and offering a quality alternative option, I offer up the Aggies and the Tigers.
Remember, last season's battle between these two teams was quite intriguing. Auburn ran the ball up and down the field and Texas A&M was proficient itself offensively, led by the always-entertaining
Johnny Manziel
.
Manziel got injured early in the fourth quarter, adding quite a bit of drama to the proceedings, but was able to re-enter in time to lead a potential game-winning drive. Auburn defense came up with a huge stop though -- capped by a
Dee Ford
sack -- to secure a 45-41 road win, one that proved crucial in the Tigers' ascent from worst-to-first in the SEC West, which eventually netted them the SEC title and a BCS title game appearance.
Ford and Manziel are among the key players that have moved on to greener pastures in the NFL, but there should still be plenty on the line when these two meet on Nov. 8.
Many feel Auburn is poised for another run at the division and conference titles, so should the Tigers live up to those expectations, every game at this late stage in the regular season will carry significant meaning with the coveted spots to the College Football Playoff up for grabs.
The Aggies, who have said goodbye to their three best offensive players via the NFL draft, won't carry the lofty expectations the Tigers will, but they should still be good enough offensively to make this a competitive and compelling game. If you like offense, this is the game for you, with two of the country's brightest offensive head coaching minds -- Auburn's Gus Malzahn and Texas A&M's Kevin Sumlin. Talents such as Auburn's
Nick Marshall
and
Sammie Coates
, Texas A&M's
Ricky Seals-Jones
and a handful of quality running backs between the two teams could equate another high-scoring affair.
And for any players who were on the Auburn roster back in 2012, there could be yet another score to settle. The Aggies came in and embarrassed Auburn 63-21 in their last trip to The Plains on Oct. 27, 2012, in the midst of a forgettable 3-9 season. So if defending home turf and everything else mentioned above isn't motivation enough for Auburn, that's an added bit of incentive for any young Tigers who were part of or witnessed that showing.
LSU's Talented Youth
SEC SCOREBOARD
Thursday, 8/28
Saturday, 8/30
Sunday, 8/31