September, 20, 2014
Sep 20
11:47
PM ET
Well, that was an interesting day in the SEC. Here's what we learned:
1. The SEC West is clearly the best ... again:
It's the same story in the SEC: The West is the best. None of these teams are perfect, but they are the best of the bunch in the SEC. Alabama throttled Florida at home, Auburn went on the road and gutted out a tough win over No. 20 Kansas State, Texas A&M just continues to roll over everyone, Arkansas can run on anyone, Ole Miss is a top-10 team, and Mississippi State walked into Death Valley at night and beat No. 8 LSU team in what turned into a late thriller. We know this LSU team has issues with its passing game and young defense, but give Mississippi State a lot of credit for that performance. There's a reason the West entered the weekend with five ranked teams -- all in the top 10. On the other side of the conference, everyone in the East has issues. The thing about the West is no team is really sticking out as the dominant team in the division, and every one of them is a work in progress, but they've all had really good moments. This is easily the toughest division in all of college football. Whoever comes out of this division might have an automatic ticket to the playoff on principle alone.
[+] Enlarge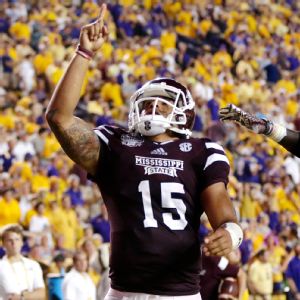 AP Photo/Gerald HerbertDak Prescott had 373 yards of offense and three touchdowns in a return to his home state.
2. Florida's offense and defense have issues:
Where do you even start with Florida's performance in that
42-21 loss
to third-ranked Alabama? Despite plenty of opportunities afforded to the offense, the Gators continuously stalled with the ball. Quarterback
Jeff Driskel
struggled with the same issues that have plagued him his entire career. He was off with his deep throws and had trouble with his reads and threw for just 93 yards with a touchdown and two interceptions on 9-of-28 passing. Even with decent protection for most of the day, Driskel never got into a rhythm and couldn't take advantage of an Alabama secondary trying to find its identity. The defense gave up some big plays in the passing game, especially when the ball went to
Amari Cooper
(10 catches, 201 yards and three touchdowns).
Blake Sims
torched Florida's secondary, which struggled with coverage issues all day, for 445 passing yards and four touchdowns, including one of 87 and 79 yards. Yes, Florida's defense was on the field for a very long team, but the Gators allowed 645 total yards ... the most allowed in school history.
3. Mississippi State will challenge for the West title:
I wondered why this team wasn't ranked in the Top 25 to begin the season, and then the defense fell asleep in Week 2 and I started to wonder if Mississippi State was for real. Now, after a
34-29 win
over LSU in Baton Rouge, you can't sleep on Dan Mullen and his Bulldogs. Sure, this was a rout that got pretty tight late in the fourth quarter, but this is a win the Bulldogs should be ecstatic about. And how about quarterback
Dak Prescott
? He had his best performance to date in his home state with 373 yards of offense and three touchdowns. Fellow Louisiana native
Josh Robinson
wasn't too shabby either, as he rushed for 197 yards and a score. Take the Bulldogs lightly at your own risk.
4. The East race is a total crapshoot:
Besides a dominating performance from Georgia over Troy, the SEC East didn't have a great day. Florida was blown out by Alabama, Missouri was stunned at home by unranked Big Ten representative Indiana
31-27
, and South Carolina slogged through a
48-34 win
at Vanderbilt. We saw that Florida's offense still has major issues and Missouri's interior defensive linemen need a lot of work, as Indiana ran for 241 yards on the Tigers. South Carolina still controls its own destiny when it comes to going to Atlanta for the SEC title game, but no one would be shocked to see the Gamecocks drop another one. Will Georgia's defense get better? Will Florida have an offense? Was this a fluke loss for Mizzou? Is Tennessee a real sleeper? A two-loss SEC East champ is not out of the question with so many uncertainties.
5. Will Muschamp's seat is hotter than ever:
I have a feeling
Bill from Gainesville
won't be calling into many radio shows this week. With a loss in which the Gators faded quickly in the second half, Muschamp's seat is roasting in Gainesville. Last year's injury-riddled, 4-8 season was one thing, but Florida has regressed in the past two games this season, which means the Gators have to show vast improvement in two weeks at Tennessee in order to perk an already downtrodden and disheartened fan base. You have to let the season play out, but this was a bad loss for Muschamp's squad, even if Alabama was the No. 3 team in the country. Florida should be competitive in games such as this, and the Gators just weren't after Alabama cleaned up its mistakes in the second half. There were plenty of opportunities for Florida in this one, but the Gators just didn't execute. Florida fans are frustrated with their coach and their quarterback, who are both in their fourth years at UF.
September, 20, 2014
Sep 20
11:20
PM ET
By
ESPN.com staff
| ESPN.com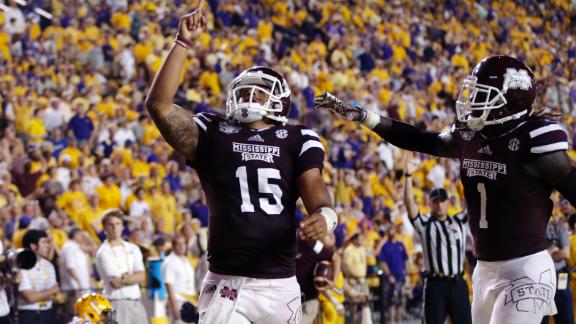 Dak Prescott
threw for 268 yards and ran for another 197 with three scores as Mississippi State upset LSU 34-29.
September, 20, 2014
Sep 20
11:06
PM ET
Associated Press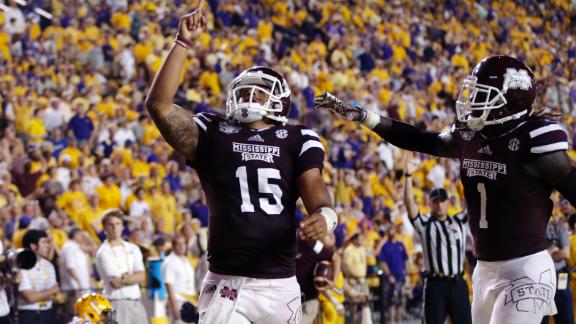 BATON ROUGE, La. -- Dak Prescott highlighted a dynamic performance with two touchdown passes and 56-yard scoring run, and Mississippi State held off a wild rally by No. 8 LSU for a 34-29 victory Saturday night that snapped the Bulldogs' 14-year losing streak in the series.
MSU led 34-10 in the fourth quarter, but LSU scored three late touchdowns. That set up a last-second desperation heave by LSU backup quarterback Brandon Harris, which was intercepted by Will Redmond at the goal line.
Prescott, a Louisiana native, finished with 268 yards passing and 105 yards rushing while helping the Bulldogs (4-0) not only beat LSU (3-1) for the first time since 1999, but win in Tiger Stadium for the first time since 1991 -- about two years before Prescott was born.
His touchdown passes went for 74-yards to Jameon Lewis and 9 yards to De'Runnya Wilson. Josh Robinson rushed for 197 yards and a touchdown.
September, 20, 2014
Sep 20
10:39
PM ET
Ole Miss Remaining Grounded