January, 1, 2014
Jan 1
10:12
PM ET
ST. PETERSBURG, Fla. -- ESPN junior 300 cornerback
Kevin Toliver II
(Jacksonville, Fla./Trinity Christian) has been committed to LSU for more than a year and the No. 3-ranked player in the country isn't too shy about stating the strength of his pledge to the Tigers.
"I'm 110 percent committed to LSU," Toliver said Wednesday afternoon while registering for the Under Armour All-America junior combine.
To continue reading this article you must be an Insider
January, 1, 2014
Jan 1
7:10
PM ET
TAMPA, Fla. -- How did
Jeremy Hill
get so good at closing out wins? Years of practice.
The junior tailback hasn't just been an effective clock-eater at the end of a victory since he arrived at LSU. He's been doing this since his days at Redemptorist High School in Baton Rouge, La.
"It's just something that I took way back in high school. Our coaches just put it in my hands and just told me to go win the football game," Hill said after putting away Iowa in the Tigers'
21-14 victory
in Wednesday's Outback Bowl. "You just have to have that mentality. Great players have that mentality. When everyone's looking for someone to make a play, just being in a tight game the whole time ... I just took it on my shoulders that I needed to make plays to win this football game, and that's exactly what happened."
If Wednesday's performance -- 28 carries, 216 yards, two touchdowns -- was Hill's last as a college player, he made it one to remember. Hill is among a host of draft-eligible players on the Tigers' roster who could leave for the NFL. LSU coach Les Miles said afterward that "there's a chance" star receivers
Jarvis Landry
and
Odell Beckham
could declare for the draft, but Hill said while accepting bowl MVP honors that he still must weigh his decision.
[+] Enlarge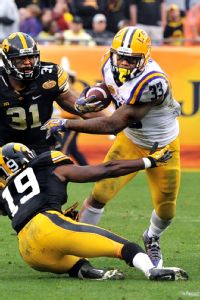 Al Messerschmidt/Getty ImagesLSU's Jeremy Hill earned Outback Bowl MVP honors, rushing for 216 yards and two touchdowns.
Among the factors he said he will consider: the NFL draft advisory board's feedback on where he might be drafted, his family's input and his role within the LSU offense, should he opt to return.
"There's a lot that goes into it. It's a big decision, but like I said, I'm not thinking about it right now," Hill said. "I'm just enjoying this win, and when we get back to Baton Rouge, we'll figure all that out."
His role on Wednesday was as a battering ram. By becoming the first LSU back since Alley Broussard in 2004 to crack the 200-yard mark in a game, Hill finished the season with 1,401 rushing yards and 16 touchdowns, totals that rank second and fourth, respectively, on LSU's single-season lists.
And it was his tackle-breaking, 37-yard touchdown run in the fourth quarter, putting LSU ahead 21-7, that all but sealed the victory.
"Given the opportunity to close out a game, he knows what to do," Miles said. "He made some nice cuts, and you get him that spot, that opportunity to extend the play, he can score. And he did."
LSU's offensive production mirrored the soggy, dreary weather in Tampa on Wednesday, with first-time starting quarterback
Anthony Jennings
struggling to generate much in the passing game. But Hill and a dominant defense were the sledgehammers that put away pesky Iowa, particularly on LSU's first and final full possessions.
The Tigers pounded the run early, keeping it on the ground for the first 12 plays before an incomplete pass. Jennings capped the game-opening 77-yard drive, which started with a 42-yard Hill run, with a 2-yard touchdown dive.
Hill capped a 39-yard touchdown drive in the second quarter, capitalizing on a lost fumble by Iowa punt returner
Kevonte Martin-Manley
, with a 14-yard scoring run that put the Tigers ahead 14-0.
The Hawkeyes rallied to make it 14-7 when
Mark Weisman
pounded in a 2-yard touchdown after
John Lowdermilk
returned a Jennings interception to the LSU 1. And they nearly tied it before LSU's
Craig Loston
intercepted a
C.J. Beathard
pass at the LSU 8 with 5:04 remaining.
Hill and the Tigers made Iowa pay for its miscue. The Tigers kept it on the ground for all six plays on a touchdown drive that nearly iced the win -- including Hill runs of 28 yards, 20 yards and the scoring run of 37 yards -- with its backfield closer playing the leading role.
"They started adjusting and it just became a chess match," Hill said. "I think we won when on that last drive we got a checkmate and we made the right calls, made the right checks and we won the game."
January, 1, 2014
Jan 1
4:31
PM ET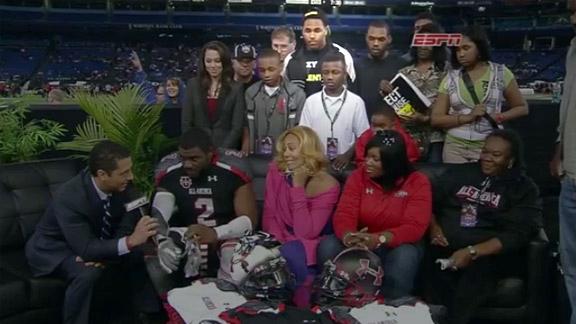 ORLANDO -- She's baaaaack.
If you watched the Under Armour All-America Game two years ago – or even if you didn't -- you likely remember April Justin. She's the mother of Landon Collins, at the time the No. 1 safety prospect in the 2012 class.
He announced his college choice of Alabama during the ESPN telecast. And that's when the fun began. Or was it misery? Depends on your perspective.
Sitting to her son's left, Justin visibly disagreed with his decision. She shook her head, rolled her eyes, waved her hands. She told Dari Nowkhah, the ESPN announcer hosting the festivities, that LSU was the better choice -- the right choice -- for her eldest son.
After all, they're from New Orleans.
"Everybody was shocked at what she did," said Speedy Noil, a wide receiver from New Orleans Edna Karr who is set to make his announcement Thursday during the UA Game (4 p.m. ET, ESPN).
Noil played in high school with third-ranked defensive tackle Gerald Willis III. Willis is April Justin's other son.
And guess what? Down to LSU, Florida and Alabama, he plans to make his announcement live during the game, too – with mom at his side.
"I hope it doesn't have to go viral again," Justin said.
Her 2012 reaction went viral, all right. She's conducted numerous interviews on the incident, from publications sympathetic to her motherly point of view to those critical that she robbed Collins of his celebratory moment.
Mostly, observers simply couldn't take their eyes off the two minutes of awkwardness.
January, 1, 2014
Jan 1
4:30
PM ET
TAMPA, Fla. -- Chilly, wet conditions bogged down Wednesday's Outback Bowl, but No. 16 LSU used
Jeremy Hill
's tough running and a stifling defense to
outlast Iowa 21-14
and earn its 10th win of the season for a school-record fourth straight season.
Here's how the Tigers earned the win:


It was over when:
Jeremy Hill broke three long runs -- including a 37-yard touchdown -- on LSU's final possession, allowing the Tigers to run three minutes off the clock and go up 21-7 with 2:02 to play. Hill finished with 216 yards, becoming the first LSU back since 2004 to crack the 200-yard mark in a game.
Game ball goes to:
Jamie Keehn
and LSU's punt coverage team. While neither team's offense was able to get it in gear consistently, Keehn's overall consistency kept Iowa deep in its own territory. The Tigers'
James Wright
recovered
Kevonte Martin-Manley
's muffed punt at the Iowa 39, setting up a Hill touchdown run that made it 14-0 LSU in the second quarter.
Stat of the game:
Three. Iowa's three turnovers -- the fumbled punt,
Tre'Davious White
's second-quarter interception and
Craig Loston
's fourth-quarter interception deep in LSU territory -- were the difference in the game. The offenses combined to generate just 535 yards (302 by LSU and 233 by Iowa), so the turnover battle played a major role on Wednesday.
To watch the trophy presentation of the Outback Bowl, click
here
.
January, 1, 2014
Jan 1
4:00
PM ET
The practices are in the books and now is the time for the nation's top prospects to showcase their skills under the bright lights of the Under Armour All-America game (4 p.m. Thursday, ESPN). With an outstanding collection of talent taking the field, it can be easy to feel a football sensory overload. No matter where you look, you will see a promising prospect in action, but to help guide your focus, we put together a few viewing tips. You can't go wrong wherever your eyes take you on the field, but the following could be a good place to start.
If you want to know where next year's top college freshmen will play …
To continue reading this article you must be an Insider
January, 1, 2014
Jan 1
1:45
PM ET
Happy new year. Take some time from watching football all day and see what's happening around the SEC in today's lunch links, the first of 2014.
January, 1, 2014
Jan 1
9:45
AM ET
ORLANDO, Fla. -- There will be three five-star prospects committing during the 2014 Under Armour All-America Game. One of those is No. 11 overall
Tony Brown
(Beaumont, Texas/Ozen).
This week, the two-sport star, who will run track and play football on the next level, talked about the ins and outs of his recruitment as decision day nears.
Gerry Hamilton: What age were you when you first started paying attention to college football?
Tony Brown:
As soon as I saw a TV. I think I watched a Texas Tech game because both of my parents went to Texas Tech. My uncle also went to Texas Tech. I had to be five years old when I actually remember watching a game.
To continue reading this article you must be an Insider
January, 1, 2014
Jan 1
9:30
AM ET
Iowa (8-4) and No. 16 LSU (9-3) will meet Wednesday for the first time since the Hawkeyes shocked LSU with a last-second touchdown to win the 2005 Capital One Bowl in Nick Saban's final game as the Tigers' coach. Here are a few players and matchups to watch for in their rematch nine years later at the Outback Bowl (1 p.m. ET, ESPN).


Who to watch:
This will likely be the last time we see LSU's exciting offense in its current form. We already know resurgent senior quarterback
Zach Mettenberger
is out with a knee injury, and it's highly possible that some of the Tigers' most impressive offensive players could make the leap for the NFL after the Outback Bowl. Receivers
Jarvis Landry
(75 catches, 1,172 yards, 10 TDs) and
Odell Beckham
(57-1,117, 8 TDs), running back
Jeremy Hill
(1,185 yards, 14 TDs) and offensive tackle
La'El Collins
(plus defensive linemen
Ego Ferguson
and
Anthony Johnson
) could follow the lead of the 11 Tigers who jumped to the pros last year before exhausting their college eligibility. On the Iowa side, the defense leads the way – we'll discuss that group in a moment – along with a run-heavy offense.
Mark Weisman
leads the team with 937 rushing yards and seven TDs, and the rushing attack is led by All-Big Ten offensive lineman
Brandon Scherff
, with Florida native
Jake Rudock
(2,281 passing yards, 18 TDs, 12 INTs) at the trigger.
What to watch:
The most intriguing matchup of the day is probably LSU freshman quarterback
Anthony Jennings
against Iowa's stout defense. Jennings did a great job in taking over for an injured Mettenberger against Arkansas in LSU's comeback win, but Iowa presents a different challenge. Led by senior linebackers
James Morris
(98 tackles, 14.5 TFL, five sacks),
Christian Kirksey
(97 tackles) and
Anthony Hitchens
(102 tackles, 13 TFL), Iowa has arguably its best defense since Kirk Ferentz became the Hawkeyes' coach. They are No. 7 nationally in total defense (303.2 yards per game) and No. 11 in scoring defense (18.8 points per game). Jennings obviously has some talented weapons at his disposal, but he's a rookie starter and that can be a scary proposition.
Why to watch:
Aside from the classic offense-versus-defense matchup, we could also see Les Miles' LSU program establish a team standard for consistency. The Tigers can win 10 games for the fourth consecutive season, which would be a school record. LSU has done it in three consecutive seasons twice: 2005-07 and the current streak. On the other sideline, Iowa can complete a surprising bounce-back season with a victory over one of the nation's elite programs. The Hawkeyes are 0-4 against ranked opponents this season, but with a victory, could finish as a ranked team a year after going 4-8.
Prediction: LSU 28, Iowa 21.
Despite Jennings' youth, Las Vegas still favors LSU by 7.5 points at most sites. That's largely because the Tigers simply have more offensive firepower than the Hawkeyes. Iowa's defense is good enough to make LSU sweat, but the Tigers have too many weapons to remain quiet for long.
December, 31, 2013
12/31/13
9:10
PM ET
SAN ANTONIO -- The second day of practice for the U.S. Army All-American Bowl -- on the last day of 2013 -- has come to a conclusion. Here is Tuesday's notebook featuring some of the nation's elite athletes:
LB Williams: Law and order equals '98 percent'
To continue reading this article you must be an Insider
December, 31, 2013
12/31/13
7:55
PM ET
Three days of practice are now in the books and overall execution was sharper as the players begin to move into final preparations for the Under Armour All-America Game on Thursday. The productivity of the players picked up as did the speed of the play, and they're continuing to think less and display their natural ability more. It was a physical day, with the pads popping and some big hits throughout the practice. Here are some of the highlights.
Top performers
To continue reading this article you must be an Insider
December, 31, 2013
12/31/13
5:31
PM ET
December, 31, 2013
12/31/13
4:54
PM ET
LAKE BUENA VISTA, Fla. -- The third day of practices for the 2014 Under Armour All-America Game, which will air live Thursday at 4 p.m. ET on ESPN, was full of entertainment. Players engaged in some back-and-forth trash talk, coach Deion Sanders gave some dance lessons, there was a special guest in attendance and a linebacker hit
Racean "Roc" Thomas
so hard he nearly broke his face mask. Here's a closer look at the latest news and notes from the third day of practice.
Talking the talk
[+] Enlarge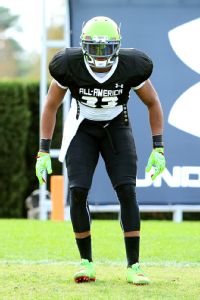 Miller Safrit/ESPNJamal Adams has drawn attention for his stellar play and unmatched trash-talking ability.
The top prospects in the country aren't just skilled on the field but also in the art of trash-talking. Many of the players took part in verbal intimidation during practice, but there were a few who seemed to excel at it.
Defensive back
Jamal Adams'
(Lewisville, Texas/Hebron) name has been brought up the most as one of the best trash-talkers so far. His persistence is what most, including receiver
Malachi Dupre
(River Ridge, La./John Curtis Christian), have noticed.
"Jamal is the best at it," Dupre said. "It doesn't get in my head anymore because I know him really well. He knows I got him a lot earlier. He's a good friend of mine and I know he's probably the best at it because he's nonstop. The more you do it, the more you get under people's skin."
Receiver
Braxton Berrios
(Raleigh, N.C./Leesville Road) agreed and added that he can't help but laugh when Adams starts talking.
Jabrill Peppers
(Paramus, N.J./Paramus Catholic) was often opposite Adams on the field and was brought up as another excellent trash-talker. He isn't as constant as Adams, but he let receivers know when they made a mistake.
"One particularly play, [Peppers] batted down a pass on
Ermon Lane
, and Jabrill and I were ready to get at it," Dupre said. "I never went up against him, though. Jabrill was just screaming, 'It's not going to happen' and 'Shutdown.'"
So you think you can dance?
Former NFL great Deion Sanders was known for his celebration dances, and on Tuesday, his team got a firsthand look at how to execute the patented high step and touchdown dance from Sanders' playing days.
Deion Sanders teaching touchdown dance moves #UAAllAmerica https://t.co/fsF7LRF0sB

— Tom VanHaaren (@TomVH) December 31, 2013
Sanders showed the players how to do both dances, then let them take a test run in case they score a touchdown in Thursday's game.
Players practicing like Neon Deion #UAAllAmerica https://t.co/IxE0Nr1KH8

— Tom VanHaaren (@TomVH) December 31, 2013
Decisions ahead
Seven of the nation's top prospects, including three five-star players, are set to make their decisions during the game. Here's a look at who will be making their decisions:
[+] Enlarge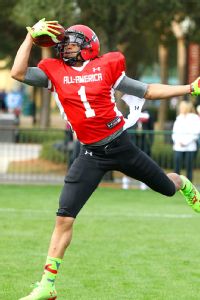 Miller Safrit/ESPNJalen Tabor is one of seven top prospects who will announce his college decision during the Under Armour All-America Game.
RB
Leonard Fournette
(New Orleans/St. Augustine): The nation's No. 1-ranked player will decide among LSU, Alabama and Texas.
WR
Travis Rudolph
(West Palm Beach, Fla./Cardinal Newman): A standout during practices this week, Rudolph will be choosing among Alabama, Florida, Miami, Tennessee, Auburn and Ohio State.
DT
Gerald Willis III
(New Orleans/Edna Karr): Ranked the No. 3 defensive tackle in the country, he will likely choose between LSU and Florida.
DB
Tony Brown
(Beaumont, Texas/Ozen): The five-star defensive back will choose between Alabama and LSU despite a shoulder injury that will could keep him out of the game.
DB
Jalen Tabor
(Washington, D.C./Friendship): The nation's No. 15 recruit Will choose between Arizona and Alabama.
S Jamal Adams (Lewisville, Texas/Hebron): The No. 23 player in the country will choose among Florida, LSU and Ole Miss.
ATH
Speedy Noil
(New Orleans/Edna Karr): Noil, the No. 8 player in the country, will choose between LSU and Texas A&M.
Top players
It's one thing for scouts and evaluators to give their opinions on the top performers, but it's always interesting to hear who the players themselves think are excelling on the field.
Here are a few of the Under Armour All-Americans talking about the best prospects they faced throughout the week:
RB
Bo Scarbrough
(Bradenton, Fla./IMG Academy): "
Marlon Humphrey
(Hoover, Ala./Hoover), I just think that he has great defense and you have to be really physical when you going against Marlon Humphrey.
JuJu Smith
(Long Beach, Calif./Long Beach Poly), you really have to come with it with JuJu because if you don't come with it, he's going to come with it."
[+] Enlarge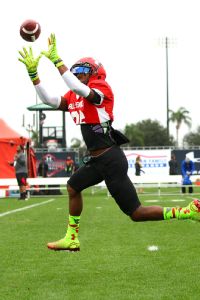 Miller Safrit/ESPNMarlon Humphrey has impressed his fellow All-Americans with his performance this week.
DB
Adoree' Jackson
(Gardena, Calif./Junipero Serra): "My best matchup, well all those guys are high caliber. From
Speedy Noil
to
[Chris] Godwin
,
[Cameron] Sims
, Travis Rudolph, everyone was good. I just like competition, and they're going to bring the best out of me and I'm going to bring the best out of them."
WR Malachi Dupre (River Ridge, La./John Curtis): "My whole defensive back corps was good. Jamal Adams, Tony Brown and Jabrill Peppers. All those guys were really good."
OL
Sam Mustipher
(Olney, Md./Our Lady of Good Counsel): "I went up against a lot of good guys. All those defensive linemen are good, but
Da'Shawn Hand
was one that stood out. He is quick off the ball and you can't fall for his hand fakes, the way he uses his hands."
RB
Dalvin Cook
(Miami/Miami Central): "Linebacker
Ronnie Clark
."
QB
Sean White
(Fort Lauderdale, Fla./University School of Nova South): "Oh man, I'd say Adoree' Jackson was probably the best. Him and
Tre' Williams
."
Smashmouth football
Lavar Arrington did everything he could to pump up his linebackers during Tuesday's practices with some not-so-gentle persuasion.
During inside run drills, Auburn linebacker commit Tre' Williams (Mobile, Ala./St. Paul's Episcopal School) flung his entire body at running back Leonard Fournette (New Orleans/St. Augustine) in a tackle attempt that drew a round of hoots and hollers from Arrington.
A few plays later, Florida State linebacker commit Kain Daub (Jacksonville, Fla./Sandalwood) got Auburn running back commit Racean Thomas (Oxford, Ala./Oxford) with a clean hit so hard he broke one of several clips on Thomas' face mask, causing it to hang from the helmet.
"That's the way to hit, Kain," Arrington said. "You broke his freaking face mask. Oh wow."
Special guest
There has been a special guest in attendance during the Under Armor All-America week of practices. John Shulby, a friend of 2012 Under Armour All-America tight end Colin Thompson, has Down syndrome and has been invited back as a special guest every year since Thompson participated in the game.
Shulby has been welcomed by the coaches, players and everyone else involved in the game. In fact, Shulby was asked by linebackers coach LaVar Arrington to assist in some individual drills.
John Shulby getting some 1-on-1 coaching from Lavar Arrington. #UAAllAmerica https://t.co/JdIiM4fKJo

— Derek Tyson (@DerekTysonESPN) December 31, 2013
Bill Shulby, John's father, said he and his son never expected to receive this much attention.
"From our perspective, we've never imagined John having this type of experience," Shulby said. "It's been wonderful and unbelievable. The players and coaches have included him in every day. The way LaVar Arrington included him this morning -- you could just see the joy in his face."
Jeremy Crabtree and Tom VanHaaren contributed to this report.
December, 31, 2013
12/31/13
1:00
PM ET
LAKE BUENA VISTA, Fla. -- Cornerback
Tony Brown
, No. 11 in the ESPN 300 and the No. 2 prospect in Texas, suffered an injury to his left shoulder on Tuesday and likely will not play in the Under Armour All-America Game.
Brown, of Beaumont Ozen High School, was hurt while reaching to defend a pass in a non-contact coverage drill. He received medical attention at the ESPN Wide World of Sports Complex and was transported from the practice facility by cart, his head buried in his hands and his arm in a sling.
The 6-foot, 196-pound Brown, rated as the No. 4 cornerback nationally, is scheduled to announce his college decision during the 4 p.m. telecast of the Under Armour Game Thursday on ESPN.
Brown made official recruiting visits to Ohio State, Alabama, Texas, USC and LSU.
He graduated from high school early in order to enroll in January at his college of choice. Brown is an elite sprinter and plans to compete in football and track and field in college.
December, 31, 2013
12/31/13
12:00
PM ET
The SEC bowl season kicked off Monday with a win by Ole Miss in the Franklin American Mortgage Music City Bowl. The league will now play five bowl games over the next two days so get caught up with the latest news and notes in the last lunch links of 2013.
No. 2 CB Sheffield Talks Recruiting
SEC SCOREBOARD
Thursday, 8/28
Saturday, 8/30
Sunday, 8/31