October, 25, 2014
Oct 25
1:15
PM ET
By
Brett Edgerton
| ESPN.com
On Saturday night, the LSU defense will try to eat up Ole Miss and pull an upset of the third-ranked Rebels.
Turns out LSU's mascot already took a bite out of Ole Miss.
Here's the meat Mike the Tiger had for dinner Friday night.
October, 24, 2014
Oct 24
1:00
PM ET
BATON ROUGE, La. -- No. 3 Ole Miss (7-0, 4-0 SEC) has its national championship hopes intact as it travels to face No. 24 LSU (6-2, 2-2) on Saturday, but the Rebels have won just once at Tiger Stadium in their last six visits.
Ole Miss is the rare road team to be favored over LSU at Death Valley, however, and it will take the best game of the season from the Tigers' erratic offense in order to pull the upset.
With an assist from ESPN's Stats & Information group, here are five storylines and trends worth watching Saturday:
[+] Enlarge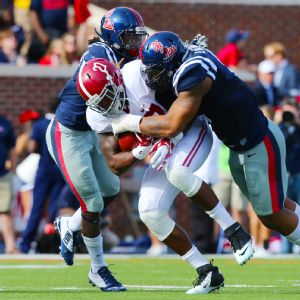 Joe Murphy/Getty ImagesBased on ESPN's efficiency score, Ole Miss is on pace to be the most dominant defense in the last decade.
Dominant Rebels defense:
A quick glance at the SEC's weekly statistical leaderboard makes it clear that Ole Miss boasts arguably the conference's top defense. The Rebels lead the league in scoring defense (10.6 ppg), rank second in total defense (290.6 ypg) and run defense (97.1 ypg) and are fourth in pass defense (193.4 ypg, plus 15 interceptions, which ties for the most in the FBS).
But even those gaudy numbers don't adequately explain how dominant the Rebels have been. ESPN's 19.43 defensive efficiency score (points per game that the defense adds to Ole Miss' scoring margin through contributions like forcing turnovers, preventing points and ending drives) for the Rebels' defense is the best in the nation. Not only that, Ole Miss is on pace for the best score of any defense in the last decade.
The Rebels have scored four defensive touchdowns and lead the nation with 90 points off turnovers, so it will be incumbent on LSU's offense to take care of the ball -- the Tigers have just nine turnovers this season -- because it's hard enough to beat Ole Miss without giving away free points. Opposing offenses have scored just six touchdowns against the Rebels this season, another FBS best.
Good Bo/Bad Bo:
For most of his career, Ole Miss quarterback
Bo Wallace
has been plagued by inconsistency, leading to the popular narrative that there is a "Good Bo" and a "Bad Bo." Bad Bo hasn't made an appearance in SEC play this season, however.
Wallace has yet to commit a turnover in an SEC game and is on pace to break multiple Ole Miss season passing records. He is averaging 237 passing yards, 1.75 touchdowns and no interceptions through four SEC games thus far.
In two starts against LSU, Wallace has passed for 656 yards, two touchdowns and three interceptions and has rushed for 72 yards and two scores.
Keep an eye on whether Wallace enjoys success as a runner Saturday. LSU has done a better job against mobile quarterbacks lately, but it has allowed 58.3 rushing yards per game to opposing quarterbacks, seventh-most in the nation, and an SEC-worst 15 runs of 10 yards or more by QBs. Wallace averaged 38.3 rushing yards per game in the last three games.
Fourth-quarter QBs:
Wallace and LSU's
Anthony Jennings
have had their moments in the fourth quarter. Wallace, in fact, has been one of the nation's best QBs in the final period.
His fourth-quarter Total QBR (90.7) leads the SEC, and he is tied for the nation's best touchdown-to-interception differential (6-0) in the fourth quarter.
Jennings hasn't been particularly effective in any quarter -- his overall 49.3 QBR ranks 81st among FBS QBs -- but he succeeded on crucial drives at the end of wins against Wisconsin and Florida. Jennings is 10-for-23 for 235 yards and two touchdowns in the fourth quarter with an average of 23.5 yards per completion.
Mixed bag on third down:
Both defenses are effective on third down, with LSU tying for fourth in the FBS by forcing 34 three-and-outs this season. Ole Miss is tied for 10th with 30.
Jennings and the LSU offense haven't been particularly successful on third down, however. The Tigers' worst outing came against Auburn -- when freshman
Brandon Harris
started at quarterback and LSU went 0-for-13 on third down -- and overall LSU has an SEC-high 30 drives that ended with a three-and-out. Only seven FBS teams have more, and Ole Miss has just 19.
Looking ahead:
Last week's 41-3 win against Kentucky was big in many ways for LSU. Not only did it help the Tigers get back to .500 in SEC play, but it removed the pressure of achieving bowl eligibility.
That's a big deal since ESPN's Football Power Index rates the Tigers' remaining schedule as the toughest in the FBS. Beyond facing Ole Miss (which ranks third in the FPI), LSU will face Alabama (second), Arkansas (20th) and Texas A&M (18th).
Ole Miss' schedule is more manageable, although it still must host Auburn (first), Presbyterian (FCS) and Mississippi State (fifth) and visit Arkansas (20th).
October, 24, 2014
Oct 24
12:10
PM ET
Back when freshmen were ineligible and you could count teams' offensive plays on one hand, the annual clash between Ole Miss and LSU was one of college football's premier games.
Respect mixed with vitriol, along with heart-stopping plays and gut-wrenching defeats.
"Go to hell, LSU!" is still screamed during the national anthem at Ole Miss -- no matter the game.
Iconic coaches, such as Ole Miss' Johnny Vaught and LSU's Paul Dietzel, roamed the sidelines and national championships were sometimes on the line.
What's now called the Magnolia Bowl still has deep meaning for Rebels and Tigers, as these two have played 102 times, including every year since 1945.
Saturday's nighttime showdown in rebuilt Tiger Stadium has this rivalry buzzing again. ESPN's "College GameDay" will be in the house for No. 3 Ole Miss (7-0, 4-0 SEC) and No. 24 LSU (6-2, 2-2).
[+] Enlarge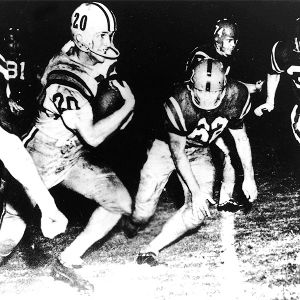 Louisiana State/Getty ImagesBilly Cannon's punt return against Ole Miss in 1959 is still perhaps the biggest play in the rivalry's history.
This marks the first time since 2003 that the teams will meet as ranked opponents, and it's the first time since 1961 that Ole Miss is ranked higher than LSU when both have been ranked.
"It's not just gonna be another game," legendary LSU player and coach Jerry Stovall said. "It's going to add to the lore of playing on Saturday night live in Tiger Stadium.
"Part of [the stadium] is brand new; I'm not sure it won't come down. It's gonna be one of the most exciting games and hard-fought games in Tiger Stadium in a long, long time. No matter who wins it, they're gonna get bloodied."
The meat of this rivalry came in the late 1950s and early 1960s. From 1958-63, five games were played in which both teams were ranked in the top six. Ole Miss was undefeated entering four of those games, LSU twice. Only once during that time did a team enter the game with more than one loss -- 1960, when 1-4 LSU tied No. 2 Ole Miss 6-6 in Oxford.
"There was a time when the Ole Miss game meant more than any other to the LSU people," said Bud Johnson, former LSU sports information director and current director of the Jack & Priscilla Andonie Museum at LSU. "You could get more of the LSU-Ole Miss ticket than any other if you were in that business."
It was also special because of proximity and the fact that LSU really didn't a true in-state rival. It was nothing for Ole Miss fans to hop over the border into Louisiana. Getting folks from Jackson -- which is halfway between Oxford and Baton Rouge -- Brookhaven, Natchez and McComb to Louisiana was easy.
Games were colossal, and tickets were hot. You could get a Cadillac in the classifieds for four tickets, and eight tickets on the 50-yard line got you a camp on the False River.
People knew each other – players and fans. Families are split and relationships tested, making this game last 365 days.
"Two rabid fan bases with so much on the line for both teams," said Langston Rogers, who worked in Ole Miss' athletic department for 29 years before retiring in 2010. "That's what made it so special."
With Ole Miss dominating the series with Mississippi State and LSU not playing Alabama or Auburn on an annual basis, it became a heated, evenly contested rivalry game.
There was the nail-biting 14-12 Ole Miss victory in 1957, and No. 1 LSU slipping by sixth-ranked Ole Miss 14-0 in 1958 -- a game in which LSU's Billy Cannon used his summer-job paycheck to buy an entire section inside Tiger Stadium to take tickets away from Ole Miss fans.
You had LSU's 7-3 win in 1959, thanks to Cannon's famous/infamous 89-yard punt return for a touchdown and a goal-line stand (triggered by another Cannon play) on a hot, muggy Halloween night.
The play, which runs on loop in Baton Rouge this time of year, still haunts Jake Gibbs, Ole Miss' quarterback from 1958-60 and who punted to Cannon, because he was trying to punt the ball out of bounds. Instead, Cannon corralled it at the 11 and made his way through just about every Ole Miss player before scooting past Gibbs toward the end zone
and
the Heisman Trophy.
"God, you know, he went through about five or six tackles really kinda on his own," said Gibbs, who was actually heckled by LSU fans about the play when he later became Ole Miss' baseball coach. "By the time he got to me … I couldn't do anything but hit him up high. Of course, you can't bring him down hitting him up high."
[+] Enlarge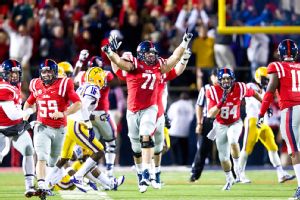 John Korduner/Icon SportswireOle Miss knocked off LSU last year on a field goal with two seconds left.
But did it feel good to have sweet Sugar Bowl redemption over LSU a couple months later with a 21-0 win?
"Damn right," Gibbs said.
Dietzel called the Tigers' 10-7 comeback win in 1961 arguably his greatest game. A year later, Vaught led sixth-ranked Ole Miss to a 15-7 win over No. 4 LSU in Baton Rouge.
There was Doug Moreau's two-point conversion catch for an LSU win in 1964 and Archie Manning directing back-to-back comeback wins for the Rebels in 1968 and 1969. Of course, there was "The Night the Clock Stopped" in Baton Rouge in 1972 when Brad Davis' one-handed catch came with one second left gave LSU a fabled 17-16 win and prompted people to leave signs at the Louisiana state line that read, "You are now entering Louisiana. Set your clocks back four seconds."
"There was not a year when you had one or two good players on each team," said Stovall, who went 1-1-1 as a player against Ole Miss. "This was a group of years – an era – where the coaching could not have been any better, the players could not have been more in number at that high of a level, and the fans responded to the excellence that they saw."
Eli Manning tripped in 2003 with the SEC West on the line, and Les Miles didn't see the clock in 2009. You had Zach Mettenberger's mercy kneel with five minutes left in 2011 and Ole Miss fans storming the field in 2013.
You have ranked foes and top-named coaches in Miles and Ole Miss' Hugh Freeze standing in the shadows of Dietzel and Vaught. The hype and bite are back.
"It's a lot of fun now," Gibbs said, "and I think you're going to see a many more good, heated games between Ole Miss and LSU."
October, 24, 2014
Oct 24
12:00
PM ET
In a league that features rivalries like Auburn-Alabama, Ole Miss-Mississippi State, Alabama-Tennessee and Florida-Georgia, Ole Miss-LSU typically flies under the radar.
Go back a few decades in the history books, though, and you'll see that it's more than mutual dislike between two party-hearty fan bases that makes the Magnolia Bowl one of the SEC's top rivalry games.
Here is what helped the series become one of the conference's best:
Billy Cannon and the '60s:
The programs had been playing for decades and frequently played close games, but their rivalry truly took off when Billy Cannon returned a punt 89 yards for the only touchdown in No. 1 LSU's 7-3 win over No. 3 Ole Miss on a misty Halloween night in 1959.
Cannon's return is generally viewed as the most famous play in LSU history, and it likely secured that season's Heisman Trophy and turned Tigers-Rebels into a heated annual showdown that would dominate the next decade.
The teams met up again to end the 1959 season and the outcome was reversed, with No. 2 Ole Miss shutting out No. 3 LSU 21-0 in the Sugar Bowl and earning the national championship from three polling firms afterward.
A nine-game stretch between 1958 and 1965 made Ole Miss-LSU one of the top rivalries of that time period, with Johnny Vaught's Ole Miss claiming three national titles (1959, 1960, 1962) and Paul Dietzel's LSU one (1958). The teams won four games apiece and tied once, and in five of the nine games, both teams were ranked in the top 10.
This year marks the 50th anniversary of one of the craziest games of that era, when LSU won 11-10 in 1964 by electing to go for a two-point conversion after a fourth-quarter touchdown, and quarterback Billy Ezell hitting Doug Moreau with a successful two-point pass.
The Night the Clock Stopped:
Although the rivalry faded from the national picture in the 1970s, it was still a big deal in 1972 -- particularly because of what happened in the closing seconds of No. 6 LSU's 17-16 win over unranked Ole Miss.
Ole Miss was 4 seconds away from a 16-10 upset when LSU quarterback Bert Jones took a snap at the Rebels' 10-yard line and threw an incomplete pass to Jimmy LeDoux. Somehow -- and Ole Miss fans still maintain that LSU benefited from some home cooking here -- the clock showed 1 second remaining after the incompletion. On the next play, Jones hit running back Brad Davis with a touchdown pass that helped the Tigers escape with a 17-16 victory.
Disgruntled Rebels fans famously posted a sign afterward at the Louisiana-Mississippi border that read, "You are now entering Louisiana. Set your clocks back four seconds."
Modern-day history:
Probably the main reason that the series isn't frequently recognized among the SEC's best is that it hasn't been as nationally relevant in recent years as it was in its heyday.
Unbeaten Ole Miss enters Saturday's game as the nation's No. 3 team and LSU is No. 24. But only once in the previous 43 years -- in 2003, when they met with an SEC West title at stake -- have both teams been ranked at kickoff. That 2003 game was an instant classic, with No. 3 LSU prevailing 17-14 over No. 15 Ole Miss en route to a BCS championship. The Tigers dodged a bullet in that one, with Rebels kicker Jonathan Nichols missing a 36-yard field goal in the closing minutes and Ole Miss quarterback
Eli Manning
tripping over a teammate's foot to go down on the Rebels' final offensive play.
The reduction in national relevance doesn't mean the series lacked drama, however. In each of the last two meetings, the victor scored the winning points in the final 15 seconds.
Odell Beckham helped LSU tie the 2012 game with an 89-yard punt return for a touchdown in the fourth quarter before
Jeremy Hill
ran for a 1-yard touchdown with 15 seconds remaining to earn a 41-35 win. Then last season, LSU stormed back to tie the score at 24 after trailing 17-0, but Rebels kicker Andrew Ritter booted a 41-yard field goal with 2 seconds remaining to give the Rebels a 27-24 upset victory.
Five times in Les Miles' first nine seasons at LSU, the Magnolia Bowl was decided by seven points or less. Ole Miss enters Tiger Stadium as the favorite, but if this series has taught us anything, it's to expect the unexpected when the Tigers and Rebels meet.
October, 24, 2014
Oct 24
9:00
AM ET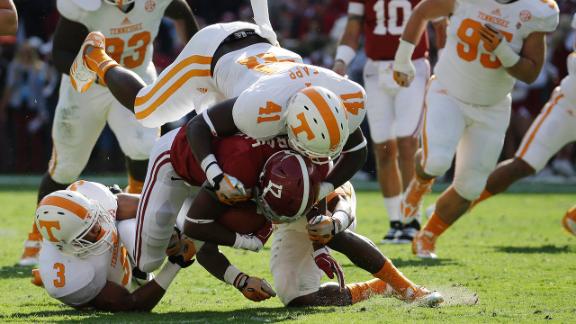 There are again some big games around the SEC this weekend. The Ole Miss at LSU game looks to be loaded with big-time visitors. Tennessee is sure to bring in several high-profile recruits for its game against rival Alabama and Auburn is hoping to reel in a few top prospects for its game against South Carolina. Here's a closer look at some of the top visitors in the SEC this weekend.
Alabama at Tennessee
October, 24, 2014
Oct 24
8:00
AM ET
1. Who is the best one-loss team in the country? That is the most intriguing debate in college football right now. With four teams in the top 5, it has to be somebody from the SEC, right? Well, the rest of the nation might disagree and claim SEC bias. On Thursday, ESPN Insider Brad Edwards used a metric called Game Score
to rank the losses of each playoff contender
. The best loss, with a score of 72, was Alabama's loss at Ole Miss. The worst (27) was Ohio State losing at home to Virginia Tech. That seems fair. What I don't agree with is putting Auburn's loss to Mississippi State among the worst losses with a score of 46. Sure, the Tigers lost by double digits, but it was on the road against the No. 1 team in the country. And they overcame a 21-0 deficit to make it a one-score game in the second half.
1a. On the same scale, Notre Dame's recent loss to Florida State was among the best losses, but it still might have cost the Fighting Irish a shot at the playoff according to Gregg Doyel. The new Indianapolis Star columnist writes that while it was a good loss, the Irish are lacking any good wins. I tend to agree. I figured SEC fans would, too.
Read the full piece here
.
2. So I was going to call out Texas A&M for backing out of its home-and-home series with Oregon in 2018 and 2019, but then the Aggies went and scheduled
a home-and-home with Clemson
those same years. Now personally, I would have loved to have seen the Aggies and the Ducks and all the points that would have ensued. But who knows where those two programs will be in four years? All I know is that there are some enticing non-conference matchups on the slate for 2019. Check these games out:
Texas A&M at Clemson
Notre Dame at Georgia
LSU at Texas
Kansas State at Mississippi State
Michigan at Arkansas
Even that last game could be intriguing assuming Michigan has hired a new coach and that Bret Bielema has the Razorbacks among the SEC contenders by then. And they haven't yet, but you can go ahead and count on both Alabama and Auburn scheduling a quality non-conference that year.
3. I've done a couple stories this season on SEC players showing support for cancer patients, so naturally it caught my attention when I saw
a similar piece
on Patrick Towles. The Kentucky quarterback has lent support to high school freshman Brady Walz, the nephew of Louisville women's basketball coach Jeff Walz, and even invited him to attend the Wildcats' win over Vanderbilt last month. No, it's not the Iron Bowl, but the Kentucky-Louisville can get pretty heated in the Bluegrass State. This seems to be a growing trend in college football, and there are probably more stories like this that never get told. Kudos to you Mr. Towles. Kentucky hosts No. 1 Mississippi State on Saturday.
Tweet of the day
Astronaut Butch Wilmore is a big SEC fan and spoke with @finebaum this afternoon. Convo on SEC Nation Saturday. pic.twitter.com/KLOECflLTR

— Brett Austin (@KBrettAustin) October 23, 2014
Intriguing SEC bowl games
SEC SCOREBOARD
Saturday, 12/20
Monday, 12/22
Tuesday, 12/23
Wednesday, 12/24
Friday, 12/26
Saturday, 12/27
Monday, 12/29
Tuesday, 12/30
Wednesday, 12/31
Thursday, 1/1
Friday, 1/2
Saturday, 1/3
Sunday, 1/4
Monday, 1/12