October, 17, 2013
Oct 17
2:00
PM ET
Taking a look back at the week that was in SEC recruiting and looking ahead to future visits as teams build toward signing day:
Aggies could make big splash Saturday
To continue reading this article you must be an Insider
October, 17, 2013
Oct 17
1:00
PM ET
John Chavis knows what a championship defense looks like.
He's coached a few in his two decades as a defensive coordinator in the SEC, both at LSU and Tennessee.
[+] Enlarge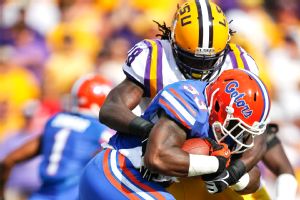 Derick E. Hingle/USA TODAY SportsAfter a shaky stretch, Lamin Barrow and the LSU defense haven't given up a touchdown in six quarters.
He'd be the first to tell you that the defense LSU put on the field to start this season wasn't championship caliber, which wasn't all that surprising considering the amount of talent (six starters) the Tigers lost last season to the NFL draft.
Chavis knew back in the offseason that it was going to be a work in progress with this group, and that some choppy waters were ahead. But seeing his defense shredded the way it was for eight quarters starting with the second half of the Auburn game, extending through the entire Georgia fiasco and then the first half of the Mississippi State game, was nauseating.
"It was difficult, but I always say, 'We're going to live in our hopes, not our fears," Chavis said.
Those hopes have been rekindled thanks to the promise the No. 6 Tigers have shown defensively in their last six quarters of play. And just like that -- with some youngsters growing up in the secondary, some depth developing up front and Chavis making a few tweaks with his combinations -- LSU heads to Ole Miss on Saturday riding the kind of defensive momentum that has been a staple of this program since Chavis took over the defensive reins in 2009.
"But we can't think that we've arrived," Chavis said.
He's been around this league long enough to know that it can change in a flash.
He's also been around long enough to know that playing rock-solid defense and winning championships go hand-in-hand.
Granted, this hasn't been your typical year in the SEC with so many veteran quarterbacks playing at a high level and 10 of the 14 teams in the league averaging more than 30 points per game.
But somewhere along the way, it always gets down to making key stops at key moments.
The Tigers look a lot more equipped to do that on a consistent basis as they plunge into the second half of the season. They're coming off their most complete defensive performance of the season in a 17-6 win over Florida and have now gone six straight quarters without allowing a touchdown.
"I feel like the intensity level now is something that it hasn't been all season, and all 11 guys are on the same page," junior defensive tackle
Ego Ferguson
said. "When we're there, it's a special unit."
The 44-41 loss to Georgia was undoubtedly the low point. The Bulldogs had receivers running free all game, and the Tigers just looked out of sorts defensively. They then went out the next week and gave up 23 points in the first half to Mississippi State.
"We just weren't playing to our potential," Ferguson said.
They also weren't playing as many players, particularly up front. So Chavis made it a point to beef up the rotation in the defensive line, and also made some changes in the secondary.
Sophomore
Jalen Mills
has moved to the nickel position, which has given the Tigers more flexibility on passing downs. True freshmen
Tre'Davious White
and
Rashard Robinson
are now the two cornerbacks outside when Mills moves inside to the nickel, and sophomore
Corey Thompson
has started at safety the last two games.
Chavis said following the win over Florida that it was the best the Tigers had played at safety all season, and getting back a healthy
Craig Loston
was also a big part of that.
Robinson probably would have played even more earlier in the season had he not missed preseason camp while waiting to be cleared academically. He has the skill set to be the next great LSU cornerback.
And LSU coach Les Miles really likes what he sees athletically from this defense.
"I think our defense has always been a confident unit," Miles said. "They just needed to get some things in place. This will be a team that athletically will eventually be one of the more talented defenses that we've had."
Chavis, whose raw emotion is one of the things that endears him to his players, didn't hold back last week when challenging them to get back to playing LSU football.
This is a team that had finished in the top 12 nationally in total defense and scoring defense each of the last three seasons but gave up 962 yards and 70 points in that two-week stretch leading up to the Florida game.
"Guys are really playing with the attitude and swagger that's been played here in past years," Collins said. "Guys are really stepping up and playing their role. We always preach that we haven't played our best game yet."
Judging from the way the Tigers have played on defense the last six quarters, they might be just getting started.
October, 17, 2013
Oct 17
12:00
PM ET
The government shutdown is over. Now we can get back to the business of helping government workers on their lunch hours.
October, 17, 2013
Oct 17
10:15
AM ET
Here are 10 things to watch in the SEC this week:
[+] Enlarge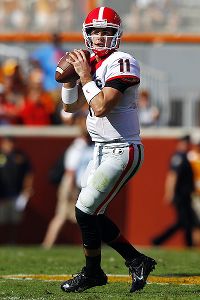 AP Photo/Wade PayneAaron Murray is on the verge of breaking several SEC career records, but also needs to help keep Georgia in the SEC East race.
1. Missouri offense vs. Florida defense:
Missouri earned its biggest victory in its year-plus in the SEC last weekend when it beat Georgia. The Tigers' challenging October schedule continues this week when No. 22 Florida brings its fearsome defense to Columbia, and the Tigers must face those Gators without starting quarterback
James Franklin
, who separated his shoulder against Georgia. Freshman
Maty Mauk
did a fine job against Georgia's subpar defense, but he will face few stiffer challenges than what he'll face Saturday against a Florida defense that is allowing just 235.3 yards per game. Mizzou is third in the SEC in total offense with an average of 515.7 yards per game, so the many talented skill players at Mauk's disposal will have to give the new starter a hand on Saturday.
2. Record watch in Nashville:
In Saturday's Georgia-Vanderbilt game, a handful of SEC career records could fall. With 112 career touchdown passes, Georgia quarterback
Aaron Murray
is just two behind Danny Wuerffel's SEC career record. And with 12,203 career yards of total offense, Murray needs 29 yards to match Tim Tebow's SEC mark. On the other sideline, Vandy's
Jordan Matthews
needs 97 receiving yards to match Terrence Edwards' SEC career record of 3,093 yards. Matthews had 119 receiving yards against the Bulldogs last season.
3. Gators running game:
With the news this week that running back
Matt Jones
became the seventh Florida player to suffer a season-ending injury, the Gators' running game is now largely in the hands of
Mack Brown
and freshman
Kelvin Taylor
. Brown has been solid enough thus far, rushing for a team-high 340 yards. But Taylor is the guy many Gators fans are excited about. The son of UF great Fred Taylor, Kelvin Taylor has rushed 16 times for 98 yards (6.1 per carry), including 10 carries for 52 yards in last week's slugfest against LSU. Missouri's run defense ranks third in the SEC at 126.2 YPG, but Georgia freshmen
J.J. Green
and
Brendan Douglas
ran for 157 yards and averaged 6 yards per carry against the Tigers' last week. The Gators probably need Brown and Taylor to be similarly productive in order to hang with the Tigers' prolific offense.
4. Marshall back for Auburn:
After sitting out last week's blowout win against Western Carolina with a knee injury, Auburn quarterback
Nick Marshall
returns to the lineup this week against Texas A&M. Marshall rushed for 140 yards -- the most by an SEC quarterback this season -- in his last game, the Tigers' 30-22 win on Oct. 5 against then-No. 24 Ole Miss. He led the resurgent Tigers to a 4-1 record before taking a seat last week while true freshman
Jeremy Johnson
played for the first time -- and won SEC Freshman of the Week honors -- against the overmatched Catamounts.
5. Can Georgia recover?
With half a dozen starters sidelined last week against Missouri, Georgia lost its first home game since September 2011. Now the Bulldogs limp to Vanderbilt, where they have struggled in two of their last three visits before earning narrow wins. UGA hopes to reach next week's open date with its SEC East hopes still intact. All-SEC tailback
Todd Gurley
likely still won't play this week, so the Bulldogs' offense must hope Murray, freshman tailbacks Green and Douglas and their crew of replacement wideouts can generate enough offense to outscore the slumping Commodores.
6. Vols back from open date:
The last time we saw Tennessee, it came within an eyelash of upsetting then-No. 6 Georgia in overtime. First-year coach Butch Jones' team took last weekend off and now has another enormous test on its hands: a visit from No. 11 South Carolina, which finally seems to be hitting its stride after some early struggles. Volunteers fans are optimistic about the new coaching staff, but their team hasn't beaten a ranked opponent in its last 19 tries. Their next four opponents are all ranked in this week's AP Top 25.
[+] Enlarge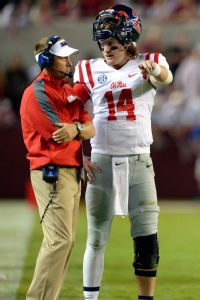 John David Mercer/USA TODAY SportsHugh Freeze and Bo Wallace will try to snap Ole Miss' losing streak against LSU this weekend.
7. Can Hogs "snap out of it?"
Arkansas coach Bret Bielema said this week that he doesn't want his players to be a bunch of "Debbie Downers" after Saturday's 52-7 loss to South Carolina. That was the Razorbacks' fourth straight loss, the most lopsided loss of Bielema's coaching career and matching his worst defeat as a head coach. Unfortunately for Arkansas, it visits No. 1 Alabama on Saturday, where it will be a four-touchdown underdog. It could be a long second half of the season for the Razorbacks.
8. Maintaining historic run:
The SEC set a record when Auburn jumped into this week's AP Top 25, giving the conference eight ranked teams. But that historic total might be short-lived. At No. 24, Auburn will likely drop out if it loses on Saturday at No. 7 Texas A&M. No. 15 Georgia and No. 22 Florida also can't afford a loss if they want to remain in the poll next week.
9. Repeat performance for Aggies?
Johnny Manziel
and the Texas A&M offense gained 671 total yards, the most ever allowed by an Auburn defense, in last season's 63-21 win against the Tigers. Those 63 points also represented the third-most points ever scored against the Tigers. If that wasn't the last straw for then-coach Gene Chizik and his staff, it was awfully close. New coach Gus Malzahn has instilled new optimism on the Plains. The Tigers are a ranked team for the first time since November 2011, but the Aggies are still a two-touchdown favorite.
10. Rebs on the ropes:
Ole Miss was one of the feel-good stories of the season just a few weeks ago, with the Rebels' Sept. 14 win helping them jump to No. 21 in the polls. But entering Saturday's home game against LSU, Hugh Freeze's club has lost three straight games: a shutout loss to top-ranked Alabama followed by narrow losses to Auburn and Texas A&M. LSU has won nine of the last 11 against the Rebels, although three of the last four have been decided by a touchdown or less. Keep your eyes on Oxford on Saturday night. This game often has a way of remaining surprisingly competitive.
October, 17, 2013
Oct 17
9:00
AM ET
Les Miles wasn't real thrilled with the analogy last week, but I sort of liked it.
You know, the hammer-and-nail analogy that set Miles off on one of those tirades that makes the Mad Hatter, well, the Mad Hatter.
I won't go there this week as we look ahead to our SEC picks, but I do believe that my young (and sharply dressed) colleague, Edward Aschoff, would agree that I'm the hammer right now and he's the nail.
It's not a matter of "if" I'm going to pass him but "when."
He's still one game ahead of me, but waffles a little more each week on his picks. We both went 6-1 last week. He missed South Carolina's 52-7 win over Arkansas, and I missed Missouri's 41-26 win over Georgia.
For the season, Edward is 59-6 (.908), and I'm 58-7 (.892).
The second half of the season is where you make your money in the picks business, and I plan on hammering away these next few weeks.
Here are our picks for Week 8:


ARKANSAS at ALABAMA
Chris Low:
This stretch of games looked ominous enough for Arkansas back in September. It looks even worse now with Saturday's trip to Alabama looming on the heels of four straight losses. The Crimson Tide are starting to hit their stride defensively, which means simply getting into the end zone might be a chore for the Hogs. …
Alabama 41, Arkansas 6
Edward Aschoff:
Last year, the Crimson Tide walked into Fayetteville and blanked the Hogs 52-0. With how well Alabama is playing and how much the Razorbacks are struggling, you could see a similar result in Tuscaloosa on Saturday. …
Alabama 45, Arkansas 7


GEORGIA at VANDERBILT
Low:
The Dawgs are preparing to play without
Todd Gurley
for the third straight week, and boy, do they need him. They also need the defense to hold Vandy under 30 points. It won't be easy, but they'll climb on
Aaron Murray
's shoulders (again) and head into the bye week with a very important win. …
Georgia 35, Vanderbilt 28
Aschoff:
Let's hope there aren't any unnecessary shouting matches between coaches this time. Both of these teams are limping into this matchup, and if Georgia wants a shot at making it back to Atlanta, the Dawgs have to win this one. With Aaron Murray at the helm, Georgia pulls this one out. ...
Georgia 34, Vanderbilt 24


SOUTH CAROLINA at TENNESSEE
Low:
The Gamecocks hadn't been able to finish anybody until last week when they clobbered Arkansas on the road. They go back on the road this week and are playing as well as they ever have offensively under Steve Spurrier. The Vols won't be able to score enough points to keep up in this game. …
South Carolina 34, Tennessee 21
Aschoff:
And just like that, South Carolina is a real contender in the SEC East again. Tennessee should have some sort of momentum to feed off of after a close loss to Georgia, but the Gamecocks just have too much talent on both sides of the ball. ...
South Carolina 34, Tennessee 20


AUBURN at TEXAS A&M
Low:
The good news for the Aggies is that they have
Johnny Manziel
, who's pretty much been unstoppable. The bad news is that the Aggies haven't been able to stop anybody on defense. But they'll find a way to win another shootout, this one at home against the Tigers. …
Texas A&M 42, Auburn 30
Aschoff:
Expect a lot of points down in College Station when these two get together. Manziel continues to be the country's best and most exciting player, but Auburn has become a really fun team to watch. I'm not sure this Auburn team has the horses to keep up with Johnny Football at Kyle Field. ...
Texas A&M 45, Auburn 31


LSU at OLE MISS
Low:
The Rebels are hurting physically and emotionally after a bitter, last-second loss to Texas A&M at home last week. Now, they have to face an LSU offense that's equally explosive, and the Tigers are playing as well as anybody right now in the SEC. …
LSU 38, Ole Miss 28
Aschoff:
The Rebels have now lost three straight and LSU is coming off a solid defensive performance. These games are always close, so expect some wackiness. Ole Miss needed to get a win during this treacherous stretch, but LSU is playing too well right now and
Jeremy Hill
will have a field day in the Grove. ...
LSU 38, Ole Miss 30


FLORIDA at MISSOURI
Low:
Losing starting quarterback
James Franklin
last week was a tough blow for Missouri, but the Tigers are confident that
Maty Mauk
can step in and keep them in the East race. Florida's defense is no picnic, but the Gators have also been decimated by injuries. They just haven't shown enough offensively to win a game like this on the road. …
Missouri 24, Florida 17
Aschoff:
These Tigers have one of the hottest offenses in the country, while Florida's offense sputtered at LSU last week. However, Mizzou has been bitten by the injury bug making its rounds in the SEC East, with Franklin out. Florida still owns the SEC's best defense, and the Gators will find a way to make Mauk uncomfortable and force much-needed turnovers to help the offense. ...
Florida 21, Missouri 17
October, 17, 2013
Oct 17
8:00
AM ET
There are no shortage of athletes on LSU's defense, but the Tigers hadn't been able to stop anybody of late. They allowed more than 20 points in each of their first three SEC games which included a 44-41 loss to Georgia just three weeks ago.
Still, Les Miles remained confident in his defense, and they responded this past weekend against Florida. They held the Gators to just 240 total yards and six points.
"I think our defense is improving," Miles said. "I think they're working at it every day. I think they're realizing that they need to take care of their responsibilities, and they got 10 other guys beside them that can really play. That's how defense has always been played best.

"I think last week allowed them that opportunity to go to the field, do the things we've asked them to do and have success."
The LSU defense will face a much more difficult challenge this weekend when they visit Ole Miss for an SEC West showdown.
Last year, LSU barely escaped against Ole Miss, winning 41-35 in the final seconds, but the Rebels still racked up 463 yards of offense. Quarterback
Bo Wallace
threw for 310 yards and two touchdowns while also rushing for 54 yards and two scores. It will be up to this Tiger defense to contain Wallace and prove that last week wasn't a fluke.
What LSU needs to do to win:
If the first half of the season is any indication, LSU should have no trouble putting points on the board. They were slowed down last weekend against a stingy Florida defense, but
Zach Mettenberger
is still playing at a high level. When he has weapons around him like
Jeremy Hill
,
Jarvis Landry
and
Odell Beckham
, it's a safe bet that they bounce back on Saturday. However, LSU's 'improved' defense still has to stop Ole Miss. If it turns into another shootout like last year, it could come down to who has the ball last.
Players to watch
FB J.C. Copeland:
It's no secret why Hill is averaging 9.2 yards per carry on runs inside the tackles, the highest by any SEC running back this season. He's running behind Copeland, the league's top fullback. Against Florida, Copeland finished with a season-high five carries for 20 yards and scored his third touchdown of the year.
DE Jordan Allen:
Both Alabama and Auburn showed that if you get pressure on Wallace, he can get rattled. The only problem is LSU hasn't been able to generate much of a pass rush this season. They lost top defensive ends Sam Montgomery and Barkevious Mingo, and Allen hasn't stepped up like they thought. This would be an ideal time for a breakout game.
Quotable
"We go into Tiger Stadium and have never been disappointed, period. It's as live a venue as there is, and we're happy about it. But it did appear that some of our faithful stayed out of the heat and kind of stayed in the air-conditioning at the beginning of the game." -- Les Miles on the attendance at the Florida game
October, 17, 2013
Oct 17
5:30
AM ET
The Early Offer is RecruitingNation's regular feature, giving you a daily dose of recruiting in the mornings. Today's offerings: Oregon State coach Mike Riley launched a new Twitter campaign on Tuesday to help the Beavers connect with recruits across the country; LSU's
Frank Wilson
didn't make the first edition of the ESPN recruiting power rankings, but he could be leading the poll by signing day; and a question and answer session on Wednesday helped identify what topics are most important with recruiting fans today.
#SmartRecruitingTool
Oregon State coach Mike Riley has more than 18,900 followers and is great communicating with fans on Twitter. So it was no surprise to see him launch a campaign Tuesday called "Tweet Film Tuesday" where he asked recruits to send him links to their film, and he and his staffers will then select 10 recruits to evaluate each week. With only 140 characters to work with, Riley didn't explain how he and his assistants would pick the 10 recruits to evaluate, but the idea is ingenious. Not only does it help Riley and the Beaver coaches communicate with prospects in a way they're already familiar with, it also allows the OSU coaches to find prospects they might not have been familiar with who are truly interested in the program. Also with Riley's track record of uncovering hidden talent, you can all but guarantee there will be a story a few years down the road where the Beavers found a sleeper through this approach.
To continue reading this article you must be an Insider
October, 16, 2013
Oct 16
5:42
PM ET
ESPN.com news services
[+] Enlarge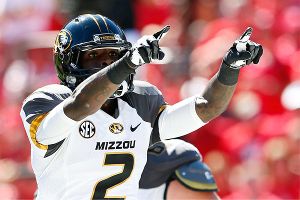 Kevin C. Cox/Getty ImagesL'Damian Washington and the Tigers have taken the SEC East by storm this season. South Carolina coach Steve Spurrier said he had no doubt Missouri has its "sights on playing for the championship in Atlanta."
BATON ROUGE, La. -- Halfway through the 2013 season, sophomores Texas A&M and Missouri have just one loss between them, proving that bigger does mean better in the competitive Southeastern Conference.
When the Aggies and Tigers began SEC play a season ago, few doubted the addition of the two schools would bring more television viewers to the league's games from Texas and Midwest. Still, there were questions about whether adding a pair of Big 12 teams would dilute the quality on the field in the mighty SEC, winner of seven straight football national titles.
"It made our league better," Alabama coach Nick Saban said.
Added Florida coach Will Muschamp, the former defensive coordinator at Texas: "It doesn't shock me at all."
October, 16, 2013
Oct 16
2:00
PM ET
By
RecruitingNation
| ESPN.com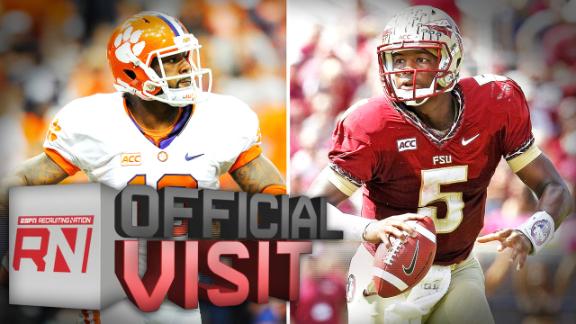 Each Wednesday, ESPN RecruitingNation updates its national class rankings and its conference rankings.
The top class in the SEC is also the top class in the nation. Alabama leads a conference where 13 of the 14 members have classes ranked in the top 40 nationally. Tennessee, which recently added a verbal from in-state ESPN 300 DE
Derek Barnett
, joins Georgia in the top five of the national rankings. Those two are second and third in the SEC. As a conference, the SEC has more than 80 ESPN 300 prospects committed to its member programs.

1. Alabama, 21 commits:
The Crimson Tide sit atop the RecruitingNation class rankings with a class that features 15 ESPN 300 prospects, including most recent commitment
Ronnie Clark
(Calera, Ala./Calera), the No. 96 overall prospect. Alabama remains in the hunt for several five-star prospects, including No. 1 overall
Leonard Fournette
(New Orleans/Saint Augustine) and No. 9
Marlon Humphrey
(Hoover, Ala./Hoover).
To continue reading this article you must be an Insider
October, 16, 2013
Oct 16
12:00
PM ET
No, I'm not going to stand up here and scream, "Hump Day!" like that lazy camel. Instead, I'll simply point out that since it is Wednesday we're only some 24 merciful hours away from a quality college football game between No. 10 Miami and North Carolina. And I think we can all agree that watching football is much more enjoyable than watching an animal sell us insurance.
October, 15, 2013
Oct 15
8:13
PM ET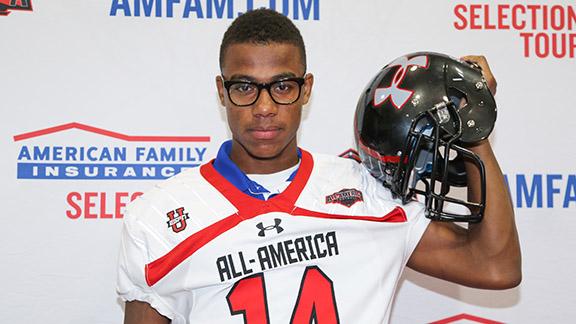 Senior wide receiver
Malachi Dupre
(River Ridge, La./John Curtis) was presented his honorary game jersey during the American Family Insurance Selection Tour for the 2014 Under Armour All-America High School Football Game at John Curtis Christian High School in River Ridge, La. Tuesday. The event was part of the three-month selection tour for the Under Armour All-America Game.
Dupre, a three-sport star at John Curtis, is one of 90 players selected to compete in the seventh annual Under Armour All-America Game, a nationally televised all-star game spotlighting the country's top high school seniors. The 2014 Under Armour All-America Game is set for 4 p.m. ET Jan. 2 at Tropicana Field in St. Petersburg, Fla., and will be televised on ESPN.
"I want to thank all of y'all for supporting me today," Dupre said. "Just thank you Under Armour for the opportunity to play in this game. I know there are so many high school players in the country that work hard, but being selected to play in this game is a huge honor and I'm appreciative for it. I'm blessed, and thank you Coach J.T. [Curtis] for teaching me so many life lessons and things."
For Dupre, the road to be an Under Armour all-star selection wasn't an easy one.
"It's wasn't the best road…I wasn't the best player in football, basketball or track," Dupre said. "I always could jump, I always was pretty fast and athletic, but I never had skills. I probably started developing skills my freshman or sophomore year. I know a lot of it is God just blessed with me the talents because I just grew so much."
The nation's top-ranked wide receiver is looking forward to measuring himself against the best prospects in his class in Lake Buena Vista, Fla.
"I'm ready to compete and have fun with the guys during game week," Dupre said. "The Under Armour All-American game is going to be the measuring stick for everyone going to play college football next year, because we're the best guys in the country right now."
Along with being the top wide receiver, the 6-foot-3, 187-pound Dupre is the No. 26 ranked prospect overall. He is considering LSU, UCLA, Alabama, Florida State, and others.
October, 15, 2013
Oct 15
8:00
PM ET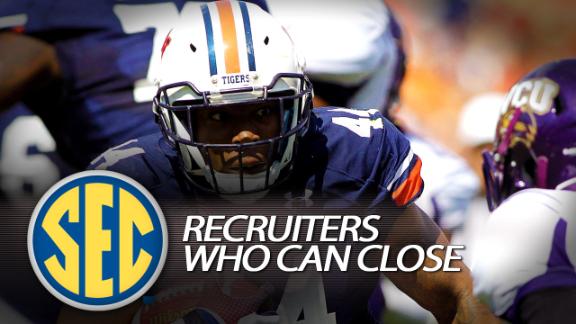 Editor's note: For a look at the national recruiter power rankings based only on Class of 2014 success,
click here
.
It's no secret that Southeastern Conference has been the top conference in the country as far as recruiting over the last several years. The league currently has six teams ranked in the top 11 of the team recruiting rankings. Here's a look at the top 10 recruiters around the ultra-competitive conference.
To continue reading this article you must be an Insider
October, 15, 2013
Oct 15
12:00
PM ET
The artist
renderings and graphics
of what the "Battle at Bristol" between Virginia Tech and Tennessee will look like are spectacular. The idea of hosting the largest crowd in the history of college football is definitely something to get excited about.
But the view? Maybe not so much. As a reporter, I've avoided buying binoculars for years. Those who know me would say "frugal" is too kind of a descriptor for my thriftiness. But if I covered that game, I might have to finally give in and purchase a pair to see the field.
October, 15, 2013
Oct 15
11:30
AM ET
After a wild, injury-plagued first half of the season for the SEC Eastern Division, we here at the SEC blog are sending out good vibes and well-wishes to all of the remaining players.
The East looks more like a medical ward these days. However, no one will feel sorry for these teams as they attempt to limp into Atlanta for the SEC championship game in December.
[+] Enlarge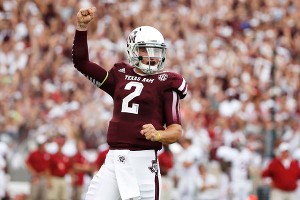 Scott Halleran/Getty ImagesCan Johnny Manziel lead the Aggies past LSU and win another Heisman Trophy?
What a race it will be. Florida, Georgia and South Carolina all sit with one conference loss, while Missouri is undefeated. For now, Florida and Missouri control their own destinies; they face each other this weekend in Columbia, Mo. The winner takes hold of the SEC East but certainly doesn't lock it up, as both still have to play South Carolina. Florida also has Georgia remaining.
Here's to a photo finish in the SEC East!
As for the West, three teams are still vying for that spot in Atlanta. Alabama remains the nation's top team, but LSU and Texas A&M are creeping up. The Crimson Tide control their own destiny, and their showdown with LSU on Nov. 9 will serve as one last major hurdle before they travel to Auburn for the regular-season finale.
LSU plays host to A&M in a game that could decide the West if the Tigers upset Alabama in Tuscaloosa.
We'll also be on bowl watch. It might be safe to say that the eight SEC teams currently sitting inside the AP poll will make bowls, but there are still teams teetering on the edge.
Vanderbilt has made back-to-back bowl games, but with an 0-3 SEC start the Commodores are in danger of missing out on the postseason for the first time under
James Franklin
.
Arkansas, Mississippi State, Ole Miss and Tennessee all have three wins right now, but challenging second halves could spoil postseason trips for all four.
Bold prediction:
South Carolina will win the SEC East. That means the Gamecocks will need Georgia to lose at least one more conference game, while they win out. It can, and will, happen. Missouri and Florida pose threats, but South Carolina gets Florida at home and Mizzou is down its starting quarterback.
Looking forward to:
The East race is going to be great, but what about the Heisman race? Quarterbacks
Johnny Manziel
,
AJ McCarron
,
Aaron Murray
and even
Zach Mettenberger
could find themselves deep in the running as the season goes on. McCarron is the only one with less than 1,800 passing yards (1,407), but he's also on the No. 1 team in the country.
Top five games:


1. LSU at Alabama, Nov. 9:
This continues to be college football's best rivalry. Two sledgehammers will meet in a game that could decide who represents the West in the SEC championship and could basically serve as a quarterfinal for the national championship. Les Miles versus Nick Saban? Yes, please!
2. Texas A&M at LSU, Nov. 23:
If the Tigers do beat Alabama earlier in the month and the Aggies continue their winning ways, then consider this the new semifinal for the SEC championship game. Two great offenses could light up the scoreboard inside Tiger Stadium.
3. Florida vs. Georgia (in Jacksonville, Fla.), Nov. 2:
Even with all the craziness in the SEC East, this game could still decide the East champion. No matter how either team is playing, this game is always exciting, and something crazy always seems to happen.
4. Florida at South Carolina, Nov. 16:
Another game that could decide the East. South Carolina is probably still steaming after its turnover-filled slopfest inside the Swamp last year. Now the Gamecocks get a wounded Florida team at home.
5. Alabama at Auburn, Nov. 30:
This game could be very interesting on the Plains. Auburn is a team on the rise, while Alabama hasn't been perfect. The Tide's defense is getting better, but expect an amazing atmosphere and a few tricks up Gus Malzahn's sleeves.
Zach Mettenberger's NFL Draft Stock