April, 7, 2014
Apr 7
12:00
PM ET
April, 7, 2014
Apr 7
11:00
AM ET
BATON ROUGE, La. -- You know what early enrollees typically do when they play in their first spring game? They stink up the joint -- and understandably so.
By all rights, they should still be in high school, making prom plans or figuring out where to go for spring break. They've had only a couple of months to digest a complex college playbook, and they're competing against more seasoned, more physically mature athletes.
[+] Enlarge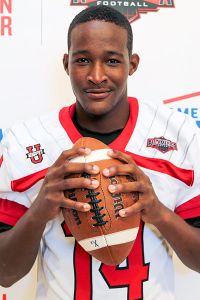 Courtesy of IntersportEarly enrollees aren't supposed to make an impact in spring ball, but QB Brandon Harris did just that in the spring game.
But not only did
Brandon Harris
not stink up the joint in LSU's spring game on Saturday, he was arguably the star of the show with three touchdown passes and 195 passing yards. He also flashed impressive escapability when the pocket collapsed, rushing six times for 76 yards and another score.
It was an eye-opening performance, but let's pump our breaks before declaring the Tigers' quarterback race over -- even if
Anthony Jennings
followed an underwhelming performance in the Outback Bowl by going 9-for-17 for 157 yards and tossing interceptions that linebackers
Deion Jones
and
Kwon Alexander
returned for touchdowns.
Let's be clear: if LSU had been playing Alabama -- which seems to be the measuring stick for anything around this program these days -- the performances by either Jennings or Harris would have probably led to an LSU loss.
"There needs to be improvement at the position for both guys," LSU coach Les Miles confirmed afterward.
Obviously the pair of pick-sixes determined the day's narrative for Jennings, but Harris had plenty of misfires himself. He displayed a phenomenal skillset and made some remarkable plays, without question, but he simply must reduce the mistakes before he can fulfill his obviously sky-high potential.
Case in point: in the second quarter, Harris overthrew a wide-open
DeSean Smith
-- wide open as in there was nobody within 10 yards of the big tight end -- and then floated an ugly throw over fullback
Connor Neighbors
' head on his next pass attempt. Later, he made a debatable decision to throw into double coverage in the end zone, with the pass luckily falling incomplete.
"I really think he made, I don't know, four, five, six major errors in the scrimmage and yet had the ability to get beyond it, which always is a tremendous mark," Miles said of Harris, whom LSU has not made available to speak to the media. "And if we can eliminate the mistakes and really play to the advantages, that's what we're looking to do."
If there was anything positive that Jennings could take away from the day, it's that he at least finished with a flourish. In the first two quarters, Jennings presided over seven drives -- the longest of which covered 31 yards -- with those seven possessions ending in five punts and the two interception returns for touchdowns.
He wrapped up his day with an efficient 73-yard touchdown drive in the third quarter, concluding the possession with a 13-yard scoring pass to
Travin Dural
.
"If you throw an interception and you don't come right back, you're not a good quarterback," Jennings said afterward. "So every quarterback goes through adversity. It's how you respond, it's not how you fall."
He seemed to take a nasty fall on Saturday, but Jennings now has plenty of time to respond. The good news for the Tigers is that they don't play Alabama for seven months. In fact, they don't play anybody until the Aug. 30 kickoff against Wisconsin. That's nearly five months for both quarterbacks to keep developing a rapport with their receiving corps and battling for the right to take the first snap against the Badgers.
Asked about the message he will send the quarterbacks going into summer workouts, Miles' message was simple: "Compete. That's it." This after saying in his press conference that the coaches plan to "let the competition continue and see how this thing plays out" this summer.
Competition was also the theme of this spring, and it was apparently a productive period for both players, of whom Miles reiterated after Saturday's game that "I think both guys are talented enough to be our quarterback."
The talent was apparent, particularly when Harris was throwing darts and sprinting away from defenders for big gains. But will LSU's coaches be able to harness that talent quickly enough to beat opponents like Wisconsin, Auburn, Florida, Mississippi State and, of course, the mighty Crimson Tide?
That is going to be the deciding factor in LSU's 2014 season. With what should be an improved defense and with
Leonard Fournette
,
Terrence Magee
and
Kenny Hilliard
in the backfield, the Tigers should be able to pound most of their opponents into submission. But against the nastiest teams on the schedule, they need to be able to at least make opposing defenses respect the pass -- and not make any catastrophic errors when they do choose to put the ball in the air.
Both quarterbacks made some potentially catastrophic throws on Saturday, and that's OK for now. Jennings and Harris need to make great strides in this summer's passing sessions, however, or it will be 2015 at the earliest before the Tigers again rank among the top contenders for a national championship.
LSU SPRING AWARDS
Here is the full list of spring practice awards that LSU coach Les Miles presented after Saturday's spring game:
Jimmy Taylor Award (Comprehensive spring award for outstanding leadership, effort and performance):
D.J. Welter
Ralph Norwood Performance Award (Outstanding performance in spring drills, offense):
Kenny Hilliard
,
La'el Collins
,
Elliott Porter
,
Jerald Hawkins
Toby Caston Performance Award (Outstanding performance in spring drills, defense):
Deion Jones
,
Tre'Davious White
,
Rashard Robinson
,
Danielle Hunter
,
D.J. Welter
,
Kwon Alexander
Eric Andolsek Leadership Award (Outstanding leadership in spring drills, offense):
La'el Collins
,
Connor Neighbors
,
Kenny Hilliard
,
Terrence Magee
,
Jerald Hawkins
Mike Miley Leadership Award (Outstanding leadership in spring drills, defense):
Danielle Hunter
,
Christian LaCouture
,
D.J. Welter
,
Jalen Mills
,
Ronald Martin
Alvin Roy Fourth Quarter Award (Outstanding performance in LSU offseason program):
Danielle Hunter
,
Duke Riley
,
K.J. Malone
,
Ethan Pocic
,
Travin Dural
,
Christian LaCouture
,
Lewis Neal
,
Tre'Davious White
,
Tre' Sullivan
,
Terrence Magee
,
Luke Boyd
,
Jeff Lang
Most Improved Award:
Ronald Martin
,
Lewis Neal
,
Quentin Thomas
,
Dillon Gordon
,
Dwayne Thomas
,
Fehoko Fanaika
,
K.J. Malone
,
DeSean Smith
,
Anthony Jennings
,
Tashawn Bower
Jerry Stovall Special Teams Award:
Colby Delahoussaye
,
Reid Ferguson
,
Tre'Davious White
Newcomer Award:
Brandon Harris
,
Ed Paris
Overcoming Adversity Award:
Dwayne Thomas
,
Quantavius Leslie
,
Lamar Louis
Coaches Award:
Devante Meullion
,
John David Moore
,
Chris LaBorde
,
Tommy LeBeau
,
Tre' Sullivan
,
Brad Kragthorpe
,
Alex Cheramie
April, 7, 2014
Apr 7
10:00
AM ET
BATON ROUGE, La. – This was a spring of transition for
LSU
offensive coordinator Cam Cameron, with inexperienced players sliding into leading roles at most of the skill-position spots.
That might cause the Tigers to utilize some positions -- like tight end -- differently than they did a season ago, as LSU will certainly carry more question marks into preseason practice than it did last year with a senior quarterback and veteran stars at tailback and receiver.
[+] Enlarge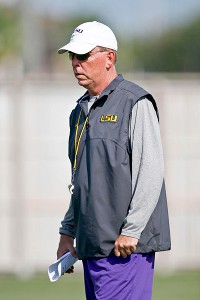 Derick E. Hingle/USA TODAY SportsLSU's Cam Cameron isn't quite ready to name a starting quarterback.
Cameron discussed that possibility and a variety of other subjects with reporters after Saturday's spring game. Here is some of what he had to say:
Q: How important will it be that you work the ball to the fullbacks and tight ends in the passing game this season?
A:
It's critical. We want every guy on our offense involved in both phases of our game, run and pass. And at any point in time, if a defense knows you're not going to throw the ball to a guy, then I think you make it tough on yourself. But
Connor Neighbors
is as good a receiving fullback as I've been around.
Melvin Jones
is going to be outstanding. All our tight ends, I just mentioned all of them, even
J.D. Moore
came in and made a big play at the end, so we've got great depth at tight end, we've got two really outstanding fullbacks and we're going to need them this season.
Q: How much did you have to tinker with the scheme to work the ball to the tight ends?
A:
Our system is what it is. It's a route tree that allows tight ends to do what they do best. We didn't feature it last year for obvious reasons, knowing the talent at outside, and then we would move
Jarvis [Landry]
and
Odell [Beckham]
down inside almost in a tight end-type role. But this year is different. Every year with different personnel creates a whole new set of opportunities and I think the opportunities for our tight ends are going to be critical. I was thrilled -- for the most part I thought they made the most of it.
Q: How much will the group of signees arriving this summer cause you to re-evaluate how you use the different positions?
A:
You're always evaluating. But I think everyone knows this: we bring young players here to play. It's Les [Miles'] philosophy. No one plays more young players than we do to my knowledge. But the key thing is, they know, we expect them to come in and play a major role. Not just play. Not just letter. They need to take a major role and make big plays in big games and this is a freshman class that I know our current players are looking forward to playing with. And at the same time, it's a group that's looking forward to coming in here and playing big roles in big games.
Q: How did Rob Bolden make the transition from quarterback to receiver this spring?
A:
Rob is 6-5, he looks the part. He's spatially starting to get a feel for how to play out in space. Was really pleased. First thing he said to me coming through the tunnel was, 'Gosh, I should have made a couple of those plays,' and we know that. But I think I'm confident he'll make those plays.
Q: How much of Brandon Harris' feel for the pocket and his decisions to tuck it and run were natural and how much was by design?
A:
You mean total panic, scramble and run? [Laughs] The only reason I'm saying that is we tease Brandon about that. He may not be doing it for reasons you think he is. But again, I think mobility is something that we like in a quarterback. We know what to do, we think, with a quarterback that doesn't have mobility and I think there's certain things that you try to allow QBs to do when they have it, and he and
Anthony [Jennings]
and even
Hayden [Rettig]
-- you saw Hayden's an athlete -- all our guys are pretty athletic and mobility's going to be a big thing for us this season.
Q: How different are those two quarterbacks from where they were when you started at the first of March?
A:
That's a good question. They're better. They should be better. They'll continue to get better. I would think that all our quarterbacks, until the day they leave, will be continuing to improve and will be ascending players after they leave here. That would be our goal. So every snap these guys get in practice or in a scrimmage or in a game, if they can stay healthy, they should get better -- especially when you're 18, 19 years old.
Q: As you get ready to send them into the summer, what's the message you're sending them over what to work on?
A:
You know, I haven't thought about that yet. I'm going to kind of look at the tape, think about it [Sunday] and we'll meet on Monday, we'll talk to them on Tuesday. And we'll kind of get with the staff collectively, 'OK, where are we? What are our strengths right now? What are the areas we need to improve?' We'll kind of let this marinate for a night, think about it and kind of come up with something for them by Monday or Tuesday.
April, 7, 2014
Apr 7
5:30
AM ET
The Early Offer is RecruitingNation's regular feature, giving you a dose of recruiting in the mornings. Today's offerings: As the No. 37 player in the country and a top-five running back,
Nick Brossette
had nothing to prove at Sunday's Nike Football Training Camp. But that didn't stop the LSU commit from making the 4-hour drive from Baton Rouge, La., to compete. And, boy did he. But he wasn't the only player from Louisiana to turn heads.
To continue reading this article you must be an Insider
April, 6, 2014
Apr 6
6:55
PM ET
April, 6, 2014
Apr 6
1:04
AM ET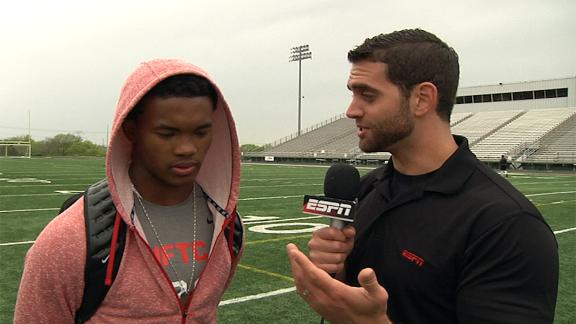 DESOTO, Texas -- The Dallas area was the seventh stop in the 2014 Nike Football Training Camp tour. As is annually the case, this stop brings out a bevy of talented prospects from the states of Texas, Oklahoma, Louisiana and Arkansas.
Despite a chilly day and track meets that kept some talented prospects from attending, the group of talent on hand eclipsed a number of other stops due to sheer numbers of prospects with FBS and BCS offers on hand. Here are some of the event's most notable performers in the RecruitingNation NFTC awards.
To continue reading this article you must be an Insider
April, 4, 2014
Apr 4
12:00
PM ET
LSU and Ole Miss will hold their spring games on Saturday, with six more teams set to play their games next Saturday. As spring practice winds to a close at many of the schools around the conference, let's take a look at some of today's headlines.
April, 4, 2014
Apr 4
10:00
AM ET
Brandon Allen
.
Nick Marshall
.
Bo Wallace
.
That's it. That's the list.
Only three quarterbacks who started double-digit games last season return to the SEC this fall, and one of them isn't even guaranteed to be a starter.
[+] Enlarge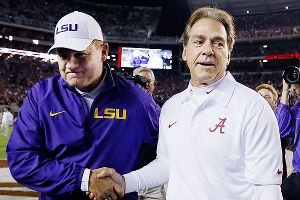 Kevin C. Cox/Getty ImagesLes Miles and Nick Saban are in no hurry to name their starting QBs for the fall.
Everywhere you turn in this league, there's a quarterback competition underway, from Alabama to Georgia, Arkansas to Kentucky, LSU to Texas A&M.
Maty Mauk
is surely the presumptive starter at Missouri, but even he's not a sure thing. Gary Pinkel says he wants competition, never mind that there were times when Mauk looked better than former starter
James Franklin
.
But not every coach in the SEC approaches the quarterback position the same way. A quick glance across the league shows a variety of opinions about how to pick a starter.
Mark Stoops is the most urgent-minded coach of the bunch, and given the inconsistency Kentucky had at quarterback last season, it's easy to understand why. Entering his second season, Stoops said: "I'd love to come out of spring with a clear-cut starter." That means everyone is in the mix.
Maxwell Smith
can't practice while he recovers from shoulder surgery, but
Jalen Whitlow
,
Reese Phillips
,
Patrick Towles
and even true freshman
Drew Barker
are in the hunt.
Barker, a four-star prospect according to ESPN, "has a very good opportunity to take control of it," Stoops said, praising his maturity for such a young quarterback.
"He's a guy [who] has high expectations [for] himself, and he's OK with the pressure that comes along with playing that position," Stoops said. "He's excited about the opportunity, and I'm excited to see what he can do."
Bret Bielema isn't outwardly putting a timetable on anything at Arkansas, but he's encouraging everyone to compete. Allen started 11 games last season but was up and down, with 13 touchdowns and 10 interceptions.
Bielema was about as no-nonsense as any coach gets about the situation.
"In theory, the first time we yell out for the [first string, Allen is] going to step out there," Bielema said before the start of spring practice. "But really, in our program, the competition brings the best out of people.
"So B.A. is going to be the first guy in with the ones, but there will be other guys who get opportunity," he continued. "Who is able to produce and run the offense effectively and who gives us the best chance to win next year's opener against Auburn will be at that position."
Similar to the case at Kentucky, Bielema isn't counting out his true freshman.
Rafe Peavey
, another highly-regarded four-star prospect, is going to be allowed to sink or swim. Bielema loves his talent and praised him as a "football junkie." But he's not pampering the rookie.
"It's no different between the right tackle or the quarterback or the safety," Bielema said. "It's all about what a freshman can handle, how they adjust to adversity and how they enjoy success.
"The quarterback gets a lot of attention. They're usually really pretty, really smart, and everybody likes them. But in reality, they're like everybody else. Those that play well will play and those that don't will sit."
While Bielema and Stoops are anxious for a battle, other coaches around the league are more inclined to sit back and wait.
[+] Enlarge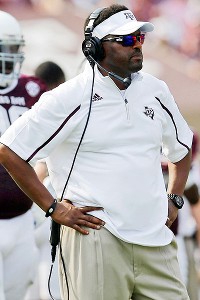 AP Photo/David J. PhillipWho will replace Johnny Manziel as Texas A&M's QB? Kevin Sumlin isn't saying anything right now.
LSU coach Les Miles said he has a good sense of the competition between
Anthony Jennings
and
Brandon Harris
. "But it always plays out," he said, harkening back to when Matt Flynn and JaMarcus Russell duked it out eight years ago. It looked like Flynn had the job in hand after winning a bowl game and watching Russell come into camp out of shape in 2006. But Flynn's body faltered down the stretch and Russell kept going, eventually winning the job.
"I want all the quarterbacks to know that it's going to be given to no one," Miles said. "[It's] earned by the one that plays."
Texas A&M and Alabama are taking similar approaches to replacing
Johnny Manziel
and
AJ McCarron
. In fact, both Kevin Sumlin and Nick Saban are somewhat defiant about holding the cards close to the vest.
Sumlin has gloated before that when people assumed
Jameill Showers
would beat out Manziel in 2013, "I didn't name a starter [after spring]; y'all did."
So while we watch
Matt Joeckel
,
Kenny Hill
and
Kyle Allen
jockey for position, don't expect a starter to be named until close to the season.
Saban, for his part, doesn't want to hear anything about it. His quarterback competition is essentially on hold until the fall, when Florida State transfer
Jacob Coker
arrives. Before the start of spring practice, Saban laid out his plan, saying, "Let me be very clear about this: We're not going to be in a hurry to decide who the quarterback is."
"You guys are going to ask me at least 1,000 times between now and the first game who's the first-team quarterback," he added, "and I'm telling you right now you're probably going to get a 1,000 'We're going to wait and see.' "
The only place in the SEC that doesn't have to be patient in the matter is South Carolina. Coach Steve Spurrier named
Dylan Thompson
the starter well before spring practice ever began.
Replacing
Connor Shaw
won't be easy, but Spurrier said that Thompson was the guy for the job, no question. A fifth-year senior with plenty of in-game experience, Spurrier didn't have a doubt in his mind.
"I didn't know there was any question about it," he said. "Someone said, 'You're just naming him the starting quarterback?' Well, I just said, 'Of course I am. Why wouldn't we?' "
Spurrier did it his way. Saban and Sumlin are doing it theirs. Stoops is anxious, and Bielema and Pinkel are only interested in the competition.
Recruiting a quarterback is the furthest thing from an exact science. Finding out who's ready to start is even more inexact.
This might be the season of new quarterbacks in the SEC, but everywhere there's a different sense of which way the wind blows.
April, 4, 2014
Apr 4
9:00
AM ET
BATON ROUGE, La. -- Asked whether Saturday's spring game would be an important factor in some of his team's key position battles, Les Miles clearly saw no need to do his best P.T. Barnum impression in order to draw a crowd -- which is fine since admission to
LSU
's 1 p.m. CT scrimmage at Tiger Stadium is free.
"Not really to be honest with you. We're going to watch competition [and] it's a key scrimmage, but it's also one of those things where there's a lot of time left before we get to [deciding] playing time," Miles said after Thursday's practice. "It's one piece, but obviously it's important and any time we walk into that stadium, we expect our guys to play at a certain level."
[+] Enlarge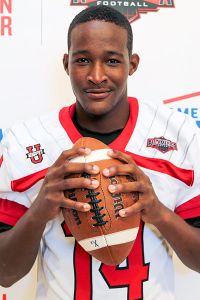 Courtesy of IntersportAll eyes will be on the quarterbacks on Saturday in LSU's spring game, and former Under Armour All-American Brandon Harris has a chance to make a big impression.
Miles and his coaches have been observing practice for a month and then they'll have 29 more August practices to settle their lineups for the
opener against Wisconsin
. But this is the first chance most of us will have to see how some Tigers handle new or expanded roles in a competitive situation. That's what makes spring games fun, even if it's just a glorified scrimmage.
So while Miles indicated it would be a mistake to draw any major conclusions from Saturday's competition, there are still plenty of areas of intrigue worth observing since this is the last time we'll see the Tigers do anything competitive until they take the field at Houston's Reliant Stadium on Aug. 30. Here's what we'll be keeping an eye on from the press box:
Quarterback play:
Duh. It was no surprise at Thursday's practice, which was open for students to attend, that the vast majority of them gathered around the field where LSU's quarterbacks were throwing to their wide receivers. The competition between sophomore
Anthony Jennings
and freshman
Brandon Harris
is by far the biggest source of intrigue among Tigers fans, and their performances on Saturday will generate speculation all summer about who is best prepared to lead the offense in the opener against Wisconsin.
Both players have worked with the first- and second-team offenses, although Miles hasn't been specific about who has done what in practices or scrimmages. Jennings certainly looks to have a better handle on things in the portions of practice that are open to the media. Harris, meanwhile, is all raw potential thanks to a powerful throwing arm. The early enrollee seems more likely to sail a ball over or behind a receiver, but when he does it correctly, it's a thing of beauty.
Defenders could tackle Harris and Jennings when they ran from the pocket in last Saturday's scrimmage, but Miles predicted they will likely wear non-contact jerseys in the spring game.
Offensive line development:
Obviously one of LSU's main position battles this spring has been at right guard, where
Evan Washington
,
Fehoko Fanaika
and
Ethan Pocic
have all gotten a look from new offensive line coach Jeff Grimes. It wouldn't be a surprise to see all three players factor into the Tigers' plans in the fall, although somebody has to be the starter. Washington seems to be the leader, but we'll gain some understanding of the pecking order on Saturday.
Overall, a line that returns four starters was effective last season, particularly as run blockers. They want to become a dominant group this season, however, and their experience and apparent depth make that seem like a possibility. Let's see how they fare against an emerging LSU defensive line on Saturday.
Beckwith vs. Welter:
We could expand this to the performance of the entire reshuffled linebacker corps, with
Kwon Alexander
at weakside linebacker and
Lamar Louis
at strong. But let's narrow our focus on the play of senior
D.J. Welter
and sophomore
Kendell Beckwith
in the middle. Both players have reportedly enjoyed productive springs and both will likely factor into coordinator John Chavis' plans in the fall. But who will be the starter? Saturday won't decide that outcome, but it will be interesting to observe how the two players function in a game-like situation.
Interior defensive line:
Miles has said a time or two this spring that the competition between the offensive and defensive lines has been encouraging. It will be fun to watch them duke it out on Saturday. One group has a decided experience advantage, particularly after starting defensive tackles
Anthony Johnson
and
Ego Ferguson
both bolted for the NFL draft. But there are some up-and-comers along the defensive line who could shine on Saturday.
By all accounts, sophomore
Christian LaCouture
has had a strong spring. Sophomore end
Tashawn Bower
, redshirt freshman tackles
Maquedius Bain
and
Greg Gilmore
and end/tackle
Frank Herron
are among the youngsters we'll be watching, as well.
Secondary play:
This is a group that simply has to play better in 2014. All of the contenders at safety haven't been practicing lately, so it's unclear whether we'll get a clear idea of where that competition stands on Saturday. But how smooth will
Jalen Mills
look at safety? What does early enrollee
Ed Paris
look like after a month of practices at cornerback? Who fills the various defensive back roles if the Tigers line up in their nickel and dime packages? Will
Rashard Robinson
and
Tre'Davious White
continue to develop into the lockdown cornerbacks LSU fans hope they will become? Those are all questions to keep in mind as you watch the scrimmage.
Who are the playmakers?:
Freshmen who could become some of the Tigers' most dangerous 2014 offensive skill players -- such as tailback
Leonard Fournette
and receivers
Malachi Dupre
and
Trey Quinn
-- won't arrive until the summer. But there are several players already on campus who could use a confidence-building performance at Tiger Stadium to catapult themselves into the offseason.
Senior receiver
Quantavius Leslie
had such an outing at last Saturday's scrimmage, catching four passes for 135 yards and three touchdowns. Who else might pull off that kind of feat? Receivers
Travin Dural
or
John Diarse
? Tight end
DeSean Smith
? Tailbacks
Terrence Magee
or
Kenny Hilliard
? Somebody else? Stay tuned.
April, 3, 2014
Apr 3
12:15
PM ET
It's not exactly like the fall, but at least we'll have some football (spring) games this weekend. Let's take a quick spin around the SEC and see what's happening as the final spring scrimmages approach at some of the league's schools.
April, 3, 2014
Apr 3
10:30
AM ET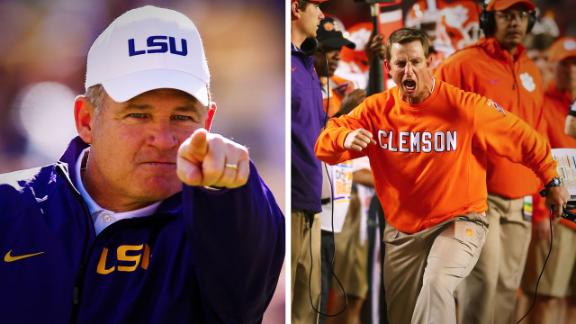 Unless you are a fan of Auburn or Notre Dame, and maybe even if you are, chances are you did not correctly predict the participants in the past two BCS title games.
So there has been room for surprise title contenders in recent years, and that trend should only grow now that there's a new system and room for two more in college football's final four.
Who are potential sleeper teams that could try on the Cinderella slipper in the initial playoff?
A hint: Two of the five are set to play in Week 1 on a neutral field.
ACC: Clemson Tigers
A perception exists that the Tigers will slip after losing several key offensive pieces, including likely top-five pick
Sammy Watkins
. Clemson's coaches are not buying it, and neither am I.
The simple fact is, in a departure from the past couple of years, the defense is talented enough to carry the offense if it needs to do so for stretches.
In fact, offensive coordinator Chad Morris told me that he approached new defensive boss Brent Venables two springs ago and told him, essentially, "we've got this" until the defense could catch up. And the defense picked up its play in the second half of 2012 and, very respectably, finished 23rd in yards per play and 24th in scoring in 2013.
A line that features six seniors, including tackle
Grady Jarrett
and end
Vic Beasley
, is the headliner, but head coach Dabo Swinney told me this week that it's the most complete defense he has had, from front to back.
"A year ago, we were nobodies," Swinney said. "Now everyone knows their names."
As for the offense, there's a lot of confidence that whoever wins the quarterback job will be capable of leading the unit.
To continue reading this article you must be an Insider
April, 3, 2014
Apr 3
10:00
AM ET
BATON ROUGE, La. -- Imagine how difficult it must be just to compete for playing time at LSU, one of the nation's preeminent college football programs.
Then consider how tough it would be to focus on that competition, plus all of the other obligations that come with being a student-athlete, shortly after becoming a parent. And not just any parent, but one who spent much of the last two months wondering whether his son would even survive after arriving 15 weeks ahead of schedule.
[+] Enlarge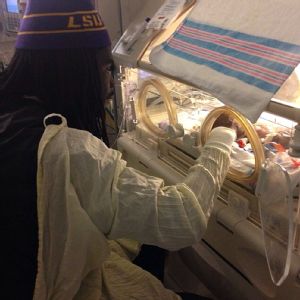 Quantavius LeslieLSU WR Quantavius Leslie's life changed completely when his son, Quantavius Leslie Jr., was born 15 weeks early on Jan. 30. It's been a struggle, but the baby is doing well now and could leave the hospital and go home in May.
That has been
Quantavius Leslie
's life since Jan. 30, when Quantavius Meshawn Leslie Jr. -- all 1 pound, 4 ounces of him -- arrived, just two days before his dad's 22nd birthday.
"It was crazy," Leslie recalled of the day that Quantavius Jr.'s mother, Pamela Byrd, called with the news that the baby was soon to arrive. "I got the phone call at like 5 o'clock and she was like, 'I'm about to have my baby.' I feel like I blanked out. I forgot I had a car here. My mind was just everywhere, but I still made it there on time."
The ensuing weeks were a whirlwind, filled with two-hour trips between Baton Rouge and Mississippi -- where he attended junior college before transferring to LSU last year -- to visit mother and child at the hospital.
Those trips were life-changing, Leslie said, because of the newfound perspective they provided while his son was clinging to life. Father would sit next to son, reach in to hold his tiny hand and talk to him, hoping to simply hear him cry or open his eyes.
"It changed my whole perspective on life, like how I look at things and everything," Leslie said. "I realized that now I've got a son in my life. I've got somebody that I can call mine. Now I've got to do the right things for him -- do the things that I want my son to do and be the person that I want my son to grow up to be."
It was touch-and-go for a while. Doctors performed surgery about five weeks after the baby arrived, searching for the cause of Quantavius Jr.'s bowel problems. But the baby has made steady progress since then, is now up to 2 pounds, 4 ounces and could finally go home from the hospital in May.
Today he celebrates his nine-week birthday.
"He's doing good," Leslie said. "He's moving around, drinking his milk and using the bathroom and everything."
Since then, there have been a series of small milestones for the baby. Take this rapid-fire sequence of March 19 posts from Leslie's Twitter account, where he frequently shares updates on Quantavius Jr.'s progress.
"It brought tears to my eyes when I first heard my son cry," he posted, followed moments later by, "A whole six weeks without hearing no sounds from him. That really motivated me. Anything is possible." Then he concluded with, "If he can fight through this, what can't I fight through?"
Dad's doing pretty well lately himself.
He was a touted receiver prospect when he signed with the Tigers last year, but accounted for just one catch during the season. After playing in a spread offense at Hinds (Miss.) Community College, Leslie admits he initially struggled to pick up the intricacies of playing receiver in LSU's pro-style passing game last season -- and his limited involvement attested to those issues.
Depth issues at receiver all but assured that Leslie would play a bigger role this spring, however, and the 6-foot-4 senior might have turned a corner in last Saturday's closed scrimmage. He led the team with four catches for 135 yards and three touchdowns and gained a major confidence boost.
"I honestly think that's what I needed," he said. "I kind of needed that momentum to build off of."
Becoming a father played a role in that progress, Leslie said, just as it has in every aspect of his life -- "football player, student, person. All that."
Maybe that's also what he needed. Leslie probably wouldn't wish on anyone the fearful and heart-wrenching moments his family endured over the last two months, but things finally appear to be looking up both for Leslie and his nine-week-old namesake.
"I realized that God makes no mistakes," Leslie said. "He put me in this situation for a reason. I've just got to handle my situation as a man and just take care of my responsibilities because I know I can get my education here [and] hopefully I can get drafted and I can take care of my son."
April, 2, 2014
Apr 2
9:00
AM ET
BATON ROUGE, La. -- Asked to describe how an ideal 2014 season might develop for his position group, LSU's
DeSean Smith
sets a high bar for the tight ends to attempt to clear.
"I envision of course all of us playing, all of us rotating," Smith said after Tuesday's practice. "I see our tight ends with probably seven or eight catches a game -- at least -- just to make that big step now that we're improving in practice and showing them we can catch and be their go-to targets. We have a great receiving corps, too, so I plan on a lot of people getting a lot of balls, but much more [at tight end] than we got last year."
For those who expected LSU's tight ends to receive heavy attention last fall in Year 1 under Cam Cameron -- a noted tight end enthusiast during his decade as an NFL offensive coordinator -- Smith's projection probably seems comical.
[+] Enlarge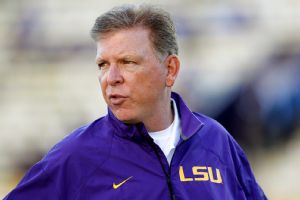 AP Photo/Jonathan BachmanLSU offensive coordinator Cam Cameron is known for getting the tight ends involved and that group expects to have a big role in the offense this season.
The Tigers had three tight ends (Smith,
Dillon Gordon
and
Logan Stokes
) play in all 13 games and
Travis Dickson
appeared in 12. But the four players combined for just 12 catches, 211 yards and zero touchdowns last season.
It wasn't that the tight end didn't play an active part in the offense, however, it's that senior quarterback
Zach Mettenberger
had two of the nation's most productive wide receivers in
Odell Beckham
and
Jarvis Landry
and made full use of their abilities. With Beckham and Landry -- who combined for 136 catches and 2,345 yards last fall -- now chasing NFL dreams, the tight ends believe they will garner more attention from their quarterbacks.
"We had the two best receivers in the country -- that's what I say, anyway -- and obviously we're going to push the ball to those guys in game situations," Stokes said. "But this year, we're young across the board and we're looking for playmakers. This spring, we're starting to find them and some of those playmakers happen to be us.
"When they need us to make a play, DeSean's made some great plays downfield and me and Dillon have made some nice plays, 10, 15 yards. We've had a couple of deep balls this year, too, so we're definitely going to get more involved this year, I feel like."
It doesn't hurt their confidence in making such claims that Cameron has a proven track record of using the tight end. In 10 seasons as an NFL coordinator, his offenses frequently targeted players like
Dennis Pitta
,
Todd Heap
and
Antonio Gates
, who helped usher in a new era of athletic, pass-catching tight ends. Over that 10-year period, Cameron's top tight end averaged 55 catches for 668 yards and six touchdowns per season.
Obviously it was exciting news to the group, then, that Cameron joined Les Miles' coaching staff last February.
"First thing, my dad called and told me," Smith recalled. "Right then, everybody in my family was talking about how he's a tight end guy. That was pretty neat."
Now it's a matter of proving that the group deserves more of an opportunity. That has been a goal this spring, as blocking-oriented players like Stokes work on their pass-catching skills and receiving-oriented tight ends like Smith attempt to become better blockers.
If each member of the group proves he can excel in both areas, LSU's offense becomes less predictable and more difficult to defend.
"Now when we play teams and we're in the game, they can't be like, 'Oh they're running the ball' or 'Oh they're throwing the ball.' Now we can kind of mix it up on people and they won't know what's going on," Stokes said. "I feel like this year we've all been catching balls in the scrimmages and we've all been active in all aspects of the game."
They'll add another member to the group over the summer when signee
Jacory Washington
on campus. He'll add another player in the hybrid, pass-catching role of a Smith, as Miles mentioned after a recent spring practice.
"We've used them in the past and I think that any time that you have a position that is used to block and he can also receive the ball, it makes a tremendous difference in your attack. And it's another quality receiver," Miles said. "I think both DeSean Smith and Jacory Washington will be guys that we'll use in the fall."
Since the tight end is involved in essentially every formation the Tigers utilize, expect to see plenty of them on the field this fall -- often two at a time. Whether the group's reception total rises remains to be seen, but spring is always a time for optimism, and LSU's tight ends fully believe that their time is coming.
"This year a lot of people have got big shoes to fill, so hopefully we'll be able to see the tight ends step into that position of being the old tight ends you see in the Cam Cameron offense," said Dickson, who led LSU's tight ends with 109 yards on five catches last season. "There's definitely more opportunities, as much as we use tight ends in our offense. As the season goes on and as a lot of us develop into our key roles, we'll see what happens."
April, 2, 2014
Apr 2
9:00
AM ET
AUBURN, Ala. -- There wasn't much fire in the voice of Gus Malzahn as he stood at the podium following Auburn's first scrimmage of the spring on Saturday. All told, it was a pretty boring scene. No injuries to report. No position changes to speak of. Only one turnover and a handful of big plays. His team had to move indoors because of the threat of rain, but as he said, "It didn't bother us a bit."
Watching Malzahn, you got the feeling he wasn't playing coy. This was the difference a year makes. Last spring was an anxious time for Auburn. There was no quarterback, no depth chart and no sense of expectations. Malzahn and Co. were simply trying to pick up the pieces left behind from the previous staff.
This spring has a much different tone. All one needed to do was look at the long-sleeve, collared shirt Malzahn wore after practice, the one with the SEC championship patch on its left shoulder. The building phase of Malzahn's tenure is over. The questions are much fewer this year than the last. And with that, the sense of urgency is far more diminished.
"We've got more information now, so we're not as urgent," Malzahn said. "We pretty much know a lot about the guys returning."
Not every coach in the SEC is in the same enviable position.
"You've also got to keep in mind next year," Malzahn said. "You want to get your guys as much reps as you can moving forward for next year, because that's what it's all about ... but I would say, probably, for the most part, that we've got guys in the position that we want them to be in."
Not every coach can afford to look ahead this spring. Not every coach has the time.
With that said, let's take a look at the programs with the most to accomplish this spring, ranking all 14 schools by the length of their to-do list.

Vanderbilt:
Any new coaching staff has the most work to do, from determining the roster to installing new schemes on both sides of the ball. Throw in a new starting quarterback and the
raid James Franklin put on the recruiting class
, and it adds up to an enormously important spring for Derek Mason.

Kentucky:
Mark Stoops has done a lot to turn around the culture at Kentucky. In fact, veteran defensive end
Alvin Dupree
said it feels like more of a football school now
. But the fact remains that Stoops has a very young group to deal with, so inexperienced that true freshman
Drew Barker
is in contention to start at quarterback.

Tennessee:
The Vols are facing many of the same
challenges in Year 2 under Butch Jones
. He has brought in a wealth of talent, including a remarkable 14 early enrollees. Considering the Vols lost all of their starters on both the offensive and defensive lines, there's a lot of work to do.

Florida:
The hot seat knows no reason. All is good in Gator Land right now as a new offense under a new coordinator is installed, injured players -- including starting quarterback
Jeff Driskel
-- return, and expectations creep upward. But a bad showing in the spring game could change the conversation quickly for Will Muschamp.

Arkansas:
There's
nowhere to go but up for Bret Bielema
after a 3-9 finish his first year with the program. The good news is he has young playmakers on offense (
Hunter Henry
,
Alex Collins
, etc.). The bad news is the quarterback position is unsettled and his defensive coaching staff is almost entirely overhauled from a year ago.

LSU:
A depth chart full of question marks is nothing new for Les Miles, who has
endured plenty of underclassmen leaving for the NFL
before. But missing almost every skill player on offense (
Zach Mettenberger
,
Jeremy Hill
,
Odell Beckham
,
Jarvis Landry
) hurts. He has to find replacements at several key positions, and we haven't even gotten into the defense.

Texas A&M:
Cedric Ogbuehi
can replace
Jake Matthews
at left tackle. The combination of
Ricky Seals-Jones
and
Speedy Noil
can replace
Mike Evans
at receiver. But
who replaces the legend of Johnny Football
? Determining a starter under center won't be easy, but neither will be overhauling a defense that was far and away the worst in the SEC last year.

Georgia:
Jeremy Pruitt
should breathe some new life
into a struggling Georgia defense. Having
Hutson Mason
to replace
Aaron Murray
helps as well. But
off-the-field problems continue
to plague Mark Richt's program. With stars such as
Todd Gurley
, the players are there. The pieces just need to come together.

Missouri:
After 13 seasons in Columbia, Gary Pinkel knows how to handle the spring.
Maty Mauk
appears ready to take over for James Franklin at quarterback, and even with the loss of
Henry Josey
, there are still plenty of weapons on offense. The real challenge will be on defense, where the Tigers must replace six starters, including cornerstones
E.J. Gaines
,
Kony Ealy
and
Michael Sam
.

Alabama:
The quarterback position won't be settled this spring, so we can hold off on that. But still, Nick Saban faces several challenges, including finding two new starters on the offensive line, replacing
C.J. Mosley
on defense and completely overhauling a secondary that includes
Landon Collins
and a series of question marks.

Ole Miss:
Hugh Freeze has his players. Now he just has to develop them. With emerging stars
Robert Nkemdiche
,
Tony Conner
,
Laremy Tunsil
,
Evan Engram
and
Laquon Treadwell
, there's plenty to build around. Include a veteran starting quarterback in
Bo Wallace
and there's a lot to feel good about in Oxford.

Mississippi State:
It's a new day in the state of Mississippi as
both state institutions have high expectations this spring
. Mississippi State returns a veteran defense, a solid offensive line and a quarterback in
Dak Prescott
who could turn into a Heisman Trophy contender. A few months after Dan Mullen was on the hot seat, he now appears to be riding high.

Auburn:
Losing
Tre Mason
and
Greg Robinson
hurts, but outside of those two stars, the roster remains fairly intact.
Nick Marshall
figures to
improve as a passer
, the running back corps is well off, and the receivers stand to improve with the addition of
D'haquille Williams
. The defense should get better as youngsters such as
Montravius Adams
and
Carl Lawson
gain experience.

South Carolina:
Steve Spurrier would like to remind everyone that
Dylan Thompson
was the only quarterback in the country to beat Central Florida last season. Sure, Thompson wasn't the full-time starter last year, but he has
plenty of experience and is ready to be the man
. Throw in a
healthy and eager
Mike Davis
and an improving set of skill players, and the offense should improve. The defense has some making up to do on the defensive line, but there's no reason to panic, considering the rotation they used last year.
Kevin Toliver II Climbs New ESPN 300
SEC SCOREBOARD
Thursday, 8/28
Saturday, 8/30
Sunday, 8/31