April, 10, 2014
Apr 10
12:37
PM ET
AUSTIN, Texas -- A historic day on the University of Texas campus got even better Thursday, thanks to Les Miles.
The LSU head coach was photographed attending a UT history class along with his wife, Kathy.
More than just Presidents on the 40 Acres today. @LSUCoachMiles is currently sitting in a UT history class. pic.twitter.com/inInjzDrHe

— Longhorn Network (@LonghornNetwork) April 10, 2014
Months ago, amid the coaching search to replace Mack Brown, a photo of Miles being spotted on Texas' campus might have burned down the Internet. But no need to panic, LSU fans, he's only in town for his family.
What's going on here? LSU wrapped up its spring practices last week, giving Miles and his wife time to get away this week and visit their daughter,
Kathryn "Smacker" Miles
, a freshman on the Longhorns women's swim team.
Miles also attended Texas' annual academic awards banquet on Wednesday night and told the
Austin American-Statesman
he was impressed by the event.
"It's an affirmation of things being done right," Miles told the newspaper. "I think the message certainly is that to compete not only in the pool but in the classroom, and I think she's enjoying that very much."
Miles is in Austin on the same day that President Barack Obama and former President George W. Bush are scheduled to speak at the LBJ Presidential Library's Civil Rights Summit, honoring the 50th anniversary of the passage of the 1964 Civil Rights Act.
April, 10, 2014
Apr 10
12:00
PM ET
Plenty going on as spring practices continue in the SEC. We have pro days, coaching talk, players adapting to new positions and even reality TV news in today's lunch links:
April, 10, 2014
Apr 10
9:00
AM ET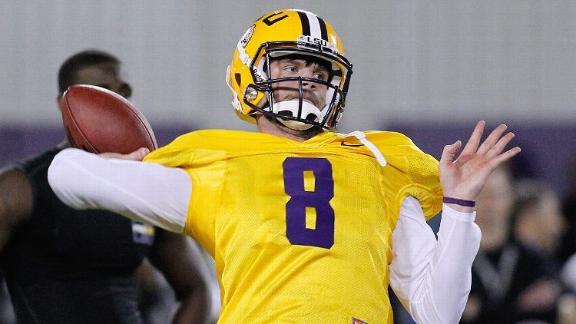 BATON ROUGE, La. -- Although 20 of his former LSU teammates also worked out before NFL scouts at Wednesday's pro day,
Zach Mettenberger
was the story.
The former Tigers quarterback seemed a bit displeased by his performance in his first public workout since undergoing surgery to repair the injured ACL and MCL in his left knee in early January. But his performance seemed to impress the pro scouts and coaches in the room, likely reinforcing his stock as a second-round pick in next month's draft.
Mettenberger discussed the throwing session with a contingent of media members on Wednesday. Here is a portion of what he had to say:
Q: How do you think you showed what you can do in coming back from the knee surgery?
A:
I have been saying for a couple weeks now that I'm healthy and good enough to know, and I don't think all of y'all believed me. I think one thing I wanted to do is show that I could go out there and take an explosive drop and throw the ball downfield like everyone knows I can. It was great to get out there and throw the ball around with all my guys that I threw with for three years for one final time.
Q: What do you think this shows about your recovery?
A:
I think people think it's pretty remarkable at 13 weeks, where I'm at. I did a lot of good things today, but sometimes I just hold myself to almost an unrealistic standard. I wasn't too pleased with myself on some of those throws today, but all things considered, I thought I did OK, but still a lot to improve on.
Q: How close are you to 100 percent?
A:
Right now I'm probably 85, 90 percent. I think by rookie camp in May, I'll be 100 percent.
Q: Have you had any private workouts with teams yet?
A:
I haven't had any private workouts with teams. Hopefully I'll get more now since they've seen that I'm OK. You saw with the Clemson offensive lineman, he got hurt [
Brandon Thomas
tore his ACL in a private workout with the
New Orleans Saints
last week], I think, my feedback from teams, they're afraid to work me out because they don't want me to injure anything. So I haven't had any private workouts, but I've been throwing every day with the guys here in town. We were able to jell, mesh kind of how we were, but we were still off a little bit on timing things. But I thought we did pretty well today.
Q: Do you have any workouts scheduled?
A:
Yeah, I've got a few. I'm flying to the Jaguars tomorrow [and Saturday with the Lions]. I've got a couple the rest of this week and then next week. So I'm excited for all those.
Q: What do you think you've proven about your health?
A:
I think I've shown that I'm not going to start the season on the PUP list. I think I showed that I'm healthy enough to go through practice, compete for a job and by the time the season rolls around in September, I should be fully healed, no question.
Q: Did you ever doubt that you'd be back so quickly?
A:
You tear your ACL in late November and have surgery in early January, you kind of doubt being back in three months and throwing. But I had [LSU head trainer] Jack Marucci with me and Dr. [Brent] Bankston and they kept reminding me that I was going to be fine in three months. And here I am three months later and they were right. I probably should have stressed a little less and just listened to Jack.
April, 9, 2014
Apr 9
9:30
PM ET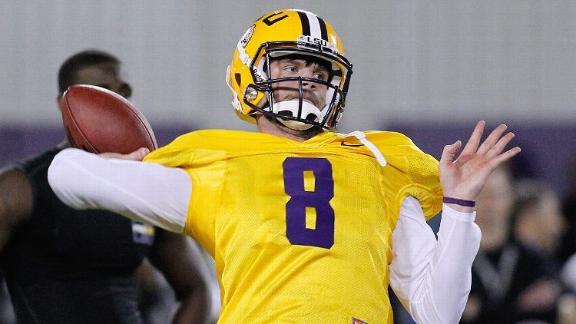 BATON ROUGE, La. -- Barely three months removed from surgery to repair the torn ACL and MCL in his left knee,
Zach Mettenberger
hardly took it easy in his first public throwing session before NFL talent evaluators.
The former LSU quarterback gave NFL eyeballs plenty to see -- and looked both frustrated and exhausted by the end -- when he completed 93 for 107 pass attempts at the Tigers' pro day workouts on Wednesday.
"I'm three months out of surgery and not in playing shape and my legs are kind of tired. So yeah, that's kind of something to expect," said Mettenberger, who will visit the Jacksonville Jaguars on Thursday and said he will work out with the Detroit Lions on Saturday. "But I'm doing everything I can to work through that to be ready for rookie camp."
Like Texas A&M's
Johnny Manziel
at his pro day, Mettenberger threw passes while wearing a helmet and shoulder pads. LSU offensive coordinator Cam Cameron said before the workout that they had been planning the move since well before Manziel did it, and Mettenberger added that the trend will likely continue.
"You play the game in pads," Mettenberger said. "We talked about that probably three months ago and really started talking about it seriously two months ago. People can believe it or not, but I just think it's going to be a new trend for quarterbacks to work out with pads on."
Mettenberger, who wore a brace on the left knee, said he's between 85 and 90 percent and predicted he'd be operating at full strength in time for a rookie camp in May. He showed the teams in attendance -- a group that was several hundred strong and included five head coaches and seven general managers -- a variety of drops and rollouts in order to indicate that his knee is stable.
LSU director of athletic training Jack Marucci, who helped coordinate Mettenberger's rehab, said he placed no limitations on what Mettenberger would attempt in the workout.
"If he was practicing in spring ball, we would have let him do spring ball," Marucci said.
Overall, it seemed to go well. Mettenberger has never had a problem zipping passes with authority, and although he wasn't thrilled with the 14 incompletions -- about half of which came on dropped passes -- he understood that some rust was inevitable.
"Timing was a little off," Mettenberger said. "It wasn't the most disciplined route running that we've had here, something Coach Cam wouldn't allow. But all things considered, with guys being gone and we haven't been with Coach Cam every day for the last three months, it was a pretty good day."
Mettenberger had a big collection of former LSU teammates to throw to on Wednesday. Among the 21 overall participants were receivers
Odell Beckham
,
Jarvis Landry
,
Kadron Boone
and
James Wright
and running backs
Jeremy Hill
,
Alfred Blue
and
J.C. Copeland
.
[+] Enlarge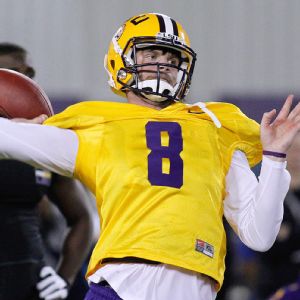 AP Photo/Jonathan BachmanZach Mettenberger predicted he'd be operating at full strength in time for a rookie camp in May.
Not only were they looking to impress NFL execs with their pass-catching skills and positional abilities, some of them wanted to improve upon their workouts at the combine. Aside from Mettenberger's throwing, perhaps the biggest storyline of the day would be whether Landry could complete the 40-yard dash faster than the 4.77 seconds he posted while nursing a hamstring injury in Indianapolis.
Problem solved. Landry's two official times on Wednesday were 4.58 and 4.51, and he improved his production in all of the testing drills in which he participated at the combine.
"Even though it took a while [since the combine in late February], I feel like today was a positive day," Landry said. "I got a lot out of today. I'm getting great feedback. I think now is just not letting up, just continue working and continuing to impress people."
Landry has never been one to test particularly well, but his on-field production in 2013 was unquestioned. He ranked among the SEC's top receivers with 77 catches for 1,193 yards and 10 touchdowns and flashed some of the most reliable hands of any receiver in the country -- reminding Cameron of a star wideout he once coached with the Baltimore Ravens.
"Guys know he can run," Cameron said. "They've already told me, 'We know this guy can run.' They're going to look at the tape when it comes to a guy like that. We had
Anquan Boldin
, and I don't know that Anquan ever ran a 4.58, but all he does is catch the ball, compete and win world championships. So I guess he helped himself."
Hill also improved upon his 40 time at the combine, going from a 4.66 in Indianapolis to a 4.52 and a 4.54 on Wednesday, helping reinforce Cameron's prediction that he can be a valuable every-down back in the pros.
One player who didn't need to run again, however, was Beckham. He posted a 4.43 40 time at the combine and joked that he felt so good on Wednesday that he thought about trying to beat that time at pro day.
"I was warming up and I was kind of telling my dad, 'I want to run again.' And they were all like, 'There's just no point,' " Beckham said. "So there was a part of me that wanted to run again, just to show that I do have that speed and it wasn't just a one-time thing."
He seems to be the highest-rated Tiger in this draft, with some projections placing him in the middle of the first round. Beckham -- who has workouts ahead with the New York Jets, Cincinnati Bengals and Buffalo Bills -- said he has already accepted an invitation to attend next month's draft and is proud to be considered one of the best prospects in a loaded class of receivers.
"Honestly I wouldn't say that I didn't expect it, but it's a little surprising now to finally see that they're saying that if not the best, you're one of the best," Beckham said. "So it's a great feeling to me and it's something that I worked for."
April, 9, 2014
Apr 9
8:08
PM ET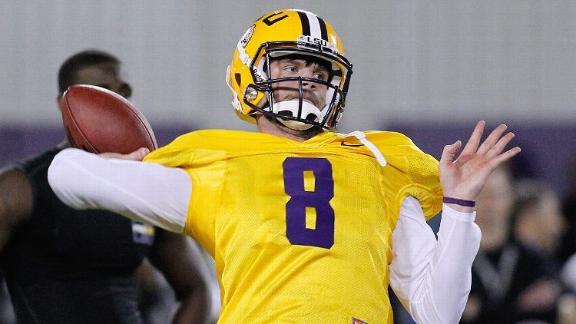 BATON ROUGE, La. -- Just 13 weeks removed from surgery to repair a torn ACL, LSU quarterback Zach Mettenberger impressed a packed house full of NFL coaches, general managers and scouts by going through a full pro day workout on Wednesday.
By most accounts, Mettenberger helped to boost his draft stock with a display that would have been considered solid even if had never been injured. He's projected as a possible second- or third-round draft choice.
"It says a lot about him. And his doctor," said New Orleans Saints coach Sean Payton, who was one of five NFL coaches in attendance for LSU's talent-rich pro day. "It's pretty impressive. You know, 10 years ago you couldn't do that. I thought he did a real good job."
Mettenberger, who had surgery on Jan. 2 to repair his left knee, threw nearly 125 passes and made every throw while wearing a helmet and shoulder pads -- the new trend started by fellow prospect Johnny Manziel last month.
The 6-foot-5, 224-pounder moved in the pocket and threw on the run at times. And he consistently showed off a big arm that many analysts consider to be among the strongest of this year's draft prospects.
Naturally, Mettenberger showed some signs of fatigue with a few mistimed throws. But observers said he threw even more balls than quarterbacks usually do. And his arm strength remained intact through the workout.
"I thought he did outstanding. Almost miraculous," said LSU offensive coordinator Cam Cameron, the longtime former NFL coach who directed the workout. "Thirteen weeks after surgery, to come out here and throw more than a hundred balls and complete 90-plus percent of them. ...
"He was grinding today. We could have come out, made it a nice, easy workout, 50 balls. I've been to a couple of these, guys threw 40 balls and called it a day. But I think arm strength matters, and I think arm endurance matters."
Mettenberger was a little harder on himself, saying, "I wasn't too pleased with myself on some of those throws today. But sometimes I hold myself to an almost unrealistic standard. ... All things considered, I thought I did OK, but I still have a lot of room to improve on."
Mettenberger said he thinks Wednesday's workout will also encourage more NFL teams to invite him in for private workouts, since he had been told teams were hesitant to work him out because of the uncertainty over his health.
Mettenberger said his first visit is lined up for Thursday with the Jacksonville Jaguars
April, 9, 2014
Apr 9
12:00
PM ET
April, 8, 2014
Apr 8
12:00
PM ET
April, 8, 2014
Apr 8
11:00
AM ET
BATON ROUGE, La. -- LSU is scheduled to hold its final spring walk-through on Tuesday, which will officially send the Tigers into the offseason.
As Les Miles' club wraps up its 15 spring workouts, here are five things we took away from the last month on the practice field:
[+] Enlarge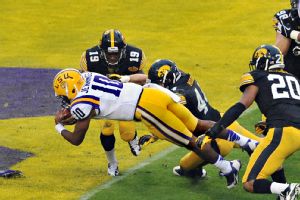 Al Messerschmidt/Getty ImagesAnthony Jennings' ability as a running quarterback will be a weapon LSU can utilize this fall.
1. Those QBs can move:
Having seen
Anthony Jennings
play a bit as a freshman, we already knew he had some wiggle. But freshman
Brandon Harris
looks to be at least his equal in the running-quarterback department after he had 76 rushing yards and a touchdown in last Saturday's spring game.
Whichever quarterback wins the starting job, it's a certainty that his playing style will differ wildly from predecessor
Zach Mettenberger
, who stood like a stone in the pocket. With either Jennings or Harris under center, defenses will have to respect that he can take off and make big plays with his legs.
"Oh boy, isn't that fun to see?" Miles asked, referring to a 41-yard run that Harris made in the second quarter. "You go back in there and the defense makes a mistake and let me tell you what happened: One of those linebackers went over there to the other side with one of those backs and did not stay home. And so that quarterback came out the back side and suddenly 41 yards later, he's run out of bounds.
"That's something you can't do, either, so when you line up against a quarterback with that kind of ability -- and both of our guys have it -- you'd better keep that linebacker home."
Jennings still seems to have a tendency to hold on to the ball too long while looking to pass. Iowa sacked him four times in the Outback Bowl, and his defensive teammates got to him four times in the spring game. Harris seemed to have a better idea when to tuck it and run, which doesn't seem to be a terrible idea for either of them, as they can both be dynamic runners when they leave the pocket.
2. Linebackers will be strong:
Saturday was a great day for LSU's linebackers. Not only did
Kwon Alexander
and
Deion Jones
both intercept Jennings' passes and take them to the house for touchdowns, but
Ronnie Feist
(14 tackles) and
Lamar Louis
(seven tackles, 0.5 tackle for a loss) were their respective teams' leading tacklers.
Feist seemed to be everywhere, continuing what Miles said was an impressive spring from a physicality standpoint.
"When he hits you, you're hit," Miles said of Feist. "There's no pretend to it."
Senior middle linebacker
D.J. Welter
apparently left a major impression on his coaches this spring as well. Not only was he among the defense's honorees in awards for leadership and for outstanding performance, but he was the lone winner of the Jimmy Taylor Award, the team's comprehensive spring award for outstanding leadership, effort and performance.
3. Offensive playmakers still must emerge:
It seemed like a foregone conclusion even before spring practice started that some of the team's top offensive players for 2014 weren't on campus yet. Spring didn't do much to change that perception.
Kenny Hilliard
and
Terrence Magee
-- who dealt with a sprained ankle for much of the spring -- were adequate at tailback, but freshman
Leonard Fournette
will inject some star power to the position once he arrives on campus. Likewise,
Malachi Dupre
,
Trey Quinn
and the new receivers will add explosiveness at a position that was riddled with injuries throughout the spring. The receivers were nearly nonexistent in the spring game.
LSU wide receivers totaled seven catches for 200 yards and two touchdowns on Saturday. Sounds pretty good, right? But five of the catches, 130 yards and both touchdowns came from one player:
Travin Dural
.
Otherwise, the group frequently dropped passes and misplayed catchable balls, proving that they need every bit of the available practice time this summer to develop chemistry with their quarterbacks. Dural looks like a star in the making, but the others have a lot to prove from a consistency standpoint.
4. Tight end talk seems legit:
DeSean Smith
and the Tigers' other tight ends expressed hope this spring that they would get more opportunities to catch passes in 2014 than they did last season, when wideouts
Jarvis Landry
and
Odell Beckham
got most of the looks from Mettenberger.
They said that's how things had been going in practice, and Saturday looked to continue that trend. Smith led the way with three catches for 45 yards and a touchdown, but
Dillon Gordon
(2-32),
Logan Stokes
(1-26),
John David Moore
(1-20) and
Travis Dickson
(1-8) also made receptions. In all, the tight ends accounted for eight of the Tigers' 21 catches in the final spring scrimmage, and offensive coordinator Cam Cameron seems pleased with the weapons he has at his disposal at the position.
"Every year, with different personnel, creates a whole new set of opportunities, and I think the opportunities for our tight ends are going to be critical," Cameron said. "I was thrilled -- for the most part -- I thought they made the most of it."
5. Defense is on the comeback:
Judging by the way the White team (which featured the starters) throttled the Purple team's offense on Saturday, it looks like LSU's first-team defense has the potential to rank among the SEC's best this fall.
The Purple team accounted for 179 yards of offense on 46 plays -- 53 rushing on 27 carries and 126 passing on 6-for-19 attempts. The Purple converted for a first down just once out of 11 third downs.
After saying earlier in the week that he overthought things in his first season as a starter, defensive end
Danielle Hunter
seems to have cut loose now. He recorded two sacks on Saturday and was a regular presence in the Purple team's backfield.
He was only one member of a sizable group of defensive players on both teams who flashed major potential in the scrimmage. Things seem to be looking up for defensive coordinator John Chavis' bunch.
April, 8, 2014
Apr 8
9:00
AM ET
BATON ROUGE, La. -- The race to become the first quarterback selected in next month's NFL draft is apparently down to three players: Central Florida's
Blake Bortles
, Louisville's
Teddy Bridgewater
and Texas A&M's
Johnny Manziel
.
[+] Enlarge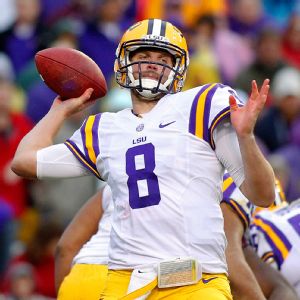 AP Photo, Cal Sport MediaZach Mettenberger will get a chance to show he's 100 percent healthy at LSU's pro day on Wednesday.
But according to quarterback guru George Whitfield, who recently visited LSU to speak at a coaches clinic, there easily could have been another contender had Tigers quarterback
Zach Mettenberger
avoided the late-season injury that prevented him from showing off in postseason all-star games and at the pre-draft combine.
"If he was healthy, I think he's right in this," said Whitfield, who tutored Manziel and Virginia Tech's
Logan Thomas
this year, after working with such prospects as Cam Newton and Andrew Luck in previous draft cycles. "I don't think it's a conversation of three, it could be a conversation of four if Zach was healthy coming down the back stretch. But I don't think it's going to be a shock at all if you see him go in the top couple rounds. Not at all. I think somebody's going to get a great return on investment."
At LSU's pro day on Wednesday, Mettenberger gets his first major opportunity to prove that the knee he injured in the regular-season finale against Arkansas is stable. He already has proven that his arm is NFL caliber, which is why some draft projections have Mettenberger going as high as the second round after a standout senior season.
Mettenberger (3,082 passing yards, 22 touchdowns, eight interceptions) was sixth among FBS quarterbacks with an 85.1 Total Quarterback Rating last season. According to ESPN Stats and Information, he made the biggest jump of any qualified FBS quarterback after ranking 80th out of 122 qualified quarterbacks with a 47.1 Total QBR in 2012.
"I think he's one of the best quarterbacks in this draft," Whitfield said. "I thought the year he had and the growth he had this year, especially with [LSU offensive coordinator] Cam Cameron, just getting a chance to get out there and operate in that system -- [and to] have more responsibility. He was better in the pocket. It was just a shame he did take that injury toward the end of the season, but he just looked more confident, and he wasn't just a big guy [who] was pitching anymore."
Mettenberger is just one member of a large group of LSU prospects who will work out in front of NFL scouts, coaches and player personnel executives on Wednesday. Among those expected to participate are running backs
Jeremy Hill
,
J.C. Copeland
and
Alfred Blue
, receivers
Odell Beckham
,
Jarvis Landry
and
Kadron Boone
, defensive linemen
Anthony Johnson
and
Ego Ferguson
, linebacker
Lamin Barrow
, safety
Craig Loston
and offensive lineman
Trai Turner
.
ESPN Scouts Inc.
rates seven of them among the draft's top 150 prospects: Beckham (No. 21), Landry (47), Hill (69), Turner (109), Loston (110), Ferguson (120) and Johnson (139).
Let's take a closer look at three of them -- Mettenberger, Beckham and Hill -- with a statistical assist from ESPN Stats and Info.
ZACH METTENBERGER
In his first season working with Cameron, Mettenberger greatly improved as a downfield passer. He raised his completion percentage on throws of 15 yards or longer 14 points, to 53.4 percent, in 2013. Among ESPN's top-10 quarterback prospects in this draft, only Clemson's
Tajh Boyd
(53.7 percent) completed a higher percentage of long balls. Of the 10, Mettenberger had by far the highest percentage of total completions (67.7) travel at least 10 yards. Bridgewater was next at 57.1.
He was also outstanding against the blitz and on third down -- assets that should help convince a team looking for a pro-style pocket passer to keep him in mind. Mettenberger (57-for-85, 883 yards, eight touchdowns, two interceptions against blitzing defenses) had the second-highest completion percentage (67.1) against the blitz of any of the top-10 quarterbacks. And on third down, his 53.7 conversion percentage was the best of the bunch. Mettenberger went 58-for-89 with nine touchdowns and one interception on third down, and his 65.2 completion percentage in those situations was third among the top-10 quarterbacks.
JEREMY HILL
Because of the declining value attached to running backs in the NFL, it seems entirely likely that no running backs will go in the first round of this draft. Last year, the first running back went at No. 37 -- the latest the first running back was picked in the common draft era.
Ohio State's
Carlos Hyde
is generally considered the top running back prospect in this draft, although Hill's physical ability makes him an enticing target.
Hill faced eight or more defenders in a stacked box on nearly half of his carries last season (96 of 203), and yet, he still averaged an AQ-best 8 yards per rush in those situations and scored 15 touchdowns.
He was also a phenomenal between-the-tackles runner, picking up 7.9 yards per carry on runs up the middle, with about one in every five (24 of 118) going for at least 10 yards. On runs outside the tackles, Hill had 16 of 85 attempts go for at least 10 yards.
ODELL BECKHAM
Beckham is one of the draft's most explosive playmakers, which is why ESPN's Mel Kiper Jr. had him going 18th overall to the New York Jets in his most recent mock draft. He and Landry are both among the 15 wideouts who rank among Scouts Inc.'s Top 100 players -- the most receivers in the top 100 since 2005.
Beckham (59 catches, 1,152 yards, eight touchdowns, 178.1 all-purpose ypg last season) had an AQ-high 26 receptions on passes thrown at least 15 yards last season. He had at least two catches that covered such a distance in seven of 13 games in 2013, which certainly speaks to the big-play ability that has him so high on Kiper's mock draft board.
April, 7, 2014
Apr 7
4:00
PM ET
The SEC has long been a line-of-scrimmage league. It's no coincidence that the team winning the title going back a decade or more has almost always been outstanding in the offensive line.

It's not absolute. The team with the best offensive line doesn't always win the title, but good luck in finding a recent SEC champion that was just average in the offensive line. Case in point: Was anybody better up front offensively last season than Auburn?
Looking ahead, we're asking you (the fans) to tell us who in the SEC will carry the banner in the offensive line this fall. So go vote in our SportsNation poll, and we'll break down the results later this week.
We've come up with five choices, including Auburn. The Tigers lost star left tackle
Greg Robinson
, who's being projected as a top-5 pick in May's NFL draft. But they're still plenty salty up front, led by All-SEC center
Reese Dismukes
.
The other four choices -- Alabama, LSU, South Carolina and Texas A&M -- also have a chance to be really good. And that's not to say that one of the other nine teams in the league could end up with the SEC's top offensive line by November. After all, how many people were touting Auburn as the best offensive line in the league this time a year ago?
Auburn, LSU, South Carolina and Texas A&M all return four starters. Alabama returns three.
Of note, the SEC returns an extremely talented crop of centers. The tackle position is equally loaded with LSU's
La'el Collins
, Florida's
Chaz Green
, Texas A&M's
Cedric Ogbuehi
, South Carolina's
Corey Robinson
and
Brandon Shell
, and Ole Miss'
Laremy Tunsil
.
April, 7, 2014
Apr 7
12:00
PM ET
April, 7, 2014
Apr 7
11:00
AM ET
BATON ROUGE, La. -- You know what early enrollees typically do when they play in their first spring game? They stink up the joint -- and understandably so.
By all rights, they should still be in high school, making prom plans or figuring out where to go for spring break. They've had only a couple of months to digest a complex college playbook, and they're competing against more seasoned, more physically mature athletes.
[+] Enlarge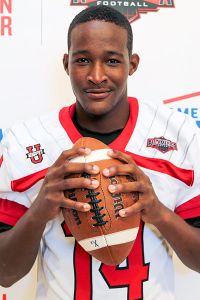 Courtesy of IntersportEarly enrollees aren't supposed to make an impact in spring ball, but QB Brandon Harris did just that in the spring game.
But not only did
Brandon Harris
not stink up the joint in LSU's spring game on Saturday, he was arguably the star of the show with three touchdown passes and 195 passing yards. He also flashed impressive escapability when the pocket collapsed, rushing six times for 76 yards and another score.
It was an eye-opening performance, but let's pump our breaks before declaring the Tigers' quarterback race over -- even if
Anthony Jennings
followed an underwhelming performance in the Outback Bowl by going 9-for-17 for 157 yards and tossing interceptions that linebackers
Deion Jones
and
Kwon Alexander
returned for touchdowns.
Let's be clear: if LSU had been playing Alabama -- which seems to be the measuring stick for anything around this program these days -- the performances by either Jennings or Harris would have probably led to an LSU loss.
"There needs to be improvement at the position for both guys," LSU coach Les Miles confirmed afterward.
Obviously the pair of pick-sixes determined the day's narrative for Jennings, but Harris had plenty of misfires himself. He displayed a phenomenal skillset and made some remarkable plays, without question, but he simply must reduce the mistakes before he can fulfill his obviously sky-high potential.
Case in point: in the second quarter, Harris overthrew a wide-open
DeSean Smith
-- wide open as in there was nobody within 10 yards of the big tight end -- and then floated an ugly throw over fullback
Connor Neighbors
' head on his next pass attempt. Later, he made a debatable decision to throw into double coverage in the end zone, with the pass luckily falling incomplete.
"I really think he made, I don't know, four, five, six major errors in the scrimmage and yet had the ability to get beyond it, which always is a tremendous mark," Miles said of Harris, whom LSU has not made available to speak to the media. "And if we can eliminate the mistakes and really play to the advantages, that's what we're looking to do."
If there was anything positive that Jennings could take away from the day, it's that he at least finished with a flourish. In the first two quarters, Jennings presided over seven drives -- the longest of which covered 31 yards -- with those seven possessions ending in five punts and the two interception returns for touchdowns.
He wrapped up his day with an efficient 73-yard touchdown drive in the third quarter, concluding the possession with a 13-yard scoring pass to
Travin Dural
.
"If you throw an interception and you don't come right back, you're not a good quarterback," Jennings said afterward. "So every quarterback goes through adversity. It's how you respond, it's not how you fall."
He seemed to take a nasty fall on Saturday, but Jennings now has plenty of time to respond. The good news for the Tigers is that they don't play Alabama for seven months. In fact, they don't play anybody until the Aug. 30 kickoff against Wisconsin. That's nearly five months for both quarterbacks to keep developing a rapport with their receiving corps and battling for the right to take the first snap against the Badgers.
Asked about the message he will send the quarterbacks going into summer workouts, Miles' message was simple: "Compete. That's it." This after saying in his press conference that the coaches plan to "let the competition continue and see how this thing plays out" this summer.
Competition was also the theme of this spring, and it was apparently a productive period for both players, of whom Miles reiterated after Saturday's game that "I think both guys are talented enough to be our quarterback."
The talent was apparent, particularly when Harris was throwing darts and sprinting away from defenders for big gains. But will LSU's coaches be able to harness that talent quickly enough to beat opponents like Wisconsin, Auburn, Florida, Mississippi State and, of course, the mighty Crimson Tide?
That is going to be the deciding factor in LSU's 2014 season. With what should be an improved defense and with
Leonard Fournette
,
Terrence Magee
and
Kenny Hilliard
in the backfield, the Tigers should be able to pound most of their opponents into submission. But against the nastiest teams on the schedule, they need to be able to at least make opposing defenses respect the pass -- and not make any catastrophic errors when they do choose to put the ball in the air.
Both quarterbacks made some potentially catastrophic throws on Saturday, and that's OK for now. Jennings and Harris need to make great strides in this summer's passing sessions, however, or it will be 2015 at the earliest before the Tigers again rank among the top contenders for a national championship.
LSU SPRING AWARDS
Here is the full list of spring practice awards that LSU coach Les Miles presented after Saturday's spring game:
Jimmy Taylor Award (Comprehensive spring award for outstanding leadership, effort and performance):
D.J. Welter
Ralph Norwood Performance Award (Outstanding performance in spring drills, offense):
Kenny Hilliard
,
La'el Collins
,
Elliott Porter
,
Jerald Hawkins
Toby Caston Performance Award (Outstanding performance in spring drills, defense):
Deion Jones
,
Tre'Davious White
,
Rashard Robinson
,
Danielle Hunter
,
D.J. Welter
,
Kwon Alexander
Eric Andolsek Leadership Award (Outstanding leadership in spring drills, offense):
La'el Collins
,
Connor Neighbors
,
Kenny Hilliard
,
Terrence Magee
,
Jerald Hawkins
Mike Miley Leadership Award (Outstanding leadership in spring drills, defense):
Danielle Hunter
,
Christian LaCouture
,
D.J. Welter
,
Jalen Mills
,
Ronald Martin
Alvin Roy Fourth Quarter Award (Outstanding performance in LSU offseason program):
Danielle Hunter
,
Duke Riley
,
K.J. Malone
,
Ethan Pocic
,
Travin Dural
,
Christian LaCouture
,
Lewis Neal
,
Tre'Davious White
,
Tre' Sullivan
,
Terrence Magee
,
Luke Boyd
,
Jeff Lang
Most Improved Award:
Ronald Martin
,
Lewis Neal
,
Quentin Thomas
,
Dillon Gordon
,
Dwayne Thomas
,
Fehoko Fanaika
,
K.J. Malone
,
DeSean Smith
,
Anthony Jennings
,
Tashawn Bower
Jerry Stovall Special Teams Award:
Colby Delahoussaye
,
Reid Ferguson
,
Tre'Davious White
Newcomer Award:
Brandon Harris
,
Ed Paris
Overcoming Adversity Award:
Dwayne Thomas
,
Quantavius Leslie
,
Lamar Louis
Coaches Award:
Devante Meullion
,
John David Moore
,
Chris LaBorde
,
Tommy LeBeau
,
Tre' Sullivan
,
Brad Kragthorpe
,
Alex Cheramie
April, 7, 2014
Apr 7
10:00
AM ET
BATON ROUGE, La. – This was a spring of transition for
LSU
offensive coordinator Cam Cameron, with inexperienced players sliding into leading roles at most of the skill-position spots.
That might cause the Tigers to utilize some positions -- like tight end -- differently than they did a season ago, as LSU will certainly carry more question marks into preseason practice than it did last year with a senior quarterback and veteran stars at tailback and receiver.
[+] Enlarge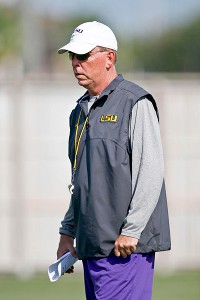 Derick E. Hingle/USA TODAY SportsLSU's Cam Cameron isn't quite ready to name a starting quarterback.
Cameron discussed that possibility and a variety of other subjects with reporters after Saturday's spring game. Here is some of what he had to say:
Q: How important will it be that you work the ball to the fullbacks and tight ends in the passing game this season?
A:
It's critical. We want every guy on our offense involved in both phases of our game, run and pass. And at any point in time, if a defense knows you're not going to throw the ball to a guy, then I think you make it tough on yourself. But
Connor Neighbors
is as good a receiving fullback as I've been around.
Melvin Jones
is going to be outstanding. All our tight ends, I just mentioned all of them, even
J.D. Moore
came in and made a big play at the end, so we've got great depth at tight end, we've got two really outstanding fullbacks and we're going to need them this season.
Q: How much did you have to tinker with the scheme to work the ball to the tight ends?
A:
Our system is what it is. It's a route tree that allows tight ends to do what they do best. We didn't feature it last year for obvious reasons, knowing the talent at outside, and then we would move
Jarvis [Landry]
and
Odell [Beckham]
down inside almost in a tight end-type role. But this year is different. Every year with different personnel creates a whole new set of opportunities and I think the opportunities for our tight ends are going to be critical. I was thrilled -- for the most part I thought they made the most of it.
Q: How much will the group of signees arriving this summer cause you to re-evaluate how you use the different positions?
A:
You're always evaluating. But I think everyone knows this: we bring young players here to play. It's Les [Miles'] philosophy. No one plays more young players than we do to my knowledge. But the key thing is, they know, we expect them to come in and play a major role. Not just play. Not just letter. They need to take a major role and make big plays in big games and this is a freshman class that I know our current players are looking forward to playing with. And at the same time, it's a group that's looking forward to coming in here and playing big roles in big games.
Q: How did Rob Bolden make the transition from quarterback to receiver this spring?
A:
Rob is 6-5, he looks the part. He's spatially starting to get a feel for how to play out in space. Was really pleased. First thing he said to me coming through the tunnel was, 'Gosh, I should have made a couple of those plays,' and we know that. But I think I'm confident he'll make those plays.
Q: How much of Brandon Harris' feel for the pocket and his decisions to tuck it and run were natural and how much was by design?
A:
You mean total panic, scramble and run? [Laughs] The only reason I'm saying that is we tease Brandon about that. He may not be doing it for reasons you think he is. But again, I think mobility is something that we like in a quarterback. We know what to do, we think, with a quarterback that doesn't have mobility and I think there's certain things that you try to allow QBs to do when they have it, and he and
Anthony [Jennings]
and even
Hayden [Rettig]
-- you saw Hayden's an athlete -- all our guys are pretty athletic and mobility's going to be a big thing for us this season.
Q: How different are those two quarterbacks from where they were when you started at the first of March?
A:
That's a good question. They're better. They should be better. They'll continue to get better. I would think that all our quarterbacks, until the day they leave, will be continuing to improve and will be ascending players after they leave here. That would be our goal. So every snap these guys get in practice or in a scrimmage or in a game, if they can stay healthy, they should get better -- especially when you're 18, 19 years old.
Q: As you get ready to send them into the summer, what's the message you're sending them over what to work on?
A:
You know, I haven't thought about that yet. I'm going to kind of look at the tape, think about it [Sunday] and we'll meet on Monday, we'll talk to them on Tuesday. And we'll kind of get with the staff collectively, 'OK, where are we? What are our strengths right now? What are the areas we need to improve?' We'll kind of let this marinate for a night, think about it and kind of come up with something for them by Monday or Tuesday.
April, 7, 2014
Apr 7
5:30
AM ET
The Early Offer is RecruitingNation's regular feature, giving you a dose of recruiting in the mornings. Today's offerings: As the No. 37 player in the country and a top-five running back,
Nick Brossette
had nothing to prove at Sunday's Nike Football Training Camp. But that didn't stop the LSU commit from making the 4-hour drive from Baton Rouge, La., to compete. And, boy did he. But he wasn't the only player from Louisiana to turn heads.
To continue reading this article you must be an Insider
Kevin Toliver II Climbs New ESPN 300
SEC SCOREBOARD
Thursday, 8/28
Saturday, 8/30
Sunday, 8/31