February, 28, 2015
Feb 28
7:30
PM ET
PLANTATION, Fla. -- The Nike Opening Regional at Miami always brings out some of the top skill prospects in the country, with Broward and Dade counties being the most talented neighboring counties in the country. On Saturday, the event at American Heritage High School brought out more than the future stars of college football, but also some of the area's most popular former stars such as Edgerrin James and Chad Johnson, as well as Luther Campbell of 2 Live Crew fame.

Here are some of the best sights and sounds from the talent-laden Miami Regional.


February, 28, 2015
Feb 28
6:07
PM ET
PLANTATION, Fla. -- The Nike football camp in Miami is generally regarded as one of the top camps, talent-wise, in the country every year and this year's camp held at American Heritage School didn't disappoint.
To continue reading this article you must be an Insider
February, 27, 2015
Feb 27
8:42
PM ET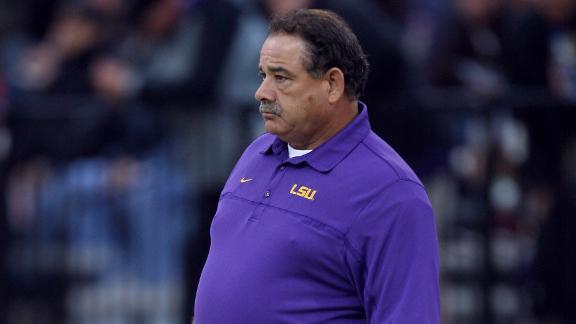 Texas A&M defensive coordinator John Chavis has sued both his former employer, LSU, and his current one over a buyout he claims he doesn't owe.
In a lawsuit filed Friday in Brazos County, Texas, Chavis claims he doesn't owe LSU a $400,000 buyout the university is seeking from him for terminating his contract with the Tigers. Chavis left LSU for the same post at Texas A&M earlier this year.
According to the lawsuit, LSU athletic director Joe Alleva sent a letter to Chavis on Jan. 2 demanding he pay a $400,000 buyout to the school in accordance with a section of Chavis' contract. The suit says Chavis gave written notice to LSU to terminate his contract Jan. 5. Chavis also claims that, according to his LSU contract, his "termination date" was effective 30 days after his termination notice, which would make Feb. 4 the effective date. Chavis' final LSU contract ran through Dec. 31, 2015, and called for the buyout to go from $400,000 to zero if the contract was terminated in the final 11 months.
If it is determined that Chavis owes the buyout -- or any amount of "liquidated damages" to LSU -- Texas A&M is obligated to pay that amount, as of Feb. 12, according to the lawsuit. Texas A&M is named as a defendant in the suit because of that obligation.
"Coach Chavis could not be happier to be the defensive coordinator at Texas A&M," Chavis' attorney, Bill Youngkin, said in a written statement Saturday. "He looks forward to the start of spring practice on Monday and is excited about coaching the Aggies this fall. Texas A&M was included in the lawsuit because it is an indispensable party and its inclusion is necessary to resolve the dispute LSU has created."
February, 27, 2015
Feb 27
10:30
AM ET
It all starts up front. So if you're looking ahead to project which teams will have the best defenses in the SEC next season, look no further than the defensive line. Because if they're on, the linebackers and secondary will be better off for it.
It's early, granted, and things could change drastically between now and the start of the season, but in the meantime here are our
pre-spring rankings
at the position:
1. Alabama:
The knock on Nick Saban's defense has long been that its linemen don't get to the quarterback enough, but last season that changed as they had 10 more sacks than the year before. Though they may lack a true star, the line is strong across the board with future NFL tackles
A'Shawn Robinson
and
Jarran Reed
in the middle, along with talented edge-rushers in
Jonathan Allen
,
Da'Shawn Hand
and
Dalvin Tomlinson
.
2. Ole Miss:
You could really have the Rebs as co-No. 1, but the issue of depth separated these two units. Nonetheless, coach Hugh Freeze has an embarrassment of riches at the position with future first-round draft pick
Robert Nkemdiche
as the centerpiece. Mix in ends
C.J. Johnson
and
Marquis Haynes
, and you're looking at a defense that could live in opponents' backfields.

3. Tennessee:
In
Derek Barnett
and
Curt Maggitt
, you're looking at two of the league's top five pass-rushers last season. So it's safe to say that the Vols are pretty well set up front. If the 2015 signing class pays off and
Kahlil McKenzie
and
Shy Tuttle
make an impact, even better for coach Butch Jones.
4. Florida:
Losing
Dante Fowler Jr.
hurts, but getting
Jon Bullard
to return to school eased that pain, somewhat.
Caleb Brantley
,
Bryan Cox Jr.
,
Joey Ivie
and
Alex McCalister
are all back as well. If
CeCe Jefferson
can make an impact as a true freshman and
Thomas Holley
is indeed 100 percent after redshirting last season, they could push the line over the top.
5. Auburn:
The Tigers' D-line struggled last season, but it wasn't helped any by the season-long absence of
Carl Lawson
. Now that Lawson is back and Will Muschamp is leading the defense, things are poised to change. With
Montravius Adams
anchoring the line at tackle,
DaVonte Lambert
opposite Lawson at end and No. 1 prospect
Byron Cowart
entering into the fold, the pieces are there to make a significant improvement.
6. Missouri:
Markus Golden
and
Shane Ray
are gone, but after so many years producing top D-line prospects, coach Gary Pinkel and his staff get the benefit of the doubt. Plus, they return a nice nucleus in tackles
Harold Brantley
and
Josh Augusta
.
Charles Harris
is poised to come into his own at end and it's only a matter of time until five-star freshman
Terry Beckner Jr.
starts making plays.
7. Mississippi State:
Three starters are gone (
P.J. Jones
,
Kaleb Eulls
,
Preston Smith
), but experience isn't a huge concern for Mississippi State because of the way it rotated in so many players at the position last year. New coordinator Manny Diaz will have to develop some talent this offseason, to be sure, but he'll have the luxury of building around
Chris Jones
, who is one of the league's most talented linemen, as well as
Ryan Brown
and
A.J. Jefferson
.
8. Georgia:
The Bulldogs' linebackers get most of the love, and rightfully so when you're talking about
Lorenzo Carter
,
Leonard Floyd
and
Jordan Jenkins
. But the linemen shouldn't be neglected considering the mix of experience and depth at the position. Seniors
Sterling Bailey
and
Chris Mayes
will provide stability, with five-star freshman
Trent Thompson
potentially working his way into the rotation early.

9. LSU:
Ed Orgeron will have his hands full with this group, but what it lacks in depth it has in potential.
Christian LaCouture
and
Davon Godchaux
are back at tackle, but with
Jermauria Rasco
and
Danielle Hunter
gone, that leaves seldom-used
Tashawn Bower
,
Deondre Clark
and
Sione Teuhema
as the lone incumbents at defensive end.
10. Texas A&M:
With John Chavis now leading the Aggie defense, it's time to see what all that talent is really made of. Sack master
Myles Garrett
should only get better with experience and incoming five-star freshman
Daylon Mack
could provide a disruptive force in the middle of the line.
11. Arkansas:
With guys like
Taiwan Johnson
and
JaMichael Winston
, the talent is there to rebuild on the line. But with
Trey Flowers
and
Darius Philon
off to the NFL, there are more questions than answers entering spring practice.
12. South Carolina:
The Gamecocks' D-line was a huge letdown last season with the fewest sacks in the SEC, and there's not a lot returning to campus that says that will change anytime soon. So, coach Steve Spurrier is betting heavily on some new blood in the form of new co-defensive coordinator Jon Hoke and a handful of mature recruits. The headliner is defensive tackle
Dexter Wideman
, who spent last year at a military academy getting his grades in order, and ESPN's No. 2 and No. 3 juco defensive ends,
Marquavius Lewis
and
Dante Sawyer
.
13. Kentucky:
The Bud Dupree-Za'Darius Smith era is officially over, and now we get to see what Mark Stoops and his staff accomplished on the recruiting trail these past few years. Coveted tackle
Matt Elam
is now a sophomore, as is four-star end Denzel Ware. If they live up to their high billing and veterans like
Jason Hatcher
and
Jabari Johnson
step up, the Wildcats will be in good shape.
14. Vanderbilt:
Outside of nose guard
Vince Taylor
, the Commodores don't lose much from last year's defensive line. But outside of
Caleb Azubike
and
Adam Butler
, there's not a lot of production coming back.
February, 27, 2015
Feb 27
9:00
AM ET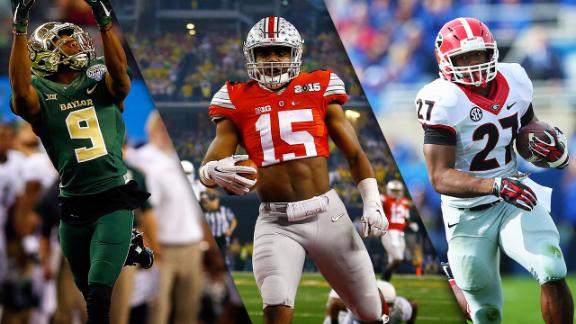 If you asked Mike Leach, odds are he'd probably tell you his job at Washington State is a wee bit more difficult than he might have expected when he was first hired. And it won't be long before Wake Forest fans start to realize just how remarkable Jim Grobe's tenure was in Winston-Salem.
For a variety of reasons -- namely money, scheduling, academics, facilities and recruiting -- the path to the College Football Playoff is simply easier for some Power 5 coaches and nearly impossible for others. Here's a look at the top-10 easiest coaching paths to the playoff, starting with the easiest, and the 10 most difficult coaching jobs:
EASIEST COACHING PATHS TO THE PLAYOFF
1. Texas
One of the wealthiest, most visible brand-name programs in the country wants for nothing -- and unlike Florida State, it doesn't have to navigate through a conference title game. Right now it's in a catch-22 situation. Texas has to win to own the state in recruiting again, but it has to get the recruits to win.
2. Florida State
The Noles can own and have owned the ACC, with Clemson being their most difficult hurdle. The combination of first-class facilities, in-state recruiting and available salary money makes this one of the most desirable jobs for a coach aspiring to reach the playoff.
3. Ohio State
The East Division isn't easy, but it's manageable, and the Big 33 recruiting turf and financial security -- along with the incredible support and facilities -- puts this brand-name program on the fast track to the playoff. It's easy to sell the program that has been the flagship of the conference for more than a decade.
4. Oklahoma
With no conference title game to trip over, the Sooners have one of the easiest paths to the playoff, not to mention the facilities and financial resources to recruit players and pay coaches.
5. Clemson
It's on par with the SEC as far as recruiting and facilities, but has an easier league to navigate. The program has the resources and salaries needed to recruit and coach a top-four team.
6. USC
When this storied program is at full strength -- without scholarship limitations and postseason penalties -- there's nothing in the way of a top-four ranking. Its pipeline of players to the NFL is proof.
7. Notre Dame
The Irish control their strength of schedule and can now sell an ACC bowl lineup to recruits.
8. Georgia
The Bulldogs have owned the state, and while Florida has to contend with FSU (and dreadful facilities), Georgia has had the upper hand in the series against Georgia Tech. Everything is in place for a title run.
9. Alabama
The program oozes money and tradition, luring the best players in the country. It's ranked low because of a grueling SEC West schedule and conference title game to navigate through.

10. LSU
Much like Alabama, the Tigers are the epitome of SEC success, able to cherry-pick recruits and pay for the best coaches in the country. The biggest obstacle is LSU's own conference schedule.
MOST DIFFICULT COACHING PATHS TO THE PLAYOFF
1. Vanderbilt
There's no school in the country with more of an uphill battle to the playoff than Vandy. The stringent academic requirements are a big reason the program can't recruit the elite athletes necessary to compete with the top teams in the league -- which is why it never will.
2. Wake Forest
The smallest school in the BCS had one historic Orange Bowl run, but that was an anomaly, not the trend. It's not the best program in the state, let alone the Atlantic Division.

3. Washington State
The Cougs are the Pac-12's most isolated, rural program, making recruiting difficult -- the heart of Wazzu's troubles over the past 11 straight losing seasons. It also doesn't help to be looking up at Oregon in the North Division.
4. Colorado
After nine straight losing seasons, the Buffs have faded into irrelevance, and they're competing in a South Division that's on the upswing, led by USC and Arizona. The coaching turnover, subpar recruiting and lack of investment in facilities have made the past decade a disaster.
5. Indiana
The Hoosiers have been stuck in a rut of mediocrity and are outpaced when it comes to facilities and coaching hires. Equally as problematic is IU's place in the East Division, alongside heavyweights Ohio State and Michigan State.
6. Kansas
The program has always been overshadowed by its hoops counterpart and hasn't been relevant in football since its 2007 Orange Bowl appearance.
7. Purdue
The fans have lost interest -- and apparently so have the recruits -- but the program also hasn't had the financial backing it needs to stay on pace with the rest of the conference.
8. Iowa State
Not only is there not much in-state talent, but the Cyclones have to share it with rival Iowa.
9. Kentucky
The program has made a renewed financial commitment recently and has demonstrated that bowl eligibility is a reality, but Kentucky has to win the SEC East before it can be taken seriously as a playoff contender.
10. Syracuse
There's a sense of apathy surrounding the program, which is stuck in the ACC's stronger Atlantic Division with FSU, Clemson and Louisville. There's not enough depth on Syracuse's roster to overcome injuries -- or the schedule.
February, 27, 2015
Feb 27
9:00
AM ET
1. Dan Mullen is finally getting paid. After leading Mississippi State to its first 10-win season in school history and a New Year's Six bowl game,
Mullen received an extension
Thursday that runs through the 2018 season and comes with a nice pay raise. The new deal will start out at $4 million in 2015 and escalate in the years to come. That puts him along the same pay grade as fellow SEC coaches Mark Richt (Georgia), Les Miles (LSU) and Hugh Freeze (Ole Miss). Who could've ever guessed that both Mississippi State and Ole Miss would be willing to pay over $4 million to keep their coaches around? Let's not forget that it's been less than a decade since Nick Saban became the first college football coach to make $4 million annually when he signed with Alabama in 2007. Now all seven coaches in the SEC West make at least that much.
2. The financial aid agreements signed by recruits before signing day seem like a good idea in principle. But there's always a catch, and it looks as if LSU found that out the hard way. The Tigers are getting
slapped with recruiting sanctions
all because a recruit backed out of his commitment. No big deal, right? In this case it is. That recruit, offensive lineman Matt Womack, signed a financial agreement with LSU which gave the school unlimited contact with him. The only problem is he didn't sign his letter of intent with LSU. He signed it with Alabama. That made the unlimited contact with the recruit illegal, and the NCAA is making them pay. So who's at fault here? LSU couldn't have seen this coming. But can you blame the kid for changing his mind? That happens. Ultimately, I think the rule has to change.
Around the SEC
Tweet of the day
THOSE LLAMAS AIN'T BEAT BAMA PAWWWWWWWL @finebaum

— ESPNU (@ESPNU) February 26, 2015
February, 26, 2015
Feb 26
9:25
PM ET
Associated Press
BATON ROUGE, La. -- LSU says its football program has been penalized by the Southeastern Conference because coaches communicated too frequently with a recruit who had signed a financial aid agreement, but later decided to play elsewhere.
NCAA rules allow coaches more leeway to contact recruits who have submitted financial aid forms, but coaches are deemed retroactively in violation if such recruits decide to enroll at another school.
LSU spokesman Michael Bonnette says the Tigers received a two-year ban on offering financial aid agreements to freshmen enrolling in the spring semester -- called early enrollees. Also, coaches will have the number of days they can evaluate recruits cut by 10 percent in 2015.
Bonnette says LSU informed the SEC of the violations, which were first reported Thursday by The Advocate of Baton Rouge.
February, 26, 2015
Feb 26
10:30
AM ET
The SEC is still won in the trenches so the teams with good offensive line play will likely do well for themselves. As we look ahead to the 2015 season, who in the SEC looks the strongest up front? Keeping in mind that this list may (and probably will) change once the season arrives, here's our pre-spring ranking:
1. Georgia:
The Bulldogs were the No. 1 rushing team in the SEC and they return four starters from that unit:
Kolton Houston
,
Brandon Kublanow
,
Greg Pyke
, and
John Theus
. Losing All-SEC pick
David Andrews
at center is tough, but the Dawgs are in good shape up front for 2015.
2. Arkansas:
This unit was the Hogs' strength in 2014, and the Razorbacks also return four starters, losing only right tackle
Brey Cook
. With starters
Dan Skipper
,
Sebastian Tretola
,
Mitch Smothers
, and
Denver Kirkland
back from a unit that allowed the fewest sacks (14) and was in the top 25 nationally in rushing, the future is bright.
3. Auburn:
Reese Dismukes
is gone, but the Tigers have a lot of pieces to work with. Three starters return (
Shon Coleman
,
Devonte Danzey
,
Avery Young
) and they regain the services of
Alex Kozan
, who started all 14 games in 2013 but missed last season with a season-ending back injury suffered in training camp. Ole Miss transfer
Austin Golson
and highly regarded youngster
Braden Smith
could also be factors.

4. LSU:
The Tigers lose two starting linemen, including standout left tackle
La'el Collins
, but
Vadal Alexander
and
Jerald Hawkins
are back and are likely to man the tackle spots. Keeping those two for another year is big. Interior lineman
Ethan Pocic
, who played center last season, is back too, from a group that led the Tigers to 224.5 rushing yards per game.
5. Alabama:
The Crimson Tide only return two starters, but they are important ones -- left tackle
Cam Robinson
and center
Ryan Kelly
. There are reserves with game experience who can step into starting roles like
Alphonse Taylor
,
Grant Hill
, and
Dominick Jackson
. There is room for improvement here; the Tide were sixth in the SEC in rushing yards per game in 2014.
6. Texas A&M:
Two full-time starters who were mainstays on the left side (
Cedric Ogbuehi
and
Jarvis Harrison
) are gone; but the rest of the line is back -- center
Mike Matthews
, right guard
Joseph Cheek
, and right tackle
Germain Ifedi
. Junior college transfers
Avery Gennesy
and
Jermaine Eluemunor
, who redshirted last season, likely factor into the lineup. The question is who will play left tackle.
7. Missouri:
Four starters return for the Tigers, led by center
Evan Boehm
. They, too, need to find a left tackle to replace the departed
Mitch Morse
. The unit was up and down last season, but showed some promise in late-season wins against Texas A&M and Minnesota.
8. South Carolina:
The Gamecocks must replace the left side of the line (
A.J. Cann
and
Corey Robinson
are gone) but the right side returns, including tackle
Brandon Shell
, who is sitting out spring because of labrum surgery but should be ready to go in the fall. Getting back guard
Cody Waldrop
, who was banged up last season, is key.
9. Mississippi State:
The Bulldogs lost three talented senior linemen:
Ben Beckwith
,
Dillon Day
and Blaine Causell. They were fortunate enough to land the No. 1 junior college tackle in the country in December, ESPN JC 50 prospect Martinas Rankin. Center is the biggest question mark.
10. Ole Miss:
The Rebels bring back all their starters but suffered a blow late in the season when they lost starting guard
Aaron Morris
, who tore his ACL before the Chick-Fil-A Peach Bowl, and offensive tackle
Laremy Tunsil
, the stalwart of the group who was lost during the Peach Bowl with a fractured fibula. The Rebels did happen to land the nation's No. 3 offensive guard recruit,
Javon Patterson
. Results have to get better after they averaged only 155 rushing yards per game and allowed 31 sacks.

11. Tennessee:
This is a group that could move up these rankings. The Volunteers had a rough go in 2014 (allowing an SEC worst 43 sacks) but showed a lot of growth as the season went on. The Vols bring back four starters from last season's unit, and Butch Jones signed two of the top 10 offensive tackles in the 2015 recruiting class:
Drew Richmond
and
Jack Jones
.
12. Florida:
There is a lot of work to be done for the Gators, who return only one full-time starter -- left guard
Trip Thurman
. The Gators have to reconstruct the rest of the offensive line with seniors and early draft entries departing. Fortunately for the Gators, they signed the nation's No. 1 offensive tackle,
Martez Ivey
, and the No. 3 center,
Tyler Jordan
.
13. Kentucky:
The Wildcats were near the bottom of the league in rushing and sacks allowed last season, meaning much improvement is needed. Kentucky returns four starters, but must replace departed left tackle
Darrian Miller
. The Wildcats do have some depth on the interior of the line where everyone on the two deep at both guard spots and center return.
14. Vanderbilt:
The Commodores averaged an SEC-low 109.25 rushing yards per game, and that number has to improve. What helps is that the offensive line at least returns some experience in the form of four starters, led by
Spencer Pulley
.
February, 25, 2015
Feb 25
11:40
AM ET
The last decade of SEC football has put the conference at the top of the college football world.
While the last two seasons have ended without an SEC team being crowned the national champion after seven straight title runs, you can't discount the past success of this league and how tough it is to survive in it.
Coaching in the SEC can be both a blessing and a curse. The risk and reward can almost be on the same playing field, but the chance to coach in the SEC is something high-profile coaches dream of. But tread lightly, because there's always a ferocious arms race going on, and getting behind can be bad for your health.
Today, we're ranking all 14
coaching jobs
in the SEC. We put our brains together, considering location, tradition, support, fan bases, facilities and recruiting access.
Here's what we came up with:
1. Florida:
Location, location, location. It's the flagship university in the fertile football state of Florida. There's enough talent to share with rivals Florida State and Miami, and Georgia is basically in Gainesville's backyard. Steve Spurrier and Urban Meyer helped make Florida a true national brand with all those SEC titles and three national championships. Significant facility upgrades are coming, the fan base is tremendous, game days are great and the Swamp is one of the best stadiums around. The last five years haven't been great, but with rich recruiting grounds and endless resources, the right coach can quickly turn things around.
2. Alabama:
If not for UF's location, Alabama would be No. 1. There's tremendous history with, like, 100 football national championships claimed by the fans. This is a job anyone would want. The facilities are some of the best, and coaches are able to recruit all over the Southeast and beyond with an extraordinary national brand. While expectations are gaudy, there's tremendous support inside and outside of the program, and there's no shortage of money for
any
coach out there.

3. LSU:
It has the luxury of being one of the few schools across the country that is
the
team in its state. Prospects across Louisiana, which also has a tremendous amount of elite talent, grow up wanting to play for the Tigers. The facilities are top-notch, the fan base is incredible and chaotic, and that immense, intimidating stadium just got bigger. Nick Saban helped LSU become a premier program, but Les Miles has done a great job continuing that since his arrival in 2005.
4. Georgia:
There's a great deal of talent in the state and Atlanta is essentially in its backyard. The Bulldogs are the top school in the state, rarely going to battle for recruits with rival Georgia Tech, and Georgia has a national brand that can push recruiting well outside the state's borders. The facilities are solid and an indoor practice facility is in the works. There's excellent tradition, a tremendous fan base and one of the league's best game-day atmospheres in Athens.
5. Texas A&M:
You could argue that Texas A&M should be higher on this list for the simple fact that it's in Texas. I mean, isn't that where
real
football was invented? There's a ton of money in College Station to keep any coach happy (just ask Kevin Sumlin) and the facilities, which keep getting bigger and prettier, are exquisite. Texas A&M is rich in tradition and has one of the best game-day atmospheres in the country. However, regardless of recent success, this school is still in the
Texas Longhorns
' shadow.
6. Auburn:
It isn't hard to recruit to Auburn and that beautiful campus. Yes, Auburn has to deal with playing second fiddle to Alabama, but getting elite talent on the Plains hasn't been difficult during Alabama's reign of terror. Auburn has a lot of tradition, one of the league's best stadiums and quality facilities. Even with that school in Tuscaloosa, a coach can win championships at Auburn.

7. Tennessee:
It's been a long time since Tennessee was a nationally relevant program, but longtime tradition and a re-emergence on the recruiting trail are pushing Tennessee's stock up. Neyland Stadium has been tidied up in recent years and nearly $50 million was spent on a new football complex. The state might not have an abundance of top-tier talent, but it's not like coaches have to travel very far to pluck guys from neighboring states.
8. Arkansas:
Arkansas has a lot going for it, even if it isn't in the heart of the Southeast's most fertile recruiting territory. It's essentially the
only
team in the state -- something LSU and Georgia can't even say -- and the school has unloaded some funds on improving facilities. However, since the state doesn't typically have a lot of top-notch prospects, coaches must heavily recruit other states such as Texas and Oklahoma.
9. South Carolina:
Spurrier has proved during his 10 years in Columbia that you
can
win at South Carolina. He's been able to tap the state's underrated talent pool while having to compete with Clemson and those other pesky schools trying to steal guys away. An indoor practice facility is under construction, and South Carolina has one of the most faithful fan bases, which stuck with the program during some very rough years.
10. Ole Miss:
In three years under Hugh Freeze, Ole Miss has grown its brand a little more. Just check out that historic 2013 recruiting class. The campus is beautiful, facilities are impressive and the game-day environment in the Grove is envied by just about everyone. However, consistently recruiting elite talent to Oxford has never been easy, and the program has won nine or more games just six times since 1971 and has had 11 head coaches in that span.
11. Missouri:
With two SEC East titles in three years, Missouri's move to the SEC hasn't been as daunting as a lot of us expected. Gary Pinkel made this a quality program after his 2001 arrival, and the school charged right into the SEC arms race by upgrading and expanding Memorial Stadium as part of a $200 million facilities project. Location can be an issue, but Mizzou has made it a point to have more of a Southeastern presence in recruiting.
12. Mississippi State:
Consistently getting elite talent to Starkville, which can be a little out of the way for people, is an uphill battle. But the program has been on the uptick since Dan Mullen's arrival in 2009. Mississippi State's brand is growing, the fan base is incredibly loyal and the school hasn't been afraid to spend money after pumping $75 million into a stadium expansion a couple of years ago.
13. Kentucky:
Let's face it: This is a basketball school. The Wildcats haven't been to a bowl game since 2010, following five straight trips. It's hard to sustain real success at Kentucky when coaches constantly have to go outside of the state for recruiting. Mark Stoops has done well on the recruiting trail recently, and that $45 million football facility will be a major upgrade, but to see a true title contender emerge from Lexington will be a rarity.
14. Vanderbilt:
James Franklin showed that you can win at Vandy with three straight bowl trips, but as soon as he was gone, Derek Mason's Commodores fell flat. High academic standards restrict coaches from recruiting some of the top players in the country, but a recent facilities upgrade shows some care for the program. Vandy must go way outside the box and a take a lot of risks in recruiting.
February, 25, 2015
Feb 25
11:30
AM ET
The SEC has been a breeding ground for big-time receivers over the last few years. Alabama's
Amari Cooper
is projected as a top-10 pick in May's NFL draft, and look at the seasons
Odell Beckham Jr
.,
Mike Evans
and
Jordan Matthews
all had as rookies.
As we turn the page to the 2015 season, who in the SEC looks the strongest at the wide receiver/tight end position? Keeping in mind that this list may (and probably will) change once the season gets here, here's our
pre-spring ranking
:
1. Texas A&M:
Even with the departure of Malcome Kennedy, the Aggies are loaded. Eight different wide receivers return who caught touchdown passes last season.
Josh Reynolds
was one of the league's top breakout players a year ago with 13 touchdown catches and earned second-team All-SEC honors from the AP.
Edward Pope
, like Reynolds, is a big target at 6-foot-4.
Ricky Seals-Jones
is even bigger at 6-5 and will be two years removed from his ACL tear, and
Speedy Noil
is the most explosive of the bunch.

2. Tennessee:
The Vols have depth, experience and versatility.
Marquez North
is the most physically imposing of the group, but he's coming off a shoulder injury. Teams won't be able to concentrate on him, though, because
Pig Howard
,
Von Pearson
,
Josh Malone
and
Jason Croom
are all back along with
Josh Smith
, who missed most of last season with an ankle injury. Sophomore
Ethan Wolf
has all the tools to be Tennessee's next All-SEC tight end.
3. Ole Miss:
The Rebels weren't the same offensively last season after
Laquon Treadwell
broke his leg in the Auburn game. He's working his way back, and if healthy, will be one of the top receivers in the league. Veterans
Cody Core
and
Quincy Adeboyejo
are back, while redshirt freshman
Sammie Epps
and transfer
Damore'ea Stringfellow
, who played at Washington in 2013, should be nice additions.
Markell Pack
was mostly a punt returner last season and is a candidate to take Vince Sanders' spot. Don't forget about
Evan Engram
, either. He led all SEC tight ends with 662 receiving yards last season.
4. Mississippi State:
This will be the most talented group of receivers Dan Mullen has had in Starkville, which is great news for returning senior quarterback
Dak Prescott
. It all starts with the 6-5, 225-pound
De'Runnya Wilson
, who has developed into one of the SEC's most difficult matchups after making the switch from hoops to football.
Fred Brown
,
Fred Ross
and
Joe Morrow
are also back, and they combined to catch 11 touchdown passes last season. Speedy junior college signee
Donald Gray
is already on campus and looks like a natural in the slot.
Darrion Hutcherson
(6-7, 260) steps in at tight end after coming over from junior college a year ago.

5. LSU:
The Tigers have the guys who can catch it and go get it. Finding somebody who can get the ball to them will be the trick. Junior
Travin Dural
was sensational at times a year ago and has averaged 20.5 yards per catch during his two seasons at LSU.
Malachi Dupre
has major star potential after catching five touchdown passes as a true freshman.
John Diarse
(redshirt freshman) and
Trey Quinn
(true freshman) were two other first-year players who contributed last season and round out a rotation capable of doing some real damage down the field. The Tigers did lose two senior tight ends.
6. Auburn:
Sammie Coates
might be gone, but that doesn't mean Auburn will be hurting at receiver.
Duke Williams
' decision to return for his senior season was a nice surprise, and he gives the Tigers one of the top go-to threats in the league.
Ricardo Louis
and
Tony Stevens
are also back, and both have the kind of speed to stretch the field. The Tigers will be inexperienced at the tight end/H-back position with
C.J. Uzomah
and
Brandon Fulse
gone. No returning scholarship player has played a snap at tight end.
7. Georgia:
The X-factor of all X-factors is
Malcolm Mitchell
. Can he stay healthy? If he can avoid injuries, he has a chance to be one of the best deep threats in the league. It's a similar story with
Justin Scott-Wesley
, who played in only six games last season. Look for dynamic return specialist
Isaiah McKenzie
to be more involved in the passing game, and holding onto prized freshman signee
Terry Godwin
was huge. He'll play early. The Bulldogs' tight end combo of
Jeb Blazevich
and
Jay Rome
is the one of the best in the SEC.
8. South Carolina:
The only reason the Gamecocks are this high is
Pharoh Cooper
. With Amari Cooper leaving early for the NFL, Pharoh Cooper returns as the best receiver in the SEC. He earned first-team All-SEC honors last season after catching 69 passes for 1,136 yards and nine touchdowns. After Cooper, there are a bunch of unknowns. Four of the top five wide receivers from last year are gone. The Gamecocks think redshirt freshman
Deebo Samuel
could develop into a nice complement to Cooper, and tight end
Jerell Adams
is more talented than he has played and could be in store for a breakout senior season.
9. Alabama:
The Crimson Tide's top three pass-catchers from 2014 are gone, including record-setting Heisman Trophy finalist Amari Cooper, who carried Alabama at times. With Cooper no longer around, look for tight end
O.J. Howard
to become a much more consistent threat in the passing game. Junior
Chris Black
will get his chance to shine. The same goes for third-year sophomore
Robert Foster
. The up-and-comer to watch is 6-4, 208-pound
Cam Sims
, who played some last season as a true freshman.
10. Arkansas:
Just about all of Arkansas' key figures in the passing game are back, but the Hogs need to find a way to be more explosive in 2015. Junior college signee
Dominique Reed
has the speed to fill that role.
Hunter Henry
returns as one of the best tight ends in the league. Senior
Keon Hatcher
is back after leading the Hogs in catches (43), yards (558) and touchdowns (six).
Jared Cornelius
showed flashes as a true freshman, and the two wild cards are sophomore
Kendrick Edwards
and redshirt freshman
Jojo Robinson
, a pair of South Florida products.
11. Florida:
The Gators haven't had a receiver sniff first- or second-team All-SEC honors from the coaches since Percy Harvin in 2008. So it has been a while since they've had a true difference-maker at receiver.
Demarcus Robinson
has a chance to blossom in Jim McElwain's offense after catching seven touchdown passes a year ago. Tight end
Jake McGee
returns for his sixth season after getting a waiver from the NCAA. He's a transfer from Virginia and led the Cavaliers with 43 catches in 2013. He broke his leg in the Gators' first game last season.
12. Kentucky:
The Wildcats lost two of their most productive receivers from a year ago,
Demarco Robinson
and
Javess Blue
.
Ryan Timmons
is back and is the most dynamic offensive threat on the team. He just needs to catch the ball more consistently.
Dorian Baker
and
Garrett Johnson
both played as true freshmen last season, and each started multiple games and combined for 41 catches.
Blake Bone
also played as a true freshman. Early enrollee
C.J. Conrad
could be the answer at tight end. The Wildcats got very little production from that position last season.
13. Missouri:
Ranking the Tigers this low probably isn't very wise when you consider the way they've continued to reload at receiver and the job receivers coach Pat Washington has done. He'll have his work cut out in 2015. Mizzou lost its top three wide receivers from a year ago.
Bud Sasser
,
Jimmie Hunt
and
Darius White
combined to catch 23 of the team's 25 touchdown passes. The Tigers will be looking for
Nate Brown
and
J'Mon Moore
to grow up in a hurry as sophomores. It helps that starting tight end
Sean Culkin
is back.
14. Vanderbilt:
It's a big offseason for
C.J. Duncan
and
Latevius Rayford
as the Commodores search for a true No. 1 threat.
Trent Sherfield
has a chance to be the team's best deep threat after playing some as a true freshman. In fairness, it was difficult to evaluate the Commodores at receiver last season because they played so many different quarterbacks.
Ronald Monroe
is a redshirt freshman to watch, and senior tight end
Steven Scheu
returns after tying for the team lead with four touchdown catches a year ago and earning second-team All-SEC honors.
February, 25, 2015
Feb 25
8:00
AM ET
Rabalais looks ahead at LSU's FB schedule
SEC SCOREBOARD
Thursday, 9/3
Saturday, 9/5