July, 17, 2014
Jul 17
2:30
PM ET
Roughly one out of every five players on Thursday's Doak Walker Award watch list comes from the SEC.
The conference did not have a finalist for the award, which goes to the top running back in college football, last season, as winner
Andre Williams
of Boston College and finalists
Ka'Deem Carey
(Arizona) and
Bishop Sankey
(Washington) hailed from the ACC and Pac-12. And of the 10 semifinalists, only Auburn's Tre Mason and South Carolina's
Mike Davis
came from the SEC.
That could easily change this season since the league is brimming with star-caliber tailbacks, as evidenced by the 11 SEC backs on the Doak Walker watch list, led by the two players whom the media selected to its preseason All-SEC first team this week at media days:
Todd Gurley
of Georgia and
T.J. Yeldon
of Alabama.
Here is the full list of 11 SEC candidates out of the 53 total players on the watch list:
Tra Carson
, Texas A&M
Alex Collins
, Arkansas
Mike Davis, South Carolina
Todd Gurley, Georgia
Derrick Henry
, Alabama
Terrence Magee
, LSU
Josh Robinson
, Mississippi State
Kelvin Taylor
, Florida
Jonathan Williams
, Arkansas
Trey Williams
, Texas A&M
T.J. Yeldon, Alabama
July, 17, 2014
Jul 17
8:00
AM ET
By
ESPN.com staff
| ESPN.com
It's the unofficial start of college football season as media events kick off with the biggest one of all, the four-day SEC circus in Hoover, Alabama. Keep this page open throughout today's proceedings as we bring you all of the latest from our array of reporters, who will cover all 14 teams at the event.
July, 16, 2014
Jul 16
6:30
PM ET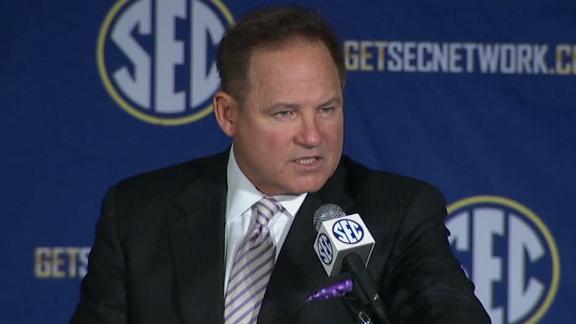 HOOVER, Ala. -- When you place a microphone in front of Les Miles, it's magical. You never know what the LSU head coach might say or which sound bite might go viral. The possibilities are seemingly endless for "The Mad Hatter."
Miles didn't disappoint when he stepped on the dais in Ballroom C of the Hyatt Regency Birmingham. His opening statement was more than 10 minutes long and more than 1,400 words. Here are the best quotes Miles provided.
[+] Enlarge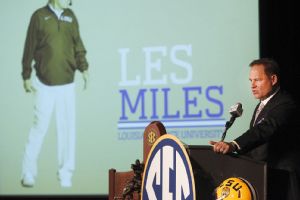 AP Photo/Butch DillLSU coach Les Miles is always good for a quote.
It's the gift that keeps on giving:
On the SEC Network:
"I told commissioner [Mike] Slive in the last five minutes congratulations on Cox Cable picking up the SEC Network and the fact that there will be a bunch of people in Baton Rouge excited to watch the Tigers. I won't have to change my cable provider."
On his family vacation:
"The Miles family, [daughter and Texas student] Smacker Miles, I took a vacation. I went to Austin, took my three children with me, so we had six, two parents and four children on that campus. It was miserable. I hated it. But it was great fun. I mean, it was not a beach, it was not sand, but it was my family, and that was the best. Manny is my eldest son. He's pitching and playing football. FIFA was on TV. He decided to pick up a soccer ball, called up a couple buddies, he was in a soccer game for four hours. Think about that, right? My [youngest daughter] Macy Miles is pitching in fast-pitch softball in Orlando, Florida, at the World Series. Certainly there's a lot of media there, as well. She's in a 10-and-under league. She has a 4-0 win as a pitcher, no hit. A very quality smasher's club that she faced this morning."
On why he disliked Austin:
"Oh, no, no, no. It was just not vacation. I loved it. My daughter's doing wonderfully there. I enjoy the experience she's having, OK? But it was not a beach. There was no hotel that I walked out and jumped into the surf. But the great news is, as a family, we did some things we never would have done. I'm glad you asked this question [laughter]. Example: We rented bikes. It just happened to rain like hell. There was a bunch of hills down there. I want you to know something. As a father, I'm watching my kids going down this hill. I promise you, some of the experiences I had there, I'll not have again [laughter]."
On LSU's outlook this year:
"I like us. I like us in every game."
On losing players early to the NFL draft:
"Yeah, we'd like to have those guys back. I keep approaching the NFL on an opportunity for us to draft back some of our players that they take.
Patrick Peterson
, he'd have come back [smiling]."
On true freshman tailback Leonard Fournette:
"I think it's exactly where he needs to be. He expects himself to be something very special. I think if you look at Michael Jordan, he could not have been coached to be Michael Jordan. Michael Jordan accepted the role of expecting him to be better than any." (
You can read more on the high praise for Fournette here
.)
On the College Football Playoff:
"I think it's a quality attempt. I think the playoffs will eventually at some point in time expand. I think that the playoff will be equally kind to the SEC. The reason I say that is because there's just such quality competition here. The teams week in and week out are so prepared, so capable and talented. For them not to include one and possibly more in that playoff would be, I don't know, maybe shortsighted."
On recruiting the state of Texas as an SEC coach:
"I think our conference is a conference of choice. I think there's an opportunity for the very best players to want to play in this conference. I'm also a coach that coached in the Big 12 Conference and recognized the great advantages of Texas, recognized the great advantages of the OUs in that conference. But you look at a high school athlete, you want to play against the very best; we can make that argument at the SEC."
July, 16, 2014
Jul 16
4:28
PM ET
HOOVER, Ala. -- Running back Leonard Fournette, the nation's top prospect in the 2014 recruiting class, hasn't played a down of college football but is already receiving effusive praise in LSU circles.
Tigers coach Les Miles invoked the name of six-time NBA champion and Hall of Famer Michael Jordan when discussing Fournette at SEC media days Wednesday.
"I think it's exactly where he needs to be," Miles said. "He expects himself to be something very special. I think if you look at Michael Jordan, he could not have been coached to be Michael Jordan. Michael Jordan accepted the role of expecting him to be better than any.
"I think he [Fournette] has a quiet confidence there that will benefit him, and I think we will always have an opportunity to play at that spot the running backs that are fresh."
The grandiose comparisons didn't stop there.
LSU senior running back Terrence Magee chimed in by comparing Fournette to premier NFL running back Adrian Peterson of the Minnesota Vikings.
"Who wouldn't want to play in a backfield with a guy like that? He has been compared to Adrian Peterson," Magee said. "To be honest, I think it's the only guy that's playing the running back position right now that you can compare [Fournette] to."
Both Miles and Magee noted that Fournette, a 6-foot-1, 224-pound running back out of St. Augustine High School in New Orleans, carries himself with an unassuming personality.
July, 16, 2014
Jul 16
11:58
AM ET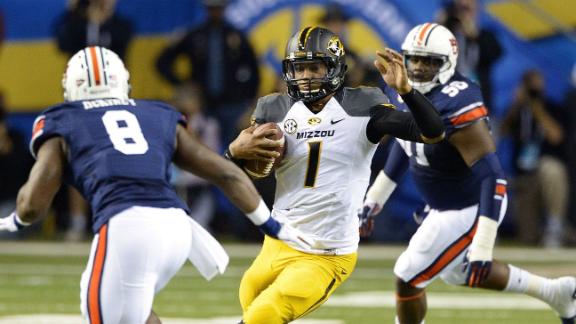 HOOVER, Ala. -- In a move to further protect players from dangerous hits, the SEC has defined a "strike zone" from below the neck to above the knees in which an unabated defender may attempt to tackle an "offensive player in a passing posture."
"This is a player safety issue," said Steve Shaw, the SEC's coordinator of officials.
Shaw, who spoke at SEC media days Wednesday, said the rule to protect quarterbacks from being hit below the knees will be enforced regardless of whether the hit occurs inside or outside the pocket. A penalty will not be called, however, if a defender is blocked into the quarterback.
"When a player is under his own power, he's directing his hit and he chooses to go low, that is going to be a foul," Shaw said.
"This rule change, I think, will create the player behavior change."
Shaw also touched on last season's controversial targeting penalty in his address, calling it "the biggest change of my officiating career."
Last season, the NCAA changed the penalty for targeting defenseless players with hits to the head by adding an ejection to the 15-yard penalty.
"What were the results of that?" he said. "Well, first of all, let me say we simply had to change player behavior for the good of the game. I believe we started to see this type of player behavior change that we were looking for."
Shaw said "the trend is good," citing fewer targeting penalties in the second half of last season. Shaw said 14 targeting calls were made in the first eight weeks last season and only five after that.
One change to the rule is that both the ejection and 15-yard penalty can be overturned if officials decide upon review that the foul was incorrectly called.
Shaw did point out, though, that the 15-yard penalty will stand if another foul occurs on the same play.
July, 16, 2014
Jul 16
10:00
AM ET
By
ESPN.com staff
| ESPN.com
It's the unofficial start of college football season as media events kick off with the biggest one of all, the four-day SEC circus in Hoover, Alabama. Keep this page open throughout today's proceedings as we bring you all of the latest from our array of reporters, who will cover all 14 teams at the event.
July, 15, 2014
Jul 15
10:00
AM ET
By
ESPN.com staff
| ESPN.com
It's the unofficial start of college football season as media events kick off with the biggest one of all, the four-day SEC circus in Hoover, Alabama. Keep this page open throughout today's proceedings as we bring you all of the latest from our array of reporters, who will cover all 14 teams at the event.
July, 15, 2014
Jul 15
8:00
AM ET
BATON ROUGE, La. -- LSU officially added another name to its list of summer departures on Monday when a school spokesman confirmed that senior
Rob Bolden
intends to transfer.
In addition to the seven Tigers who sacrificed their remaining eligibility in order to enter the 2014 NFL draft, four others have announced plans to transfer, including defensive end
Jordan Allen
(Arizona) and quarterbacks
Stephen Rivers
(Vanderbilt) and Hayden Rettig (Rutgers). Now Bolden becomes the third player capable of lining up under center who has opted to continue his career elsewhere.
[+] Enlarge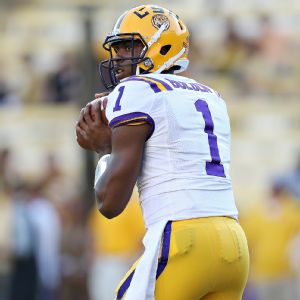 Ronald Martinez/Getty ImagesRob Bolden is the third player capable of playing quarterback to transfer from LSU this offseason.
Bolden played receiver this spring after spending the past two seasons as a backup quarterback at LSU -- he never appeared in an actual game -- and the two seasons before that as a part-time starting quarterback at Penn State. He transferred to LSU in 2012 in the wake of the Jerry Sandusky investigation.
Had he remained at LSU, he would have been one of the most veteran players at whichever position he played. Of the nine wideouts listed on the preseason depth chart LSU released Monday,
Quantavius Leslie
is the only senior, there are no juniors and
Travin Dural
is the only sophomore.
Bolden
attempted to put a positive spin on his shift to receiver
during the spring, but obviously something changed since then. A report on Monday by SpartanNation.com had the Michigan native transferring to Eastern Michigan in order to play quarterback.
LSU's more pressing issue now is at quarterback, where the trio's departure leaves sophomore
Anthony Jennings
and
Brandon Harris
as the only scholarship players and walk-ons
Brad Kragthorpe
,
Jake Clise
and
Brandon Bergeron
as reserves.
That isn't necessarily a nightmare scenario so long as Jennings and Harris stay healthy this fall. LSU used only two quarterbacks -- senior Zach Mettenberger and Jennings -- all of last season, even though Mettenberger dealt with minor injuries for a portion of the fall before suffering a season-ending knee injury in the regular-season finale against Arkansas.
It obviously helped from a continuity standpoint that Mettenberger was a fifth-year senior who possessed extensive college experience and an NFL-level skillset. Jennings and Harris are both early in their developmental cycle, which already leaves LSU with little breathing room at the position even before potential injuries enter the equation.
LSU's coaches made it clear during the spring that Jennings and Harris are their top two options -- hence the departures of the three backup quarterbacks -- so Bolden would have been nothing more than an emergency option as long as the youngsters stayed upright. But he would have been an awfully useful emergency option.
In 2010, Bolden became the first true freshman quarterback to start a game at Penn State in 100 years and he went on to start 17 games between that season and the next before transferring to LSU. Backup quarterbacks with that kind of major-conference experience aren't particularly plentiful, and now LSU has decided to spend his last season of eligibility elsewhere.
July, 14, 2014
Jul 14
2:30
PM ET
The opening of SEC media days isn't the only news of the day. Two more college football award watch lists debuted Monday, and the SEC is a major player on both.
Thirteen of the 123 watch list honorees for the Lombardi Award, which is given annually to the top lineman or linebacker, are from the conference. Likewise, nine of the 51 nominees for the Butkus Award, which goes to the top linebacker, are SEC players.
Here are the full lists of SEC nominees:
Lombardi
G
A.J. Cann
, South Carolina
OT
La'el Collins
, LSU
C
Reese Dismukes
, Auburn
DE
Trey Flowers
, Arkansas
LB
Leonard Floyd
, Georgia
LB
A.J. Johnson
, Tennessee
DT
Chris Jones
, Mississippi State
OG
Arie Kouandjio
, Alabama
LB
Benardrick McKinney
, Mississippi State
DT
Robert Nkemdiche
, Ole Miss
OT
Cedric Ogbuehi
, Texas A&M
DE
A'Shawn Robinson
, Alabama
LB
Ramik Wilson
, Georgia
Butkus
Trey DePriest
, Alabama
Leonard Floyd, Georgia
Kris Frost
Jordan Jenkins
, Georgia
A.J. Johnson, Tennessee
Benardrick McKinney, Mississippi State
Braylon Mitchell
, Arkansas
Reggie Ragland
, Alabama
Ramik Wilson, Georgia
July, 14, 2014
Jul 14
12:23
PM ET
By
ESPN.com staff
| ESPN.com
It's the unofficial start of college football season as media events kick off with the biggest one of all, the four-day SEC circus in Hoover, Alabama. Keep this page open throughout today's proceedings as we bring you all of the latest from our array of reporters, who will cover all 14 teams at the event.
July, 14, 2014
Jul 14
9:00
AM ET
HOOVER, Ala. -- Welcome to SEC media days!
It didn't seem as if we'd ever get here, but in a couple of hours, the inside of the Wynfrey Hotel will be transformed into a circus. The arrival of SEC media days brings us ever closer to the start of the 2014 season. Remember, this is the first season in which we'll be seeing an actual playoff end the season. That right there might be too much to digest.
But before we dive into the nitty-gritty of the season, we're turning our attention to SEC media days. It's where you can have 1,000 media members all together -- along with a lobby jam-packed with ravenous fans (usually Alabama ones) -- crowding around kids and coaches.
It really is a beautiful thing, and here are 10 things to keep an eye on this week in Hoover:
1. Life without Marshall:
Monday was supposed to be a chance for Auburn to truly introduce quarterback
Nick Marshall
to the world. Sure, we've all seen what he can do with a football in his hand, but this was where we were supposed to hear Auburn's quarterback
talk
about all he does with a football. After all, Marshall could be a Heisman Trophy candidate this fall. But after Marshall was cited for possession of a small amount of marijuana Friday, he's out for media days. Tight end
C.J. Uzomah
will take his place. Marshall should be here to own up to his mistake. He should be here to take responsibility, but he isn't. Now his coach and teammates have to do that.
[+] Enlarge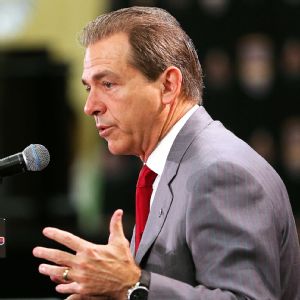 Mike Ehrmann/Getty ImagesNick Saban and Alabama may be picked for the fourth time in five years to win the SEC.
2. Bama talk:
For the first time since the 2011 SEC media days, Alabama did not arrive as the defending national champs. The Crimson Tide didn't even make it to the SEC title game. But that won't matter. Alabama still will steal the show. Everyone is here to see coach Nick Saban and ask questions about
why
Alabama couldn't get it done last season. We'll hear questions about the present and future for Alabama. And with so much talent returning, Alabama will likely be picked to win the SEC for the fourth time in five years.
3. Mason's debut:
Vanderbilt coach Derek Mason is headed to the big leagues, but his first official stop as the man in charge of the Commodores is in Hoover. This ain't Stanford, and it definitely isn't the Pac-12. He'll meet a throng of media members inside a gigantic ballroom. He'll be bombarded with questions about replacing James Franklin, and we'll all wonder if he has what it takes to keep Vandy relevant. Will he wow us during his introductory news conference? Or will he take the businesslike approach and just try to get through such a long day?
4. Muschamp's hot seat:
After a 4-8 season that saw an anemic offense and a loss to FCS foe Georgia Southern, Florida coach Will Muschamp is feeling the heat under his seat. While he has been very collected about the pressure he should be feeling, he knows that this is the most important season of his tenure. To be fair, Florida dealt with an unfair amount of important injuries, but that means nothing now. Muschamp has yet to take Florida back to the SEC title and is 0-3 against archrival Georgia. Muschamp knows he has to win, and he and his players will be grilled about it all day today.
5. Sumlin dealing with distractions:
Johnny Manziel might be gone, but Texas A&M is still dealing with distractions away from the football. Before Kevin Sumlin could even get to media days, he had to dismiss two of his best defensive players in linebacker Darian Claiborne and defensive tackle Isaiah Golden, who were arrested on charges of aggravated robbery earlier this year. One of his quarterbacks --
Kenny Hill
-- also was arrested in March on a public intoxication charge. Once again, Sumlin will have to talk about more than just football this week.
[+] Enlarge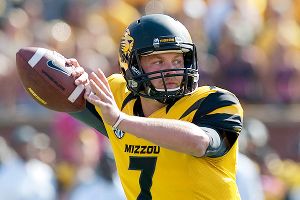 AP Photo/L.G. PattersonMissouri's Maty Mauk threw for 1,071 yards with 11 touchdowns and just two interceptions in place of the injured James Franklin.
6. Quarterback composure:
A lot of talented quarterbacks left this league after last season, but we'll get our fill this week. Marshall might be absent, but we'll hear from
Jeff Driskel
,
Dak Prescott
,
Dylan Thompson
,
Bo Wallace
and
Maty Mauk
. All these guys could have big seasons and will be crucial to their respective teams' success. Can Florida's Driskel rebound after his early, season-ending injury? Is Thompson ready to replace Connor Shaw at South Carolina? Can Wallace of Ole Miss finally find some consistency? And can Prescott (Mississippi State) and Mauk (Missouri) prove their 2013 success wasn't just a flash in the pan?
7. Mauk's composure:
Speaking of Missouri's quarterback, he's an incredibly interesting character to watch. He went 3-1 as a starter in place of the injured James Franklin last season, and has the right attitude and moxie that you want in a quarterback. Is he ready to be the guy full time? Is he ready to lead without a stud like Dorial Green-Beckham to throw to or Franklin to help him? A lot of veteran leadership is gone, so all eyes are on Mauk. He's also a very confident person who isn't afraid to speak his mind. Let's hope he's on his game.
8. Players and the playoff:
This is the first season of the College Football Playoff, and we've received just about everyone's opinion on the matter. Well, almost. We haven't heard much from the people who might be playing in it. What do players think about it? Are there too many games now? Not enough? Do they care about the bowl experience? Do they even care about the playoff?
9. What do players think about getting paid?
With the Power Five a real thing and autonomy becoming more of a reality, what do the players think about it all? What are their thoughts on the prospect of getting some sort of compensation from their schools? Are they getting enough now? How much is enough?
10. What will Spurrier say?
Need I say more? We all want to know what Steve Spurrier will say. Will he take shots at Georgia or Saban? Will Dabo Swinney come up? Will another coach be a target? Who knows, and who cares? We just want him to deliver some patented Spurrier gold!
July, 11, 2014
Jul 11
3:00
PM ET
We continue our
"Most important game" series
, which looks at the most important game for each SEC team in 2014. These are the games that will have the biggest impact on the league race or hold a special meaning for one of the teams involved.
Today, we take a look at Alabama.
Most important game:
Nov. 8 at LSU
Key players:
As always, it's going to come down to who wins the line of scrimmage. And after looking over both teams' personnel, it's a bit of a toss-up.
On the one hand, Alabama is loaded on the defensive line with depth at nose guard and capable pass rushers like
A'Shawn Robinson
,
Jonathan Allen
and
D.J. Pettway
at the ready. But the offensive line is something of a question mark with two new starters, one of whom could be true freshman
Cam Robinson
at left tackle.
LSU is looking at the opposite situation with four starters back on its offensive line, including
La'el Collins
, who passed on the NFL draft this offseason. But the defensive line isn't on its usual solid footing without a pair of tackles you know can anchor the defense. The good news is that the pass rush shouldn't suffer with
Danielle Hunter
and
Jermauria Rasco
in place, and
Tashawn Bower
poised to come into his own.
Where Alabama does have the edge is at the offensive skill positions. While LSU has plenty of pieces in place with
Leonard Fournette
,
Malachi Dupre
and
Travin Dural
, they all have either limited or no experience. Alabama, meanwhile, has a bevy of talent and experience with
Amari Cooper
at receiver,
O.J. Howard
at tight end and
T.J. Yeldon
and
Derrick Henry
at running back.
The major question mark for both teams is at quarterback. Jacob Coker could be the next great Alabama quarterback, but until we see results we don't really know. LSU has not one but two quarterbacks to choose from in sophomores
Brandon Harris
and
Anthony Jennings
, but who holds the upper hand is still to be determined.
Why it matters:
Oh, you know, there's just a little history with this series as five of the last seven seasons have seen either Alabama or LSU win the West. Despite significant changes to both teams' rosters, this season looks to be no different as both programs harbor hopes of reaching Atlanta.
The road to Week 11 of the season is much kinder to Alabama, as the Tigers must first go through Wisconsin, Mississippi State, Auburn, Florida and Ole Miss, while the Crimson Tide face only two teams that finished last season above .500 (Ole Miss, Texas A&M).
Because of that, you can look at this as a "prove it" game for Alabama. Sure, traveling to Ole Miss presents its challenges, but the last time Alabama lost there was in 2003. And Texas A&M, while talented, likely won't be the same team without Johnny Manziel leading them into Tuscaloosa. Meanwhile, LSU won't be a "young" football team by November, and it will also have Tiger Stadium on its side.
If Alabama can survive LSU, it should be favored in its remaining three games, all of which are at home: Mississippi State, Western Carolina and Auburn.
Now you can jump up and down and say Auburn is the most important game for Alabama, and you'd have a solid argument. There's the fact that it's the best rivalry in college football, that both teams will likely be ranked when they meet Nov. 29 and the most basic issue of revenge to attend to. But it comes down to this for me: If Alabama loses to LSU, how far will the Tide drop in the playoff hunt and will a win over Auburn be enough to put them back in the conversation? Of that I'm not so sure.
July, 11, 2014
Jul 11
10:00
AM ET
On Thursday, we examined five individuals who could be potential SEC "villains" in 2014. And while some people love to be "haters" let's be real, most of us like to feel good about who we root for. If you feel like the player you like is also generally a good guy off the field and does the right things, it makes you feel that much better when he scores a touchdown or makes a big tackle on Saturdays.
With that in mind, let's keep it positive today and discuss five guys that are worth rooting for this season, in alphabetical order:
Luke Boyd, LSU
: Boyd's name might not be one known to SEC fans but he has quite a story. The 27-year-old walk-on is
an active-duty Marine who served the last five years
, including six months in Afghanistan. Earlier this month, he was promoted to staff sergeant. He walked on with the Tigers last season and dressed for home games and hopes to find his way onto the field as a special-teams contributor this season. Another interesting nugget: He was a guest at the 2012 NFL draft where, in full uniform, he announced the Seattle Seahawks' third-round pick -- Russell Wilson.
Shon Coleman, Auburn
: Former Auburn offensive tackle Greg Robinson, who was the No. 2 overall pick in the 2014 NFL draft, leaves some big shoes to fill. Coleman, who was his backup at left tackle last season, is a candidate to replace Robinson and what a story it would be if he does so. The 6-foot-6, 310-pound Coleman was diagnosed with acute lymphoblastic leukemia in spring of 2010 shortly after he signed with the Tigers out of high school. He was able to overcome that and saw his first collegiate action last season. To get to that point is impressive, to finish it off by becoming a starter this year would be a storybook-like development.
Vernon Hargreaves III, Florida
: He's only a sophomore, but he is the model physically (5-foot-11, 194 pounds) and athletically when it comes to playing cornerback and is already the conference's best at the position. He has the right stuff mentally to be the heartbeat of that Florida defense. A third-team Associated Press All-American last year, Hargreaves is also one of the nicest guys you'll meet, a coach's kid who is incredibly humble.
Dak Prescott, Mississippi State
: Prescott is already a talented quarterback who emerged into a real playmaker for the Bulldogs last season. He's a true leader and played through injuries last season and more importantly, the death of his mother, Peggy, who lost her life at 52 after a long bout with colon cancer. He returned to practice shortly after his mother's burial and played later that week against Texas A&M and compiled 303 offensive yards (154 rushing; 149 passing) and two touchdowns in a 51-41 loss. His toughness, both physical and mental, is one of his best qualities.
Deterrian Shackelford, Ole Miss
: A rare sixth-year senior, Shackelford missed two whole seasons after an ACL injury that was worse than initially thought when he suffered it in 2011. After missing the 2011 and 2012 seasons, he returned last season to play every game at linebacker and finished seventh on the team with 44 tackles and fourth on the team with 7.5 tackles for loss. He is in the mix to be a starter for the Rebels at linebacker this season and one of the most respected players on the team. After football, he said he
wants to be an athletic director or high school principal
to positively impact teenagers.
LSU's Talented Youth
SEC SCOREBOARD
Thursday, 8/28
Saturday, 8/30
Sunday, 8/31