May, 30, 2012
5/30/12
1:08
PM ET
DESTIN, Fla. – Alabama coach Nick Saban hasn't held back from talking about his disdain for placing only conference champions in a four-team playoff. He's very much for a four-team playoff, but he won't go for one that alienates teams by only picking the top four conference champions.
The whole reason any of this playoff talk even started is because people outside of the game are passionate about seeing one in college football. To take away the chance for the four BEST teams to play makes no sense to Saban.
"There's no question that we're even doing the top four because fans and the people who are interested in college football are interested in seeing the best four teams play in a playoff," Saban said Tuesday at the 2012 SEC spring meetings.
[+] Enlarge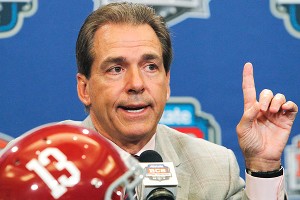 AP Photo/Dave MartinA four-team playoff shouldn't be limited to conference champions, Alabama head coach Nick Saban reiterated.
"Now, we're going to mess that up by saying you have to be a conference champion. I think somebody's a bit self-absorbed and worrying about how it affects them and how they can best get somebody in the (national championship) all the time, rather than getting the best four teams. I don't think that's fair to the fans and the people who really have made it known that they want to see the four best teams play in a playoff.
"The bigger these conferences get the better chance you have to have two very good teams in that."
Saban didn't go as far as to name names, but anyone paying attention to all of this playoff talk knows he's talking about Big Ten commissioner Jim Delany, who has been extremely outspoken about having only conference champions represented in a four-team playoff and has taken a few shots at Alabama and its 2011 title along the way.