July, 26, 2012
7/26/12
3:11
PM ET
Editor's note: ESPN.com's Summer Shootaround series catches up on the offseason storylines for each conference. For more on SEC, click here.
Alabama
Best-case scenario:
The most impressive thing about Alabama's season was not just that Anthony Grant had the onions to suspend his two best players down the stretch but also that Alabama played so well after he did. That bodes well for the upcoming season, in which Grant will incorporate talented freshman small forward
Devonta Pollard
with essentially the same team that finished 7-3 down the stretch. If Alabama can find some outside shooting to go with its typically stingy defense, it should be in the NCAA tournament yet again.
Worst-case scenario:
The Crimson Tide shot 28.9 percent from 3 last season, good for 328th in the country. That was the main cause of Alabama's offensive struggles, and Pollard is unlikely to alleviate it this season. If the defense slips even a bit from its top 10 efficiency perch, Alabama will take a step back.
Arkansas
[+] Enlarge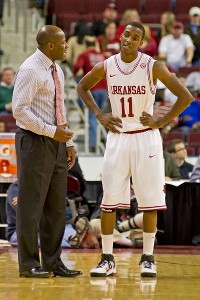 AP Photo/Brian ChilsonB.J. Young was one of the best freshmen in the SEC last season. What can we expect of him during his second season with Mike Anderson?
Best-case scenario:
B.J. Young
is a highly talented player and a prime candidate for breakout stardom, but he isn't the only talented sophomore on the roster. When Mike Anderson took over at Arkansas, he managed to keep all of John Pelphrey's last-ditch 2011 recruiting class, including guard
Rashad Madden
and forward
Hunter Mickelson
. With a season in Anderson's demanding system under its belt, this program appears set to vault itself to NCAA-tournament-bubble relevance once more.
Worst-case scenario:
I'm not sure how this team won't improve, given the increase in experience and the time spent learning on the fly last season. But for all that talent, the Razorbacks have to improve on the defensive side of the floor. Anderson's teams are at their best hassling opponents 90 feet from the rim, but the 2011-12 edition was far too permissive to be a consistent winner.
Auburn
Best-case scenario:
Tony Barbee has raved about the talent he has accumulated this offseason. That's not exactly a high bar, but he has a point. Auburn brought in two top-100 recruits, four-star shooting guard
Brian Greene
and two junior college transfers who could contribute right away. This will be a whole new squad, and while an NCAA tournament berth is still a season or two away, the Tigers are almost certain to improve over their ugly, sub-.500 season.