December, 4, 2013
Dec 4
12:00
PM ET
Like Georgia QB Aaron Murray before him, it's tough to see a senior like LSU's
Zach Mettenberger get hurt
before he has a chance to play his final bowl game and ride off into the sunset. Here's to good health in the NFL.
December, 4, 2013
Dec 4
11:50
AM ET
There are many who feel ESPN 300 safety
Jamal Adams
(Lewisville, Texas/Hebron) will choose an SEC school when he announces his college plans at the Under Armour All-America Game on Jan. 2. Whether that will be Florida, LSU, Texas A&M or Ole Miss is still up in the air.
Adams hosted an in-home visit with LSU on Tuesday evening and came away with a higher opinion on a school he already had a lot of respect for.
To continue reading this article you must be an Insider
December, 4, 2013
Dec 4
10:30
AM ET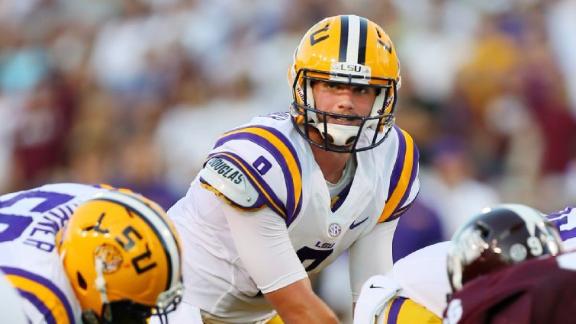 For the second time this month, a talented SEC quarterback's career came to a shocking end.
Only a week after Georgia senior
Aaron Murray
tore his ACL against Kentucky, LSU's
Zach Mettenberger
, who was once a teammate of Murray's at Georgia,
suffered the same fate
against Arkansas. Mettenberger's left knee bent back after he was hit by Arkansas defensive tackle
Byran Jones
in the fourth quarter of LSU's 31-27 win over the Razorbacks last Friday.
[+] Enlarge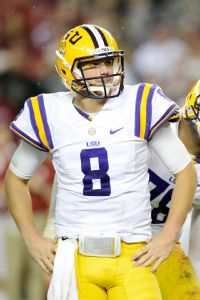 John David Mercer/USA TODAY SportsZach Mettenberger showed remarkable improvement both on and off the field during his LSU career.
Like Murray, it was a sad way for Mettenberger to go out with the Tigers, especially after all the improvements he'd made on and off the field during his college career.
Known more for his dismissal from Georgia after he was arrested outside of a bar back in 2010, Mettenberger truly turned things around during his time with the Tigers. He stayed quiet off the field, and excelled on it. After an up-and-down first season as a starter in 2012, Mettenberger appeared to be in line to be an early pick in the 2014 NFL draft. He went from 2,609 yards and 12 touchdowns with seven interceptions to 3,082 yards and 22 touchdowns to eight picks in 2013. His QBR rose by nearly 40 points, he helped guide the Tigers to nine wins again, and he helped direct an LSU offense that ended the regular season averaging 465.9 yards per game.
Mettenberger stayed on the sideline during the Tigers' comeback win over Arkansas and was visibly moved after the game when he joined his teammates and LSU's band for one last song inside Tiger Stadium. Maybe he knew his LSU career was over. Maybe he was so overcome with the joy of winning and the sadness of leaving the purple and gold behind that tears were his only release.
Maybe it was all of the above, but to see the laid back, easy-going Mettenberger break down emotionally showed the college football world just how much he loved his team and the program that took a big chance on him.
His improvements under new offensive coordinator Cam Cameron showed that, too. Mettenberger always had the physical tools and smarts to be an elite quarterback, but he knew he needed to be challenged. Cameron helped him see the field better and understand the game more. Mettenberger could have coasted because of his natural talent and the inexperience behind him, but he soaked up every drop of knowledge Cameron had in order to become a more well-rounded player.
He shed weight in order to move better in the pocket. He took to longer film room sessions. He became more of a vocal leader with his teammates. And he impressed in games, throwing for 200-plus yards in nine games in 2013, after failing to have back-to-back 200-yard outings last season until November.
While Mettenberger will miss LSU's bowl game, there are some positives for him and his team. There's a chance he could still throw at LSU's pro day next spring, and the Tigers will get another chance to see the future of the position:
Anthony Jennings
.
It was Jennings who calmly drove the Tigers 99-yards and won the game with a 49-yard touchdown pass against Arkansas after Mettenberger's departure. More practice and more game action can only benefit the freshman.
It'll be a bittersweet feeling for Mettenberger to watch his team play without him, but this season will go a long way to ensuring that his NFL future will be brighter than expected coming out of 2012. It's a long road back for Mettenberger, but he's been through this before.
December, 4, 2013
Dec 4
12:20
AM ET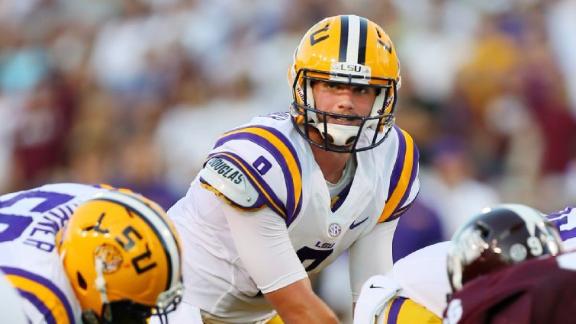 LSU quarterback Zach Mettenberger suffered a torn ACL and an MCL sprain during the Tigers' 31-27 victory last week over Arkansas, multiple sources told ESPN.
The school confirmed Wednesday that Mettenberger will miss the Tigers' bowl game but did not disclose specifics about the injury, per school policy.
"We are very disappointed for Zach," coach Les Miles said Wednesday. "He's been a tremendous leader for our team and he's as competitive a guy as I have ever been around. He's had a great impact on our program."
Mettenberger was hit on his left knee during the fourth quarter by Arkansas defensive tackle Byran Jones. The senior quarterback was wearing a brace on the knee as a precautionary measure, but the force of the blow bent his knee back, causing the damage.
A source said that once the sprain heals -- in an estimated two weeks -- Mettenberger would have surgery to repair his ACL.
Mettenberger, who is known for his arm strength, was thought to be no worse than a mid-first-round pick in the 2014 NFL draft before he suffered the injury, two high-ranking league personnel sources said.
"I know Zach will work extremely hard to rehabilitate his knee and I don't anticipate this injury having any impact on what should be a great future in the NFL," Miles said.
Backup quarterback Anthony Jennings, who took over for Mettenberger against the Razorbacks and led LSU (9-3, 5-3 SEC) to victory late in the game, will be the starter for the team's bowl.
December, 3, 2013
Dec 3
4:30
PM ET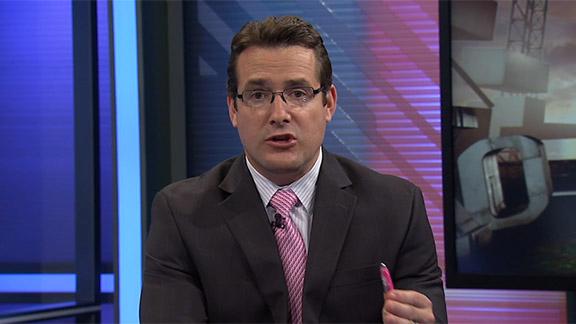 Looking over the newly released
ESPN JC 50
, there are several recruits on that list already committed to SEC schools. There are also many that still remain undecided. With signing day quickly approaching, here's a closer look at five prospects, who's destination is still unknown.
[+] Enlarge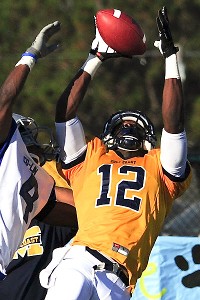 Courtesy of Mississippi Gulf Coast C.C.D'haquille Williams is an Auburn commit, but the No. 1 prospect in the ESPN JC 50 is also still strongly considering LSU.
1. WR D'haquille Williams (Laplace, La./Mississippi Gulf Coast CC):
The No. 1-ranked prospect in the ESPN JC 50 is already committed to Auburn and visited this past weekend for Auburn's miracle win over Alabama. This talented wide receiver, however, is still considering LSU and it appears to be a neck-and-neck battle. Williams' MGCCC teammate
Derrick Moncrief
is also committed to Auburn which could certainly play in the favor of the Tigers -- Auburn that is.
To continue reading this article you must be an Insider
December, 3, 2013
Dec 3
12:00
PM ET
You have to feel bad for old Ed Orgeron. The former Ole Miss head coach had a good run as interim coach at USC, but last week's loss to UCLA seemed to seal his fate. How long before he ends up back in the South as a head coach?
December, 3, 2013
Dec 3
11:56
AM ET
While most recruiting attention goes to the nation's top high school prospects, mining junior colleges for elite talent can be the difference between a BCS bowl and mediocrity. Just ask Auburn, which went 11-14 in the two seasons between juco phenom QBs Cam Newton and Nick Marshall.
With the new ESPN JC 50 player rankings out, here's a look at the recruits who could be making a difference for your favorite team at this time next year.
The fight for No. 1
The No. 1 prospect in the ESPN JC 50 is uberathletic wide receiver D'haquille Williams (Reserve, La./Mississippi Gulf Coast). The vertical threat with instant-impact talent and elite ball skills was once committed to LSU but is now an Auburn pledge. It continues to be a battle between the two SEC West programs with a final decision possibly coming soon. Williams was on campus at Auburn over the weekend for the historic Iron Bowl. His Mississippi Gulf Coast teammate Derrick Moncrief is No. 14 in the JC 50 and an Auburn commit.
To continue reading this article you must be an Insider
December, 3, 2013
Dec 3
9:00
AM ET
Remember when ESPN 300 wide receiver
Frank Iheanacho
(Houston/Westside) thought his future was on the basketball court?
That was during the summer. Fast forward a few months, and Iheanacho is now preparing for in-home visits from three SEC programs this week. Iheanacho, No. 89 in the ESPN 300, will host Arkansas on Tuesday, LSU on Wednesday and Texas A&M on Thursday. The 6-foot-7, 220-pound receiver, a U.S. Army All-American, will announce where he'll take his talents at the game on Jan. 4 in San Antonio.
To continue reading this article you must be an Insider
December, 2, 2013
Dec 2
12:00
PM ET
The regular season is over, and 12 of the SEC's 14 teams are trying to figure out how to get to next year's SEC championship game. Ten teams are bowl eligible, which leaves four downtrodden SEC teams trying to pick up the pieces and figure out how to simply win games.
December, 2, 2013
Dec 2
11:32
AM ET
When ESPN 300 safety
Laurence "Hootie" Jones
(Monroe, La./Neville)
committed to Alabama on Monday morning
, he became the second top-25 Louisiana native to give his pledge to the Crimson Tide over the home-state LSU Tigers. Five-star offensive tackle Cameron Robinson (Monroe, La./West Monroe) committed to Nick Saban back in September.
So where will LSU turn now?
To continue reading this article you must be an Insider
December, 2, 2013
Dec 2
11:32
AM ET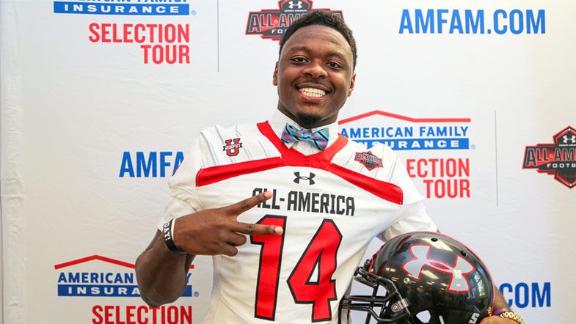 Two days after a dramatic loss at Auburn, Alabama has rebounded quickly on the recruiting trail with a commitment from ESPN 300 No. 22 Laurence Jones (Monroe, La./Neville).
The four-star recruit and No. 2 safety chose the Crimson Tide over LSU on Monday.
Jones continues Alabama's dominance in northern Louisiana, following ESPN 300 recruits such as No. 3 Cameron Robinson (Monroe, La./West Monroe), No. 63 Cameron Sims (Monroe, La./Ouachita Parish) and No. 221 O.J. Smith (Bossier City, La./Airline).
LSU was thought to be the favorite for Jones heading into the season. But Nick Saban and his staff chipped away by getting the defensive back on campus three times since August, and they received quite a bit of recruiting help from Robinson after his commitment.
Jones hosted Saban and LSU's Les Miles on Sunday for in-home visits before deciding.
For Alabama, the nation's top-ranked class gets even stronger. The pledge gives the Crimson Tide 23 verbals, including 18 ESPN 300 commits. Also included among those 18 are five-stars Robinson and DE Da'Shawn Hand (Woodbridge, Va./Woodbridge).
December, 2, 2013
Dec 2
9:00
AM ET
We have a new No. 1 in our Power Rankings, and there's a chance that either of the top two teams on this list could back its way into the BCS title game:

1. Auburn (11-1, 7-1 SEC; last week: 3):
Call it luck, but don't forget to call the Tigers good. Auburn won the Iron Bowl 34-28 over No. 1 Alabama on a last-second field goal return for a touchdown by
Chris Davis
. It was another improbable win for the Cardiac Cats, but Auburn also ran for 296 yards on the SEC's best rush defense. Back-to-back thrillers have Auburn No. 3 in the BCS standings and SEC Western Division champions.
2. Missouri (11-1, 7-1 SEC; LW: 2):
These Tigers will meet those Tigers in the SEC championship game on Saturday. After beating Texas A&M 28-21 at home, Mizzou completed its own improbable season in its second year in the league. Missouri now has five wins over opponents that were ranked when it played them. Like Auburn, Mizzou is very much in the national championship picture. The Tigers need help, but a win over Auburn would push a team that was left for dead last season a step closer to Pasadena, Calif.
3. Alabama (11-1, 7-1 SEC; LW: 1):
The three-peat is likely over after Alabama was bested by its archrival. Why Nick Saban would attempt a 57-yard field goal with a second left without any speedy athletes on the field is mind-blowing. Saban rarely makes mistakes, but this one will sting for a very long time. Alabama is still very much in the hunt for a BCS bowl game, but a return to the title game is a long shot.
4. South Carolina (10-2, 6-2 SEC; LW: 4):
Another year, another win over Clemson. That makes five in a row for Steve Spurrier and his Gamecocks after his guys walked over the Tigers 31-17. South Carolina forced six turnovers, and quarterback
Connor Shaw
impressed yet again with 246 yards of offense and two touchdowns. The BCS is out of reach for the Gamecocks, but they have a shot at three straight 11-win seasons.
5. LSU (9-3, 5-3 SEC; LW: 5):
This is easily the most confusing team to follow in 2013. The Tigers started hot, hit some bumps and then finished strong with an exciting 31-27 win over Arkansas. LSU was without starting quarterback
Zach Mettenberger
(knee) late, but it didn't matter, as freshman
Anthony Jennings
drove the Tigers 99 yards, with a 49-yard go-ahead touchdown pass with 1:15 left. This could be another double-digit-win season for the Tigers.
6. Texas A&M (8-4, 4-4 SEC; LW: 6):
Johnny Manziel
went from carving up defenses to being smothered in his last two outings. In Saturday's loss to Mizzou, Manziel was held to a season-low 216 total yards and a touchdown. The defense was gutted -- again -- allowing 225 rushing yards, including a 57-yard
Henry Josey
touchdown run with 3:34 remaining. It's been a long November in College Station, but at least Kevin Sumlin is locked up for the long haul.
7. Vanderbilt (8-4, 4-4 SEC; LW: 8):
Coach James Franklin might be near the top of USC's coaching list, but for now, he's doing a heck of a job as Vandy's coach. There's no wonder he's on the Trojans' radar. Vandy has won four straight, will make its third straight bowl game and is in line to win nine in back-to-back seasons. The Commodores didn't make it look easy against Wake Forest, but a
Carey Spear
field goal with 39 seconds left kept the Dores' winning streak alive.
8. Georgia (8-4, 5-3 SEC; LW: 9):
Another team that didn't want things to be easy over the weekend, Georgia needed double overtime to beat rival Georgia Tech. The Bulldogs' defense was pushed around for 495 yards, but the offense was there to bring the Dawgs back from deficits of 20-0 and 27-17. When you have a guy like
Todd Gurley
(158 total yards and four touchdowns), it doesn't matter who you have at quarterback.
9. Mississippi State (6-6, 3-5 SEC; LW: 10):
After being on the outside of the bowl picture just a couple of weeks ago, the Bulldogs rallied to win their last two, including an overtime victory against bitter rival Ole Miss on Thanksgiving. It wasn't the prettiest of games, but injured quarterback
Dak Prescott
came into the fourth quarter and threw for 115 yards, while running for 29, including the eventual winning 3-yard score. Dan Mullen has Mississippi State in the postseason for the fourth straight season.
10. Ole Miss (7-5, 3-5 SEC; LW: 7):
Oh, what could have been for this team. Not only have the Rebels lost two straight, but they allowed their archrivals to make it to the postseason. For a season that started 3-0, some poor play in the red zone -- especially near the goal line -- against Missouri and turnovers against Mississippi State cost Ole Miss in its final two games.
11. Tennessee (5-7, 2-6 SEC; LW: 11):
A long first year for Butch Jones ended with a nice 27-14 win over Kentucky. The Vols aren't going bowling, but now is the time when Jones has to ramp up the development phase and keep an already stellar recruiting class together. Remember, this team was a fake Vandy jump pass from a bowl berth.
12. Florida (4-8, 3-5 SEC; LW: 12):
The Gators' nightmare of a season ended with a 37-7 rout by rival Florida State inside the Swamp. Florida then fired embattled offensive coordinator Brent Pease and offensive line coach Tim Davis. Florida lost seven straight to end the season without scoring more than 20 points. And it isn't going bowling for the first time in 22 years and has its first losing season since 1979.
13. Arkansas (3-9, 0-8 SEC; LW: 13):
With that heartbreaking loss to LSU, the Razorbacks have dropped a school-record nine straight and went 0-8 in conference play for the first time. This team fought hard in its final act, but it's clear that development and recruiting need to amp up during the offseason if Bret Bielema is going to have a chance at really competing in this league.
14. Kentucky (2-10, 0-8 SEC; LW: 14):
The Wildcats have now gone 0-8 in SEC play in back-to-back seasons for the first time since 1941-42 and have lost 16 straight SEC games. Mark Stoops is building a pretty impressive recruiting class right now, but we all know it takes more than recruiting. The Wildcats need more than talent, as they took steps back on both sides of the ball late in the season.
December, 2, 2013
Dec 2
8:00
AM ET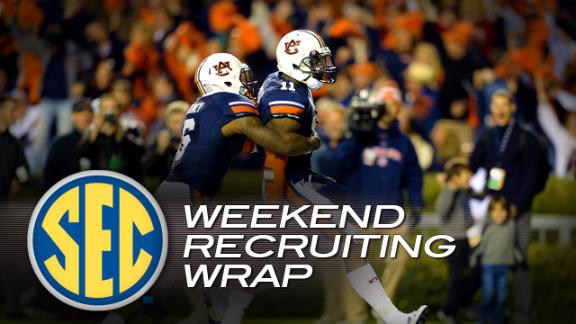 As the regular season winds down, there was a lot of news around the SEC over the weekend. Texas A&M received a big commitment on Thanksgiving at a position of need, and Auburn hosted several visitors for its incredible last-second victory over Alabama. Here's a closer look at some of the top storylines in the SEC this weekend.

Biggest commitment:
Though Texas A&M suffered a tough loss to Missouri on Saturday night, the Aggies did have something to be thankful for when junior college offensive tackle
Avery Gennesy
(Southhaven, Miss./East Mississippi CC) verbally committed to Texas A&M on Thursday.
The 6-foot-5, 315-pound tackle chose the Aggies over Ole Miss, Tennessee and Ohio State.
Texas A&M now has 18 commitments, including 10 from in the ESPN 300. The Aggies have the fifth-ranked recruiting class in the country.

Georgia, Tennessee lose commitments:
ESPN 300 defensive tackle
Dontavius Russell
(Carrollton, Ga./Carrollton), after visiting Auburn over the weekend, decided to open back up his recruitment. The four-star defensive lineman announced his decision on Twitter.
I'm reopening my Recruitment.

— Dontavius Russell (@Russ_Dont98) December 2, 2013
Auburn now appears to be the team to beat for Russell. Tennessee lost another wide receiver commit from ESPN 300 wideout Dominique Booth (Indianapolis/Pike) on Sunday. Booth is the third pass-catcher to decommit from the Vols this year. Junior college prospects Eric Lauderdale (Fayettville, Ga./Saddlebrook) and Kameel Jackson (Arlington, Texas/Blinn) also backed off their pledges to Tennessee earlier in the season.
To continue reading this article you must be an Insider
Zach Mettenberger's NFL Draft Stock