LSU Tigers:

Kansas State Wildcats
December, 16, 2013
Dec 16
5:30
AM ET
The Early Offer is RecruitingNation's regular feature, giving you a daily dose of recruiting in the mornings. Today's offerings: Texas doesn't need to rush to make a hire, but it also can't take forever; five-star running back
Dalvin Cook
says he's 100 percent committed to Florida but will make a final decision in little more than two weeks; and Kansas State and Texas Tech added several big pieces this weekend from the junior college ranks.
To continue reading this article you must be an Insider
August, 28, 2013
Aug 28
5:30
AM ET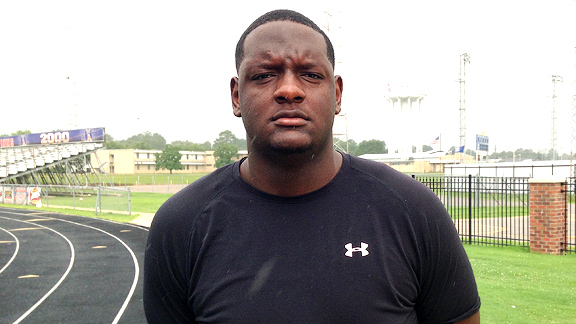 Greg Ostendorf/ESPNFriday's decision by offensive tackle Cameron Robinson, the No. 3 prospect in the ESPN 300, between LSU and Alabama could foreshadow the last five months of the 2014 cycle.
The Early Offer is RecruitingNation's latest feature, giving you a daily dose of recruiting in the mornings. Today's offerings:
Cameron Robinson
announces on Friday and his pick could go a long way toward determining who has the No. 1 class, TE
DeAndre Goolsby
is quickly climbing the charts of many recruiters, and Elijah Hood's decision could help UNC lure one of nation's top surprise classes.
Decision day set for Robinson
One of the most significant recruiting battles of the 2014 class will come to close Friday when the nation's No. 3 overall player Cameron Robinson (West Monroe, La./West Monroe) announces his decision. Robinson, a five-star prospect, is a franchise offensive tackle that only comes around once every few classes, and the battle between LSU and Alabama is one that could set the tone for the rest of the recruiting season. If LSU lands him, then it could help the Tigers run the table with other high profile in-state recruits like No. 1-ranked
Leonard Fournette
. That type of run could help the Tigers unseat the Tide from the top spot in the class rankings that it's held for the last two years. If Alabama lands him, then the Tide basically locks up another No. 1 class with more than five months left in the recruiting calendar. Most projections, including RecruitingNation's Hot Board, have Robinson leaning towards Alabama.
A picture is worth a thousand words



To continue reading this article you must be an Insider
July, 18, 2013
Jul 18
8:00
AM ET
By
ESPN.com staff
| ESPN.com
Join our ESPN.com college football experts for a live blog from SEC media days. We'll have highlights, pictures, videos and interviews with SEC players and coaches from Alabama, Georgia, LSU and Vanderbilt live from Hoover, Ala.
Join us beginning at 9:30 a.m. ET by submitting your comments and questions. See you there. You can also view all the action on ESPNU or
WatchESPN.com
.
Here is our live blog of
Day 1
and
Day 2
in case you missed it.
July, 17, 2013
Jul 17
8:00
AM ET
By
ESPN.com staff
| ESPN.com
Join our ESPN.com college football experts for a live blog from SEC media days. We'll have highlights, pictures, videos and interviews with SEC players and coaches from Texas A&M, Kentucky, Mississippi State, Tennessee, Auburn and Arkansas live from Hoover, Ala.
Join us beginning at 9:30 a.m. ET by submitting your comments and questions. See you there. You can also view all the action on ESPNU or
WatchESPN.com.
Here is our
live blog of Day 1
in case you missed it.
July, 16, 2013
Jul 16
11:00
AM ET
By
ESPN.com staff
| ESPN.com
Join our ESPN.com college football experts for a live blog from SEC media days. We'll have highlights, pictures, videos and live interviews with SEC players and coaches from Hoover, Ala.
Join us beginning at 1:30 p.m. ET by submitting your comments and questions. See you there.
May, 16, 2013
May 16
10:00
AM ET
The SEC and Big 12 announced an annual challenge on the basketball court, but
colleague Edward Aschoff wondered what it would look like
if that challenge extended to the football field.
There are already two games on the schedule this season -- between TCU and LSU, and Oklahoma State and Mississippi State. What else would I like to see?
Let me start by saying that renewing the Texas-Texas A&M and Missouri-Kansas rivalries are a given. I'm omitting those matchups, but I'd love to see them.
Let's get started:
Oklahoma State vs. Alabama:
OSU narrowly missed out on playing for the national title back in 2011, and both are among their conference favorites again in 2013. When the BCS "snubbed" the Pokes after the 2011 regular season, OSU coach Mike Gundy half-jokingly suggested these two play for the right to play LSU in the title game. It would be fun to see this one finally played out on the field.
Baylor vs. LSU
: Straight up offense vs. defense. That's the Big 12 vs. SEC debate at its heart. Baylor just might be the Big 12's best offense, and LSU will put together another strong defense. These are the matchups we want to see. The Big 12 has faltered on the big stage, helping the SEC stretch its run of national titles, but seeing
Bryce Petty
sling it around against an athletic defense would be a lot of fun.
Texas vs. Arkansas:
Arkansas' exit from the Southwest Conference helped usher in the birth of the Big 12 after the SWC crumbled. Texas has bigger rivals like Oklahoma and Texas A&M, but these two played some of the greatest games in college football history, and as an Arkansas native, I've seen up close how much Razorbacks fans detest the Longhorns to this day. The result would be a great game and a hyped atmosphere.
TCU vs. Texas A&M:
Texas A&M fans take exception to the idea that TCU was an on-field "upgrade" over the Aggies in the Big 12. The Aggies largely struggled in the Big 12 after some early success and a Big 12 title under R.C. Slocum. Since leaving for the SEC, the Aggies have gone nowhere but up, and ended 2012 as the hottest team in college football. Aggies quarterback
Johnny Manziel
has a Heisman Trophy. Could he shred the Frogs? Want to prove TCU is not an upgrade? Beat TCU on the field.
Kansas State vs. Florida:
Kansas State is perpetually underrated and wins with a bunch of junior college guys, and high school players overlooked by major programs. Florida won big under Urban Meyer, but has been largely overrated since Meyer left and was whacked by Louisville to end 2012. The Gators would be suiting up an army of recruiting stars, but could Bill Snyder, the Manhattan Magician, grab a win for the Big 12?
Oklahoma vs. Georgia: Mark Richt and Bob Stoops have one big thing in common: Neither fan base truly appreciates what their coach has accomplished. Consider this an opportunity for both to quiet the hot-seat talk. It's been a lot more intense for Richt, who endured a 6-7 season back in 2010, but he's won the SEC East in each of the past two seasons. Stoops has averaged just over 10 wins a season at Oklahoma, and Richt has averaged just under 10 wins. Call this the "Underappreciated Bowl."


February, 28, 2013
Feb 28
10:36
AM ET
As ESPN Watch List offensive tackle
Andy Bauer
(St. Louis/ De Smet) creeps up on 40 offers, he is reminded of two important yet unofficial rules to the recruiting game.
Network, first of all; and second, have fun.
To continue reading this article you must be an Insider
January, 13, 2013
Jan 13
4:59
PM ET
BATON ROUGE, La. -- For most players at junior days, the talk of their football futures is what gets them excited.
For one top 2014 defensive end, LSU's "Boys from the Boot" junior day had his attention for another reason.
To continue reading this article you must be an Insider
November, 15, 2012
11/15/12
3:03
PM ET
By
ESPN.com staff
| ESPN.com
The seeds would be Oregon, Kansas State, Notre Dame, Alabama, Georgia, Texas A&M, Florida and LSU. But how would it play out? ESPN Insider Travis Haney lines it up, gets some help from the oddsmakers, and picks his champion.
Read the story here.

November, 14, 2012
11/14/12
9:00
AM ET
As Louisiana's high school football playoffs reach their second week, the matchups get better in the five classes, each whittled down to a field of 16 remaining teams, many who feature some of the state's top prospects. In Class 5A, West Monroe and Scott/Acadiana meet in a matchup of traditional powers. In 4A, Neville meets Breaux Bridge in a rematch of an epic semifinal matchup last year. Here are the top games involving major prospects this week:
Class 5A
No. 16 Geismar/Dutchtown (8-2) at No. 1 Metairie/Rummel (10-0):
Dutchtown has plenty of talent, including Mississippi State commit
Shelby Christy
at wide reciever. It was surprising to see the Griffons slip to the No. 16 seed. It's a tough draw for the top-seeded Raiders, led by dual-threat quarterback
Damian Williams
, who sports a Kansas State offer.
No. 9 Monroe/Ouachita Parish (9-2) at No. 25 Ruston (6-5):
The Monroe area, which won three of last year's five state championships last season, showed its toughness again last week when Ruston upset No. 8 seed South Lafourche, creating an all-Northeast Louisiana second-round match. Ouachita features three-star receiver and Washington commit
Caleb Tucker
at linebacker and
Taijuan Thomas
and 2014 ESPN Watch List member
Cameron Sims
at wide receiver.
To continue reading this article you must be an Insider
October, 25, 2012
10/25/12
8:00
AM ET
BATON ROUGE, La. -- The dream prospect matchups of the non-district schedules are over, and now Louisiana's top teams and top prospects are coming down the home stretch of their regular seasons.
That doesn't necessarily make for compelling blue chip vs. blue chip matchups, but what you have are a lot of top prospects playing big games for their teams this weekend. With LSU off, here are games LSU fans might want to check out around the state this weekend:
New Orleans/St. Augustine (6-2) at Metairie/East Jefferson (6-1):
When you think of high school football, you think of "Friday Night Lights." There haven't been many Friday nights this year for St. Augustine and RB
Leonard Fournette
in urban New Orleans, where a scarcity of stadiums has had the Purple Knights playing many Thursday and Saturday game. This week, the Friday lights will shine on Fournette, one of the top players in the 2014 class, when St. Augustine heads to suburban Metairie for a huge District 10-4A game.
To continue reading this article you must be an Insider
October, 9, 2012
10/09/12
9:45
AM ET
The Big 12's held on all season, but the SEC finally passed it for the No. 1 spot in the
ESPN Stats & Info Conference Power Rankings.
The Big 12 still has the No. 1 spot in the computer polls, but the Big 12 took a hit in the human polls after just four Big 12 teams showed up in Sunday's AP rankings. The SEC took the lead by a full point after steadily creeping up on the Big 12 since the rankings debuted.
What was the biggest factor for the move? From the Stats & Info Blog:
Losses by Top-5 teams LSU and Georgia did not impact the SEC's conference ranking because they lost to teams that were also in the Top 10.

On the other hand, losses by TCU and Texas Tech impacted the Big 12 in the rankings since they lost to teams with worse records entering the game.

The computers still favor the Big 12 over the SEC due to the depth of the conference, but the gap has narrowed. The SEC's dominance in the polls has vaulted the conference into first place for the first time since the final conference power rankings of the 2011 season.
It's going to be a tight race all season, but for now, the SEC's pulled ahead by a nose.
September, 12, 2012
9/12/12
9:00
AM ET
Finally, it's time. College football's two best conferences will meet on the gridiron, with bragging rights at stake.
The Big 12. The SEC. Head to head. Get excited.
... Wait, what?


It's Texas and Ole Miss? As in, No. 12 Texas and Ole Miss, who was picked to finish last in the SEC West after winning two games a year ago and firing its coach.
Sigh. Nevermind.
The two leagues' only 2012 meeting will take place in Oxford on Saturday, but could you draw up a worse representation of the two leagues?
The annual Big 12-SEC debate, at its core, is a simple one: Offense vs. Defense. The SEC swept both meetings in 2011, but both involved the SEC's top spread attack, Arkansas, and one of those games involved Texas A&M, who's now an SEC member.
On Saturday, the Big 12's best defense (and No. 8 offense a year ago) will take on the Rebels, who, well, weren't good at much of anything a year ago, and finished last in total defense and 11th in total offense.
In each of the past two seasons, the two leagues have scheduled just one regular-season matchup, and played once in the Cotton Bowl.
There's hope in the future: West Virginia will meet Alabama in Atlanta to open the 2014 season. Oklahoma will play a home-and-home against Tennessee in 2014 and 2015, and the same against LSU in 2018 and 2019. Kansas State is scheduled to host Auburn in 2014. TCU is scheduled for a home-and-home against Arkansas in 2015 and 2016, right after it finishes a home-and-home with LSU in 2013 and 2014.
Next year, Texas hosts Ole Miss as the back half of the home-and-home, and there's a chance Oklahoma State and Mississippi State
meet in Houston to kick off the season.
For both leagues, more meetings would be a win-win. The SEC can strengthen the debatable premise that it's the nation's best league. Yearly Big 12 beatdowns would assure that.
Head-to-head wins by the Big 12 (along with a national title or two) would boost the league into the SEC's equal, an idea that's not as far as it seems even now.
The best piece of news for fans clamoring for more? The Champions Bowl.
The Cotton Bowl provides the biggest stage for the two teams to meet, but the SEC has dominated that rivalry, winning eight of the last nine games. The Big 12's lone winner — Missouri in 2007 — left for the SEC after 2011.
The Champions Bowl provides a better game, a bigger stage and more money. The details of the game (site, cash payouts, television deal) still have to be ironed out, but when it's done, there's no doubt it will stake a claim as one of the game's best postseason exhibitions.
There's a natural rivalry between the two leagues fostered on and off the field now, after Texas A&M and Missouri spurned the league they helped found to become the SEC's 13th and 14th members.
The Big 12 says it's stronger with TCU and West Virginia as replacements, and there's plenty of evidence to suggest that's the case. The only way to know? Prove it on the field.
Of course, Texas and Kansas hold the key to two more Big 12-SEC matchups, but refuse to make them happen. Texas A&M and Missouri were the other half to two of college football's oldest rivalries. For now, both are dead. If (and it's a big if) Texas and Kansas change their minds, the two leagues can add two more annual meetings. Don't count on that any time soon.
The Big 12's new nine-game conference schedule helps up the Big 12's TV money with a better inventory of games to sell TV networks, but further discourages any difficult nonconference games.
The Champions Bowl will help foster more on-field meetings between the leagues. It won't every be the SEC champion vs. the Big 12 champion as advertised, but it's guaranteed to be two really good teams from both leagues, followed up by another matchup with between the leagues in the Cotton Bowl.
This weekend's no reason to get excited about the two leagues colliding.
The Champions Bowl is. It provides a much-needed, high-demand matchup between college football's best leagues.
In short, it makes college football better. With rampant scandal and realignment threatening to do the opposite, that's a welcome development.
That game will thrive, and because of it, so will the two leagues who helped make it happen.
LSU Bulks Up 2014 Recruiting Class
SEC SCOREBOARD
Saturday, 12/21
Monday, 12/23
Tuesday, 12/24
Thursday, 12/26
Friday, 12/27
Saturday, 12/28
Monday, 12/30
Tuesday, 12/31
Wednesday, 1/1
Thursday, 1/2
Friday, 1/3
Saturday, 1/4
Sunday, 1/5
Monday, 1/6