LSU Tigers:

Kansas Jayhawks
April, 29, 2014
4/29/14
9:00
AM ET
Florida has Florida State. Georgia has Georgia Tech. Kentucky has Louisville. And, of course, South Carolina has Clemson.
When it comes to the
new SEC scheduling format starting in 2016
, those four schools are already on board. Their annual rivalry games fulfill the league's forthcoming requirement for a yearly nonconference game against an ACC, Big 12, Big Ten or Pac-12 school.
But for the rest of the teams around the league, there's a void.
Sure, they can go year to year and rotate in nonconference opponents. But where's the fun in that? Let's create some new rivalries, and in the case of some programs, reignite old ones.
[+] Enlarge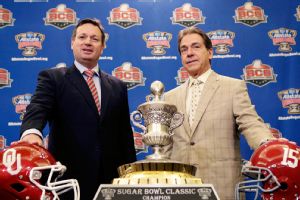 AP Photo/Gerald HerbertThe spectacular salaries of college football coaches such as Bob Stoops, left, and Nick Saban are generated mostly by the labor of unpaid workers.
Alabama-Oklahoma:
If FSU wasn't already taken, the Noles would have been a perfect fit. The physical and philosophical proximity between programs is obvious. But looking elsewhere, Oklahoma might be a fun matchup. The Sugar Bowl has already created tons of tension on both sides with
Sooners coaches delighting in calling out Nick Saban
and the SEC.
Arkansas-Baylor:
Call it a throwback to the old Southwest Conference. Arkansas, which didn't join the SEC until 1992, has played more games against Baylor (69) than any school in its current conference. On top of that, the differences between Bret Bielema's physical style and Art Briles' free-flowing offensive scheme would be a joy to watch.
Auburn-Oregon:
Recent history and playing styles dictates this matchup. Not only do we get a rematch of the 2010 BCS National Championship Game, but it pits offenses that live to go fast. Maybe it could be a two-hand touch game in which whoever reaches 100 points first wins.
LSU-Notre Dame:
We couldn't make a list of nonconference matchups and leave Notre Dame off, could we? Pitting the Golden Domers against an SEC program would be appointment viewing. Make that program LSU and the opposing coach Les Miles, and television networks will scratch each other's eyes out to get the game.
Mississippi State-Texas Tech:
The Bulldogs have shied away from high profile nonconference games in the past, loading up on the likes of Memphis, UAB and South Alabama. Well, it's time to infuse a little spice into the schedule. Kliff Kingsbury is too cool to keep out of the SEC. His Red Raiders would be a good matchup with Mississippi State, which faced Texas Tech seven times from 1953-70.
Missouri-Kansas:
Does this one really need to be explained? The Border War should have never gone away in the first place. Now is the perfect opportunity to save face and bring back a rivalry that goes all the way back to 1891.
Ole Miss-Miami:
We've got to get 'The U' involved. Miami and Ole Miss have already played a few times in their history, with the Rebs holding a 2-1 series lead. But bigger than that, it would get the SEC back into South Florida on a permanent basis because
Miami and Florida don't have the common sense to do that
already.
Tennessee-North Carolina:
Even if most people don't remember it, there's history there. Tennessee and UNC have played 29 times, with the Vols holding a 20-8-1 advantage. Plus, even if your memory is short, you should recall the double overtime
Music City Bowl from 2010
between the schools. If they can re-create that just once, it would make the rivalry worth it.
Texas A&M-Texas:
See Missouri-Kansas. Don't let conference affiliations ruin great rivalries. Texas A&M-Texas should have never been shelved in the first place. And while the
UT administration
might not see a reason to bring it back -- nor
Texas A&M's leadership,
for that matter -- surely both fan bases do.
Vanderbilt-Duke:
Call it a private school showdown. The proximity is reasonable, the fan bases similar, and the rivalry could easily extend to the hard court. Plus, have you seen Derek Mason's nonconference schedule this year? It needs help.
December, 30, 2013
12/30/13
5:26
PM ET
As expected, Day 2 at the Under Armour All-America practices were smoother, more concise and much more productive. The players are now starting to think less and play more. Natural ability is starting to come to the forefront, which allows for them to be more productive. There have been fewer dropped passes, fewer misses by the QBs and the offensive lines are starting to jell quicker than expected. Perhaps the most impressive thing about this group is there have not been any true letdowns. They have stepped up and been as advertised almost top to bottom for both squads. Let's hit the highlights of the day:
Top performers
WR Cameron Sims (Monroe, La./Ouachita Parish):
Sims might not wow anyone with his 40-yard dash time, but it may not matter. Sims is so similar to
Mike Evans
at Texas A&M. He just makes plays. He has extremely long arms and is outstanding when in contested matchups. The ball will look like it is uncatchable and then next thing you know he jumps out of nowhere, extends and makes a play and the defender is left scratching his head. When it comes down to it, the QBs for Team Highlight can trust that if they need to throw it up, Sims will make a play. The most basic thing about the position is catching the football and Sims has no problem doing that.
July, 18, 2013
7/18/13
8:00
AM ET
By
ESPN.com staff
| ESPN.com
Join our ESPN.com college football experts for a live blog from SEC media days. We'll have highlights, pictures, videos and interviews with SEC players and coaches from Alabama, Georgia, LSU and Vanderbilt live from Hoover, Ala.
Join us beginning at 9:30 a.m. ET by submitting your comments and questions. See you there. You can also view all the action on ESPNU or
WatchESPN.com
.
Here is our live blog of
Day 1
and
Day 2
in case you missed it.
July, 17, 2013
7/17/13
8:00
AM ET
By
ESPN.com staff
| ESPN.com
Join our ESPN.com college football experts for a live blog from SEC media days. We'll have highlights, pictures, videos and interviews with SEC players and coaches from Texas A&M, Kentucky, Mississippi State, Tennessee, Auburn and Arkansas live from Hoover, Ala.
Join us beginning at 9:30 a.m. ET by submitting your comments and questions. See you there. You can also view all the action on ESPNU or
WatchESPN.com.
Here is our
live blog of Day 1
in case you missed it.
January, 2, 2013
1/02/13
3:08
PM ET
SAN ANTONIO -- Wednesday was a day off for the U.S. Army All-American Bowl teams. Instead of working out and participating in drills, the players took in visits around the city -- including a stop at the Alamodome for photo opportunities and to see their game apparel -- and used the day to recover from two days of practice.
The teams will return to the fields on Thursday in arguably the most important practice of the week. Here are five things to keep an eye on for Thursday's practice:
To continue reading this article you must be an Insider
December, 18, 2012
12/18/12
5:20
PM ET
Quantavius Leslie
was supposed to sign a letter of intent with LSU on Wednesday.
That won't happen for the Hinds (Miss.) Community College wide out because he did not graduate at the end of the fall semester as planned, Hinds recruiting coordinator Lee Wilbanks said.
That doesn't mean Wednesday won't be a busy day for Hinds, a team loaded with prospects this season. The Eagles have four players in the ESPN 100 junior college rankings released Tuesday and two players who will sign Tuesday.
To continue reading this article you must be an Insider
October, 9, 2012
10/09/12
9:45
AM ET
The Big 12's held on all season, but the SEC finally passed it for the No. 1 spot in the
ESPN Stats & Info Conference Power Rankings.
The Big 12 still has the No. 1 spot in the computer polls, but the Big 12 took a hit in the human polls after just four Big 12 teams showed up in Sunday's AP rankings. The SEC took the lead by a full point after steadily creeping up on the Big 12 since the rankings debuted.
What was the biggest factor for the move? From the Stats & Info Blog:
Losses by Top-5 teams LSU and Georgia did not impact the SEC's conference ranking because they lost to teams that were also in the Top 10.

On the other hand, losses by TCU and Texas Tech impacted the Big 12 in the rankings since they lost to teams with worse records entering the game.

The computers still favor the Big 12 over the SEC due to the depth of the conference, but the gap has narrowed. The SEC's dominance in the polls has vaulted the conference into first place for the first time since the final conference power rankings of the 2011 season.
It's going to be a tight race all season, but for now, the SEC's pulled ahead by a nose.
September, 13, 2012
9/13/12
12:00
PM ET
More than 50 prospects in North Carolina signed with FBS programs in the 2012 class, and more than 60 already claim offers in the 2013 class. In this feature, RecruitingNation takes a look at the top five remaining uncommitted prospects in North Carolina.
Tyrone Crowder,
OL, Rockingham (N.C.) Richmond, 6-foot-2, 325 pounds
No. 1 prospect in Nouth Carolina
Frontrunner:
Clemson
To continue reading this article you must be an Insider
September, 12, 2012
9/12/12
9:00
AM ET
Finally, it's time. College football's two best conferences will meet on the gridiron, with bragging rights at stake.
The Big 12. The SEC. Head to head. Get excited.
... Wait, what?


It's Texas and Ole Miss? As in, No. 12 Texas and Ole Miss, who was picked to finish last in the SEC West after winning two games a year ago and firing its coach.
Sigh. Nevermind.
The two leagues' only 2012 meeting will take place in Oxford on Saturday, but could you draw up a worse representation of the two leagues?
The annual Big 12-SEC debate, at its core, is a simple one: Offense vs. Defense. The SEC swept both meetings in 2011, but both involved the SEC's top spread attack, Arkansas, and one of those games involved Texas A&M, who's now an SEC member.
On Saturday, the Big 12's best defense (and No. 8 offense a year ago) will take on the Rebels, who, well, weren't good at much of anything a year ago, and finished last in total defense and 11th in total offense.
In each of the past two seasons, the two leagues have scheduled just one regular-season matchup, and played once in the Cotton Bowl.
There's hope in the future: West Virginia will meet Alabama in Atlanta to open the 2014 season. Oklahoma will play a home-and-home against Tennessee in 2014 and 2015, and the same against LSU in 2018 and 2019. Kansas State is scheduled to host Auburn in 2014. TCU is scheduled for a home-and-home against Arkansas in 2015 and 2016, right after it finishes a home-and-home with LSU in 2013 and 2014.
Next year, Texas hosts Ole Miss as the back half of the home-and-home, and there's a chance Oklahoma State and Mississippi State
meet in Houston to kick off the season.
For both leagues, more meetings would be a win-win. The SEC can strengthen the debatable premise that it's the nation's best league. Yearly Big 12 beatdowns would assure that.
Head-to-head wins by the Big 12 (along with a national title or two) would boost the league into the SEC's equal, an idea that's not as far as it seems even now.
The best piece of news for fans clamoring for more? The Champions Bowl.
The Cotton Bowl provides the biggest stage for the two teams to meet, but the SEC has dominated that rivalry, winning eight of the last nine games. The Big 12's lone winner — Missouri in 2007 — left for the SEC after 2011.
The Champions Bowl provides a better game, a bigger stage and more money. The details of the game (site, cash payouts, television deal) still have to be ironed out, but when it's done, there's no doubt it will stake a claim as one of the game's best postseason exhibitions.
There's a natural rivalry between the two leagues fostered on and off the field now, after Texas A&M and Missouri spurned the league they helped found to become the SEC's 13th and 14th members.
The Big 12 says it's stronger with TCU and West Virginia as replacements, and there's plenty of evidence to suggest that's the case. The only way to know? Prove it on the field.
Of course, Texas and Kansas hold the key to two more Big 12-SEC matchups, but refuse to make them happen. Texas A&M and Missouri were the other half to two of college football's oldest rivalries. For now, both are dead. If (and it's a big if) Texas and Kansas change their minds, the two leagues can add two more annual meetings. Don't count on that any time soon.
The Big 12's new nine-game conference schedule helps up the Big 12's TV money with a better inventory of games to sell TV networks, but further discourages any difficult nonconference games.
The Champions Bowl will help foster more on-field meetings between the leagues. It won't every be the SEC champion vs. the Big 12 champion as advertised, but it's guaranteed to be two really good teams from both leagues, followed up by another matchup with between the leagues in the Cotton Bowl.
This weekend's no reason to get excited about the two leagues colliding.
The Champions Bowl is. It provides a much-needed, high-demand matchup between college football's best leagues.
In short, it makes college football better. With rampant scandal and realignment threatening to do the opposite, that's a welcome development.
That game will thrive, and because of it, so will the two leagues who helped make it happen.
Marcus Spears reviews LSU Pro Day
SEC SCOREBOARD
Thursday, 9/3
Saturday, 9/5