Georgia Bulldogs:

Za'Darius Smith
March, 3, 2014
3/03/14
10:00
AM ET
Setting up the spring in the SEC East:

FLORIDA
Spring start:
March 19
Spring game:
April 12
What to watch:
Change in attitude: There's no time to look back. Will Muschamp and his staff are firmly focused on the future after a disastrous 4-8 campaign that saw the once-mighty Gators program brought to its knees. With his job on the line, Muschamp must change the woe-is-me attitude around Gainesville, get past last season's injuries and focus on how to bounce back in a big way.
Driskel's health: It's not just his broken leg that needs repair. Even before Jeff Driskel was lost for the season, the Gators' starting quarterback was on a downward spiral with two touchdowns and three interceptions in three games. He'll need to mature as a passer this spring and do a better job of reading the field and not locking onto receivers.
Revamping the defense: Only Vernon Hargreaves is back from the Florida secondary, and he's just a true sophomore. Up front, the Gators return five of seven starters, which isn't all bad. But defensive coordinator D.J. Durkin has his hands full after seeing his unit fall from one of the best in the country early last season to one of the worst, giving up 21 points or more in five of the last seven games of the year, including 26 points in a loss to Georgia Southern.

GEORGIA
Spring start:
March 18
Spring game:
April 12
What to watch:
Start of the Mason era: The job of replacing Aaron Murray under center is clearly Hutson Mason's to lose. After years of waiting, he's the front-runner to start at quarterback for the Bulldogs in 2014. A so-so bowl game against Nebraska does beg for a strong spring to fend off challengers like Faton Bauta and Brice Ramsey.
Pruitt effect on defense: He said he waited 11 years for the Georgia job to come open, and now it's his. Jeremy Pruitt overhauled the Florida State defense in one year, and many of the Bulldogs faithful will be looking for the same instant returns in Athens this season. But with Josh Harvey-Clemons gone and such a maligned unit to begin with, a quick turnaround won't be easy.
Secondary sans Harvey-Clemons: Talent wasn't the secondary's problem in 2013. Losing Harvey-Clemons depletes the reserves somewhat, but he wasn't the most reliable player to begin with. With Tray Matthews, Quincy Mauger, Corey Moore and Tramel Terry available, Georgia fans have reason to believe the back end of the defense can find some continuity.

KENTUCKY
Spring start:
March 28
Spring game:
April 26
What to watch:
Settle on a QB: Can Drew Barker come in as a true freshman and win the starting quarterback job in Lexington? There's an outside shot the four-star prospect could do it considering he's already on campus. He'll duke it out with Maxwell Smith and Jalen Whitlow, neither of whom separated themselves much last season.
Youth movement: Back-to-back impressive recruiting classes have raised the bar at Kentucky, where many freshmen and sophomores could see themselves starting in 2014, especially on offense, where the Wildcats are in desperate need of playmakers.
Second-year momentum: Losing 16 straight SEC games hurts, but coach Mark Stoops has built momentum through recruiting. Now he has to translate off-the-field success into wins and a bowl berth. His defense had a few shining moments last season, and with Alvin Dupree and Za'Darius Smith back, it could become a unit to rely on.

MISSOURI
Spring start:
March 11
Spring game:
April 19
What to watch:
Avoiding the letdown: Any time you have a turnaround like Missouri did last season, it begs the question whether it was a flash in the pan or a sign of more to come. Coach Gary Pinkel and his staff get to answer that call this spring after making a run all the way to the SEC championship game in 2013. It won't be easy, though, as he'll have to replace a number of starters on both sides of the football.
Mauk's time: There shouldn't be much of a drop-off in talent from James Franklin to Maty Mauk at quarterback. In fact, there were times last season when it looked as if Mauk, a redshirt freshman, was the better option under center. His two-game stretch against Kentucky and Tennessee (8 TDs, no INTs) was more than impressive. But this fall, he'll have more pressure as the full-time starter, leading to questions on whether he's ready to take control of the offense and become a leader.
Rebuilding the defense: The core of Dave Steckel's defense is gone. Pass-rushers Kony Ealy and Michael Sam have left. So have two-thirds of the starters at linebacker and the entire starting lineup in the secondary, including the always-reliable E.J. Gaines. Getting Markus Golden and Shane Ray back on the defensive line will help, but the secondary will be a difficult rebuild.

SOUTH CAROLINA
Spring start:
March 4
Spring game:
April 12
What to watch:
Life after Shaw: Let's face it: You can replace Connor Shaw's 24 passing touchdowns and 2,447 yards. Dylan Thompson, the presumptive starter, has the tools to move the ball through the air. But you can't replace Shaw's leadership ability and his tenacity. There was no better competitor in the SEC last season than Shaw, and it remains to be seen whether Thompson can display the same type of intangibles.
A Clowney-less defense: Yes, Jadeveon Clowney and his ridiculous athleticism are gone. No longer will we see the dreadlocked pass-rusher in garnet and black. But he's not the only defensive end who left Columbia. So did Chaz Sutton and Kelcy Quarles. And while there's no Clowney on the roster, look for someone like Darius English to step up at defensive end.
Finding playmakers on offense: Losing Bruce Ellington to the draft will hurt. But South Carolina had already struggled with playmakers at receiver last season. This fall, that needs to change. Someone needs to step up and take the load off running back Mike Davis. There are plenty of options, though losing starting wideout Damiere Byrd for most of the spring certainly hurts.

TENNESSEE
Spring start:
March 7
Spring game:
April 12
What to watch:
A youthful tint: If you think Stoops has done some recruiting, just look at the class Butch Jones put together at Tennessee. With 35 signees in this year's class, the Vols will get an immediate influx of talent on a roster that desperately needs it. Fourteen early enrollees will have an opportunity to make an impact right away.
QB competition: Rebuilding the offensive line is one thing. Finding a few more playmakers at receiver and running back is another. But whatever Jones does, he must find a quarterback. Josh Dobbs played some as a true freshman, but redshirt freshman Riley Ferguson might be the one to watch.
Retrenching the trenches: Tennessee enjoyed one of the most veteran offensive and defensive lines in the country last season. So much for that. Antonio Richardson, Ja'Wuan James and Daniel McCullers are all gone. All five starters on the offensive line need to be replaced, along with all four spots on the defensive front.

VANDERBILT
Spring start:
March 11
Spring game:
April 12
What to watch:
Start of the Mason era: Former coach James Franklin left behind a much better Vanderbilt program than he found in 2011. But he also snatched many of the school's top recruits when he left for Penn State this offseason, leaving new coach Derek Mason in something of a hole. But nonetheless, Mason, 44, has an opportunity to reinvent the Vanderbilt program with some of the hard-nosed principals he became known for at Stanford.
Robinette steps in: He's given Vanderbilt fans reason to be hopeful, but can Patton Robinette do even more as the new starter under center? He certainly got off on the right foot last season, leading a come-from-behind win over Georgia, the first win over Florida since 1940 and a win over Tennessee in which he scored the decisive touchdown with only a few seconds left.
But who will he throw to? Vanderbilt lost its best receiver in program history when Jordan Matthews graduated. The future high NFL draft pick wasn't the only pass-catcher to leave as Jonathan Krause, who started 11 of 13 games as a senior, is also gone. Look for 6-foot-3 true freshman Rashad Canty to get a look with the depth chart so wide open.
December, 13, 2013
12/13/13
2:25
PM ET
ATHENS, Ga. – When
Aaron Murray
says he intends to participate in Georgia's pro day before the NFL draft, consider the source.
In April, he'll be about five months removed from surgery to repair a torn left anterior cruciate ligament when he and his fellow draft prospects take the field before a horde of scouts, coaches and front office reps. While that might seem like a quick return, this is the same player who broke his leg in a mid-October game as a high school senior, only to return for his team's final two playoff victories in a state championship run.
[+] Enlarge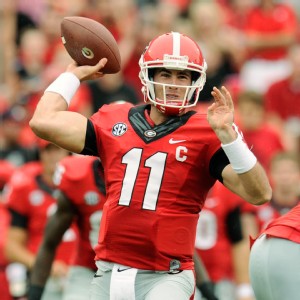 Dale Zanine/USA TODAY SportsAaron Murray, rehabilitating a torn ACL, plans to participate in Georgia's pro day.
With that in mind, it should come as no surprise that Murray expects to be close to full health by pro day and to be at 100 percent by the time his future NFL team opens training camp.
"My goal right now is to get healthy," Murray said Friday. "That's the biggest thing, is get healthy to be able to go out there and do as much as I can for pro day and show the teams that I'm on the right track right now to recovery, and go from there."
Murray will not be able to compete alongside fellow quarterback prospects in the valuable week of practices leading up to the Jan. 25 Senior Bowl – Clemson's
Tajh Boyd
and Fresno State's
Derek Carr
have accepted invitations to the all-star game – and he will likely miss the Feb. 23 quarterback workouts at the NFL combine. However, he will still enjoy the opportunity to participate in the face-to-face meetings that take place at those events as teams begin to set their draft boards.
"I don't know how much I'm going to be able to do physically, but [he will] go up there and meet with people, talk, get on the board, do that kind of stuff," he said.
Prospects can help – or hurt – their stock with their performances in all-star games and the combine, but Murray hopes he is somewhat insulated from taking a draft hit. After all, he tied Georgia's record for nonkickers by starting 52 games – every game of his college career up until the finale against Georgia Tech – so there is no shortage of film on which to judge his progression as a quarterback.
"I think what my film shows is I have improved over my four years," said Murray, who holds SEC career records for completions (921), passing yards (13,166), touchdown passes (121) and total offense (13,562 yards). "I think I've improved from my freshman year to sophomore year, sophomore year to junior year and definitely a big jump from last year to this year. I feel like I've definitely improved and obviously they'll see that on film.
"So how much it'll hurt me, how much it won't hurt me that I won't be able to compete at the Senior Bowl and combine, I don't know. But it is great that I do have four years of film for them to watch."
Georgia coach Mark Richt said Thursday at a news conference previewing the Jan. 1 TaxSlayer.com Gator Bowl that he doesn't think Murray's injury will affect his draft stock much. He used as an example former Georgia receiver
Marlon Brown
, who tore his ACL last season.
[+] Enlarge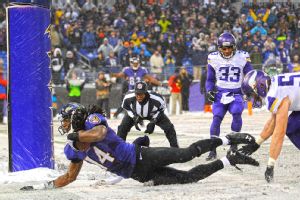 AP Photo/Nick WassFormer Georgia receiver Marlon Brown recovered quickly from an ACL tear and is making an impact in the NFL as a rookie.
"He's a rookie in the NFL and he had an ACL last year in his senior year, which seemed bad, but he made the [Baltimore Ravens roster] and now he's tied for first place for the most touchdown catches as a rookie in the NFL," Richt said. "Guys recover very well from ACLs. I think people understand that, and I think when they see how far along he is by the time the draft rolls around, I hope that it won't hurt him."
Murray said he initially planned to work out at a pre-draft training facility, but now will stay at Georgia and work with director of sports medicine Ron Courson's staff as he continues to recover from the injury. The medical staff has told him that he should be able to do quarterback drops and rollouts and even run the 40-yard dash at pro day if he chooses to do so.
As for the way his career ended, Murray joked about wanting to play one more snap against Nebraska in the bowl game so his college career didn't end with a second-quarter interception against Kentucky. Murray said he knew he had probably torn his ACL on a 28-yard run that came 13 snaps before his final play – "I felt and heard the pop," Murray said – but he stayed in to complete that drive with a touchdown. He had led Georgia into the red zone again on the next drive before taking an awkward hit from Kentucky's
Za'Darius Smith
on his final play.
"The pain was just unbearable at that point when he spun me around," Murray said.
Georgia trainers immediately carried Murray into the locker room after the play, denying him the happy sendoff that he might have imagined.
He's taking a philosophical approach toward that exit, however, saying that perhaps the open-ended nature of his departure could be a positive thing.
"Obviously I had a vision of how I wanted to go out," he said. "I was thinking about it and it's almost like I didn't say goodbye, which I guess is a good thing. I guess it's like, 'to be continued.' I'm not leaving. I'm always a Bulldog, I'll always be a Bulldog and I guess if I would have been there to wave and really cherish the end of it, that would have been like, 'Book closed, it's over,' and I feel like it's not over for me.
"I'm always a Bulldog. I'll be coming back here the rest of my life to watch games and give input and advice to the younger guys throughout the years."
November, 25, 2013
11/25/13
7:00
AM ET
ATHENS, Ga. -- Mark Richt believes the spate of knee injuries that struck his team this season were a fluke and nothing more.
Most of the injuries, including that of record-setting quarterback
Aaron Murray
, occurred while changing direction, which Georgia's coach said is unfortunately common in athletics. If a training program existed to prevent such injuries, Richt said the Bulldogs' strength and conditioning staff would certainly follow its methods.
[+] Enlarge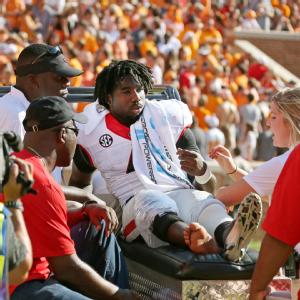 AP Photo/Atlanta Journal-Constitution/Jason GetzWith his torn ACL, Aaron Murray joined Keith Marshall (pictured) and several other Bulldogs that have suffered that injury.
"If there's some scientific research out there that there's some form of training that would contribute to that, I'm sure that it would have already been written by now," Richt said on his Sunday evening teleconference. "But it's just unfortunate. It happens. It's a fairly common injury when you're changing direction.
"I think the No. 1 sport for ACL injuries from what I understand is girls soccer -- not really a high-contact sport, but a lot of changing direction, and that happens a lot. So I don't think we're doing anything that we shouldn't be doing. It's just been one of those years where we had a few."
Murray -- who tore the anterior cruciate ligament in his left knee near the end of a 28-yard run in the second quarter of Saturday's win against Kentucky -- is only the most recent example of a problem that started even before the season began. At least six Bulldogs missed all or part of the season after sustaining ACL injuries within the last year.
Freshmen
Tramel Terry
and
Reggie Wilkerson
were the first to suffer such setbacks -- Terry in a non-contact situation while returning the opening kickoff in a 2012 postseason all-star game and Wilkerson during summer workouts.
Receiver
Malcolm Mitchell
sustained his ACL injury while leaping in the air to celebrate
Todd Gurley
's 75-yard touchdown run in the first quarter of the opener against Clemson. Five weeks later, receiver
Justin Scott-Wesley
and tailback
Keith Marshall
both suffered ACL injuries against Tennessee, with Marshall's occurring as he took an awkward hit and Scott-Wesley's coming when he quickly changed direction to avoid running into a return man while covering a punt.
"You've just got to look at each one of them," Richt said. "Malcolm jumps up and lands funny, and to have an ACL, that happens. Justin Scott-Wesley's changing direction trying to avoid running into a punt [returner]. Aaron's changing direction and it happens. Keith got hit, obviously, and that added to the way his ended up. So I don't think there's really anything you could do or anything that we've done that would cause that type of thing."
Richt said Murray injured his knee Saturday when he cut to his right in an attempt to gain more yards at the end of his long run -- not on the play that ultimately knocked him out of the game. Although he was visibly struggling with a physical ailment after the run, Murray completed the possession where he suffered the injury and talked his coaches into letting him stay in for the next drive -- playing 13 total downs on the injured knee -- before a hard hit by Kentucky's
Za'Darius Smith
was the last straw.
"There was something wrong and he knew it and couldn't hide it anymore," Richt said. "He was trying to hide it from everybody, I think."
Richt said Murray's staying in the game after sustaining the injury did no additional damage. Murray injured only his ACL, and did so without much swelling around the injured ligament, so he will be able to undergo surgery this week rather than wait at least a week for the swelling to subside.
Murray still has a months-long rehabilitation process ahead, which will prevent him from competing in a postseason all-star game or in the NFL combine, but Richt believes the SEC's all-time leading passer will remain an appealing draft prospect.
"I think he'll get drafted," Richt said. "ACL injuries, especially if you only have one and you don't have anything extenuating along with it ... there wasn't major damage to his knee, there was just ACL. I may be saying more than I'm supposed to say, but from what I've heard, there's nothing that is connected with it other than that, and those tend to heal very well and rehabs go very well."
As for the prevalence of the Bulldogs' season-ending knee injuries this fall, Richt said there was a time when such an injury might not have ended a player's season. He used former UGA and NFL receiver Hines Ward, who played his entire college and pro career without an ACL in his left knee -- presumably the result of a childhood accident -- as an example, but there are many others who were able to play more than just 13 downs after sustaining similar injuries.
The goal now for Murray and his other injured teammates is to make good use of their recovery process, and Richt said Murray is "already kind of getting geared up for that challenge."
"You could play with an ACL torn," Richt said. "It's just nowadays, you have the imaging now, you have the MRIs, you see what the issue is and you go and make the repair. The repair is usually very successful."
November, 24, 2013
11/24/13
12:30
PM ET
ATHENS, Ga. -- Georgia's period of mourning over
Aaron Murray
's season-ending knee injury can't last long. The Bulldogs face rival Georgia Tech in six days -- and for the first time since 2009, they'll do it with someone other than Murray under center.
Once considered the Bulldogs' quarterback in waiting for 2014 -- after Murray, the SEC's all-time leading passer, departed for the NFL --
Hutson Mason
's time is now, and that isn't as much of a cause for concern as one might expect.
"I think the whole team is confident in him," Georgia offensive coordinator Mike Bobo said after Saturday's 59-17 win against Kentucky. "He's been preparing for four years now for his moment. His moment's just come a little earlier than we thought it might. I know he's ready, and I know everybody believes in him."
[+] Enlarge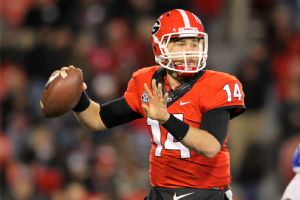 Todd Kirkland/Icon SMIHutson Mason has been Aaron Murray's main backup at Georgia. But now he gets his chance in the spotlight.
Mason has been Murray's primary backup since arriving at Georgia in 2010, and he opted to redshirt last season instead of transferring in order to gain a year of class separation between himself and Murray. The idea was to have one final season where he could potentially serve as the starting quarterback.
Now, he's getting an early tryout for the gig, with an opportunity to make his first career start against Georgia Tech and then to lead the offense once again in the Bulldogs' bowl game.
"I'm going to watch the game tomorrow and then start preparing for Tech," Mason said after completing 13 of 19 passes for 189 yards and a touchdown, plus rushing for another score, against Kentucky. "I don't think anything in my preparation's going to change because I've been preparing like I've been the starter the whole year, and I think that's what's going to help me. And I don't have a lot of game-time experience, but I'm an older guy and I've been here a while and I know my teammates believe in me, and that's what's the most important thing."
Georgia's offense didn't miss a beat on Saturday after Mason replaced Murray, who injured the anterior cruciate ligament in his left knee after taking a big hit from Kentucky's
Za'Darius Smith
in the second quarter on Saturday. The Bulldogs scored touchdowns on their first four drives with Mason under center, and he capped his night with a field-goal drive before giving way to third-string quarterback
Faton Bauta
late in the blowout win.
The Bulldogs generated 309 yards in 37 plays with Mason in at QB against Kentucky, good for an average of 8.35 yards per play.
"When he's at practice, there's no drop-off when he comes in," senior offensive guard
Chris Burnette
said. "He knows exactly what to do, has a great skillset, is a great leader. We know what he's bringing to the table, and he knows what we're bringing to the table so I think we're able to feed off of each other and be able to do well."
There is a major difference between executing in practice and executing in a game, however, and Mason has only 11 games of experience -- almost all of which came in mop-up duty during blowouts. He didn't have time to over-think his role while replacing Murray on Saturday, but now he will be the center of attention for the first time during the run-up to a game against perhaps Georgia's biggest rival.
He said the number of close games Georgia played this season, with Murray playing the entire time, made him sometimes question the importance of preparing. He's obviously glad he continued to put in the work each week now, though.
"That's the nature of being a backup -- you've always got to be ready when your number's called on, especially with the way we've played this year," Mason said. "There's many times through the week I'm like, 'Should I even prepare?' Because I've got voices in my head telling me, 'Should I prepare? I might not play. Is this worth it?' And it just goes to show you, always prepare like you're going to play because you never know when it's going to come."
Murray's setback only exacerbates the Bulldogs' injury woes in a season where they have been especially prevalent. Georgia lost receiver
Malcolm Mitchell
to an ACL injury on the second series of the season -- he was celebrating a 75-yard
Todd Gurley
touchdown run when the injury occurred -- and tailback
Keith Marshall
and receiver
Justin Scott-Wesley
both went down with additional ACL tears during a midseason win against Tennessee.
Offensive weapons Gurley,
Chris Conley
,
Michael Bennett
and
Jay Rome
have also been knocked out of the lineup for multiple games, but Murray's seems like the most painful after he returned for his senior season only to suffer an injury near the very end. It will prevent him from participating in a postseason all-star game or at the NFL combine.
Georgia, however, must quickly pick up the pieces with Mason at quarterback, much like it did when its starting quarterback left his final home game with a devastating injury.
"I was proud of the way [Mason] played and proud of the way the other guys picked it up when Aaron went down," Bobo said. "I feel for Aaron on senior night to get hurt with as much as he's invested in the program and everything he's done. But he played great again while he was out there -- just another phenomenal night for him."
November, 24, 2013
11/24/13
12:50
AM ET
ATHENS, Ga. -- Georgia sent its seniors out the right way with a 59-17 pummeling of Kentucky on Saturday night, but the Bulldogs lost perhaps their most valuable senior of all.
Quarterback
Aaron Murray
-- who has started every game of his career and on Saturday tied David Greene's school record for most career starts by a non-kicker (52) -- injured his left knee in the second quarter and needed assistance to reach the locker room.
Bulldogs coach Mark Richt said he does not expect Murray to play next Saturday against Georgia Tech, but would not rule him out for the Bulldogs' bowl game, pending the results of an MRI on the injured knee.
"It just was hard to have a lot of fun," Richt said after the game. "Even right now, I'm glad we won and I'm really proud of how we did, but it's kind of a crummy feeling right now when you think about what Aaron is going through."
Prior to the injury, Saturday's game was shaping up as a glorious going-away party for the senior quarterback in his final game at Sanford Stadium.
He was the centerpiece of an emotional pregame ceremony to honor Georgia's 28 departing seniors, with the home crowd offering a raucous ovation when the SEC's all-time leading passer was the final Bulldog to be introduced. Murray had tossed four touchdown passes (he finished 18-for-23 for 183 yards) and in the first quarter became the first SEC quarterback to pass for 3,000-plus yards in four seasons.
[+] Enlarge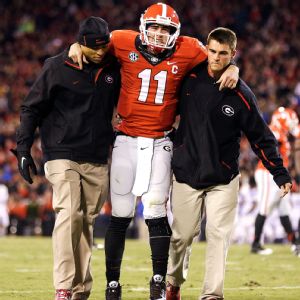 AP Photo/John BazemoreAaron Murray will have an MRI on his left knee to determine the extent of his injury.
But Kentucky defensive lineman
Za'Darius Smith
slammed Murray to the ground after a pass to
Rhett McGowan
deflected off the senior receiver and floated to Wildcats linebacker
Khalid Henderson
at the Kentucky 2-yard line. Murray immediately motioned to the training staff that he needed assistance, and they walked him directly to the locker room with Murray struggling to put any weight on his left leg.
He left Sanford Stadium during the third quarter to undergo an MRI at Athens' St. Mary's Hospital and did not return.
"You could tell in his body language he was hurt," backup quarterback
Hutson Mason
said. "It wasn't the same Murray."
And it was yet another injury in a fall where the Bulldogs (7-4, 5-3 SEC) already lost tailback
Keith Marshall
and receivers
Malcolm Mitchell
and
Justin Scott-Wesley
for the season, while tailback
Todd Gurley
and receivers
Chris Conley
and
Michael Bennett
also missed multiple games with an assortment of injuries.
"He did mention that was about how our season has gone as far as injuries and everything," Richt said of his conversation with Murray at halftime. "It was tough."
Mason did an admirable job as Murray's replacement -- he finished 13-for-19 for 189 yards and one touchdown, plus a 1-yard scoring plunge -- but Murray's injury put a major damper on what should have been a happy final outing between the hedges for the seniors.
"Seeing Aaron go down, that was tough. That's one of my best friends. He was one of my groomsmen at my wedding, and seeing him go down, I never want him to go down because most of the time it's my fault," said senior offensive guard
Chris Burnette
, whose wife, Arielle, was one of Murray's classmates at Tampa (Fla.) Plant High School.
The Bulldogs quickly made it clear that there would be no lingering hangover in the wake of last week's devastating 43-38 loss at Auburn, when the Tigers scored the game-winning touchdown with 25 seconds to play. Georgia needed only three plays to score its first touchdown -- on a 9-yard pass from Murray to McGowan -- and led Kentucky 21-0 after its first three possessions.
Murray and Gurley were the stars of the early onslaught, with the pair hooking up for a 16-yard touchdown where Gurley soared into the end zone -- reminding Bulldogs fans of Knowshon Moreno's memorable 2008 touchdown dive against Arizona State -- that put Georgia up 14-0.
By the time Gurley left in the third quarter of the blowout, he had rushed eight times for 77 yards, caught five passes for 90 yards and scored two touchdowns.
Not to be miss out on the fun, Georgia's defense posted perhaps its finest outing of the season. A week after surrendering 566 yards to Auburn's potent offense, the Bulldogs held Kentucky (2-9, 0-7) to 211 yards -- 69 of which came on
Dyshawn Mobley
's first-quarter touchdown run, with 30 more coming on a
Maxwell Smith
touchdown pass to
Javess Blue
against the defensive reserves late in the fourth quarter.
"We got some turnovers, too, which was good to see," said Georgia defensive coordinator Todd Grantham, whose defense recovered three of Kentucky's six fumbles, with those turnovers leading to 21 Bulldogs points. "Kentucky has not turned the ball over a lot."
Richt credited the seniors for holding the team together through the spate of injuries and a disappointing season that started with a top-five ranking and BCS title aspirations.
"Even though the season had certain expectations and certain hopes got dashed along the way, the leadership was great," Richt said. "The unity of our team was rock solid because of those guys. And I've said it a couple times, this was a fun team to coach, but I think it was mostly because of the seniors and how they led this year."
September, 20, 2013
9/20/13
10:00
AM ET
There aren't quite as many marquee games this weekend around the SEC, but we still have a couple of divisional rivalry games -- namely Tennessee-Florida and Auburn-LSU -- to look forward to, plus a couple of intriguing nonconference matchups. Let's take a look at some statistical notes from around the league with an assist from ESPN's Stats and Information group.
LSU's Zach Mettenberger was hardly a star-caliber quarterback last season, posting the third-lowest Total QBR (39.3) of all qualified quarterbacks in the SEC (50 is average on the 1-100 QBR scale). He's been anything but a failure through three games of his senior season, notching the biggest increase for any qualified FBS quarterback in the last two seasons. His 52.3-point increase this season gives him a 91.6 Total QBR that ranks eighth nationally. Missouri's James Franklin has posted the third-biggest increase, jumping 45.4 points to 84.2 (20th nationally).
Conversely, some of Florida's offensive woes can be attributed to quarterback Jeff Driskel, whose Total QBR inside an opponent's 20 (1.5) is the second lowest in the nation among quarterbacks with at least 10 action plays. Driskel is one of five qualified quarterbacks with more interceptions (two) than touchdowns (one) inside the red zone. Florida's three turnovers against Miami were its most red zone turnovers in a game in the last 10 seasons. The Gators have already matched or exceeded their total of red zone turnovers from each of the past three seasons.
It's no secret that Auburn coach Gus Malzahn wants his hurry-up, no-huddle offense to operate at an accelerated pace. The Tigers have already improved substantially over their snail's pace from a season ago, when they were the third-slowest offense in the nation with a play every 30 seconds. This season, Auburn is running a play every 23 seconds, which is 1 second faster than the FBS average. The Tigers are averaging 440.3 yards per game (135.3 more than last year, when they were last in the SEC), converting 42 percent on third down (11 percent better than last year, when they were last in the league) and scoring touchdowns on 24 percent of their drives (up 8 percent from last year's SEC-low percentage).
Despite last week's blowout loss at Oregon, Tennessee has enjoyed some success moving the ball on the ground. The Volunteers have gained 384 of their 733 rushing yards before contact and are averaging 2.8 yards before contact per carry. In Florida, the Vols face their toughest run defense test yet, however. The Gators have allowed 7 rushing yards before contact on 44 carries through two games.
Texas A&M quarterback Johnny Manziel's 562 yards of total offense last week against Alabama rank second in school and SEC history, trailing only his 576-yard performance last season against Louisiana Tech. Manziel is responsible for the top three total-offense games in league history.
Speaking of Manziel, last week's shootout against Alabama will certainly not be the last time the Aggies play in a high-scoring game. The next one could come this weekend when SMU visits College Station. SMU quarterback Garrett Gilbert is third nationally in total offense (393.5 ypg), two slots ahead of Manziel (379).
A week after entering the AP Top 25 for the first time since 2009, Ole Miss jumped from No. 25 to No. 21 after last weekend's win at Texas. The Rebels, who are idle this week, are 3-0 for the first time since 1989 with a visit to No. 1 Alabama coming next week.
Georgia quarterback Aaron Murray is one touchdown pass away from becoming the second quarterback in SEC history to toss 100 in his college career. Murray is 15 away from Danny Wuerffel's career record of 114. He should catch up to former Georgia star David Greene's SEC passing yardage record of 11,528 yards soon, as well. Murray is 805 yards behind Greene with 10,723 in his career.
Both of this weekend's marquee SEC games rank among the top 10 closest head-to-head SEC series since 2000 (that have been played at least 10 times). The average margin of victory in Auburn-LSU in that time period is 12.38 points, with seven of those games being decided by nine points or less. Florida has held the advantage in recent years against Tennessee with eight straight wins, but the average margin of victory in that series since 2000 is just 12.54 points.
Alabama quarterback AJ McCarron is approaching former Crimson Tide star Jay Barker's SEC career winning percentage record. Barker went 35-2-1 (93.4 percent) between 1991-94. McCarron can improve to 28-2 (93.3) if the Crimson Tide defeats Colorado State this weekend.
Quick, name the two SEC defenses that have allowed the fewest yards per game thus far. If you guessed Florida, you'd be correct. The Gators are third nationally with 208.5 yards allowed per game. The other team might be more of a surprise. Entering Saturday's game at Rutgers, Arkansas ranks sixth nationally by allowing 253 ypg.
Four players across the country have notched an FBS-high 4.5 sacks thus far. Two of them are from the SEC: Arkansas' Chris Smith and Kentucky's Za'Darius Smith, whose team is off this weekend.
February, 8, 2013
2/08/13
11:13
AM ET
Now that the pens have been put to paper, the classes have been announced and most of your attention has turned to the 2014 recruiting season, it's time to take a look at how each school in the SEC did when it came to immediately filling needs.
We're checking out what all 14 teams did to fill holes, and we're looking at which holes still remain. We'll start with the SEC East:
FLORIDA

Needs filled: LB, OL, DB, WR, DT -
- The Gators had one of the most complete classes out there, finishing second in the ESPN class rankings. Florida landed the top cornerback prospect (No. 3 nationally) in
Vernon Hargreaves III
, defensive tackles
Caleb Brantley
and
Jay-nard Bostwick
, linebackers
Daniel McMillian
and
Matt Rolin
, and safeties
Keanu Neal
and
Marcell Harris
. The Gators also added five wide receivers, including ESPN 150 members
Demarcus Robinson
and
Ahmad Fulwood
.
Holes remaining: DE --
Will Muschamp seemed thrilled with his class, but he probably would have liked to get a least one more defensive end. The Gators missed on a few, including
Tashawn Bower
, who almost picked the Gators before signing with LSU. Four-stars
Jordan Sherit
and
Antonio Riles
were the only defensive ends in this class.
GEORGIA

Needs filled: ILB, S --
The Bulldogs had to replace a few bodies at middle linebacker, and did so by signing four. The star of the group is four-star ESPN 300 member
Johnny O'Neal
, who is the No. 5 inside linebacker in the county.
Tim Kimbrough
and
Ryne Rankin
, both ESPN 300 members, also signed with the Dawgs. Georgia also signed five safeties, including two junior college standouts. The top safety in this class is ESPN 150 member
Tray Matthews
.
Holes remaining: Elite OT, elite RB, elite DT --
Mark Richt was pleased with his 32-man signing class, but he knows it could have been better if a few elite players had signed with Georgia. The Dawgs barely missed on top offensive tackle
Laremy Tunsil
(Ole Miss), No. 4 running back
Alvin Kamara
(Alabama) and No. 2 defensive tackle
Montravius Adams
(Auburn).
Peach State: Top Tier Recruiting Ground?
SEC SCOREBOARD
Thursday, 9/3
Saturday, 9/5