Georgia Bulldogs:

Willie Martinez
November, 18, 2013
11/18/13
7:00
AM ET
ATHENS, Ga. -- Given the way they finished in their most recent outings, it would be understandable if both Georgia and Kentucky have difficulty getting up for Saturday's game in Athens. Because at this point, neither team has much to play for aside from pride.
[+] Enlarge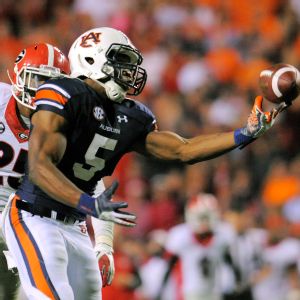 Shanna LockwoodRicardo Louis' catch deprived Georgia of any chance at winning the SEC East. Can the Dawgs rebound and play well against Kentucky?
"We need to be able to bounce back," said Georgia coach Mark Richt, whose team's dramatic fourth-quarter rally went for naught when No. 6 Auburn completed a 73-yard Hail Mary in the final minute to win 43-38. "Kentucky had a tough loss, too, so both teams have to shake it off and get back ready to compete. That's the nature of the business and the nature of the game of football or competitive sports, period. You lose and you've got a game the next week or the next day, depending on the sport, and you've got to shake it off and get back to work."
Kentucky (2-8, 0-6 SEC) did indeed suffer a difficult defeat, falling 22-6 at Vanderbilt to drop its 14
th
consecutive conference game. The Wildcats outgained the Commodores 246-172 through three quarters, but Vandy dominated the fourth, enjoying a 141-16 yardage advantage and scoring 13 unanswered points to earn the victory.
But that was just a run-of-the-mill loss compared to the gut-wrenching circumstances by which Georgia lost. The Bulldogs were on the verge of getting blown out early, only to slowly creep back into the game. Then
Aaron Murray
and the Georgia offense caught fire late, scoring three straight touchdowns and rolling up 216 yards of offense in the fourth quarter alone, only to have
Ricardo Louis
grab a deflected pass and score the game-winning touchdown on a fourth-down, desperation heave by
Nick Marshall
.
The loss eliminated Georgia (6-4 overall, 4-3 SEC) from contention in the SEC East and forced the Bulldogs to focus on lesser goals instead of representing the division for a third straight season in the SEC championship game.
"The season isn't over with. We will approach it just like any other game," said
Rantavious Wooten
, one of seven seniors who started against Auburn, along with fellow receiver
Rhett McGowan
, Murray, offensive linemen
Chris Burnette
,
Kenarious Gates
and
Dallas Lee
, and tight end
Arthur Lynch
. "It's going to be my last game in Sanford Stadium, so we will have to talk to the young guys and tell them to keep the faith and keep fighting."
There is also the matter of reaching the best bowl possible. Although Georgia's options aren't particularly promising -- the majority of Sunday's bowl projections favor the Bulldogs to play in either the Gator or Music City bowls -- that possibility was off the table for Kentucky weeks ago.
The Wildcats, however, have given Georgia fits in recent years, so the Bulldogs likely can't afford a flat effort. Georgia is 5-2 against Kentucky dating back to a 24-20 loss in Lexington in 2006 -- one of four times in that seven-game stretch where the outcome has been decided by seven points or less.
Considering how Georgia has struggled to finish off opponents -- Saturday was only the most recent heart-stopper for a Bulldogs team that is setting an historically bad pace on defense -- that has to be a cause for concern.
In fact, Georgia's defensive shortcomings were the subject of multiple questions Richt faced on his Sunday teleconference, as Todd Grantham's defense is on pace to set new program marks for most points allowed and most yards allowed.
The 2009 team surrendered 337 points, which is a program high for a season of 12-plus games. This year's team, which is surrendering 30.2 points per game, has already allowed 302 points with three games to play (Kentucky, Georgia Tech and a bowl game). Likewise, the 2013 Bulldogs are on pace to surrender 5,029.7 yards -- potentially just the second time in school history that Georgia allowed 5,000-plus yards after last season's bunch surrendered 5,009 in 14 games.
"Here's what I say: I say we're a team here at Georgia and we're going to keep coaching and keep trying to make improvements and corrections on everything we do, in all phases of the game," Richt said when asked to rate his level of satisfaction with the defensive coaching staff's performance.
Such a response is common under these circumstances for Richt, who is rarely willing to discuss his concerns publicly. Grantham's defense is preparing to face teams that rank 104th (Kentucky, 349.2 yards per game) and 53rd (Georgia Tech, 432.2) nationally in total offense, so the Bulldogs should have an opportunity to improve their underwhelming defensive stats before the season ends.
It would be much easier to focus on such necessary improvements had safeties
Tray Matthews
or
Josh Harvey-Clemons
managed to knock down Auburn's last-gasp touchdown pass to preserve Georgia's comeback win. The Bulldogs would still be alive in the East race and would have a third win against a top-10 opponent this season instead of grasping at less-appealing methods to motivate themselves for their home finale against Kentucky.
That's Richt and company's unique challenge this week after a defeat that could naturally cause lingering dejection -- and the coach said he plans to focus on the positive as best he can.
"We've got to do a good job of, again, pointing out all the positive things that happened and building on those types of things, because there were a lot of tremendous things that happened in the game," Richt said. "And then make sure we learn from whatever mistakes we had, correct them, have a plan for that, and then we have to get the new game plan in."
November, 8, 2013
11/08/13
12:00
PM ET
Half a day. We're almost there. Here are some links from around SEC country to help you finish off the work week.
November, 4, 2013
11/04/13
7:00
AM ET
ATHENS, Ga. -- Todd Grantham made one point abundantly clear in 2010 as soon as he arrived at Georgia to become the Bulldogs' defensive coordinator. He was here to beat Florida, because beating the Gators is the jumping-off point for every goal the Bulldogs hope to achieve in any given season.
"When we go to recruit a guy, the first thing I ask is, 'Can we beat Florida with this guy?' Because if you beat Florida, your chance of winning the SEC East got a whole lot better," Grantham said after Saturday's
23-20 win over Florida
extended Georgia's series winning streak to three games.
[+] Enlarge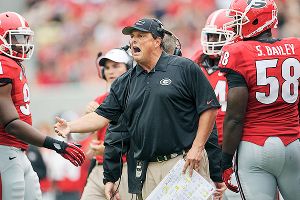 AP Photo/Paul AbellTodd Grantham's defensive unit is a big reason why the Bulldogs have won three straight games against Florida.
Let's put that in perspective. The Georgia-Florida rivalry wasn't even competitive when Grantham joined Mark Richt's staff. Even Florida's mediocre teams found ways to win in Jacksonville -- like when the 2002 Gators who would finish with an 8-5 record handed Georgia its only loss that season and cost the Bulldogs a chance to play for the BCS title.
Dating back to 1990, Florida had won 17 out of 20 games against Georgia when Grantham arrived and seven of nine since Richt took over in 2001. And in the last two games in the series that Willie Martinez served as Georgia's defensive coordinator, Florida's 2008 and 2009 teams beat Georgia by a combined 90-27 margin.
The common theme in each of Georgia's three straight series wins, however? Grantham's defense made big plays when it mattered most and kept Florida out of the end zone. Although they did not turn the ball over on Saturday, the Gators totaled eight turnovers in the teams' previous two meetings, and they have scored just three offensive touchdowns in the last three meetings in Jacksonville.
"Like I said when I first came here, I think I understand who the fans want to beat when you're playing here, and I know that Florida's one of the teams that they want to beat," Grantham said. "So that's why we make it a big game with our players. I think that's one of the reasons that we've had guys step up, meaning Jarvis [Jones] two years ago,
Corey Moore
made a play today. I've seen
Damian Swann
make a play, Amarlo [Herrera], Ramik [Wilson] – a lot of guys made some plays, but they know it's time to man up and go play."
Perhaps the biggest defensive play of Saturday's win came midway through the fourth quarter, when Grantham decided to blitz safety Moore when Florida faced third-and-12 against the reeling Bulldogs. Moore tracked down Gators quarterback
Tyler Murphy
and sacked him for a 14-yard loss at the Florida 43-yard line. That forced the Gators to punt, and Georgia's offense was able to run out the clock on the ensuing possession and protect its narrow advantage.
"I really almost said to Coach Grantham, 'Go sic em. Go get em,' " Richt said. "When I'm saying that, I'm saying, 'Bring the house. Bring more than they can block. Play man coverage with no safety help and let's just see what the heck happens.' Something big's going to happen one way or the other and I held my tongue on it, and he called the blitz. And I'm like, 'I'm with you 100 percent,' and I really was."
Maybe that was a glimmer of hope for Grantham's young defenders. Earlier in the season, maybe they would not have successfully made that play. He pointed to the overtime win against Tennessee, where the Bulldogs were unable to slow down the Volunteers as they mounted a second-half rally, as a time when his defense wasn't tough enough.
"The other team's going to make plays and they're going to do things," Grantham said. "But when that happens, you've got to have the mental toughness and the maturity to go put the fire out, and we preach to our guys all the time about, 'This is what you live for. Seize the moment. Enjoy the opportunity. Go make a play.' "
Believe it or not -- and the fourth-year coordinator's detractors within Georgia's fan base will likely be stunned by this revelation -- Georgia has held all but one opponent (Tennessee) below its season average for total offense. And after yielding 400-plus yards in four of the first five games, the Bulldogs have held their last three opponents below the 400-yard mark and to an average of 68.5 yards per game below their season averages.
They're dead last in the SEC in scoring defense (31.6 ppg), however, in part because of frequent special-teams meltdowns and offensive mistakes deep in Georgia territory.
Georgia ranks 112th nationally and last in the SEC in opponent yards per point -- a statistic that divides the number of points a team allows by the yardage its opponent covered to score. The five teams that rank immediately behind Georgia's average (12.1) on that list have a combined 7-35 record this season: Cal (1-8), Colorado (3-5), Idaho (1-8), UTEP (1-7) and Iowa State (1-7).
Of course, Georgia's defense could always have made more stops after being placed in those bad positions. And the Bulldogs certainly could stand to become more effective on third down (they're 12th in the SEC, allowing opponents to convert 42.5 percent of the time).
But little by little, Grantham's defense is beginning to show some promise -- and perhaps Moore's sack is another sign that the light is flipping on for Georgia's defenders who lacked on-field experience when the season began.
"Part of the job as a coordinator is you've got to be aggressive in those situations and let the players go win the game," Grantham said. "Individual performance wins the game. We put them in one-on-one matchups on that. We were in one-on-one matchups in coverage, we were in one-on-one matchups up front and the guys executed the call and we stopped them. ... In my mind, you want to end the game. That's what I wanted to do was end the game right there."
February, 6, 2013
2/06/13
12:28
AM ET
ATHENS, Ga. -- On the eve of national signing day, a report surfaced that one of Georgia's most important assistant coaches -- defensive coordinator Todd Grantham -- will interview for a job in the NFL.
While
ESPN's Adam Schefter reported
Tuesday night that the New Orleans Saints are expected to hire former Dallas Cowboys defensive coordinator Rob Ryan for the same job with the Saints, the
New Orleans Times-Picayune reported
that Grantham will interview for the position Thursday.
Georgia's recruiting class currently
ranks No. 9
with 30 committed prospects expected to sign letters of intent Wednesday.
Grantham has been the Bulldogs' defensive coordinator since 2010, using his 3-4 scheme to lead a defensive revival in 2011, when Georgia finished fifth nationally in total defense. The defense took a step backward in 2012 while contending with a number of suspensions and injuries but still finished 18
th
nationally in scoring defense.
Grantham had been a longtime NFL assistant when Mark Richt hired him to replace Willie Martinez after the disappointing 2009 season. Grantham was the Cleveland Browns' defensive coordinator from 2005-07 and also coached the defensive lines in Dallas, Houston and Indianapolis during his 11-year stint in the pros.
His name surfaced last month as a possible candidate for the still-vacant defensive coordinator spot on Chip Kelly's new Philadelphia Eagles staff, but Grantham has not commented on that job or any other NFL vacancy since the end of the season.
Richt and Grantham are scheduled to participate in a signing-day news conference at 2 p.m. ET Wednesday at Butts-Mehre Heritage Hall on the UGA campus.
February, 1, 2013
2/01/13
7:00
AM ET
ATHENS, Ga. -- The 11th-hour decommitment is perhaps the recruiting fan's greatest nightmare as national signing day approaches. And Georgia has had its share of both the heartbreak that accompanies a prospect's flipping and the elation that comes when a committed player has a change of heart and instead decides to sign with the Bulldogs.

Let's review some of the notable players who switched their commitment to or from Georgia at the last minute before signing day:

The losses
January, 15, 2013
1/15/13
9:00
AM ET
ESPN 150 cornerback
Shaq Wiggins
(Tyrone, Ga./Sandy Creek) spent Sunday morning eating breakfast with South Carolina coach Steve Spurrier, then ended that night on the phone with Georgia coach Mark Richt.
To continue reading this article you must be an Insider
December, 7, 2012
12/07/12
7:00
AM ET
ATHENS, Ga. -- Mark Richt has consistently credited his coaching staff for its ability to work together and produce outstanding results.
It's inevitable, however, that members of the staff will leave for other opportunities. After all, both coordinators -- Mike Bobo and Todd Grantham -- are starting to see their names mentioned as potential head coaches. And plenty of other UGA assistants would be in demand if they opted to seek employment elsewhere.
So the big question is how Richt and the Bulldogs will fare once the group dynamic changes within his staff.
To continue reading this article you must be an Insider
November, 11, 2012
11/11/12
9:00
AM ET
ATHENS, Ga. -- No. 5 Georgia got the win it needed to clinch the SEC East title against Auburn -- and it did so without any resistance whatsoever from a Tigers team that is stumbling toward the finish line.
The Bulldogs (9-1, 7-1 SEC) thoroughly dominated every aspect of Saturday's game, handing the Tigers (2-8, 0-7) a defeat that might have sealed the fate of embattled head coach Gene Chizik and his staff.
Let's recap some of the highs and lows of Saturday's victory:
To continue reading this article you must be an Insider
November, 7, 2012
11/07/12
2:06
PM ET
Mark Richt and his fifth-ranked Georgia team (8-1, 6-1 SEC) need a win against slumping Auburn (2-7, 0-6) to return to the SEC championship game, but Saturday's matchup is even more personal than usual for Georgia's coach.
Richt used his time Wednesday on the SEC's weekly teleconference to discuss facing Auburn assistants Brian VanGorder and Willie Martinez, both of whom served on Richt's original Georgia staff in 2001 and at some point held the defensive coordinator title at UGA.
1. Emotional connection
To continue reading this article you must be an Insider
November, 6, 2012
11/06/12
8:08
AM ET
ATHENS, Ga. -- Most college football coaches adopt a business-first mentality out of necessity.
Many of them -- particularly well-traveled coaches -- cross paths with former co-workers several times per season, but they understand their loyalties must be to their jobs and not to friends with other programs or even their alma maters.
Despite that fact of life within the coaching ranks, Georgia coach Mark Richt and several of the coaches involved in Saturday's meeting between the fifth-ranked Bulldogs (8-1, 6-1 SEC) and rival Auburn (2-7, 0-6) will face highly unusual circumstances in that regard.
All three men who have served as defensive coordinator for Richt at Georgia will be coaching Saturday at Jordan-Hare Stadium -- Todd Grantham, who has held the position at Georgia since 2010, and Auburn assistants Brian VanGorder (2001-04) and Willie Martinez (2005-09).
"I love both of them, I love their families, but I think we all know that we've got to prepare our teams to play ball and that's what will be going on from kickoff till the end," Richt said when asked about VanGorder and Martinez, who were both members of his original staff at UGA.
VanGorder helped Richt put Georgia's program on the map with a fearsome brand of defense that regularly had the Bulldogs among the national leaders in most defensive statistical categories. He won the 2003 Frank Broyles Award, which goes to the nation's top assistant coach, before holding a variety of positions in the interim -- most recently defensive coordinator with the Atlanta Falcons before accepting the same job at Auburn in the offseason.
Meanwhile, Martinez was at Georgia recently enough to have coached with most members of Richt's staff. Several veteran Bulldogs played under Martinez, as well, which is a more irregular occurrence for players and their former coaches.
"He taught me a lot of things when he was here, so I'm kind of happy to see him because I haven't seen him in a long time," said senior safety
Bacarri Rambo
, who was a freshman in 2009 when Martinez was in his final season as the Bulldogs' defensive coordinator and defensive backs coach.
That doesn't mean the reunion will be entirely comfortable, however.
Peach State: Top Tier Recruiting Ground?
SEC SCOREBOARD
Thursday, 9/3
Saturday, 9/5