Georgia Bulldogs:

Vad Lee
December, 2, 2013
12/02/13
7:00
AM ET
ATHENS, Ga. -- Georgia's season is obviously not over, as we'll learn the 8-4 Bulldogs' postseason fate sometime within the next week. But Saturday's double-overtime win against Georgia Tech put an exclamation point on easily the craziest regular season in Mark Richt's 13 seasons as Georgia's coach.
Let's look back over the season and recap some of the highs and lows:
[+] Enlarge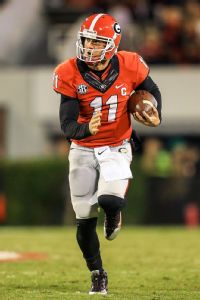 Daniel Shirey/USA TODAY SportsAaron Murray had a standout season until he joined the long list of Georgia injuries.
What might have been:
There is not a single game this season where the Bulldogs did not play without at least one key player -- and by the Tech game, the injured list featured an all-star team of talent. Considering how receivers
Malcolm Mitchell
and Justin-Scott Wesley and tailback
Keith Marshall
suffered season-ending knee injuries before the midway point, quarterback
Aaron Murray
will miss the final two games with an ACL injury and that tailback
Todd Gurley
, receivers
Chris Conley
and
Michael Bennett
and tight end
Jay Rome
all dealt with multiple-game setbacks, it's a wonder that Georgia didn't go into a steeper tailspin than it did.
MVP:
This has to go to Murray, who broke multiple SEC career passing records as a senior. The Kentucky game started out as a senior-night tribute to the four-year starter, only to see it end in heartbreak when he suffered the knee injury in the second quarter that ended his season. He returned for his senior season to win a championship, although injuries and a shaky defense prevented Murray from reaching that goal. Nonetheless, his leadership prevented what could have become a major mess when many of Georgia's best offensive skill players were missing in the middle of the season.
Wildest finish:
There's no shortage of competition in this category, as Saturday's Tech game was only the most recent Georgia game that was decided in the closing moments. That's what happens when seven of your 12 games are decided by a touchdown or less. But the winner here has to be the Auburn game, when the Bulldogs rallied from a 20-point, fourth-quarter deficit to take a 38-37 lead on Murray's fourth-down touchdown scramble with 1:49 remaining. Murray's heroics were for naught, however, as
Nick Marshall
hit
Ricardo Louis
on a deflected 73-yard touchdown pass with 25 seconds remaining, after the pass somehow slipped through Georgia's
Josh Harvey-Clemons
and
Tray Matthews
.
Surprise performer: Ramik Wilson.
He was certainly not perfect -- particularly in pass coverage -- but Wilson became the SEC's tackles leader by playing nearly every important down and always hustling to the ball. He didn't make much of an impact in his first two seasons while rotating between inside and outside linebacker, but Wilson was a valuable contributor in leading the team with 128 tackles and tying with
Jordan Jenkins
for the team lead with 11 tackles for loss. He also made one of the Bulldogs' biggest defensive plays of the season when he deflected a
Vad Lee
pass in the second overtime against Georgia Tech, enabling
Damian Swann
to knock the ball away for the game-ending incompletion.
Worst defeat:
The Auburn loss might have been more painful, but the 31-27 defeat at Vanderbilt was more avoidable. The Commodores outscored Georgia 17-0 in the fourth quarter -- a comeback expedited by a targeting flag on a fourth-quarter pass breakup by Wilson. The penalty was overturned upon review, but it still resulted in a first down and a 15-yard mark-off down to Georgia's 15-yard line, and eventually a Vandy touchdown. Georgia's ineptitude also contributed to the implosion -- including costly turnovers and an overall lack of aggression on offense -- which made it a particularly galling defeat.
Star in the making: Hutson Mason.
Several players could figure in here -- Scott-Wesley, outside linebacker
Leonard Floyd
and safety Harvey-Clemons immediately come to mind -- but this will almost certainly be Mason's team next season. He overcame a shaky start against Tech to lead the Bulldogs back to an overtime win by completing 22 of 36 passes for 299 yards, two touchdowns and an interception. Let's keep in mind that it was the first start of his career, on the road, against arguably Georgia's biggest rival.
Biggest disappointment:
We all knew the score when the season started. Georgia's defense lost almost every significant player from last season, minus defensive lineman
Garrison Smith
, inside linebacker
Amarlo Herrera
, outside linebacker Jordan Jenkins and cornerback Swann. A reasonable expectation was for the group to struggle against a challenging early schedule and make rapid improvements as the season progressed. Only that improvement never truly occurred with any consistency. Georgia's defense is better off now than it was when the season started, but there is too much talent on that side of the ball for the Bulldogs to keep making the bone-headed mistakes that plagued them for too much of the season.
Biggest relief:
The overtime win against Tennessee kept the Bulldogs in the top 10 for another week, but the rally from an early 20-0 deficit against Georgia Tech will likely be the one more Georgia fans remember. Richt has dominated the Yellow Jackets throughout his tenure, but things didn't look promising when Lee was picking apart Georgia's secondary and Mason and the offense were struggling. A second-quarter touchdown drive helped them to settle down, and they went on to deliver an emotional comeback victory.
Best performance:
Gurley's four-touchdown performance against Tech (or his early touchdowns against Florida in his return from a month-long absence) would certainly qualify here. But let's go with one of two showings -- and you can't lose with either one -- by Murray against South Carolina or LSU. Murray faced consistent attacks that he shrunk in the spotlight during his early years, but he largely eliminated those criticisms this season. He was nearly perfect against South Carolina, ending the Gamecocks' three-game series winning streak by going 17-for-23 for 309 yards and four touchdowns. Two games later, he went 20-for-34 for four touchdowns and one interception, plus a rushing score, against LSU and hit Scott-Wesley with the game-winning 25-yard touchdown pass with 1:47 remaining.
December, 1, 2013
12/01/13
9:00
AM ET
ATLANTA – Here are three Georgia players who earned helmet stickers with their outstanding play in
Georgia's 41-34 overtime win against rival Georgia Tech
on Saturday:

Todd Gurley:
He might not have been 100 percent, but whatever Gurley had was more than enough to make him the most valuable player in the Bulldogs' comeback win. He was the only skill player to touch the ball on either of Georgia's overtime possessions -- running three times and scoring on the first series and then blasting through Georgia Tech's line for a 25-yard score to open the second overtime. In the end, Gurley finished with 20 carries for 122 yards and three touchdowns and four catches for 36 yards and another score. What a performance.
Hutson Mason:
Not a bad way to make your debut as a starting quarterback: Spot the opponent 20 points and then lead a comeback that results in an overtime win. Mason wasn't perfect, and he would be the first to admit it. But once he found his rhythm, he led Georgia to points on each of its last seven full possessions. Mason finished 22 for 36 for 299 yards, two touchdowns and one interception. And the most important stat of all: He's 1-0 as a starter.
Ramik Wilson:
The SEC's leading tackler ranked second on the team with nine stops on Saturday, including one stop for a 3-yard loss. But the most important play Wilson made on Saturday was when he dropped off the line on Georgia Tech's final pass play and deflected a
Vad Lee
throw across the middle intended for
Darren Waller
. The ball bounced high in the air and
Damian Swann
knocked it to the ground for an incompletion that preserved the Bulldogs' heart-stopping win.
November, 30, 2013
11/30/13
10:15
PM ET
ATLANTA -- Of course Georgia's season ended like this.
With backup quarterback
Hutson Mason
making his first career start against Georgia Tech, the Bulldogs spotted the rival Yellow Jackets a 20-0 lead only to rally and force overtime -- and then
win 41-34
in the second extra session on a deflected pass that seemed to hang in the air for several minutes.
"I'm just glad I'm still standing," Georgia coach Mark Richt said, relief evident in his weary voice.
Richt's team dealt with injuries to key players all season, played down to the final gun seemingly every week and gave many members of its fan base a good reason to visit a cardiologist. Or a psychiatrist. Or both.
Of course the Bulldogs (8-4) would allow Georgia Tech quarterback
Vad Lee
, who hadn't exactly looked like Dan Marino this season, to hit multiple big passes in the first quarter -- throws of 68, 43 and 26 yards -- that helped the Yellow Jackets (7-5) build a 17-0 lead by the end of the period. Of course they would rally back behind Mason and tailback
Todd Gurley
, who scored both overtime touchdowns, and a defense that hadn't been able to stop anyone consistently all season.
[+] Enlarge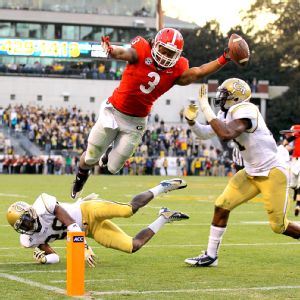 Todd Kirkland/Icon SMITodd Gurley's dive into the end zone finally put Georgia on the board late in the first half.
"It wouldn't be a 2013 Bulldogs game unless we were down 20-0 and came back to win," said Mason, who passed for 299 yards, two touchdowns and one interception in place of SEC career passing leader
Aaron Murray
, who suffered a season-ending knee injury last week against Kentucky. "That's just the way it seems to go this year."
It came down to Tech's final overtime possession, with the Jackets grinding all the way down to Georgia's 3 before
Leonard Floyd
led a host of tacklers to stop
Robert Godhigh
for a 3-yard loss and force a final fourth-down play.
Lee -- who passed for a season-high 232 yards -- threw over the middle to
Darren Waller
, only to have linebacker
Ramik Wilson
tip it into the air. Cornerback
Damian Swann
then batted the deflection away from Godhigh, and it fell to the ground incomplete.
Unlike their failure under similar circumstances two weeks ago in the final seconds against Auburn, the Bulldogs made the pass breakup that put away a dramatic win against a rival.
"It was up there for a while," said Wilson, who was second on the team with nine tackles. "I hit it as hard as I could, trying to make a play. Then it bounced to Swann, and Swann hit it up again. So I'm just glad that the ball fell down."
Said Gurley, who rushed for 122 yards and three touchdowns and caught four passes for 36 yards and another score: "I was like, 'Thank God.' I just knew somebody from Tech was coming to get that tipped ball, but they didn't."
Early on, it didn't look like there would be any late-game dramatics. Lee went 3-for-4 for 137 yards in the first quarter alone, while Mason and the UGA offense sputtered. It wasn't until the Bulldogs' final drive of the second quarter, which started with just 1:43 remaining until halftime, that they finally began to show a pulse.
Operating out of the up-tempo setup that helped him become a record-setting passer in high school, Mason went 5-for-5 -- including a 9-yard touchdown pass to Gurley -- and ran for a 16-yard gain as the Bulldogs' 86-yard scoring drive cut Tech's halftime lead to 20-7.
Georgia got the ball to open the second half and drove 63 yards to set up
Marshall Morgan
's 40-yard field goal, and all of a sudden 20-0 became 20-10, and the folks wearing old gold at Bobby Dodd Stadium weren't quite so loud.
"Momentum's huge in a road game, and with that environment and being down 20, they had all of it in the first half," Mason said. "And you can see how quickly it can change."
Then the defense started getting stops more consistently. Tech's vaunted rushing attack picked up chunks of yards -- it finished with 263 yards on 58 attempts -- but the Jackets mustered just one second-half touchdown, while the Bulldogs put 20 points on the board.
They tied the score for the first time at 27-all when Morgan booted a 32-yard field goal, and then the defense stopped Tech at the Georgia 40 on the ensuing possession to force overtime.
It was all Gurley from there. The Bulldogs' All-SEC tailback ran three straight times and scored from 6 yards to answer Lee's touchdown run in the opening OT period. And then Gurley bolted 25 yards up the middle to score on Georgia's first play of the second overtime.
That put it back on the defense -- which forced two punts, intercepted two passes, surrendered a fourth-quarter touchdown pass and saw Tech's
Harrison Butker
miss a 43-yard field goal after the Jackets went up 20-0 -- to make one final stop.
Unlike the end of that devastating loss to Auburn, when
Ricardo Louis
caught a floating deflection for the game-winning score, this time they made the play to win.
"I was saying in the locker room it was a little bit of a redemptive feeling after that Auburn game to have this win -- just a little bit," said receiver
Michael Bennett
, who caught five passes for 53 yards and a touchdown. "Bottom line, we've got to start out better, obviously, but to see our team come back from that is just amazing."
There has been plenty of amazing this season for Georgia. Some of the good kind and some of the bad. Of course, the Bulldogs couldn't finish without providing one more moment to remember.
November, 30, 2013
11/30/13
7:00
AM ET
ATHENS, Ga. -- The last two Georgia-Georgia Tech games haven't been very competitive, with the Bulldogs winning 31-17 in 2011 and 42-10 last season. But with Georgia Tech (7-4) boasting a much-improved defense and Georgia (7-4) trotting out a first-time starting quarterback in
Hutson Mason
, today's meeting in Atlanta doesn't feel like a gimme for the Bulldogs.
Let's take a look at five key factors in today's game:


Defending Tech's option:
The first objective for every team that faces Georgia Tech is to slow down the Yellow Jackets' vaunted option running game. The Yellow Jackets rank fifth nationally in rushing yards with 316.1 per game. Of those yards, ESPN Stats and Information reports that 200.1 come before contact with the first defender, which ranks second nationally behind Auburn's 209.5. Speaking of the Tigers, Georgia struggled against Auburn's rushing attack -- which is second nationally at 320.3 ypg -- two weeks ago, surrendering 323 yards on the ground. The Bulldogs need to do a much better job than that if they are to win today at Bobby Dodd Stadium.
How will Mason fare?:
Mason played great in relief of the injured
Aaron Murray
last Saturday against Kentucky, but he's had a whole week to dwell on how he'll make his first career start against one of Georgia's biggest rivals. He seems to have the mentality to handle that pressure, but it would be understandable if he experiences some jitters. Nonetheless, Mason has performed extremely well in limited action this season. He led Georgia to four touchdowns and a field goal in five possessions against Kentucky, finishing 13-for-19 for 189 yards and a touchdown and also rushing for a 1-yard score. He also played the fourth quarter against Appalachian State and went 11-for-16 for 160 yards, one touchdown and one interception. Georgia Tech's pass defense ranks 82nd nationally, allowing 238.5 yards per game, so Mason should have some chances for big plays. Now we'll see if he can take advantage.
Running against the Jackets:
Georgia Tech has defended the run effectively, ranking 10th nationally with an average of 104.2 yards allowed per game. Of course it helps that the Yellow Jackets faced teams that ranked 90th (North Carolina, which rushed for 101 yards against Tech), 110th (Virginia Tech, 55 yards) and 112th (Pittsburgh, minus-5 yards) nationally while attempting to run the ball, and they also held FCS opponent Elon to 89 rushing yards in a season-opening blowout and FCS Alabama A&M to 47 yards last weekend. Tech has only faced one rushing offense that ranks in the national top 40, BYU, and the Cougars ran for a healthy 189 yards and three scores against the Yellow Jackets. Georgia ranks 56th nationally with an average of 179.5 rushing yards per game, although its running game has been more productive lately since All-SEC tailback
Todd Gurley
(781 yards, 6.3 yards per carry) returned from a three-game absence.
Blocking blunders:
Considering the number of errors Georgia has committed in the kicking game this season, the Bulldogs' coaches are likely concerned about blocked punts today. Georgia Tech is tied for the national lead with three blocked punts -- all by sophomore defensive back
Chris Milton
. One of the other teams with three blocked punts, North Texas, blocked a
Collin Barber
punt for a touchdown when the Bulldogs hosted the Mean Green earlier this season. On the flip side, Georgia was credited with blocked kicks against both Appalachian State and Auburn and deflected a punt against Kentucky that rolled forward to the Wildcats' 39-yard line.
Applying pressure:
Georgia Tech's offense is not built for comebacks, so building an early lead would be extremely beneficial for Georgia. The Yellow Jackets are a subpar passing team -- they rank 119th nationally with 119.6 ypg -- so making them do something they don't want to do, and are not very good at doing, is a recipe for success. That would allow Bulldogs pass rushers such as
Leonard Floyd
(tied for sixth in the SEC with 6.5 sacks and tied for third with 23 quarterback pressures),
Ray Drew
(six sacks) and
Garrison Smith
(six sacks) to make life difficult for Tech quarterback
Vad Lee
. Lee ranks 93rd nationally with a 47.7 opponent-adjusted Total QBR. A score of 50 is considered average on the zero-to-100 rating scale. In comparison, Murray's QBR this season is 85.5 (sixth nationally among qualified QBs) and Mason's is 92.4.
November, 26, 2012
11/26/12
7:00
AM ET
ATHENS, Ga. -- Let's take a look at three key plays from No. 3 Georgia's 42-10 win against Georgia Tech on Saturday.

Deep ball to Mitchell

The score: Georgia leads 14-3
November, 24, 2012
11/24/12
3:37
PM ET
ATHENS, Ga. -- It took Georgia only four plays and a little over a minute to get on the board Saturday. From there, things seemed to get easier as the Bulldogs blew out archrival Georgia Tech
42-10
inside Sanford Stadium on Saturday.


With the loss, Georgia Tech has now dropped four straight to the Bulldogs and 11 of the past 12 meetings in this series.
It was over when:
Georgia's offense scored two early touchdowns in the first quarter, but the game really got out of hand when Georgia quarterback
Aaron Murray
found wide receiver
Rhett McGowan
for an 11-yard touchdown pass with just under three minutes left in the first half to make it 28-3 Bulldogs.
Game ball goes to:
Senior safety
Bacarri Rambo
had quite the farewell outing in Athens. He was making plays all over the field for the Bulldogs and forced two fumbles on Georgia Tech's first drive of the game. He also sucked all of Georgia Tech's momentum out on his second strip when he took the ball away from running back
Robert Godhigh
at Georgia's 1-yard line and returned it 49 yards to help set up the Bulldogs' second touchdown. He also grabbed an interception on a deep pass toward the end zone by Yellow Jackets quarterback
Vad Lee
that helped set up the Bulldogs' fourth touchdown of the first half.
Game ball 2 goes to:
Murray had another solid day chucking the football. He was taken out late in the game when the score was out of hand, but he completed 14 of 17 passes for 215 yards and had two touchdown passes. After just two passes in the first quarter, Murray eclipsed the 3,000-yard passing mark for the season, making him the first SEC player to pass for 3,000 yards in three consecutive seasons.
Stat of the game:
Georgia Tech's defense has really struggled this season, but it wasn't just the 42 points and the 379 yards given up on Saturday that made it painfully obvious. It was the fact that Georgia did all that relatively quickly, possessing the ball for just 20:03 minutes compared to Georgia Tech's 39:57 time of possession.
Stat of the game 2:
While Georgia put up the points, the Yellow Jackets did pretty well in the yards category. Behind 306 rushing yards, Georgia Tech outgained the Bulldogs 426-379.
Stat of the game 3:
Heading into the game, Georgia Tech had recorded an interception in 10 consecutive games, which was the longest streak in the FBS this season. The Yellow Jackets' streak ended Saturday.
What it means for Georgia:
With the win, the Bulldogs are undefeated at home for the first time since 2003; next week in the SEC championship game, they will play for a spot in the Discover BCS National Championship Game. Next week is basically a semifinal for the big game. This will mark the Bulldogs' second straight trip to the SEC title game.
What it means for Georgia Tech:
Despite Saturday's rout, the Yellow Jackets are still headed to the ACC championship game next week to play Florida State. The Yellow Jackets clinched the Coastal Division last week with a win over Duke. Miami self-imposed a postseason ban for the second straight year, making the Hurricanes ineligible for the ACC title game. North Carolina is also ineligible. The Yellow Jackets are also bowl-eligible for the 16th consecutive season, which is the fourth-longest streak in the country.
November, 23, 2012
11/23/12
9:00
AM ET
GEORGIA TECH AT NO. 3 GEORGIA
Saturday, Noon
Sanford Stadium, Athens, Ga.
ESPN
Records:
Georgia 10-1 (7-1 SEC), Georgia Tech 6-5 (5-3 ACC)
Last week:
Georgia beat Georgia Southern 45-14, Georgia Tech beat Duke 42-24
What's the Story?:
No. 3 Georgia needs one more win to all but ensure that next week's SEC championship game is for a spot in the BCS championship game. That win will have to come in Saturday's game against in-state rival Georgia Tech -- in the final home game Georgia's seniors will play between Sanford Stadium's storied hedges. Victory over the Yellow Jackets means an enormous buildup to next week's game in Atlanta. A defeat would be one of the most devastating losses in Mark Richt's tenure as Georgia's coach.
Five headlines:
See our
five storylines to watch here

.
[+] Enlarge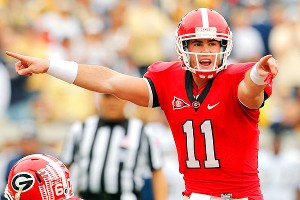 Todd Kirkland/Icon SMIAaron Murray has been on point in his first two meetings with Georgia Tech.
Players to watch:
Georgia
Aaron Murray: Georgia's quarterback has toyed with Tech's secondary in two previous meetings, so expect to see him sling it around on Saturday. He leads the nation with a 174.33 passer rating and is coming off a 330-yard performance last Saturday against Georgia Southern.
Peach State: Top Tier Recruiting Ground?
SEC SCOREBOARD
Thursday, 9/3
Saturday, 9/5