Georgia Bulldogs:

Urban Meyer
October, 28, 2013
10/28/13
7:00
AM ET
ATHENS, Ga. –
Aaron Murray
exorcised memories of the most painful loss of his freshman season when his Georgia team beat Florida in 2011. Last season, the defense dominated and Murray overcame a horrendous first half by connecting with
Malcolm Mitchell
on a win-clinching touchdown pass to beat the Gators for a second straight year.
Now Murray is in position to join a select group of Georgia quarterbacks who defeated Florida three times in their careers -- a win that would be even sweeter since Murray is a Florida native who developed into a record-setting prospect at Tampa's Plant High School.
[+] Enlarge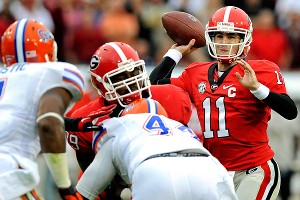 AP Photo/Stephen MortonFlorida native Aaron Murray would love to beat the Gators for a third time in his illustrious career.
"The Floridas, the Auburns, the Carolinas, Georgia Techs, these are the games you look forward to all year, especially Florida," said Murray, who added that the competition was "extremely close" when he finally picked a scholarship offer from Georgia over Urban Meyer's offer from Florida. "It's that neutral site which makes it unique. It's always a great game, great venue.
"Being from Florida, it always adds a little bit more -- always a lot of trash talking between me and friends from back home, which makes it a little bit more fun."
College Football Hall of Famer Johnny Rauch led the Bulldogs to wins over Florida in all four seasons of his career (1945-48), while Buck Belue piloted Georgia to three wins between 1979 and 1981 -- including the legendary 1980 win, when he connected with Lindsay Scott on the game-winning 93-yard touchdown pass in the game's closing seconds.
According to Georgia's sports communications office, no other Bulldogs starting quarterback has more than two wins against the Gators dating to the 1940s, but Murray could join Rauch and Belue on Saturday.
He actually nearly has three wins against the Gators already. He led a furious second-half rally to force overtime as a freshman in 2010, but he tossed a costly interception that helped Florida escape with a 34-31 victory.
His stat line was not particularly impressive in Georgia's 24-20 win in 2011 (15-for-34 for 169 yards, two touchdowns and one interception), but he connected with
Michael Bennett
and Tavarres King on fourth-down touchdown passes to help claim the victory.
Then last year, Murray bounced back from one of the worst halves of his career -- he tossed three interceptions -- by going 8-for-16 for 116 yards and hitting Mitchell with the winning 45-yard touchdown pass with just over seven minutes to play.
Pushing the Bulldogs' winning streak in the series would be huge, Murray said, not just because Georgia hasn't beaten the Gators three straight times since 1987-89, but because Georgia needs a win of any sort.
"It would be awesome to win three in a row versus those guys. Yeah, it would be big," Murray said. "It's just we need a win right now. We need to feel good about ourselves, need a win, get back on track and keep moving."
Georgia (4-3, 3-2 SEC) and Florida (4-3, 3-2) both got a lift on Saturday night when South Carolina rallied to an overtime win against Missouri, handing the Tigers their first loss of the season. That helped the two-loss Bulldogs, Gators and Gamecocks all remain in the thick of the Eastern Division race, when a Mizzou win would have all but secured a division title for the Tigers.
"I think there's plenty of motivation going into this game, there's no doubt about that," Georgia coach Mark Richt said on his Sunday teleconference. "Anytime Georgia and Florida play in Jacksonville, it's a big event, it's a big deal, for sure. But knowing that we're still trying to win the East and we're needing help and all that kind of thing, [Missouri's loss] certainly provided some motivation for me, so I would imagine it'll provide motivation for the players, as well."
The story of the season for both teams has been the long list of injuries that sunk their championship hopes, with eight season-ending injuries to Gators and a series of short- and long-term ailments to key offensive players taking the punch out of the Bulldogs' high-scoring offense.
But Richt said the chance to stay alive in the division race is more than enough reason for Saturday's game to be something besides a pity party.
"We're not feeling sorry for ourselves. I doubt Florida's feeling sorry for themselves," Richt said. "I think both teams know if we win, we stay in the race for the East. So that's nothing to be feeling pitiful about."
August, 12, 2013
8/12/13
10:53
AM ET
GAINESVILLE, Fla. -- The SEC is full of colorful and tradition-rich rivalries. And nasty ones, too.
Not all the time, though. Rivalries are like the tide (not Alabama). They ebb and flow. Sometimes they're fierce and sometimes they're just another game. We took that into consideration when ranking the top five rivalries in the SEC. We went with the ones that are the hottest right now.


Alabama-LSU
It's hard to top a game that has national championship implications every year. Plus two of the best coaches in the country. And loads of NFL talent. The teams have met annually since 1964, but the game became even more important in 1992, when both were slotted into the Western Division. The winner of the regular-season meeting has gone on to win the division title eight times in the last 12 seasons, including four of the last five. LSU has won seven of the last 11 meetings, but Bama won the biggest meeting between the two: the 2012 BCS National Championship Game.


Florida-Georgia
This had become a pretty boring rivalry, with the Gators going 18-3 from 1990 to 2010 in the annual meeting in Jacksonville, Fla. But the Bulldogs have won back-to-back games for the first time since 1987-89 and there have been a series of events that have brought an edge back to the rivalry: the Gator Stomp (2007), Urban Meyer's timeouts (2008), Brandon Spikes' eye gouge (2009), and Todd Grantham's choke sign (2010). Plus, the past two meetings have been pretty entertaining.
Aaron Murray
threw a pair of fourth-down TD passes to rally the Bulldogs from a 17-3 deficit in 2011 and Georgia forced six turnovers last season.


The Iron Bowl
Even though Alabama has won four of the last five meetings and Auburn has posted one winning conference record in the past five seasons, this game still resonates around the conference because of its tradition. Oh, yeah, there also was that Alabama fan who poisoned the trees at Toomer's Corner. On the field, the Crimson Tide have won four of the last five. The only Auburn victory in that span came in 2010, and it was one that's going to sting Bama fans for a long time. Cam Newton rallied the Tigers from a 24-0 deficit and led them to a 27-24 victory in Tuscaloosa. Auburn went on to win the national title.


Georgia-South Carolina
What rivalry wouldn't be juiced by the addition of Steve Spurrier? Georgia has dominated the series (46-17-2) and had won five in a row from 2002 to '06, but South Carolina has won four of the last six games -- including two in Athens. Spurrier arrived in Columbia in 2005 and has gone 4-4 against the Bulldogs despite having some inferior teams. Spurrier hated the Bulldogs from his playing days at Florida, and he carried that over into his coaching career with the Gators and now with the Gamecocks. That's why his career record against Georgia is 15-5.


The Egg Bowl
A national championship berth or a Western Division title isn't on the line when these teams meet on Thanksgiving weekend (Thanksgiving night this season), but to the people in Mississippi, this game is just as important. And to the coaches trying to woo the talent throughout the state, it's a must-win. Mississippi State coach Dan Mullen injected a bit of life into the rivalry when he was hired in 2009, stealing a bit from former boss Meyer by referring to Ole Miss as "the other school in the state." Mullen had been undefeated against Ole Miss until the Rebels' surprising 41-24 rout last season in coach Hugh Freeze's first year.


A rising rivalry
Even though Alabama and Texas A&M have met only five times, this is a series that could get pretty interesting pretty quickly now that the teams will be meeting every year. Last season's meeting, the first since 1988, was an instant classic and pretty much won
Johnny Manziel
the Heisman Trophy. He led the Aggies to a 29-24 victory in Tuscaloosa, the only game the Crimson Tide would lose en route to the national title. Bama fans are eagerly awaiting the rematch in College Station on Sept. 14.


A falling rivalry
Florida-Tennessee used to be one of the biggest matchups of the season in the 1990s, with the winner having a leg up in the Eastern Division race. Now it carries no more cachet than a Vanderbilt-Kentucky matchup. The Gators have won eight in a row and the Vols haven't been closer than 10 points in the past six meetings.
February, 8, 2013
2/08/13
10:51
AM ET

Let's face it. Nobody ever has a bad signing class.

Can you imagine a coach standing up at his post-signing day news conference and proclaiming that that particular class simply didn't measure up?

However, according to the ESPN Recruiting team, none of the 14 SEC schools finished with lower than a B- this year. Not only that, but seven schools received an A or A-.

So, somebody's doing something right in this league.

Here's a look back at a few superlatives from signing day:


October, 24, 2012
10/24/12
12:00
PM ET
The Florida-Georgia rivalry doesn't just take place in Jacksonville. The two schools compete all year long on the recruiting trail around the Southeast. Kipp Adams of DawgNation and Derek Tyson of GatorNation take a look at ten of the top battles for blue-chip players, five from each school's perspective.
Georgia
DT Marcus Stroud
(Thomasville, Ga./Brooks County): The year was 1996. Florida was coming off six straight wins over the Bulldogs and to make matters worse, the Gators had a verbal commitment from elite Peach State defensive tackle prospect Marcus Stroud. Gators WR
Jacquez Green
was Stroud's host during his official visit to Florida, and he felt Stroud was definitely going to be playing for the Gators. Signing day arrived, and what happened then became one of the all-time recruiting surprises of the past two decades, with Stroud switching his commitment to Georgia. Stroud's Sports Illustrated cover energized a fanbase looking for any glimmer of hope against their rival in Gainesville. The next year, alongside starting quarterback and future offensive coordinator Mike Bobo, Stroud helped end the losing streak against Florida in 1997. The No. 13 overall selection in the 2001 NFL Draft, Stroud played in the NFL for more a decade, earning three Pro-Bowl/All-Pro selections in 2003, 2004 and 2005.
DT Jeff Owens
(Plantation, Fla/Plantation): The 6-2, 265-pound defensive lineman took official visits to Florida, FSU, Georgia, Oklahoma and Virginia Tech, and ultimately chose the Bulldogs -- although his father wanted him to stay in-state and play for the Gators. Owens went on to start 37 games at Georgia, making 102 tackles, five sacks, 13 tackles for loss, two fumbles forced, two fumbles recovered and three pass breakups.
October, 11, 2012
10/11/12
9:00
AM ET
NORCROSS, Ga. -- ESPN Watch List running back
Myles Autry
(Norcross, Ga./Norcross) already has picked up nine offers from some of the top programs in the nation. On Wednesday, the speedy junior received the one scholarship offer he coveted the most.
"You know how I feel about Ohio State -- that is my dream team," Autry said. "I am hearing from them every week. I am staying in touch with the coaches. They say they want me to come visit. I am looking forward to going to Ohio State. I love them. That offer means a lot to me. They will definitely be my top for sure."
Autry's infatuation with the Buckeyes goes back to his childhood.
To continue reading this article you must be an Insider
September, 30, 2012
9/30/12
5:29
PM ET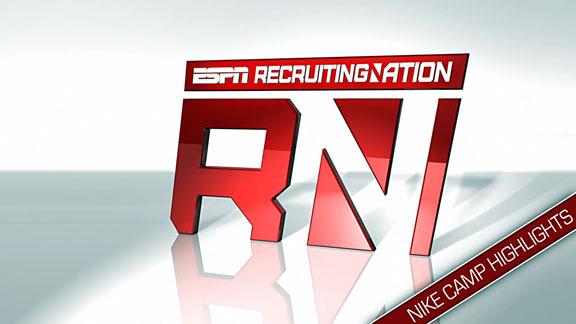 ESPN Watch List linebacker
Raekwon McMillan
(Hinesville, Ga
.
/Liberty Co.) is not new to recruiting. The junior has been a top target
since
his sophomore year. He has seen a long list of coaches come by his high school to check on him and let him know that he is a wanted man. He has returned the favor, visiting several of the 15 schools that have offered.
But one recent visit stands out -- the one he took to Georgia just one day ago.
To continue reading this article you must be an Insider
July, 10, 2012
7/10/12
10:42
AM ET
The SEC has the reputation of being the toughest conference to play/coach in. But what is it like to be in charge of one of these high-profile programs?
That's where we come in. As we take a deeper look into programs around the country this week, we're looking at how each program stacks up in every conference. In the SEC, there's always a fierce arms race going on, and getting left behind can be dangerous.

Today, we're ranking each coaching job in the SEC. We considered a lot of factors, including location, tradition, support, fan bases, facilities and recruiting access.
Here's how we ranked all 14 SEC jobs.
1. Florida:
For starters, Florida is all about location, location, location. It's in a state that produces some of the country's top talent and it's a state that players around the country will flock to. Thanks to Steve Spurrier and Urban Meyer, Florida has become a national brand like Ohio State, USC, Notre Dame and Texas. Recent significant facility upgrades and a tremendous fan base have only helped this be the top job in the SEC.
July, 4, 2012
7/04/12
11:40
AM ET
By
DawgNation Staff
| ESPN Insider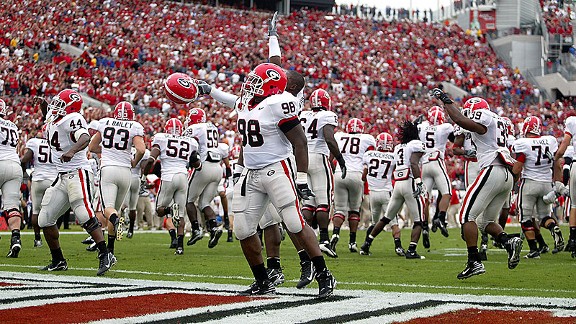 Palm Beach Post/ZUMA Press/Icon SMIDawgNation readers agree that the Bulldogs' first-quarter end zone dance in the 2007 win against Florida in Jacksonville was one of the most memorable 'fireworks' moments in UGA history.
Today being the Fourth of July, we expect to see fireworks and parades. Georgia football has had its share of fireworks through the years, if we talk about individual performances and astonishing victories. With that in mind we asked the staff and DawgNation's readers:
"What is the biggest fireworks display, figuratively speaking, you have seen at a Georgia football game?"
David Ching:
I'd have to say it was the 2007 Blackout game against Auburn. Because of the final score, people often forget that Georgia didn't play very well in that game until it flipped the switch midway through the third quarter. And when it did, holy cow. Touchdown after touchdown. Impromptu sideline dancing to "Soulja Boy" that got everyone on the home sideline and throughout the stadium hyped. I've never been in a stadium that was as electric as it was in Sanford that night in the fourth quarter. It was unforgettable.
Radi Nabulsi:
My first response would be the Blackout, or the 1991 Georgia game against Clemson in Sanford Stadium. I was in the stands and not working. That game was special, as freshman quarterback Eric Zeier came off the bench to lead the unranked Bulldogs to an upset of the No. 6 Tigers. Clemson had the No. 1 defense in the land, and Georgia won 27-12 in a rollicking night game. As if that weren't enough, at some point during the game the stadium announcer let everyone there know that the Atlanta Braves had just won the Nation League West for the first time in 22 years. People went crazy. After that my memory gets really fuzzy.
But I would say the greatest fireworks display was the 2006 Georgia vs. Auburn game at Jordan Hare Stadium. The Bulldogs had lost a heartbreaker to Kentucky the week before, and the 9-1 Tigers were ranked No. 5 in the nation. Georgia had lost four of its last five games, giving up 19 turnovers, and Auburn was looking to move up in the BCS rankings. Will Muschamp was Auburn's defensive coordinator. The feeling going into the contest was that Auburn was going to make mincemeat of the reeling Bulldogs. And it was going to rain.
To continue reading this article you must be an Insider
June, 17, 2012
6/17/12
11:34
AM ET
ESPN's GatorNation brings you the 30 things you need to know about Florida's upcoming 2012 season. For 30 weekdays, we'll preview games, talk about trends, spotlight players and positions, and give you pretty much everything you need to know to be ready for the season before the Sept. 1 opener against Bowling Green.
GAINESVILLE, Fla. -- Let's face it, the Florida-Georgia rivalry had gotten boring.
[+] Enlarge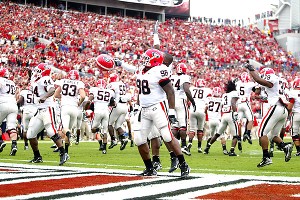 Palm Beach Post/ZUMA Press/Icon SMIThe entire Georgia team rushed the field after scoring the opening touchdown against Florida in 2007.
Florida's lopsided victories in the 1990s and relatively uneventful games in the early 2000s had turned what was once one of the most bitter rivalries in college football into just another game.
But things have heated up again over the past five years -- thanks in part to some questionable actions -- and now the rivalry between the SEC schools is as intense as ever. Players danced, eyes were almost gouged, and the infamous choke sign made an appearance.
Oh, yeah, and there's the matter of Florida's coach having played at Georgia, too.
February, 8, 2012
2/08/12
1:24
PM ET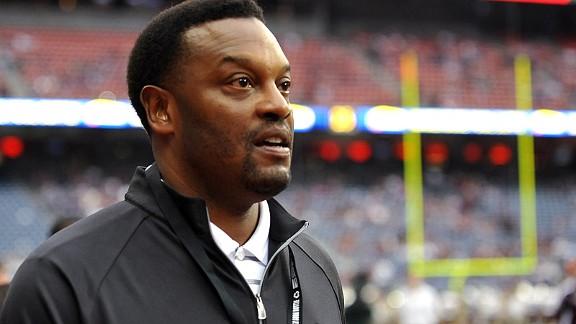 Cal Sport Media/AP ImagesBetween a young team and a tough new conference, coach Kevin Sumlin has his work cut out for him.
It's Moving Day No. 2 on the blog network today, and the Aggies are following Missouri out the door into the SEC blog today. We introduced the Aggies to the SEC earlier, but now it's time to debate.
The Aggies' move to the SEC was more about having the program grow in brand-new soil, whereas Missouri's move was more about conference stability.
Will the Aggies thrive? SEC blogger Chris Low and Big 12 blogger David Ubben go head to head to find out.
Chris Low:
OK, David, let's not tiptoe around. This is a big-boy conference in the SEC with big-boy stakes. I know everything is supposedly bigger in the state of Texas, but do the Aggies really know what they're getting themselves into? For one, they tend to play all four quarters in the SEC. Judging by what I saw from the Aggies last season, somebody might want to remind them that there is a second half. Come to think of it, that's not very hospitable of me. I take that back. But, honestly, how do you think the Aggies will handle the grind of this league?
David Ubben:
Now, now, Chris, that's not very nice. The Aggies are ...
January, 16, 2012
1/16/12
8:42
PM ET
In the Jan. 16 episode, Alex Loeb and ESPN's recruiting experts give fans the latest on a juco prospects including Georgia WR target Cordarrelle Patterson, Maryland WR Stefon Diggs, top-rated CB Tracy Howard, along with news on Ohio State and Stanford picking up momentum as the countdown to signing day speeds up.
To continue reading this article you must be an Insider
December, 26, 2011
12/26/11
1:34
PM ET
We've picked nearly 100 football games this season, and we're dead even.
I'm 83-14 for a .856 percentage, and so is my soccer-loving colleague, Edward Aschoff. You know him best as the ATL Kid.
There was a time, not long ago, that he held a three-game lead. Something says you're already well aware of that given how much he crowed about it.
But that was then, and this is now.
It's bowl season, meaning it's time to separate the pretenders from the contenders … and the rookies from the veterans.
Edward has fought the good fight. He's learned not to pick his alma mater, Florida, every week, and he's not basing his picks solely on how his Xbox games turn out anymore.
Hey, he's picked enough games now that he's no longer a rookie. We don't use youth as an excuse on the SEC blog like some coaches in this league have been known to do.
We'll kick off our picks with the non-BCS bowls and will come back in a week or so with our prediction in the Allstate BCS National Championship Game.
Enough talking, though. It's showtime:
Franklin American Mortgage Music City Bowl (Dec. 30)
Mississippi State (6-6) vs. Wake Forest (6-6)


Edward Aschoff:
The Bulldogs didn't exactly have the year they expected, as offensive-line injuries and offensive inefficiency doomed them. They also enter this one with quarterback issues. Wake Forest started hot, but lost four of its final five, including a 41-7 defeat to Vanderbilt. Mississippi State's defense surprised most this year and will be the difference. ...
Mississippi State 20, Wake Forest 17
Chris Low:
Both teams just did squeeze into the postseason, but Wake Forest was really wobbling there at the end. The Deacons' only victories since the second week of October came over Duke and Maryland. The Bulldogs, meanwhile, were playing their best defense when the regular season ended, and that will be the difference in Nashville. …
Mississippi State 31, Wake Forest 17
AutoZone Liberty Bowl (Dec. 31)
Cincinnati (9-3) vs. Vanderbilt (6-6)


Edward Aschoff:
Vandy enters its first bowl game since 2008 with some nice momentum.
James Franklin
has turned the Commodores into a pretty tough team with some attitude. It looks like the Bearcats will have starting quarterback
Zach Collaros
back from his broken ankle, but while Cincinnati won a share of the Big East championship, this Vandy defense will be too jacked up and aggressive for the Bearcats. ...
Vanderbilt 27, Cincinnati 21
Chris Low:
It looks like Cincinnati quarterback Zach Collaros will be back for the bowl game after breaking his ankle in November. The Commodores' defense will be ready no matter who lines up under center, and an improved Vanderbilt offense will make enough big plays to carve out only the third bowl victory in school history. …
Vanderbilt 28, Cincinnati 24
Chick-fil-A Bowl (Dec. 31)
Virginia (8-4) vs. Auburn (7-5)


Edward Aschoff:
These teams mirrored each other at times this season. Both won close games and were loaded with youth. However, Auburn's youngsters hit the wall at the midpoint of the season, while Virginia almost made the ACC title game. Coach Gene Chizik is now coaching Auburn's very subpar defense and star running back
Michael Dyer
is suspended. Advantage Cavaliers. ...
Virginia 31, Auburn 17
Chris Low:
It's been hectic around the Plains lately. Defensive coordinator Ted Roof left for the same job at UCF, meaning Gene Chizik is running the defense for the time being. Offensive coordinator Gus Malzahn is leaving for the Arkansas State head job after the bowl, and the Tigers' only consistent offensive threat during the season, sophomore running back Michael Dyer, is suspended. The Cavaliers smell blood in the water, but Chizik loses bowl games about as often as he loses close games. …
Auburn 27, Virginia 21
TaxSlayer.com Gator Bowl (Jan. 2)
Ohio State (6-6) vs. Florida (6-6)


Edward Aschoff:
All anyone will be talking about in this one is Urban Meyer ... and he isn't even coaching. His former team (Florida) takes on his future team (Ohio State). Both teams really struggled on offense this season, but the Gators' defense ranks ninth nationally. Florida should be motivated to play the Buckeyes, but even with a new man calling the offensive shots, nothing tells us the offense will look any different. ...
Ohio State 20, Florida 13
Chris Low:
There's no truth to the rumor that Urban Meyer will conduct the coin toss. In fact, he's not even supposed to be at the game. He will be in spirit, though. Both teams have had forgettable seasons, although the Gators' defense deserved better. At the end of the day, it's Ohio State vs. an SEC team in a bowl game, and we all know how that movie ends. …
Florida 21, Ohio State 17
Outback Bowl (Jan. 2)
Michigan State (10-3) vs. Georgia (10-3)


Edward Aschoff:
The Bulldogs were one of the hottest teams in the country before getting blasted by LSU in the SEC championship game. Michigan State was also a victory away from the Rose Bowl. Both sport top-five defenses and fun offenses. This one could be one of the top bowl games of the year and should come down to the very end with Georgia squeaking by. ...
Georgia 27, Michigan State 24
Chris Low:
If you like rock-solid defense, this is your game. Georgia is ranked No. 3 nationally in total defense, Michigan State No. 5. The question is: Which offense can find a way to move the ball and score some points? The Spartans averaged 38.6 points over their final five games, and the
Kirk Cousins
-to-
B.J. Cunningham
connection was lethal. But
Aaron Murray
has an array of targets and will use them all in this game. …
Georgia 30, Michigan State 21
Capital One Bowl (Jan. 2)
Nebraska (9-3) vs. South Carolina (10-2)


Edward Aschoff:
The Gamecocks haven't been very good in bowl games, losing three straight. While Nebraska had its own bowl issues last year, barely showing up in the Holiday Bowl. Both teams really know how to run the ball, but South Carolina's defense has fed on offenses for most of the year. With all those athletes up front, the Gamecocks will end their postseason woes against the Huskers. ...
South Carolina 27, Nebraska 20
Chris Low:
It's always risky to pick the Gamecocks in a bowl game, especially when you consider that they've lost their past three and didn't come close to playing a decent game in any of the three. But the Head Ball Coach is doing things at South Carolina that have never been done before, and he has a defense that's capable of dominating games. The Gamecocks will find a way to grind it out and accomplish another first – winning 11 games in a season. …
South Carolina 24, Nebraska 20
AT&T Cotton Bowl (Jan. 6)
Kansas State (10-2) vs. Arkansas (10-2)


Edward Aschoff:
Both of these squads looked BCS-worthy, but didn't make it to the party. Still, this game should have people glued to their TV sets. The Razorbacks and the Wildcats know how to move the ball, while their defenses had a lot of bend in them this year. There shouldn't be any shortage of points, but if this one turns into a shootout, Arkansas is better equipped when it comes to talent. ...
Arkansas 34, Kansas State 28
Chris Low:
Both of these teams feel like they should be playing in a BCS bowl game, although it doesn't get much better than Cowboys Stadium and the Cotton Bowl. The Hogs' big problem this season was that they happened to be in the same division as Alabama and LSU. Kansas State was one of the surprise stories of the college football season, but the Wildcats won't be able to keep up with the Hogs. …
Arkansas 38, Kansas State 24
October, 26, 2011
10/26/11
4:32
PM ET
Lost in all the talk about Georgia's failings against Florida is the notion that the Gators have been really, really hard to beat throughout the last few decades.
This year, however, might be Georgia's best opportunity in years to reassert itself in Jacksonville. Florida is slumping, having lost three games in a row, and Georgia enters the game on a five-game winning streak.
The Bulldogs are listed as 2.5- or 3-point favorites in most of the booking places I looked at online, but I was wondering how many times in Mark Richt's tenure -- which includes a 2-8 record against Florida -- Georgia actually entered the game as the betting favorite or the higher-ranked team.
So here are some facts:
This is the first time Georgia is the favorite since 2005. It's also the first time since that season that Georgia is ranked ahead of Florida and the fifth time overall in Richt's 11 seasons. The others were 2002, 2003 and 2004.
The only seasons where Georgia has been favored were 2002, 2003, 2004 and this year. The Bulldogs won only in 2004 thus far.
Last year was the first time since 1979 both teams were unranked when they reached Jacksonville.
Here's a quick recap of the series history under Richt. The Florida series is no doubt the most troubling black mark on Richt's otherwise sterling record at Georgia, but don't forget how good Florida has been for much of that time. Richt no doubt has to bring more balance to the rivalry if he is to remain at Georgia -- and this weekend's game is probably his best opportunity.
2011
Rankings:
Georgia: No. 22; Florida: Unranked
Favorite:
Georgia -2.5
Final score:
?
2010
Rankings:
Florida: Unranked; Georgia: Unranked
Favorite:
Florida -1
Final score:
Florida 34, Georgia 31
Recap:
Both teams enter the game unranked for the first time since 1979 and Florida snaps a three-game losing streak by winning the first overtime game in series history. Backup kicker Chas Henry, filling in for the injured Caleb Sturgis, drills a game-winning 37-yard field goal after Georgia's Aaron Murray throws an interception on the Bulldogs' overtime possession. Murray leads the Bulldogs back from a 21-7 halftime deficit, but his third interception eventually results in defeat.
2009
Rankings:
Florida: No. 1; Georgia: Unranked
Favorite:
Florida -16.5
Final score:
Florida 41, Georgia 17
Recap:
Georgia trots out special black helmets and black pants, but Florida wins in another blowout. Florida quarterback Tim Tebow accounts for four touchdowns in his final appearance against Georgia. He breaks Bulldogs great Herschel Walker's SEC career record for rushing touchdowns with his 50th in the second quarter of the rout.
2008
Rankings:
Florida: No. 5; Georgia: No. 8
Favorite:
Florida -7.5
Final score:
Florida 49, Georgia 10
Recap:
Georgia starts the season as the nation's No. 1 team, but Florida eventually wins its second national title in three years and destroys Georgia after the bitter 2007 loss has festered for a year. Florida coach Urban Meyer says he would not forget the Bulldogs' touchdown dance and rubbed in this blowout win -- Florida's second-biggest margin of victory in series history -- by using both of his remaining timeouts as the final seconds ticked off the clock.
2007
Rankings:
Florida: No. 9; Georgia: No. 20
Favorite:
Florida -7
Final score:
Georgia 42, Florida 30
Recap:
Georgia participates in a team-wide touchdown dance in the end zone after Knowshon Moreno's first-quarter score and the Bulldogs sack eventual Heisman Trophy winner Tim Tebow six times as they begin a seven-game winning streak that ends with a No. 2 final national ranking.
2006
Rankings:
Florida: No. 9; Georgia: Unranked
Favorite:
Florida -13.5
Final score:
Florida 21, Georgia 14
Recap:
Eventual national champion Florida builds a 14-0 halftime lead that grows to 21-0 when Ray McDonald returns a Kregg Lumpkin fumble for an 8-yard touchdown on Georgia's first possession of the second half. The Bulldogs rally behind a feisty defense and freshman quarterback Matthew Stafford, but can't get a stop in the fourth quarter to get one more shot at the end zone.
2005
Rankings:
Georgia: No. 4; Florida: No. 16
Favorite:
Florida -3.5
Final score:
Florida 14, Georgia 10
Recap:
Previously unbeaten Georgia is without injured starting quarterback D.J. Shockley and the offense sputters with backup Joe Tereshinski III. First-year Florida coach Urban Meyer reworks his ineffective spread offense before the Georgia game and the Gators score touchdowns on the first two drives of the game -- enough to barely hold off the eventual SEC East champion Bulldogs.
2004
Rankings:
Georgia: No. 10; Florida: Unranked
Favorite:
Georgia -6.5
Final score:
Georgia 31, Florida 24
Recap:
Georgia snaps six-game losing streak against the Gators and Bulldogs greats David Greene and David Pollack get their only career win against Florida, which had announced the Monday before the game that coach Ron Zook would not return the next year.
2003
Rankings:
Georgia: No. 4; Florida: No. 23
Favorite:
Georgia -1.5
Final score:
Florida 16, Georgia 13
Recap:
Florida's Matt Leach drills a 33-yard field goal with 33 seconds remaining to lift the Gators to their 13th win in 14 tries against the Bulldogs. Sluggish Georgia rallies from a 13-3 deficit in the fourth quarter, but it's not enough. Florida coach Ron Zook improves to 2-0 against the Bulldogs, although Georgia entered both games as a top-five team.
2002
Rankings:
Georgia: No. 4; Florida: Unranked
Favorite:
Georgia -1.5
Final score:
Florida 20, Georgia 13
Recap:
Florida limps into Jacksonville with a 5-3 record against unbeaten Georgia and still manages to hand the Bulldogs their only loss of the season. Georgia eventually wins the SEC championship, but the Florida loss almost certainly costs the Bulldogs a chance to play for the national title. The Bulldogs go 0-for-13 on third down and commit three turnovers -- the most costly being a D.J. Shockley interception that Guss Scott returns 47 yards for a touchdown. Wide-open Terrence Edwards drops a David Greene pass at the Florida 30 late in the game as the Bulldogs stumble to defeat.
2001
Rankings:
Florida: No. 6, Georgia: No. 19
Favorite:
Florida -19.5
Final score:
Florida 24, Georgia 10
Recap:
Steve Spurrier wins his final game against Georgia as Florida's coach, with the Gators overcoming four turnovers and 12 penalties and eventually pulling away for a win. First-year Georgia coach Mark Richt's club has its chances, but fails to convert three fourth downs in the second half -- including Verron Haynes' dropped pass on fourth-and-2 at the Florida 6-yard line. Rex Grossman passes for 407 yards in leading the Gators to victory.
To continue reading this article you must be an Insider
October, 13, 2011
10/13/11
9:51
AM ET
Slowly but surely, I'm creeping back into it.
You don't make up a three-game deficit in a week, not in this league.
You might in the ACC, but not in the SEC.
The Kid (you know him as Edward Aschoff on the SEC blog) had a good first half of the season. I'll give him his due. He's probably had one too many soccer balls bounce off his head, but his picks were on the money those first six weeks.
But these next six or seven weeks are when you win championships. They don't award any trophies for what you do the first half of the season.
You would have thought that his mentor, Urban Meyer, would have taught him that.
I mean, come on. The Kid is celebrating like he just won Game 7 of the World Series. I bet he already has the champagne in his Atlanta apartment. He probably even has his furniture covered with plastic.
I just hope he hasn't already invited all his friends over (Yes, Meyer is on the invite list) and paid for all the hors d'oeuvres.
Last week, I was 6-0 and The Kid was 5-1. He missed on Georgia's 20-12 win over Tennessee.
For the season, The Kid is 44-7 (.863) and I'm 42-9 (.824).
Two other points before we turn our attention to this week's picks: From now on, he will be known simply as "The Kid." It's the same as Dan Mullen referring to Ole Miss as the "school up north." Also, the NCAA's investigation of Auburn might have concluded, but don't let The Kid fool you. The NCAA has already rented out an apartment right around the block from where The Kid lives in the ATL and is still asking a lot of questions.
Let's pick some football:
No. 2 ALABAMA at OLE MISS
Edward Aschoff:
This is another game that has that trap-game feel, but like LSU, Alabama isn't going to give in. When Nick Saban is your head coach, thinking ahead isn't a possibility. Ole Miss has struggled on offense and Alabama's defense has suffocated all in its path. And the Rebels are bad at stopping the run, and
Trent Richardson
is one of the best running backs around. It could be a long day for the Oxford faithful. ...
Alabama 38, Ole Miss 7
Chris Low:
Ole Miss has had an extra week to prepare for this game. But, then, the Rebels could have three or four extra weeks, and it wouldn't matter with the way Alabama is playing right now. The Crimson Tide are suffocating on defense and equally dominant in their offensive line. That's a scary combination for everybody they play. …
Alabama 31, Ole Miss 3
GEORGIA at VANDERBILT
Edward Aschoff:
Georgia is riding a four-game winning streak and has rediscovered the impressive defense we expect to see from the Dawgs in the process. The Bulldogs are right back in the East race and can't afford to slow down now. Vanderbilt is still trying to figure out a way to get the offense going and entering this game with quarterback drama isn't a good start. ...
Georgia 35, Vanderbilt 10
Chris Low:
Georgia will be without big-play receiver
Malcolm Mitchell
, who has a hamstring injury. So you can bet that Vanderbilt will load the box and dare the Bulldogs to beat them deep. The Commodores are good enough defensively to keep this game close at home, but haven't scored a touchdown since Sept. 17. The Bulldogs are at the top of their game defensively right now and will see to it that their winning streak extends to five in a row. …
Georgia 24, Vanderbilt 10
No. 1 LSU at TENNESSEE
Edward Aschoff:
LSU is fresh off of clobbering Florida and its backup quarterback and runs into another team throwing its backup into the fire in Tennessee. With the Vols banged-up on offense, you would think this game would wreak of the stench of a letdown for the Tigers, but this team is too focused on its championship goals ahead to slip up in Knoxville. ...
LSU 31, Tennessee 14
Chris Low:
Tennessee quarterback
Matt Simms
had to play against all of the tough teams last season and was then benched in favor of
Tyler Bray
when the Vols got to the softer part of their schedule. With Bray injured, Simms gets another shot … against LSU this week and Alabama the next. The Vols can't run the football at all, which plays right into the Tigers' hands. …
LSU 34, Tennessee 13
No. 15 SOUTH CAROLINA at MISSISSIPPI STATE
Edward Aschoff:
The Gamecocks head to Starkville with their new quarterback in
Connor Shaw
. They also head in with clear minds now that
Stephen Garcia
is gone. These players had his back until the end and now they can go on without him. Expect this team to be more than ready for a struggling Mississippi State team with its own quarterback issues. ...
South Carolina 31, Mississippi State 13
Chris Low:
It's been an eventful week at South Carolina. Stephen Garcia was kicked off the team, and Steve Spurrier went off on a columnist from The State newspaper. The Head Ball Coach can only hope his team is as fired up Saturday as he was on Tuesday. It's Connor Shaw's first start in an SEC road game, and that's always tough. Plus, Mississippi State is due to finally play a good game against somebody that counts. The Bulldogs are better than they've been playing and will find a way to break through against the Gamecocks. …
Mississippi State 28, South Carolina 24
FLORIDA at No. 24 AUBURN
Edward Aschoff:
This game could make or break both of these teams. A win for either could mean the difference between a six-win season and an eight-win season. Florida's offense has been a shell of its former self in the past two weeks, while Auburn is looking for yet another defensive rebound after Arkansas' passing game went off last week. Having home-field advantage at night will give the Tigers the edge in the end. ...
Auburn 23, Florida 17
Chris Low:
Auburn is sticking with junior
Barrett Trotter
at quarterback, and Florida is trying to decide between a pair of true freshmen –
Jeff Driskel
or
Jacoby Brissett
. What this game is going to come down to is key defensive stops in the second half, and nobody is better at winning close games and getting it done in the fourth quarter than Auburn. …
Auburn 24, Florida 21
Drive Through: Defensive All-Americans
SEC SCOREBOARD
Thursday, 8/28
Saturday, 8/30
Sunday, 8/31