Georgia Bulldogs:

Stadion Classic at UGA
May, 24, 2012
5/24/12
5:57
PM ET
GREENSBORO, Ga. -- The future of the University of Georgia-affiliated Nationwide Tour golf event remains unsettled according to UGA president Michael Adams.

Earlier this month, the UGA Golf Course hosted the Stadion Classic at UGA for the third year in a three-year contract. Now the university must determine whether it makes financial sense to re-sign as a tournament host with the satellite golf tour.

"There are three moving parts: We are a moving part, the tour itself is a moving part and our major sponsor. We are in discussions with all of those groups right now and we hope to have that worked out," Adams said at the UGA Athletic Association's annual board of directors meeting on Thursday.
May, 6, 2012
5/06/12
9:44
PM ET
ATHENS, Ga. -- Being superstitious sorts, Georgia golf coaches Chris Haack and Jim Douglas missed nearly all of Hudson Swafford's final round in the Stadion Classic at UGA.

In fact, they went out of their way to do so.

Although their former player shot a course-record 9-under 62 Sunday to win the Nationwide Tour event by a single stroke over Luke List and Lee Janzen, Haack and Douglas gleefully admitted that they abandoned Swafford after his bogey on the first hole and didn't watch another of his shots the rest of the day.


May, 6, 2012
5/06/12
4:09
PM ET
ATHENS, Ga. -- A Georgia player won the Nationwide Tour's Stadion Classic at UGA for the second straight year.

All it took was for Hudson Swafford to shoot a course-record 9-under 62 -- capped by a chip-in for birdie out of the sand on the 18th hole -- to finish at 17 under and win by one stroke over Luke List and two-time U.S. Open winner Lee Janzen in Sunday's final round.

"I heard it hit the pin and then I heard everybody just go nuts so I just had a feeling when I went up there and saw it disappeared," Swafford said. "I don't know, I just kind of blacked out to be honest with you. I didn't expect it, but I was pretty fired up when it was in the hole."

The former Bulldog entered the day in a tie for 15th place at 8 under, five strokes behind leader Tyrone Van Aswegen. He fell even further behind with a bogey on the first hole Sunday, but that turned out to be his one and only bogey of the day.


May, 5, 2012
5/05/12
5:18
PM ET
ATHENS, Ga. -- If a Georgia player is to win the Nationwide Tour's Stadion Classic at UGA, one of the three remaining Bulldogs will have to mount a charge from the exact same position in the final 18 holes.

Ex-Georgia players Hudson Swafford, Paul Claxton and Justin Bolli are all tied for 15th at 8 under after Saturday's third round at the UGA Golf Course, trailing leader Tyrone Van Aswegen by five strokes.

That's a sizable margin to overcome, but they hope their home-course knowledge might be worth a stroke or two in a potential comeback.


May, 4, 2012
5/04/12
8:33
PM ET
ATHENS, Ga. -- Hudson Swafford admits he glanced at the leaderboard before playing his final hole Friday, but said that was not the reason he double bogeyed to complete an otherwise solid second round at the Stadion Classic at UGA.

"There's so much golf to be played, [the chance to tie for the lead] wasn't really registering," Swafford said. "I was just kind of looking to see what other guys were doing to be honest with you. I just had a kind of unfortunate finish."

At 8 under through 17 holes, Swafford was a stroke behind then-leader Luke List before plugging his second shot on 18 in the greenside bunker. He chipped out and three-putted to finish with a 1-under 70 and head into the weekend in a tie for 13th at 6 under.


May, 3, 2012
5/03/12
5:49
PM ET
ATHENS, Ga. -- Believe it or not, Russell Henley views a bogey as the highlight of Thursday's opening round at the Stadion Classic at UGA.

The tournament's defending champion -- the Georgia grad was still in college when he won a year ago, becoming only the second amateur ever to win on the Nationwide Tour -- Henley rolled in a 10-foot putt on No. 1 to save bogey after burying his drive under a big tree.

"I hit it right at it and I knew it was going to go under there," Henley said of the tree. "It always does. It's like a magnet."


May, 2, 2012
5/02/12
6:00
AM ET
ATHENS, Ga. -- Unlike the Nationwide Tour pros who arrived in Athens this week to compete in the Stadion Classic at UGA, Nicholas Reach's only priority is not his golf game.
This is final exam week at Georgia and Reach has two exams to take Wednesday -- the day before he'll tee off as one of two amateurs in the tournament field. It's a situation that he believes will be both good and bad.
"I think it kind of gets my mind off of golf a little bit, if that makes sense, during the week," said Reach, a freshman who earned a sponsor's exemption to compete in the tournament by ranking as one of the top two players on Georgia's golf team along with sophomore Brian Carter. "But at the same time, you only get this opportunity once a year that the pros are in, so you want to be out there and have fun -- even if you're not practicing, just being out there around those guys and learning as much as you can. And you're also grinding in the classroom along with grinding in practice rounds and after the round and before the round.
To continue reading this article you must be an Insider
April, 17, 2012
4/17/12
10:37
AM ET
ATHENS, Ga. -- Russell Henley knew the odds were not in his favor, but he told anyone who would listen before last year's Stadion Classic at UGA that he was playing in the Nationwide Tour event to win.
[+] Enlarge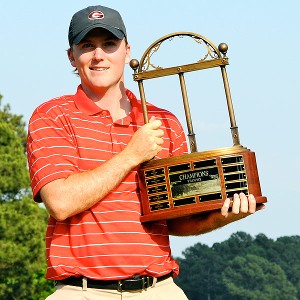 Courtesy Stadion Classic at UGAIn the six Nationwide Tour events he played in this season, UGA alum Russell Henley made the cut in three. His best result so far was a tie for 23rd at the Chile Classic.
Only one amateur golfer had won an event since the satellite tour launched in 1990, but Henley followed through on his plan at his home course. Then a senior at Georgia, he shared the 54-hole lead with Troy Kelly and went on to beat Kelly by two strokes in front of a partisan gallery at the UGA Golf Course.
Now a professional rookie, Henley's approach will remain the same when he attempts to defend his title in two weeks -- and he'll be hoping for a similar outcome.
"I think I've changed a little bit as a person. As a player, I feel pretty similar," said Henley, 23. "I think you've always got to play to win no matter what it is and what your chances are. You've got to play to win the thing, so I'm sure my approach will be the same and I hope I'll have just as much fun."
Henley flew across the country from California -- he finished tied for 42nd over the weekend at the TPC Stonebrae Championship -- and made it early Monday morning to Athens in order to participate in media day for the Stadion Classic at UGA. Joining him were Hudson Swafford, his former Georgia teammate and fellow Nationwide Tour rookie, and former Georgia all-American Richard Scott, who will compete in the event on a sponsor's exemption if he does not qualify outright.
Peach State: Top Tier Recruiting Ground?
SEC SCOREBOARD
Thursday, 9/3
Saturday, 9/5