Georgia Bulldogs:

Ron Courson
December, 13, 2013
12/13/13
2:25
PM ET
ATHENS, Ga. – When
Aaron Murray
says he intends to participate in Georgia's pro day before the NFL draft, consider the source.
In April, he'll be about five months removed from surgery to repair a torn left anterior cruciate ligament when he and his fellow draft prospects take the field before a horde of scouts, coaches and front office reps. While that might seem like a quick return, this is the same player who broke his leg in a mid-October game as a high school senior, only to return for his team's final two playoff victories in a state championship run.
[+] Enlarge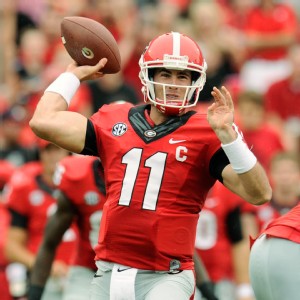 Dale Zanine/USA TODAY SportsAaron Murray, rehabilitating a torn ACL, plans to participate in Georgia's pro day.
With that in mind, it should come as no surprise that Murray expects to be close to full health by pro day and to be at 100 percent by the time his future NFL team opens training camp.
"My goal right now is to get healthy," Murray said Friday. "That's the biggest thing, is get healthy to be able to go out there and do as much as I can for pro day and show the teams that I'm on the right track right now to recovery, and go from there."
Murray will not be able to compete alongside fellow quarterback prospects in the valuable week of practices leading up to the Jan. 25 Senior Bowl – Clemson's
Tajh Boyd
and Fresno State's
Derek Carr
have accepted invitations to the all-star game – and he will likely miss the Feb. 23 quarterback workouts at the NFL combine. However, he will still enjoy the opportunity to participate in the face-to-face meetings that take place at those events as teams begin to set their draft boards.
"I don't know how much I'm going to be able to do physically, but [he will] go up there and meet with people, talk, get on the board, do that kind of stuff," he said.
Prospects can help – or hurt – their stock with their performances in all-star games and the combine, but Murray hopes he is somewhat insulated from taking a draft hit. After all, he tied Georgia's record for nonkickers by starting 52 games – every game of his college career up until the finale against Georgia Tech – so there is no shortage of film on which to judge his progression as a quarterback.
"I think what my film shows is I have improved over my four years," said Murray, who holds SEC career records for completions (921), passing yards (13,166), touchdown passes (121) and total offense (13,562 yards). "I think I've improved from my freshman year to sophomore year, sophomore year to junior year and definitely a big jump from last year to this year. I feel like I've definitely improved and obviously they'll see that on film.
"So how much it'll hurt me, how much it won't hurt me that I won't be able to compete at the Senior Bowl and combine, I don't know. But it is great that I do have four years of film for them to watch."
Georgia coach Mark Richt said Thursday at a news conference previewing the Jan. 1 TaxSlayer.com Gator Bowl that he doesn't think Murray's injury will affect his draft stock much. He used as an example former Georgia receiver
Marlon Brown
, who tore his ACL last season.
[+] Enlarge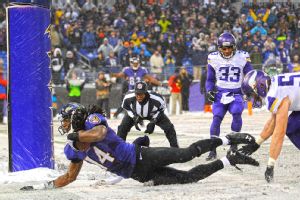 AP Photo/Nick WassFormer Georgia receiver Marlon Brown recovered quickly from an ACL tear and is making an impact in the NFL as a rookie.
"He's a rookie in the NFL and he had an ACL last year in his senior year, which seemed bad, but he made the [Baltimore Ravens roster] and now he's tied for first place for the most touchdown catches as a rookie in the NFL," Richt said. "Guys recover very well from ACLs. I think people understand that, and I think when they see how far along he is by the time the draft rolls around, I hope that it won't hurt him."
Murray said he initially planned to work out at a pre-draft training facility, but now will stay at Georgia and work with director of sports medicine Ron Courson's staff as he continues to recover from the injury. The medical staff has told him that he should be able to do quarterback drops and rollouts and even run the 40-yard dash at pro day if he chooses to do so.
As for the way his career ended, Murray joked about wanting to play one more snap against Nebraska in the bowl game so his college career didn't end with a second-quarter interception against Kentucky. Murray said he knew he had probably torn his ACL on a 28-yard run that came 13 snaps before his final play – "I felt and heard the pop," Murray said – but he stayed in to complete that drive with a touchdown. He had led Georgia into the red zone again on the next drive before taking an awkward hit from Kentucky's
Za'Darius Smith
on his final play.
"The pain was just unbearable at that point when he spun me around," Murray said.
Georgia trainers immediately carried Murray into the locker room after the play, denying him the happy sendoff that he might have imagined.
He's taking a philosophical approach toward that exit, however, saying that perhaps the open-ended nature of his departure could be a positive thing.
"Obviously I had a vision of how I wanted to go out," he said. "I was thinking about it and it's almost like I didn't say goodbye, which I guess is a good thing. I guess it's like, 'to be continued.' I'm not leaving. I'm always a Bulldog, I'll always be a Bulldog and I guess if I would have been there to wave and really cherish the end of it, that would have been like, 'Book closed, it's over,' and I feel like it's not over for me.
"I'm always a Bulldog. I'll be coming back here the rest of my life to watch games and give input and advice to the younger guys throughout the years."
October, 25, 2013
10/25/13
7:00
AM ET
ATHENS, Ga. -- For most of his time at Georgia, this was the time of year where Mark Richt started having to answer "the question." Fortunately for Richt, a two-game winning streak against rival Florida has made for a refreshing change in that department – but that nuisance has only been replaced by a different set of bothersome questions.
"It's nice not to have to hear that question," Richt told reporters after Thursday's practice. "Year after year, 'When are you going to beat Florida?' that gets pretty old. So that isn't the big topic of conversation this year. Everybody wants to talk about, what did we talk about injuries for the first 80 percent of this meeting so far? That's what everybody's talking about, but it's been the dominating story."
Richt is one of the most consistent winners among active FBS coaches, but his subpar record against Florida was one of the black marks on an otherwise sterling resume in his first decade as the Bulldogs' coach. Georgia beat the Gators just twice in its first 10 tries under Richt before winning in both 2011 and 2012 -- giving the Bulldogs their first back-to-back wins against the Gators since 1988-89.
[+] Enlarge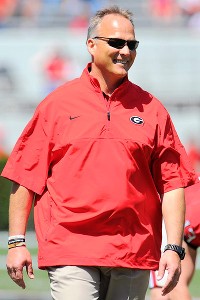 Dale Zanine/USA TODAY SportsMark Richt doesn't want injuries to become the story of the year at Georgia.
But he's right. The topic du jour leading into next week's Georgia-Florida game in Jacksonville is not so much the Bulldogs' chance to run its winning streak to three games as it is the debilitating injuries that have struck both programs, forcing both out of the top 25 following losses over the weekend.
The Gators announced this week that linebacker
Jeremi Powell
is out for the rest of the season, making him the eighth Florida player to suffer a season-ending injury -- a list that also includes starters
Jeff Driskel
,
Dominique Easley
,
Chaz Green
and
Matt Jones
.
Georgia has played the last two games -- both losses -- without most of its most dangerous offensive weapons, which is why Richt spent the first several minutes of Thursday's post-practice press gathering discussing injuries, how they have impacted his team and whether some of the injured players might return for the Florida game.
UGA director of sports medicine Ron Courson delivered the team's lengthy injury report to the sports medicine office while Richt was speaking to reporters . The list included 24 players and 12 who have started at least once this season.
Richt addressed some of those concerns -- most notably All-SEC tailback
Todd Gurley
's return to practice this week following a three-game absence with an ankle injury -- after Thursday's final practice of the open week:
On Gurley:
"He practiced. He made it till the end. He ran sprints with everybody at the end. He did scout work, which is really all we asked him to do. But he did fundamental work -- the run polish and that kind of thing. He did good. I'm encouraged."
On receiver Michael Bennett (knee):
"He wasn't trying to break a land-speed record or anything, but he was sprinting and striding out pretty good and he looked fine. The drill I saw him do was kind of a sprint-jog-sprint-jog kind of thing down the field and he looked good. I would think he'll be practicing Monday."
On center David Andrews (foot):
"I think we expect him to play, but he did not go today. Dallas [Lee] was playing center with the first group. … We're hoping it's such a temporary thing you don't think much about it, but we had Kolton [Houston] playing the left guard spot where Dallas was. Kolton's a good player, so I think we'd be OK, but we're better with [Andrews] at center."
On safety Josh Harvey-Clemons (foot) and receiver Chris Conley (ankle),
who both left last Saturday's Vanderbilt loss with injuries: "Neither one of them practiced. I would guess Josh Harvey is closer than Chris and I don't know if Josh will practice Monday or not."
On freshman linebacker Reggie Carter (knee):
"Reggie was not out there. Reggie hurt his knee Tuesday in practice. Don't know how severe yet."
Bennett and safety
Tray Matthews
(hamstring) worked on the side with trainers, away from the team, during the portion of practice that was open to the media.
Gurley and fellow tailbacks
J.J. Green
(right shoulder contusion, left shoulder sprain) and
Brendan Douglas
(right knee sprain, left wrist sprain) worked in team drills while wearing green non-contact jerseys. Receivers
Rhett McGowan
(ankle),
Michael Erdman
(shoulder) and
Tramel Terry
(shoulder) also practiced in green, joining the lengthy list of players dealing with some physical ailment.
"We don't want to make it the story of the year," Richt said. "We want to win ballgames. We want to prepare to win with who we have available. We want guys to get well as fast as they can get well. We want some guys that know they're going to miss the season, we want them to be ready as fast as they can so they can have a great year next year. But obviously that's been the thing that most people have talked about because it's been a little unusual in that regard."
April, 6, 2013
4/06/13
7:13
PM ET
ATHENS, Ga. --
Hutson Mason
is not a rookie, but he felt like one in some ways during Saturday's G-Day game.
After redshirting last fall -- his third season in college -- to gain a year of separation between himself and fourth-year starting quarterback
Aaron Murray
, Mason had to shake off some jitters entering his first competitive game in a year.
[+] Enlarge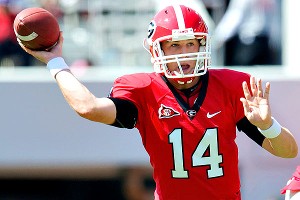 Dale Zanine/US PresswireQuarterback Hutson Mason redshirted last season and treated G-Day like a comeback.
"Coming into this, I was treating this like a game for me because it's been so long that I've really emotionally and mentally been like, 'Hey man, this is game day,' " said Mason, who led the Black team to a comeback 23-17 victory over the Red. "I wanted to kind of see how my body would react being out there with 40,000 people. It's not quite like game day, but you kind of get your body back into that feeling and getting ready."
It was not a perfect day for the redshirt junior. The Black punted on his first three drives and he scrambled and threw an interception to freshman linebacker
Reggie Carter
at midfield on his fourth.
"I thought that the pick earlier was the worst decision that I've made at Georgia, but definitely this spring," Mason said. "That was just pathetic. I've got to throw the ball away."
But Mason improved as the day progressed. He threw a 20-yard touchdown pass to
Jonathon Rumph
in the second quarter and drove the Black to two field goals in the fourth quarter to provide the six-point margin of victory.
Mason completed 16 for 27 passes for 191 yards, one touchdown and one interception.
"We slung it around today pretty well and we had a juco guy in Rumph, so he doesn't really know what he's doing," Mason said. "So I was really just happy for the guys to step up and make the most of their opportunities when they needed to."
G-Day all-stars:
Every spring game has its surprise standouts.
January, 7, 2013
1/07/13
7:00
AM ET
ATHENS, Ga. -- As far as Mark Richt is concerned, it's no more difficult for Georgia to bring in 13 early enrollees this year than it was when the Bulldogs previously had four or five newcomers join the team in a typical January.
[+] Enlarge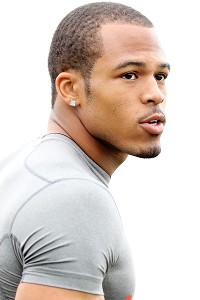 Tom Hauck for ESPN.comTray Matthews is one of 13 Bulldogs who have enrolled early for the winter semester.
Richt is just glad they are in Athens and ready to start spring semester classes at UGA today.
"I don't know if it's going to be all that different having five of them or 15 of them come in," Richt said. "They're all just going to start going to class and get into the offseason and start learning what to do."
October, 21, 2012
10/21/12
7:00
AM ET
LEXINGTON, Ky. -- Some notes, quotes and observations from Georgia's 29-24 win against Kentucky on Saturday night:
• Needless to say, Georgia's defensive issues are clearly not solved. Kentucky had been a train wreck on offense in conference play and the Wildcats posted new SEC-season highs in points (24), first downs (21), rushing yards (206), total offense (329) and matched their SEC-season high for third-down conversions (6-for-14).
Give Todd Grantham and company credit for adjusting since Kentucky started out 4-for-5 on third down and went just 2-for-9 afterward. But this Wildcats team hadn't scored an offensive touchdown in the first quarter since the 2010 season. They had only three first-quarter points in seven previous games this season. And yet they moved the ball straight down the field like they were Oregon to open the game with a touchdown.
To continue reading this article you must be an Insider
September, 3, 2012
9/03/12
8:58
PM ET
ATHENS, Ga. -- If there was a shortcoming in
Aaron Murray's
season-opening performance, it's that he didn't take advantage of opportunities that could have made it spectacular.
[+] Enlarge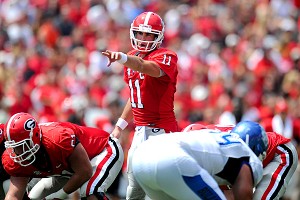 Kevin Liles/US PresswireAaron Murray's inconsistency on the deep ball from last season carried over into Saturday's season-opening win over Buffalo.
Georgia's junior quarterback finished the 45-23 victory against Buffalo with a solid passing line -- 15-for-26, 258 yards, three touchdowns and not even a near-interception -- but his issues connecting on deep passes carried over from last season.
He missed open receivers
Tavarres King
and
Rantavious Wooten
on the Bulldogs' first two possessions and later overthrew
Chris Conley
on another long pass and led
Michael Bennett
too far out of bounds on a deep ball from Buffalo's 36-yard line.
To continue reading this article you must be an Insider
Peach State: Top Tier Recruiting Ground?
SEC SCOREBOARD
Thursday, 9/3
Saturday, 9/5