Georgia Bulldogs:

Robert Godhigh
November, 30, 2013
11/30/13
10:15
PM ET
ATLANTA -- Of course Georgia's season ended like this.
With backup quarterback
Hutson Mason
making his first career start against Georgia Tech, the Bulldogs spotted the rival Yellow Jackets a 20-0 lead only to rally and force overtime -- and then
win 41-34
in the second extra session on a deflected pass that seemed to hang in the air for several minutes.
"I'm just glad I'm still standing," Georgia coach Mark Richt said, relief evident in his weary voice.
Richt's team dealt with injuries to key players all season, played down to the final gun seemingly every week and gave many members of its fan base a good reason to visit a cardiologist. Or a psychiatrist. Or both.
Of course the Bulldogs (8-4) would allow Georgia Tech quarterback
Vad Lee
, who hadn't exactly looked like Dan Marino this season, to hit multiple big passes in the first quarter -- throws of 68, 43 and 26 yards -- that helped the Yellow Jackets (7-5) build a 17-0 lead by the end of the period. Of course they would rally back behind Mason and tailback
Todd Gurley
, who scored both overtime touchdowns, and a defense that hadn't been able to stop anyone consistently all season.
[+] Enlarge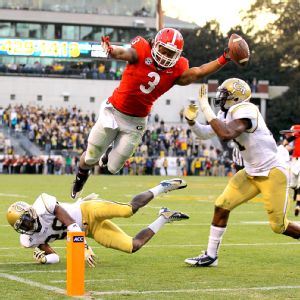 Todd Kirkland/Icon SMITodd Gurley's dive into the end zone finally put Georgia on the board late in the first half.
"It wouldn't be a 2013 Bulldogs game unless we were down 20-0 and came back to win," said Mason, who passed for 299 yards, two touchdowns and one interception in place of SEC career passing leader
Aaron Murray
, who suffered a season-ending knee injury last week against Kentucky. "That's just the way it seems to go this year."
It came down to Tech's final overtime possession, with the Jackets grinding all the way down to Georgia's 3 before
Leonard Floyd
led a host of tacklers to stop
Robert Godhigh
for a 3-yard loss and force a final fourth-down play.
Lee -- who passed for a season-high 232 yards -- threw over the middle to
Darren Waller
, only to have linebacker
Ramik Wilson
tip it into the air. Cornerback
Damian Swann
then batted the deflection away from Godhigh, and it fell to the ground incomplete.
Unlike their failure under similar circumstances two weeks ago in the final seconds against Auburn, the Bulldogs made the pass breakup that put away a dramatic win against a rival.
"It was up there for a while," said Wilson, who was second on the team with nine tackles. "I hit it as hard as I could, trying to make a play. Then it bounced to Swann, and Swann hit it up again. So I'm just glad that the ball fell down."
Said Gurley, who rushed for 122 yards and three touchdowns and caught four passes for 36 yards and another score: "I was like, 'Thank God.' I just knew somebody from Tech was coming to get that tipped ball, but they didn't."
Early on, it didn't look like there would be any late-game dramatics. Lee went 3-for-4 for 137 yards in the first quarter alone, while Mason and the UGA offense sputtered. It wasn't until the Bulldogs' final drive of the second quarter, which started with just 1:43 remaining until halftime, that they finally began to show a pulse.
Operating out of the up-tempo setup that helped him become a record-setting passer in high school, Mason went 5-for-5 -- including a 9-yard touchdown pass to Gurley -- and ran for a 16-yard gain as the Bulldogs' 86-yard scoring drive cut Tech's halftime lead to 20-7.
Georgia got the ball to open the second half and drove 63 yards to set up
Marshall Morgan
's 40-yard field goal, and all of a sudden 20-0 became 20-10, and the folks wearing old gold at Bobby Dodd Stadium weren't quite so loud.
"Momentum's huge in a road game, and with that environment and being down 20, they had all of it in the first half," Mason said. "And you can see how quickly it can change."
Then the defense started getting stops more consistently. Tech's vaunted rushing attack picked up chunks of yards -- it finished with 263 yards on 58 attempts -- but the Jackets mustered just one second-half touchdown, while the Bulldogs put 20 points on the board.
They tied the score for the first time at 27-all when Morgan booted a 32-yard field goal, and then the defense stopped Tech at the Georgia 40 on the ensuing possession to force overtime.
It was all Gurley from there. The Bulldogs' All-SEC tailback ran three straight times and scored from 6 yards to answer Lee's touchdown run in the opening OT period. And then Gurley bolted 25 yards up the middle to score on Georgia's first play of the second overtime.
That put it back on the defense -- which forced two punts, intercepted two passes, surrendered a fourth-quarter touchdown pass and saw Tech's
Harrison Butker
miss a 43-yard field goal after the Jackets went up 20-0 -- to make one final stop.
Unlike the end of that devastating loss to Auburn, when
Ricardo Louis
caught a floating deflection for the game-winning score, this time they made the play to win.
"I was saying in the locker room it was a little bit of a redemptive feeling after that Auburn game to have this win -- just a little bit," said receiver
Michael Bennett
, who caught five passes for 53 yards and a touchdown. "Bottom line, we've got to start out better, obviously, but to see our team come back from that is just amazing."
There has been plenty of amazing this season for Georgia. Some of the good kind and some of the bad. Of course, the Bulldogs couldn't finish without providing one more moment to remember.
October, 18, 2013
10/18/13
7:00
AM ET
ATHENS, Ga. -- Jarvis Jones and Bacarri Rambo became All-Americans in part because of their abilities to steal the ball from opponents -- Jones with his persistent motor and pass-rush skills and Rambo with his ability to get into position to make drive-killing interceptions.
They led a Georgia defense that generated 62 turnovers over the last two seasons, a total that ranked eighth nationally and second in the SEC behind only LSU's 63. Jones and Rambo are now in the NFL, however, while 10 other contributors from last season's defense are also no longer on the roster.
Defensive coordinator Todd Grantham went from having one of the league's most experienced defenses to one of the greenest. It's no secret the results have been ugly, with Georgia ranking last in the SEC in scoring defense (33.7 ppg), second to last in third-down defense (43.7 percent) and last in turnovers generated (five).
The last figure is striking considering that three of those turnovers -- muffed punts by Clemson and LSU and a lost fumble for a touchback by Tennessee's
Alton "Pig" Howard
as he dove for the pylon in overtime -- came either on special teams or by a fluke accident.
[+] Enlarge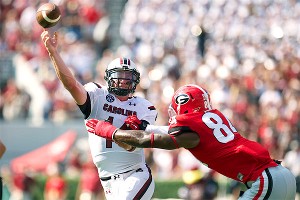 Dale Zanine/USA TODAY SportsGeorgia freshman linebacker Leonard Floyd is second on the team in sacks with four.
As with most of Georgia's defensive shortcomings, the turnover drought is largely a product of youth. But there are ways that the Bulldogs can create more turnovers, and they discussed four key factors in generating more takeaways this week:
Mature before our eyes:
Georgia's inexperience is the factor that will require the most patience.
Bulldogs coach Mark Richt explained that a young defender's first obligation is typically to make the basic play before attempting the explosive play, but the Bulldogs have struggled with both to this point.
"They're still just trying to get lined up right and play the right fundamental and get a guy on the ground or just bat a ball down rather than go for the pick and that type of thing," Richt said. "So they're learning and as they go. They'll get more comfortable and they'll be able to make more plays."
Grantham insists turnovers have always been an area of emphasis, but the Bulldogs say they're working on it even more lately.
"We really haven't worked on it as much as we should in practice, so now we're emphasizing it a lot more and working on getting the ball out," safety
Josh Harvey-Clemons
said.
Drills only get a player so far, however. For most, increased effectiveness is a byproduct of experience.
"We can work drills till we're blue in the face, but you've got to do it in the heat of the battle," Richt said. "You've got to keep coaching it, teaching it, show the situation where, 'Hey, in this situation here, you might could have raked the ball out. Instead of just wrapping up the QB, you might could've stripped it out of there.' "
Strip the quarterback:
One of the reasons Jones was dangerous was his ability to not only sack opposing quarterbacks, but to strip the ball from their hands.
He led the nation in sacks (14.5) and forced fumbles (seven) and frequently capitalized on what Grantham said is the easiest route to a turnover.
"The quarterback fumbles more than anybody else on the team because he's looking down the field, not at a [rusher]," he said. "A runner is looking to know that, 'Hey, they're going to hit me. I'm going to protect the ball.' A quarterback's looking to throw the ball down the field. So from that standpoint, there's a better chance to get the ball out."
Georgia's defensive linemen and outside linebackers, many of whom are underclassmen and first-time starters, haven't developed such savvy yet.
"Coach is probably going to have us doing drills [this week] trying to get a sack with the ball out, so we're probably going to work on that all this week trying to prepare us for [Vanderbilt]," said freshman outside linebacker
Leonard Floyd
, who is tied for fifth in the SEC with four sacks.
Dislodge the ball:
Maybe the most overlooked play in the Bulldogs' 42-10 win against Georgia Tech last fall was when Rambo halted the Yellow Jackets' first drive by ripping the ball out of
Robert Godhigh
's hands at the goal line and returning the fumble 49 yards to midfield.
Georgia scored another touchdown shortly thereafter and it was quickly 14-0 Bulldogs. Tech never threatened Georgia's lead again that day, although it could have been a different ballgame if not for Rambo's early takeaway.
"I remember Rambo dislodging a couple guys from the ball, kind of learning how to dislodge the ball. There's a technique to it, there's an art to it," Grantham said.
Swarming to the ball also helps. Once Rambo had help on the Godhigh tackle, he had the confidence to try to rip the ball from the Tech runner's hands.
"We've just got to be around the ball," said linebacker
Amarlo Herrera
, who has Georgia's only forced fumble. "If more people are around the ball to make a tackle, then one person can pull it out."
Better breaks on passes:
Another product of youth is that Georgia's defensive backs have broken up a handful of passes that could have been interceptions had they gotten just a split second better break on the ball.
Several members of Georgia's secondary discussed the need to improve their "eye control" -- reading the depth of a quarterback's drop and quickly deciphering how the play might develop based on what they see.
That means not biting on a play-action fake or getting out of their assigned zone -- and again, becoming sound in that area typically comes with experience.
"When you're a pattern match team and you're matching routes, you're reading the eyes of the quarterback and that gives you a chance to break on the ball based upon the distribution of the routes," Grantham said. "The quicker you can do that, the better break you can get on the ball, which allows you to get the pick."
November, 26, 2012
11/26/12
7:00
AM ET
ATHENS, Ga. -- Thanks to last Saturday's 42-10 win against in-state rival Georgia Tech, the Georgia players' dreams of spending early January in Miami are still intact.

The Bulldogs (11-1) have their work cut out to reach the Jan. 7 BCS championship game, with No. 2 Alabama (11-1) -- last season's BCS champ -- standing in their way. If the Bulldogs are to beat the Crimson Tide in Saturday's SEC championship game, count on the leading members of this week's Georgia 10 to make the biggest difference.
Let's review our Georgia Power Rankings through the conclusion of the regular season (last week's rank in parentheses):
November, 25, 2012
11/25/12
7:00
AM ET
ATHENS, Ga. -- Georgia took care of business and did it quickly in Saturday's 42-10 win against Georgia Tech.
The third-ranked Bulldogs (11-1) removed any question of whether they might look past their in-state rivals (6-6), scoring four touchdowns in their first five possessions as they swept into next Saturday's SEC championship game matchup against No. 2 Alabama (11-1) with their 11
th
win in the last 12 tries against Georgia Tech.
Let's recap some of the highs and the few lows from Saturday's victory.
To continue reading this article you must be an Insider
November, 24, 2012
11/24/12
3:37
PM ET
ATHENS, Ga. -- It took Georgia only four plays and a little over a minute to get on the board Saturday. From there, things seemed to get easier as the Bulldogs blew out archrival Georgia Tech
42-10
inside Sanford Stadium on Saturday.


With the loss, Georgia Tech has now dropped four straight to the Bulldogs and 11 of the past 12 meetings in this series.
It was over when:
Georgia's offense scored two early touchdowns in the first quarter, but the game really got out of hand when Georgia quarterback
Aaron Murray
found wide receiver
Rhett McGowan
for an 11-yard touchdown pass with just under three minutes left in the first half to make it 28-3 Bulldogs.
Game ball goes to:
Senior safety
Bacarri Rambo
had quite the farewell outing in Athens. He was making plays all over the field for the Bulldogs and forced two fumbles on Georgia Tech's first drive of the game. He also sucked all of Georgia Tech's momentum out on his second strip when he took the ball away from running back
Robert Godhigh
at Georgia's 1-yard line and returned it 49 yards to help set up the Bulldogs' second touchdown. He also grabbed an interception on a deep pass toward the end zone by Yellow Jackets quarterback
Vad Lee
that helped set up the Bulldogs' fourth touchdown of the first half.
Game ball 2 goes to:
Murray had another solid day chucking the football. He was taken out late in the game when the score was out of hand, but he completed 14 of 17 passes for 215 yards and had two touchdown passes. After just two passes in the first quarter, Murray eclipsed the 3,000-yard passing mark for the season, making him the first SEC player to pass for 3,000 yards in three consecutive seasons.
Stat of the game:
Georgia Tech's defense has really struggled this season, but it wasn't just the 42 points and the 379 yards given up on Saturday that made it painfully obvious. It was the fact that Georgia did all that relatively quickly, possessing the ball for just 20:03 minutes compared to Georgia Tech's 39:57 time of possession.
Stat of the game 2:
While Georgia put up the points, the Yellow Jackets did pretty well in the yards category. Behind 306 rushing yards, Georgia Tech outgained the Bulldogs 426-379.
Stat of the game 3:
Heading into the game, Georgia Tech had recorded an interception in 10 consecutive games, which was the longest streak in the FBS this season. The Yellow Jackets' streak ended Saturday.
What it means for Georgia:
With the win, the Bulldogs are undefeated at home for the first time since 2003; next week in the SEC championship game, they will play for a spot in the Discover BCS National Championship Game. Next week is basically a semifinal for the big game. This will mark the Bulldogs' second straight trip to the SEC title game.
What it means for Georgia Tech:
Despite Saturday's rout, the Yellow Jackets are still headed to the ACC championship game next week to play Florida State. The Yellow Jackets clinched the Coastal Division last week with a win over Duke. Miami self-imposed a postseason ban for the second straight year, making the Hurricanes ineligible for the ACC title game. North Carolina is also ineligible. The Yellow Jackets are also bowl-eligible for the 16th consecutive season, which is the fourth-longest streak in the country.
Peach State: Top Tier Recruiting Ground?
SEC SCOREBOARD
Thursday, 9/3
Saturday, 9/5