Georgia Bulldogs:

Ricky Town
January, 27, 2014
1/27/14
8:00
AM ET

Less than two weeks remain until national signing day, and this was the second-to-last official visit weekend before Feb. 5. There were a couple of big decommitments, a few commitments and several key official visits. Here's a closer look at all the latest recruiting news around the SEC.


January, 5, 2014
1/05/14
10:15
PM ET
SANTA MONICA, Calif. -- Quarterback
Blake Barnett
(Corona, Calif./Santiago) burst onto the scene during a terrific junior season.
It's safe to say the 6-foot-4, 185-pound signal-caller is still gaining speed.
On Sunday, Barnett was named MVP of the first Elite 11 Regional event, held at Santa Monica (Calif.) College.
To continue reading this article you must be an Insider
July, 23, 2013
7/23/13
9:00
AM ET
With the camp season over and the fall season rapidly approaching, DawgNation takes a look back at the biggest recruiting news of the summer.
[+] Enlarge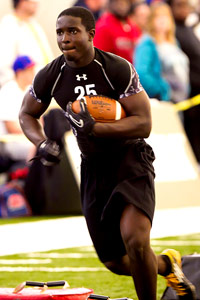 Davide De Pas/ESPN.comClass of 2014 RB Sony Michel is one of the many big names in Georgia's class.
1. Summer has been very, very good to Georgia
Heading into June, Georgia had five commitments, after going without one in May. Some analysts had pegged the Bulldogs as being off to a slow start for 2014, but with a class of 33 in 2013, Georgia has had to be very selective with this class. Even with a decommitment last week, the Bulldogs have added 12 commitments in June and July, headlined by the additions of five-star defensive tackle
Lamont Gaillard
(Fayetteville, N.C./Pine Forest) and ESPN 300 athlete
Malkom Parrish
(Quitman, Ga./Brooks County). As August approaches, Georgia can realistically pick and choose to fill its remaining spots.
To continue reading this article you must be an Insider
July, 16, 2013
7/16/13
1:27
PM ET
Football offers and commitments are occurring earlier and earlier. To keep in line with this new world of accelerated recruiting, ESPN announced its release of the initial ESPN 300 for the 2015 class on Tuesday.

The list is once again loaded with targets for Georgia. DawgNation takes a look at 10 targets to keep an eye on for 2015, in order of their ranking in the ESPN 300.
1. OL Mitch Hyatt (Suwanee, Ga./North Gwinnett)
6-foot-6, 270 pounds
ESPN 300 rank:
4
To continue reading this article you must be an Insider
July, 15, 2013
7/15/13
9:00
AM ET
ATHENS, Ga. -- The annual Dawg Night recruiting event at the University of Georgia overcame a couple of early setbacks and wound up being quite the success for the Bulldogs' coaching staff. Right as the campers were finishing up running of their 40-yard dashes, a thunderstorm sent everyone inside the general use room at the Butts Mehre Heritage Hall. When we say everyone, we mean the 500-plus attendees who came to show the coaches what they could do.
There were way too many campers, but the staff managed the large crowd well. They did run the danger of not being able to spend enough time with their primary targets, but the rain delay and staggered arrival times made for a successful weekend. After watching the commitments roll in and talking to some of the prospects in attendance, here are five things we learned.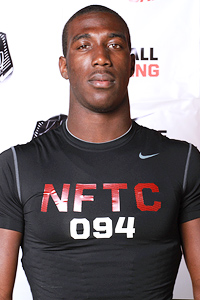 Tom Hauck for Student SportsAs expected, four-star WR Shakenneth Williams pulled the trigger on his Georgia offer early on Dawg Night.
Commitment class grows
The Bulldogs started Dawg Night with 12 commits and ended the evening with 15. Wide receiver
Shakenneth Williams
(Macon, Ga./Rutland) started the festivities by committing during the rain delay. The four-star receiver almost committed when he received his Georgia offer last month. Williams was quickly followed by Florida safety
Kendall Gant
(Lakeland, Fla./Lake Gibson). Gant immediately went to work on one of Georgia's top targets, fellow Sunshine State standout
Isaiah Wynn
. Wynn, an ESPN 300 member and Under Armour All-American game selection, would wait until Sunday morning to make his commitment known.
Offensive tackle
Dyshon Sims
(Valdosta, Ga./Lowndes) indicated during the rain delay that he was about to commit and would once he found his coach. It took him until the final drills to actually pull the trigger. It helped that Mark Richt called his mother to seal the deal in the meantime.
Georgia did lose one commit over the weekend, as
Krenwick Sanders
(Jessup, Ga./Wayne County) told DawgNation that he had a "drastic change of plans" and was no longer part of the Bulldogs' recruiting class.
To continue reading this article you must be an Insider
June, 17, 2013
6/17/13
9:00
AM ET
ATHENS, Ga. -- Georgia's recruiting staff will sleep well in the coming days. Ten consecutive days of camps, including three days of 7-on-7 tournaments, three days of offensive/defensive linemen camps, junior camps, varsity camps, specialized drills and even an overnight camp has the staff on its last legs. But the results were stunning.
Before the camps started, Georgia had five commitments. Less than two weeks later the Bulldogs have doubled the size of their class and could see a few more commitments soon. This past weekend saw a continuation of the momentum built up on June 8. Here are some of the highlights:
To continue reading this article you must be an Insider
June, 13, 2013
6/13/13
9:00
AM ET
ATHENS, Ga. -- The Georgia coaching staff hosted 28 teams in 7-on-7 competitions last week and on Thursday they will welcome 20 more to Athens. This third tournament will have some of the top schools in the state in attendance. On Friday, the staff will host an overnight camp where players that signed up will get to experience life as a Bulldog for the day. Looks like another busy week for the coaches so let us look at five stories to watch.
To continue reading this article you must be an Insider
June, 12, 2013
6/12/13
9:00
AM ET
From June 5-15, Georgia will host a kicking camp, eight varsity day camp sessions, three youth camp sessions, three 7-on-7 tournaments with 50 high school teams with 20 players on each team, including an OL/DL camp that coincides with the 7-on-7, and for the first time, an overnight camp. In the middle of that is last Saturday's Mark Richt Camp which brought in over 300 prospective student athletes, the largest group in the camp's history. Add that up, and you have a lot of football players to get on campus.
Here's where Daryl Jones, UGA's director of on campus recruiting, comes in. His job is to make sure the prospects and coaches are where they are supposed to be, and the event runs smoothly. But Jones' efforts start long before the first player steps foot on campus.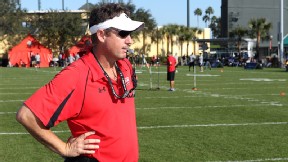 Miller Safrit/ESPNDaryl Jones is a veteran of planning prospect events.
"A camp like this does not start with the camp, it starts with the preparation of the camp," Jones said. "My department generates material that advocates for our camps. Then during the course of 168 [spring evaluation days], our staff is all over the place at different parts of the country, continuously pushing to get kids on campus during the course of the summer."
This registration push is the key to getting the talent in Athens in June and July, and it is no easy task.
"We sent out close to 2,500 email communications about the variety of camps that we have," Jones said. "That is on top of the amount of emails we send out to every high school coach in the state of Georgia about our 7-on-7 camp and then we sent out 7-on-7 information to all of the coaches of guys we have extended offers or guys close to offers so we can get good evaluations. It all starts on the front end driving registration by creating mail outs and camp brochures."
From April 15 to May 31, assistant coaches are on the road for the spring evaluation period, all the while trying to persuade prospects to get to Athens.
"What a lot of folks don't realize is the amount of effort, really personal time, effort that goes into Facebooking, tweeting, and talking to high school coaches," Jones said. "Guys are traveling all over the state, on the phone, talking to coaches, answering the emails, Facebook messages and Twitter requests about the camp they are legally allowed to respond to. It is all generated through the position coaches and there is so much effort put into it -- it would be hard to describe unless you actually have lived in the world of it."
This year Georgia's staff had prospects from California calling at 1 a.m. ET to inquire about the possibility of attending the camps. Thei diligence likely paid off as 2015 quarterbacks
Ricky Town
(Ventura, Calif./St. Bonaventure) and
Kyle Kearns
(Pleasanton, Calif./Foothill) to campus for this weekend's overnight camp.
The Bulldogs' director of football operations, Brad Hutcherson, works side by side with Jones and UGA's compliance department in constructing the camps while avoiding any possible recruiting violations.
But they are not alone.
"We utilize every staff member we can muster, plus volunteers and we would not be able to pull it off without the assistance of the high school coaches who come and help us for very minimal compensation under the NCAA allowances," Jones said. "I promise you they put in way more effort than we are allowed to pay them for."
When the camps begin, the football staff will spend time the night before the 7-on-7 events to discuss each team involved. They evaluate each school and the prospects involved.
After the 7-on-7 camp ends each day, the coaches go from evaluating the talent on the field, to scrambling to do individual drill work with 20-25 varsity day campers, and there was also little down time for the football staff in between sessions on Saturday during the Mark Richt Camp.
"We flew upstairs and organized our thoughts on what we had just seen and what actions needed to be taken going forward," Jones said. "Then we go back down and begin the second session."
After this weekend's overnight camp, Georgia will hold one more camp, Dawg Night on July 12. Between now and then, the staff won't be resting on their laurels.
"We will have constant recruiting, constant Facebook, constant Twitter and Coach Richt will be calling high school coaches to encourage their players to come to us," Jones said. "It really is a group effort of the high school coaches supporting us, us communicating with the high school coaches and players within compliance. Then once they get on campus, it is my job to make sure we are organized in our camp settings."
June, 7, 2013
6/07/13
7:43
PM ET
ATHENS, Ga. -- On Day 2 of the Mark Richt 7-on-7 tournament, 14 more high school teams from Georgia, South Carolina and Georgia traveled to Athens, Ga., to compete on the University of Georgia practice fields. Unlike Thursday, the weather held off on Friday and the first offer of the 2013 camp season was issued to a familiar name in the Southeastern Conference. DawgNation was on hand to watch, and here are five things we took from the event.
Dynamic duo dominate
To continue reading this article you must be an Insider
June, 6, 2013
6/06/13
7:00
AM ET
The next few days are very important for the University of Georgia's recruiting, as the staff is set to host a 7-on-7 camp Thursday and Friday, followed by a one-day prospect camp on Saturday. Hundreds of prospects will be in attendance, including several top targets. Here are five storylines to watch this week.
Chance to impress Sims
ESPN 150 wide receiver
Cameron Sims
(Monroe, La./Ouachita Parish High School) might be the highest-rated prospect in the 2014 class visiting this weekend. Expect the Bulldogs' coaching staff to make sure he feels wanted while he is there. Another ESPN 150 wide receiver target,
Josh Malone
(Gallatin, Tenn./Station Camp), was on campus last week, and with a smaller class this recruiting cycle, Georgia might only have room to take one more wideout. Sims has visited Auburn, Ole Miss and Mississippi State this week as well, but his coach said last weekend that Alabama was the team to beat. Georgia will do its best to change that Saturday, so expect the 6-foot-4, 190-pound receiver to get a lot of love during the Mark Richt Camp.
To continue reading this article you must be an Insider
June, 5, 2013
6/05/13
4:36
PM ET
TUSCALOOSA, Ala. -- It's been a productive week to start the summer for 2015 quarterback
Ty Storey
(Charleston, Ark./Charleston). He's already camped at Alabama and Oklahoma, drawing serious interest from the Crimson Tide and Sooners.
To continue reading this article you must be an Insider
May, 29, 2013
5/29/13
10:00
AM ET
Each week, Tales From The Road will provide news and updates about where Georgia's coaches have been and what prospects are standing out.
To continue reading this article you must be an Insider
Peach State: Top Tier Recruiting Ground?
SEC SCOREBOARD
Thursday, 9/3
Saturday, 9/5