Georgia Bulldogs:

Rennie Curran
November, 23, 2013
11/23/13
7:00
AM ET
ATHENS, Ga. -- Here are five things you need to know leading up to Saturday night's game between Georgia (6-4, 4-3 SEC) and Kentucky (2-8, 0-6).
Last time for the seniors:
This is it for
Aaron Murray
and Georgia's 27 other seniors who will play their final home game at Sanford Stadium. The group enters the Kentucky game with a four-year record of 34-17, having won SEC East titles in 2011 and 2012.


Included in that group are eight players who started last Saturday's game against Auburn: Murray, offensive linemen
Chris Burnette
,
Dallas Lee
and
Kenarious Gates
, tight end
Arthur Lynch
, receivers
Rantavious Wooten
and
Rhett McGowan
and defensive lineman
Garrison Smith
.
Murray's record chase:
Murray is already the only quarterback in SEC history to pass for 3,000-plus yards in three seasons. He needs just 108 yards against Kentucky to make it all four seasons. Having already broken the SEC career records for passing yards, touchdown passes, total offense and completions this season, Murray can still chase down two more records before the season ends. He is 59 pass attempts behind former Kentucky quarterback Jared Lorenzon's career total of 1,514 and needs 12 touchdowns rushing or passing to match Florida great
Tim Tebow
's mark for touchdown responsibility (145).
League's top tacklers meet:
The top three tacklers in the SEC will be on the field tonight: Georgia's
Ramik Wilson
and
Amarlo Herrera
and Kentucky's
Avery Williamson
. Last week against Auburn, Wilson posted Georgia's highest single-game tackles total since 1998 when he recorded 18 stops. That pushed his SEC-leading tackles total to 110 (11 per game). After making 12 tackles against Auburn, Herrera now has 91 tackles this season. Williamson is third with 88 tackles after finishing second in the league with 135 stops last season.
Two Georgia players have led the SEC in tackles:
Whit Marshall
in 1995 (128) and
Rennie Curran
in 2009 (130).
Strangely close series:
Georgia is regularly a heavy favorite -- and it is again this week, with late-week lines favoring the Bulldogs by 24 points -- but Kentucky has frequently been a tough opponent in the last decade.
Dating back to the Wildcats' upset win in 2006, Georgia is 5-2 against the Wildcats. But included in those five wins are a 42-38 win in 2008, a 19-10 victory where Georgia clinched the 2011 SEC East title after leading just 12-10 entering the final quarter, and last season's 29-24 win in Lexington. Murray torched the Wildcats' secondary for 427 yards and four touchdowns last year, but it took a late onside kick recovery by
Connor Norman
to disrupt the Wildcats' upset bid.
The news from Thursday that Wildcats coach Mark Stoops had suspended starting cornerback
Cody Quinn
, third-leading receiver
Demarco Robinson
and freshman defensive end
Jason Hatcher
for violating team rules certainly won't help Kentucky's cause.
Turnover troubles:
Aside from the score, turnover margin is typically one of the most telling stats in football. Keep an eye on turnovers tonight, as both of these teams have had odd seasons in that regard. Georgia is tied for last in the SEC in turnover margin (minus-eight) although it has taken care of the ball fairly effectively throughout. The Bulldogs' problem is that the defense has intercepted just four passes and recovered five fumbles. They generated 30 turnovers (17 fumble recoveries and 13 interceptions) last season.
Meanwhile, Kentucky is dead even in turnover margin this year, having 11 giveaways and 11 takeaways. The Wildcats have just one interception this season -- by linebacker
Josh Forrest
-- but they rank second in the SEC with 10 fumble recoveries. Their offense was second nationally for fewest turnovers, but quarterback
Jalen Whitlow
threw four interceptions last Saturday in a 22-6 loss to Vanderbilt.
May, 14, 2013
5/14/13
7:00
AM ET
ATHENS, Ga. --
Rennie Curran
doesn't exactly have an everyman's story.
The son of Liberian immigrants, he became an All-SEC performer at Georgia, one of the Bulldogs' most popular players and an NFL draft pick by the time he was 21 years old. And yet Curran believes that reading his story of struggling to succeed in professional football as an undersized linebacker might help people cope with more typical problems in their own lives.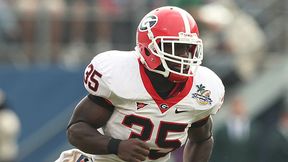 Joe Robbins/Getty ImagesRennie Curran's new book is supposed to serve as a inspiration for adults in every walk of life.
So after the
Tennessee Titans
released him in 2011 and he sat by the phone for weeks waiting for a phone call that didn't come, he sat down to write "Free Agent: The Perspectives of a Young African-American Athlete," a book about pursuing your ambitions even in the most trying times.
"I realized that just like what I was going through, so many people were going through the same situation like if they got fired from their job or they were coming into the real world out of college -- that time where you're in no man's land and you're trying to find yourself," Curran said. "I just talk about the different life lessons that you learn like when you're a free agent."
Curran released the book last month, only a few weeks after opting to follow a new path that will keep his football dreams alive. He hasn't been on an NFL roster since the
Tampa Bay Buccaneers
cut him last preseason, so the 5-foot-11 linebacker decided to try his hand in the Canadian Football League.
The 24-year-old will report to camp with the Edmonton Eskimos at the end of this month.
"I decided to make that transition just to find a team that believes in me," Curran said. "I know they've got other linebackers in the CFL that are closer to my size. It'll be a league that's mostly a passing league, so I'll be able to develop passing skills and other skills and just get on the field. That's one of my biggest things is I feel like if I can just find my way on the field, I'll be able to show people my abilities. Any time a team has given me a chance, I've never disappointed."
Before he leaves, however, Curran will continue with a busy schedule promoting his book at signings and media appearances around the Atlanta area. Thus far, he has found a receptive audience that reaches well outside Georgia's boundaries.
"Probably the biggest one so far was at about 4 a.m. I was coming home from one of my friends' birthday parties at like 3 o'clock in the morning, 4 o'clock in the morning," Curran said. "I checked my email and it was from a soldier in Afghanistan who had read my book during his 12-hour guard shift. He was telling me how inspired he was and everything like that and it just gave me goosebumps."
Experiencing disappointment and failure in football led Curran to reevaluate his definition of success, he said. Having achieved so much by a young age, he did not have much experience with doors closing in his face. But that's what the vast majority of his audience will deal with -- sometimes frequently -- in their lives, and Curran believes his story will help them learn that they are not alone.
"There's so many obstacles and times of uncertainty that you're going to go through," Curran said. "I think that the person who picks up the book, they'll realize that whether you're a professional athlete or whatever you're trying to achieve, just because you're in a position of success doesn't mean you're not going to go through your doubting and your low times.
"That's one of the things I talk about is that even when things seem perfect, you still have times where things change and one thing you'll deal with in life is transition and the times of where you find yourself and find things out about yourself. Those things happen when you go through some type of adversity. … Part of me writing was just to encourage people to keep fighting to achieve those dreams."
January, 18, 2013
1/18/13
7:00
AM ET
ATHENS, Ga. -- Here's a breakdown of Georgia's last seven recruiting classes and what they managed to accomplish in college and beyond:

2006
ESPN top five classes: Florida, USC, Texas, Georgia, Notre Dame
Georgia's ranking: 4
Easiest Path To The 2015 College Football Playoff
SEC SCOREBOARD
Thursday, 9/3
Saturday, 9/5