Georgia Bulldogs:

Quintavious Harrow
December, 31, 2013
12/31/13
7:00
AM ET
Mark Richt painted a realistic picture last week when asked what it might take for Georgia's secondary to improve beyond its dismal showing of 2013.
It's a matter of inexperienced players -- basically the only kind of defensive back on the Bulldogs' roster -- developing confidence, he said.
"We've got to make a play first, then we've got to have a series that goes well, then a couple series, then a half, a game where you start making plays, you start getting better, you start gaining confidence," Richt said. "But really we did not see that. I didn't see that throughout the year. There's some work, obviously, that's got to be done."
Obviously.
[+] Enlarge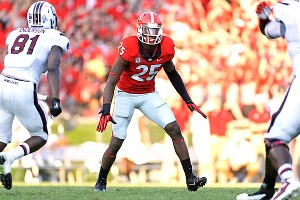 AP Photo/John BazemoreIt might have been a rough season for Josh Harvey-Clemons and the young Georgia secondary, but 2013's trial under fire should help the Bulldogs next season and beyond.
The stats by now are no secret. Georgia's secondary, which lost four of its top five players from 2012, was the weakest link in a shaky defense this fall. The Bulldogs ranked 10th in the SEC (68th nationally) in pass defense, allowing 232.8 yards per game. They were No. 84 in pass efficiency defense, allowing a 133.99 passer rating. And only two conference teams surrendered more yards per pass attempt than Georgia's 7.6 (Arkansas at 7.9 and Kentucky at 8.2).
It was a rough season any way you view it, although the Bulldogs hope it was only a temporary problem caused by a secondary that ranked second in the SEC in pass defense last season (Georgia's 175.6 ypg allowed in 2012 were just two yards behind conference leader Alabama) breaking in an entirely new group of defensive backs.
"I think every DB we have has played in a game or two," said cornerback
Damian Swann
, who along with safety
Corey Moore
will be the only two seniors in the bunch next fall. "And I think with those guys getting some experience, it's going to be great. Now they know what to expect, now they know how tough it is to play in this conference. I'm really looking forward to seeing these guys get after it."
Swann's statement is not entirely true. The Bulldogs will also have cornerback
Reggie Wilkerson
-- who missed the season after tearing his ACL during summer workouts -- and safeties
Tramel Terry
and
Kennar Johnson
, who both redshirted this season. They also have commitments from ESPN's No. 1 junior college cornerback, Shattle Fenteng (Loganville, Ga./Hutchinson Community College) along with incoming freshmen Malkom Parrish (ESPN's No. 73 overall prospect for 2014 and No. 9 athlete) and Kendall Gant (ESPN's No. 32 safety).
Add those players to the numerous freshmen and sophomores who played big roles this season -- cornerbacks
Shaq Wiggins
,
Brendan Langley
,
Sheldon Dawson
and
Devin Bowman
and safeties
Josh Harvey-Clemons
,
Tray Matthews
and
Quincy Mauger
-- and the Bulldogs are well on the way to rebuilding a depth chart that took a huge hit. The losses started coming after the 2011 season, when cornerbacks
Nick Marshall
and
Jordan Love
and safeties Quintavious Harrow and Chris Sanders all departed either by dismissal or transfer, followed by the exodus of
Shawn Williams
, Bacarri Rambo, Sanders Commings and Branden Smith for pro football after 2012.
"Some young guys got thrown into the fire," defensive coordinator Todd Grantham said. "I think it's like I told them, I said, 'When you get thrown into the fire, you can either get hard or you can wilt.' And I think they've gotten harder. I think I've seen a couple guys really improve, probably more than they would've if they hadn't been in that situation. So you've got to play the cards you're dealt and find ways to win games."
The question now is how they improve to the point where they are not the liability they were this fall, clearing a path for Georgia to win more than the eight games it has won thus far in 2013.
Moore believes progress will be a natural development out of this fall, when Swann was the only regular who entered the season with a start on defense.
"We were pretty young this year and [had a] lack of experience," Moore said. "Immaturity played a big factor this year and lack of experience and just communication and getting to know each other better on the field. I think that played in big this year. I think next year, we're not going to have those problems."
That's the plan, anyway, and what Georgia's players and coaching staff will spend this offseason making sure will be the case when the Bulldogs open the 2014 season against Clemson.
It was far from a banner season for Grantham's defense and, while that was not entirely unexpected, the coaches know the secondary must show marked improvement over the next year, starting with the Jan. 1 TaxSlayer.com Gator Bowl date with Nebraska.
"Did we have a chance to be pretty good? Yeah. When that's going to happen? I don't know," defensive backs coach Scott Lakatos said. "A hundred different things, how they turn out, is going to affect that. That's what we had do work through, and we're still working through that, as we get ready for this game."
November, 14, 2013
11/14/13
7:00
AM ET
ATHENS, Ga. – The members of Georgia's 2011 "Dream Team" recruiting class still maintain a close bond, even if circumstances have taken some members of the class to other places.
That bond between players will face an unusual test on Saturday when former Dream Teamer
Nick Marshall
– now Auburn's starting quarterback after Bulldogs coach Mark Richt dismissed him, Sanford Seay and Chris Sanders following the 2011 season after getting caught stealing from teammates – will stand on the opposite sideline from his former classmates.
[+] Enlarge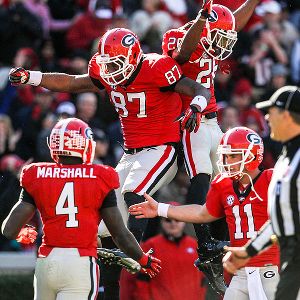 Daniel Shirey/USA TODAY SportsJay Rome (87) and Malcolm Mitchell (26), who were member of Georgia's Class of 2011 Dream Team, have had plenty to celebrate through the years.
"Weird I wouldn't say is the right word for it. It's going to be different going against one of the guys that you did come in with and actually roomed with when we first got here," said defensive end
Ray Drew
, who roomed with Marshall, Seay,
Jay Rome
,
Malcolm Mitchell
and
Sterling Bailey
at Georgia's Reed Hall when the class first arrived on campus.
Georgia was coming off a disappointing 6-7 season when the Dream Team signed with the Bulldogs, and the group was never shy in expressing its intention of helping the program get back on track. They had the nation's top tailback and No. 4 overall prospect in
Isaiah Crowell
, another five-star talent in Drew, the No. 1 tight end in Rome and a large group including Mitchell, John Jenkins,
Amarlo Herrera
,
Chris Conley
and
Damian Swann
who would contribute soon after becoming Bulldogs.
There was a level of self-assurance within the group that was somewhat unusual for a group of freshmen.
"Coming in I do believe the guys did have some confidence about themselves – that this was going to be the class that did some big things," Drew recalled. "And there's still that possibility. We still can. That swagger you're talking about, I can see that being there. It was. You can't deny it."
Truth be told, they've already been part of some big things. Crowell was named the SEC's Freshman of the Year in his lone season on campus – he was dismissed in the summer of 2012 after a weapons possession arrest and is now starring at Alabama State – and the Bulldogs won their first SEC East championship since 2005.
They played in a second straight SEC championship game at the end of last season and fell only a few yards short of playing for a BCS title – with multiple Dream Team members playing key roles on a team that would finish fifth nationally.
"I think we've actually got a good resume being here," said Swann, now in his second season as a starting cornerback. "We beat Auburn twice, we beat Florida three times, we've been to the SEC championship two times since I've been here. We're 1-1 in a bowl game. I think with the resume that my class has put together, I think it's actually one to look at, and I think we're continuing to improve it and make it better."
That they are. Linebacker
Ramik Wilson
leads the SEC with 92 tackles, with Herrera's 79 stops ranking fourth. Drew is sixth in the league with six sack. Wideouts Mitchell, Conley and
Justin Scott-Wesley
have all flashed star potential, although injuries have struck all three players this season. Center
David Andrews
, also a second-year starter, is one of the leaders of the Bulldogs' offensive line.
And junior college transfer Jenkins is already in the NFL – the New Orleans Saints picked him in the third round of this year's draft – after solidifying the middle of the Bulldogs' defensive line in 2011 and 2012.
"We've done some pretty good things," said defensive end Bailey, who has started eight times this season in his first significant dose of playing time. "You had some players from the Dream Team come in and make an impact and then you had some players behind some great players who are playing in the NFL right now and got experience and now being in the third year, we're putting all that experience to work."
The Georgia journey ended early for several members of the class. Marshall, Seay and Sanders were all dismissed together and Crowell followed them out the door a few months later. Safety Quintavious Harrow left shortly after his former Carver-Columbus teammate and close friend Crowell.
In all, seven members of the 26-man signing class are either gone or never enrolled at Georgia at all (linebacker
Kent Turene
). But the remaining Dream Teamers still maintain a close bond, Drew said.
"There's a tightness between us," he said. "I think even though we're tight as a team, I think there's just one more stitch or two between us that pulls us close. Whenever you see one person, you're always going to see someone else from the same class right there with them just tagging along."
The bulk of the class should remain intact for at least one more season, with several more Dream Teamers who redshirted still carrying two seasons of eligibility after 2013. That time, they said, is what will determine whether they meet the high expectations that accompanied their arrival.
"We're still in the process," Wilson said. "A lot of us are just now starting to play, so it's in the process of something becoming great.
"We all had high expectations of playing early and turning this program around. As soon as we stepped on this campus, we went to the SEC championship from that 6-7 year. So all we had was nothing but success here, 10-win seasons, since I've been here. So we're just trying to keep that going."
February, 4, 2013
2/04/13
7:00
AM ET
ATHENS, Ga. -- Georgia's football program seemed to be on the ropes with two weeks remaining until signing day 2011. Three seasons of declining results, capped by the program's first losing record under Mark Richt in 2010, left the Bulldogs in an uncertain position.
But when
Malcolm Mitchell
and
Jay Rome
elected to join the Bulldogs' "Dream Team" recruiting class on Jan. 20, 2011, an impressive finishing push for Richt's coaching staff leading up to signing day was launched. That was a big step toward the on-field resurgence that allowed the Bulldogs to win back-to-back SEC East titles over the last two years.
Another strong signing class followed the "Dream Team" in 2012 and played a role in the Bulldogs' division championship. And as Richt's staff attempts to reel in a final batch of blue-chip prospects before national signing day on Wednesday, we can review the successes of the past two seasons and point to that mid-January day -- 13 days before signing day 2011 -- that Valdosta (Ga.) teammates Mitchell and Rome publicly committed to the Bulldogs as the jumping-off point for Richt's staff to restock their roster with a flood of talent.
Peach State: Top Tier Recruiting Ground?
SEC SCOREBOARD
Thursday, 9/3
Saturday, 9/5