Georgia Bulldogs:

Michigan Wolverines
March, 13, 2014
3/13/14
12:30
PM ET
The new College Football Playoff is supposed to encourage schools to schedule better nonconference games, as teams try to beef up their schedule strength to earn one of the playoff's coveted four spots at season's end.
On Thursday, Texas A&M and UCLA
announced that they'll play each other
during the 2016 and 2017 seasons.
Other schools have announced future marquee nonconference opponents, including Texas A&M vs. USC, Notre Dame vs. Texas, Alabama vs. Michigan State and LSU vs. Oklahoma.
Here are five other nonconference games I'd like to see in the future:
[+] Enlarge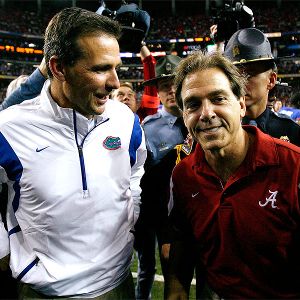 Kevin C. Cox/Getty ImagesUrban Meyer and Nick Saban have faced off for SEC titles, but their current teams, Ohio State and Alabama, have played only three times in history.
1. Alabama vs. Ohio State
: Alabama's Nick Saban and OSU's Urban Meyer dominated the SEC when Meyer was coaching at Florida, combining to win five BCS national championships from 2006 to 2012.
When Meyer was still coaching at Florida, the Crimson Tide and Gators played in two of the most anticipated SEC championship games. The No. 2 Gators beat the No. 1 Tide 31-20 in 2008, and then the Tide turned the tables on No. 1 UF with a 32-13 win in 2009.
Alabama and Ohio State have played only three times in history, with the Tide winning each time, most recently in a 24-17 victory in the 1995 Citrus Bowl.
2. Texas vs. Texas A&M
: Perhaps the biggest casualty in conference realignment, Texas and Texas A&M haven't played each other since the Aggies bolted the Big 12 for the SEC after the 2011 season. Sadly, there are no plans for the in-state rivals to play again in future regular seasons.
The Aggies and Longhorns played each other 118 times from 1894 to 2011, with their annual meeting traditionally being played on Thanksgiving Day. UT won nearly twice as many games as the Aggies (76-37-5), including nine of the last 12 meetings.
With former Louisville coach Charlie Strong taking over at Texas, and Kevin Sumlin building the Aggies into an SEC powerhouse, the game would also pit two of the sport's best African-American coaches against each other.
3. Oregon vs. Baylor
: Two of the game's most explosive offenses -- and two of its best-dressed teams -- would undoubtedly light up the scoreboard if they ever played. In fact, the contest would probably look more like a track meet.
Under coach Art Briles, the Bears have become the Ducks of the Southwest, with their hurry-up, spread offense and myriad flashy uniforms closely resembling what Chip Kelly and then Mark Helfrich built at Oregon. The Bears and Ducks follow the same blueprint on offense: play fast and score fast.
We hoped to see this matchup in the Tostitos Fiesta Bowl last season, but alas, it didn't happen. Oregon and Baylor have never met on the gridiron.
4. Michigan vs. USC
: Two of the sport's traditional heavyweights have faced each other eight times in the Rose Bowl Game Presented by Vizio, but only twice during the regular season -- in 1957 and 1958.
The Trojans won the last three meetings in the Rose Bowl, 32-18 in 2007, 28-14 in 2004 and 17-10 in 1990. USC has won six of the past seven meetings overall and holds a 6-4 advantage all-time.
We might have seen this matchup during the regular season if a Big Ten/Pac-12 scheduling partnership hadn't fallen apart in 2012.
5. Georgia vs. Florida State
: UGA coach Mark Richt was a longtime assistant under legendary FSU coach Bobby Bowden before taking over the Bulldogs, and he recently poached defensive coordinator Jeremy Pruitt off the Seminoles' staff.
The Bulldogs and Seminoles go head-to-head for a lot of recruits every year, and Florida State coach Jimbo Fisher upgraded his roster by effectively recruiting South Georgia and Atlanta.
The Bulldogs and Seminoles have played 11 times and only once since 1984 -- UGA defeated FSU 26-13 in the 2003 Sugar Bowl. Georgia leads the all-time series, 6-4-1.
September, 24, 2013
9/24/13
11:00
AM ET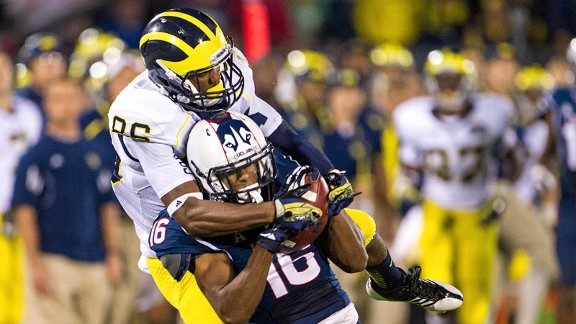 David Hahn/Icon SMIMichigan survived a nail-biting game against what was supposed to be a pushover team.
For four months, ESPN The Magazine will follow the march to the Vizio BCS National Championship, moment by moment, culminating in our Story of the Season double issue Dec. 27. Every Tuesday, Mag senior writer Ryan McGee will pick the previous week's biggest moments and tell you why they'll have the most impact on potential BCS title matchups. If you disagree, send a tweet to @ESPNMag and tell us why your moment matters more, using the hashtag #StoryoftheSeason. Who knows? Your moment (and tweet) might just end up in our issue.

---
"WELL,
it was a win ... that's about all I've got."
You can't blame Michigan coach Brady Hoke for being speechless at his postgame news conference, as if he'd just gotten off a roller coaster. UConn certainly wasn't billed as the Top Thrill Dragster, but the Huskies shook up the Wolverines like an old, half-broken down ride that isn't supposed to knock the breath out of you -- except that it does.
It didn't help that Hoke had to survive a nail-biter over what should have been a pushover opponent just one week earlier. On Sept. 14, Michigan needed a stop on the game's final play to hold off lowly Akron 28-24. Then college football's winningest program barely made it out of East Hartford alive, edging the Huskies 24-21. Yes, the same UConn that opened the season with a loss to Towson, an FCS opponent, by 15.
"You can't give the ball away," Hoke said, speaking of his team's eight turnovers in two weeks. "We've got a major league problem and we've got to fix it, because that's not going to win you championships."
Ah yes, championships. By the time an overwhelmingly underwhelming fourth stanza of the 2013 season had finished late Saturday night, no fewer than three would-be BCS contenders nearly had their championship dreams crushed.
How close did they come?
Three yards, one finger and one toe.
---
At jam-packed Rentschler Field, where UConn welcomed Ray Allen and Derek Jeter and had to bring in more than 2,000 temporary seats to meet ticket demand, the Huskies hassled Michigan quarterback Devin Gardner all night. He threw two interceptions (one tipped) and fumbled away a snap. During one ridiculous five-minute stretch that ended the first quarter and started the second, UConn tied the score 7-7, recovered a botched punt that hit the leg of a member of Michigan's return team, took the lead at 14-7 and then took the Gardner fumble 34 yards for a TD that made it 21-7.
(Flips the channel to ABC to see UConn ahead of Michigan, 21-7. MIND. BLOWN.) #StoryOfTheSeason #MICHvsUCONN

— ESPN The Magazine (@ESPNMag) September 22, 2013
The Wolverines clawed back to take the lead 24-21, but in the closing two minutes, UConn still had a chance to set up overtime or win in regulation. On fourth-and-29 from the Huskies' 33, quarterback
Chandler Whitmer
had receiver Deshon Fox tracked. The up-and-down Whitmer flicked a beautiful pass and hit Fox in the middle of tight coverage with a safety sliding over in a hurry. That safety,
Jarrod Wilson
, provided just enough help to drop Fox less than 3 yards short of a first down, which would have put UConn at Michigan's 41 with 1:43 remaining.
Three plays prior to that pass, UConn already had been across midfield, but a pass for minus-2 yards, a false start penalty and a sack for a 12-yard loss had driven Whitmer back into his own territory. Reverse any of those plays, and that fourth down becomes a first down.
"We've got an off week to work this out," Hoke said as he departed for the bus and then the airport. "We'll take 4-0. But we can't keep counting on the breaks to go our way."
Hoke didn't know it, but he looked and sounded an awful lot like Georgia coach Mark Richt had earlier in the day, lumbering into a postgame presser as though he had sandpaper in his pants.
Anyone who has made a trip to Denton, Texas, recently knows that the North Texas football program has all the potential in the world. It's in a recruit-rich area with sparkling new facilities. But even the staunchest supporter of the Mean Green will tell you that coach Dan McCarney's players still have a lot of work to do to meet that potential.
Yet there they were, between the hedges, tied 21-21 with the No. 9 Bulldogs in the middle of the third quarter. The rain was beginning to pour. The Mean Green was a team ready to believe and the Dawgs appeared to be a team ready to go home. Then quarterback
Aaron Murray
led his team on an eight-play, 53-yard drive that he capped with a keeper for the go-ahead score.
"Hey, we're fine," he told his teammates. "Just play ball and have fun."
And they did. In fact, the next drive (12 plays for 95 yards) was even prettier. But it nearly ended in disaster. On second-and-goal from the 4-yard line, receiver
Chris Conley
ran a picture-perfect, inside-to-outside route and was headed to the right-front pylon as Murray turned and flicked the ball toward the corner. North Texas's Zac Whittlefield is a great athlete, a converted running back who is now an All-Conference USA candidate at cornerback. He hadn't bit on Conley's fake. In fact, he'd used it to set up a great inside move that put him on the goal line between Murray and his target.
Whittlefield had a read on the ball floating toward him and actually appeared to take a quick glance downfield to see the open lane for what could be a 100-yard pick-six. He timed his leap and extended his left arm upward. He swiped and made contact. It wasn't going to be a pick, but it was definitely going to be batted down. The pass hit three of Whittlefield's fingers -- he needed it to hit one more.
Instead of being slapped to the turf, the ball dropped straight down … and into Conley's hands. Whittlefield, assuming he'd broken up the pass, was stunned when the Georgia crowd erupted and he turned to see Conley celebrating. Down two scores, the wind out of its sails, the Mean Green lost 45-21 and Georgia's one-loss title hopes kept floating.
Two nights prior, the coach who pinned that loss on Georgia, Clemson's Dabo Swinney, had also arrived to his postgame Q&A looking as worn out as Hoke and Richt. The Tigers had just survived an unquestionably ugly, 26-14 Thursday night win at NC State.
The initial volley of questions didn't center on Heisman hopeful Tajh Boyd's accuracy issues (his season-best 64.9% completion rate looked good on paper but not in person) or even the importance of earning the team's first ACC win and avoiding, for a week anyway, talk of "pulling a Clemson." Instead, reporters immediately asked about one specific play.
Down 13-7, Wolfpack receiver Brian Underwood electrified Carter-Finley Stadium with an 83-yard touchdown reception, setting up a chance to lead the third-ranked Tigers by a point (or more) with 7:31 remaining in the third. But line judge Richard Misner ruled that Underwood had stepped out of bounds at the Clemson 47-yard line. When the whistle was blown, the play was instantly dead, meaning that it couldn't be reviewed from the replay booth.
Within minutes, ACC coordinator of officials Doug Rhoads had vanished from the NC State press box. He was off to the instant replay booth so he could see all angles of the play. The former back judge knew that, regardless of whether the play could be officially reviewed, he needed to know exactly what it looked like, especially as the ESPN TV booth continued to question the call and NC State fans kept booing every scoreboard replay.
It was a rare instance when freeze frames and replays contradicted one another. Multiple shots seemed to prove that Underwood had stayed in bounds. But at least one appeared to show the right side of his foot barely over the line. In the end, Rhoads explained, even if the whistle hadn't blown, there wouldn't have been enough evidence to overturn the on-field ruling.
@ESPNMag @ESPNMcGee NCSU play called out of bounds vs. Clemson that was a touchdown. Total game changer. #accconspiracy #swoffordisajoke

— Andrew Williams (@ATWBUNS) September 21, 2013
Just three plays later, NC State quarterback
Pete Thomas
fumbled. Five plays later, Clemson went up 20-7. The Pack never recovered, physically or mentally.
As Swinney took his seat in the press room, he unknowingly spoke for many of his fellow coaches, not to mention thousands of fans, when it came to summing up a gross, sloppy Week 4 filled with mismatches, miscues and malaise from coast to coast. Yes, in the end nearly all of the teams that were supposed to win did. But like Clemson, most of them seemed uneasy, unsatisfied and anxious for Week 5.
"Glad to get that one over," Swinney said. "We can't load up the buses soon enough."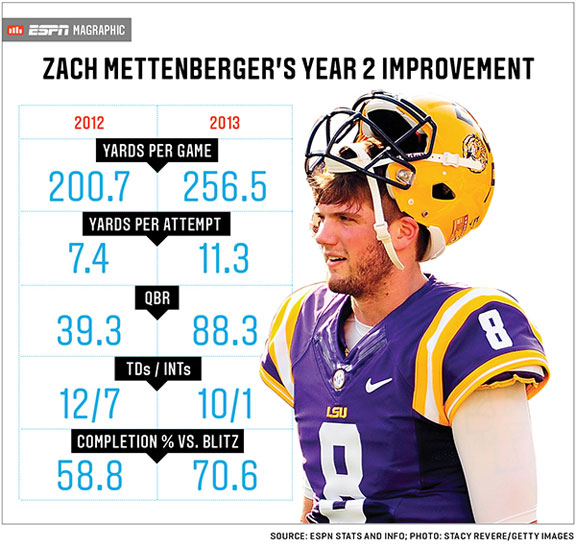 ESPN The Magazine
June, 27, 2013
6/27/13
3:30
PM ET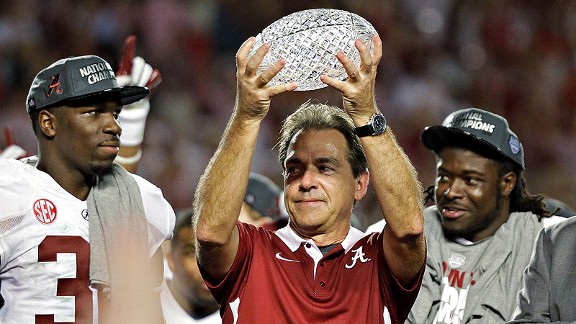 AP Photo/Chris O'MearaNick Saban is a major reason the SEC has hoisted the crystal football for seven years in a row.
So you think your team has a chance to reach the national championship game this season. You think this could be the year.
Hold up a second.
While there are always questions of timing and scheduling and the human element to winning college football games and reaching the national championship, there are some surprising similarities between teams that have been able to lift a crystal football at the end of the season and those who have come close.
Some, like talent, coaching and, at least for the past seven years, residing in the SEC, are obvious. But what about what takes place on the field?
Since 2006, when the Southeastern Conference began dominating college football, there have been specific criteria which have fit all of the champions plus three other teams (Florida in 2009, Penn State in 2008 and Ohio State in 2006), all of whom reached the Bowl Championship Series.
The criteria would have even been more streamlined, except Auburn's defense in 2010 was a statistical tire fire and Florida found a bunch of ways to not score or rush too well in 2006. Had they been better in those areas, almost every statistical category measured by the NCAA would have had a strong baseline ranking for a champion.
While this isn't foolproof -- again, see Auburn and Florida -- the following criteria could give you an idea as the season goes along how much of a chance your school really has at winning it all.
Rank 38th or better in rushing offense
: Every national champion averaged more than 160 yards rushing during its national championship season and all save that 2006 Florida team gained more than 214.4 yards a game on the ground and ranked in the top 16.
Rank 23rd or better in scoring offense:
National champions have been able to score a lot, which is even more impressive considering every national title winner since the 2006 season has been in the defense-oriented SEC. Every title team averaged at least 29.7 points a game and only 2006 Florida was under 32 points.
Rank 37th or better in passing efficiency:
The national title winners have all been in the upper third when it comes to passing the ball -- again, a mild surprise considering the level of defenses in the SEC. Every national champion had a passer efficiency rating of 133.61 or better and was ranked 37th or better.
[+] Enlarge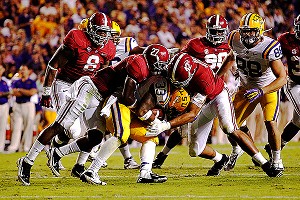 AP Photo/Bill HaberThe past seven national champs have been particularly adept at stopping the run.
Have a top 15 run defense:
For all the prior criticism of Auburn's defense in 2010, the Tigers actually fared well here, ranking ninth in rushing defense that season. They did give up the most yards per game of any of the national champions, though, with 109.07. All, too, were ranked in the Top 15. Interestingly, Alabama has been the top rushing defense in the country the past two seasons when it won national titles. Of the seven national champions, four held opponents under 80 yards rushing a game.
Rank in the top 40 in sacks (but don't rank too high):
Surprisingly, none of the national title winners was in the top 10 in sacks, either, but all landed in the Top 40, somewhere between 2.29 and 2.64 sacks a game and somewhere between No. 24 and No. 40. So putting some pressure on an opponent's quarterbacks -- but not too much? -- should be at a premium when it comes to fielding a title contender.
Have at least one player selected in the first round of the NFL draft following the national title game:
This, actually, should not be much of a surprise considering the national champion should have at least some NFL-caliber talent on it to survive the season. Defending national champion Alabama did a good job of this in this past draft with three players in the top 11. The total first-rounders for the Crimson Tide actually dropped from the 2012 draft, which saw four players taken from the school. Every title winner, though, has had at least one the following April.
Have a player score at least 10 touchdowns rushing and/or receiving:
Again, this seems like a no-brainer, especially considering how many points a game the national champion teams are averaging. But it also shows if a team spreads it around too much, there might not be that gamebreaker type of player to get a team a score when it was absolutely necessary.
Did not lose a non-conference game in the regular season:
Again, not a stunner here. The national champions over the past seven years which have lost games have all lost them within the confines of the SEC. This, though, actually blows up the theory that losing early is better than losing late when it comes to the national polls and winning a national championship considering most non-conference games are played in September and early October. So as you get ready to dig in to conference play, know if your team dropped a game, it could be in real trouble to win a title. And/or if it has a difficult non-conference game (see Georgia vs. Clemson in August and Michigan vs. Notre Dame in September), that game might loom even larger.
June, 28, 2012
6/28/12
1:01
PM ET
Michigan is targeting some top prospects at wide receiver, and the coaching staff got its chance to impress one of the targets in person. Receiver
Alvin Bailey
(Seffner, Fla./Armwood) took a trip to Ann Arbor for the first time and said the visit boosted Michigan's position.
"It helped them a lot. I was already up on Michigan, but this definitely helped," he said. "I knew some things about them, but being able to see it in person it meant a lot."
Bailey, who is the No. 5 ranked athlete in the country, said the best part of the trip for him was seeing the Big House up close, since he has never seen a stadium that size. After a spontaneous game of pickup basketball with his friends, he got a chance to sit down with the coaching staff to discuss what Michigan has to offer.
February, 19, 2012
2/19/12
5:07
PM ET
[+] Enlarge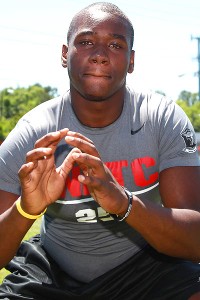 Tom Hauck for ESPN.comLaremy Tunsil is one of the most decorated offensive line prospects in the country.
GAINESVILLE, Fla. -- Five-star offensive tackle prospect Laremy Tunsil (Lake City, Fla./Columbia) visited Florida on Saturday for junior day, and the 6-foot-6, 280-pound offensive tackle prospect said he enjoyed his visit to nearby Gainesville.
"It was awesome," Tunsil said. "I saw a lot of things that I haven't seen before at the University of Florida. I saw where the alligators are at. I saw a church. I saw the practice facilities. I saw the basketball court. I saw all of that stuff that I haven't seen before."
While on his visit Tunsil had a chance to speak with Florida head coach Will Muschamp.
To continue reading this article you must be an Insider
Freshman Quarterbacks A Growing Trend?
SEC SCOREBOARD
Thursday, 9/3
Saturday, 9/5