Georgia Bulldogs:

Maxwell Smith
February, 25, 2013
Feb 25
4:45
PM ET
We're taking a look at key storylines for all seven teams in the SEC Eastern Division.
Chris will take a look at the main issues in the Western Division on Tuesday.

FLORIDA GATORS
Spring start:
March 13
Spring game:
April 6
What to watch:
1. Rebuilding at linebacker: The Gators have to start figuring out the linebacker situation. Do they go with redshirt junior Michael Taylor in the middle, who's a run-stuffer but has to come off the field in passing downs? Or do they try sophomore Antonio Morrison, who played outside at 218 pounds as a freshman and has hopefully bulked up a bit? The most likely scenario is Morrison, which means UF has to find a weakside linebacker. That could be freshmen early enrollee Daniel McMillian or Alex Anzalone. The strongside starter should be, at least entering the spring, redshirt junior Neiron Ball.

2. Robinson's growth: One of the most scrutinized players this spring will be receiver Demarcus Robinson. He was the only one of UF's five receiver signees to enroll early and he'll be given every chance to win a starting spot. UF's receivers have been below average for the past three seasons and the Gators desperately need someone to become a consistent playmaker. The 6-foot-2, 195-pound Robinson, who caught 53 passes for more than 1,000 yards and scored 15 touchdowns as a senior at Fort Valley (Ga.) Peach County, is going to be under a lot of pressure to produce.

3. Driskel's confidence: Quarterback Jeff Driskel returns for his second season as a starter, and it'll be interesting to see how much he improves on his decision-making, release and accuracy. He's sure to benefit from not splitting reps 50-50 any longer. But just as important as Driskel's development is what happens behind him with redshirt junior Tyler Murphy and redshirt freshman Skyler Mornhinweg. Neither has thrown a pass in a college game. Why is that important? Because Driskel has not been able to stay healthy in his first two seasons in Gainesville. He missed starts as a freshman and sophomore because of ankle injuries. UF was lucky in 2012 to have Jacoby Brissett, who had played significantly as John Brantley's backup in 2011. With Brissett transferring to NC State, the Gators no longer have that luxury.

-- Mike DiRocco, GatorNation
GEORGIA BULLDOGS

Spring start:
March 2
Spring game:
April 6
What to watch:
1. Rebuilding the defense: Georgia begins its transition to a completely new collection of defensive talent this spring. No longer are Jarvis Jones, Alec Ogletree, Shawn Williams, Bacarri Rambo and John Jenkins on the roster. In fact, the Bulldogs must replace a total of 12 defensive players who were either full-time starters or key contributors, and at some positions, the possible replacements have little to no college experience. That makes this a pivotal time for defensive coordinator Todd Grantham to begin identifying which players will fill those roles, as the Bulldogs will have little margin for error when they open the season against Clemson's explosive offense Aug. 31. Some names to watch this spring: Josh Harvey-Clemons, Sheldon Dawson and Jonathan Taylor.

2. Developing the youngsters: The good news for Grantham and the other defensive coaches is that they brought in a number of January enrollees who should be able to help immediately. Junior college transfer Chris Mayes and John Atkins hope to fill the void left by Jenkins and Kwame Geathers at noseguard. Ryne Rankin and Reggie Carter will immediately enter the mix at linebacker. And cornerback Reggie Wilkerson and safeties Tray Matthews and Quincy Mauger can help address Georgia's depth shortage in a secondary that lost four key players. Georgia's 13 early enrollees -- more than twice as many January enrollees as Georgia coach Mark Richt has ever brought in before -- will help fill needs on both sides of the ball, but the defense is where the newcomers were most necessary.

3. Offensive line reps: For the most part, Georgia used the same starting lineup along its offensive line throughout the 2012 season and each of those starters should return this fall. But two of those starters -- right guard Chris Burnette and right tackle John Theus -- underwent surgeries during the offseason and will miss all or part of spring practice. There was a good chance that offensive line coach Will Friend was going to deploy more players in his line rotation this fall anyway, but the valuable practice reps that will be available with Burnette and Theus sidelined might make a deeper rotation even more likely. Someone still has to take advantage of the opportunity, however.

-- David Ching, DawgNation
KENTUCKY WILDCATS

Spring start:
March 18
Spring game:
April 13
What to watch:
1. Getting used to new coaches: New coaches are roaming Kentucky's football facility this spring. Mark Stoops brings a more defense-minded philosophy to Lexington, but his coaches will have to get things going on offense if the Wildcats are going to improve in 2013. There are always awkward moments when transitioning to a new staff, but now's the time to create valuable trust on both sides.

2. Finding offensive playmakers: Stoops might have a strong defensive background, but the Wildcats have to find answers on offense. Injuries were an issue last year, but for two straight years the Wildcats had real problems finding consistent playmakers on offense. Quarterback Maxwell Smith returns, but he needs more than just wide receiver La'Rod King to help him. Getting running back Josh Clemons back would be big, but expect the coaches to turn to a young group of receivers and running backs.

3. Tougher team: One thing Stoops wants from his players is a tougher identity. Stoops wants to build a stronger team from the ground up. He's taking a page from Texas A&M coach Kevin Sumlin when it comes to preparing his new team. This spring, we'll see just how much of an emphasis the coaches put on the weight room and conditioning before hitting the football side of things.
MISSOURI TIGERS

Spring start:
March 12
Spring game:
April 20
What to watch:
1. Josey's rehab: The Tigers will be keeping tabs on running back Henry Josey, who missed all of 2012 after suffering a devastating knee injury midway through the 2011 season. He was the Big 12's best running back before his injury and Mizzou needs him back. The staff has had to be patient, but this could be a crucial time in his rehab, as he looks to get his football legs back.

2. Rebuilding the front seven: Mizzou must replace a lot in its front seven. Star defensive tackle Sheldon Richardson's absence leaves a gaping hole up front, while linebackers Will Ebner and Zaviar Gooden must be replaced. Lucas Vincent will be first in line to take Richardson's spot, while Darvin Ruise, Donovan Bonner and Michael Scherer are three players to watch at linebacker.

3. Toughening up: Injuries ravaged Mizzou's offense last year, but it's clear that Mizzou wasn't in the playing shape that it would have liked to be in during its first year in the SEC. Injuries are part of the game, but gaining that toughness factor this spring will go a long way for the Tigers in 2013. The SEC is more than just a grind, and the Tigers found out the hard way that conditioning in this league is a little different than in the Big 12.
SOUTH CAROLINA GAMECOCKS

Spring start:
March 5
Spring game:
April 13
What to watch:
1. New backfield options: Marcus Lattimore and Kenny Miles are gone, so the Gamecocks will have to turn to their younger backs. Brandon Wilds missed the 2012 season with an ankle injury but should return this spring. Rising sophomore Mike Davis has all the tools to be a big-time player for the Gamecocks and could be the top option in the Gamecocks' backfield. Shifty Shon Carson also returns from a knee injury, so South Carolina will have a solid group to work with this spring.

2. QB controversy: Quarterback Connor Shaw might be tabbed as the starter, but with him out for the spring, Dylan Thompson will take the first-team reps. Thompson proved to be very valuable last year, and both will play this fall. Thompson has become one of the most vocal players on the team and is a strong leader. A good spring could bring some real controversy to the position.

3. Holes at linebacker: South Carolina will be without its two-deep at linebacker and "Spur" DeVonte Holloman is gone. That means there's a lot of work to be done when it comes to finding viable replacements. Sharrod Golightly will get the early crack at the Spur, and keep an eye on Kaiwan Lews, who was a true freshman last year and has a lot of potential to work with.
TENNESSEE VOLUNTEERS

Spring start:
March 9
Spring game:
April 20
What to watch:
1. New coaches on the block: With Butch Jones in town, the Vols have to get used to their third head coach in five springs. Jones and his staff have helped bring some much-needed energy to the program since arriving, but now it's time to develop vital on-field chemistry between the coaches and players.

2. Receiving help: The Vols' offense took at major hit at receiver. Juniors Justin Hunter and Cordarrelle Patterson made the leap to the NFL, while deep threat Zach Rogers and tight end Mychal Rivera graduated. Tennessee will now turn to a host of inexperienced receiving targets, including rising sophomore Alton Howard and early enrollee Paul Harris.

3. Quarterback battle: With Tyler Bray leaving for the NFL, Tennessee will work with rising junior Justin Worley and redshirt freshman Nathan Peterman. Worley has the edge when it comes to game experience, but with a new staff, this battle will be wide-open. They will also need to make strides before freshmen Joshua Dobbs and Riley Ferguson get on campus this summer.
VANDERBILT COMMODORES

Spring start:
March 15
Spring game:
April 13
What to watch:
1. Replacing Rodgers: Quarterback Jordan Rodgers is gone. The good news is Austyn Carta-Samuels has good experience after starting two years at Wyoming before transferring to Vandy. Redshirt freshman Patton Robinette is someone the coaches also are excited about, especially with his dual-threat ability, and should really push Carta-Samuels the whole spring.

2. Running back battles: The Commodores lost star running back Zac Stacy, so veteran Wesley Tate, who has bounced around positions, and rising sophomore Brian Kimbrow, who has the do-everything look to him at running back, will share reps. Warren Norman and Jerron Seymour also return, making for quite the talented backfield.

3. Keeping the edge: Now that another very successful season under James Franklin is over, the Dores have to continue to keep the edge that got them to where they are. It might sound like a broken record, but Vanderbilt still has to prove that it isn't the Vandy of old. People are certainly taking the Dores more seriously, but keeping that edge is important for more growth.
October, 19, 2012
10/19/12
7:00
AM ET
NO. 11 GEORGIA AT KENTUCKY
Saturday, 7 p.m.
Commonwealth Stadium, Lexington, Ky.
FSN SOUTH
Records:
Georgia 5-1 (3-1 SEC), Kentucky 1-6 (0-4)
Last week:
Georgia was idle, Kentucky lost 49-7 to Arkansas
What's the Story?:
With a potentially huge game against No. 2 Florida on the horizon, Georgia needs to dust itself off after an embarrassing loss its last time out against South Carolina and put away a reeling Kentucky team that enters as a four-touchdown underdog.
Three Headlines:
1. Pressuring the quarterback:
Georgia simply has not done a good enough job of rushing the passer, but that will be a primary objective on Saturday against the Wildcats' freshman starter,
Jalen Whitlow
. He'll be starting for just the third time, having gone 12-for-31 for 156 yards in his first two starts.
2. Returning to form on offense:
Count on Georgia working hard to re-establish the running game that faltered against South Carolina when offensive coordinator Mike Bobo opted to lean on the passing game when the Bulldogs fell behind 21-0 early. Freshmen
Todd Gurley
(81-575, 9 TDs) and
Keith Marshall
(64-465, 5 TDs) should get a steady diet of touches against Kentucky.
3. Injuries a factor:
Not only as Kentucky been devastated by injuries on offense -- Whitlow is the third quarterback to start a game and three different tailbacks have also started because of injuries -- and its defense has been just as bad. The Wildcats started three freshmen in the secondary last week and should start either two or three on the back end against Georgia depending whether previously injured players can return. The Bulldogs also have a major injury question in
Jarvis Jones
, who had not practiced as of Wednesday since suffering a sprained ankle against South Carolina on Oct. 6.
October, 18, 2012
10/18/12
7:00
AM ET
ATHENS, Ga. -- Saturday's matchup between Georgia and Kentucky seems like a blowout in the making, but we've seen these circumstances before.
The 11
th
-ranked Bulldogs (5-1, 3-1 SEC) -- four-touchdown favorites over the Wildcats (1-6, 0-4) -- have been double-digit favorites against Kentucky several times in the last six seasons and haven't always won comfortably. Take last season for example, when 30.5-point favorite Georgia trailed for most of the first half before squeaking by with a 19-10 win that clinched the SEC East title.
The injury-depleted Wildcats are once again big underdogs on Saturday, but Georgia is no certainty itself after a flat performance in its last game out -- a 35-7 loss to South Carolina two weekends ago.
To continue reading this article you must be an Insider
October, 1, 2012
10/01/12
9:00
AM ET
Separation Saturday is approaching in the SEC ... but here are where our power rankings look to start the week:
1. Alabama (5-0; LW: 1):
The Crimson Tide's offense didn't look great against Ole Miss and the defense actually gave up
two
touchdowns, but Alabama left the weekend with a 19-point win. Alabama looked a little lethargic out on the field, but the Rebels put up a better fight than most expected. This team has talked about cleaning up execution issues on offense and will get an extra week to do that with the bye here.
2. LSU (5-0; LW: 2):
The Tigers are skating on thin ice in our power rankings. The previous week's sluggish win over Auburn was one thing, but the Tigers really struggled against Towson. What was most surprising about LSU's performance was how poorly the Tigers defended the run, as Towson gained 188 yards on the ground. One positive was that we finally saw more of a downfield passing game from
Zach Mettenberger
, and
Odell Beckham Jr.
stepped up in a big way at receiver.
3. Georgia (5-0; LW: 3):
The Bulldogs could be considered 2b after the way LSU played, but Georgia's defense really struggled against Tennessee. We all knew the Vols had the potential to hurt this group, but Georgia's defense was absolutely gutted for 478 yards and gave up 37 of the Vols' 44 points. Things have to be cleaned up, but with the way that offense is playing, it's going to be tough for teams to keep up in a shootout with the Dawgs.
4. South Carolina (5-0; LW: 4):
The Gamecocks gave their fans a bit of a scare after being down 10 to Kentucky at the half Saturday. All was forgiven after a dominating second half during which South Carolina outscored the Wildcats 31-0.
Connor Shaw
continues to throw the ball with splendid accuracy, while
Marcus Lattimore
is looking stronger and stronger out there. However, the Gamecocks can't afford a sluggish start against Georgia this weekend.
5. Florida (4-0; LW: 5):
The Gators were off this weekend, so players got some much-needed rest and time to heal. It also gave Florida a little extra time to scout No. 4 LSU, which travels to the Swamp on Saturday. Florida has to feel a little more confident about this weekend after watching another ugly win by LSU. But expect the intensity to be way up for the Tigers. Saturday should be pretty fun to watch.
6. Mississippi State (4-0; LW: 6):
The Bulldogs were on their bye over the weekend. Quietly, the Bulldogs have had a very impressive start to the season. Their past two games should have been won by bigger margins, but this team is still undefeated and has the potential to be a 6-1 or 7-0 team heading into the last weekend of the month. On the season, only five teams have trailed for less time than Mississippi State.
7. Texas A&M (3-1; LW: 8):
The Aggies just keep pounding away on offense.
Johnny Manziel
and his crew walked all over Arkansas' defense, racking up 716 yards of offense and 58 points in their blowout win against the reeling Razorbacks. We know that Texas A&M can score points and generate a lot of yards, but we saw a little too much bend out of A&M's defense against the Hogs, as they surrendered 515 yards to Arkansas.
8. Tennessee (3-2; LW: 7):
We saw a lot more fight out of Tennessee when Georgia went up 17 in the second quarter. The Vols had a couple of real chances to win in Athens, Ga., over the weekend, but late turnovers doomed them. Cue the questions surrounding
Tyler Bray
in big games. The defense looked overwhelmed and lost at times, but this team can take solace in one thing: It appears Tennessee has found a real SEC running back in
Rajion Neal
.
9. Missouri (3-2; LW: 9):
James Franklin
was better throwing the ball on Saturday, but this team has some offensive issues. The Tigers converted just 1 of 11 third downs and were outgained 395-346 against UCF on Saturday.
Kendial Lawrence
rushed for 104 yards, but Mizzou finished the day with a total of 89 rushing yards, thanks to Franklin's minus-18 yards on the ground. There are just too many athletes on this offense for the Tigers not to be explosive. Right now, they are hurting to find consistent firepower.
10. Ole Miss (3-2; LW: 10):
Yes, the Rebels lost, but it's clear this team is more invested and tougher than the past two teams Ole Miss has thrown out there. The Rebels gave Alabama a little bit of a challenge and made it to the end zone twice against Alabama's vaunted defense. This team has to clean up a lot on defense, but that offense has the ability to carry this team to a few more wins this season ... maybe even a bowl berth.
11. Auburn (1-3; LW: 11):
The good news for the Tigers is that they got to rest this weekend. The hope is that Auburn's defense takes the momentum it gained from its performance against LSU into this weekend's key game against Arkansas. Arkansas can move the ball, and Auburn's defense struggled mightily for most of September. This is a must-win for both teams and with the way Arkansas' defense has played, Auburn has to feel more comfortable with what its struggling offense can do.
12. Vanderbilt (1-3; LW: 13):
The Commodores were off as well, and extra time had to be devoted to tweaking some of the offense. Vandy enters its game at Missouri with the SEC's No. 11 offense and we haven't seen the kind of explosion we saw last year. It doesn't help that there's a quarterback controversy in Nashville. Despite what happened in the Georgia game, the Commodores still own one of the league's top defensive units and provide a tough matchup for Missouri this weekend.
13. Arkansas (1-4; LW: 12):
Things just get worse and worse for the Razorbacks. If
Tyler Wilson
thought his team quit against Alabama, you have to wonder how he feels after the way his Hogs were run out of College Station, Texas, over the weekend. That defense is dreadful and this team is just lost. The offense put up a lot of yards against Texas A&M, but couldn't finish drives and never developed any consistency running the ball. Losing to Auburn this weekend would pretty much end any ounce of hope for a bowl game this year.
14. Kentucky (1-4; LW: 14):
For two quarters, Kentucky was on top of the world. Then, things fell apart, and South Carolina scored 31 straight points on the Wildcats. Things just aren't clicking for the Wildcats, and quarterback
Maxwell Smith
is injured again. This time, he has an ankle injury. This offense just can't do much unless he's in, and he can't stay healthy. The defense has to get tougher, as well. Joker Phillips' hot seat in Kentucky isn't cooling off one bit.
September, 24, 2012
9/24/12
2:51
PM ET
Another week and it still remains pretty clear Alabama is top dog in the SEC and nationally.
But has our No. 2 team fallen after a sloppy win on the road?
1. Alabama (4-0; LW: 1):
I feel like a broken record, but Alabama dominated yet again Saturday. It's hard to find any real weaknesses in this team. Although the backups did give up a touchdown to Florida Atlantic, so there's that.
2. LSU (4-0; LW: 2):
The Tigers looked pretty sloppy offensively in a tough 12-10 win against Auburn Saturday. LSU probably will have its name dragged through the mud after its play this weekend, but all good teams have those hiccup games. Quarterback
Zach Mettenberger
has to play better, but the defense still looks extremely dominant. The goal now is to not let that hiccup bleed into future games.
3. Georgia (4-0; LW: 3):
This Bulldogs offense has been really fun to watch through the first four weeks. Quarterback
Aaron Murray
has looked like a real Heisman candidate at times, while freshman running back
Todd Gurley
just gets better every time he gets on the field. Georgia completely overwhelmed Vanderbilt and heads into a fun showdown with Tennessee with a load of confidence.
4. South Carolina (4-0; LW: 4):
Connor Shaw
has proven he's a true player for the Gamecocks. He battled through a hairline fracture in his throwing shoulder to complete 20-of-21 passes in a blowout win against Missouri. You're starting to see more balance from this Gamecocks offense and that will be very important as SEC play continues. The defensive front is also getting stronger each week.
5. Florida (4-0; LW: 5):
The Gators seem to be growing up with each week. After back-to-back tough road wins, Florida shut out Kentucky at home and now has two weeks to prepare for LSU. This really has become more of the blue-collar team Will Muschamp wants, but we'll really find out how tough Florida is when LSU ventures into the Swamp.
6. Mississippi State (4-0; LW: 6):
Dan Mullen wasn't exactly pleased with the effort the Bulldogs gave in their lackluster 30-10 win against South Alabama, but a win is a win these days. This team can't be too happy with the way it has played in the past two weeks, but it's still undefeated. It's obvious players are losing focus against lesser opponents, and that should change with SEC play starting back up next week.
7. Tennessee (3-1; LW: 7):
There were some tense moments in the Vols' win over Akron Saturday, but the second half belonged to Tennessee.
Tyler Bray
showed off that cannon of a right arm, passing for 401 yards and four touchdowns. The running game also got going with
Rajion Neal
rushing for a career-high 151 yards. The key for this team is to duplicate those kinds of efforts against SEC opponents.
8. Texas A&M (2-1; LW: 9):
Man, the Aggies know how to use that football, right? In the past two games (both wins), A&M has averaged 526.5 yards and 59 points. Sure, you can point your nose up at the competition, but those are pretty good numbers for a team dealing with a brand new coaching staff and philosophy. Let's see how this offense performs with the SEC slate coming up.
9. Missouri (2-2; LW:8):
The Tigers just didn't put up much of a fight against South Carolina. Both the offensive and defensive lines got pushed around and it's looking more and more like the size up front is an issue for this team. Mizzou has too much talent offensively not to get the ball moving, but the Tigers failed to get big plays against South Carolina. You have to wonder what sort of offensive changes might come heading into the Central Florida game.
10. Ole Miss (3-1; LW: 11):
The Rebels really rebounded from that Texas blowout with a 39-point shutout of Tulane. Through four games, Ole Miss is third in the SEC in total offense (488 yards per game) and is averaging 36.8 points per game. This team has to cut down on the turnovers and the defense still needs some work, but the product on the field is much better than it has been the past two years.
11. Auburn (1-3; LW: 10):
The Tigers suffered a tough loss at home to LSU over the weekend. It was a game in which Auburn played its toughest ball of the season, but just didn't have anything going on offense. Like, absolutely nothing. The defense made strides, but the offense is still a major concern. Defense wins championships, but you have to put points on the board and move the ball, and Auburn has issues doing both, scoring only 20 points in two SEC games.
12. Arkansas (1-3; LW: 12):
Things just aren't working in Fayetteville, Ark.
Tyler Wilson
returned against Rutgers, but he couldn't help a defense that gave up 525 yards in the loss to the Scarlet Knights. Arkansas has now lost three straight -- all in the state of Arkansas -- and it's fair to say that leadership is lacking inside that locker room. There shouldn't be any smiling this week as the Hogs prepare for Texas A&M.
13. Vanderbilt (1-3; LW: 13):
The Commodores had nothing in the tank against Georgia. For a team that is supposed to have a different attitude, Vandy lacked any form of passion in its 45-point loss to the Bulldogs. The defense was shredded and the offense just never got into rhythm. This team is also dealing with quarterback issues. You never know who is going to be throwing the ball for the Commodores, and that's not a good thing.
14. Kentucky (1-3; LW: 14):
Nothing seems to be going right for the Wildcats.
Maxwell Smith
missed Saturday's loss to Florida with a bum shoulder and
Morgan Newton
did noting to help in Smith's place. Kentucky's offense has lacked any sort of consistency this season and the defense has been walked over. The bad news is that things get a lot tougher for the Wildcats with the teeth of the schedule coming up.
September, 13, 2012
9/13/12
9:00
AM ET
I'm proud to report that the ATL Kid and I are both 21-2 (.913) two weeks into our picks contest.
What's regrettable is that all of our picks have been the same to this point. He talks about the NCAA investigating me for taking a sneak peek at whom he's picking every week.
I've already complained to SEC commissioner Mike Slive about the Kid airing his dirty laundry in public. After all, we have a stated protocol for how to handle these things, but kids today aren't real big on rules.
Maybe that's why the Kid gets me his picks about 3 o'clock in the morning every Thursday after carousing around Atlanta with his pal, Oscar.
We were both 9-2 last week and missed Louisiana-Monroe's 34-31 upset of Arkansas and Northwestern's 23-13 win over Vanderbilt, which didn't score a second-half touchdown in either of its first two games.
We'll have some separation this week, because our picks aren't all the same.
It's grudge time on the SEC blog as the Kid's alma mater (Florida) takes on my alma mater (Tennessee). There hasn't been a lot of trash talk, although I told him he should have to sing "Rocky Top" on video if the Vols win.
His Gators have owned this series, so there's not a lot I can say. They've won the past seven games. The last time Tennessee won, the Kid was still playing youth soccer somewhere and sitting on the bench with a juice box on one side of him and his orange slices on the other.
I hear he still rolls that way.
That said, let's roll through this week's picks:
PRESBYTERIAN at VANDERBILT
Chris Low:
The Commodores are trying to recover from an 0-2 start. This is one they not only need to win, but need to win convincingly. ...
Vanderbilt 35, Presbyterian 7
Edward Aschoff:
We'll finally see the explosive play we've been waiting on from Vanderbilt's offense in this must-win for the Commodores. ...
Vanderbilt 41, Presbyterian 10
UAB at SOUTH CAROLINA
Chris Low:
The Gamecocks romped last week with backup quarterback
Dylan Thompson
passing for three touchdowns. Regardless of who's at quarterback this week, the Gamecocks will cruise again. ...
South Carolina 42, UAB 10
Edward Aschoff:
Connor Shaw
might not play, but the Gamecocks should be just fine again. Expect a little more
Marcus Lattimore
this week. ...
South Carolina 38, UAB 13
MISSISSIPPI STATE at TROY
Chris Low:
Going on the road to play in one of these games is never ideal for an SEC team, but the Bulldogs have built up too much momentum to stumble now. ...
Mississippi State 31, Troy 14
Edward Aschoff:
The Bulldogs are coming off their first SEC-opening win since 1999, but can't lose their edge. They won't this weekend. ...
Mississippi State 38, Troy 14
IDAHO at LSU
Chris Low:
The Tigers keep losing players, but they keep winning big. Nobody's really challenged them yet, and that's not going to change this Saturday. ...
LSU 45, Idaho 6
Edward Aschoff:
The Tigers looked much better all around in Week 2, and that trend should continue Saturday. This is the weekend we see the passing game really open up. ...
LSU 48, Idaho 3
WESTERN KENTUCKY at KENTUCKY
Chris Low:
Western Kentucky is one of the Sun Belt Conference's better teams this season, but Kentucky quarterback
Maxwell Smith
is one of the SEC's hottest quarterbacks right now. ...
Kentucky 28, Western Kentucky 21
Edward Aschoff:
The Wildcats know they have to win out in nonconference play if they want to make a bowl game. They should have no problem getting past Western Kentucky. ...
Kentucky 41, Western Kentucky 13
FLORIDA ATLANTIC at GEORGIA
Chris Low:
The Bulldogs are getting two defensive starters back for this game, which will make it an even longer night for the already outmanned Owls. ...
Georgia 52, Florida Atlantic 7
Edward Aschoff:
The Bulldogs get one last tuneup before really diving into SEC play. The Dawgs should roll Saturday. ...
Georgia 45, Florida Atlantic 10
TEXAS A&M at SMU
Chris Low:
The Aggies stay in Texas but go on the road to face the Mustangs.
Johnny Manziel
& Co. will see to it that they finish the game this time. ...
Texas A&M 34, SMU 21
Edward Aschoff:
The jitters are gone, and a game is under the Aggies' belts. Expect to see more of Texas A&M's offense to be unveiled Saturday. ...
Texas A&M 34, SMU 14
LOUISIANA-MONROE at AUBURN
Chris Low:
Ask Arkansas if the Warhawks should be taken lightly. In fact, the best thing that could have happened to Auburn was seeing what happened to the Hogs last week. ...
Auburn 31, La.-Monroe 21
Edward Aschoff:
The Tigers are in desperate need of a win and some confidence on both sides of the ball. The Warhawks might have upset Arkansas, but Auburn will rebound Saturday on the Plains. ...
Auburn 31, La.-Monroe 17
TEXAS at OLE MISS
Chris Low:
The Grove will be at its best Saturday. The Rebels will also need to be at their best to pull the upset. They'll make it close, but they don't have quite enough firepower yet to close the deal. ...
Texas 28, Ole Miss 24
Edward Aschoff:
An epic party is expected in Oxford this weekend, and confidence is high at Ole Miss. The Rebels should hang around early, but Texas just has too much talent. ...
Texas 34, Ole Miss 21
ARIZONA STATE at MISSOURI
Chris Low:
Loosen up the old neck, because this could turn into a track meet. The Tigers are hurting on their offensive line but have enough playmakers to outlast the Sun Devils. ...
Missouri 38, Arizona State 31
Edward Aschoff:
The Tigers are coming off of a tough, physical loss to Georgia. Mizzou might be a little banged up, but it'll outlast Arizona State in another shootout Saturday. ...
Missouri 31, Arizona State 27
ALABAMA at ARKANSAS
Chris Low:
The Hogs were embarrassed by what happened in Little Rock last week. They'll put up a fight, but the Crimson Tide have too much muscle in the trenches. ...
Alabama 37, Arkansas 13
Edward Aschoff:
The luster of this game has certainly been lost, but the Hogs have to be extremely motivated underdogs. However, even a healthy
Tyler Wilson
might not have enough to take down this Alabama team. ...
Alabama 31, Arkansas 10
FLORIDA at TENNESSEE
Chris Low:
The last time Tennessee beat Florida, Ron Zook was coaching the Gators and Phillip Fulmer was coaching the Vols. Both teams have visions of contending in the East, but Tennessee's passing game will be the difference in this one. ...
Tennessee 31, Florida 28
Edward Aschoff:
Tennessee might have the flashiest passing game around, but Florida's defense is riding high after that second half at Texas A&M. The Gators are underdogs, but that defense will keep the Gators and their winning streak going against Tennessee. ...
Florida 24, Tennessee 21
September, 3, 2012
9/03/12
1:11
PM ET
Here's a quick primer for Week 2 in the SEC:
SATURDAY
Auburn (0-1) at Mississippi State (1-0), Noon ET, ESPN:
Mississippi State coach Dan Mullen is looking for his first win against a West opponent not named Ole Miss. Auburn is looking to rebound after its rush defense was shredded against Clemson. It won't get easier for that defense Saturday. This game set the tone for both teams last year and probably will again.
East Carolina (1-0) at No. 9 South Carolina (1-0), 12:21 p.m. ET, SEC Network:
Quarterback
Connor Shaw
's shoulder will be monitored all week, and the receivers have got to step up this week. The good news is that
Marcus Lattimore
shook off the rust early in his return against Vanderbilt and is back to his bullish ways. The Gamecocks know all too well that they can't sleep on the Pirates, so the focus should be good this week.
July, 10, 2012
7/10/12
10:44
AM ET
Earlier, we
ranked all 14 quarterback groups
in the SEC. Now, it's time to rank the top 10 SEC quarterbacks heading into the 2012 season.
Again, we are looking at overall talent, game-changing ability and experience. We also looked at past performances and projections for 2012.
Here are our top 10 SEC quarterbacks:
[+] Enlarge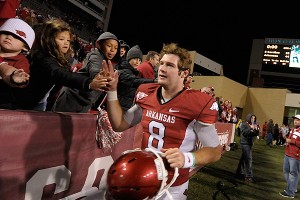 AP Photo/David QuinnArkansas quarterback Tyler Wilson passed for more than 3,600 yards and 24 touchdowns last season.
1. Tyler Wilson, Sr., Arkansas:
He could have easily left for the NFL after passing for more than 3,600 yards and 24 touchdowns last season. His big-time arm and incredible toughness weren't too shabby either. While his decision-making came into question sometimes last season, Wilson made tremendous strides this spring and should be an even smarter passer this fall.
2. Aaron Murray, RJr., Georgia:
Murray has a chance to own a few more school and SEC records before his time at Georgia is up, but he does have to get over his turnover issues. Murray has some of the best technique and mechanics around, and when he's on and focused, he is one of the most talented passers out there.
May, 18, 2012
5/18/12
11:20
AM ET
We're putting spring behind us and looking toward the fall with our post-spring power rankings:
1. LSU: The Tigers had one of the best springs around. Things were quiet off the field, and the offense rallied behind quarterback Zach Mettenberger. Coach Les Miles was very impressed with Mettenberger's play and maturity, and expects LSU's offense to be more balanced with him under center. LSU can still use four or five running backs as well. Defensively, the Tigers are stacked once again, especially up front with two potential first-rounders in ends Sam Montgomery and Barkevious Mingo. Questions surround the inexperienced linebackers, but Kevin Minter had a tremendous spring in the middle. On paper, LSU is equipped with the talent to make another title run, and gets Alabama at home this year.
January, 19, 2012
1/19/12
4:28
PM ET
You've already seen
Chris Low's to-do lists
for the Western Division teams, so now it's time to check out what the East teams need to take care of before next fall:

FLORIDA
Two major areas new offensive coordinator Brent Pease needs to hit during his first offseason with the Gators is running back and wide receiver. Florida must find a downhill running back for Pease's offense, and a reliable go-to wide receiver -- two things Florida lacked in 2011.
With quarterback John Brantley graduating, Pease must find a new starting quarterback. That means developing rising sophomores Jacoby Brissett and Jeff Driskel, who struggled in relief of Brantley at times last season, and Tyler Murphy, who has yet to take a snap.
Toughen up mentally and physically. The Gators ranked 89th nationally in penalties, and were called out by coach Will Muschamp as being too soft in his first season. Soft can't win in the SEC.

GEORGIA
The Bulldogs' coaching staff needs to toughen running back Isaiah Crowell up. As the season went on he visited Georgia's training table more than the end zone in games. He was even booed by Georgia fans when he limped off the Georgia Dome field in the SEC title game. The Bulldogs were inconsistent running the ball because their lead back was always nicked up.
Getting the offensive line ready will be key to 2012. The Bulldogs will have to replace three seniors on that line, including All-SEC performers Cordy Glenn and Ben Jones.