Georgia Bulldogs:

Knowshon Moreno
January, 22, 2013
Jan 22
7:00
AM ET
ATHENS, Ga. -- With barely two weeks remaining until national signing day, this is a good time to not only project the futures of the respective prospects, but also look backward at players who entered college with modest expectations and performed solidly.
Let's take a look at five Georgia "sleepers" since 2006 -- when ESPN first started its recruiting enterprise -- who exceeded our expectations after their arrival on campus.
To continue reading this article you must be an Insider
January, 18, 2013
Jan 18
7:00
AM ET
ATHENS, Ga. -- Here's a breakdown of Georgia's last seven recruiting classes and what they managed to accomplish in college and beyond:
2006
ESPN top five classes:
Florida, USC, Texas, Georgia, Notre Dame
Georgia's ranking:
4
To continue reading this article you must be an Insider
January, 2, 2013
Jan 2
11:30
AM ET
Editor's note: As we approach national signing day and consider the future of Georgia's football program, we'll also look backward into the Bulldogs' recruiting history. Over the next few weeks, we'll talk with several former Georgia standouts about their experiences as recruits. We begin today with offensive lineman and 2011 team captain Ben Jones.
ATHENS, Ga. -- In the summer of 2007,
Ben Jones
was one of those prospects who became a rock star on the summer camp circuit.
After dominating some high-profile competition in blocking drills at a prospect camp at Georgia, Jones quickly made himself a household name among recruitniks. But luckily for Mark Richt's Bulldogs, Jones had a burning desire to play football at his late father's alma mater -- and he played quickly.
Jones was a starting center for the preseason-No. 1 Bulldogs only a few games into his freshman season in 2008 and essentially held onto the job for the rest of his career. He was an ESPN All-American and All-SEC selection last season as a senior before becoming a fourth-round NFL draft pick by the Houston Texans.
September, 3, 2012
9/03/12
7:00
AM ET
ATHENS, Ga. -- If Saturday was
Todd Gurley's
Herschel Walker moment,
Witney Sherry
was Gurley's Bill Bates.
Walker famously burst onto the college football scene in 1980 when he flattened Tennessee's Bates on the way to the end zone, sparking Georgia's comeback win against the Volunteers. Three decades later, Gurley tossed Sherry aside like a ragdoll on both of his touchdown runs as he constructed one of Georgia's all-time most impressive debuts by a true freshman in Saturday's 45-23 win against Buffalo.
"I didn't really think about, 'Yeah I'm going to score,' or 'Yeah I'm going to do this,' my goal was really to come into the game and play my best without the ball, because if I get the ball, then that's just going to come natural," said Gurley, who rushed eight times for 100 yards and two touchdowns and returned his first college kickoff 100 yards for another score.
To continue reading this article you must be an Insider
June, 17, 2012
6/17/12
11:34
AM ET
ESPN's GatorNation brings you the 30 things you need to know about Florida's upcoming 2012 season. For 30 weekdays, we'll preview games, talk about trends, spotlight players and positions, and give you pretty much everything you need to know to be ready for the season before the Sept. 1 opener against Bowling Green.
GAINESVILLE, Fla. -- Let's face it, the Florida-Georgia rivalry had gotten boring.
[+] Enlarge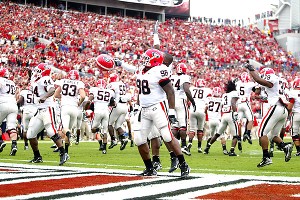 Palm Beach Post/ZUMA Press/Icon SMIThe entire Georgia team rushed the field after scoring the opening touchdown against Florida in 2007.
Florida's lopsided victories in the 1990s and relatively uneventful games in the early 2000s had turned what was once one of the most bitter rivalries in college football into just another game.
But things have heated up again over the past five years -- thanks in part to some questionable actions -- and now the rivalry between the SEC schools is as intense as ever. Players danced, eyes were almost gouged, and the infamous choke sign made an appearance.
Oh, yeah, and there's the matter of Florida's coach having played at Georgia, too.
April, 24, 2012
4/24/12
8:23
PM ET
Coming out of California's Simi Valley High School,
Beau Sandland
(Woodland Hills, Calif./Pierce CC) was a 6-foot-4, 215-pound non-qualifier with no offers, so the tight end enrolled at Pierce Community College. The school has a reputation for getting guys to the next level.
Obviously the hard work has paid off.
After making 20 catches for 265 yards and two touchdowns, Sandland, having grown to almost 6-6 and 250 pounds, received his first offer from Utah on Feb. 22. Two months later, offer No. 10 arrived from Georgia.
To continue reading this article you must be an Insider
October, 26, 2011
10/26/11
4:32
PM ET
Lost in all the talk about Georgia's failings against Florida is the notion that the Gators have been really, really hard to beat throughout the last few decades.
This year, however, might be Georgia's best opportunity in years to reassert itself in Jacksonville. Florida is slumping, having lost three games in a row, and Georgia enters the game on a five-game winning streak.
The Bulldogs are listed as 2.5- or 3-point favorites in most of the booking places I looked at online, but I was wondering how many times in Mark Richt's tenure -- which includes a 2-8 record against Florida -- Georgia actually entered the game as the betting favorite or the higher-ranked team.
So here are some facts:
This is the first time Georgia is the favorite since 2005. It's also the first time since that season that Georgia is ranked ahead of Florida and the fifth time overall in Richt's 11 seasons. The others were 2002, 2003 and 2004.
The only seasons where Georgia has been favored were 2002, 2003, 2004 and this year. The Bulldogs won only in 2004 thus far.
Last year was the first time since 1979 both teams were unranked when they reached Jacksonville.
Here's a quick recap of the series history under Richt. The Florida series is no doubt the most troubling black mark on Richt's otherwise sterling record at Georgia, but don't forget how good Florida has been for much of that time. Richt no doubt has to bring more balance to the rivalry if he is to remain at Georgia -- and this weekend's game is probably his best opportunity.
2011
Rankings:
Georgia: No. 22; Florida: Unranked
Favorite:
Georgia -2.5
Final score:
?
2010
Rankings:
Florida: Unranked; Georgia: Unranked
Favorite:
Florida -1
Final score:
Florida 34, Georgia 31
Recap:
Both teams enter the game unranked for the first time since 1979 and Florida snaps a three-game losing streak by winning the first overtime game in series history. Backup kicker Chas Henry, filling in for the injured Caleb Sturgis, drills a game-winning 37-yard field goal after Georgia's Aaron Murray throws an interception on the Bulldogs' overtime possession. Murray leads the Bulldogs back from a 21-7 halftime deficit, but his third interception eventually results in defeat.
2009
Rankings:
Florida: No. 1; Georgia: Unranked
Favorite:
Florida -16.5
Final score:
Florida 41, Georgia 17
Recap:
Georgia trots out special black helmets and black pants, but Florida wins in another blowout. Florida quarterback Tim Tebow accounts for four touchdowns in his final appearance against Georgia. He breaks Bulldogs great Herschel Walker's SEC career record for rushing touchdowns with his 50th in the second quarter of the rout.
2008
Rankings:
Florida: No. 5; Georgia: No. 8
Favorite:
Florida -7.5
Final score:
Florida 49, Georgia 10
Recap:
Georgia starts the season as the nation's No. 1 team, but Florida eventually wins its second national title in three years and destroys Georgia after the bitter 2007 loss has festered for a year. Florida coach Urban Meyer says he would not forget the Bulldogs' touchdown dance and rubbed in this blowout win -- Florida's second-biggest margin of victory in series history -- by using both of his remaining timeouts as the final seconds ticked off the clock.
2007
Rankings:
Florida: No. 9; Georgia: No. 20
Favorite:
Florida -7
Final score:
Georgia 42, Florida 30
Recap:
Georgia participates in a team-wide touchdown dance in the end zone after Knowshon Moreno's first-quarter score and the Bulldogs sack eventual Heisman Trophy winner Tim Tebow six times as they begin a seven-game winning streak that ends with a No. 2 final national ranking.
2006
Rankings:
Florida: No. 9; Georgia: Unranked
Favorite:
Florida -13.5
Final score:
Florida 21, Georgia 14
Recap:
Eventual national champion Florida builds a 14-0 halftime lead that grows to 21-0 when Ray McDonald returns a Kregg Lumpkin fumble for an 8-yard touchdown on Georgia's first possession of the second half. The Bulldogs rally behind a feisty defense and freshman quarterback Matthew Stafford, but can't get a stop in the fourth quarter to get one more shot at the end zone.
2005
Rankings:
Georgia: No. 4; Florida: No. 16
Favorite:
Florida -3.5
Final score:
Florida 14, Georgia 10
Recap:
Previously unbeaten Georgia is without injured starting quarterback D.J. Shockley and the offense sputters with backup Joe Tereshinski III. First-year Florida coach Urban Meyer reworks his ineffective spread offense before the Georgia game and the Gators score touchdowns on the first two drives of the game -- enough to barely hold off the eventual SEC East champion Bulldogs.
2004
Rankings:
Georgia: No. 10; Florida: Unranked
Favorite:
Georgia -6.5
Final score:
Georgia 31, Florida 24
Recap:
Georgia snaps six-game losing streak against the Gators and Bulldogs greats David Greene and David Pollack get their only career win against Florida, which had announced the Monday before the game that coach Ron Zook would not return the next year.
2003
Rankings:
Georgia: No. 4; Florida: No. 23
Favorite:
Georgia -1.5
Final score:
Florida 16, Georgia 13
Recap:
Florida's Matt Leach drills a 33-yard field goal with 33 seconds remaining to lift the Gators to their 13th win in 14 tries against the Bulldogs. Sluggish Georgia rallies from a 13-3 deficit in the fourth quarter, but it's not enough. Florida coach Ron Zook improves to 2-0 against the Bulldogs, although Georgia entered both games as a top-five team.
2002
Rankings:
Georgia: No. 4; Florida: Unranked
Favorite:
Georgia -1.5
Final score:
Florida 20, Georgia 13
Recap:
Florida limps into Jacksonville with a 5-3 record against unbeaten Georgia and still manages to hand the Bulldogs their only loss of the season. Georgia eventually wins the SEC championship, but the Florida loss almost certainly costs the Bulldogs a chance to play for the national title. The Bulldogs go 0-for-13 on third down and commit three turnovers -- the most costly being a D.J. Shockley interception that Guss Scott returns 47 yards for a touchdown. Wide-open Terrence Edwards drops a David Greene pass at the Florida 30 late in the game as the Bulldogs stumble to defeat.
2001
Rankings:
Florida: No. 6, Georgia: No. 19
Favorite:
Florida -19.5
Final score:
Florida 24, Georgia 10
Recap:
Steve Spurrier wins his final game against Georgia as Florida's coach, with the Gators overcoming four turnovers and 12 penalties and eventually pulling away for a win. First-year Georgia coach Mark Richt's club has its chances, but fails to convert three fourth downs in the second half -- including Verron Haynes' dropped pass on fourth-and-2 at the Florida 6-yard line. Rex Grossman passes for 407 yards in leading the Gators to victory.
To continue reading this article you must be an Insider