Georgia Bulldogs:

Kelcy Quarles
March, 27, 2014
3/27/14
12:00
PM ET
The words "revolutionary" and "game-changing" are prominent in the aftermath of
Wednesday's ruling by a federal agency
that college athletes at Northwestern University are school employees and can form a union. The SEC had this to say:
"Notwithstanding today's decision, the SEC does not believe that full time students participating in intercollegiate athletics are employees of the universities they attend," commissioner Mike Slive said in a written statement.
Former South Carolina defensive tackle Kelcy Quarles came out
against the idea of college football players unions
.
Elsewhere in the South, spring practice and NFL scouting continued as if the earth had not spun off its axis.
February, 19, 2014
2/19/14
12:00
PM ET
Let's take a quick spin through the headlines from across the SEC:
November, 7, 2013
11/07/13
12:00
PM ET
We've got football tonight. In fact, there are a couple of pretty big games. That means we're almost to what could be an important weekend in the SEC.
Here are some links from around the league:
October, 30, 2013
10/30/13
12:30
PM ET
It's officially hump day, and as SEC teams prepare for this weekend -- or next if you're Alabama and LSU -- let's take a look around the league with today's edition of the lunch links.
September, 10, 2013
9/10/13
10:00
AM ET
ATHENS, Ga. -- As he does each Sunday, Mark Richt sat down and rewatched his Georgia team's game from the previous day -- this time a 41-30 win against then-No. 6 South Carolina.
Asked Sunday evening what he took away from that second viewing, Richt's first comments concerned his starting tailback,
Todd Gurley
.
[+] Enlarge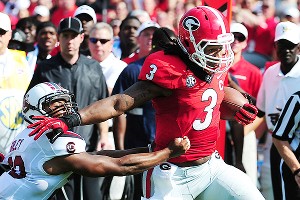 Scott Cunningham/Getty ImagesTodd Gurley is seventh in the nation with 286 rushing yards and tied for fourth with four TDs.
"Just watching Gurley run was fun," Richt said. "He's just such a powerful back. He's got such great balance, speed."
Fans -- and Heisman Trophy voters -- have had the opportunity to make similar observations over the last two weeks as Richt's Bulldogs played two top-10 opponents. And all Gurley has done is dominate in both games, despite missing a portion of the opener at Clemson with a quad injury and despite facing one of the nation's better run defenses from last season in South Carolina.
Gurley on Monday received two rounds of treatment on the thigh injury that kept him from practicing much last week, but it didn't prevent him from dominating on the ground Saturday and fulfilling one of his few stated offseason goals of contributing more in the passing game. He hauled in his first career touchdown catch in the third quarter of the Bulldogs' win.
"I really didn't sit down this offseason and say, 'I'm trying to do this, I'm trying to do that,' " Gurley said. "One of my main things was just to get more plays in the passing game and just work on playing without the ball. That was about all."
After his 30-carry, 132-yard effort, which included one rushing and one receiving touchdown, Gurley is seventh nationally with 286 rushing yards and tied for fourth with four touchdowns.
"He probably is at the top of the group of running backs who are going for the Heisman right now," said Chris Huston, whose Heisman Pundit website tracks the race closely throughout the season. "I'd say he has pushed himself to the top of that group."
Obviously it's early, but Gurley has already continued his upward trajectory from a breakout freshman season where he rushed for 1,385 yards and scored 18 touchdowns.
There was his 75-yard touchdown run against Clemson where he exploded through a hole and outran everyone to the end zone. And then there were runs Saturday like the one where he somehow stayed on his feet when South Carolina defensive lineman
Kelcy Quarles
ripped off his helmet by the facemask, and very well might have scored a helmetless touchdown if not for the rule that requires such a play to be blown dead. Or when he burst down the sideline during a second-quarter touchdown drive and easily tossed Gamecocks cornerback
Jimmy Legree
aside with a vicious stiff-arm.
"Watching film on him, he's by far in my opinion -- anyone who watched him would probably agree with me -- the best player in the country. I don't think there's anyone like Todd," Georgia quarterback
Aaron Murray
said Monday.
He might not enjoy the spotlight, but Gurley possesses the total package that a Heisman-contending running back needs in order to generate national attention. Now he needs his teammates to help him remain in the conversation.
Spread-offense quarterbacks have the odds in their favor in this day and age, although that position held the advantage even before dual-threat passers like Cam Newton, Robert Griffin III and
Johnny Manziel
claimed each of the last three Heismans. Quarterbacks have won 11 of the last 13 years, so Gurley not only needs to separate himself from other running backs with impressive yardage totals and highlight-reel runs, he needs Georgia to remain in the BCS conversation in order to remain a viable alternative to quarterbacks like Manziel, Clemson's
Tajh Boyd
, Oregon's
Marcus Mariota
and Ohio State's
Braxton Miller
.
"It's hard for a running back to win, but if he does win, he has to have as little competition from other running backs in the race as possible," Huston said. "Gurley's first task is to sort of establish himself as the running back alternative to whatever quarterbacks there are."
Then again, he must also separate himself from his own teammate to become a true Heisman frontrunner.
Murray reignited his Heisman hopes with a nearly flawless 309-yard, four-touchdown performance against South Carolina. Interestingly enough, however, Huston said the perception that two contending teammates might siphon votes away from one another isn't necessarily accurate.
As an example, he used the 2004 race where USC quarterback Matt Leinart won and running back teammate Reggie Bush finished fifth. Oklahoma's Adrian Peterson and Jason White finished second and third that year. In other words, members of the two teams that played for the BCS championship took up four of the top five spots in the voting -- and their respective abilities likely helped their teammates from a performance and publicity standpoint.
"You could argue that Jason White's support cost Peterson the Heisman, but you could also say that Bush's support cost Leinart more votes in that situation," Huston said. "Would Peterson have gotten more votes if White wasn't as good? So it's kind of a symbiotic relationship between the two. If Aaron Murray wasn't as good, Gurley probably wouldn't be as successful because teams would be able to key on him more."
October, 8, 2012
10/08/12
1:27
PM ET
ATHENS, Ga. -- After rewatching Georgia's 35-7 loss to South Carolina online, I can't say there was much there that wasn't evident while watching it live.
The key to the game was that Georgia's offensive line couldn't handle South Carolina up front, which shut down the running game and eventually led to
Aaron Murray
unraveling at quarterback and finishing the night 11-for-31 for 109 yards and one interception.
South Carolina was excellent on its first two possessions and then took the air out of the ball, but it didn't matter much what the Gamecocks did offensively after the first 10 minutes. Georgia had no good answer for the Gamecocks' defensive front and
Jadeveon Clowney
in particular, as the star defensive end ran roughshod over Bulldogs left tackle
Kenarious Gates
all night.
October, 7, 2012
10/07/12
7:19
PM ET
COLUMBIA, S.C. --
Connor Shaw
could see it in the Georgia players' eyes on South Carolina's first touchdown drive.
A few minutes later, it was even more obvious to
Marcus Lattimore
after the Gamecocks drove it right down the Bulldogs' throats for their second touchdown in as many possessions.
"They were shell-shocked. We hit them in the mouth, and they weren't ready for it," Lattimore said.
Nope, not even close.
But in Georgia's defense, it's debatable whether anybody in college football would have been ready for what the Gamecocks unleashed Saturday night on the No. 5 Bulldogs in a
35-7 bludgeoning
at Williams-Brice Stadium that sent a clear message about the shifting balance of power in the SEC.
October, 7, 2012
10/07/12
1:19
AM ET
COLUMBIA, S.C. -- Georgia offensive line coach Will Friend was careful to point out throughout the Bulldogs' early-season offensive successes that his rebuilding group still had a lot of progress to make before he would call it a dominant unit.
South Carolina's defensive front showed why Friend tried to temper the enthusiasm about his players, as the Gamecocks completely controlled the line of scrimmage en route to a 35-7 victory.
"I didn't see us, especially in the first half, being able to generate a drive because their front was whipping us," said Georgia coach Mark Richt, whose team fell behind 21-0 in the game's first 10 minutes. "So you hope to make a play here and there to change the momentum of the game and we just couldn't get it done."
They couldn't get it done because a previously dominant running game ran into a brick wall. Freshman
Todd Gurley
, who came in as the SEC's leading rusher, broke a 15-yard run on his first carry and never got another one that long. He finished with 13 carries for 39 yards, while fellow freshman sensation
Keith Marshall
ran 12 times for 37 yards.
Ken Malcome
actually led the Bulldogs with 45 rushing yards on five carries, including their only score -- a 3-yard run when the game was already well out of reach -- on a night that was otherwise a disaster in every way for the Bulldogs' previously high-scoring offense.
The Bulldogs finished with seven points and 224 total yards -- 41 points and 312 yards below their per-game averages -- thanks in large part to do much of anything at all early in posssessions.
"They're very talented, especially in their front four, but I think we killed ourselves with too many third-and-longs," Georgia quarterback
Aaron Murray
said. "When you're in third-and-long and they know you have to throw the ball, those ends can gear up and that whole defensive line -- every defense does that.
"That's a goal of every defense is to get third-and-long and put the offense in a passing situation and let their front four do work. That's our problem. We put ourselves in that situation. We need to do better on first and second down in order to not let that happen."
And it wasn't just South Carolina's star defensive ends,
Jadeveon Clowney
and
Devin Taylor
, who made plays. Defensive end
Chaz Sutton
had one of the Gamecocks' two sacks -- Clowney had the other -- and defensive tackle
Kelcy Quarles
deflected a Murray pass that resulted in the game's only turnover, a first-quarter interception by
DeVonte Holloman
.
"The front five, it was all of us that were making mistakes and not getting the job done," Georgia right guard
Chris Burnette
said. "We definitely want to make sure that we can figure out those issues and try to fix them for the next game."
The Bulldogs knew coming in that South Carolina's deep and talented defensive front would create the greatest challenge they'd faced yet. After the Gamecocks dominated the line of scrimmage throughout, Richt acknowledged that they were as good as advertised.
"Their defense the entire night just took care of business," Richt said. "We've got to give them a lot of credit. We got the consolation touchdown at the end just so we didn't get the goose egg, but they whipped us pretty good."
February, 24, 2012
2/24/12
12:04
PM ET
Speed and athleticism are always immediately mentioned when talking about SEC defenses, but there's a mental side that's often overlooked.
For Alabama linebacker
Nico Johnson
, it's the first thing he notices when he sees youngsters competing in practices. Their speed is always impressive, but the way younger players are dissecting and learning defenses these days has Johnson shocked. It also has defensive coordinators around the league giddy with the thought of not having to simplify things for youngsters.
Peach State: Top Tier Recruiting Ground?
SEC SCOREBOARD
Thursday, 9/3
Saturday, 9/5