Georgia Bulldogs:

Hugh Williams
November, 15, 2013
Nov 15
11:00
AM ET
ATHENS, Ga. -- Georgia isn't back to full strength on offense -- and it won't be this season -- but all of a sudden the Bulldogs look a bit more like their offensive juggernaut from the start of the season.
Entering Saturday's visit to No. 7 Auburn (9-1, 5-1 SEC), No. 25 Georgia (6-3, 4-2) is the healthiest it has been on offense since a disastrous visit to Tennessee when tailback
Keith Marshall
and receiver
Justin Scott-Wesley
went down with season-ending knee injuries and wideout
Michael Bennett
suffered a knee injury that knocked him out of the lineup temporarily.
[+] Enlarge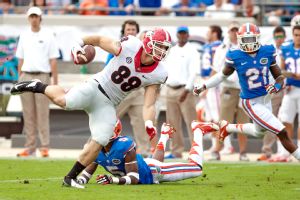 Rob Foldy/USA TODAY SportsWith Arthur Lynch back in the lineup, Georgia has one of its best pass-catcher back at tight end.
The Bulldogs will face Auburn without tight end
Jay Rome
, who injured his right foot in last week's win against Appalachian State, but should have starting tight end
Arthur Lynch
(ribs) and receiver
Chris Conley
(ankle) back Saturday.
"We're getting guys back, which is good, but they've also missed a lot of practice time, which on the flip side is a negative," Georgia offensive coordinator Mike Bobo said. "So we're having to work a little harder than we may have in the past in November. But I think it's good. I think it's a confidence boost to the offense."
Conley leads the team with 30 catches for 418 yards and four touchdowns, while Lynch's 15 catches for 243 yards rank fifth. But while their receiving production is obviously important, their simple presences in the lineup -- alongside players with whom they've shared so many practice and game reps -- are just as valuable.
"It definitely helps the chemistry because we went through camp all together and you kind of get that chemistry with those guys together," said Bennett, who posted a team-high five catches in each of the two games since he returned to the lineup. "You can lose it when you've got new guys coming in. But those other guys have done a heck of a job coming in and filling in for us. But when you have those veterans come back like Artie and Conley, it definitely brings a new confidence."
Lynch's return is well-timed, as Rome was the only other scholarship tight end who has played this season. Freshman
Jordan Davis
is on track to redshirt and walk-on
Hugh Williams
has played as a blocker, but has yet to catch a pass.
Meanwhile, Conley brings some punch back to a receiving corps that struggled during Georgia's midseason lull, when at one point they were without tailbacks
Todd Gurley
and Marshall and wideouts Mitchell, Scott-Wesley and Bennett. It's no coincidence that the Bulldogs lost to both Missouri and Vanderbilt during that period, or that they posted a paltry 221 yards of total offense -- including just 114 passing -- in the Vandy loss.
Conley seemed questionable at best for the Auburn game early in the week, but he was able to practice in non-contact drills on Wednesday which encouraged Bulldogs coach Mark Richt.
"I was telling the quarterback, 'He's going half-speed' or whatever, and Conley kind of ran a little faster than half-speed and snatched the ball," Richt said. "And Bobo was looking around like, 'We ought to let him practice a little bit.' … He didn't practice the whole time, but he got some work in and he looked good. I don't think he had any setbacks."
Richt insisted that Conley's role might still be limited should he play on Saturday, but he comes back to a group of receivers that had to look elsewhere for production during his two-game absence -- and might have found another spark in
Jonathon Rumph
.
The junior college transfer was sidelined by a hamstring injury throughout the first half of the season and played sparingly for the first time two weeks ago against Florida. He caught his first passes -- four of them, in fact, for 98 yards -- in the fourth quarter against Appalachian State, causing Bobo to remark that he's "actually getting excited about him" earlier this week.
"I had a feeling that I knew what I was going to do, but I really didn't want to mess up," Rumph said of his performance last week. "I focused a lot on the game plan, I knew everything I had to do and everybody on the sideline kept me lifted. The starters told me, 'All right, when you're opportunity comes, take advantage.' That's all it was, just making plays for my team."
For the first time in more than a month, Georgia's offense has a wide array of players who seem ready to do that. The main one to watch is likely Gurley, who is still not back to 100 percent and has not been able to handle a full workload in the two games since returning from an ankle injury. But quarterback
Aaron Murray
clearly has more established weapons at his disposal than he has had in weeks, and that can only be a positive sign for the Bulldogs.
"The more guys you get out there that Murray feels comfortable with, I think, the better," Bobo said.
August, 20, 2013
Aug 20
7:00
AM ET
ATHENS, Ga. -- Life is significantly less stressful for John Lilly these days in Georgia's tight ends meeting room.
This time a year ago, Lilly was coaching two talented -- and yet vastly inexperienced -- tight ends in
Arthur Lynch
and
Jay Rome
, plus true freshman
Ty Smith
, after
Orson Charles
jumped to the NFL and Aron White graduated. Today the Bulldogs seem to be on solid footing at the position after Lynch and Rome emerged as productive receivers and reliable blockers.
"It's a fun room to be in right now," said Lilly, Georgia's tight ends coach. "They've had a little experience, they've had a little taste of it and now it's, 'Let's get better. Let's see how good we can be,' rather than, 'Let's just figure out where to line up and what to do and how to do it.' So that is exciting. Every guy that's in that room kind of has the same attitude."
Thanks in part to injuries that robbed the Bulldogs' receiving corps of its depth, Lynch and Rome accepted larger roles in Georgia's passing game in the second half of last season. Lynch made 18 of his 24 catches for 283 of his 431 yards after the midway point of the regular season -- a stretch in which Rome also made nine of his 11 catches and hauled in both of his touchdowns.
[+] Enlarge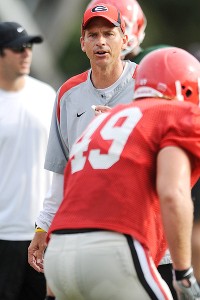 Radi Nabulsi/ESPNGeorgia assistant John Lilly is excited about his group of tight ends this season.
Such production breeds confidence, Lynch said.
"You don't really worry about that last play. If you made a mistake, you made a mistake," Lynch said. "You're numb to certain scenarios, but you also realize there's more expectations. You're not working to get around using the tight ends. I think the coaches are very much into involving the tight end."
Although inexperience was the group's biggest concern last season, depth was also a factor with just the three scholarship players on the Bulldogs' roster. Depth remains an issue today after off-the-field issues led to Smith's departure from the program, with freshman
Jordan Davis
replacing him as the third scholarship tight end alongside walk-on veterans
Hugh Williams
and
Greg Mulkey
.
Davis isn't especially similar to Smith -- who appeared in eight games last fall -- but he is in a similar position as a likely freshman contributor simply because of the Bulldogs' positional depth.
"Jordan knows the position he's in," Lilly said. "I think he's got a lot of tools to work with. He's a guy that is very, very conscientious, almost to the point of being overly serious. He needs to relax sometimes. But I do think he's a guy that's trying to be on an accelerated program to learn what to do and how to do it."
At 6-foot-4 and 232 pounds -- up 20 since competing in the Georgia state track meet as a hurdler during the spring -- Davis already looks the part. He benefited recently from extra practice opportunities while an ankle sprain sidelined Rome, but admitted that Lilly does occasionally scold him for pressing during those practice reps.
"He gets on me sometimes about that because I really want to be able to contribute this year," Davis said. "Sometimes he'll correct me on a mistake that I make -- and it'll be just a regular correction, not anything loud or anything. But I take everything pretty serious."
As long as Lynch and Rome remain healthy, however, Davis' time to become a heavy contributor will be next season at the earliest. He knows this season will be useful from a learning perspective -- and he has two solid leaders to follow.
Lynch, a preseason All-SEC pick, is typically listed among the top senior tight end prospects for next year's NFL draft after a more-than-serviceable first season as a starter. He's trying to ignore the preseason acclaim for now, however, and his reasoning is sure to please Georgia fans who believe the many NFL prospects on last year's team grew distracted by their pro possibilities.
"It's cool for that recognition and for those lists to be out there in the eyes and minds of scouts. It's good for immediate exposure. But if I don't match what I did last year and try to expand upon it, then it doesn't really mean much," Lynch said.
"I don't really put too much stock in it. Maybe I would've if we won the national championship last year and I wouldn't have been so intense to win every game. But I think that's my most important thing."
August, 25, 2012
8/25/12
6:00
AM ET
ATHENS, Ga. -- Georgia tight end
Hugh Williams
grew up playing offensive line in a run-heavy triple-option offense where even the receivers caught only a few passes.
So what has been the most difficult part of his offseason transition to a position that might require him to catch a pass here and there?
"The catching," Williams said with a laugh.
To continue reading this article you must be an Insider
August, 18, 2012
8/18/12
10:09
AM ET
ATHENS, Ga. -- Entering college always comes with its share of culture shock for a true freshman, but luckily for Georgia tight end
Ty Flournoy-Smith
, he gets by with a little help from some friends.
The Moultrie, Ga., native was preceded at Georgia last year by a Colquitt County High School teammate,
Xzavier Ward
, and arrived in Athens this summer alongside another former Packer, walk-on offensive lineman
Preston Mobley
.
"It's great to have people up here you know," Flournoy-Smith said. "That way you're not a strange face. You're just, whenever you need help, you can go to X."
August, 10, 2012
8/10/12
1:54
PM ET
ATHENS, Ga. -- Georgia coach Mark Richt confirmed after Friday's practice that true freshman quarterback
Faton Bauta
is likely in line for a redshirt season this fall.
Bauta is the newcomer in a deep group of quarterbacks that includes All-SEC starter
Aaron Murray
, junior
Hutson Mason
, redshirt freshman
Christian LeMay
and walk-on
Parker Welch
, so the incoming freshman has not been getting many practice reps this preseason.
"It's just a matter of learning, and sometimes it is harder to learn when you're trying to learn with a [small] amount of opportunities," Richt said. "But we're not expecting him to have to play for us this year. More than likely he'll redshirt."
To continue reading this article you must be an Insider
August, 9, 2012
8/09/12
3:46
PM ET
ATHENS, Ga. -- Georgia's staff didn't waste any time trying to forge a bond between the new kicker-punter tandem to replace Blair Walsh and Drew Butler.
When freshman kicker
Marshall Morgan
and punter
Collin Barber
arrived on campus this summer, they roomed together on campus and struck a fast friendship.
"Me and Marshall have become really good friends," Barber said after Thursday's practice. "We've roomed together and we see each other every day and depend on each other. We've gotten to where we can depend on each other and hold each other accountable."
To continue reading this article you must be an Insider
August, 6, 2012
8/06/12
7:32
PM ET
ATHENS, Ga. -- Jay Rome realizes his best chance to play professional sports likely will come in football, but that does not mean he plans to step away from another of his athletic loves, basketball.
Although the redshirt freshman tight end figures to be much more heavily involved with the football team this fall, he still intends to return to Georgia's basketball team after the season ends.
"I plan on playing, and Coach Fox plans on me to play, too," Rome said after Monday morning's practice. "But all of that is going to come around come January. My main focus right now is football. Even though I did do a bit this summer with the basketball team, it was mostly just for fun and to have a little extra exercise. But when that time comes, I do plan on playing again."
To continue reading this article you must be an Insider
ESPN Juco Top 50 Released