Georgia Bulldogs:

Greg McGarity
April, 2, 2013
4/02/13
3:52
PM ET
ATHENS, Ga. -- In announcing changes to Georgia's uniforms on Tuesday, Bulldogs athletic director Greg McGarity wanted to make one thing perfectly clear.
"Those that might have a fear that we're changing the uniform, fear not," McGarity said. "That is not happening."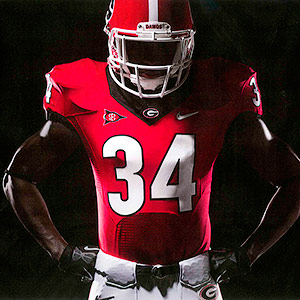 Courtesy of UGa Sports CommunicationsGeorgia announced a subtle rebranding of its logos and uniform styles Tuesday.
He meant that Georgia's trademark "Power G" will still be the centerpiece logo for all Bulldogs teams -- "that mark will never be altered as long as I'm here," McGarity said -- and that the school's traditional red, black and silver color schemes will remain the same. But there will be some subtle changes in the uniforms, field markings and facility signage, plus a new secondary bulldog head logo to complement the traditional "G."
UGA partnered Nike over the last 15 months to develop the uniform scheme and a new consistent font, "Bulldog Bold," to display on all athletic uniforms -- as opposed to years past, where various Bulldogs teams featured many different font and numbering styles on their game-day apparel.
"Probably every team had a different font, number font, letter font and it really didn't bring some clarity to our program as far as one font being consistent with the University of Georgia," McGarity said. "What this did, it helped us simplify and clearly define our brand and again, provide a consistent look across our athletics program."
Georgia's football, basketball and track and field teams will wear the updated uniforms in the 2013-14 competition seasons. All other teams will phase in new uniforms over the next two years, following their normal purchasing cycles.
February, 16, 2013
2/16/13
7:00
AM ET
ATHENS, Ga. -- Perhaps the biggest news to surface around DawgNation this week was that the UGA Athletic Association's board of directors
approved a raise and contract extension for football coach Mark Richt
, extending his deal through 2017 and pushing his base pay to $3.2 million.
[+] Enlarge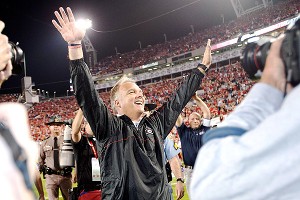 Jeff Vest/Icon SMIOn the heels of Georgia's 12-2 season, coach Mark Richt was rewaarded with a raise and contract extension.
Athletic director Greg McGarity said after the board meeting that he expects to offer a pay raise to offensive coordinator Mike Bobo, as well, although he did not yet have any specifics to divulge.
Otherwise, the time between national signing day and spring practice (which starts March 2) is typically quiet around the football program. The players are participating in offseason workouts and mat drills, and the 13 newcomers who enrolled in January are getting familiar with their surroundings on campus.
We focused on several of those newcomers in stories this week:
To continue reading this article you must be an Insider
February, 7, 2013
2/07/13
12:13
PM ET
ATHENS, Ga. -- Although he played coy on the subject at Wednesday's national signing day press conference, Georgia defensive coordinator Todd Grantham finally confirmed that he has received attention from at least one NFL club.

UGA athletic director Greg McGarity revealed as much in a statement released to the press on Thursday morning.

"In accordance with his contractual obligation, Todd Grantham notified me Wednesday night of the New Orleans Saints' interest in interviewing him for the defensive coordinator position," McGarity said.


February, 6, 2013
2/06/13
6:26
PM ET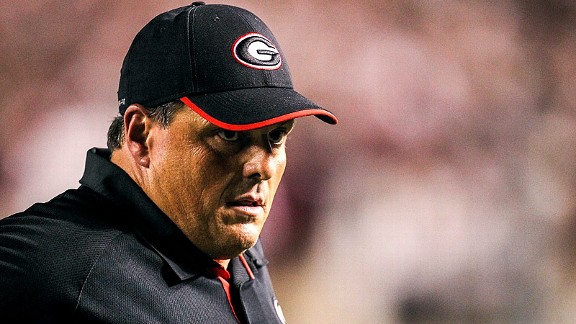 Daniel Shirey/US PresswireWill he or won't he? UGA D-coordinator Todd Grantham isn't saying much about NFL teams courting him, though he did indicate that some conversations, however insignificant, have occurred.
ATHENS, Ga. -- After Georgia's national signing day press conference this afternoon, defensive coordinator Todd Grantham addressed in general terms the published reports that
he is a candidate for multiple NFL job openings
.
Grantham's message: He hadn't spoken to Bulldogs coach Mark Richt or athletic director Greg McGarity about specific job openings, as required by terms in his contract, because there was nothing to discuss. Not yet, anyway.
"If I feel like I need to discuss something, I have a great relationship with Coach Richt and Greg and I would definitely do that from that standpoint," Grantham said. "For me, the most important thing is doing a great job at Georgia because I like my job here. At the same time, as you move forward, if opportunities came up, I don't think it's fair to comment on every particular one because then all I'd be doing is talking about the rumors and innuendos and those kind of things, and then I couldn't do my job."
October, 18, 2012
10/18/12
3:46
PM ET
ATHENS, Ga. -- The SEC office released the conference's 2013 football schedule Thursday afternoon, and while it is only a one-year setup -- the league hopes to develop a long-term scheduling system for 2014 and beyond -- it does address one of Bulldogs fans' biggest gripes.

Every other season since 1996, Georgia has played Tennessee and Vanderbilt on consecutive weekends, playing both games in Athens one year and making trips to Knoxville and Nashville on back-to-back weekends the next season. In 2013, the midseason trips to Tennessee are broken up by an Oct. 12 home game against Missouri.

Perhaps the two most-discussed facets of the schedule will be how a scheduling quirk will bring the Bulldogs back to Auburn next year for back-to-back seasons, and that the South Carolina game, which before this season had been Georgia's SEC opener every season since 1992, moves back to the front of the schedule.

"The 2013 schedule will obviously be very challenging," UGA athletic director Greg McGarity said in a university release. "Our number one priority throughout this process was to protect our long-standing rivalry game against Auburn, and in order to keep this series intact, it necessitated a return to Auburn in 2013. We will start working on the 2014 rotating SEC schedule this Spring, and we can confirm that Auburn will be returning to Athens in 2014."

Let's dig into some of the finer points of the Bulldogs' new league slate:


September, 26, 2012
9/26/12
2:19
PM ET
ATHENS, Ga. -- Georgia self-imposed six sanctions last week as a result of a secondary recruiting violation committed by offensive coordinator Mike Bobo in May.

Bobo is prohibited from recruiting off campus for 30 days following an incident at the NCAA Tennis Championships in May, when he and a recruiting intern escorted an unnamed recruit on an unofficial visit and his mother into Georgia's Dan Magill Tennis Complex without paying the $8 admission during a campus tour.

Admission to UGA tennis matches is free during the regular season, but failing to pay admission to a postseason event violated NCAA Bylaw 13.7.2.4 and a UGA ticket office staff employee reported the violation to Georgia's compliance office.

In addition to Bobo's recruiting limitation, Georgia athletic director Greg McGarity informed SEC Commissioner Mike Slive in a Sept. 17 letter that UGA will reduce by two the number of allowed off-campus contacts with the prospect, prohibit on- or off-campus contact with the prospect for 30 days, require restitution from the prospect (his family has already submitted $20 payment) and declare him temporarily ineligible, and issue a letter of reprimand to Bobo.


August, 2, 2012
8/02/12
7:15
PM ET
ATHENS, Ga. -- Georgia finally shed some light on
Kolton Houston
's NCAA eligibility issues at Thursday's season-opening news conference. Unfortunately for the redshirt sophomore offensive lineman, his case remains unresolved.
As a result, Georgia opened preseason practice without knowing when one of its top offensive linemen -- who completed spring practice as the starting right tackle -- will be available to play.
"

The bottom line is he's been tested probably more times than anybody in the history of college football and we're 100 percent certain that he's not continued to take this thing.

"

-- Georgia coach Mark Richt, on OL Kolton Houston's eligibility issue
"It's been tough because obviously it's something that he didn't want and it's not really something that he can control, either," offensive guard
Chris Burnette
said of Houston, who continues to test positive for steroid use more than two years after unknowingly being administered the drug in the wake of shoulder surgery in 2009, according to UGA medical staffers.
Georgia's staff has tested Houston repeatedly since he initially tested positive in April 2010 for the anabolic steroid Norandrolone and those tests show that he has not used a performance-enhancing substance since, but enough trace elements of the drug remain in his system that he continues to test positive.
"It's just tough having to see that and seeing how much talent he has and how much ability he has and him having to just sit on the sideline and wait; it's tough," Burnette said. "Hopefully, all of this can get resolved maybe before the season starts, because I would be ecstatic to see him out there finally."
June, 7, 2012
6/07/12
11:16
PM ET
ATHENS, Ga. -- When breaking down the terms of Mark Richt's new three-year contract extension, there is far more to detail than what
one news story
allows -- particularly if you want the story to remain readable for a general audience.
Georgia will still pay him essentially the same base salary, $2.81 million, and he is now under contract through 2016, but there are a number of changes to compensation and the conditions of the deal. One good thing about a blog is that it gives us a space to explain in better detail how Richt's arrangement with UGA has changed.
Here is a breakdown of four key elements in the new 33-page contract that the UGA Athletic Association's executive board approved Thursday evening:
To continue reading this article you must be an Insider
May, 30, 2012
5/30/12
11:18
AM ET
By
DawgNation staff
| ESPN.com
Kipp Adams of ESPN.com's DawgNation joined 680 The Fan on Wednesday morning to talk about the art of recruiting in 2012 with Chuck Dowdle on the Georgia Bulldog Roundtable. Athletic director Greg McGarity was also on to discuss college football playoffs and the latest regarding the pending contract extension for head coach Mark Richt.
Listen to the show here.
May, 24, 2012
5/24/12
1:28
PM ET
GREENSBORO, Ga. -- Georgia athletic director Greg McGarity proposed more than $1 million in renovations to Foley Field in a presentation before the UGA Athletic Association Board of Directors on Thursday. He revealed after the board meeting that baseball coach David Perno will be around to see those renovations.

Although Perno's Bulldogs (31-26, 14-15 SEC) are at risk of missing the NCAA tournament after losing their last four games -- the last two of the regular season at hapless Alabama and both games in the SEC tournament -- McGarity confirmed that he wants Perno to remain as Georgia's coach.

"We'll sit down at the end of the season," McGarity said. "Dave will be back next year. It's not even an issue."


May, 24, 2012
5/24/12
12:48
PM ET
GREENSBORO, Ga. -- The Mark Richt contract news out of Thursday's University of Georgia Athletic Association Board of Directors meeting is that there is still no news.

"We are so close to getting the final T's crossed and I's dotted," athletic director Greg McGarity told the board. "We're there. It's just a matter of legal wording that needs taking care of and deal points that have all been covered."

McGarity informed the board that Richt's $2.8 million base pay "basically stays where it is right now," although the two sides are finalizing several changes to Richt's deal.


May, 4, 2012
5/04/12
6:11
PM ET
ATHENS, Ga. -- Georgia announced late Friday afternoon that gymnastics coach Jay Clark has resigned effective immediately.

"I have accepted Jay's resignation and want to express our appreciation to him for his many significant contributions to our program over a long period of time," Georgia athletic director Greg McGarity said in a university release. "Our gymnastics program has always been a source of pride for the Athletic Association and Jay has conducted the program in an admirable manner during his years of service to UGA.

"We certainly wish him the very best in his future endeavors. We'll move as quickly as possible to begin the process of finding the best possible head coach to lead our program."


February, 8, 2012
2/08/12
9:48
PM ET
ATHENS, Ga. -- The UGA Athletic Association Board of Directors' quarterly meeting Wednesday brought little in the way of decisive action, but plenty of discussion of what is on the horizon.
Included in the discussions were contract talks, the possibility of a college football playoff and scheduling possibilities in the newly reconfigured 14-team SEC.
The board -- which had two members openly express concerns about the direction of Georgia's football program at its last meeting -- met in executive session to discuss a contract extension for head football coach Mark Richt.
To continue reading this article you must be an Insider
October, 25, 2011
10/25/11
3:33
PM ET
The NCAA released its annual Graduation Success Rate report on Tuesday afternoon and the academic sore spot in UGA's recent athletic history -- the men's basketball program -- continues to show progress.

UGA's overall GSR score for all athletes increased to 79 percent from 77 a year ago. That represents the school's highest score since the NCAA implemented the GSR report in 2005.

The GSR report measures a four-year graduation percentage within the six-year window the NCAA provides for student-athletes to graduate. This year's report tracks the graduation rates for freshmen who enrolled in 2001, 2002, 2003 and 2004.

Georgia's men's basketball program hovered for several years around a 20-percent graduation success rate, but the Bulldogs' percentage increased to 43 percent this year. It was 36 percent last year and 18 in 2009.

Georgia still ranks well below the overall NCAA four-year average for men's basketball, which this year is 66 percent.

Georgia's football program dropped from 68 percent to 65 -- a total that ranks fifth in the SEC. Vanderbilt football was the league's top performer at 86 percent, followed by LSU (77), Florida (76), Alabama (69), Georgia, Auburn (63), Mississippi State (62), Kentucky (61), Tennessee (61), Arkansas (56), Ole Miss (54) and South Carolina (39).

The Bulldogs had two scholarship sports teams post a 100-percent score on the GSR report: women's tennis -- which scored 100 each year between 2007 and 2011 -- and women's gymnastics, which posted its third consecutive 100.

Other Georgia scores: baseball (64), men's cross country/track (79), men's golf (86), men's swimming and diving (89), men's tennis (75), women's basketball (77), women's cross country/track (85), women's golf (88), soccer (95), softball (95), women's swimming and diving (88), volleyball (92) and equestrian (72).

The single-year average GSR for all NCAA student-athletes who enrolled in 2004 is 82 percent, a new high score on the report.

However, Georgia's scores in each of the four main sports rank below the four-year national average in that sport. Georgia scored 65 in football, two points below the average of 67 percent among FBS schools; it scored 43 in men's basketball, while the average is 66; UGA scored 64 percent in baseball, eight points below the average of 72 percent; and it scored 77 percent in women's basketball, while the four-year average is 84.

Georgia athletic director Greg McGarity's quote in the university release:
"We're glad to see our trend upward in most every sport continue and especially the dramatic improvement in our sports over the last five-year period. It's obvious our coaches and academic counseling staff over the last several years have been diligent in their support of our student-athletes and their success. It's extremely gratifying to have 13 of our 17 sports improve or remain the same from last year and the decline in the other four was minimal. While most of the report is encouraging in the big picture, we still have plenty of room to continue improving and will remain totally committed to working hard with our student-athletes in all academic areas."

Some notes from the NCAA press release concerning its methodology:
The NCAA developed the Graduation Success Rate to more accurately assess the academic success of student-athletes. The rate holds institutions accountable for transfer students, unlike the federal graduation rate. The GSR also accounts for midyear enrollees and is calculated for every sport.

Under the calculation, institutions are not penalized for outgoing transfer students who leave in good academic standing. The outgoing transfers are included in the receiving institution's GSR cohort.

By counting incoming transfer students and midyear enrollees, the GSR increases the total number of student-athletes tracked for graduation by 37 percent.

The most recent Division I Graduation Success Rates are based on the four entering classes from 2001-2002 through 2004-05. Nearly 105,000 student-athletes are included in the most recent four classes using the GSR methodology.
Scene and Heard: Top 10 Predictions
SEC SCOREBOARD
Thursday, 8/28
Saturday, 8/30
Sunday, 8/31