Georgia Bulldogs:

Demarcus Robinson
October, 1, 2013
10/01/13
8:00
AM ET
From year-to-year the Southeastern Conference is full of recruiting battles. This year it appears that Alabama and LSU could have some of the best recruiting battles we've seen in a while. Here's a closer look at the five top recruiting rivalries in the SEC.
To continue reading this article you must be an Insider
August, 23, 2013
8/23/13
11:00
AM ET
It's time to dip into the SEC recruiting mailbag and answer your questions. Because of the amount of questions we've received, we won't be able to get to all of them today -- but we encourage you to ask again next week by tweeting your questions to
@DerekTysonESPN
.
@Watup_Haun: Who's going to land Clifton Garrett (Plainfield, Ill./Plainfield South)?
Derek Tyson:
LSU appears to be the team to beat for the ESPN 300 linebacker and by a wide margin. Garrett will also take official visits to Ole Miss, Tennessee and Florida. LSU is shaping up to have a monster recruiting class, and right now I expect Garrett to be a part of it.
[+] Enlarge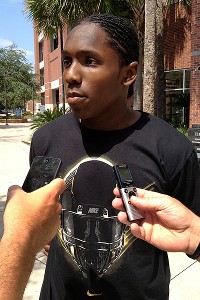 Jeff Barlis/ESPNESPN 300 athlete Adoree' Jackson likes Florida's football and track teams and met with both head coaches during his July visit.
@UltimateLemons: What's your gut tell you about Florida landing Adoree' [Jackson] and [Lorenzo] Carter? Do the Gators even contend realistically for Raekwon [McMillan]?
DT:
Though Florida has made a big impression on the five-star prospects, Jackson and Carter, the Gators certainly have their work cut out for them. Florida's track program recently won a national championship, and track will be a key factor in Jackson's decision. USC, Michigan, Tennessee and LSU are a few other schools squarely in the mix for the talented athlete. Carter has Florida in the lead with Alabama and Georgia slightly trailing. At this point, Florida feels good about both prospects, but there is still a long way to go.
As for McMillan, the Gators are in his top five, but Ohio State is clearly the team to beat. Clemson and Georgia are also near the top of his list. He is talented enough for the Gators to continue to pursue him, but at this time, I don't think he will end up in Gainesville.
@UTSportsAction1: Do the SEC school's generally look for three-star athletes and above?
DT:
If you ask coaches in college football if they only recruit players ranked three-stars or higher, you would probably get the same overwhelming response. "We don't look at stars," they would likely say, and probably in a stern voice. The truth is, a lot goes in to our recruiting rankings, and we don't just rate someone a four-star prospect for the fun of it. A lot of research goes in to every player we rank. I know for a fact that some college coaches do in fact look at rankings, but they wouldn't be doing their job if they didn't do their own evaluations. So to answer your question, I think college coaches use rankings as a general guide to see if they are missing out on certain prospects or to see which other schools have offered players, but they do their own evaluations and decide who they want to offer based on a number of factors.
Looking back at last year's SEC recruiting classes and excluding kickers, long snappers, punters and junior college, prep school and transfer players, SEC teams only signed seven players who were ranked two-star prospects or below:
2013:
Alabama - 0, Auburn - 0, Arkansas - 1 (WR
Drew Morgan
), Florida - 0, Georgia - 0, LSU - 0, Kentucky - 2 (QB
Reese Phillips
and OT
Justin Day
), Mississippi State - 0, Ole Miss - 0, South Carolina - 1 (DE
Kendal Vickers
), Tennessee - 0, Missouri - 2 (OC
Alec Abeln
and DT
DeQuinton Osborne
), Texas A&M - 0, Vanderbilt - 1 (ATH
C.J. Duncan
)
The numbers speak for themselves. Though it's uncommon, the SEC does generally recruit prospects ranked three-star prospects or higher.
@madveal37: The SEC has widespread talent. What true freshmen are going to have a big impact in 2013?
DT:
This is not really a recruiting question, but because I had an opportunity to see a lot of these players in high school and at all-star games over the last few years, I'll give my opinion on a few I think could make an early impact.
DE Robert Nkemdiche (Ole Miss)
: There is a reason he was the consensus No. 1-ranked player in the country. He will play early and often for the Rebels and should make a big impact.
WR Demarcus Robinson (Florida):
Florida needs help at wide receiver, and Robinson has been a star in fall camp.
RB Alex Collins (Arkansas):
Collins was a steal for the Razorbacks. His explosiveness will earn him carries early in his career.
DE Carl Lawson and DE Elijah Daniel (Auburn):
With Auburn's top defensive lineman,
Dee Ford
, out for the opener, it should open the door for Lawson and Daniel to make their marks.
LB Reuben Foster (Alabama):
It's not easy to get on the field early at Alabama, but head coach Nick Saban has specifically singled out Foster for having a strong camp. Look for him to see the field early.
@miketag98: Will UK lose a lot of recruits if [Mark] Stoops flops on the field? Like if they go 4-8?
DT:
I really don't believe so. Obviously Kentucky hasn't had much success on the field over the past few years, and recruits understand that. What Stoops is selling to these recruits is an opportunity to help turn the football program around. The opportunity to play early is another key selling point. As long as Kentucky shows improvement and is at least competitive in most of their games, I don't see recruits bailing on this impressive recruiting class.
@bigjpl2: Does Georgia have a real shot at Elijah Hood (Charlotte, N.C./Charlotte Catholic)?
DT:
Hood, the former Notre Dame commit, was considering North Carolina, Georgia and Virginia Tech before he originally committed to the Fighting Irish. Now that he has backed off his pledge, you would think Georgia might still be in the picture. However, Georgia has two stud running backs in
Keith Marshall
and
Todd Gurley
. The Bulldogs signed four-star running back
A.J. Turman
last year, and they have two ESPN 300 running backs (
Sony Michel
and
Nick Chubb
) committed this year. Chubb is very comparable to Hood as far as size, speed and build. At this point, Georgia doesn't have a pressing need at the position and could risk losing one of its other commits if the coaches put the full-court press on Hood. Though Hood might still show interest in Georgia, in my opinion, I don't believe he will end up in Athens.
@BlakeBoswell1: What are the odds [Leonard] Fournette stays in LA?
In my opinion, the odds are in LSU's favor to land Fournette -- but not by much. Alabama is certainly putting up a big fight. In fact, Fournette was in Tuscaloosa last weekend with
Cameron Robinson
and
Laurence Jones
to watch the Crimson Tide scrimmage. I think this will be a battle to the end, but Alabama has a lot of depth at running back, and LSU's proximity to home gives the Tigers the slight advantage.
February, 25, 2013
2/25/13
4:45
PM ET
We're taking a look at key storylines for all seven teams in the SEC Eastern Division.
Chris will take a look at the main issues in the Western Division on Tuesday.

FLORIDA GATORS
Spring start:
March 13
Spring game:
April 6
What to watch:
1. Rebuilding at linebacker: The Gators have to start figuring out the linebacker situation. Do they go with redshirt junior Michael Taylor in the middle, who's a run-stuffer but has to come off the field in passing downs? Or do they try sophomore Antonio Morrison, who played outside at 218 pounds as a freshman and has hopefully bulked up a bit? The most likely scenario is Morrison, which means UF has to find a weakside linebacker. That could be freshmen early enrollee Daniel McMillian or Alex Anzalone. The strongside starter should be, at least entering the spring, redshirt junior Neiron Ball.

2. Robinson's growth: One of the most scrutinized players this spring will be receiver Demarcus Robinson. He was the only one of UF's five receiver signees to enroll early and he'll be given every chance to win a starting spot. UF's receivers have been below average for the past three seasons and the Gators desperately need someone to become a consistent playmaker. The 6-foot-2, 195-pound Robinson, who caught 53 passes for more than 1,000 yards and scored 15 touchdowns as a senior at Fort Valley (Ga.) Peach County, is going to be under a lot of pressure to produce.

3. Driskel's confidence: Quarterback Jeff Driskel returns for his second season as a starter, and it'll be interesting to see how much he improves on his decision-making, release and accuracy. He's sure to benefit from not splitting reps 50-50 any longer. But just as important as Driskel's development is what happens behind him with redshirt junior Tyler Murphy and redshirt freshman Skyler Mornhinweg. Neither has thrown a pass in a college game. Why is that important? Because Driskel has not been able to stay healthy in his first two seasons in Gainesville. He missed starts as a freshman and sophomore because of ankle injuries. UF was lucky in 2012 to have Jacoby Brissett, who had played significantly as John Brantley's backup in 2011. With Brissett transferring to NC State, the Gators no longer have that luxury.

-- Mike DiRocco, GatorNation
GEORGIA BULLDOGS

Spring start:
March 2
Spring game:
April 6
What to watch:
1. Rebuilding the defense: Georgia begins its transition to a completely new collection of defensive talent this spring. No longer are Jarvis Jones, Alec Ogletree, Shawn Williams, Bacarri Rambo and John Jenkins on the roster. In fact, the Bulldogs must replace a total of 12 defensive players who were either full-time starters or key contributors, and at some positions, the possible replacements have little to no college experience. That makes this a pivotal time for defensive coordinator Todd Grantham to begin identifying which players will fill those roles, as the Bulldogs will have little margin for error when they open the season against Clemson's explosive offense Aug. 31. Some names to watch this spring: Josh Harvey-Clemons, Sheldon Dawson and Jonathan Taylor.

2. Developing the youngsters: The good news for Grantham and the other defensive coaches is that they brought in a number of January enrollees who should be able to help immediately. Junior college transfer Chris Mayes and John Atkins hope to fill the void left by Jenkins and Kwame Geathers at noseguard. Ryne Rankin and Reggie Carter will immediately enter the mix at linebacker. And cornerback Reggie Wilkerson and safeties Tray Matthews and Quincy Mauger can help address Georgia's depth shortage in a secondary that lost four key players. Georgia's 13 early enrollees -- more than twice as many January enrollees as Georgia coach Mark Richt has ever brought in before -- will help fill needs on both sides of the ball, but the defense is where the newcomers were most necessary.

3. Offensive line reps: For the most part, Georgia used the same starting lineup along its offensive line throughout the 2012 season and each of those starters should return this fall. But two of those starters -- right guard Chris Burnette and right tackle John Theus -- underwent surgeries during the offseason and will miss all or part of spring practice. There was a good chance that offensive line coach Will Friend was going to deploy more players in his line rotation this fall anyway, but the valuable practice reps that will be available with Burnette and Theus sidelined might make a deeper rotation even more likely. Someone still has to take advantage of the opportunity, however.

-- David Ching, DawgNation
KENTUCKY WILDCATS

Spring start:
March 18
Spring game:
April 13
What to watch:
1. Getting used to new coaches: New coaches are roaming Kentucky's football facility this spring. Mark Stoops brings a more defense-minded philosophy to Lexington, but his coaches will have to get things going on offense if the Wildcats are going to improve in 2013. There are always awkward moments when transitioning to a new staff, but now's the time to create valuable trust on both sides.

2. Finding offensive playmakers: Stoops might have a strong defensive background, but the Wildcats have to find answers on offense. Injuries were an issue last year, but for two straight years the Wildcats had real problems finding consistent playmakers on offense. Quarterback Maxwell Smith returns, but he needs more than just wide receiver La'Rod King to help him. Getting running back Josh Clemons back would be big, but expect the coaches to turn to a young group of receivers and running backs.

3. Tougher team: One thing Stoops wants from his players is a tougher identity. Stoops wants to build a stronger team from the ground up. He's taking a page from Texas A&M coach Kevin Sumlin when it comes to preparing his new team. This spring, we'll see just how much of an emphasis the coaches put on the weight room and conditioning before hitting the football side of things.
MISSOURI TIGERS

Spring start:
March 12
Spring game:
April 20
What to watch:
1. Josey's rehab: The Tigers will be keeping tabs on running back Henry Josey, who missed all of 2012 after suffering a devastating knee injury midway through the 2011 season. He was the Big 12's best running back before his injury and Mizzou needs him back. The staff has had to be patient, but this could be a crucial time in his rehab, as he looks to get his football legs back.

2. Rebuilding the front seven: Mizzou must replace a lot in its front seven. Star defensive tackle Sheldon Richardson's absence leaves a gaping hole up front, while linebackers Will Ebner and Zaviar Gooden must be replaced. Lucas Vincent will be first in line to take Richardson's spot, while Darvin Ruise, Donovan Bonner and Michael Scherer are three players to watch at linebacker.

3. Toughening up: Injuries ravaged Mizzou's offense last year, but it's clear that Mizzou wasn't in the playing shape that it would have liked to be in during its first year in the SEC. Injuries are part of the game, but gaining that toughness factor this spring will go a long way for the Tigers in 2013. The SEC is more than just a grind, and the Tigers found out the hard way that conditioning in this league is a little different than in the Big 12.
SOUTH CAROLINA GAMECOCKS

Spring start:
March 5
Spring game:
April 13
What to watch:
1. New backfield options: Marcus Lattimore and Kenny Miles are gone, so the Gamecocks will have to turn to their younger backs. Brandon Wilds missed the 2012 season with an ankle injury but should return this spring. Rising sophomore Mike Davis has all the tools to be a big-time player for the Gamecocks and could be the top option in the Gamecocks' backfield. Shifty Shon Carson also returns from a knee injury, so South Carolina will have a solid group to work with this spring.

2. QB controversy: Quarterback Connor Shaw might be tabbed as the starter, but with him out for the spring, Dylan Thompson will take the first-team reps. Thompson proved to be very valuable last year, and both will play this fall. Thompson has become one of the most vocal players on the team and is a strong leader. A good spring could bring some real controversy to the position.

3. Holes at linebacker: South Carolina will be without its two-deep at linebacker and "Spur" DeVonte Holloman is gone. That means there's a lot of work to be done when it comes to finding viable replacements. Sharrod Golightly will get the early crack at the Spur, and keep an eye on Kaiwan Lews, who was a true freshman last year and has a lot of potential to work with.
TENNESSEE VOLUNTEERS

Spring start:
March 9
Spring game:
April 20
What to watch:
1. New coaches on the block: With Butch Jones in town, the Vols have to get used to their third head coach in five springs. Jones and his staff have helped bring some much-needed energy to the program since arriving, but now it's time to develop vital on-field chemistry between the coaches and players.

2. Receiving help: The Vols' offense took at major hit at receiver. Juniors Justin Hunter and Cordarrelle Patterson made the leap to the NFL, while deep threat Zach Rogers and tight end Mychal Rivera graduated. Tennessee will now turn to a host of inexperienced receiving targets, including rising sophomore Alton Howard and early enrollee Paul Harris.

3. Quarterback battle: With Tyler Bray leaving for the NFL, Tennessee will work with rising junior Justin Worley and redshirt freshman Nathan Peterman. Worley has the edge when it comes to game experience, but with a new staff, this battle will be wide-open. They will also need to make strides before freshmen Joshua Dobbs and Riley Ferguson get on campus this summer.
VANDERBILT COMMODORES

Spring start:
March 15
Spring game:
April 13
What to watch:
1. Replacing Rodgers: Quarterback Jordan Rodgers is gone. The good news is Austyn Carta-Samuels has good experience after starting two years at Wyoming before transferring to Vandy. Redshirt freshman Patton Robinette is someone the coaches also are excited about, especially with his dual-threat ability, and should really push Carta-Samuels the whole spring.

2. Running back battles: The Commodores lost star running back Zac Stacy, so veteran Wesley Tate, who has bounced around positions, and rising sophomore Brian Kimbrow, who has the do-everything look to him at running back, will share reps. Warren Norman and Jerron Seymour also return, making for quite the talented backfield.

3. Keeping the edge: Now that another very successful season under James Franklin is over, the Dores have to continue to keep the edge that got them to where they are. It might sound like a broken record, but Vanderbilt still has to prove that it isn't the Vandy of old. People are certainly taking the Dores more seriously, but keeping that edge is important for more growth.
February, 8, 2013
2/08/13
11:13
AM ET
Now that the pens have been put to paper, the classes have been announced and most of your attention has turned to the 2014 recruiting season, it's time to take a look at how each school in the SEC did when it came to immediately filling needs.
We're checking out what all 14 teams did to fill holes, and we're looking at which holes still remain. We'll start with the SEC East:
FLORIDA

Needs filled: LB, OL, DB, WR, DT -
- The Gators had one of the most complete classes out there, finishing second in the ESPN class rankings. Florida landed the top cornerback prospect (No. 3 nationally) in
Vernon Hargreaves III
, defensive tackles
Caleb Brantley
and
Jay-nard Bostwick
, linebackers
Daniel McMillian
and
Matt Rolin
, and safeties
Keanu Neal
and
Marcell Harris
. The Gators also added five wide receivers, including ESPN 150 members
Demarcus Robinson
and
Ahmad Fulwood
.
Holes remaining: DE --
Will Muschamp seemed thrilled with his class, but he probably would have liked to get a least one more defensive end. The Gators missed on a few, including
Tashawn Bower
, who almost picked the Gators before signing with LSU. Four-stars
Jordan Sherit
and
Antonio Riles
were the only defensive ends in this class.
GEORGIA

Needs filled: ILB, S --
The Bulldogs had to replace a few bodies at middle linebacker, and did so by signing four. The star of the group is four-star ESPN 300 member
Johnny O'Neal
, who is the No. 5 inside linebacker in the county.
Tim Kimbrough
and
Ryne Rankin
, both ESPN 300 members, also signed with the Dawgs. Georgia also signed five safeties, including two junior college standouts. The top safety in this class is ESPN 150 member
Tray Matthews
.
Holes remaining: Elite OT, elite RB, elite DT --
Mark Richt was pleased with his 32-man signing class, but he knows it could have been better if a few elite players had signed with Georgia. The Dawgs barely missed on top offensive tackle
Laremy Tunsil
(Ole Miss), No. 4 running back
Alvin Kamara
(Alabama) and No. 2 defensive tackle
Montravius Adams
(Auburn).
January, 7, 2013
1/07/13
12:43
PM ET
With just under a month to go until signing day, commitments and decommitments are popping up all over the place. On Monday morning it was Clemson's turn to lose a top prospect as ESPN 300 wide receiver
Ryan Jenkins
(Marietta, Ga./Lassiter) dropped the Tigers in favor of another orange-themed program.
"I decommitted from Clemson and I will be going to the University of Tennessee," Jenkins said in a text to RecruitingNation.
Jenkins is a legacy commitment for Tennessee. His father, Lee Jenkins, was a standout cornerback for the Volunteers. Jenkins went through most of his recruitment without an offer from Tennessee but new head coach Butch Jones reached out to the four-star receiver shortly after Jones was settled in Knoxville. The offer to play for the Vols came just three days after Jones was announced as the new coach.
Jenkins is the second Peach State wide receiver to recently decommit from the Tigers.
Demarcus Robinson
(Fort Valley, Ga./Peach County) told Derek Tyson on Monday morning that he planned to enroll at Florida after having flipped to Florida once, then back to Clemson and then finally decommitting all together. Clemson also suffered the decommitments of No. 1 prospect
Robert Nkemdiche
(Loganville, Ga./Grayson) and
David Kamara
(Loganville, Ga./Grayson) in November. The Tigers failed to sign any prospect from the Peach State last year.
To continue reading this article you must be an Insider
November, 12, 2012
11/12/12
1:45
PM ET
• After decommitting from Clemson, No. 1 prospect
Robert Nkemdiche
(Loganville, Ga./Grayson) took an unofficial visit to Ole Miss with his parents, older brother and his father's niece on Saturday. While there had been speculation that Nkemdiche could commit to the Rebels over the weekend, there was no public change in his recruitment. Nkemdiche and his mother have stated that no final decision is imminent, with his mother targeting national signing day and Nkemdiche saying he will probably announce in January but that he could also commit when it feels right. The Rebels are still considered the team to beat, but the longer his recruitment lasts, the more opportunities that programs such as Alabama, Clemson and Georgia will have to convince Nkemdiche that their program is the best fit for him.
• ESPN 150 defensive lineman
Montravius Adams
(Vienna, Ga./Dooly County) took an unofficial visit to Clemson over the weekend, giving his mother her first look at the Tigers. The visit went well, and Clemson has a chance to secure a coveted official visit from the No. 7 prospect in the country. Next up for Adams is taking in a high school game with ESPN 300 offensive lineman
Brandon Kublanow
(Marietta, Ga./Walton), a University of Georgia commitment who has become close friends with Adams over the past few months. Adams will take his mom on another unofficial visit to Alabama Nov. 24 for the Iron Bowl against Auburn. Then his official visits will begin, with LSU, Oregon and USC mentioned as three Adams plans to take. Clemson has positioned itself to have a strong chance at being No. 4.
• Another ESPN 150 target on campus at Clemson over the weekend was
Tramel Terry
(Goose Creek, S.C./Goose Creek), a University of Georgia commitment. Terry took his first official visit to Clemson last month, and returned after visiting Georgia Nov. 3 for the Ole Miss game. Clemson is selling Terry on making an impact in the backfield, while Georgia has mentioned the possibility of playing multiple positions in Athens. He told DawgNation after his official visit that he was solid to the Bulldogs and intended on enrolling early at Georgia, but his recruitment warrants monitoring with the return trip to Clemson. He is expected to take his official to Georgia next month.
To continue reading this article you must be an Insider
June, 3, 2012
6/03/12
2:40
PM ET
GAINESVILLE, Fla. -- Four-star wide receiver
Demarcus Robinson
(Fort Valley, Ga./Peach County) visited Florida on Saturday and came away impressed with the Gators. The 6-foot-2, 200-pound athlete said although his trip to Gainesville was short, he learned a lot about what Florida has to offer.
"It was pretty good," Robinson said. "It was quick, but it went well. I went in the stadium and walked around the weight room. They showed me around the campus like where the bats come out at night and where the alligators are."
Robinson, who also holds offers from Notre Dame, Clemson, South Carolina, Oklahoma, Georgia and Tennessee, had a chance to meet with Florida offensive coordinator Brent Pease while on his visit.
To continue reading this article you must be an Insider
March, 30, 2012
3/30/12
11:58
AM ET
The Peach State has firmly entrenched itself in producing the fourth most FBS talent in the country, and while Georgia has some growing to do before it catches California in overall talent, it trails only Florida in FBS signees per player. Over 100 prospects from Georgia in the 2013 class are already claiming offers, with close to 10 in the 2014 class. In today's Peach State Quick Hitters, one glance at the number of schools mentioned by the prospects and it becomes evident that colleges from coast to coast are hoping to sign players from Georgia. Get the latest on several of the top recruits in Georgia right here:
Defensive lineman Marcus Adams (East Point, Ga./Tri-Cities) says Ole Miss has offered.
Running back Peyton Barber (Alpharetta, Ga./Milton) says Ole Miss, Purdue, Clemson, UNC, Vanderbilt, UCF, Kentucky and Louisville have offered.
To continue reading this article you must be an Insider
March, 26, 2012
3/26/12
11:17
AM ET
Last year, wide receiver
Demarcus Robinson
(Fort Valley, Ga./Peach County) was tops among all juniors in Georgia, with 1,024 receiving yards, good for fifth overall in the state. Robinson had 10 receiving touchdowns, as well as five on the ground. Schools including Florida, Georgia, Notre Dame and Oklahoma have offered the 6-foot-2, 200-pound ESPNU 150 prospect, and on Saturday, Robinson was in Athens for the first time since the fall, when he visited for the South Carolina game in September.
"It went good," Robinson said of his latest trip. "I was able to watch some of the practice, talk to some of the players and see some of the campus. There were about 40 other prospects in town, and we got to watch some of the highlights on the big screen on the stadium."
Robinson said the visit helped Georgia in his eyes, and his family also enjoyed themselves.
To continue reading this article you must be an Insider
March, 24, 2012
3/24/12
2:52
PM ET
ATHENS, Ga. -- Georgia's players practiced before a larger crowd than normal Saturday as the Bulldogs' coaching staff hosted dozens of high school prospects and family members for junior day.
The onlookers included a number of high schoolers who are mulling offers like linebacker
Johnny O'Neal
(Dublin, Ga./West Laurens), offensive lineman
Josh Cardiello
(Buford, Ga./Buford) and receiver
Demarcus Robinson
(Fort Valley, Ga./Peach County), as well as Maryland offensive lineman
Max Garcia
, a Norcross, Ga., native who plans to transfer and is considering Georgia.
While the practice and the day's other events allowed the coaching staff to show off their program, Saturday's practice also gave some Bulldogs another chance to show themselves off to the coaching staff.
To continue reading this article you must be an Insider
December, 9, 2011
12/09/11
1:26
PM ET
The GHSA football state championships are set to take place this weekend at the Georgia Dome, and there will be plenty of BCS caliber talent on the field. All five games will be broadcast live on Georgia Public Broadcasting TV, as well as streaming online at
gpb.org/sports
. The game schedule is:
Friday, December 9, 2011
4:30pm Class AA - Calhoun vs. Buford
To continue reading this article you must be an Insider
November, 11, 2011
11/11/11
5:07
PM ET
Friday night marks the beginning of the high school football state playoffs in Georgia, and there are several University of Georgia commitments and targets competing in hopes of bringing home a championship to their respective school. Here is a rundown of which prospects are still playing football in the Peach State.
AAAAA classification
Camden County (10-0) has outscored its opponents 549-60, including 117-0 in the last two games. Class of 2013 quarterback
Brice Ramsey
, a Georgia commitment, is 66 of 102 passing for 1,053 yards and 15 touchdowns, with only two interceptions. He also has rushed for four touchdowns, kicked a 57-yard field goal, and put 48 of his 64 punts into the end zone. Camden County will host North Cobb (5-5). ... Colquitt County (8-2) will host East Coweta (7-3), with the Packers being 7-2 in the playoffs under coach Rush Probst. Tight end
Ty Smith
, a Georgia commit, leads the team with 32 catches for 474 yards and five touchdowns. ... A pair of preseason championship favorites will square off in the first round on Saturday when Lowndes (7-3) plays against Stephenson (9-1) at Hallford Stadium. Lowndes features do-everything athlete
Josh Harvey-Clemons
, a Georgia target who can play quarterback, wide receiver and safety, but will most likely be an outside linebacker at the next level. On offense, Harvey-Clemons has 159 yards and three touchdowns on the ground, with 144 yards receiving and one touchdown. On defense, Harvey-Clemons has 105 tackles, two sacks and three interceptions. ... Martin Luther King (10-0) will host Coffee (5-5) at Hallford Stadium Friday night, and the Lions are coming off a thrilling 50-49 win over Stephenson in which wide receiver
Blake Tibbs
had a performance for the ages. Tibbs, a Georgia commitment, had nine catches for 166 yards and four touchdowns, but it was his 82-yard kickoff return that won the game for M.L. King with only 16 seconds on the clock. Tibbs has caught 53 passes for 782 yards and 14 touchdowns for the year. Linebacker
Kenderius Whitehead
has 80 tackles, 14 sacks and 14 other tackles for losses, one for a safety, so far this year. ... Newnan (5-5), which features junior Georgia commitment
Tray Matthews
at safety, squeaks into the playoffs and will travel to Valdosta (8-2) to take on the Wildcats. ... Walton (10-0) is set to host Milton (4-6) tonight, with 2013 offensive lineman
Brandon Kublanow
, a Georgia target, being a big reason for the Raiders success on offense. Walton has averaged almost 39 points per game, and Kublanow has helped pave the way for 2013 running back Tyren Jones rushing for 1,657 yards and 20 touchdowns.
To continue reading this article you must be an Insider
November, 8, 2011
11/08/11
9:38
AM ET
Heading into Friday's regular season finale versus Baldwin, junior wide receiver
Demarcus Robinson
(Fort Valley, Ga./Peach County) had tallied 38 catches for 752 yards and eight touchdowns, along with 120 yards and five touchdowns on the ground. Although the 6-foot-2, 200-pound wideout has seen opposing defenses double him with a safety over the top all year long, Robinson told DawgNation Friday night that he has not had too much trouble getting open.
Georgia offered Robinson last December, and Florida has offered as well. Schools such as Alabama, South Carolina and Tennessee could be next. With coaches like John Lilly, Charlie Weis and Kirby Smart staying in regular contact, Robinson feels he could provide a nice target for teams in the Southeastern Conference.
"A lot of SEC programs have said they like me, and I see myself as a possession wide receiver that can block and catch the ball really well at that level," Robinson said. "I can do it all."
To continue reading this article you must be an Insider
Scene and Heard: Top 10 Predictions
SEC SCOREBOARD
Thursday, 8/28
Saturday, 8/30
Sunday, 8/31