Georgia Bulldogs:

Daryl Jones
April, 3, 2014
4/03/14
12:15
PM ET
It's not exactly like the fall, but at least we'll have some football (spring) games this weekend. Let's take a quick spin around the SEC and see what's happening as the final spring scrimmages approach at some of the league's schools.
October, 15, 2013
10/15/13
5:30
AM ET
The Early Offer is RecruitingNation's regular feature, giving you a daily dose of recruiting in the mornings. Today's offerings: Georgia suspended its recruiting director over minor NCAA violations but several of his peers question why they're violations; No. 1 receiver
Malachi Dupre
said he has talked with one of the nation's top players about attending the same school together; and the rosters to one of the top all-star games in the nation are set.
<!—offer-->
Suspended delivery

Georgia handed director of on-campus football recruiting Daryl Jones a five-day suspension over a number of minor recruiting violations it reported to the SEC. According to a report in the Athens Banner-Herald, the suspension was a result of violations with a number of mailings to high school juniors. The violations occurred after recruiting staffers mailed letters to prospects two days before the Sept. 1 date when NCAA rules say juniors may receive first mailings and because some mailings featured Georgia's new secondary logo, the Nike swoosh and labels promoting the upcoming South Carolina game. I reached out to a few folks in the same position of Jones at another schools in the SEC to gauge reaction from his peers. Based on the reports, everybody I visited with agreed Jones did violate NCAA rules but all were quick to defend him. "Rules are rules," one SEC West on-campus recruiting coordinator said. "However, it's crazy to think you can't put a sticker on an envelope, but it's OK to send 100, 200 letters a day to a kid if you want to. Something's wrong with this picture."
August, 9, 2013
8/09/13
10:00
AM ET
When Georgia's longtime defensive line coach Rodney Garner left at the end of last year to take a job at Auburn, Bulldogs fans naturally wondered which assistant Mark Richt would choose as Garner's successor as recruiting coordinator.
What they didn't realize was that Richt already had someone on staff who, in addition to his on-field duties, was handling many of the administrative responsibilities that once occupied Garner.
Meet Daryl Jones, Georgia's director of on-campus recruiting.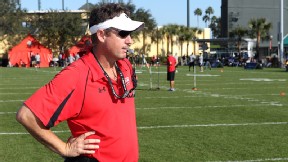 Miller Safrit/ESPNDaryl Jones was a coach and event manager before taking over the on-campus recruiting duties at Georgia.
"The animal of recruiting has grown so large that it's not reasonable for a position coach to try to train his position, to be involved in scheme, to sit in staff meetings and then handle the minutiae that's involved in recruiting -- the logistics, the budget consciousness and all those types of things," Jones explained.
"So there needed to be someone in place that could handle the logistics while the recruiting coordinator could hover above and see that everyone was tied in staff-wise. … The need was, because of the increased amount of unofficial visits, official visits and other compliance issues, somebody needed to be home making sure the details were taken care of. So that was the need for my position."
It helps that Jones held a wide range of positions before joining the staff last May. In approximately 20 years as a coach, he worked at both the college and high school level in Georgia. He also was a football camp manager with Under Armour and its All-America game, which typically features some of the nation's top high school football seniors.
"I've touched all those bases," Jones said. "… But when I was working for a sports marketing group, for an apparel company in the sports marketing department, I still took a coach's approach to things."
However, Jones is not able to do everything that a full-fledged assistant coach like Garner could.
For instance, he can't visit prospects and evaluate their performances away from Georgia's campus. Instead, his main purpose is to tackle logistics and recruiting strategy -- he is specifically responsible for arranging the Bulldogs' many official and unofficial visits -- a position that most major programs need.
"I don't know of a single SEC school that doesn't have someone with some type of title doing what it is that I'm doing," Jones said. "And even more importantly, I don't know of a single SEC school that doesn't have a department like ours that does that. You've got to understand, the position is the position, but the important part is the group that is handling recruiting."
Jones helms a small group of three full-time staffers, plus an intern and a team of 8-10 student assistants. Their duties include facilitating prospects' visits, mailing recruiting information, coordinating the coaching staff's recruiting travel plans, developing Georgia's social networking strategies and acquiring, organizing and distributing prospect videos.
A never-ending array of minutiae falls into the recruiting staff's laps, and it's their job to keep the operation running efficiently.
"There are things that this office has to coordinate so the coaches can use it as a central warehouse. ... There's natural coordination that occurs that we do in this office," Jones told ESPN.com in an interview shortly before national signing day.
And it's that logistical management that is truly helping UGA's coaches.
"It's not fair for a coach to know as he's checking off boxes on our 2013 class where every 2014 prospect in his area is, so that's where they tie us in," Jones said.
"So, for example, a coach may say, 'Hey I'm heading from Tifton to Warner Robins. On the way there, where do I need to pop into where there's 2014 guys?' And then our department, we say, 'Get the D-lineman that's here, the wide receiver that's there and the one that's over here on the way to Warner Robins.' "
Richt said at the end of last season that "there's no rule" dictating that he name one of his nine on-field assistants recruiting coordinator. So he may some day pass Garner's former title along to an assistant ... or he may never have an assistant hold that title again.
"It was just too much for a guy to coach ball, recruit and be the recruiting coordinator in the true sense of the word where he was doing everything," Richt said. "There are some things done organizationally that don't have to be by an on-the-field coach, plus all coaches recruit."
For now, at least, Jones and his staff will handle the in-house aspects of Georgia's recruiting enterprise by helping the coaches' efforts unfold as smoothly as possible.
Seeing the end product of their work is what makes their jobs particularly satisfying -- when on fall Saturdays, the players they helped the coaches identify and attract to Georgia help the Bulldogs achieve a victory.
"I take enjoyment after success of being successful. I enjoy putting in a good day's work and seeing it at some point in the future become successful," Jones said. "I have a sense of accomplishment with that, and I think all of us are that way."
June, 12, 2013
6/12/13
9:00
AM ET
From June 5-15, Georgia will host a kicking camp, eight varsity day camp sessions, three youth camp sessions, three 7-on-7 tournaments with 50 high school teams with 20 players on each team, including an OL/DL camp that coincides with the 7-on-7, and for the first time, an overnight camp. In the middle of that is last Saturday's Mark Richt Camp which brought in over 300 prospective student athletes, the largest group in the camp's history. Add that up, and you have a lot of football players to get on campus.
Here's where Daryl Jones, UGA's director of on campus recruiting, comes in. His job is to make sure the prospects and coaches are where they are supposed to be, and the event runs smoothly. But Jones' efforts start long before the first player steps foot on campus.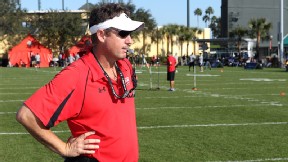 Miller Safrit/ESPNDaryl Jones is a veteran of planning prospect events.
"A camp like this does not start with the camp, it starts with the preparation of the camp," Jones said. "My department generates material that advocates for our camps. Then during the course of 168 [spring evaluation days], our staff is all over the place at different parts of the country, continuously pushing to get kids on campus during the course of the summer."
This registration push is the key to getting the talent in Athens in June and July, and it is no easy task.
"We sent out close to 2,500 email communications about the variety of camps that we have," Jones said. "That is on top of the amount of emails we send out to every high school coach in the state of Georgia about our 7-on-7 camp and then we sent out 7-on-7 information to all of the coaches of guys we have extended offers or guys close to offers so we can get good evaluations. It all starts on the front end driving registration by creating mail outs and camp brochures."
From April 15 to May 31, assistant coaches are on the road for the spring evaluation period, all the while trying to persuade prospects to get to Athens.
"What a lot of folks don't realize is the amount of effort, really personal time, effort that goes into Facebooking, tweeting, and talking to high school coaches," Jones said. "Guys are traveling all over the state, on the phone, talking to coaches, answering the emails, Facebook messages and Twitter requests about the camp they are legally allowed to respond to. It is all generated through the position coaches and there is so much effort put into it -- it would be hard to describe unless you actually have lived in the world of it."
This year Georgia's staff had prospects from California calling at 1 a.m. ET to inquire about the possibility of attending the camps. Thei diligence likely paid off as 2015 quarterbacks
Ricky Town
(Ventura, Calif./St. Bonaventure) and
Kyle Kearns
(Pleasanton, Calif./Foothill) to campus for this weekend's overnight camp.
The Bulldogs' director of football operations, Brad Hutcherson, works side by side with Jones and UGA's compliance department in constructing the camps while avoiding any possible recruiting violations.
But they are not alone.
"We utilize every staff member we can muster, plus volunteers and we would not be able to pull it off without the assistance of the high school coaches who come and help us for very minimal compensation under the NCAA allowances," Jones said. "I promise you they put in way more effort than we are allowed to pay them for."
When the camps begin, the football staff will spend time the night before the 7-on-7 events to discuss each team involved. They evaluate each school and the prospects involved.
After the 7-on-7 camp ends each day, the coaches go from evaluating the talent on the field, to scrambling to do individual drill work with 20-25 varsity day campers, and there was also little down time for the football staff in between sessions on Saturday during the Mark Richt Camp.
"We flew upstairs and organized our thoughts on what we had just seen and what actions needed to be taken going forward," Jones said. "Then we go back down and begin the second session."
After this weekend's overnight camp, Georgia will hold one more camp, Dawg Night on July 12. Between now and then, the staff won't be resting on their laurels.
"We will have constant recruiting, constant Facebook, constant Twitter and Coach Richt will be calling high school coaches to encourage their players to come to us," Jones said. "It really is a group effort of the high school coaches supporting us, us communicating with the high school coaches and players within compliance. Then once they get on campus, it is my job to make sure we are organized in our camp settings."
March, 12, 2013
3/12/13
1:50
PM ET
The Georgia football team had a week of practice before heading off for spring break. On Tuesday morning DawgNation joined ESPN's Athens affiliate 960 AM The Ref to talk about spring camp, recruiting and more. Some of the questions addressed were:
How will the new recruiting rules affect prospects?
What do recruits think about unlimited contacts from college coaches?
What will the role be of the compliance directors going forward?
Is there a better option than what has been proposed?
Listen to the show
here
.
August, 18, 2012
8/18/12
9:00
AM ET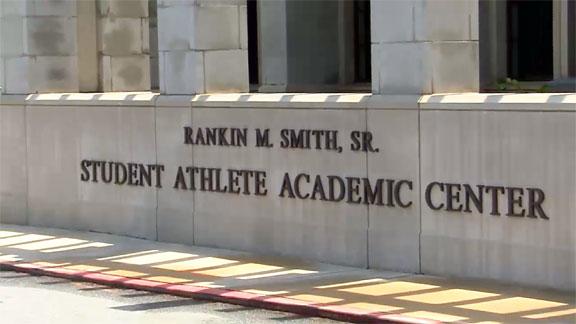 With slightly less than six months to go until national signing day, the University of Georgia has 26 verbal commitments for the 2013 class. By next week the Bulldogs could be looking at 30. Of course, not one of those committed players has taken an official visit to Georgia -- but all have been to Athens, Ga., at some point during their recruitment. Georgia's director of recruiting and assistant head coach Rodney Garner knows the value of those unofficial visits.
"Unofficial visits now are just so critical," Garner said. "When I first got in it there weren't many unofficial visits in the summer. You may have had four or five kids come in at some point in the summertime but it wasn't anything like it is today. Since Signing Day here in February, there have only been two or three weekends where we did not have kids on our campus. It has just totally changed to where it is 365 days a year."
The constant flow of recruits has helped Georgia pick up a large commitment class, but Garner feels that the pace is unsustainable.
May, 29, 2012
5/29/12
11:10
AM ET
By
DawgNation Staff
| ESPN.com
The annual
SEC meetings are underway
, so there was a lot for DawgNation's Radi Nabulsi to talk about on ESPN's Athens affiliate 960 The Ref on Tuesday morning. With playoffs and scheduling on the agenda, this year's meetings should be very interesting. Some of the topics discussed in this podcast were:
May, 22, 2012
5/22/12
11:36
AM ET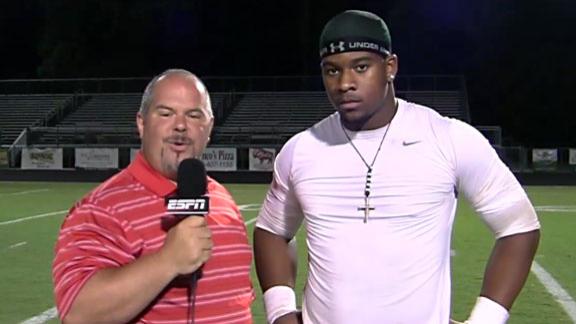 LOGANVILLE, Ga. -- Last Thursday, Mark Richt announced that Daryl Jones had joined the Bulldogs' staff as the new director of on-campus recruiting. The news spread quickly, especially to the nation's No. 1 recruit.
"I just heard the news that he went to Georgia from a college coach today," said
Robert Nkemdiche
(Loganville, Ga./Grayson). "He and I were so close, and now he is at Georgia doing his thing."
To continue reading this article you must be an Insider
May, 18, 2012
5/18/12
10:21
AM ET
The search for Georgia's director of on-campus recruiting is finally finished. Coach Mark Richt announced Thursday that Daryl Jones, an accomplished high school coach and athletic director, had been named to the position.

Jones' hiring represents the end of a search that lasted months, with many stops and starts. Two candidates were offered the job, only to later have the offer rescinded for either not living close enough or not having the prerequisite degree needed.

There has been a gap in the Bulldogs' staff ever since Charlie Cantor abruptly resigned the assistant recruiting coordinator job last July. Richt jettisoned that post and replaced it the new Director of On-Campus Recruiting position.

Peach State: Top Tier Recruiting Ground?
SEC SCOREBOARD
Thursday, 9/3
Saturday, 9/5