Georgia Bulldogs:

Clemson Tigers
November, 25, 2013
11/25/13
5:00
AM ET
1. When many schools begin concluding their seasons next week, expect firings and hirings to be done quickly. The NCAA recently revamped its recruiting calendar, hearing the plea of coaches for whom recruiting has become a year-round affair. The calendar took away about two weeks out of the December-January contact period. That means new coaches have that much less time to try to assemble recruiting classes or keep the ones their predecessors assembled.
2. So who gets the four BCS at-large bids? Either No. 14 Northern Illinois or No. 16 Fresno State is in line for an invite. The SEC, with four teams in the top 10, will get one. If No. 6 Clemson beats No. 10 South Carolina, it will get one. That would leave one for the Big Ten or the Big 12. No. 11 Michigan State can solve that by beating No. 3 Ohio State. That would leave No. 9 Baylor on the outside looking in.
3. Sentiment got to me this week when I filled out my
ESPN Heisman
straw poll. Georgia quarterback
Aaron Murray
is on my ballot, a tribute to one of the best college careers in recent memory. Murray, who tore his ACL in the Bulldogs' rout of Kentucky, will miss his final two games at Georgia after starting the first 52 (35-17). Murray not only leaves with every major SEC career record, but he will be honored next month in New York as a finalist for the Campbell Trophy -- the Academic Heisman. Murray represents the best of the sport.
September, 3, 2013
9/03/13
11:00
AM ET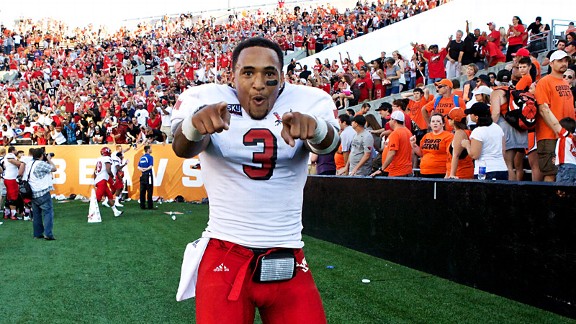 Jaime Valdez/USA TODAY SportsEastern Washington QB Vernon Adams celebrates after defeating the Oregon State Beavers 49-46.
For four months, ESPN The Magazine will follow the march to the BCS championship game, moment by moment, culminating in our Story of the Season double issue on Dec. 27. Every Tuesday, Mag senior writer Ryan McGee will pick the previous week's biggest moments and tell you why they'll have the most impact on potential BCS title matchups. If you disagree, send a tweet to @ESPNMag and tell us why your moment matters more, using the hashtag #StoryoftheSeason. Who knows? Your moment (and tweet) might just end up in our issue.
IT'S SUCH A
cliché to say that football is a game of inches. But tell me how many clichés ain't the truth?
Just a few days before the start of the 2013 season, HBO aired an episode of "The Newsroom" during which a preachy-yet-usually-correct anchorman (played by Jeff Daniels) opines about near-misses. How the direction of American history has been written as much by wobbly chairs and weird weather as it has by well-intentioned men and women. "So sometimes," Daniels explained, leaned over a table, "it's just the one thing."
On Saturday night, Mark Richt was also leaning over a table. He had just emerged from the visitors' locker room at Memorial Stadium, having addressed his
Georgia Bulldogs
after a crushing 38-35 season-opening loss to the
Clemson Tigers
. Richt didn't steal any lines from Daniels' monologue, but what he said would have fit snugly into the script.
"It'd been interesting to know what would have happened if we'd have made that short-range field goal."
With 1:05 remaining in the third quarter, the entire Georgia sideline joined Richt to watch a 20-yard field goal that would pull the Bulldogs even at 31-31. The coach was a little more anxious than normal about the chip shot because the kicker was
Patrick Beless
. The walk-on redshirt sophomore's only other live-action field goal wasn't even a live-action field goal. It was a 23-yarder in the team's G-Day spring scrimmage.
But Beless had been pressed into service because starting kicker
Marshall Morgan
was suspended by Richt after his boating under the influence arrest in late July. Throughout the rest of summer practice, Richt directly forbade all players involved with the kicking game to talk to the media, from punters to placekickers to holders to likable long-snapper
Nathan Theus
. Leading up to the weekend, Richt joked that everyone would know what the plan was "by halftime of the Clemson game."
The initial speculation was that another walk-on, junior
Adam Erickson
, would replace Morgan. But in the end, Richt decided that keeping Erickson, the backup punter, as the regular holder of Theus' snaps would provide stability.
The Bulldogs' opening drive ended in a punt, but their next four offensive series finished in the end zone. On all four PATs, Theus snapped it cleanly to Erickson, who placed it onto the turf perfectly for Beless, who flawlessly booted the ball through the uprights. Their first and only field goal attempt was little more than another extra point, with the line of scrimmage at the 2 and Erickson on his knees at the 10.
Before the snap, Theus, a 6-foot-3, 241-pound redshirt sophomore, sensed a space open off his right shoulder, but off his left shoulder, he felt crowded. It was 6-1, 285-pound
DeShawn Williams
, aka Big Nuke 99, who had his head stuck in as close to being offside without actually being called offside as is humanly possible. Big Nuke's left shoulder was essentially resting on Theus' left shoulder.
In the fraction of a second before the ball was snapped, all 20 men who were crammed along the line of scrimmage held completely still … except for Williams, who stomped his feet: left foot once, right foot twice.
The long-snapper's goal is to keep his actions smooth amid chaos, applying even pressure from both hands and moving both arms back in a perfectly parallel throwing motion, then seamlessly raising upright into a crouched blocking position. But Theus gave it a little too much gas with the left arm, the arm that had been all but resting against Williams' shoulder. The good news was that he got a quick launch into Williams, driving the now-standing tackle out of the likely path of the football. The bad news was that the ball wasn't coming.
For Richt, who has long stuck to the practice of not having a special-teams coach, the most frustrating aspect of watching the play on Sunday morning was that the snap still looked pretty good. Erickson still nearly pulled it down. He managed to keep his knees bent and get his hands on the football. Had it been two knuckles lower, or had the 5-foot-10 holder been able to extend his arms perhaps one more inch, he might have pulled it down and gotten it set for Beless … and who knows?
Instead, the ball fell to the turf and Erickson dived to smother it. Then he was smothered by Big Nuke. When Williams jumped up to celebrate, he crashed into a Georgia player, who promptly gave him a "get the hell off me" forearm shot. It was Theus, who didn't know that at that exact moment he was being identified by Brent Musberger on national television. That never happens for a guy like Theus, unless the situation has gone horribly wrong.
So did Georgia lose the game on that field goal try? No. As Richt explained during his postgame news conference, there were plenty of other chances to put Clemson away. The Bulldogs could have scored on the three plays leading up to the field goal attempt, all of them starting inside the Tigers' 6-yard line.
But on Saturday night, there was only one play with which Richt played "what if?" And with Georgia's and Clemson's schedules, it's a what-if that could have repercussions far beyond Aug. 31 and well beyond Death Valley. Georgia rolls into another top-10 matchup, hosting South Carolina. The Tigers will see the Gamecocks at regular season's end. If the Bulldogs win, they're still in the SEC East hunt. If Clemson loses, will we point to the Georgia win as proof the Tigers shouldn't be knocked out of the BCS title game?
In other words, we could still be talking about Theus' snap when we get to Pasadena in January.
"It's very disappointing, but that's football," UGA receiver
Justin Scott-Wesley
explained before the team boarded the bus back to Athens. "It's a game of inches.
Told you.
---
" Elsewhere in the cosmic tumblers department, it's not misguided to think that the weekend's slew of Davids slaying Goliaths could have far-reaching effects for other Goliaths as the season rolls along. When the
Oregon State Beavers
lose to Eastern Washington, it should send chills down the spine of the
Stanford Cardinal
, who narrowly escaped the Beavers one year ago and will travel to Corvallis on Oct. 26. Even a close game would hurt Stanford's national rep, not to mention those of the
USC Trojans
(Nov. 1) and
Oregon Ducks
(Nov. 29). Same scenario applies for the schools of the Big 12 if they get "upset" by the
Kansas State Wildcats
, who were beaten by two-time defending FCS champ North Dakota State ...
" But the biggest shock waves will likely be coming from Storrs, Conn., where the Huskies have started jackhammering the already thin ice beneath the Louisville Cardinals' national title hopes. The American Athletic Conference was a mess entering the season, but when Towson toppled UConn, the whole league went down another notch. The Huskies host
Teddy Bridgewater
on Nov. 8, a game they won at Louisville in OT last season.
" During NFL training camp, I had a conversation with former Appalachian State QB (current Carolina Panthers receiver) Armanti Edwards about being the little guys who beat the big guy and still have a chance to beat some other big guys. "I remember after we beat Michigan [in '07] how everyone talked about them the rest of the year. I've talked to guys who played them later that year and they all say they were so scared to lose to Michigan because it'd be like they lost to us, too." He mentioned Penn State and Florida, a pair of top-10 teams that fell to the Wolverines that year, as well as Notre Dame. Then he laughed. "We ended up wrecking a lot of people's seasons, didn't we?"
---
This year's version of Edwards is Eastern Washington quarterback
Vernon Adams
. Against then-No. 25 Oregon State, he was 23-of-30 for 411 yards and four TDs through the air and ran for 107 yards and two TDs on the ground. Anyone who follows FCS football already knew he had explosive capabilities, but this year he looks more in control of his talents. A big reason for that is time spent over the summer with another Washington-based QB (and current ESPN The Mag cover model), Russell Wilson.
Adams says they talked plenty about mechanics and football skills, but also about being the little guy. "We're the same height, and people have always tried to say he's too short. But he's had a lot of success. Perhaps I can, too."
So far, so good.
June, 24, 2013
6/24/13
12:45
PM ET
We asked you in our SportsNation poll which of the 2013 season openers involving SEC teams was the most attractive, and the Georgia-Clemson tilt was a runaway winner.


With more than 11,000 votes cast, the Aug. 31 matchup between the Bulldogs and Tigers in Death Valley (the ACC version) received 51 percent of the vote.
The Georgia-Clemson game would be my pick, too. For one, this will be the first meeting between the old rivals since 2003, and there have been some memorable games in the series, which dates back to 1897.
I can still hear the late Larry Munson bellowing, "Oh my God! Oh my God!" after Kevin Butler kicked a 60-yard field goal in the waning seconds to lift Georgia to a 26-23 win in 1984.
The Bulldogs have won the past five in the series. But in the 12 meetings prior to that, Clemson held a 6-5-1 advantage.
It's a great rivalry. The two campuses are separated by about 75 miles, and it's a game that means a great deal to both fan bases.
The season opener that came in second in our poll was LSU vs. TCU in Arlington, Texas. That game received 15 percent of the vote, and a close third was Alabama vs. Virginia Tech in the Chick-fil-A Kickoff Game, which received 14 percent of the vote.
August, 22, 2012
8/22/12
4:58
PM ET

Robert Nkemdiche committed to Clemson, but that didn't slow down his recruiting. DawgNation's Kipp Adams talks with the nation's top prospect about his recruitment since committing to Clemson, and his goals for the 2012 season.
June, 3, 2012
6/03/12
2:40
PM ET
GAINESVILLE, Fla. -- Four-star wide receiver
Demarcus Robinson
(Fort Valley, Ga./Peach County) visited Florida on Saturday and came away impressed with the Gators. The 6-foot-2, 200-pound athlete said although his trip to Gainesville was short, he learned a lot about what Florida has to offer.
"It was pretty good," Robinson said. "It was quick, but it went well. I went in the stadium and walked around the weight room. They showed me around the campus like where the bats come out at night and where the alligators are."
Robinson, who also holds offers from Notre Dame, Clemson, South Carolina, Oklahoma, Georgia and Tennessee, had a chance to meet with Florida offensive coordinator Brent Pease while on his visit.
To continue reading this article you must be an Insider
February, 13, 2012
2/13/12
11:34
AM ET
JACKSONVILLE, Fla. -- Five-star wide receiver prospect
Ahmad Fulwood
(Jacksonville, Fla./Bishop Kenny) will be one of the most highly recruited prospects in the state of Florida for the 2013 class, but he is likely headed out of state to play college football.
Fulwood lists Clemson, Alabama, USC, Arkansas, Georgia, Ohio State and Notre Dame as schools that he is most interested. The 6-foot-4, 200-pound receiver said that out of those schools, he likely will visit Georgia, Clemson, Ohio State and possibly USC this spring.
Noticeably missing are in-state schools Florida, Florida State and Miami. Fulwood said he is likely to leave the state to attend college. Fulwood, who is from New Jersey, said there is no particular reason he wants to leave the state.
To continue reading this article you must be an Insider
January, 4, 2012
1/04/12
1:05
PM ET
Running back
Mike Davis
(Stone Mountain, Ga./Stephenson) has been inadvertently raising and dashing the hopes of Georgia Bulldogs fans through the last week.
First, he told DawgNation he had decided on a school that "is close to home so my family can easily come see me." With Davis living just over an hour away from Athens, the Bulldogs seemed like a logical destination. Spirits rose in Athens at the thought of him joining
Keith Marshall
(Raleigh, N.C./Millbrook) in the backfield next year. But after talking to sources close to Davis, South Carolina seemed the more likely result. The letdown was palpable.
Then yesterday, Davis, who is currently in San Antonio preparing for the U.S. Army All-American Bowl, indicated to reporters that were he to choose this week, he likely would select the Bulldogs.
To continue reading this article you must be an Insider
November, 16, 2011
11/16/11
3:07
PM ET
On Wednesday afternoon, Raleigh (N.C.) Millbrook running back
Keith Marshall
named his final six college choices on Twitter.
He tweeted: "My finals schools are UGA, Clemson, Florida, Notre Dame, UNC, and South Carolina, in no particular order."
Marshall is the No. 6 player in the ESPNU 150 and the No. 2 running back in the nation. He said he will make his final college decision at the beginning of December.
Marshall recently
talked to ESPN.com's East Regional Coordinator Dave Hooker
about his official visit last week to Clemson.
To continue reading this article you must be an Insider
October, 25, 2011
10/25/11
11:04
AM ET
Kenderius Whitehead
(Lithonia, Ga./Martin Luther King High School) is not being pressured to go to the University of Georgia by his father, which might come as a surprise to anyone who has ever visited the elder Whitehead's man cave.
"My dad has a room full of UGA stuff," Whitehead said. "He and his family are big-time Dawg fans. He has a big Georgia Bulldog flag in there."
On Georgia game days Whitehead's dad will often be seen riding his red motorcycle with a "big red G on it," according to his son. So it stands to reason that the father would like his son to play for his favorite school. Not so, says Whitehead.
To continue reading this article you must be an Insider
Scene and Heard: Top 10 Predictions
SEC SCOREBOARD
Thursday, 8/28
Saturday, 8/30
Sunday, 8/31