Georgia Bulldogs:

2012 SEC spring meetings
May, 30, 2012
5/30/12
9:11
PM ET
DESTIN, Fla. -- My how quickly things can change when you get a lot of people with different ideas together in one room.

Hours after the consensus was that the SEC was set on moving to a 6-1-1 scheduling model beyond the 2012 season, some SEC coaches stepped in and gave their thoughts.

Now, it appears as though the model that SEC commissioner Mike Slive described as the "frontrunner" before the 2012 SEC spring meetings now has come competition.

May, 30, 2012
5/30/12
2:00
PM ET
DESTIN, Fla. -- Dan Mullen doesn't know how much his thoughts on this whole playoff thing will impact any decisions, but he has his own interesting idea on what a four-team playoff should look like.

Mississippi State's coach would like to see the semifinal for the playoff played on the Saturday before Christmas, which Mullen referred to as the "dead weekend," and have the national championship game played after New Year's Day. Teams still could play the other bowls between the semifinal and the final, Mullen said.

"I'd be a fan of that," Mullen said Tuesday at the SEC spring meetings.


May, 30, 2012
5/30/12
1:03
PM ET
DESTIN, Fla. – Alabama coach Nick Saban hasn't held back from talking about his disdain for placing only conference champions in a four-team playoff. He's very much for a four-team playoff, but he won't go for one that alienates teams by only picking the top four conference champions.

The whole reason any of this playoff talk even started is because people outside of the game are passionate about seeing one in college football. To take away the chance for the four BEST teams to play makes no sense to Saban.


May, 30, 2012
5/30/12
1:03
PM ET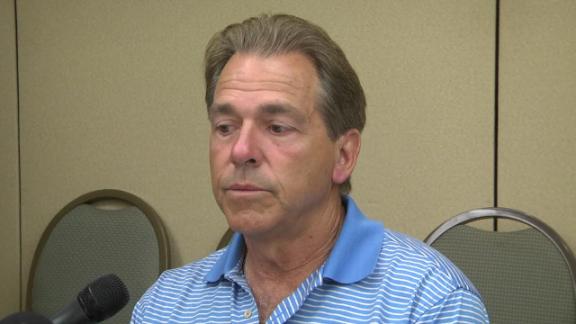 DESTIN, Fla. -- The idea of having a four-team playoff drifted into the 2012 SEC spring meetings and was met with a resounding "yes."
You would have been hard-pressed to find anyone toting an ounce of SEC pride who didn't like the idea of having the four best teams in the country playing for a chance to go to the national championship at season's end.
"I think the event is spectacular," LSU coach Les Miles said of a Final Four-like ending to the college football season. "Any play that is tournament-style and ends with a championship is preferred."
And one reason it's
really
preferred around these parts is that it'll give the SEC an even better shot at competing -- and winning -- more national championships. The conference dripping with power, confidence and championships stacked on championships wants more of those three things and believes it'll get them with this playoff model.
"If you take four teams that have won a conference championship, it will be a guarantee that only one of us could go," Georgia coach Mark Richt said. "If you had it the other way, we'd have a shot of two going. You can say it any way you want, but that's kind of what everyone's talking about. We also could be shut out in that scenario as well."
Hence why Big Ten commissioner Jim Delany had been so outspoken about having a four-team playoff constructed purely of conference champions. He knew it would somewhat level the playing field with the mighty SEC. More chances for the SEC means fewer for the Big Ten -- and Delany wanted to ensure Alabama-LSU never happened again.
[+] Enlarge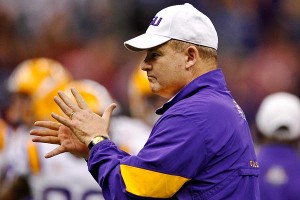 Derick E. Hingle/US PresswireLSU coach Les Miles is among those who doesn't want a playoff restricted to conference champions.
Unfortunately for Delany, you wouldn't always get No. 1 versus the true No. 4. A No. 5 or 6 could easily slide in there with a conference championship under its belt, hardly making this a battle of the top four.
But at the heart of this fight, the SEC is concerned with continuing its dominance. And coaches know that. Even if their school hasn't sniffed the BCS national championship game during its existence, they're still going to side with what benefits the league as a whole and generates a more powerful brand that it's attached to.
While Alabama coach Nick Saban called those clamoring for the conference champion mode "
self-absorbed
," the SEC is guilty of being a little self-absorbed as well.
"I'm not a fan of a four-team playoff if it only includes conference champions," Ole Miss coach Hugh Freeze said. "That's a negative for our conference. Our conference has proven it's possible that we should have two teams in it. So, I'm not in favor of anything that rules us not having more than one team in [the playoff]."
Under Delany's original idea, Alabama wouldn't be coming off its second national title in three years. But it also means LSU might have its second under Miles. Yet Miles, who would have benefited from not facing Alabama in the last BCS national championship, is against the conference championship idea.
"I want to be the team that wins the conference, plays the best teams that they can play, sees the best team in the championship game and wins it for the championship," Miles said. "Simply put: We wanted to play the best team in the country when we got there. And doggone it, we did."
SEC coaches know that a four-team playoff (or really any playoff at all) gives this conference an even better shot at maintaining the league's supremacy at a steady rate. The SEC has won six consecutive titles and could very well win its seventh this season. But if a playoff does come -- and it could come as soon as 2014 -- the SEC wants to make sure it's covered and has the opportunity get into that playoff each and every year.
The SEC won't win national titles forever. The streak is bound to end sooner or later, but the day a playoff comes where multiple SEC teams have a chance to get in, real fear will manifest itself throughout the rest of the college football world.
"I think it needs to be the four best teams in the country," Florida coach Will Muschamp said. "I don't think it needs to be the conference champions because in our league, we might have four of the best teams in the country."
May, 30, 2012
5/30/12
1:02
PM ET
DESTIN, Fla. -- When SEC commissioner Mike Slive and the rest of the SEC elites leave the 2012 SEC spring meetings later this week, the hope is that there will be a concrete scheduling format for the 2013 football season and possibly beyond.
The addition of Missouri and Texas A&M means teams will have to play six divisional games instead of five, making things a little complicated.
Right now, it looks as though the most likely format, which could be set as early as Friday, will be a 6-1-1 model. That gives teams six divisional games, one permanent crossover game and rotating crossover. The rotating crossover no longer would be a traditional two-year home-and-home series. It simply would be a one-year rotation. It's the same model that will be used for the 2012 season.

LSU coach Les Miles said he'd like the structure of future SEC schedules to be "definable," and wouldn't mind if the league re-examined how it chose permanent crossovers.
"Legitimately tell me about how you're picking crossover games," Miles said at the spring meetings Tuesday. "Is it the best team in the East, the best team in the West, top three and top three? OK, if you guys want to do that, let's do that. It might change the matches, but if you want to say, 'Well, we really are going to seed the best teams versus the lesser teams,' well, OK, let's do that, but define the structure and let's stay with it.
"In my mind, here's what happened: They added two teams this go-round, and very conceivably they could add another two. So let's build a structure that's desirable and helps build toward a champion."
Slive said talks would become more detailed as the week continued, and while he wouldn't go into detail about formats or permanent opponents, he did say he sensed that most of the schools wanted to keep their permanent crossover games.
Those games likely would be Alabama-Tennessee, Arkansas-Missouri, Auburn-Georgia, Florida-LSU, Kentucky-Mississippi State, Ole Miss-Vanderbilt and Texas A&M-South Carolina. However, there has been talk of the Florida-LSU series possibly not being renewed.
Missouri coach Gary Pinkel said he expects Arkansas to become Mizzou's permanent crossover, which should help create a rivalry between the two schools.
"That's what I'm told is probably going to happen," Pinkel said. "To me, just tell me who our rival is, and then they'll be our rival. Obviously, we're adjacent to [Arkansas]. Obviously, we've been associated with [Texas A&M] for years. That's above me. Nobody has asked me for my opinion."
Mississippi State coach Dan Mullen and Ole Miss' Hugh Freeze said they'd prefer to keep their schools' current permanent Eastern Division opponents -- Kentucky and Vanderbilt, respectively.
"Having that, it gives you a little bit of a rivalry," Mullen said about playing Kentucky each year. "I do think in the last three years being there … you see that rivalry spill over. I know in basketball it is that way for everybody, but because we play them every year in football, because there's that familiarity it spills into basketball, it spills into baseball.
"That works for us, and geographically it works for us as far as East teams go."
Added Freeze: "I'd like to continue with Vandy. That's been a healthy rivalry game. In recent pasts it's been very equal, and it's a good game for fans to watch. We've got a lot of people in Nashville, and we recruit that area, and it's just good for us and good for them."
CBSSports.com reported
Tuesday that the SEC will create a model for the next 12 years, but Slive told reporters Tuesday that wasn't necessarily the case.
"That's a long time," Slive said. "I'm not sure that's what we'll do."
What seems sure is that the league won't go to a nine-game conference schedule. It essentially forces the conference champion to play 10 SEC games, and adding just one more to the regular season has drawn little interest from coaches.
"None at all," Freeze said. "Not from me."
May, 29, 2012
5/29/12
3:23
PM ET
DESTIN, Fla. -- The 2012 SEC spring meetings get under way on Tuesday at the Sandestin Hilton.

The SEC football coaches, men's and women's basketball coaches and athletic directors will meet over the next two days, while the presidents and chancellors arrive later in the week.

But there's more to this week in the Sunshine State than just checking out that white sand and the blue ocean. There's a little business that needs to be discussed.