Georgia Bulldogs:

Zach Rogers
October, 1, 2012
10/01/12
2:42
PM ET
ATHENS, Ga. -- If ever the old line "survive and advance" applied, it would have been after Georgia's mistake-filled 51-44 victory over Tennessee. But the Bulldogs did survive -- and that keeps them undefeated entering Saturday's SEC East showdown at South Carolina.
Let's review some of what I learned from watching a recording of CBS' broadcast of UGA-UT in this week's "Upon Further Review."
[+] Enlarge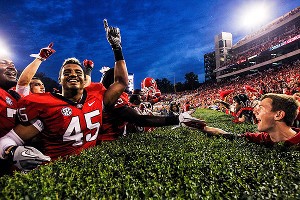 Daniel Shirey/US PresswireGeorgia linebacker Christian Robinson (45) celebrates after the Bulldogs' win over Tennessee on Saturday.
" I'm convinced that the biggest play in the game that didn't involve a score or a turnover was when
Malcolm Mitchell
failed to field a Tennessee punt in the second quarter and it wound up rolling to the Georgia 1-yard line.
Georgia is up 27-10 at this point. Everything is working right. The offense is absolutely crushing Tennessee and the defense hasn't given up a touchdown yet -- the Volunteers' lone TD at this point is
Byron Moore's
35-yard interception return for a touchdown -- but the train starts to veer off the tracks on this possession that could easily have started out near the Georgia 20 instead of up against the goal line.
The punt initially landed at the Georgia 17, and Mitchell was at the 11 at the time and clearly was indecisive about whether to try to field it. He thought about grabbing it at the 10 and again at the 5 (which would have been a really poor decision by that point), but opted to stay away.
Prophetically, CBS' Gary Danielson said immediately afterward, "It might not pop up in this football game -- might not, but it could. But to beat the best, you've got to field those."
Georgia's offense went three-and-out -- and I should note here that on third-and-3, if Mitchell had done a better job blocking his man,
Justin Coleman
, on a
Keith Marshall
run to the right, perhaps Marshall could have picked up a first down instead of Coleman tackling him for a 1-yard gain and forcing a punt. Bad sequence there for Mitchell, who was later replaced by
Rhett McGowan
on punt returns.
" Georgia's offensive balance has, in my opinion, been what makes the Bulldogs so difficult to defend. It's tough for an opponent to give
Aaron Murray
and the passing game the attention it deserves when it has to focus on Marshall and
Todd Gurley's
ability to make big things happen in the running game. The freshmen and the offensive line deserve a ton of credit again, as there were several runs in which they reached the secondary untouched -- seriously, I don't think a single Tennessee player laid a hand on Marshall on either his 75- or 72-yard touchdown runs -- and that is obviously a bad sign for defenses, given their ability to make people miss in the open field.
Speaking of which, individual blocking credits on Marshall's two long TD runs: 75 yards in the first quarter (
Merritt Hall
,
Kenarious Gates
,
David Andrews
), 72 yards in the third quarter (
Jay Rome
and
Mark Beard
cleared a huge hole and Andrews picked off linebacker
A.J. Johnson
to get Marshall loose).
That said, it will be interesting to see how well Georgia moves the ball when it's obvious to everyone that they want to move it on the ground. The Bulldogs were completely ineffective in such a situation in the fourth quarter against Tennessee. They had three different opportunities to mount drives that would run some clock after Tennessee's final touchdown made it a one-score game with 8:56 to play. Georgia's final three drives: four plays, 12 yards, 1:25 time of possession; three plays, 4 yards, 1:49; three plays, minus-2 yards, 1:07. They're fortunate that the defense bowed its neck and UT quarterback
Tyler Bray
made some big errors, because that was really bad.
At the end of three quarters, Georgia had 538 yards of total offense. In the fourth quarter alone, the Bulldogs picked up one first down and ran 13 plays for 22 yards (20 passing, eight carries for 2 yards). I will say that Murray made a great third-down pass over a leaping
Curt Maggitt
-- I mean a picture-perfect throw against a blitz that would have gone for a huge gain, if not a touchdown -- but it went straight through
Rantavious Wooten's
hands at the 50 and Georgia was forced to punt. A completion there probably ices the game.
" Conversely, It was interesting to see how easily Tennessee moved the ball on the ground late in the game. At one point between the Volunteers' last touchdown drive and the one that followed, they ran the ball on eight straight plays for 41 yards and three first downs and a touchdown. Every play went for positive yardage.
I'm sure Georgia was trying to respect the passing game in that situation -- and it didn't help that defensive end
Abry Jones
was clearly not healthy yet -- but Todd Grantham's guys are obviously not taking away the run first like they did a year ago. There was a 218-yard difference between Tennessee's output on the ground in this game (197 rushing yards, right at 5 yards per carry) vs. its performance against Georgia last year (minus-21).
With South Carolina's running game and an improving Marcus Lattimore ahead, that's a huge red flag for Georgia's defense.
" It would be unfair to describe Bray's performance as awful, but it definitely left a lot to be desired. He passed for 281 yards and two touchdowns and made some crazy-good throws -- including a deep ball where a wide-open
Cordarrelle Patterson
had beaten
Branden Smith
and probably would have scored a touchdown, but he dropped the ball.
But Bray also made some horrendous mistakes, and not just by turning the ball over on each of the Vols' last three possessions. Those were all bad plays, though. Both passes that
Sanders Commings
intercepted were poor throws -- one to the inside instead of outside to the sideline where Commings couldn't have picked it; one was behind
Zach Rogers
, who tipped it up into the air and allowed Commings to make the interception; and he let
Jordan Jenkins
slap the ball from his hands after the pocket collapsed, causing a fumble that
John Jenkins
recovered.
Plus he missed open receivers on a couple of crucial throws that could have altered the course of the game. Early in the third quarter when Georgia was reclaiming control, Bray twice threw inaccurately on third-down passes that could have extended drives. On Tennessee's first drive of the second half, he threw behind a wide-open
Justin Hunter
, who had beaten Smith, and the ball fell incomplete.
On the next drive, he nearly threw an interception to
Alec Ogletree
on back-to-back plays and whistled a pass to Hunter that barely missed him. Commings had fallen down in coverage and Hunter was open.
Marc Deas
blocked the ensuing punt and Georgia capitalized by driving for another touchdown and going up by two scores. Huge momentum change there.
" Speaking of that play, credit Deas for recognizing a tendency by Tennessee wingback Moore on the play and taking advantage of it. He told me after the game that Moore had been overstepping on his drop as he blocked and that left a crease for Deas to attack the punter. Sure enough, Deas started out on the far left on this punt, Moore dropped too deep and Deas cut inside him toward punter
Matt Darr
. Moore got a piece of Deas' left shoulder, but he was still able to get his right arm free to block the kick. Very well done.
" Commings had a nice game. I think that SEC Co-Defensive Player of the Week award he won today was well-deserved.
Damian Swann
had Georgia's third interception and it was also highly impressive. Ogletree deflected a pass across the middle, tipping it high in the air, and Swann absolutely skied over Smith and Patterson and caught the ball with one hand at midfield. Tremendous athleticism there.
" Danielson saw Murray's first touchdown pass to
Michael Bennett
coming even before Tennessee did. Bennett was lined up in the slot and Tennessee safety Moore had given him about an 8-yard cushion, prompting Danielson to draw a circle on Bennett on the screen just before the snap. Sure enough, he was able to cut in front of the UT safety and Murray whistled a TD pass to him for an easy score that helped Georgia go up 37-30. Good recognition there by Murray -- and by Danielson.
" The final score and the way things played out makes this an obvious statement, but this was a really sloppy game by Georgia. It seemed like I was consistently writing down about so-and-so blowing a blocking assignment or covering the wrong receiver or dropping a pass or not making an interception that was there for the taking. They can't afford to make this many errors at South Carolina or it won't work out so well.
A few examples:
Bacarri Rambo tried to jump a pass route and went for an interception in first quarter. He doesn't get to the ball in time and Tennessee's Rogers makes a catch at the Georgia 35. He probably would have scored a touchdown there, except that he fell down. Rambo did come back with a big third-down stop to end that drive and force a field goal, however.
On Rajion Neal's go-ahead touchdown catch in the second quarter, three Georgia players covered Patterson as he ran toward the end zone and nobody covered Neal. Danielson said it looked like a blown assignment by linebacker Amarlo Herrera -- and it looked that way to me, too, although I can't be sure -- although Herrera and safety Shawn Williams seemed to have a disagreement after the play about who was supposed to be where.
September, 29, 2012
9/29/12
5:56
PM ET
Stat of the half: 20-0.
Georgia seemed to be on the way to a blowout win when it went up 27-10 early in the second quarter, but Tennessee mounted a 20-0 run and actually took the lead before Georgia kicker
Marshall Morgan
's 50-yard field goal at the buzzer made it 30-all at the break. The Volunteers capitalized on a pair of Bulldogs turnovers deep in Georgia territory to score touchdowns that gave them a brief lead.
Player of the half:
Todd Gurley
. Although he made a crucial mistake on a kickoff return that forced the Bulldogs to start a drive at their own 1, Gurley had an outstanding half otherwise. He went to halftime with 11 carries for 90 yards and scored touchdowns of 2, 1 and 51 yards.
What's working for Georgia:
Georgia outgained Tennessee 234 yards to 68 in the first quarter as the Bulldogs' red-hot offense staked them to another big early lead. A week after jumping out to an early 27-0 lead against Vanderbilt, Georgia led Tennessee 27-10 within the first few minutes of the second quarter after Gurley's 51-yard touchdown run.
What's not working for Georgia:
The Bulldogs' offense has practically given away 20 points. Quarterback
Aaron Murray
had a first-quarter pass deflected by
Corey Miller
and intercepted by
Byron Moore
, who then returned it 35 yards for a touchdown. And late in the second quarter, Murray lost a fumble at Georgia's 8 after being sacked, setting up a
Tyler Bray
touchdown pass to
Zach Rogers
that made it 27-23. Finally
Keith Marshall
lost a fumble at the Georgia 18, setting up a Bray touchdown pass to
Rajion Neal
that gave the Vols a shocking 30-27 lead.
September, 28, 2012
9/28/12
7:00
AM ET
TENNESSEE AT NO. 5 GEORGIA
Saturday, 3:30 p.m.
Sanford Stadium/Athens, Ga.
To continue reading this article you must be an Insider
September, 27, 2012
9/27/12
3:55
PM ET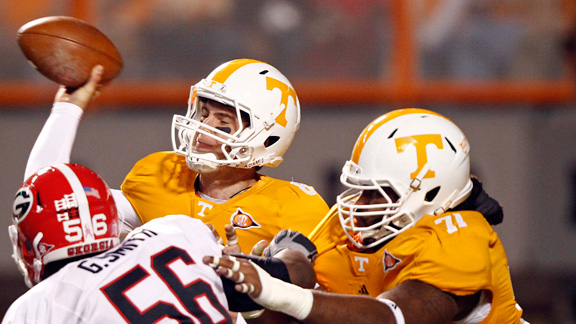 AP Photo/Wade PayneMark Richt knows that in order to tame Tyler Bray, UGA will have to pressure the Tennessee quarterback as effectively as it did in 2011.
ATHENS, Ga. -- Mark Richt doesn't attempt to hide his love of the passing game, so Georgia's coach looks on with envy at the aerial weapons Tennessee coach Derek Dooley has at his disposal.
The Volunteers (3-1, 0-1 SEC) -- who visit Richt's Georgia club (4-0, 2-0) on Saturday afternoon -- have one of the nation's most prolific quarterbacks in
Tyler Bray
, some of the most explosive receivers in
Justin Hunter
,
Cordarrelle Patterson
and
Zach Rogers
, and one of the most productive tight ends in
Mychal Rivera
. And that volume of talent lets Richt know what he'd do if here were Dooley.
"If I had those receivers and that quarterback, I'd have a hard time trying to stay balanced," Richt said. "I like throwing the ball. ... I don't know if I would sit there and say, 'Gosh, I've got to be totally balanced.' "
Tennessee probably presents the greatest offensive challenge that Georgia has faced to this point, ranking second in the SEC in total offense with 513.8 yards per game -- trailing only Georgia's 530 ypg. The bulk of that yardage has come through the air, as the Vols are first in the league and eighth nationally in passing offense at 341.2 yards per game.
The trigger man, Bray, is tied for first nationally with 12 touchdown passes and is ninth with 325.2 passing yards per game. But he has struggled at times against the blitz -- he completed just 23 percent of his passes when Florida brought five or more rushers in the Vols' lone loss -- and Georgia knows it must pressure and confuse Bray to effectively defend the pass.
"Some of the errors that he's made recently had to do with him not seeing guys dropping out of coverage," linebacker
Christian Robinson
said. "We are going to have to bait him into throwing some passes sometimes. If we can change it up while keeping sound coverage and don't give up any big plays, then I think we'll have a good shot at limiting them through the air."
September, 13, 2012
9/13/12
10:15
AM ET
We're heading into Week 3 in the SEC, so here's what to watch:
1. Quarterback health:
The statuses of Arkansas'
Tyler Wilson
and South Carolina's
Connor Shaw
are still unknown. Wilson suffered a head injury against Louisiana-Monroe, while Shaw is still nursing a bruised shoulder from Week 1. For the Gamecocks, losing Shaw for the second straight week won't really hurt South Carolina's offense. It was just fine without him against East Carolina. However, Arkansas isn't in the same position.
Brandon Allen
completed just 6 of 20 passes against Louisiana-Monroe in place of Wilson. Not having Wilson will make Saturday's game against No. 1 Alabama that much tougher for the Razorbacks.
[+] Enlarge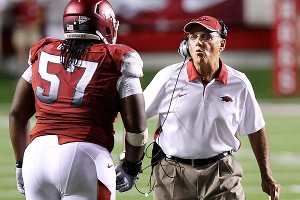 AP Photo/Danny JohnstonCoach John L. Smith and his Razorbacks face a formidable foe in No. 1 Alabama this week.
2. Arkansas' defense:
Speaking of the Razorbacks, what has happened to that defense? It was supposed to be more aggressive and more disciplined under Paul Haynes. We saw neither in the second half against Louisiana-Monroe, as the Razorbacks blew a 21-point lead. The defense was shredded against a lesser opponent and now has to play one of the most balanced attacks in the SEC. Last year, Alabama wore down this defense. If Arkansas is going to pick itself up, it has to play much tougher than it has in the first two games. Alabama has far more talent than Arkansas' first opponents and has the capability to really beat this unit down.
3. Tennessee's passing game vs. Florida's secondary:
This game always comes down to the running game, but the difference this time will be Tennessee's passing game against Florida's secondary. The Gators are loaded with talent back there and made tremendous strides during the second half of the Texas A&M game, while Tennessee might have the best passing game in the SEC, led by quarterback
Tyler Bray
. The matchups between
Justin Hunter
and
Marcus Roberson
and
Cordarrelle Patterson
and
Loucheiz Purifoy
should be great.
Zach Rogers
is another deep threat the Gators have to be careful about, but
Matt Elam
has the ability to take the deep ball away for Florida. Should be fun.
4. Must-wins:
Both Auburn and Vanderbilt are 0-2 and are coming off tough losses. The Commodores blew a halftime lead at Northwestern, while Auburn was overmatched across the board at Mississippi State. The Tigers are struggling with or without the ball this season, and that's a major concern. Quarterback
Kiehl Frazier
has to get going, and he's facing the team that just knocked off Arkansas. Vandy just can't get anything going on offense. The explosion we expected to see has been mostly absent through two games and the Commodores have to generate some sort of offensive momentum this weekend against Presbyterian.
5. Mississippi State keeping its edge:
Now that Dan Mullen and his Bulldogs have gotten over the hump of beating a West opponent not named Ole Miss, the Bulldogs can't get complacent. That was just one win, and this team has far bigger goals than just beating Auburn. With the schedule Mississippi State has, it's very possible the Bulldogs could be 6-1 or 7-0 heading into the Alabama game at the end of October. But this team has to focus on Troy and come out strong against a team that won't be a pushover.
6. Showdown in the Grove:
It's been a long time since a game in Oxford got attention like Saturday's showdown with Texas has been receiving. It's eerily similar to the 2003 game with Eli Manning and LSU, although there isn't hatred in the air. The Grove is gonna be poppin' and Oxford is expected to double in size. There's more confidence around that town because Ole Miss is 2-0 for the first time since 2009. The talent difference between Ole Miss and Texas is obvious, but the Rebels have some momentum and some conviction. Can the Rebels stop that burnt orange wave coming to town?
7. The newbie's returns:
Missouri and Texas A&M got a nice taste of what life will be like in the SEC last weekend. Now, it's time for both teams to regroup. Both teams lost a lot of steam in the second half, which was expected. Missouri has the challenge of playing Arizona State and its high-flying offense. The Sun Devils have averaged 54 points through two games, averaging 532 offensive yards in the process. The Tigers got into a shootout with Arizona State last year, but can they handle another one after that physical loss to Georgia? The Aggies are taking on SMU in Dallas, and are also recovering from a tough loss to Florida. This is a game where Texas A&M should try to get more out of its running game, which has to generate more production up the middle.
8. Mettenberger's arm:
Through the first two games of the season, we've been anxiously waiting to see what
Zach Mettenberger
could really do in LSU's offense. So far, he's yet to eclipse the 200-yard passing mark in a game and has just two touchdowns -- pedestrian numbers compared to what everyone expected. But the Tigers have utilized their running game flawlessly and haven't needed to send the ball downfield much. Saturday, that should change. It's time to unleash Mettenberger and get him going more in the offense before LSU gets into conference play.
9. Lattimore's workload:
If Steve Spurrier wanted to push
Marcus Lattimore
anymore last week, he would have. But the Head Ball Coach gave his workhorse a bit of a rest against East Carolina, running him just 13 times. Maybe Spurrier just wanted to get his new quarterback,
Dylan Thompson
, a chance to show his stuff in place of Shaw. But as Lattimore continues to return from his knee injury, he'll need to get more reps and get more comfortable on the field before league play revs up. UAB should provide him the opportunity to do that.
10. Florida's winning streak:
The Gators have had Tennessee's number for seven straight years now. Not since Dallas Baker's infamous slap in Knoxville have the Vols bested Florida. This might be Tennessee's best shot since. There's no question that this is the best and most complete Vols team Derek Dooley has had. The Vols have cruised through the first two weeks, while Florida's offense stumbles in with a lot of uncertainty concerning the passing game. Florida might have the edge on defense, but Tennessee's offense knows how to put up points. Is this the year Tennessee finally gets the Gator off its back?
July, 11, 2012
7/11/12
3:03
PM ET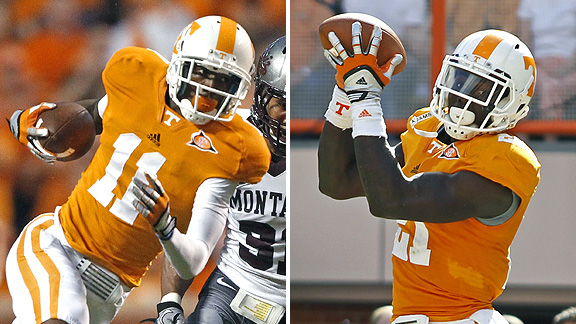 AP Photo/Wade PayneJustin Hunter (11) and Da'Rick Rogers (21) are considered to be the best receiving duo in the SEC.
Our SEC position rankings continue with a look at schools' wide receiver and tight end groups.
Past rankings:
On to the league's wide receiver/tight end groups:
1. Tennessee:
The Vols are equipped with two of the top wideouts in the league with
Da'Rick Rogers
, who was second in the SEC in receiving last year, and
Justin Hunter
, who might be the SEC's top deep threat. It sounds like Hunter will be 100 percent this fall after his ACL injury last year. Junior college transfer Cordarrelle Patterson is big, fast and possesses the big-play gene. The speedy
Zach Rogers
is back and is so is talented tight end
Mychal Rivera
.
Peach State: Top Tier Recruiting Ground?
SEC SCOREBOARD
Thursday, 9/3
Saturday, 9/5