Georgia Bulldogs:

Vince Dooley
December, 8, 2013
12/08/13
10:30
PM ET
ATHENS, Ga. -- Seems like we've been here before.
For the second straight year, No. 22 Georgia (8-4) will conclude its season with a New Year's Day bowl matchup against Nebraska (8-4) in Florida.


"I think it's becoming a good rivalry," said Georgia coach Mark Richt, who was born in Omaha, Neb., and cheered for the Cornhuskers as a child. "... We're looking forward to playing Nebraska. They're obviously a very good team, and we think we're pretty good, too. It was a great battle last year and we'll just see what happens this year."
The Bulldogs defeated the Cornhuskers 45-31 last January in the Capital One Bowl, with quarterback Aaron Murray torching Nebraska for 427 passing yards and five touchdowns. The rematch -- this time in the TaxSlayer.com Gator Bowl, which will kick of at noon in Jacksonville and air on ESPN2 – will pit teams that endured decidedly less exciting seasons than last January's combatants.
Georgia tumbled from a No. 5 preseason ranking to out of the polls following a midseason lull created by debilitating injuries to key offensive players like receivers
Malcolm Mitchell
and
Justin Scott
-Wesley and tailbacks
Todd Gurley
and
Keith Marshall
. The Bulldogs went 4-1 -- losing on a last-minute touchdown pass against eventual SEC champ Auburn -- and averaged 41.2 points per game once Gurley returned from an ankle sprain suffered in a September win over LSU.
The Bulldogs lost Murray to a season-ending knee injury in a November win against Kentucky, however, meaning that junior Hutson Mason will make his second career start against Nebraska. He passed for 299 yards and two touchdowns in the Bulldogs' comeback, overtime win against Georgia Tech on Nov. 30.
"That's part of football. We all understand that and we're not complaining, we're not crying about it," Richt said of the injuries. "We just find out who's next in line and make sure they know what to do and give them an opportunity for them to have their day. Hutson has been preparing for a long time for this opportunity and we think he's ready to play well."
Nebraska also slid from its No. 18 preseason ranking after losing senior quarterback Taylor Martinez to a season-ending foot injury. The Cornhuskers initially went with
Tommy Armstrong
Jr. (803 passing yards, 7 TDs, 7 INTs) at quarterback, but Ron Kellogg III (919, 6-3) -- who tossed the game-winning Hail Mary touchdown pass against Northwestern -- made his first career start in the 38-17 loss to Iowa that concluded the regular season.
[+] Enlarge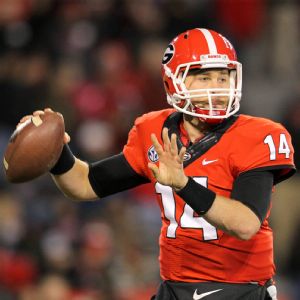 Todd Kirkland/Icon SMIHutson Mason will make just his second career start against Nebraska in the Taxslayer.com Alamo Bowl.
The Huskers also lost 41-21 to No. 17 UCLA, 34-23 to Minnesota and 41-28 to the Big Ten's champion, No. 4 Michigan State – all of which will play in bowl games.
"We had a great experience at the Gator Bowl when we played there in my first year here [2009]," Nebraska coach Bo Pelini said in a release from the bowl. "We have some familiarity with Georgia having played them last year in the bowl game, but these are two different teams. This will be a great challenge for our football team, and we look forward to the opportunity."
This will be Georgia's fourth appearance in the Gator Bowl, most recently beating Michigan State 34-27 on Jan. 1, 1989, Vince Dooley's final game as the Bulldogs' coach.
It's also the Bulldogs' second trip to Jacksonville this season, after beating Florida 23-20 at EverBank Field on Nov. 2. Regardless of where Georgia played its bowl game -- the most likely alternatives seemed to be Atlanta's Chick-fil-A Bowl or the Music City Bowl in Nashville -- it would have been in a city where the Bulldogs have already played this fall.
So while his team's fans won't be visiting a particularly exotic location, Richt believes the Bulldogs' familiarity with Jacksonville -- and the party atmosphere that UGA fans associate with their annual visits to the region around Halloween -- means it still has some appeal as a bowl destination.
"I know the Georgia people love Jacksonville. There's no doubt about that," Richt said. "We've been playing in Jacksonville for about 80 years, so everybody really I think enjoys that and understands the area and is looking forward to spending more time there."
Final exams started at Georgia last week and will continue through Wednesday. The Bulldogs will hold their first practice in preparation for Nebraska on Saturday, with the team holding its annual football gala later that night.
November, 2, 2013
11/02/13
9:50
PM ET
JACKSONVILLE, Fla. -- Mark Richt hardly seemed to be in a celebratory mood after Georgia's 23-20 win over Florida gave him three straight victories against the Gators for the first time since he became the Bulldogs' coach in 2001.
He had just watched the Bulldogs (5-3, 4-2 SEC) nearly melt down in the second half for the second consecutive game only to be saved by a late defensive stand and a clock-eating drive that ran out the remaining time in the fourth quarter. So perhaps it's understandable that Richt felt far more relieved than jubilant.
[+] Enlarge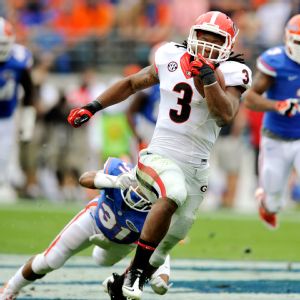 AP Photo/Stephen MortonGeorgia RB Todd Gurley ran for a pair of TDs and helped the Bulldogs win three straight over the Gators for the first time in 24 years.
"It's because we're winning 23-3 ... and then we about lost the doggone thing," Richt said. "That's why I'm subdued right now -- because I'm trying to get over it."
Imagine how Will Muschamp felt. Florida's coach saw his team claw back from a 20-0 deficit at the start of the first quarter, pull within three points at the start of the fourth and then ruin its comeback bid with regrettable penalties at the end of the game.
The Gators (4-4, 3-3) would have gotten the ball back for one final possession, but defensive lineman
Darious Cummings
was flagged for a personal foul -- illegal hands to Georgia center
David Andrews
' face -- to spoil a third-down stop with barely more than a minute remaining. Despite four personal foul calls between the two sides, the resulting first down after Cummings' penalty allowed Georgia to run out the clock and earn its first three-game winning streak in the series since 1987-89.
"We did have Coach [Vince] Dooley come by and speak to our team this week," Richt said, referring to the coach who led the UGA program from 1964-88. "That's one thing he mentioned. I didn't know the stat, but he said if we win, it would be the first time we got three in a row in like 30 years or something. I was frankly kind of embarrassed that was the truth. But that's where this series has gone. It's nice to at least, to this point, get it turned around a little bit."
Richt has been on Muschamp's side of this rivalry, too, however. The early days of Richt's tenure saw Georgia blow numerous winnable games, including a 2002 loss that might have cost the Bulldogs a chance to play for the BCS championship. Richt was 2-8 against Florida until the Bulldogs launched their three-game winning streak in 2011, but perhaps now they have permanently removed the Florida monkey off the program's back.
"Three in a row's awesome," said Georgia senior
Aaron Murray
, who threw for 258 yards and a touchdown and became just the third UGA quarterback since the 1940s to beat the Gators three times. "It's a great feeling and this is just such a great game. The environment's unbelievable. To be in that stadium, it's a true blessing. It's a great feeling to win three in a row -- something that hasn't happened in 24 years, and hopefully next year we'll keep it up."
Saturday's win wasn't pretty by any means. In fact it was symptomatic of Georgia's season thus far, with self-inflicted wounds, costly penalties and general breakdowns combining to place what looked to be an easy victory in jeopardy. Coming off a 31-27 loss to Vanderbilt, where similar problems allowed the Commodores to close the game with a 17-0 run in the fourth quarter, Georgia had to feel as though it was experiencing deja vu against the Gators.
"We just shot ourselves in the foot. I've said that 100 times," said Georgia receiver
Michael Bennett
, who had a team-high five catches for 59 yards. "It's just mental mistakes, I had a dropped pass. Stuff like that, you're going to end up having the other team start scoring points and giving them opportunities. You can't do that."
Tailback
Todd Gurley
-- who scored Georgia's first two touchdowns and finished with 187 yards of total offense -- fell short on a fourth-down run at the Bulldogs' 39 in the fourth quarter, with Georgia clinging to a 23-20 lead.
Florida's
Neiron Ball
was flagged for unsportsmanlike conduct after stopping Gurley, however, pushing the Gators back 15 yards. Their ensuing drive pushed the ball to Georgia's 43 before Bulldogs defensive coordinator Todd Grantham sent a third-down blitz at Gators quarterback
Tyler Murphy
.
Safety
Corey Moore
tracked Murphy down in the backfield for a 14-yard loss, forcing a fourth-and-26 midway through the final period that removed even the possibility that Florida would go for it on fourth down.
"I thought it was the right time to do it," Grantham said of the decision to blitz and leave his defensive backs vulnerable in one-on-one coverage. "We had to go end the game, and that's what we did."
Georgia took over with 8:17 to play and drove 67 yards in 15 plays -- including a huge third-and-7 conversion pass for 7 yards from Murray to
Rhett McGowan
and the Cummings penalty that produced another key conversion -- running out the remaining time.
The loss drops Muschamp to 0-7 in the Florida-Georgia series -- 0-4 as a Georgia player and 0-3 as the Gators' coach -- which undoubtedly creates a lonesome feeling with which Richt can identify.
Richt's team somehow held on for a win on Saturday, however, although the Bulldogs' stumbling style of late seems to be taking a toll on their coach.
"They must like it," Richt said of Georgia's numerous games that have been decided in the waning minutes. "I don't like it. It makes you wonder if this is really a good way to make a living."
September, 12, 2013
9/12/13
7:00
AM ET
ATHENS, Ga. -- Mark Richt generated headlines earlier this week by sharing some advice that then-Florida coach Steve Spurrier gave him while Richt was an assistant coach at Florida State.

"He told me, 'Do not under any circumstances take the Georgia job.' That was the one bit of coaching advice he gave me," Richt told the Athens Touchdown Club on Monday, according to the Athens Banner-Herald.

Richt, now in his 13th season as Georgia's coach, elaborated on his statement after Wednesday's practice, saying that Spurrier's comments seemed to be in jest.

"I think he was just playfully saying, 'I wouldn't take that Georgia job if I was you.' But it was not that big of a deal," Richt said.

Regarding his comments to the local boosters, Richt said he believed his conversation with Spurrier occurred while he was a coveted Florida State assistant whose name began to circle as a candidate to replace Jim Donnan as the Bulldogs' coach in late 2000.

Richt accepted athletic director Vince Dooley's offer to become Georgia's new coach on Dec. 26, 2000, despite Spurrier's playful warning.

"I think it was right before I took the job. I think he knew I'd interviewed for it," Richt said. "… It might have been five years prior. I don't know when it was, but he was halfway playing around, I think."

Richt has won two SEC titles, five SEC East championships and posted a 119-41 record at Georgia since ignoring the recommendation from Spurrier, whose Florida teams dominated Georgia throughout the 1990s.

Spurrier beat Richt in 2001, their one head-to-head meeting as the head coaches at Florida and Georgia. Richt owns a 5-4 mark against South Carolina since Spurrier became the Gamecocks' head coach in 2005, including a 41-30 victory last weekend.

August, 28, 2013
8/28/13
7:00
AM ET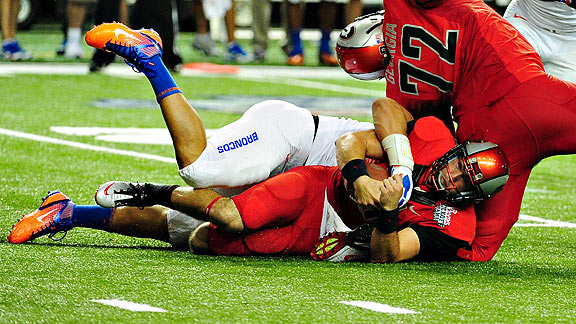 Scott Cunningham/Getty ImagesSince opening 2011 with a 34-21 loss to Boise State, Aaron Murray and Georgia have gone 22-5.
ATHENS, Ga. -- If there was a common thread between Georgia's season-opening wins in Mark Richt's first eight seasons as the Bulldogs' coach, he fails to pinpoint it today.
"If there is a secret, we had forgotten it," Richt chuckled recently.
"I'll have to remember to look at my notes and see if I forgot something. I don't know. If we were 13-0 in opening games, I might be able to make a comment on that, but I can't say we're great in openers, considering probably the last couple years we haven't [played well]."
It's not as if Richt has a substandard history in openers. The Bulldogs are 10-2 in the first game during his tenure, but recent history has not been so kind. After the 8-0 start -- which included wins against Saturday's opening opponent, Clemson (in 2002 and 2003), plus Boise State and Oklahoma State -- between 2001-08, the Bulldogs have posted a 2-2 record in the last four openers.
[+] Enlarge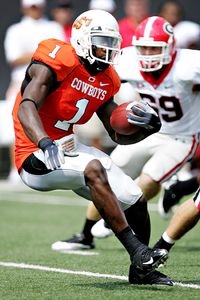 Paul Jasienski/US PresswireDez Bryant and Oklahoma State knocked off Georgia 24-10 in the 2009 season opener.
They dropped both games against BCS-conference opposition -- in 2009 at Oklahoma State and in 2011 against Boise State in Atlanta -- so the fifth-ranked Bulldogs' visit to No. 8 Clemson provides an opportunity to halt that trend.
Not that it will be easy. Because of the uncertainty that naturally accompanies a nine-month layoff, openers against large-conference opponents rarely develop into a cakewalk.
"I always call it an adventure into the unknown," said former Bulldogs coach Vince Dooley, who went 18-5-2 in openers at Georgia. "You really don't know. First ballgames are so unpredictable."
And his longtime rival at Clemson, Danny Ford, agreed.
"You don't ever know, because it's your first football game," Ford said. "If it was the fourth game or third game and you had a chance to evaluate them on film -- even though you've got film of last year, it's not the same football team. You really don't ever know until the first football game how your team's going to play, much less how your opponent's going to play."
Various Georgia players have blamed the 2009 Oklahoma State or 2011 Boise State losses on overexcitement or distraction in reflecting back on those seasons. The simple truth, however, is that Georgia faced good teams those days.
Oklahoma State jumped to fifth in the polls after beating Georgia in 2009 and hovered around the top 20 all season before a late slide caused the Cowboys to finish the season 9-4 and unranked. That Georgia team never found a consistent stride and finished 8-5 and also unranked.
With a veteran-heavy lineup that included fourth-year starter Kellen Moore at quarterback, Boise State lost just once in 2011 and finished eighth in the final Associated Press top 25 and sixth in the coaches' poll. The Georgia team that dropped that opener was coming off a 6-7 season -- the only losing campaign in Richt's career -- and lost again the following week to South Carolina before launching a 10-game winning streak to claim the first of back-to-back SEC East titles.
"I think that game ended up with a lack of execution," Georgia cornerback
Damian Swann
said. "It was kind of guys still learning the system, guys not knowing where to be on certain plays and with the experienced quarterback like that, you can't have those mistakes.
"You can't have those plays where guys are out of position and guys not being where they're supposed to be, because three plays is 21 points, and now you're down. So it's one of those things where you've got to know what's going on right out the gates."
Put more simply, Richt said, "I just think they lined up and whipped us, really, whether we were hyped or not hyped. They just lined up and beat us. They were better than us that day in just about every phase."
The 10-game winning streak that followed the early failure in 2011 is an important sign of what has changed at Georgia, fifth-year senior offensive guard
Chris Burnette
said. The residual disappointment that followed the 2010 season forced players to look themselves in the mirror and make their offseasons more productive.
"We don't go 6-7 at Georgia often," Burnette said. "It kind of forced us to go like, 'Man, something's wrong here. We need to change something.' I think that was a big key for us."
If that sounds like offseason happy talk, perhaps there is some of that element in play. But the Bulldogs can easily point to their recent record as evidence of a change. They are 22-4 since that 0-2 start in 2011 and nearly played for the BCS championship last season.
Further, quarterback
Aaron Murray
regularly makes a point to mention this summer's participation in voluntary workouts was the highest it has been since he arrived in 2009. He and the other veterans believe the daunting schedule that awaits them this season -- "I think guys realize that we've got to be in midseason form come this Saturday," Murray said -- was one of the motivating factors in that improved offseason attendance.
In fact, that preparation and their experience in previous opening disappointments, might even benefit the Bulldogs come Saturday.
"We didn't handle the environment well [against Boise State], but it was a growing experience and a lot of those guys that were on that team now are able to pull from that and know what it takes," Georgia offensive coordinator Mike Bobo said. "I think it's going to be beneficial for us going into that game. It's definitely been beneficial in the preparation."
August, 26, 2013
8/26/13
1:00
PM ET
ATHENS, Ga. -- Scour the locker rooms at Georgia and Clemson and it might be difficult to find a player who knows much about their historic rivalry.
"You know me, I don't know much about Georgia's history from before I got here," Georgia quarterback
Aaron Murray
chuckled in one such response about the longtime rivalry between schools separated by only about 70 miles.
Murray is far from alone in that regard. The 22-year-old Floridian was 13 the last time Georgia and Clemson met, in 2003, and was not even alive when the annual 1980s meetings between the Bulldogs and Tigers often carried national-title implications.
Fans of a certain age might harken back to those days on Saturday, however, when the rivalry resumes -- ending the longest gap between games since the series started in 1897 -- and No. 5 Georgia visits No. 8 Clemson in Death Valley.
[+] Enlarge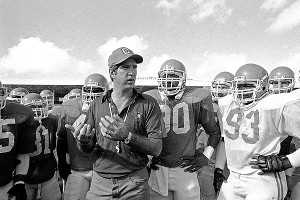 AP Photo/Kathy WillensCoach Danny Ford and Clemson beat Georgia 13-3 in 1981 and went on to win the national championship.
"Georgia was really good every year, so it meant that doggone it, somebody was going to get a lot of publicity and a lot of press, whoever won that football game," said former Tigers coach Danny Ford, who will be enshrined in Clemson's Ring of Honor on Saturday. "You could still be a good football team if you lost that game, but it just put a cramp in everything and it was so early in the year -- the first or second game or third game every year -- and you kind of knew what kind of football team [you had].
"It was kind of like a Wednesday where the kids in school call it Hump Day, you know? You're in the middle of the week, get your classes over with and you're about halfway to the weekend. That was the same kind of a hump game, where if you get off and win that football game, you've got a great chance to have a good year."
Back then, your season could be more than good if you slipped away with a win. Thanks to a 67-yard punt return touchdown by Scott Woerner and a 98-yard Woerner interception return that set up another score, Georgia edged Clemson 20-16 in 1980 despite failing to register a single first down in the opening half.
"At the end, they're back down there and Jeff Hipp makes an interception on about the 1-yard line right at the end of the game," recalled former Georgia coach Vince Dooley, who posted a 15-6-1 record against Clemson in his 25 seasons as the Bulldogs' coach. "But statistic-wise, they just knocked us all over the place."
The 10
th
-ranked Bulldogs went on to win the national title that season after barely surviving the Tigers' upset bid. And Clemson returned the favor the following year, generating nine turnovers to beat Herschel Walker and No. 4 Georgia 13-3 en route to a national title of its own.
Clemson's 1981 win marked the only time that Georgia lost in the regular season during Walker's three seasons on campus.
"They're the only team that he played more than once in his college career and didn't score a touchdown against," said UGA grad Kyle King, whose new book detailing the Georgia-Clemson series history, "Fighting Like Cats and Dogs," was published, oddly enough, by the Clemson University Digital Press. "So they really were the ones who -- to the extent anyone had Herschel's number -- they're the ones who had his number."
[+] Enlarge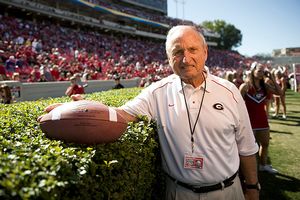 Dale Zanine/US Presswire for ESPN.comIn 25 years as coach at Georgia , Vince Dooley posted a 15-6-1 record against Clemson.
Just how close were the two teams in their respective pursuits of the national title? Georgia scored exactly 316 points during the 1980 regular season before beating Notre Dame in the Sugar Bowl to claim its first national title since 1942. The following year, Clemson matched that scoring total to the number, notching the very same 316 points in the regular season before beating Nebraska in the Orange Bowl to claim the school's first national championship.
The series continued to produce memorable outcomes on an annual basis throughout the 1980s. Take 1982, for example, when No. 7 Georgia hosted No. 11 Clemson in the first night game in decades at Sanford Stadium. Much like Saturday's game at Clemson, the 1982 game aired before a prime-time national TV audience on ABC -- that year on Labor Day evening.
Bulldogs defenders picked off four passes by Clemson quarterback and Athens native Homer Jordan en route to a 13-7 win and another undefeated regular season. Once again, the Georgia-Clemson winner played in the game that would determine the national champion, although the Bulldogs lost this time, 27-23 to Penn State in the Sugar Bowl.
Nonetheless, those first three games set the standard for one of the nastiest rivalries of the 1980s -- one where defense, big special-teams plays and general hard-nosed aggression became trademarks.
"I remember it was always a tough game for Georgia. It was a tough game, period," said Georgia running backs coach Bryan McClendon, who appeared in the series' last two games, in 2002 and 2003, and whose father Willie preceded him as a Georgia player and coach. "It was always one of the biggest games out there in the country and it's a lot like this year, to be honest with you. You never knew who was going to come out on top. Both teams always had high expectations going into each year, let alone that game. It was always a hard-fought war out there on the field."
There was the 1984 game where Georgia beat No. 2 Clemson 26-23 on a 60-yard Kevin Butler field goal -- a play that produced what King called Bulldogs announcer Larry Munson's most memorable call from a home game, when he estimated that Butler would "try to kick one 100,000 miles" and then proclaimed that "the stadium is worse than bonkers" once the kick cleared the uprights.
Clemson enjoyed its own kicking-game heroics in 1986 and 1987, when David Treadwell booted game-winning field goals at the end of the Tigers' respective 31-28 and 21-20 victories.
"We were so evenly matched, and so many came down to a field goal or a touchdown, and we were so evenly matched that all of them kind of run together in my thoughts," Ford recalled. "They'd win one and we'd win one."
That proved true throughout Ford's 11-year tenure at Clemson. A rivalry that Georgia once dominated -- the Bulldogs are 41-17-4 all-time against the Tigers and went 11-1-1 against Frank Howard, the winningest coach in Clemson history -- was extremely even in the 1980s.
Ford went 4-4-1 against Georgia while at Clemson. The scoring differential during that period? Georgia 153, Clemson 152.
"It was more about respectability for us because Georgia had the upper hand for so long back when Coach Howard [was here]," Ford said. "I tell the story all the time that Coach Howard would have to play Georgia and Georgia Tech, who was in the SEC back then, Alabama and Auburn and lose four games to have enough money to make his budget and then win the ACC conference. But back then he had to do that and he couldn't hardly ever get them to come play at our place. It was just a thing of respectability I think, more so for us in the '80s."
Respectability is no longer a problem for either of the programs who will renew their longtime rivalry on Saturday in Death Valley. Georgia's Mark Richt led his team within an eyelash of playing for the BCS title last year, and the Bulldogs enter Saturday's game with their highest preseason ranking since opening the 2008 campaign in the No. 1 spot. Clemson's Dabo Swinney has led the Tigers to a 21-6 record over the last two seasons and, blessed with a Heisman Trophy contender in quarterback
Tajh Boyd
, should boast one of the nation's most explosive offenses.
The programs no longer resemble the Ford- and Dooley-era squads that relied on defense and the kicking game to win low-scoring games, but considering the standing the Georgia-Clemson game once held in the national championship race, it seems fitting that Saturday's reunion occupies a marquee spot in college football's opening weekend.
"I grew up with this game being played pretty much every year, and it was at a time that Georgia beat Florida every year, and Georgia beat Georgia Tech every year, so Clemson and Auburn were really the two games that you went into the year thinking, 'Boy, I hope we can get out of that one with a W,' " King said. "I didn't want to lose that, and that was really what ultimately inspired me to go back and write this book.
"We're going into a season where it looks like you have two top-10 teams, two frontrunners in their conferences, two top-drawer quarterbacks going up against one another," he added. "I think it's important to remind fans that this isn't a new thing. We butted heads with these guys in big games before, and hopefully we'll get the chance to keep doing it in the future."
January, 9, 2013
1/09/13
7:00
AM ET
Editor's note: As we approach national signing day and consider the future of Georgia's football program, we'll also look backward into the Bulldogs' recruiting history. Over the next few weeks, we'll talk with several former Georgia standouts about their experiences as recruits. Today we feature the multitalented Scott Woerner, who was an All-America defensive back and kick returner for Georgia's 1980 national championship team.

ATHENS, Ga. -- Texas native Scott Woerner almost never became "Woerner the Returner" of Georgia's championship lore.


December, 21, 2012
12/21/12
7:30
AM ET
You've no doubt been flooded with online stories, social media jokes and commentary about the Mayan doomsday scenario that supposedly arrives today, 12/21/12.

Let's hope it's not the end of the world as we know it. But just for conversation's sake, let's imagine that it is.

Caring about Georgia football would seem fairly trivial at that point, wouldn't it? But that subject is why we gather here at DawgNation. So if the clock stopped on the Bulldogs program tomorrow, what would have been its legacy?

Although there is no shortage of notable achievements in program history, I'd think any discussion of Georgia football would have to begin with the Herschel Walker era of the early 1980s. The three seasons when Walker -- arguably the best running back in college football history and the 1982 Heisman Trophy winner -- was on campus represent Georgia's all-time high-water mark.


July, 10, 2012
7/10/12
10:23
AM ET
Everybody can recite who's the all-time winningest coach in the SEC.
Bear Bryant won 232 career games at Alabama and became one of the most iconic figures in college football along the way.
To this day, Bryant's name is mentioned with reverence around the Capstone.
But even if you take his 232 career wins out of the equation, the Crimson Tide would still have 582 wins.
[+] Enlarge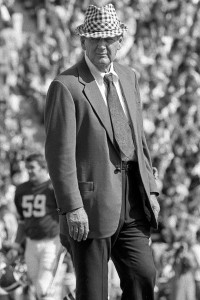 Bernard Troncale/US PresswireBear Bryant won 232 career games at Alabama.
So while the guy with the Houndstooth hat carved out a legendary career at Alabama, the Crimson Tide's success on the football field hasn't been defined solely by the Bryant years.
Frank Thomas won 115 games. Gene Stallings won 62 games. Wallace Wade won 61 games. Nick Saban -- in just five seasons -- has already won 55 games.
All five men, including Bryant, have also won national championships at Alabama.
In surveying the winningest coaches at all 14 SEC schools, some of what you find, especially when you take away each school's all-time wins leader, is telling.
For instance, Bryant is actually the winningest coach at two different SEC schools. He was 60-23-5 at Kentucky from 1946-53, and led the Wildcats to eight consecutive winning seasons.
July, 4, 2012
7/04/12
11:40
AM ET
By
DawgNation Staff
| ESPN Insider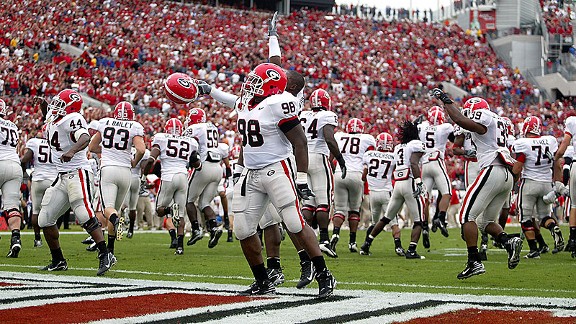 Palm Beach Post/ZUMA Press/Icon SMIDawgNation readers agree that the Bulldogs' first-quarter end zone dance in the 2007 win against Florida in Jacksonville was one of the most memorable 'fireworks' moments in UGA history.
Today being the Fourth of July, we expect to see fireworks and parades. Georgia football has had its share of fireworks through the years, if we talk about individual performances and astonishing victories. With that in mind we asked the staff and DawgNation's readers:
"What is the biggest fireworks display, figuratively speaking, you have seen at a Georgia football game?"
David Ching:
I'd have to say it was the 2007 Blackout game against Auburn. Because of the final score, people often forget that Georgia didn't play very well in that game until it flipped the switch midway through the third quarter. And when it did, holy cow. Touchdown after touchdown. Impromptu sideline dancing to "Soulja Boy" that got everyone on the home sideline and throughout the stadium hyped. I've never been in a stadium that was as electric as it was in Sanford that night in the fourth quarter. It was unforgettable.
Radi Nabulsi:
My first response would be the Blackout, or the 1991 Georgia game against Clemson in Sanford Stadium. I was in the stands and not working. That game was special, as freshman quarterback Eric Zeier came off the bench to lead the unranked Bulldogs to an upset of the No. 6 Tigers. Clemson had the No. 1 defense in the land, and Georgia won 27-12 in a rollicking night game. As if that weren't enough, at some point during the game the stadium announcer let everyone there know that the Atlanta Braves had just won the Nation League West for the first time in 22 years. People went crazy. After that my memory gets really fuzzy.
But I would say the greatest fireworks display was the 2006 Georgia vs. Auburn game at Jordan Hare Stadium. The Bulldogs had lost a heartbreaker to Kentucky the week before, and the 9-1 Tigers were ranked No. 5 in the nation. Georgia had lost four of its last five games, giving up 19 turnovers, and Auburn was looking to move up in the BCS rankings. Will Muschamp was Auburn's defensive coordinator. The feeling going into the contest was that Auburn was going to make mincemeat of the reeling Bulldogs. And it was going to rain.
To continue reading this article you must be an Insider
April, 13, 2012
4/13/12
5:41
PM ET
ATHENS, Ga. -- Hundreds of friends, family and dignitaries gathered Friday afternoon at the Georgia Center for Continuing Education to honor Charley Trippi -- a coal miner's son from Pennsylvania who starred at Georgia in the 1940s and went on to become one of the most accomplished football players of all time.
A host of speakers paid tribute to the 90-year-old Trippi at the dais, including Athens mayor Nancy Denson, who declared Friday "Charley Trippi Day" in his adopted hometown.
"To me, this is a great day. I will cherish it the rest of my life," Trippi said.
To continue reading this article you must be an Insider
January, 17, 2012
1/17/12
6:51
PM ET
As the Georgia football players return to the Butts-Mehre building for winter workouts this week, one familiar face will be absent.
The Bulldogs' assistant strength and conditioning coach John Kasay will no longer be part of the staff.
"We asked John to come out of retirement on a part-time basis last January and help us through a transition period in our strength and conditioning program," Senior Associate Athletic Director Claude Felton told DawgNation. "He graciously accepted and has provided everything we hoped for in supporting Joe Tereshinski [Georgia's director of strength and conditioning] as we moved in this new direction. That transition period has put us well down the road in our strength program, and John has stepped back into retirement with our sincerest thanks."
To continue reading this article you must be an Insider
November, 10, 2011
11/10/11
3:53
PM ET
As Auburn and
Georgia
meet again in The Deep South's Oldest Rivalry, oddsmakers in Las Vegas have picked the Bulldogs to be almost a two touchdown favorite over the Tigers. This bucks the historical trend of the road team winning this game.
The visiting team in this rivalry has consistently done well, as both Auburn and Georgia have winning road records against each other. Georgia is 14-10-2 in games played at Jordan-Hare Stadium while Auburn is 18-11 in games played in Athens.
Former Georgia coach Vince Dooley can attest to the visitor's success, as he earned a number of road wins and home losses during his 25 years of coaching the Bulldogs. He points to the 1970 and 1971 contests to illustrate the history of the rivalry.
To continue reading this article you must be an Insider
Peach State: Top Tier Recruiting Ground?
SEC SCOREBOARD
Thursday, 9/3
Saturday, 9/5