Georgia Bulldogs:

Top 5 moments
December, 14, 2012
12/14/12
7:00
AM ET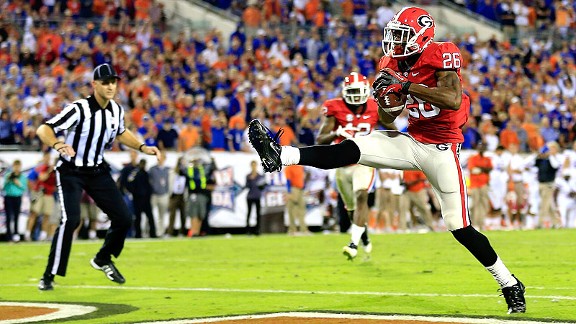 Sam Greenwood/Getty ImagesMalcolm Mitchell high stepping acrosse the goal line against Florida was the top moment of 2012.
Editor's note: Each day this week, we will look back at a memorable moment or series of events from Georgia's 2012 season. In today's final installment, we recall Malcolm Mitchell's touchdown catch against Florida that proved to be the game-winning score.
ATHENS, Ga. -- There might be a dozen plays from throughout Georgia's season that if the Bulldogs player didn't make the play he did, exactly when he did, the entire trajectory of the season might have been different.
We've covered some of them this week, including
Jarvis Jones
' key fourth-quarter takeaways in wins against Missouri and Florida and
Connor Norman
's heads-up onside kick recovery against Kentucky. But perhaps the greatest example of timely playmaking might have come in the Bulldogs' 17-9 win against then-unbeaten Florida, when
Malcolm Mitchell
turned a short pass into a 45-yard touchdown play.
Mitchell had been locked in a war of wills all afternoon with a fellow motormouth, Florida cornerback
Loucheiz Purifoy
and actually got himself briefly removed from the game by coach Mark Richt in the fourth quarter for drawing a 15-yard unsportsmanlike conduct penalty after a post-play incident with Purifoy.
Purifoy might have won that battle, but Mitchell won the war soon thereafter. Three plays after drawing the 15-yard penalty, Mitchell escaped from Purifoy to catch a third-and-5 pass from
Aaron Murray
just beyond the first-down marker at Florida's 38. A first down was not all Mitchell had on his mind immediately after shedding the Gators defender and looking at the wide-open swath of green grass in front of him as he turned upfield.
The speedster had sprinted to the Gators' 15 by the time he encountered his next defender, cutting inside a lunging
Matt Elam
to continue his trek toward the end zone. Next he blasted through tackle attempts by
Jon Bostic
and
De'Ante Saunders
at the 5 before high stepping into the end zone for a touchdown that pushed Georgia's lead to 17-9 with 7:11 remaining, with utter delirium breaking out on the Bulldogs' sideline and throughout Georgia's half of EverBank Field.
Jones and the defense still had to make one final stand before the Bulldogs' win was secure, but Georgia desperately needed a touchdown when Mitchell finally made the game's biggest offensive play. The Bulldogs and Gators finished with identical 7-1 SEC records at the end of the regular season, but Georgia's head-to-head win -- made possible by Mitchell's explosive skills with the ball in his hands -- was the difference between an appearance in the conference championship game and watching the game from home.
It also represented the hated Gators' only loss of the season -- and the first time since 1988-89 that Georgia has beaten Florida in back-to-back years -- and blocked Florida from BCS championship game consideration, which in hindsight might be the sweetest part about the victory for Bulldogs fans.
December, 13, 2012
12/13/12
7:00
AM ET
Editor's note: Each day this week, we will look back at a memorable moment or series of events from Georgia's 2012 season. Today we recall safety Shawn Williams' pointed comments about the defense's poor performance that many Bulldogs credit for reversing their fortunes.
ATHENS, Ga. -- Out of all the key moments in Georgia's season, perhaps one of the most important took place in the second-floor atrium of Butts-Mehre Heritage Hall, which houses the Georgia football program.
[+] Enlarge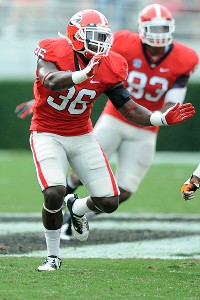 AP Photo/Don KellyShawn Williams' passionate comments after Georgia's struggle with Kentucky seemed to reinvigorate the Bulldogs defense.
Two days after yet another uneven defensive performance allowed lowly Kentucky to nearly upset the Bulldogs, senior safety
Shawn Williams
vented to reporters about his disgust at the defense's soft play. That sentiment had been circulating within the locker room and meeting rooms, but Williams made it public and rankled some of his teammates in the process.
He also provided the spark that many Bulldogs credit for reversing the team's fortunes, as a completely different Georgia defense took the field that weekend against then-unbeaten Florida. Not only did Georgia keep the Gators out of the end zone for the first time since 1988 in a series that the Gators have largely dominated for the last 20 years, but they went on to hold Florida and each of their next four opponents to their season lows in scoring.
We'll obviously never know whether such a defensive turnaround would have occurred had Williams kept his criticisms within the confines of the locker room. His teammates and coaches believe that was exactly the motivational stroke that the defense needed, however, as evidenced by teammates electing him as defensive team captain and coaches presenting him with a leadership award at last Saturday's team gala.
Williams had not spoken to reporters since preseason practice until that Oct. 22 interview and has appeared for interviews only once since, but the results speak for themselves in this case.
He was one of the veteran leaders of a defense full of future NFL players that was not playing to its potential. And after speaking his mind, that group played with a fire that had been lacking up to that point, helping the Bulldogs claim a second straight SEC East title.
All of the other moments we've featured in this recap came on the field, but Williams' speech -- because of the improved play it seemed to inspire -- was every bit as valuable. For that reason, it most certainly belongs on this list alongside the key touchdowns and defensive stands that helped the Bulldogs push within an eyelash of a spot in the BCS championship game.
December, 12, 2012
12/12/12
7:00
AM ET
Editor's note: Each day this week, we will look back at a memorable moment or series of events from Georgia's 2012 season. Today we remember the Connor Norman's onside kick recovery that preserved the Bulldogs' narrow win against Kentucky.
ATHENS, Ga. -- There was no shortage of memorable moments for a Georgia team that scored so many long touchdowns this fall. But without one key special-teams play by
Connor Norman
, it's possible that the Bulldogs' season would be remembered in an extremely different light.
The former walk-on's onside kick recovery late in the fourth quarter against Kentucky helped Georgia escape with an underwhelming 29-24 win -- a game after getting throttled 35-7 by South Carolina -- that allowed the Bulldogs to regroup and battle their way to a second straight SEC East title.
[+] Enlarge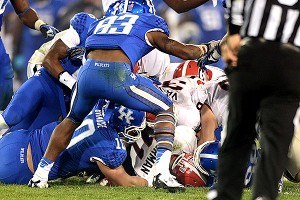 Radi Nabulsi/ESPN.comConnor Norman's onside kick recovery snuffed out Kentucky's last real chance to pull the shocker against Georgia.
Without question, Georgia was still dealing with a hangover from its embarrassing loss at South Carolina when it limped into Lexington off its bye week. The Bulldogs allowed the lowly Wildcats to score on their first possession and actually trailed Kentucky for most of the second and third quarters before finally pushing ahead 29-17 with a pair of second-half touchdowns.
But Kentucky answered with a 75-yard touchdown drive of its own and trailed by just five points with 3:59 to play as kicker
Joe Mansour
lined up to attempt an onside kick -- one that easily could have changed the course of the season for a Georgia team whose fans were still seething from the loss to the Gamecocks.
In truth, the Wildcats nearly pulled off the kick to perfection. Mansour dribbled the kick straight ahead for exactly the 10 yards necessary for Kentucky to recover and the Wildcats' front line did a great job of shielding Georgia's closest players from the ball. They didn't shield Norman, though, and the defensive back raced from his spot on Georgia's front line to pounce on the kick a split second before Mansour and keep the ball away from Kentucky's offense.
The Bulldogs took over at the Kentucky 45 and were able to pick up two first downs before finally turning the ball over on downs at the Wildcats' 16 with just nine seconds remaining. Kentucky was able to run just one more play, which the Bulldogs stopped for a short gain, before the game ended with Georgia victorious.
Nobody in red and black was pleased with the victory -- in fact, senior safety
Shawn Williams
launched into a public tirade about the defense playing soft two days later, which many Bulldogs credit as the season's turning point -- but the Bulldogs survived the close call with just one loss on their resume.
If Norman doesn't make that play, however, who knows whether Williams' words would have even mattered?
December, 11, 2012
12/11/12
7:00
AM ET
Editor's note: Each day this week, we will look back at a memorable moment or series of events from Georgia's 2012 season. Today we remember the Georgia defense's fourth-quarter stands that preserved a seven-point win against Tennessee.
ATHENS, Ga. -- Perhaps it seems strange to highlight a defense's performance in a game where the opponent scored 44 points, but the Georgia-Tennessee game from late September serves as an exception to that logic.
[+] Enlarge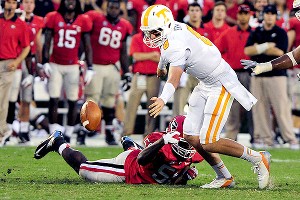 Scott Cunningham/Getty ImagesJordan Jenkins' strip of Tyler Bray was one of three fourth-quarter turnovers the Bulldogs forced in a 51-44 victory over the Vols on Sept. 29.
Sure, the Volunteers scored more points that afternoon than any of Georgia's other 2012 opponents, but it should be noted that Tennessee scored its first touchdown off an interception return and had additional touchdown drives of 8 and 18 yards following Bulldogs turnovers.
Nonetheless, it was far from a perfect day until the end.
Tennessee accumulated 478 yards of total offense and was within striking distance in the fourth quarter when Vols tailback
Rajion Neal
barreled into the end zone to cut Georgia's lead to 51-44 with 8:56 to play. That's when Georgia's defense awakened to stop
Tyler Bray
and the Tennessee offense in their tracks, forcing turnovers by Bray on each of the Vols' last three possessions to keep the lead at seven points.
December, 10, 2012
12/10/12
7:00
AM ET
Editor's note: Each day this week, we will look back at a memorable moment or series of events from Georgia's 2012 season. We begin today with Jarvis Jones' game-changing plays in two Bulldogs victories.
ATHENS, Ga. -- In a season full of highlight-reel plays, Georgia's All-America outside linebacker
Jarvis Jones
provided some of the most memorable moments.
[+] Enlarge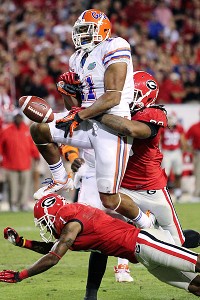 Icon SMIJarvis Jones' strip of Jordan Reed at the Georgia goal line sealed the Bulldogs' 17-9 victory over Florida and capped a dominating performance.
In particular, he placed himself in the Heisman Trophy conversation (he finished 10
th
) with a pair of dominant performances in wins against Missouri and Florida.
Although injuries eventually derailed Mizzou's season, the Tigers were a formidable opponent when the Bulldogs visited Columbia in Week 2 for the SEC newcomer's first conference game. And Georgia's outlook wasn't particularly sunny late in the third quarter when it trailed 20-17. But Jones was the driving force in the Bulldogs' 24-0 run to close the game, generating two touchdowns almost single-handedly.
With the Bulldogs leading 27-20 midway through the fourth quarter, Jones surprised Mizzou quarterback
James Franklin
by dropping back into pass coverage, picking off his throw at the Tigers' 22-yard line and returning it all the way to the 1 to set up a
Todd Gurley
touchdown.
On Missouri's very next possession, Jones ran down Franklin in the backfield for a sack and jarred the ball loose for a fumble that
Jordan Jenkins
recovered at the Tigers' 5.
Ken Malcome
scored a touchdown shortly afterward that pushed what had been a one-touchdown lead to a three-score advantage in the matter of only a few plays.
The national media started pumping Jones for the Heisman that night, but a series of injuries would take the steam out of the junior's grassroots campaign. However, if a defensive player ever gave a performance that merited that kind of attention, it was Jones' similar game-changing effort in a 17-9 win against then-unbeaten Florida.
He actually improved upon a four-sack effort against the Gators from 2011 by dominating every facet of the rematch. His final line: 13 tackles, 4.5 tackles for a loss, three sacks, two forced fumbles and two fumble recoveries would be an acceptable total for the average defensive starter -- for an entire season.
Jones did it in one game and provided possibly the play of Georgia's season when he chased down Gators tight end
Jordan Reed
at the Bulldogs' goal line and forced a fumble that
Sanders Commings
recovered in the end zone with 2:05 remaining to snuff out Florida's comeback bid.
Johnny Manziel
,
Manti Te'o
or
Collin Klein
enjoyed more successful seasons in the eyes of the many Heisman voters who helped them become finalists for the award. But Jones at his best was every bit as important as any of those players -- and his performances in these two games in particular paved the way for Georgia to win its second straight SEC East title and come within an eyelash of playing for the BCS title.
Peach State: Top Tier Recruiting Ground?
SEC SCOREBOARD
Thursday, 9/3
Saturday, 9/5