Georgia Bulldogs:

Shattle Fenteng
March, 14, 2014
Mar 14
9:00
AM ET
It's almost that time. Georgia is scheduled to open spring practice next week.
In previous weeks, we've broken down several players and position groups to watch this spring. As we lead up to the Bulldogs' first-team workout, this week we're making five predictions related to the upcoming practices.
[+] Enlarge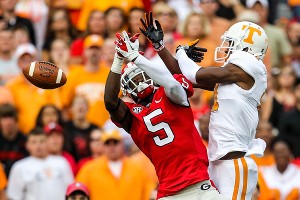 Daniel Shirey/USA TODAY SportsDamian Swann seems like the only safe bet to hold on to a starting job in the secondary next fall.
Today's final prediction: The secondary remains in flux
No element of Georgia's defensive drop-off was more concerning than the secondary, where the Bulldogs tumbled from eighth nationally in passing defense in 2012 to 60th last season, with their yards-allowed average jumping nearly 50 yards per game, from 175.6 to 227.4.
It was somewhat understandable, given that the Bulldogs had to replace four longtime contributors at safety (former All-American Bacarri Rambo and Shawn Williams) and cornerback (Sanders Commings and Branden Smith), three of whom were drafted. But the secondary's growing pains were the most obvious and anger-inducing element of Georgia's defensive struggles a season ago.
Coach Mark Richt and his staff certainly hope that the experience the group gained last fall will lead to a smoother fall -- and we do expect the secondary to improve under first-year defensive coordinator and defensive backs coach Jeremy Pruitt -- but today's prediction is that the depth chart will remain in flux beyond spring practice.
That will be for a variety of reasons. One is that some players who could compete for immediate playing time -- I'm thinking of the versatile
Shattle Fenteng
, whom ESPN listed as the top junior-college cornerback prospect for 2014, and cornerback
Malkom Parrish
-- are not even on campus yet. Another is that
Tramel Terry
is only a few practices into his transition from receiver to safety, while cornerback
Reggie Wilkerson
is still on his way back from a torn ACL suffered last summer.
We know who the leading contenders are in these position races -- senior
Damian Swann
, junior
Sheldon Dawson
and sophomores
Shaq Wiggins
and
Brendan Langley
all return at cornerback, while safeties
Corey Moore
,
Tray Matthews
and
Quincy Mauger
all gained starting experience last fall -- but Pruitt shouldn't be in any hurry to anoint anyone as a starter. After last year's results, he has no reason to do such a thing.
Swann is the safest bet to remain in the starting lineup. He has started 27 games in a row, after all, and is by far the most experienced player in this bunch. But beyond the senior cornerback, the other slots should be completely up for grabs. That grew even more certain when Richt booted starting safety Josh Harvey-Clemons off the roster about a month ago.
Pruitt has a couple of nice pieces to work with in this youthful secondary, but the group has a long way to go before it could be considered consistent -- or even competent. The coach has gotten impressive results from his defensive backs in previous stops at Alabama and Florida State, and he will almost certainly repeat that success at Georgia.
Don't expect it to occur overnight, however. The improvement process will begin this spring, and it seems highly likely that competition at the various secondary positions will continue well into preseason practice.
February, 14, 2014
Feb 14
9:00
AM ET
Georgia doesn't open spring practice until March 18, so we'll use the next few weeks to look ahead to those all-important workouts and preview what to watch once the Bulldogs get started.
Today we continue a series where we examine five position groups with room to improve. After touching on the
inside linebackers
,
offensive line
,
outside linebackers
and
safeties
, today we conclude the series with the cornerbacks, who struggled last season while rotating several players into starting positions.
1. Cornerback
[+] Enlarge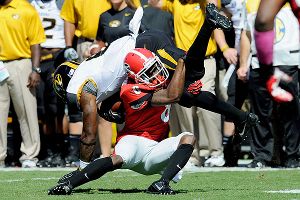 Dale Zanine/USA TODAY SportsFormer ESPN 300 cornerback Shaq Wiggins was up and down as a freshman for the Bulldogs.
Battling for No. 1:
As much as the safeties irritated Georgia's fans last season, the cornerbacks were just as maddeningly ineffective, if not more so. A year after leading the team with four interceptions,
Damian Swann
failed to pick off a single pass in a disappointing junior season. He led the team with eight pass breakups but failed to become the lockdown corner it looked like he had the potential to be during his first season as a starter. The other cornerback position was a revolving door with
Brendan Langley
opening the season as a starter before becoming a player that opposing quarterbacks targeted.
Shaq Wiggins
started eight of the last nine games, but there were times where the undersized freshman was a liability.
Sheldon Dawson
also started a game, although he was burned repeatedly in that game against Georgia Tech before the Bulldogs mounted a comeback to win in double overtime.
Strength in numbers:
On one hand, Georgia used a number corners during the 2013 season, so there are plenty of players with on-field experience. On the other hand, the group didn't exactly impress. Swann, Wiggins, Langley and Dawson will all be back -- and it will be the second season of actually contributing for all of them except rising senior Swann. Naturally it's a reasonable expectation that some of all of them might improve upon a rocky first season, particularly with new defensive coordinator Jeremy Pruitt coming aboard to coach the group. Th Bulldogs also have
Devin Bowman
, a rising junior, as a member of the group.
New on the scene:
It would not be a huge surprise to see signees
Malkom Parrish
or
Shattle Fenteng
jump into the mix immediately at corner. The super-athletic Parrish was the No. 77 overall prospect in the ESPN 300, and Fenteng was the No. 3 overall prospect in the Junior College 50 and the top cornerback. The Bulldogs also have
Reggie Wilkerson
and juco transfer
Kennar Johnson
coming off redshirt seasons. Wilkerson, an early enrollee last season, might have played a role if not for a season-ending knee injury that he suffered during summer conditioning workouts. Also, as we mentioned on Thursday,
Shaquille Jones
and
Dominick Sanders
have the versatility to play either cornerback or safety depending on need.
January, 30, 2014
Jan 30
7:00
AM ET
Georgia has another top-10 class lined up for national signing day, but its final ranking next week could rise or fall depending on how the Bulldogs finish within their own state -- particularly whether they land their top remaining target,
Lorenzo Carter
.
As it stands, the Bulldogs have commitments from two of the top six players from Georgia, but that's it among the Peach State's collection of elite prospects. Heavily recruited players such as linebacker
Raekwon McMillan
(Ohio State) and quarterback
Deshaun Watson
(Clemson) were among those who checked out Georgia before committing elsewhere.
Mark Richt's staff still has a chance to finish on a strong note, however.
[+] Enlarge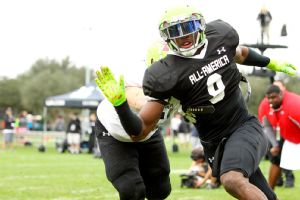 Miller Safrit/ESPNLorenzo Carter is the top remaining recruiting target for Georgia.
The Bulldogs seem to be in good shape to land five-star defensive end Carter (ESPN's No. 14 overall prospect and No. 3 player at his position). Other targets such as ESPN 300 prospect
Wesley Green
(No. 120 overall, No. 13 cornerback, uncommitted),
Bryson Allen-Williams
(No. 162 overall, No. 10 outside linebacker, committed to South Carolina) and
Andrew Williams
(No. 174 overall, No. 17 defensive end, uncommitted) are among those lurking as possible final members of the class.
Otherwise, this recruiting class -- one that could be slightly smaller than normal -- adequately addresses Georgia's immediate needs. Let's look at how Georgia addressed some of those positions:
Secondary:
Georgia's weakest position segment last season could use some immediate help -- and it will get it in cornerbacks
Shattle Fenteng
(No. 3 overall prospect, top cornerback on ESPN's Junior College 50) and
Malkom Parrish
(No. 77 overall, No. 10 athlete). Georgia recently added three-star athlete
Dominick Sanders
at corner. Green -- who is scheduled to join Carter and others on a visit to Athens this weekend -- and three-star athletes
T.J. Harrell
and
Tavon Ross
remain as targets.
The possible shortcoming here is that safety was an inconsistent position for Georgia last season and the Bulldogs have only three-star prospect
Kendall Gant
lined up so far.
With Josh Harvey-Clemons suspended to open the season, senior Corey Moore, rising sophomore Quincy Mauger and oft-injured Tray Matthews might be the only early options, but keep an eye on Harrell and Ross between now and signing day.
Running back:
With Todd Gurley and Keith Marshall entering their third seasons on campus, Georgia needed insurance policies at tailback.
The Bulldogs locked that up in a big way with the current headliners in this class,
Sony Michel
(No. 19 overall, No. 2 running back) and
Nick Chubb
(No. 63 overall, No. 7 running back). It will be interesting to see how Richt's staff juggles a glut of talented ball carriers just a year after injuries to Gurley and Marshall created depth problems.
Tight end:
With Ty Flournoy-Smith getting kicked off the team last summer and Arthur Lynch exhausting his eligibility in the fall, Georgia had a need at tight end.
Jeb Blazevich
(No. 101 overall, No. 2 tight end/H) could become Georgia's next great pass-catching tight end thanks to an impressive combination of size (6-foot-5) and soft hands.
Offensive line:
Replenishing the line of scrimmage is always a priority, and with Georgia losing starting guards Chris Burnette and Dallas Lee, signing a top prospect such as
Isaiah Wynn
(No. 106 overall, No. 6 guard) will be particularly valuable. The Bulldogs are also set to sign four-star tackle
Dyshon Sims
and three-star prospects
Kendall Baker
and
Jake Edwards
.
Receiver:
Georgia has plenty of bodies here for 2014, but Chris Conley, Michael Bennett, Jonathon Rumph and Michael Erdman will each be seniors and Justin Scott-Wesley and Malcolm Mitchell will be fourth-year juniors.
The Bulldogs have secured commitments from ESPN 300 member
Shakenneth Williams
(No. 297 overall, No. 45 receiver) and three-star prospect
Gilbert Johnson
. They also are set to re-sign
Rico Johnson
, who failed to qualify after signing with the Bulldogs last February.
Defensive line/outside linebacker:
Keep an eye on this group for the future. If Georgia lands Carter to go along with already-committed
Lamont Gaillard
(No. 55 overall, No. 4 defensive tackle), that could be the foundation for some outstanding defensive lines in the next couple of seasons.
The Bulldogs return almost everyone along the line from last season, so it is not a glaring immediate need. The 2014 line will be stocked with fourth-year players, though, so this is a good time to restock the depth charts for the future. They already have a commitment from the versatile
Keyon Brown
(No. 185 overall, No. 19 defensive end), with Carter and Williams potentially joining him. Like Brown, three-star outside linebacker
Detric Dukes
brings some versatility to the crop of commitments along the line.
Georgia's coaches never gave up on Allen-Williams even after his commitment to South Carolina in April. He insists he will still sign with the Gamecocks, but plans to visit Georgia with Carter and the others this weekend. Stay tuned.
December, 31, 2013
12/31/13
7:00
AM ET
Mark Richt painted a realistic picture last week when asked what it might take for Georgia's secondary to improve beyond its dismal showing of 2013.
It's a matter of inexperienced players -- basically the only kind of defensive back on the Bulldogs' roster -- developing confidence, he said.
"We've got to make a play first, then we've got to have a series that goes well, then a couple series, then a half, a game where you start making plays, you start getting better, you start gaining confidence," Richt said. "But really we did not see that. I didn't see that throughout the year. There's some work, obviously, that's got to be done."
Obviously.
[+] Enlarge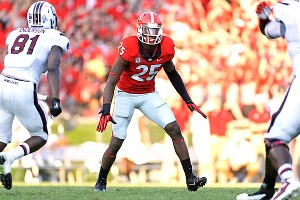 AP Photo/John BazemoreIt might have been a rough season for Josh Harvey-Clemons and the young Georgia secondary, but 2013's trial under fire should help the Bulldogs next season and beyond.
The stats by now are no secret. Georgia's secondary, which lost four of its top five players from 2012, was the weakest link in a shaky defense this fall. The Bulldogs ranked 10th in the SEC (68th nationally) in pass defense, allowing 232.8 yards per game. They were No. 84 in pass efficiency defense, allowing a 133.99 passer rating. And only two conference teams surrendered more yards per pass attempt than Georgia's 7.6 (Arkansas at 7.9 and Kentucky at 8.2).
It was a rough season any way you view it, although the Bulldogs hope it was only a temporary problem caused by a secondary that ranked second in the SEC in pass defense last season (Georgia's 175.6 ypg allowed in 2012 were just two yards behind conference leader Alabama) breaking in an entirely new group of defensive backs.
"I think every DB we have has played in a game or two," said cornerback
Damian Swann
, who along with safety
Corey Moore
will be the only two seniors in the bunch next fall. "And I think with those guys getting some experience, it's going to be great. Now they know what to expect, now they know how tough it is to play in this conference. I'm really looking forward to seeing these guys get after it."
Swann's statement is not entirely true. The Bulldogs will also have cornerback
Reggie Wilkerson
-- who missed the season after tearing his ACL during summer workouts -- and safeties
Tramel Terry
and
Kennar Johnson
, who both redshirted this season. They also have commitments from ESPN's No. 1 junior college cornerback, Shattle Fenteng (Loganville, Ga./Hutchinson Community College) along with incoming freshmen Malkom Parrish (ESPN's No. 73 overall prospect for 2014 and No. 9 athlete) and Kendall Gant (ESPN's No. 32 safety).
Add those players to the numerous freshmen and sophomores who played big roles this season -- cornerbacks
Shaq Wiggins
,
Brendan Langley
,
Sheldon Dawson
and
Devin Bowman
and safeties
Josh Harvey-Clemons
,
Tray Matthews
and
Quincy Mauger
-- and the Bulldogs are well on the way to rebuilding a depth chart that took a huge hit. The losses started coming after the 2011 season, when cornerbacks
Nick Marshall
and
Jordan Love
and safeties Quintavious Harrow and Chris Sanders all departed either by dismissal or transfer, followed by the exodus of
Shawn Williams
, Bacarri Rambo, Sanders Commings and Branden Smith for pro football after 2012.
"Some young guys got thrown into the fire," defensive coordinator Todd Grantham said. "I think it's like I told them, I said, 'When you get thrown into the fire, you can either get hard or you can wilt.' And I think they've gotten harder. I think I've seen a couple guys really improve, probably more than they would've if they hadn't been in that situation. So you've got to play the cards you're dealt and find ways to win games."
The question now is how they improve to the point where they are not the liability they were this fall, clearing a path for Georgia to win more than the eight games it has won thus far in 2013.
Moore believes progress will be a natural development out of this fall, when Swann was the only regular who entered the season with a start on defense.
"We were pretty young this year and [had a] lack of experience," Moore said. "Immaturity played a big factor this year and lack of experience and just communication and getting to know each other better on the field. I think that played in big this year. I think next year, we're not going to have those problems."
That's the plan, anyway, and what Georgia's players and coaching staff will spend this offseason making sure will be the case when the Bulldogs open the 2014 season against Clemson.
It was far from a banner season for Grantham's defense and, while that was not entirely unexpected, the coaches know the secondary must show marked improvement over the next year, starting with the Jan. 1 TaxSlayer.com Gator Bowl date with Nebraska.
"Did we have a chance to be pretty good? Yeah. When that's going to happen? I don't know," defensive backs coach Scott Lakatos said. "A hundred different things, how they turn out, is going to affect that. That's what we had do work through, and we're still working through that, as we get ready for this game."
December, 3, 2013
12/03/13
4:40
PM ET
For every recruiting class that includes junior college signees, there is a high-risk, high-reward proposition because most juco prospects are expected to provide immediate help while not having much time to do so. If you are a "two-to-play-two" prospect, your time is limited and the risk is higher. Below are three of our
top 10 prospects in the ESPN JC 50
, as well as current college stars we feel they resemble with their skill sets.
To continue reading this article you must be an Insider
August, 12, 2013
8/12/13
9:44
AM ET
Despite the college football season being just a few short weeks away, recruiting season is still in full swing. As always, there was lots of news in the SEC recruiting world, including a few commitments and a big unofficial visit that took place. and some upcoming decision dates. Now a few questions must be answered.

Here is a look at the weekend that was in SEC recruiting.
To continue reading this article you must be an Insider
August, 9, 2013
8/09/13
10:15
PM ET
ATHENS, Ga. -- The Bulldogs' coaching staff wanted bookend cornerbacks for the Class of 2014, and after picking up a verbal commitment from ESPN 300 athlete
Malkom Parrish
, the search was on to find his counterpart. That search ended Friday, when Georgia picked up a commitment from Hutchinson Community College cornerback
Shattle Fenteng
.
"I just want to be a Dawg," Fenteng said. "When I told the coaches, they were excited. They said they were jumping up and down."
Fenteng picked the Bulldogs over Ole Miss and Kansas State. He said it was Georgia's record that put the Bulldogs on top.
"I like that UGA is a winning program," Fenteng said. "That is important to me. I played at Grayson High School, where we won the state championship my senior year. And Hutchinson wins a lot, too."
Fenteng grew up less than an hour away from Athens, so when the offer came from the Bulldogs last Saturday, he pounced on the chance to return home.
"So I called Coach [Scott] Lakatos, and he told me I was the cornerback they were recruiting, and he wanted me to go there," Fenteng said. "He decided to offer me a scholarship."
The 6-foot-2, 184-pound cornerback took Lakatos up on the offer less than a week later. Fenteng had visited Georgia over the summer, so he knew what the Bulldogs had to offer.
"I liked my visit," Fenteng said. "I liked the coaching staff and the area too. I know what they can do for me."
As to what Fenteng can do for Georgia, well, he can just carry over what he is doing at Hutchinson.
"I had four interceptions and 16 pass break-ups last year," Fenteng said. "I had 57 tackles and two tackles-for-loss. We didn't do any corner blitzes last year, but we might do that this year, since we are sophomores and more experienced. Georgia likes to do that."
Scene and Heard: Top 10 Predictions
SEC SCOREBOARD
Thursday, 8/28
Saturday, 8/30
Sunday, 8/31