Georgia Bulldogs:

shaquille fluker
November, 8, 2013
Nov 8
3:00
PM ET
ATHENS, Ga. -- Whenever an injury or suspension has impacted Georgia's lineup throughout his time as defensive coordinator, Todd Grantham's standard line was that it was a chance to create depth.
That being the case, Georgia has had more than enough opportunity to build depth at safety this season -- although the transition from longtime starters
Shawn Williams
and
Bacarri Rambo
to a group of newcomers has frequently been bumpy.
"It's just a process," Grantham said. "You just stay the course and believe in the system and get the guys the reps they need and build on what they do well and try to improve the things that maybe they didn't do as well."
Williams and Rambo started the vast majority of Georgia's games at safety between 2010 and 2012, so their departure for the NFL after last season created a huge hole at the back end of the Bulldogs' defense. Sophomore
Josh Harvey-Clemons
-- the team's defensive MVP of spring practice -- and true freshman
Tray Matthews
were the offseason favorites to fill that vacancy, but a one-game suspension to Harvey-Clemons to open the season and a hamstring injury for Matthews have allowed the duo to play together for just three games.
[+] Enlarge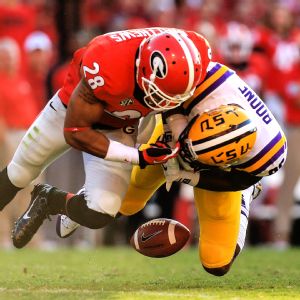 Daniel Shirey/USA TODAY SportsSafety Tray Matthews is expected to be back in the lineup for the first time since the Bulldogs' win over LSU in September.
Matthews should play Saturday for the first time since the Bulldogs' Sept. 28 win over LSU, which was the last time that Matthews, Harvey-Clemons and fellow safeties
Corey Moore
and
Quincy Mauger
all played in the same game.
Matthews has battled injuries essentially since preseason practice started in August, which put a damper on the excitement he generated during spring practice after enrolling at UGA in January.
"Even though he was here in the spring, he still has got to continue to work hard at perfecting what he does," Georgia coach Mark Richt said. "In the meantime, some other guys have been playing a good bit and getting some experience and things like that. But yeah, we'd definitely like to get him going out on the defensive scrimmage downs, and I'm sure he'll do it this week."
Georgia's long list of injury issues on offense has been the main storyline of the season entering Saturday's game against Appalachian State, but the issues at safety have been nearly as devastating -- particularly when you consider the lack of experience the group brought into the season.
True freshman Mauger is the only member of the foursome who has played in all eight games, while injuries and illnesses to the two junior college defensive backs in the 2013 signing class,
Shaquille Fluker
and
Kennar Johnson
, have prevented either from playing in a single game.
"This season has been a devastating year, but I feel like moments like this, it brings out the best in people," said Moore, a junior who joins senior
Connor Norman
as the group's elder statesmen. "'You can never be scared of competition,' my dad always told me. Injuries create opportunities, and there were plenty of opportunities out there that different players had to step in and make plays."
Moore has dealt with injuries himself. He tore the LCL in his knee while trying to block a punt during preseason practice and missed the Bulldogs' opener at Clemson. He didn't practice without a brace until the week of the Oct. 12 Missouri game. But he has made a couple of big plays for the Bulldogs in recent weeks, intercepting a pass two games ago against Vanderbilt and recording a 14-yard sack on Florida's final drive last week that helped Georgia put away a 23-20 win.
For the first time in a month, Moore is part of a safety group that is close to full strength -- Harvey-Clemons is also back after missing the second half of the Vanderbilt game and was frequently subbed out against Florida -- which provides options for Grantham and defensive backs coach Scott Lakatos that largely haven't existed this season.
"All four of those guys have had some snaps, so you feel comfortable rolling those guys in there," Grantham said. "That allows you to maybe have some different packages where you can play with three safeties and things like that, too. Injuries create depth. It's been a process for those guys, but they've done a good job working hard and now we've got some depth."
Mauger -- one of the least-heralded members of the 2013 class -- was thrust into position to where he had to play, but Grantham credited him for learning both safety positions and for his cerebral approach to the game. Mauger did not expect to play as much as he has, but the long list of injuries at his position forced him to fill a larger role than he might have otherwise.
"It is quite a surprise at some point," he said, "but then again I worked so hard for it, so why not?"
Now with Matthews back, Grantham and Lakatos are actually in position to consider their options at safety. Grantham didn't tip his hand as to whether Matthews will start, noting only that "he'll definitely play," but production matters more than who plays the first down, he said.
All four players will have an opportunity to produce, and slowly the group is becoming less of a liability than the one that was nearly devoid of on-field experience when the season started.
"You've just got to stay the course, believe in what you're doing and know the system works and just keep being consistent in your message to them and the things that you want them to do from a technique/fundamentals standpoint," Grantham said. "And then it'll start clicking and they'll start playing fast and they'll make some plays."
September, 16, 2013
Sep 16
7:00
AM ET
ATHENS, Ga. -- Georgia opened as a 36.5-point favorite for Saturday's game against North Texas, which should be enough to light a fire this week under the Hutson Masons, Reggie Carters and Jonathon Rumphs on the ninth-ranked Bulldogs' roster.


But before Georgia's coaching staff can help its reserves gain some on-field seasoning, the starters must first take control against a resilient Mean Green (2-1) club that outscored Ball State 31-7 after the first quarter on Saturday to win, 34-27.
"Just this past weekend, you saw Michigan playing Akron, and I don't know what their mindset was going into the game, but I know what it was, I'm sure, when the game was over," Georgia coach Mark Richt said, referring to Saturday's game in Ann Arbor, where the Wolverines needed a last-minute goal-line stand to defeat Akron, 28-24. "I think everybody's just got to understand that we must focus very, very hard on improving, but we need to focus very hard on our game plan."
Nonetheless, as long as Georgia's starters take care of business against the Mean Green, there should be more than enough playing time to go around for backups and those returning from injury to get some work in a game.
Repeat -- as long as they take care of business.
"We'll play the game as it happens," offensive coordinator Mike Bobo said of the prospect of playing Mason, the backup quarterback and potential 2014 starter. "Coach has never been one and I've never been one to say, 'Hey, you're playing this series, that series.' We're going to go out there with all our bullets, so to speak, and play the game and take it from there."
Against North Texas -- a team that ranks 94th nationally in total defense, allowing 435.7 yards per game -- the opportunity should arise to filter in some of the players who rarely saw the field in the first two games against Clemson and South Carolina.
That might include freshman tight end
Jordan Davis
or offensive lineman
Brandon Kublanow
, neither of whom has played to this point. Or more of fellow freshmen like Carter,
Tim Kimbrough
,
Ryne Rankin
,
Quincy Mauger
and
Shaq Wiggins
, who have contributed mostly on special teams.
"I would think anybody that's going to play has been on special teams and you've kind of seen them in there doing something," defensive coordinator Todd Grantham said. "Guys that maybe haven't done anything, I think right now the plan would be not to play those guys. Now obviously injuries or something could change that, but if I was looking to give you a barometer on the guys to expect moving forward, it would be guys that are playing on special teams right now."
Grantham's prediction doesn't include someone like Rumph, the junior college transfer who missed the first two games and a chunk of preseason practice with a hamstring injury. Richt said last week that the wide receiver was healthy again and should be available against North Texas if he sufficiently knocks off the rust this week in practice.
"I don't know if he'll get in as a rotation from the very beginning or it will be contingent on how the game goes," Richt said. "I'm not sure exactly where he's at, but he'll be available to play. He was getting a lot of work on special teams. Coaches are trying to incorporate him back into that. If he wasn't injured, I think he'd have been playing by now, scrimmage snaps and special teams snaps."
Preseason injuries also affected defensive lineman
Chris Mayes
and defensive backs
Shaquille Fluker
and
Kennar Johnson
– all junior college transfers, as well – so some combination of that trio could also figure into the coaches' plans at some point.
Otherwise, it could be the freshmen and reserves who take over in the second half so long as Georgia's starters build a big early lead. And that could be valuable at positions like receiver, tailback and inside linebacker where the Bulldogs could stand to develop some of the younger players who aren't at the top of the depth chart.
"Like I said at the beginning of the year, it was a concern of mine, the depth at tailback," Bobo said, although such a comment could apply at several positions. "It was good to get
Brendan Douglas
in [against South Carolina] and
J.J. Green
got a carry. He got a carry, got in last week.
"So we've got to continue to develop that depth if injuries do happen. It's a rough and tough league. We played two very good opponents in the first two weeks and guys played a lot of snaps and hopefully we'll get healed up and be ready to go."
September, 8, 2013
Sep 8
7:10
PM ET
ATHENS, Ga. -- Georgia coach Mark Richt expects left tackle
Kenarious Gates
and tailback
Keith Marshall
-- both of whom left Saturday's game against South Carolina with injuries -- to be available in time for the Bulldogs' next game, Sept. 21 against North Texas.
Gates appeared to injure his right ankle, opening the door for
Mark Beard
to take over at left tackle in the second half of the Bulldogs' 41-30 victory. Marshall jogged on the sideline and rode a stationary bike behind the Georgia bench after apparently injuring his left knee, but did not touch the ball again after a 10-yard run late in the third quarter.
"Anybody who was injured, including those two, any kind of X-rays or whatever that we looked at, everybody's fine. They all came out negative," Richt said on his Sunday evening teleconference. "We're expecting everybody to be able to play in our next ballgame."
Richt also expects receiver
Jonathon Rumph
to be available for the first time following a hamstring injury that kept him out of the first two games.
"We hope he's 100 percent," Richt said. "He was close. He practiced some, he just couldn't cut it loose. He couldn't go full speed and we didn't want him to push it, and so now I can't imagine him not being able to go full speed by the time we play this next game."
Georgia will also get a player back from suspension, as place-kicker
Marshall Morgan
's two-game punishment for an offseason arrest is now complete. Although
Patrick Beless
is a perfect 10-for-10 on PATs and 2-for-2 on field goals -- not counting a field-goal try against Clemson where a high snap prevented him from attempting a kick -- Richt said Morgan will resume his kicking duties against North Texas.
"Marshall has made a mistake, Marshall has been disciplined for that and I'm not going to continue to punish him," Richt said. "And so right now, I'm expecting Marshall to come in and take over the kicking duties, but it's good to know that Patrick is capable in big games and can come in in a pinch if we need to."
Georgia's coach is not sure when to expect junior college transfers
Shaquille Fluker
and
Kennar Johnson
to jump into the mix in the Bulldogs' depth-deprived secondary. Neither player has gotten into a game yet, largely because of injury setbacks during preseason practice.
"Right this minute, I don't see them jumping in the game anytime soon," Richt said. "But as the season goes on and their careers go on, we're happy with their talent base, their ability. They just kind of got behind the 8-ball with reps because of some injuries and some missing of practice time."
August, 14, 2013
Aug 14
11:45
PM ET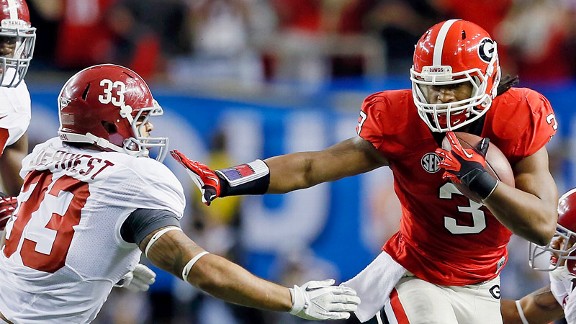 Kevin C. Cox/Getty ImagesTodd Gurley had 105 total yards and two touchdowns in Georgia's scrimmage Wednesday, part of a much more focused effort by the Bulldogs' offense.
ATHENS, Ga. -- Since his team will open the season at night against Clemson, Georgia coach Mark Richt wanted his team's final two scrimmages to be under the lights.
Richt got exactly the conditions and energy level from the team that he was hoping for in Wednesday's second scrimmage of the preseason -- a marked difference from the Bulldogs' listless effort a week ago.
"I thought it would be a good idea to do it this week because I just wanted it to be a nice, cool night, I wanted everybody to be well-rested and I just wanted to see a lot of energy out there," Richt said. "It was like night and day from the first scrimmage as far as just the energy level out there."
Georgia's coaches got what they expected from their starting units, as well, with those groups mostly having their way against the backups in traditional series and situational scenarios.
"When you scrimmage like this and you go ones versus twos, you hope that your No. 1 offense is going to have a pretty good go against your No. 2 defense and vice versa. And that's about how it's gone," Richt said. "If your second offense was just thrashing your No. 1 defense, then you've got a really, really serious problem. But that's not the case. I thought both No. 1 units played pretty good."
Several of Richt's assistant coaches said recently that they would begin narrowing the field of candidates for playing time after Wednesday's scrimmage so that they would have defined roles when they hold their third and final scrimmage next Wednesday. Richt said the coaches would grade film of the scrimmage within the next 24 hours, but their personnel decisions will likely take at least a few days.
"It'll be maybe a day or two before we start trying to figure out ... and it won't be exact until probably next Wednesday," Richt said. "I would think by next Wednesday when we have that practice game, we'll have a really good idea of our lineup."
As for statistics, there were no particularly eye-catching numbers on Wednesday -- unlike last week's scrimmage, when starting quarterback
Aaron Murray
threw three interceptions. Murray bounced back to go 14-for-18 for 173 yards, one touchdown and one interception on Wednesday, with backup
Hutson Mason
finishing 9-for-19 for 107 yards, one touchdown and one interception.
All-SEC tailback
Todd Gurley
was the offensive star of the evening, rushing five times for 33 yards and two touchdowns and adding three receptions for another 72 yards. Tailback
Keith Marshall
had six carries for 39 yards and freshman
Brendan Douglas
added seven rushes for 50 yards and two catches for another 31 yards.
"[Douglas] was very impressive today," Richt said. "He ran the ball well, he ran with power, he ran with some vision, he continued to pass [block] pretty good. He's not perfect in that area."
Blake Tibbs
and
Michael Bennett
caught the two touchdown passes and
Malcolm Mitchell
led the receivers with four catches for 58 yards.
Josh Harvey-Clemons
, suspended for the opener at Clemson, led the defense with seven tackles and three pass breakups.
Amarlo Herrera
had five tackles and two pass breakups, while
T.J. Stripling
,
Connor Norman
,
Garrison Smith
and
Leonard Floyd
all had four stops. Floyd also made a tackle for a loss and would have recorded a sack, Richt said, if not for being blatantly held by an offensive tackle.
Defensive end
Toby Johnson
recorded the one official sack.
Freshman cornerbacks
Shaq Wiggins
and
Brendan Langley
both made interceptions, with Langley returning his interception 48 yards for a touchdown. Richt said Langley also broke up a pass at the goal line to prevent a touchdown.
The two freshmen are not just competing to be the backups at cornerback, Richt said, they're competing with
Sheldon Dawson
to win a starting job alongside junior
Damian Swann
.
"I'd say they're all still competing, other than Swanny's going to be in there," Richt said. "But who the other starter will be, it's just a matter of watching what happened in this scrimmage and what happens between now and next Wednesday, probably."
Kennar Johnson
and
Lucas Redd
also intercepted passes.
The Bulldogs are still contending with a number of injuries, as 15 players appeared on Wednesday's injury report -- including safeties
Tray Matthews
(shoulder/hamstring),
Corey Moore
(knee sprain),
Shaquille Fluker
(illness),
Marc Deas
(elbow sprain) and
Paris Bostick
(foot surgery).
Nose guard
Chris Mayes
(concussion), linebackers
Tim Kimbrough
(knee sprain) and
Chase Vasser
(ankle sprain), receivers
Reggie Davis
(knee sprain),
Rhett McGowan
(ankle sprain) and
Rantavious Wooten
(hamstring strain), tailback
A.J. Turman
(knee/ankle) and tight end
Jay Rome
(ankle sprain) were also sidelined.
The good injury news, Richt said, was that he did not believe the team suffered any new injuries during the scrimmage.
"It was a good day. No one was banged up today," Richt said. "Sometimes the next day you hear something, but today Ron [Courson, Georgia's director of sports medicine] came to me and said everything looked good, so that's a blessing."
August, 13, 2013
Aug 13
7:00
AM ET
ATHENS, Ga. -- Having played at Mississippi Gulf Coast Community College -- a hotbed of junior college football talent --
Kennar Johnson
has already faced comparable levels of speed and athleticism to he will see in the SEC.
"The junior college league that I played in [the Mississippi Association of Community and Junior Colleges], they called it the SEC of junior college," said Johnson, one of five juco players who joined Georgia's roster this season. "You've got a lot of those guys who go to the SEC and are SEC players in football, they just can't make it out of high school [academically]. So I'm seeing it. … It's just maybe one level higher than what I saw."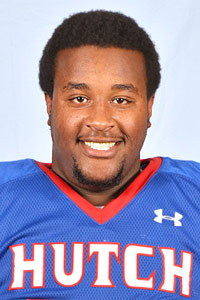 Hutchinson CC Sports InformationFour-star defensive tackle Toby Johnson is the highest ranked of Georgia's five junior college signees.
Rarely is it the physical side of the sport that impedes a junior college transfer's progress once he arrives at Georgia, however. The biggest obstacles are picking up the complexities of the Bulldogs' offensive or defensive schemes and adapting to the more regimented schedule that accompanies life inside a big-time football program.
As with most of their predecessors, that's how Georgia's newest juco transfers see it.
"I get frustrated all the time," admitted
Toby Johnson
, who as the No. 4 prospect in ESPN's Junior College 100 was the highest-rated of Georgia's five juco signees. "I'm just going to get better every day in meetings and stuff. I'm the type of player, I've got to walk through it."
The most productive junior college transfer of Mark Richt's Georgia tenure, nose guard
John Jenkins
, encountered the same issues during the previous two seasons in Athens. He struggled after arriving in 2011 before eventually picking up the scheme and enjoying a strong second half of the season. He was good enough last fall to become a third-round pick in this year's NFL draft.
But those first few weeks and months on campus can be a shock to the system following a less demanding experience in junior college.
"In juco, we didn't do much," said
Shaquille Fluker
, a big-hitting safety from East Mississippi Community College. "Because here it's like we're starting in the morning and work out through all the day. … Here, they've got our whole day [scheduled]."
Receiver
Jonathon Rumph
was the first member of the group to face that culture shock, having arrived on campus in January and participated in the Bulldogs' spring practice.
Although the 6-foot-5 Rumph was one of the stars of Georgia's spring game, offensive coordinator Mike Bobo was critical of Rumph's overall spring performance. After a few months on campus and a bit more time to refine his technique, however, Rumph has Bobo singing a different tune today.
"His improvement from the spring is a big jump," Bobo said Sunday. "He's smoothing out. He's still overall a little bit learning the offense, learning how to run routes, and then at the same time using his size. But I know going into the spring game, he really didn't make any plays for us in practice and made a couple of those in the spring game. But now he's made some plays in fall practice, which is good to see."
It's on the defensive side where Georgia will be especially reliant on the former juco players, though. Along with the two Johnsons and Fluker, nose guard
Chris Mayes
could also play an important role on a defense that has a number of holes to fill after losing 12 key players from last season.
Their physical maturity was one factor in Georgia's pursuing them as recruits, as an older player might be better prepared than a true freshman to contribute immediately. In addition, signing five juco players -- the most for a single signing class in Richt's UGA tenure -- was part of a numbers game.
Georgia's 33-man class was also the largest overall in Richt's career, so signing a group composed solely of high schoolers would have created a glut of freshmen on the roster. The coaching staff wanted a bit more balance than that.
"If you take all freshmen, then four years from now you're going to be in a similar situation," defensive coordinator Todd Grantham said. "So by taking a couple of junior college guys, I think it balances out your class with some older guys and new guys. Sometimes older guys have a little more experience, maturity and things like that. They've all had to catch up with the system."
Georgia dealt with a severe shortage of scholarship players over the last couple of seasons thanks to various forms of roster attrition, so the huge signing class helped the Bulldogs finally get back around the NCAA's 85-man roster limit.
The juco transfers and many of their signing class mates are sure to play right away -- and even if they don't start, simply having them on the roster is a pleasant change for Richt's staff because of the competition they bring to their respective positions.
"We always look and say, 'All right, of all the players that are available to recruit, what combination of players gives us the best chance to win?' " Grantham said. "There's nothing that says when you sign that guy, it always has to be that he's going to be the lockdown starter. It could be to provide depth. It's based upon how they play and how they produce, but at least you have numbers at the position. That's the big thing."
SLOW STARTS FOR JUCO ADDITIONS
Georgia signed five junior college players this year -- the most of any season since Mark Richt became the Bulldogs' coach in 2001. Here's a look at how Georgia's previous juco transfers under Richt performed in their first seasons on campus.
2012
OL Mark Beard:
Started two games at left tackle and ranked among top reserves on offensive line.
2011
NG John Jenkins:
Started seven games and finished with 28 tackles, six tackles for a loss and three sacks.
2010
S Jakar Hamilton:
Started five games and made 27 tackles. Intercepted a pass in opener against Louisiana-Lafayette and returned it 17 yards for a touchdown.
2009
K Brandon Bogotay:
Kicked off twice while serving as Blair Walsh's backup.
2008
LB Akeem Hebron:
Returned to team after one-year hiatus at Georgia Military College. Recorded one tackle in six games as a reserve linebacker.
2007
OG Scott Haverkamp:
Started the first three games and appeared in seven games before leaving the team.
DT Corvey Irvin:
Recorded 13 tackles and two tackles for a loss in 13 games as a reserve defensive lineman.
OT Vince Vance:
Appeared in 11 games as a reserve offensive lineman.
DE Jarius Wynn:
Recorded nine tackles, one tackle for a loss and one sack in 13 games as a reserve defensive end.
2001
DE Nic Clemons:
Recorded three tackles in five games as a reserve defensive lineman.
OT Kareem Marshall:
Started five games at offensive tackle.
CB Brandon Williams:
Made 13 tackles and broke up three tackles in 10 games as a reserve defensive back.
June, 3, 2013
Jun 3
7:00
AM ET
ATHENS, Ga. -- Just when it looked like the identities of Georgia's secondary starters were becoming clear, we learned that sophomore safety
Josh Harvey-Clemons
will
miss the Bulldogs' opener at Clemson
.
That threw open the door for other players to enter the lineup for the opener, not only in the four traditional secondary spots but also in the nickelback role that Harvey-Clemons figured to fill most of the time when the Bulldogs deployed five defensive backs.
However, we'll keep the question simple for this week's DawgNation roundtable: With Harvey-Clemons out of the picture for the first game, who will be the starting four in the secondary when Georgia plays its base defense against Clemson?
To continue reading this article you must be an Insider
January, 13, 2013
Jan 13
3:45
PM ET
ATHENS, Ga. – The Georgia Bulldogs will be looking to replace both starters at safety next season as seniors Bacarri Rambo and Shaun Williams graduate and move on to the NFL. So far the Bulldogs' coaching staff has five safeties committed in the Class of 2013, but one,
Shaq Fluker
(Meridian, Miss./East Mississippi Community College), has been rumored to be looking around lately.
Fluker took his official visit to Georgia this weekend and made a decision.
To continue reading this article you must be an Insider
November, 25, 2012
11/25/12
8:31
PM ET
Shaquille Fluker
(Meridian, Miss./East Mississippi Community College) has been committed to Georgia since August. He recently picked up an offer from another prominent program that could be enticing enough to warrant a trip to check them out.
"Texas offered me the week before Thanksgiving," Fluker said. "It does not affect me much because I still want to stay in the SEC. Texas is a great school, but I do not know much about them, so I am thinking about taking an official there Dec. 7."
Fluker, a 6-foot-2, 200-pound safety, is also thinking about taking an official visit to Georgia soon. He says his commitment to the Bulldogs remains solid.
To continue reading this article you must be an Insider
August, 14, 2012
8/14/12
1:21
PM ET
When juco safety
Shaquille Fluker
(Meridian, Miss./East Mississippi Community College)visited the University of Georgia in June, he picked up a surprise offer from the Bulldogs. At the time he expected the coaching staff to wait to see his film from the upcoming season. The confidence the staff showed in Fluker almost made him commit on the spot. He held off then, but less than two months later, Fluker has decided to commit to Georgia.
"Georgia is who I am going with," Fluker said. "I called Coach Mark Richt and Coach (Scott) Lakatos last Thursday night and they were happy that I wanted to be a part of their football team and the Bulldog family.
Fluker had a number of offers from around the nation with more coming. He picked Georgia over Ole Miss, Kansas, Iowa State and Nebraska among others. The Cornhuskers and the Jayhawks were in his top three with the Bulldogs.
August, 7, 2012
8/07/12
3:36
PM ET
While the summer months are considered downtime, the Georgia Bulldogs have continued their torrid recruiting pace this summer, picking up several commitments from prospects in several states. With the ability and, arguably, the dire need to bring in more than 30 signees for the 2013 class, the Bulldogs have been aggressive with offers. That has paid off with a group that already dwarfs that of the freshman class now on campus. As football season approaches, DawgNation takes a look back at the goings on and decisions made in the past few months, along with a look ahead at what to keep an eye on this fall.
[+] Enlarge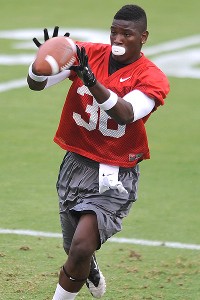 Radi Nabulsi/ESPN.comTampa, Fla., safety Paris Bostick was slated to announce his decision this summer, and still might. The Bulldogs are considered a favorite to earn his commitment.
Commitments piling up
As school let out across the country, prospects seemingly lined up to make their commitments known to the Bulldogs. ESPN 300 wide receiver
Uriah LeMay
(Matthews, N.C./Butler) committed to Georgia on June 1. The 6-foot-2, 197-pound wideout picked the Bulldogs over Clemson, Notre Dame, Virginia Tech and Ohio State, among others. Two days later, another ESPN 300 receiver secured a spot, as
Reggie Davis
(Tallahassee, Fla./Lincoln) verbally committed. The 6-foot, 162-pound four-star prospect is considered one of the top deep threats in the always-loaded Sunshine State. Less than a week later the Bulldogs picked up their top outside linebacker target,
Naim Mustafaa
(Alpharetta, Ga./Alpharetta). It was a rare in-state battle for the 6-foot-4, 235-pound four-star, although SEC rival Tennessee continues its pursuit.
To continue reading this article you must be an Insider
July, 30, 2012
7/30/12
8:45
AM ET
Juco safety
Shaquille Fluker
of Meridian, Miss., is getting close to picking his next destination after his stint at East Mississippi Community College. The 6-foot-2, 200-pound defensive back says he wants to get the decision out of the way.
"I want to make a decision at least by the second week of August, before we kick off the season," Fluker said.
With his decision coming soon, several schools are making their pitch to the hard-hitting safety.
To continue reading this article you must be an Insider
June, 24, 2012
6/24/12
11:19
AM ET
While it remains to be seen whether or not Chris Sanders will be able to return to the University of Georgia, another talented junior college safety was in Athens recently -- and got big news before he left.
Shaquille Fluker
(Scooba, Miss./East Mississippi Community College) says he arrived on campus at Georgia on June 15 to see how the program was run, how the campus looked and how the offseason workouts were run. As the 6-foot-2, 200-pound safety prepared to head back, defensive backs coach Scott Lakatos had something he needed to tell him.
"When I was about to leave, Coach Lakatos said Mark Richt needed to talk to me," Fluker said. "Coach Richt told me I had an offer to play at Georgia. I did not expect them to offer me so soon. I thought they would wait until seeing me during next season, so that was pretty great."
To continue reading this article you must be an Insider
Raekwon McMillan discusses recruitment