Georgia Bulldogs:

Sammy Watkins
September, 1, 2013
9/01/13
9:00
AM ET
CLEMSON, S.C. -- Let's take a look at five factors to consider in Georgia's 38-35 loss at Clemson on Saturday, and let's look ahead as well.
[+] Enlarge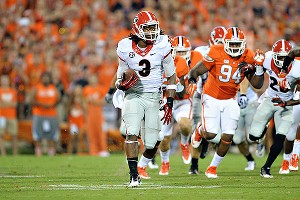 Allen Kee/ESPN ImagesDespite an injury, Todd Gurley still rushed for 154 yards and two touchdowns in Georgia's loss.
1. Injuries hurt Bulldogs:
Georgia rolled up 35 points and outgained Clemson 545 yards to 467. It did so without All-SEC tailback
Todd Gurley
available for a chunk of the game and also without receiver
Malcolm Mitchell
for nearly the entire game.
Not that Bulldogs coach Mark Richt was willing to use that as an excuse afterward.
"Moving the ball's fun and all that, but winning the game's what it's about," Richt said. "We're not going to celebrate that."
Gurley and Marshall actually sustained their injuries on the same play, with potentially devastating effects for the Bulldogs. Gurley strained his quad while completing a 75-yard touchdown run in the first quarter and then Mitchell suffered a right knee injury during the post-touchdown celebration.
"He got hurt after Gurley scored and in the end zone, [Mitchell] jumped up to celebrate with him," Richt said. "When he came down, he hurt his knee."
Richt was unsure about the status of either player for next Saturday's South Carolina game, although he said of Mitchell's injury that "I've got a feeling his might be worse than Todd's."
2. Gurley still runs tough:
Despite the injury, Gurley returned to the game -- to his coach's surprise -- and ran effectively in the second half.
"I really was surprised he came back into the game to be honest with you," Richt said. "He came back earlier in the game after that and just was not effective at all. He came back later in the game and was able to do a little bit more of what Todd is capable of."
After rushing four times for 81 yards in the first half, Gurley carried eight times for 73 more yards after intermission, finishing with 154 yards and two touchdowns. And he did much of that damage on runs between the tackles.
According to ESPN Stats and Information, Gurley ran 11 times for 142 on designed runs between the tackles, including three runs of 10 yards or more. Unfortunately for Georgia, the rest of the Bulldogs ran 19 times for 75 yards on between-the-tackles runs, with only 14 coming in the second half (2.0 ypc).
3. Young defense struggles:
Georgia defensive coordinator Todd Grantham said afterward that he was pleased with the effort shown by the many newbies in his lineup, but lamented that many of their mistakes -- such as missed tackles and a blown coverage on a wheel route -- were typical of inexperienced players.
Perhaps the most costly missed tackle came in the first quarter when Clemson receiver
Sammy Watkins
broke away from Damian Swann's tackle attempt and went 77 yards for a touchdown. But that wasn't the only example.
ESPN Stats and Information reports that Watkins accounted for 102 yards after the catch against Georgia -- the third-best YAC game of his career trailing the 137 and 105 he posted against Auburn and Florida State, respectively, in 2011.
4. Murray's turnovers costly:
Georgia raced up and down the field in the first quarter, but a number of protection issues hurt the Bulldogs and quarterback
Aaron Murray
in the second.
Clemson accounted for three of its four sacks in the second quarter alone -- and one of them led to a Tigers touchdown.
Stephone Anthony
knocked the ball away from Murray at the Georgia 20 and
Spencer Shuey
recovered at the 16. Five plays later, the Tigers scored a touchdown to make it 21-all.
"The fumble was unfortunate," Richt said. "We've got to squeeze the ball better. That was a tough turnover right there, and it cost us a short field and seven points."
Georgia was soon in prime scoring position after
Justin Scott-Wesley
recovered a Watkins punt fumble at the Clemson 30, but Tigers defensive end
Corey Crawford
surprised Murray by dropping into coverage and picking off Murray's first-down pass at the 17.
Richt credited Clemson and Crawford for a good play call and an outstanding play on the interception.
Clemson punted after the second Murray turnover, but the Tigers had stifled one of the Bulldogs' best scoring opportunities of the quarter.
"As [Murray] let the ball loose, he didn't see the guy on the back side -- and off of a play fake … it's not like you dropped back in the pocket and can see the whole field. So he just did a good job of being in the right spot and made a nice catch."
5. Win no longer probable after botched FG:
This season ESPN is introducing a number of new methods of statistically analyzing the sport -- one of which measures win probability through the course of the game.
Find an explanation of the set of new metrics
here
:
Clemson held the advantage for most of the game, although Georgia became the more likely victor -- with a 53-percent likelihood of victory -- late in the third quarter when it trailed 31-28 and earned first-and-goal at the Clemson 5. When the Bulldogs failed to reach the end zone after three straight runs, their win probability dropped to 40 percent. And when holder
Adam Erickson
couldn't corral Nathan Theus' high snap on a potential 20-yard, game-tying field goal, Georgia's chances for victory dropped to 30 percent.
Georgia trimmed Clemson's lead to three points late in the final period, but that missed opportunity late in the third was the Bulldogs' best chance to seize the game, according to ESPN's new metric.
September, 1, 2013
9/01/13
3:35
AM ET
CLEMSON, S.C. -- About two hours before kickoff on Saturday evening, hordes of Clemson fans lined Centennial Boulevard, shoulder-to-shoulder in the blazing heat, to watch the players and coaches make their celebratory "Tiger Walk" from the busses into Memorial Stadium.
"I can't wait to see him," whispered Tyler Englehart, an awestruck freshman, to nobody in particular.
[+] Enlarge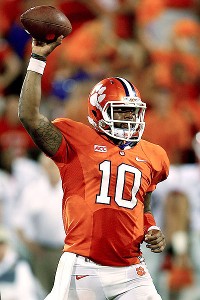 Streeter Lecka/Getty ImagesTajh Boyd stood tall against Georgia, accounting for all five of Clemson's touchdowns.
Clemson quarterback
Tajh Boyd
, wearing a dark suit and a purple bowtie, was one of the last players to stroll down the line, and the crowd seemed to grow louder with every step he took. Boyd called the atmosphere "surreal," but it paled in comparison to the show he put on in the historic 38-35 win over No. 5 Georgia. Boyd was on, even when his receivers were off. He ran with the strength of a fullback and took hit after hit. He was responsible for all five of his team's touchdowns -- three passing and two rushing.
"Tajh is our Superman," running back
Roderick McDowell
said.
"Tajh is the best football player on this team, in this conference, in the nation," added defensive end
Corey Crawford
.
Perhaps the most awestruck fans of Boyd are the ones who practice with him every day.
Clemson's win over Georgia legitimized the Tigers as a national title contender, and further boosted Boyd's résumé as a Heisman hopeful. He finished with 312 yards of total offense, a school record for a season opener, and now has 22 wins as a starter -- tied for fourth most in school history. For just the third time in his career, Boyd finished with multiple rushing touchdowns. He also helped deliver one of the biggest wins in school history on the biggest stage.
"His leadership and how he brought us together at the end of the game, we thrived off him," wide receiver
Sammy Watkins
said. "With him getting first downs, and him getting the ball out of his hands on the edge, and us blocking, he made us good tonight."
That's exactly why Boyd came back, instead of leaving early for the NFL.
He came back to run down The Hill before what was the largest, most raucous home crowd he had ever seen.
He came back to experience the "surreal" moment of walking through a horde of fans in the team's pregame "Tiger Walk."
He came back to compete for a national title.
"He's a baller," offensive coordinator Chad Morris said. "There's no question about what Tajh Boyd means to this program, to this university and to college football. To go against the opponents he's gone against the last two games and two control the games in a manner in which he did, it says a lot about him."
Neither team's defense played particularly well early in the game, and Clemson was outgained in total yardage, but Boyd made more clutch plays and was able to stay on his feet while Georgia's
Aaron Murray
was sacked four times. This game was billed as featuring two of the best quarterbacks in the country. It did, but Murray had a fumble and an interception, both in the second quarter. His critics will likely continue to point to his 3-11 record against teams that have finished in the Associated Press Top 25.
Meanwhile, Boyd has now led Clemson to back-to-back wins against SEC teams.
"He played like a veteran quarterback is supposed to play," Morris said. "We had a couple of drops tonight, and they very well could have led to some more scores. He never rattled, he never shoot, and his ability to run the football tonight made us successful."
Boyd's 4-yard touchdown run in the first quarter gave Clemson the early 7-0 lead, and his 77-yard pass later in the quarter to Watkins put the Tigers up 14-7. Boyd always seemed to find an answer in what was a thrilling, electric, back-and-forth game that lived up to every bit of the hype. In the third quarter, he found
Zac Brooks
for a 31-yard touchdown pass, and threw the game winner to
Stanton Seckinger
in the fourth quarter.
"I think it turned a lot of heads in the college football world," Boyd said of the win. "It was a very monumental win for the university and program and conference in general. All that good stuff is great, but we have to keep working to keep and keep our eyes on the prize. This is only the opener. We have 11 games left. We have to continue to keep working."
Clemson fans had to wait to see Boyd in the Tiger Walk, but he didn't waste any time making his statement against Georgia.
August, 30, 2013
8/30/13
8:00
AM ET
No. 5 Georgia and No. 8 Clemson will end a 10-year hiatus in their historic rivalry Saturday when the Bulldogs visit Death Valley n in one of the most intriguing matchups of opening weekend.
Let's examine five key elements involved in a game that could impact this season's BCS championship chase:
Big-play offenses:
Las Vegas is predicting two of the nation's most-prolific offenses to combine for around 70 points on Saturday night. And research provided by ESPN Stats and Information gives us plenty of reasons to see why many analysts expect a high-scoring game between the Bulldogs and Tigers.
Beyond simple scoring and total offense stats, they both ranked among the nation's top big-play offenses a season ago. Georgia ranked first nationally or tied for first in touchdowns of at least 20 yards (31), 30 yards (22) and 50 yards (12) and led the nation with an average of 7.09 yards per play.
Clemson, meanwhile, led the nation in completions of 25 yards or more (51) and touchdown passes that covered at least 25 yards (20). Clemson's
Tajh Boyd
had 11.2 percent of his passes go for completions of at least 25 yards, which was the highest of any quarterback in the country who attempted at least 150 passes.
Georgia quarterback
Aaron Murray
led the nation in yards per pass attempt (10.1) and percentage of attempts to gain 20 yards or more (16.1).
Both quarterbacks improved their accuracy on passes of 20-plus yards last season, with Murray completing 46 percent of such throws (an increase of 17.3 percent) and Boyd hitting on 51 percent (an increase of 14 percent).
Will Watkins step up?:
With Georgia breaking in a largely rebuilt secondary, this game would seem like a prime opportunity for Clemson's 2011 All-American receiver
Sammy Watkins
to exploit the Bulldogs' youth.
Watkins talked a big game about beating Georgia during the offseason, but will he reclaim his spot as the Tigers' top receiving target after losing that title last fall to DeAndre Hopkins. Watkins was third nationally in all-purpose yards (2,288) in 2011, but totaled fewer than half as many a year later (1,073). His touchdowns-per-touch ratio dropped from 1-in-9.6 to 1-in-17.8, as well.
Clemson quarterbacks targeted Watkins 44 fewer times (from 123 in 2011 to 79 last year) and his catch (82 to 57), receiving yardage (1,219 to 708) and touchdown (12 to three) totals all dropped severely.
Hopkins led the nation with 11 touchdown catches of 25-plus yards last season, so the Tigers desperately need Watkins to live up to the standard he set in 2011 and replace some of the departed star's production. Watkins is more than capable, posting 11 TD catches of 25-plus yards in his first two seasons as a Tiger.
Pound the run?:
An interesting subplot to Saturday's game is how Georgia offensive coordinator Mike Bobo will attack Clemson's defense. The Tigers also have some concerns in the secondary -- this on the heels of surrendering 7.32 yards per pass attempt a season ago. But conventional wisdom seems to dictate that Georgia uses its powerful running game -- paced by All-SEC pick
Todd Gurley
and
Keith Marshall
-- to extend drives and provide time for its defense to rest between series against Clemson's up-tempo offense.
Both players averaged better than 6 yards per carry last season, due in large part to their capabilities as home-run threats. They combined for 12 runs of 25-plus yards, eight of which went for touchdowns. Gurley alone had 27 carries that went at least 15 yards, which tied for fifth in the FBS.
Clemson ranked 57th nationally against the run last season, surrendering 155.92 yards per game on the ground in Brent Venables' first season as the Tigers' defensive coordinator. The Tigers were 71st against the pass at 240.3 ypg.
Murray on the big stage:
Fair or unfair, Saturday's game -- and the upcoming matchups with South Carolina and LSU in September -- will serve as another referendum on Murray's status as a big-game performer.
[+] Enlarge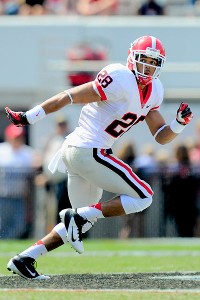 Dale Zanine/USA TODAY SportsDespite big-name offensive talent, Georgia-Clemson could come down to young defenders like Tray Matthews.
Georgia's quarterback caught plenty of guff over shortcomings against ranked opponents well into last season. He's 3-11 in his UGA career against teams that ended the season ranked in the AP Top 25 with 23 touchdowns versus 16 touchdowns against those teams. He's 25-2 with 72 touchdowns and 16 interceptions against teams that finished unranked.
The positive sign for Murray is that he has won two of his last three games against opponents that finished the season as a ranked team: Florida and Nebraska last season. Following an atrocious first half against Florida last season, Murray has tossed seven touchdowns against three interceptions in 10 quarters against ranked opponents, including the SEC championship game loss to Alabama.
Fresh-faced defenses:
Let's have some fun with numbers concerning Georgia and Clemson's defensive depth charts.
After losing 12 key players from last season's defense, Georgia defensive coordinator Todd Grantham appears set to trot out a large group of newbies. Of the 22 players listed on the Bulldogs' defensive two-deep in this week's game notes, 16 of them have never started a college game. Heck, nine of them, including seven true freshmen, have never PLAYED in a college game.
But a number of them -- including outside linebacker
Leonard Floyd
, defensive lineman
John Taylor
, safety
Tray Matthews
and cornerbacks
Brendan Langley
and
Shaq Wiggins
-- could play big roles on Saturday.
Meanwhile, Clemson has some experience issues of its own. Ten of the 22 players on the defensive two-deep have never started and three of them are freshmen. They're expected to be without injured freshman cornerback
Mackensie Alexander
, who at No. 4 in the 2013 ESPN 150 was Clemson's highest-rated signee in its most recent recruiting class.
It's easily conceivable that Saturday's outcome could be determined by which team's young defensive personnel acquits itself more effectively in its first game in leading roles.
July, 31, 2013
7/31/13
7:00
AM ET
ATHENS, Ga. -- Aside from his first preseason camp, when Georgia's defensive players were still learning the nuances of his 3-4 scheme, this might be the most important August of Todd Grantham's tenure as defensive coordinator.
With numerous starters to replace and a boatload of newcomers joining the team this spring and summer, the Bulldogs' defensive staff has its work cut out in first determining which players can help the team this fall, and then preparing them for that job.
When he met with reporters last week, Grantham explained how the staff will break its August preparations into three segments, starting with Thursday's first preseason practice.
[+] Enlarge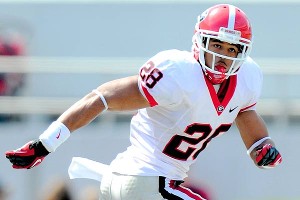 Dale Zanine/USA TODAY SportsGetting true freshmen such as Tray Matthews integrated into the defense this spring was huge for Georgia.
Evaluate the talent:
All 19 of Georgia's defensive signees qualified -- although defensive backs
Reggie Wilkerson
and
Paris Bostick
are both out for the season with injuries -- so the first thing the defensive coaches must do is evaluate who is ready to play.
"The first third of camp, we need to evaluate our talent and find out what our pieces are," Grantham said. "And then find the guys that can help us win and put those guys in those positions."
The Bulldogs would be in a particularly tight spot had seven of those signees not enrolled in January. Most, if not all (except Wilkerson), of those early enrollees could play in some capacity this fall. And some -- like safety
Tray Matthews
, linebacker
Reggie Carter
and defensive linemen
Chris Mayes
and
John Atkins
-- could play a lot.
The learning process will continue for the early enrollees in camp, but they have a head start on signees who arrived during the summer. Confusion will be the typical state of being for that bunch over the next couple of weeks.
"I think we got a pretty good idea of what those guys can do and the fact that they came in in the spring was very beneficial to us and them," Grantham said. "Even though they are freshmen, they've been through the system for a spring, got a good grasp on it so they're going to get to do it again in August. The big thing is we need to evaluate the talent."
Prepare for different offenses:
This category required some adjustment for Grantham as well, having spent a decade-plus in the copycat NFL before returning to the college game in 2010. A defensive coordinator in college has to be on his toes because he will face a wide array of offenses over the course of the season -- an issue that doesn't exist for coordinators in the pros.
The Bulldogs will spend the middle third of the preseason practicing concepts that will help them defend some of those offenses, from the Clemson spread in week one to the Georgia Tech option in the regular-season finale.
"You've got some tough games coming along. Obviously the first two [Clemson and South Carolina] are going to be important, but ... we have Florida in the middle there, we've got Missouri, we've got Tennessee that's new, and then you've got Georgia Tech at the end that's completely different, too, and you're always going to have different nuances each week.
"My approach and our approach has always been to introduce those guys to the concepts that they're going to have to have or understand to stop these style of offenses. So during the middle session, you're going to get ready for your season."
Dig into Clemson:
Georgia's coaches formulated general plans for their first two games weeks ago. Once they're two-thirds of the way through August, it will be time to begin implementing and modifying their plans for the Aug. 31 opener at Clemson.
The Tigers boasted one of the nation's most productive offenses last season. And while they lost talented running back Andre Ellington and 1,400-yard wideout DeAndre Hopkins, they still return a Heisman Trophy contender in quarterback
Tajh Boyd
and another star in receiver
Sammy Watkins
. But Grantham said they will approach preparing for the opener in their standard fashion despite the challenges that exist in defending the Tigers' explosive attack.
"Once you get to the back end there, that's when you start focusing in on the first game and getting ready for that," Grantham said. "I think that no matter who your opponents are, you need to do it that way because you need to be ready for the long haul. You've got to be ready for the entire season and the things that present themselves each week."
July, 8, 2013
7/08/13
7:00
AM ET
ATHENS, Ga. -- Georgia has not announced whether
Marshall Morgan
will face any game punishment following his recent arrest, but the sophomore kicker might be out for at least the Aug. 31 opener at Clemson.
The Bulldogs were already without sophomore safety
Josh Harvey-Clemons
for the opener following a separate disciplinary incident -- a big blow for an inexperienced secondary facing Clemson's high-powered offense.
That brings us to this week's DawgNation roundtable question: Georgia already had some positional questions entering the opener at Clemson. Now a couple of off-the-field incidents have added more lineup uncertainty. In your opinion, what is the Bulldogs' biggest area of concern for that game?
June, 25, 2013
6/25/13
12:00
PM ET
It's Rankings Week at DawgNation. Each day this week, we'll rank some aspect of Georgia's football program and the teams and players the Bulldogs will face in the 2013 season.
[+] Enlarge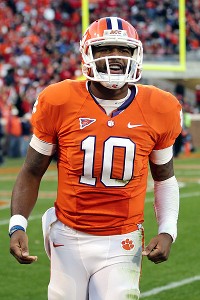 Streeter Lecka/Getty ImagesClemson QB Tajh Boyd will be a tough challenge for Georgia's rebuilt defense.
Today we're ranking the top 10 offensive players the Bulldogs will see this season. On Wednesday, we'll turn to the top 10 defensive players.
1. Tajh Boyd, QB, Clemson:
The Heisman Trophy contender ranked seventh nationally in total offense last season (339.2 ypg) and figures to be a nightmare for Georgia's rebuilt defense as a running and passing threat. His 36 passing touchdowns and 10 scores on the ground last season attest to the problems he will present.
To continue reading this article you must be an Insider
March, 6, 2013
3/06/13
7:00
AM ET
Editor's note:
Each day this week, we'll ask a question that Georgia's football team faces this spring as it moves toward the 2013 season. Today's question: The Bulldogs face one of the most difficult September schedules of any team in the country. Will the rebuilding defense be ready for that challenge?
ATHENS, Ga. -- By the end of September, we should have a good idea whether Georgia, a likely preseason top-10 pick, will live up to its lofty expectations.
Nothing will be a bigger factor in the Bulldogs' success or failure in the first month -- when the Bulldogs visit Clemson and host South Carolina, North Texas and LSU -- than how quickly the new starters on defense adapt to expanded roles.
To continue reading this article you must be an Insider
Peach State: Top Tier Recruiting Ground?
SEC SCOREBOARD
Thursday, 9/3
Saturday, 9/5