Georgia Bulldogs:

Riley Ferguson
June, 4, 2014
6/04/14
11:30
AM ET
It's that time of year that coaches dread, when unfortunately there tends to be as much activity off the field as on the field.
On Tuesday, we saw three projected defensive starters in the league -- Georgia safety
Tray Matthews
and Texas A&M linebacker
Darian Claiborne
and defensive tackle
Isaiah Golden
-- shown the proverbial door.
[+] Enlarge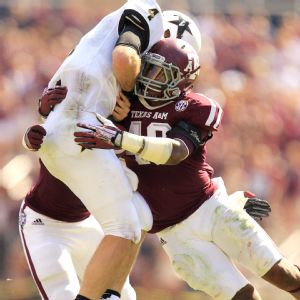 Thomas Campbell/USA TODAY SportsTexas A&M's Darian Claiborne is one of three several projected SEC starters who were dismissed by their schools on Tuesday.
In the case of Claiborne and Golden, they were already on double-secret probation and
ran out of chances
after being arrested and charged with robbing three victims at gunpoint on May 23 after the three men agreed to purchase marijuana from Claiborne and Golden. Claiborne had already been arrested twice and Golden once in the last seven months.
Much will be made of the Aggies, especially as bad as they were on defense a year ago, being in no position to lose young talent the caliber of Claiborne and Golden. But Texas A&M coach Kevin Sumlin is smart enough to know when enough is enough, and when you've got guys on your team who already have previous brushes with the law and are accused of robbing people at gunpoint (in a drug deal, no less), it's past time to cut your losses.
At Georgia, coach Mark Richt
had obviously had enough
with Matthews, who started six games a year ago in an injury-plagued freshman season. Matthews had shown promise and was a big hitter, but Richt's statement concerning Matthews' dismissal spoke volumes. Matthews was arrested in March, along with three other players, and charged with allegedly cashing school-issued financial aid checks twice.
"We are trying to make room for guys who want to do things right," said Richt, who almost never publicly calls out players, be it current players or former players.
Ironically, Matthews tweeted that he'd likely wind up at Auburn or Louisville, a pair of schools that have become a safe house of sorts for Georgia players who get into trouble or decide to leave the program.
Josh Harvey-Clemons
and
Shaq Wiggins
have transferred to Louisville, and
Nick Marshall
is entering his second season as Auburn's quarterback.
Just in the last five or six years, Richt has cut loose a ton of highly regarded talent. Other than Matthews, Harvey-Clemons and Marshall, some of the other names include
Isaiah Crowell
,
Zach Mettenberger
,
Chris Sanders
, Ty Flourney-Smith,
Brent Benedict
and Washaun Ealey.
Below is a list of the some bigger names around the SEC who've either been dismissed or have decided to transfer for various reasons since the end of last season:
Alabama:
RB
Alvin Kamara
Florida:
S
Cody Riggs
, QB
Tyler Murphy
Georgia:
S
Josh Harvey-Clemons
, QB
Christian LeMay
, S
Tray Matthews
, CB
Shaq Wiggins
Kentucky:
QB
Jalen Whitlow
LSU:
QB
Stephen Rivers
Missouri:
WR
Dorial Green-Beckham
Ole Miss:
OT
Austin Golson
Tennessee:
QB
Riley Ferguson
Texas A&M:
LB
Darian Claiborne
, DT
Isaiah Golden
, QB
Matt Joeckel
, S
Kameron Miles
June, 2, 2014
6/02/14
12:00
PM ET
Starting tonight Florida and Alabama tussle for the national championship in softball. After that, we're running out of college sports seasons.
May, 28, 2014
5/28/14
12:00
PM ET
With the SEC spring meetings in full swing in Destin, Florida, there is plenty of league-related reading material floating around the Internet. Let's take a look at some of the headlines coming out of Destin.
April, 30, 2014
4/30/14
11:30
AM ET
Answers rarely come in abundance in the spring. Football answers anyway.
In the SEC, spring practice has come and gone again this year. And as usual, there are things we think we know and really don't. There are things we're sweating and probably shouldn't be. And then there are those things that sort of have a way of burying themselves until the real lights come on in the fall.
"I don't know of many championships that have been won in the spring," said Steve Spurrier, who won six SEC titles at Florida and is still pushing to win one at South Carolina. "You find out some things about your team, but there's a lot you don't know."
What is known, at least in the realm of SEC football, is that this is the first time since 2006 that the league has exited a spring without one of its schools being the defending national champion.
Florida went on to win it all during the 2006 season, igniting a streak of seven straight national championships for the SEC -- a streak that was broken in January when Florida State rallied to beat Auburn in the final seconds at the Rose Bowl.
[+] Enlarge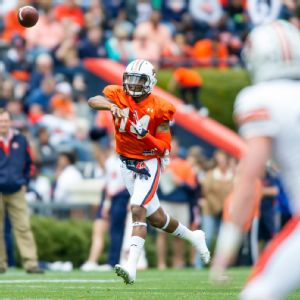 Michael Chang/Getty ImagesNick Marshall wasn't even on Auburn's campus last spring. Now he might be the best quarterback in the SEC.
Auburn is as good a pick as any from the SEC to rejoin the national championship equation this fall, and a big reason why is a quarterback nobody knew much about this time a year ago on the Plains.
Nick Marshall
wasn't even on campus for spring practice last year; he was finishing up junior college. But he was easily one of the most improved players in college football last season with his exceptional athletic ability and knack for making the big play.
Now, with a spring practice under his belt and an entire season in Gus Malzahn's offense, Marshall figures to be much more in 2014 than simply a dynamic athlete and adequate passer.
He might be the best quarterback in this league.
"I think the big thing is just being more comfortable," Malzahn said. "You can see him in the pocket. He's just more under control. His balance is good. His eyes and his progression are good, so you can tell he's really improved."
So whereas there are zero questions surrounding who will play quarterback at Auburn, the Tigers' Iron Bowl rival, Alabama, went the entire first half of its spring game without scoring a touchdown.
Granted, sometimes the real mission in a spring game is not to show too much or get anybody hurt. But there was no hiding the Alabama quarterbacks' struggles in that game, nor the fact that the guy who's probably the favorite to win the job -- Florida State transfer
Jacob Coker
-- was a spectator at the game. Coker will be on campus next month.
The quarterback position, period, was loaded in the SEC last season, and several coaches agree that some of the defensive numbers that skyrocketed a year ago may come back down to normalcy next season.
At least six schools -- Alabama, Kentucky, LSU, Tennessee, Texas A&M and Vanderbilt -- head into the summer with their quarterback situations not completely settled.
And at five of those schools, there's a decent chance a true freshman or redshirt freshman could end up winning the job or at least sharing the duties in the fall.
At Kentucky, true freshman
Drew Barker
is making a bid for the job. True freshman
Brandon Harris
had a big spring at LSU, while redshirt freshman
Riley Ferguson
is right in the mix at Tennessee, as is redshirt freshman
Johnny McCrary
at Vanderbilt.
At Texas A&M, true freshman
Kyle Allen
is competing with sophomore
Kenny Hill
for the starting job, although Hill ended the spring indefinitely suspended per athletic department policy after being arrested and charged with public intoxication.
So talk about the great unknown.
Then again, wasn't it just two springs ago that some guy named
Johnny Manziel
was coming off an arrest of his own and was nothing more than one of the four candidates to replace Ryan Tannehill as the Aggies' starter?
Things can obviously change pretty dramatically come fall.
[+] Enlarge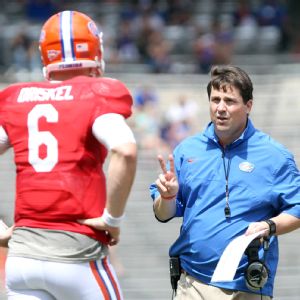 Kim Klement/USA TODAY SportsQuarterback Jeff Driskel and coach Will Muschamp have a lot of pressure to prove Florida's 2013 season was not a sign of things to come.
For Florida and Will Muschamp, they need to change. The Gators, coming off their worst season since 1979, are determined to show that last season's 4-8 finish was nothing more than an embarrassing hiccup and not a sign that the program is spiraling downward.
Muschamp, with the pressure squarely on, feels much better about his offense coming out of the spring. He hired Kurt Roper away from Duke to run the offense, and quarterback
Jeff Driskel
is healthy again and back to his comfort zone under Roper.
Driskel's supporting cast, including the offensive line, needs to be better, but there's no question Roper will play to Driskel's strengths next season.
"We're going to bounce back," Driskel said. "Sometimes, you need things like [the 2013 season] just to realize where you need to be. You can tell that everybody's humble, everybody's ready, everybody's a team guy, everybody's a team player.
"I'm really looking forward to it. It should be fun."
Unpredictable, too.
Sort of like how everybody had Missouri winning the East and Auburn winning the West leaving the spring a year ago -- a pair of teams that won two league games between them the season before.
"The more you're around this league, the more you realize how small that margin is between being a team that's pretty good and a team that wins a championship," said
Dylan Thompson
, South Carolina's fifth-year senior quarterback.
"You have to approach every game with the same amount of focus, which is easier said than done. It's a constant battle, but you have to stay focused the whole ride."
February, 25, 2013
2/25/13
4:45
PM ET
We're taking a look at key storylines for all seven teams in the SEC Eastern Division.
Chris will take a look at the main issues in the Western Division on Tuesday.

FLORIDA GATORS
Spring start:
March 13
Spring game:
April 6
What to watch:
1. Rebuilding at linebacker: The Gators have to start figuring out the linebacker situation. Do they go with redshirt junior Michael Taylor in the middle, who's a run-stuffer but has to come off the field in passing downs? Or do they try sophomore Antonio Morrison, who played outside at 218 pounds as a freshman and has hopefully bulked up a bit? The most likely scenario is Morrison, which means UF has to find a weakside linebacker. That could be freshmen early enrollee Daniel McMillian or Alex Anzalone. The strongside starter should be, at least entering the spring, redshirt junior Neiron Ball.

2. Robinson's growth: One of the most scrutinized players this spring will be receiver Demarcus Robinson. He was the only one of UF's five receiver signees to enroll early and he'll be given every chance to win a starting spot. UF's receivers have been below average for the past three seasons and the Gators desperately need someone to become a consistent playmaker. The 6-foot-2, 195-pound Robinson, who caught 53 passes for more than 1,000 yards and scored 15 touchdowns as a senior at Fort Valley (Ga.) Peach County, is going to be under a lot of pressure to produce.

3. Driskel's confidence: Quarterback Jeff Driskel returns for his second season as a starter, and it'll be interesting to see how much he improves on his decision-making, release and accuracy. He's sure to benefit from not splitting reps 50-50 any longer. But just as important as Driskel's development is what happens behind him with redshirt junior Tyler Murphy and redshirt freshman Skyler Mornhinweg. Neither has thrown a pass in a college game. Why is that important? Because Driskel has not been able to stay healthy in his first two seasons in Gainesville. He missed starts as a freshman and sophomore because of ankle injuries. UF was lucky in 2012 to have Jacoby Brissett, who had played significantly as John Brantley's backup in 2011. With Brissett transferring to NC State, the Gators no longer have that luxury.

-- Mike DiRocco, GatorNation
GEORGIA BULLDOGS

Spring start:
March 2
Spring game:
April 6
What to watch:
1. Rebuilding the defense: Georgia begins its transition to a completely new collection of defensive talent this spring. No longer are Jarvis Jones, Alec Ogletree, Shawn Williams, Bacarri Rambo and John Jenkins on the roster. In fact, the Bulldogs must replace a total of 12 defensive players who were either full-time starters or key contributors, and at some positions, the possible replacements have little to no college experience. That makes this a pivotal time for defensive coordinator Todd Grantham to begin identifying which players will fill those roles, as the Bulldogs will have little margin for error when they open the season against Clemson's explosive offense Aug. 31. Some names to watch this spring: Josh Harvey-Clemons, Sheldon Dawson and Jonathan Taylor.

2. Developing the youngsters: The good news for Grantham and the other defensive coaches is that they brought in a number of January enrollees who should be able to help immediately. Junior college transfer Chris Mayes and John Atkins hope to fill the void left by Jenkins and Kwame Geathers at noseguard. Ryne Rankin and Reggie Carter will immediately enter the mix at linebacker. And cornerback Reggie Wilkerson and safeties Tray Matthews and Quincy Mauger can help address Georgia's depth shortage in a secondary that lost four key players. Georgia's 13 early enrollees -- more than twice as many January enrollees as Georgia coach Mark Richt has ever brought in before -- will help fill needs on both sides of the ball, but the defense is where the newcomers were most necessary.

3. Offensive line reps: For the most part, Georgia used the same starting lineup along its offensive line throughout the 2012 season and each of those starters should return this fall. But two of those starters -- right guard Chris Burnette and right tackle John Theus -- underwent surgeries during the offseason and will miss all or part of spring practice. There was a good chance that offensive line coach Will Friend was going to deploy more players in his line rotation this fall anyway, but the valuable practice reps that will be available with Burnette and Theus sidelined might make a deeper rotation even more likely. Someone still has to take advantage of the opportunity, however.

-- David Ching, DawgNation
KENTUCKY WILDCATS

Spring start:
March 18
Spring game:
April 13
What to watch:
1. Getting used to new coaches: New coaches are roaming Kentucky's football facility this spring. Mark Stoops brings a more defense-minded philosophy to Lexington, but his coaches will have to get things going on offense if the Wildcats are going to improve in 2013. There are always awkward moments when transitioning to a new staff, but now's the time to create valuable trust on both sides.

2. Finding offensive playmakers: Stoops might have a strong defensive background, but the Wildcats have to find answers on offense. Injuries were an issue last year, but for two straight years the Wildcats had real problems finding consistent playmakers on offense. Quarterback Maxwell Smith returns, but he needs more than just wide receiver La'Rod King to help him. Getting running back Josh Clemons back would be big, but expect the coaches to turn to a young group of receivers and running backs.

3. Tougher team: One thing Stoops wants from his players is a tougher identity. Stoops wants to build a stronger team from the ground up. He's taking a page from Texas A&M coach Kevin Sumlin when it comes to preparing his new team. This spring, we'll see just how much of an emphasis the coaches put on the weight room and conditioning before hitting the football side of things.
MISSOURI TIGERS

Spring start:
March 12
Spring game:
April 20
What to watch:
1. Josey's rehab: The Tigers will be keeping tabs on running back Henry Josey, who missed all of 2012 after suffering a devastating knee injury midway through the 2011 season. He was the Big 12's best running back before his injury and Mizzou needs him back. The staff has had to be patient, but this could be a crucial time in his rehab, as he looks to get his football legs back.

2. Rebuilding the front seven: Mizzou must replace a lot in its front seven. Star defensive tackle Sheldon Richardson's absence leaves a gaping hole up front, while linebackers Will Ebner and Zaviar Gooden must be replaced. Lucas Vincent will be first in line to take Richardson's spot, while Darvin Ruise, Donovan Bonner and Michael Scherer are three players to watch at linebacker.

3. Toughening up: Injuries ravaged Mizzou's offense last year, but it's clear that Mizzou wasn't in the playing shape that it would have liked to be in during its first year in the SEC. Injuries are part of the game, but gaining that toughness factor this spring will go a long way for the Tigers in 2013. The SEC is more than just a grind, and the Tigers found out the hard way that conditioning in this league is a little different than in the Big 12.
SOUTH CAROLINA GAMECOCKS

Spring start:
March 5
Spring game:
April 13
What to watch:
1. New backfield options: Marcus Lattimore and Kenny Miles are gone, so the Gamecocks will have to turn to their younger backs. Brandon Wilds missed the 2012 season with an ankle injury but should return this spring. Rising sophomore Mike Davis has all the tools to be a big-time player for the Gamecocks and could be the top option in the Gamecocks' backfield. Shifty Shon Carson also returns from a knee injury, so South Carolina will have a solid group to work with this spring.

2. QB controversy: Quarterback Connor Shaw might be tabbed as the starter, but with him out for the spring, Dylan Thompson will take the first-team reps. Thompson proved to be very valuable last year, and both will play this fall. Thompson has become one of the most vocal players on the team and is a strong leader. A good spring could bring some real controversy to the position.

3. Holes at linebacker: South Carolina will be without its two-deep at linebacker and "Spur" DeVonte Holloman is gone. That means there's a lot of work to be done when it comes to finding viable replacements. Sharrod Golightly will get the early crack at the Spur, and keep an eye on Kaiwan Lews, who was a true freshman last year and has a lot of potential to work with.
TENNESSEE VOLUNTEERS

Spring start:
March 9
Spring game:
April 20
What to watch:
1. New coaches on the block: With Butch Jones in town, the Vols have to get used to their third head coach in five springs. Jones and his staff have helped bring some much-needed energy to the program since arriving, but now it's time to develop vital on-field chemistry between the coaches and players.

2. Receiving help: The Vols' offense took at major hit at receiver. Juniors Justin Hunter and Cordarrelle Patterson made the leap to the NFL, while deep threat Zach Rogers and tight end Mychal Rivera graduated. Tennessee will now turn to a host of inexperienced receiving targets, including rising sophomore Alton Howard and early enrollee Paul Harris.

3. Quarterback battle: With Tyler Bray leaving for the NFL, Tennessee will work with rising junior Justin Worley and redshirt freshman Nathan Peterman. Worley has the edge when it comes to game experience, but with a new staff, this battle will be wide-open. They will also need to make strides before freshmen Joshua Dobbs and Riley Ferguson get on campus this summer.
VANDERBILT COMMODORES

Spring start:
March 15
Spring game:
April 13
What to watch:
1. Replacing Rodgers: Quarterback Jordan Rodgers is gone. The good news is Austyn Carta-Samuels has good experience after starting two years at Wyoming before transferring to Vandy. Redshirt freshman Patton Robinette is someone the coaches also are excited about, especially with his dual-threat ability, and should really push Carta-Samuels the whole spring.

2. Running back battles: The Commodores lost star running back Zac Stacy, so veteran Wesley Tate, who has bounced around positions, and rising sophomore Brian Kimbrow, who has the do-everything look to him at running back, will share reps. Warren Norman and Jerron Seymour also return, making for quite the talented backfield.

3. Keeping the edge: Now that another very successful season under James Franklin is over, the Dores have to continue to keep the edge that got them to where they are. It might sound like a broken record, but Vanderbilt still has to prove that it isn't the Vandy of old. People are certainly taking the Dores more seriously, but keeping that edge is important for more growth.
February, 8, 2013
2/08/13
11:13
AM ET
Now that the pens have been put to paper, the classes have been announced and most of your attention has turned to the 2014 recruiting season, it's time to take a look at how each school in the SEC did when it came to immediately filling needs.
We're checking out what all 14 teams did to fill holes, and we're looking at which holes still remain. We'll start with the SEC East:
FLORIDA

Needs filled: LB, OL, DB, WR, DT -
- The Gators had one of the most complete classes out there, finishing second in the ESPN class rankings. Florida landed the top cornerback prospect (No. 3 nationally) in
Vernon Hargreaves III
, defensive tackles
Caleb Brantley
and
Jay-nard Bostwick
, linebackers
Daniel McMillian
and
Matt Rolin
, and safeties
Keanu Neal
and
Marcell Harris
. The Gators also added five wide receivers, including ESPN 150 members
Demarcus Robinson
and
Ahmad Fulwood
.
Holes remaining: DE --
Will Muschamp seemed thrilled with his class, but he probably would have liked to get a least one more defensive end. The Gators missed on a few, including
Tashawn Bower
, who almost picked the Gators before signing with LSU. Four-stars
Jordan Sherit
and
Antonio Riles
were the only defensive ends in this class.
GEORGIA

Needs filled: ILB, S --
The Bulldogs had to replace a few bodies at middle linebacker, and did so by signing four. The star of the group is four-star ESPN 300 member
Johnny O'Neal
, who is the No. 5 inside linebacker in the county.
Tim Kimbrough
and
Ryne Rankin
, both ESPN 300 members, also signed with the Dawgs. Georgia also signed five safeties, including two junior college standouts. The top safety in this class is ESPN 150 member
Tray Matthews
.
Holes remaining: Elite OT, elite RB, elite DT --
Mark Richt was pleased with his 32-man signing class, but he knows it could have been better if a few elite players had signed with Georgia. The Dawgs barely missed on top offensive tackle
Laremy Tunsil
(Ole Miss), No. 4 running back
Alvin Kamara
(Alabama) and No. 2 defensive tackle
Montravius Adams
(Auburn).
August, 20, 2012
8/20/12
1:33
PM ET
Every week through football season, DawgNation writer Kipp Adams will reveal five things he learned while out on the road for Friday football. Those nuggets could include recruiting gems, game observations and/or merely thoughts on sports in general. You might already know all of it, but do us a favor and try your best to pretend it's all news to you.
[+] Enlarge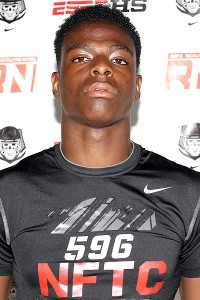 Tom Hauck for ESPN.comOnly a three-star, Matthews (N.C.) Butler ATH Channing Stribling opened play Friday with a gravity-defying interception.
The series opener looks back at the Charlotte, N.C., area contest in which the Butler Bulldogs took on the Mallard Creek Mavericks this past Friday at Memorial Stadium.
1. Wolverines pull off grand larceny:
Through nine months, more than 70 programs have come through Butler High School in Matthews -- and with good reason. The program consistently churns out several BCS-level prospects each year, and this class is one of the best for the Bulldogs. But the fact that all of those coaches missed on
Channing Stribling
(Matthews, N.C./Butler), a 6-foot-2, 170-pound athlete who made eight touchdown catches and five interceptions in his first year on defense, is remarkable.
April, 20, 2012
4/20/12
10:30
AM ET
Last Saturday, Georgia picked up commitments from wide receiver
Demarre Kitt
(Tyrone, Ga./Snady Creek) and cornerback
Reggie Wilkerson
(Citra, Fla./North Marion). Later that afternoon, rumors and texts were flying around that wide receiver
Uriah Lemay
(Matthews, N.C./Butler), had also committed to the Bulldogs on G-Day.
As hard as it might be to believe, that recruiting rumor was wrong.
"I did not commit," Lemay told DawgNation on Thursday night. "I think the way the rumor came out was that Coach [Mark] Richt had wanted to talk to a couple of the prospects before the day got started. Head coaches like to do that. And I believe that there was another one going around before I went into the room, that some other kid had committed. And then there were a few coaches that came up and asked me if I had talked to Coach Richt yet or if I had a chance to go see him. Once I said 'Yes,' I was out there with some other recruits and I am just assuming it started spreading around then. I got a couple texts."
To continue reading this article you must be an Insider
Peach State: Top Tier Recruiting Ground?
SEC SCOREBOARD
Thursday, 9/3
Saturday, 9/5