Georgia Bulldogs:

Rajion Neal
October, 9, 2013
10/09/13
7:00
AM ET
ATHENS, Ga. -- One of the prevailing images from last Saturday's win against Tennessee was Georgia's players dogpiling on top of
Marshall Morgan
to celebrate his game-winning 42-yard field goal in overtime.
It capped a day where the sophomore claimed the SEC's special teams player of the week award for the second straight week after booting the longest field goal in Neyland Stadium history, a 56-yarder in the first quarter, and the game-winner in OT. But it wasn't much fun to be in Morgan's position at the time.
[+] Enlarge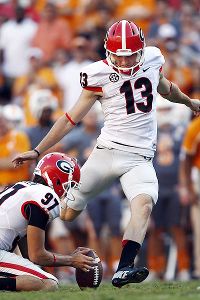 AP Photo/Wade PayneGeorgia kicker Marshall Morgan kicked a 56-yard field goal against Tennessee, the longest on the road in school history.
"I was trying to get them off me," said Morgan, whose Bulldogs (4-1, 3-0 SEC) host Missouri (5-0, 1-0) on Saturday. "That's a lot of weight. I've got asthma."
Otherwise, the Bulldogs' special-teams effort was memorable for the wrong reasons, continuing what has been a season-long trend.
Collin Barber
had a punt blocked for a touchdown -- the second time that has happened this season -- and
Blake Sailors
received a five-yard penalty for defensive delay of game after Georgia forced a third-quarter punt, giving Tennessee a fourth-and-1 that prompted the Volunteers to instead go for a first down.
Vols running back
Rajion Neal
then broke a 43-yard run that set up his game-tying touchdown run when Georgia's defense could have been off the field if not for the rarely-seen penalty.
"If you make a movement that it looks like you're trying to get somebody to jump offsides, if they jump offsides, it's on the defense. It's on us in that case," Georgia coach Mark Richt said. "I've never really seen that happen before and it was pretty crucial, obviously. We had a great stop and they were in a position to punt. I think it was a fourth-and-1 or less and they get the long run. A lot of bad plays happened after that point, and we learned a lesson. Can't do it."
Quayvon Hicks
-- one of three protectors in Georgia's punt shield lineup along with
Arthur Lynch
and
Josh Dawson
-- said there was a miscommunication on the play and accepted blame for the Tennessee block.
"I put that all on me," Hicks said. "I would say it was a miscommunication, but it was something that could have been prevented. It will be something that we're really working on, especially me as a player, to make sure that it doesn't happen in the future."
Hicks could have saved the day if he had blocked
Jalen Reeves-Maybin
before he darted through to deflect Barber's punt, but front-line blocker
Leonard Floyd
also barely got a hand on Reeves-Maybin.
Their collective whiff allowed the Tennessee rusher to break through, and Lynch said the decibel level in Neyland Stadium played a direct role in the miscommunication.
"It's so much easier going out and practicing and doing it, even if it's full-speed practice because you kind of have that communication barrier and it really was a lot louder than I think a lot of people thought," Lynch said. "
Lucas Redd
looked at me and was like, 'I had to read your lips.' That was one of the things that you just can't have those types of setbacks. I think we've cleaned it up."
A skeptic might point out that Georgia has vowed to clean up its special-teams errors several times recently, only to see another mistake lead to an opponent touchdown. Asked what he thinks the team needs to do to remedy those miscues, Hicks was direct in his response.
"It's really not what we think, it's what we're going to do," Hicks said. "Thinking, that's a part of football that really doesn't matter. I think Coach can only do so much. I know we're a very close team, so we're going to do what we have to do this week to make sure that not only in the Missouri game, but here on out, that that doesn't happen anymore. It's just something that could have been prevented. It could have cost us the game."
That seems to be the message that Richt is imparting to his club, as well. Georgia's errors in the kicking game are simply a quality-control issue, where a lack of attention to detail has allowed opponents to steal easy points.
A shaky snap might have cost Georgia the game in its lone loss. The Bulldogs are fortunate that their ensuing mistakes weren't so costly, but they know their luck will likely run out if they don't fix the problems -- and keep them fixed.
"Us as coaches, we've got to do a better job of simulating what's going to happen in the game and coaching and teaching properly where these guys can be more dependable," Richt said. "So it's a two-way street. Coaches gotta coach better, for sure, and the players have got to take on their responsibilities and take care of business.
"That's the way it is in life, so we're learning the hard way, and just by the grace of God the two times we had blocked punts, we still won the game. But the margin for error is just getting slimmer and slimmer."
October, 6, 2013
10/06/13
10:00
AM ET
Saturday's 34-31 overtime win against Tennessee kept Georgia's championship hopes alive, but it might have come at an enormous cost. That's what we'll focus on first in this week's "What we learned."

Injuries might be Georgia's undoing:
The Bulldogs survived on Saturday ... barely ... but what happened at Neyland Stadium might have dealt a devastating blow to Georgia's championship chances. All-SEC tailback
Todd Gurley
didn't play and should be back before long, but fellow running back
Keith Marshall
might not be that lucky. Marshall and receivers
Michael Bennett
and
Justin Scott-Wesley
all suffered what appeared to be serious knee injuries. With wideout
Malcolm Mitchell
already out for the season with a knee injury, the Bulldogs could be without many of their top offensive playmakers for an extended period of time. Coach Mark Richt will likely reveal the extent of the damage -- or as he called it after Saturday's win, "carnage" -- on his Sunday evening teleconference.
Special teams/defensive issues remain:
A feeling of impending doom no doubt swept over Georgia's fan base when the numerous injuries caused the Bulldogs' potent offense to start sputtering. That's because the Bulldogs were forced to lean more heavily on their sloppy defensive and special teams units. Tennessee blocked a punt for a touchdown, got a key penalty against
Blake Sailors
on an impending punt after a third-down stop -- then turned a fourth-and-short run into a 43-yard gain by
Rajion Neal
-- and built plenty of late momentum against Georgia's defense. The Vols scored 28 points and rolled up 277 yards after halftime and came within inches of scoring a touchdown in overtime, but
Alton Howard
's dive toward the pylon saw him fumble the ball through the end zone for a touchback just before breaking the goal line.
Freshmen can run:
Little-used tailbacks
J.J. Green
and
Brendan Douglas
had to take over with injuries sidelining stars Marshall and Gurley. But the two freshmen delivered, with Green (17 carries, 132 yards) pacing Georgia's running game throughout the afternoon. Douglas scored Georgia's first touchdown of the fourth quarter and also made a key 32-yard catch and run to Tennessee's 13-yard line, setting up
Aaron Murray
's game-tying touchdown pass to
Rantavious Wooten
with 5 seconds remaining. It was a terrible position for the freshmen to be put in on Saturday, but Georgia had to depend on them and they responded with a number of key plays that made a difference in the outcome.
August, 12, 2013
8/12/13
12:30
PM ET
Here's some required SEC reading to help get you through the rest of your Monday.
December, 11, 2012
12/11/12
7:00
AM ET
Editor's note: Each day this week, we will look back at a memorable moment or series of events from Georgia's 2012 season. Today we remember the Georgia defense's fourth-quarter stands that preserved a seven-point win against Tennessee.
ATHENS, Ga. -- Perhaps it seems strange to highlight a defense's performance in a game where the opponent scored 44 points, but the Georgia-Tennessee game from late September serves as an exception to that logic.
[+] Enlarge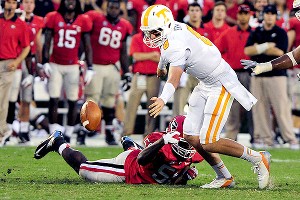 Scott Cunningham/Getty ImagesJordan Jenkins' strip of Tyler Bray was one of three fourth-quarter turnovers the Bulldogs forced in a 51-44 victory over the Vols on Sept. 29.
Sure, the Volunteers scored more points that afternoon than any of Georgia's other 2012 opponents, but it should be noted that Tennessee scored its first touchdown off an interception return and had additional touchdown drives of 8 and 18 yards following Bulldogs turnovers.
Nonetheless, it was far from a perfect day until the end.
Tennessee accumulated 478 yards of total offense and was within striking distance in the fourth quarter when Vols tailback
Rajion Neal
barreled into the end zone to cut Georgia's lead to 51-44 with 8:56 to play. That's when Georgia's defense awakened to stop
Tyler Bray
and the Tennessee offense in their tracks, forcing turnovers by Bray on each of the Vols' last three possessions to keep the lead at seven points.
October, 1, 2012
10/01/12
2:42
PM ET
ATHENS, Ga. -- If ever the old line "survive and advance" applied, it would have been after Georgia's mistake-filled 51-44 victory over Tennessee. But the Bulldogs did survive -- and that keeps them undefeated entering Saturday's SEC East showdown at South Carolina.
Let's review some of what I learned from watching a recording of CBS' broadcast of UGA-UT in this week's "Upon Further Review."
[+] Enlarge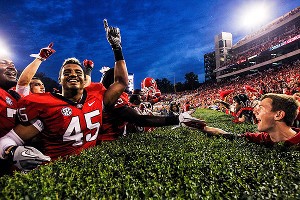 Daniel Shirey/US PresswireGeorgia linebacker Christian Robinson (45) celebrates after the Bulldogs' win over Tennessee on Saturday.
" I'm convinced that the biggest play in the game that didn't involve a score or a turnover was when
Malcolm Mitchell
failed to field a Tennessee punt in the second quarter and it wound up rolling to the Georgia 1-yard line.
Georgia is up 27-10 at this point. Everything is working right. The offense is absolutely crushing Tennessee and the defense hasn't given up a touchdown yet -- the Volunteers' lone TD at this point is
Byron Moore's
35-yard interception return for a touchdown -- but the train starts to veer off the tracks on this possession that could easily have started out near the Georgia 20 instead of up against the goal line.
The punt initially landed at the Georgia 17, and Mitchell was at the 11 at the time and clearly was indecisive about whether to try to field it. He thought about grabbing it at the 10 and again at the 5 (which would have been a really poor decision by that point), but opted to stay away.
Prophetically, CBS' Gary Danielson said immediately afterward, "It might not pop up in this football game -- might not, but it could. But to beat the best, you've got to field those."
Georgia's offense went three-and-out -- and I should note here that on third-and-3, if Mitchell had done a better job blocking his man,
Justin Coleman
, on a
Keith Marshall
run to the right, perhaps Marshall could have picked up a first down instead of Coleman tackling him for a 1-yard gain and forcing a punt. Bad sequence there for Mitchell, who was later replaced by
Rhett McGowan
on punt returns.
" Georgia's offensive balance has, in my opinion, been what makes the Bulldogs so difficult to defend. It's tough for an opponent to give
Aaron Murray
and the passing game the attention it deserves when it has to focus on Marshall and
Todd Gurley's
ability to make big things happen in the running game. The freshmen and the offensive line deserve a ton of credit again, as there were several runs in which they reached the secondary untouched -- seriously, I don't think a single Tennessee player laid a hand on Marshall on either his 75- or 72-yard touchdown runs -- and that is obviously a bad sign for defenses, given their ability to make people miss in the open field.
Speaking of which, individual blocking credits on Marshall's two long TD runs: 75 yards in the first quarter (
Merritt Hall
,
Kenarious Gates
,
David Andrews
), 72 yards in the third quarter (
Jay Rome
and
Mark Beard
cleared a huge hole and Andrews picked off linebacker
A.J. Johnson
to get Marshall loose).
That said, it will be interesting to see how well Georgia moves the ball when it's obvious to everyone that they want to move it on the ground. The Bulldogs were completely ineffective in such a situation in the fourth quarter against Tennessee. They had three different opportunities to mount drives that would run some clock after Tennessee's final touchdown made it a one-score game with 8:56 to play. Georgia's final three drives: four plays, 12 yards, 1:25 time of possession; three plays, 4 yards, 1:49; three plays, minus-2 yards, 1:07. They're fortunate that the defense bowed its neck and UT quarterback
Tyler Bray
made some big errors, because that was really bad.
At the end of three quarters, Georgia had 538 yards of total offense. In the fourth quarter alone, the Bulldogs picked up one first down and ran 13 plays for 22 yards (20 passing, eight carries for 2 yards). I will say that Murray made a great third-down pass over a leaping
Curt Maggitt
-- I mean a picture-perfect throw against a blitz that would have gone for a huge gain, if not a touchdown -- but it went straight through
Rantavious Wooten's
hands at the 50 and Georgia was forced to punt. A completion there probably ices the game.
" Conversely, It was interesting to see how easily Tennessee moved the ball on the ground late in the game. At one point between the Volunteers' last touchdown drive and the one that followed, they ran the ball on eight straight plays for 41 yards and three first downs and a touchdown. Every play went for positive yardage.
I'm sure Georgia was trying to respect the passing game in that situation -- and it didn't help that defensive end
Abry Jones
was clearly not healthy yet -- but Todd Grantham's guys are obviously not taking away the run first like they did a year ago. There was a 218-yard difference between Tennessee's output on the ground in this game (197 rushing yards, right at 5 yards per carry) vs. its performance against Georgia last year (minus-21).
With South Carolina's running game and an improving Marcus Lattimore ahead, that's a huge red flag for Georgia's defense.
" It would be unfair to describe Bray's performance as awful, but it definitely left a lot to be desired. He passed for 281 yards and two touchdowns and made some crazy-good throws -- including a deep ball where a wide-open
Cordarrelle Patterson
had beaten
Branden Smith
and probably would have scored a touchdown, but he dropped the ball.
But Bray also made some horrendous mistakes, and not just by turning the ball over on each of the Vols' last three possessions. Those were all bad plays, though. Both passes that
Sanders Commings
intercepted were poor throws -- one to the inside instead of outside to the sideline where Commings couldn't have picked it; one was behind
Zach Rogers
, who tipped it up into the air and allowed Commings to make the interception; and he let
Jordan Jenkins
slap the ball from his hands after the pocket collapsed, causing a fumble that
John Jenkins
recovered.
Plus he missed open receivers on a couple of crucial throws that could have altered the course of the game. Early in the third quarter when Georgia was reclaiming control, Bray twice threw inaccurately on third-down passes that could have extended drives. On Tennessee's first drive of the second half, he threw behind a wide-open
Justin Hunter
, who had beaten Smith, and the ball fell incomplete.
On the next drive, he nearly threw an interception to
Alec Ogletree
on back-to-back plays and whistled a pass to Hunter that barely missed him. Commings had fallen down in coverage and Hunter was open.
Marc Deas
blocked the ensuing punt and Georgia capitalized by driving for another touchdown and going up by two scores. Huge momentum change there.
" Speaking of that play, credit Deas for recognizing a tendency by Tennessee wingback Moore on the play and taking advantage of it. He told me after the game that Moore had been overstepping on his drop as he blocked and that left a crease for Deas to attack the punter. Sure enough, Deas started out on the far left on this punt, Moore dropped too deep and Deas cut inside him toward punter
Matt Darr
. Moore got a piece of Deas' left shoulder, but he was still able to get his right arm free to block the kick. Very well done.
" Commings had a nice game. I think that SEC Co-Defensive Player of the Week award he won today was well-deserved.
Damian Swann
had Georgia's third interception and it was also highly impressive. Ogletree deflected a pass across the middle, tipping it high in the air, and Swann absolutely skied over Smith and Patterson and caught the ball with one hand at midfield. Tremendous athleticism there.
" Danielson saw Murray's first touchdown pass to
Michael Bennett
coming even before Tennessee did. Bennett was lined up in the slot and Tennessee safety Moore had given him about an 8-yard cushion, prompting Danielson to draw a circle on Bennett on the screen just before the snap. Sure enough, he was able to cut in front of the UT safety and Murray whistled a TD pass to him for an easy score that helped Georgia go up 37-30. Good recognition there by Murray -- and by Danielson.
" The final score and the way things played out makes this an obvious statement, but this was a really sloppy game by Georgia. It seemed like I was consistently writing down about so-and-so blowing a blocking assignment or covering the wrong receiver or dropping a pass or not making an interception that was there for the taking. They can't afford to make this many errors at South Carolina or it won't work out so well.
A few examples:
Bacarri Rambo tried to jump a pass route and went for an interception in first quarter. He doesn't get to the ball in time and Tennessee's Rogers makes a catch at the Georgia 35. He probably would have scored a touchdown there, except that he fell down. Rambo did come back with a big third-down stop to end that drive and force a field goal, however.
On Rajion Neal's go-ahead touchdown catch in the second quarter, three Georgia players covered Patterson as he ran toward the end zone and nobody covered Neal. Danielson said it looked like a blown assignment by linebacker Amarlo Herrera -- and it looked that way to me, too, although I can't be sure -- although Herrera and safety Shawn Williams seemed to have a disagreement after the play about who was supposed to be where.
October, 1, 2012
10/01/12
9:00
AM ET
Separation Saturday is approaching in the SEC ... but here are where our power rankings look to start the week:
1. Alabama (5-0; LW: 1):
The Crimson Tide's offense didn't look great against Ole Miss and the defense actually gave up
two
touchdowns, but Alabama left the weekend with a 19-point win. Alabama looked a little lethargic out on the field, but the Rebels put up a better fight than most expected. This team has talked about cleaning up execution issues on offense and will get an extra week to do that with the bye here.
2. LSU (5-0; LW: 2):
The Tigers are skating on thin ice in our power rankings. The previous week's sluggish win over Auburn was one thing, but the Tigers really struggled against Towson. What was most surprising about LSU's performance was how poorly the Tigers defended the run, as Towson gained 188 yards on the ground. One positive was that we finally saw more of a downfield passing game from
Zach Mettenberger
, and
Odell Beckham Jr.
stepped up in a big way at receiver.
3. Georgia (5-0; LW: 3):
The Bulldogs could be considered 2b after the way LSU played, but Georgia's defense really struggled against Tennessee. We all knew the Vols had the potential to hurt this group, but Georgia's defense was absolutely gutted for 478 yards and gave up 37 of the Vols' 44 points. Things have to be cleaned up, but with the way that offense is playing, it's going to be tough for teams to keep up in a shootout with the Dawgs.
4. South Carolina (5-0; LW: 4):
The Gamecocks gave their fans a bit of a scare after being down 10 to Kentucky at the half Saturday. All was forgiven after a dominating second half during which South Carolina outscored the Wildcats 31-0.
Connor Shaw
continues to throw the ball with splendid accuracy, while
Marcus Lattimore
is looking stronger and stronger out there. However, the Gamecocks can't afford a sluggish start against Georgia this weekend.
5. Florida (4-0; LW: 5):
The Gators were off this weekend, so players got some much-needed rest and time to heal. It also gave Florida a little extra time to scout No. 4 LSU, which travels to the Swamp on Saturday. Florida has to feel a little more confident about this weekend after watching another ugly win by LSU. But expect the intensity to be way up for the Tigers. Saturday should be pretty fun to watch.
6. Mississippi State (4-0; LW: 6):
The Bulldogs were on their bye over the weekend. Quietly, the Bulldogs have had a very impressive start to the season. Their past two games should have been won by bigger margins, but this team is still undefeated and has the potential to be a 6-1 or 7-0 team heading into the last weekend of the month. On the season, only five teams have trailed for less time than Mississippi State.
7. Texas A&M (3-1; LW: 8):
The Aggies just keep pounding away on offense.
Johnny Manziel
and his crew walked all over Arkansas' defense, racking up 716 yards of offense and 58 points in their blowout win against the reeling Razorbacks. We know that Texas A&M can score points and generate a lot of yards, but we saw a little too much bend out of A&M's defense against the Hogs, as they surrendered 515 yards to Arkansas.
8. Tennessee (3-2; LW: 7):
We saw a lot more fight out of Tennessee when Georgia went up 17 in the second quarter. The Vols had a couple of real chances to win in Athens, Ga., over the weekend, but late turnovers doomed them. Cue the questions surrounding
Tyler Bray
in big games. The defense looked overwhelmed and lost at times, but this team can take solace in one thing: It appears Tennessee has found a real SEC running back in
Rajion Neal
.
9. Missouri (3-2; LW: 9):
James Franklin
was better throwing the ball on Saturday, but this team has some offensive issues. The Tigers converted just 1 of 11 third downs and were outgained 395-346 against UCF on Saturday.
Kendial Lawrence
rushed for 104 yards, but Mizzou finished the day with a total of 89 rushing yards, thanks to Franklin's minus-18 yards on the ground. There are just too many athletes on this offense for the Tigers not to be explosive. Right now, they are hurting to find consistent firepower.
10. Ole Miss (3-2; LW: 10):
Yes, the Rebels lost, but it's clear this team is more invested and tougher than the past two teams Ole Miss has thrown out there. The Rebels gave Alabama a little bit of a challenge and made it to the end zone twice against Alabama's vaunted defense. This team has to clean up a lot on defense, but that offense has the ability to carry this team to a few more wins this season ... maybe even a bowl berth.
11. Auburn (1-3; LW: 11):
The good news for the Tigers is that they got to rest this weekend. The hope is that Auburn's defense takes the momentum it gained from its performance against LSU into this weekend's key game against Arkansas. Arkansas can move the ball, and Auburn's defense struggled mightily for most of September. This is a must-win for both teams and with the way Arkansas' defense has played, Auburn has to feel more comfortable with what its struggling offense can do.
12. Vanderbilt (1-3; LW: 13):
The Commodores were off as well, and extra time had to be devoted to tweaking some of the offense. Vandy enters its game at Missouri with the SEC's No. 11 offense and we haven't seen the kind of explosion we saw last year. It doesn't help that there's a quarterback controversy in Nashville. Despite what happened in the Georgia game, the Commodores still own one of the league's top defensive units and provide a tough matchup for Missouri this weekend.
13. Arkansas (1-4; LW: 12):
Things just get worse and worse for the Razorbacks. If
Tyler Wilson
thought his team quit against Alabama, you have to wonder how he feels after the way his Hogs were run out of College Station, Texas, over the weekend. That defense is dreadful and this team is just lost. The offense put up a lot of yards against Texas A&M, but couldn't finish drives and never developed any consistency running the ball. Losing to Auburn this weekend would pretty much end any ounce of hope for a bowl game this year.
14. Kentucky (1-4; LW: 14):
For two quarters, Kentucky was on top of the world. Then, things fell apart, and South Carolina scored 31 straight points on the Wildcats. Things just aren't clicking for the Wildcats, and quarterback
Maxwell Smith
is injured again. This time, he has an ankle injury. This offense just can't do much unless he's in, and he can't stay healthy. The defense has to get tougher, as well. Joker Phillips' hot seat in Kentucky isn't cooling off one bit.
September, 30, 2012
9/30/12
7:00
AM ET
ATHENS, Ga. -- Georgia fans no doubt came away from Saturday's 51-44 win against Tennessee breathing a sigh of relief -- and perhaps questioning what they thought they knew about the fifth-ranked Bulldogs.
Georgia (5-0, 3-0 SEC) scored 40-plus points for the fifth straight game, but huge errors allowed what was shaping up as a blowout win to turn into a nail-biter. And the Bulldogs know they're fortunate to have survived those errors against an offensive team as explosive as Tennessee (3-2, 0-2). They might not be so lucky next time if such errors occur again.
[+] Enlarge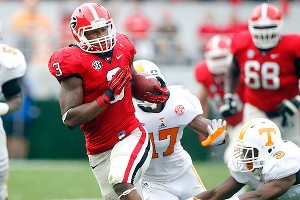 AP Photo/John BazemoreTodd Gurley (above) and Keith Marshall were off to the races early and often against Tennessee.
Let's review some of the highlights and low-lights of the game from a Georgia perspective:
To continue reading this article you must be an Insider
September, 29, 2012
9/29/12
5:56
PM ET
Stat of the half: 20-0.
Georgia seemed to be on the way to a blowout win when it went up 27-10 early in the second quarter, but Tennessee mounted a 20-0 run and actually took the lead before Georgia kicker
Marshall Morgan
's 50-yard field goal at the buzzer made it 30-all at the break. The Volunteers capitalized on a pair of Bulldogs turnovers deep in Georgia territory to score touchdowns that gave them a brief lead.
Player of the half:
Todd Gurley
. Although he made a crucial mistake on a kickoff return that forced the Bulldogs to start a drive at their own 1, Gurley had an outstanding half otherwise. He went to halftime with 11 carries for 90 yards and scored touchdowns of 2, 1 and 51 yards.
What's working for Georgia:
Georgia outgained Tennessee 234 yards to 68 in the first quarter as the Bulldogs' red-hot offense staked them to another big early lead. A week after jumping out to an early 27-0 lead against Vanderbilt, Georgia led Tennessee 27-10 within the first few minutes of the second quarter after Gurley's 51-yard touchdown run.
What's not working for Georgia:
The Bulldogs' offense has practically given away 20 points. Quarterback
Aaron Murray
had a first-quarter pass deflected by
Corey Miller
and intercepted by
Byron Moore
, who then returned it 35 yards for a touchdown. And late in the second quarter, Murray lost a fumble at Georgia's 8 after being sacked, setting up a
Tyler Bray
touchdown pass to
Zach Rogers
that made it 27-23. Finally
Keith Marshall
lost a fumble at the Georgia 18, setting up a Bray touchdown pass to
Rajion Neal
that gave the Vols a shocking 30-27 lead.
September, 24, 2012
9/24/12
2:51
PM ET
Another week and it still remains pretty clear Alabama is top dog in the SEC and nationally.
But has our No. 2 team fallen after a sloppy win on the road?
1. Alabama (4-0; LW: 1):
I feel like a broken record, but Alabama dominated yet again Saturday. It's hard to find any real weaknesses in this team. Although the backups did give up a touchdown to Florida Atlantic, so there's that.
2. LSU (4-0; LW: 2):
The Tigers looked pretty sloppy offensively in a tough 12-10 win against Auburn Saturday. LSU probably will have its name dragged through the mud after its play this weekend, but all good teams have those hiccup games. Quarterback
Zach Mettenberger
has to play better, but the defense still looks extremely dominant. The goal now is to not let that hiccup bleed into future games.
3. Georgia (4-0; LW: 3):
This Bulldogs offense has been really fun to watch through the first four weeks. Quarterback
Aaron Murray
has looked like a real Heisman candidate at times, while freshman running back
Todd Gurley
just gets better every time he gets on the field. Georgia completely overwhelmed Vanderbilt and heads into a fun showdown with Tennessee with a load of confidence.
4. South Carolina (4-0; LW: 4):
Connor Shaw
has proven he's a true player for the Gamecocks. He battled through a hairline fracture in his throwing shoulder to complete 20-of-21 passes in a blowout win against Missouri. You're starting to see more balance from this Gamecocks offense and that will be very important as SEC play continues. The defensive front is also getting stronger each week.
5. Florida (4-0; LW: 5):
The Gators seem to be growing up with each week. After back-to-back tough road wins, Florida shut out Kentucky at home and now has two weeks to prepare for LSU. This really has become more of the blue-collar team Will Muschamp wants, but we'll really find out how tough Florida is when LSU ventures into the Swamp.
6. Mississippi State (4-0; LW: 6):
Dan Mullen wasn't exactly pleased with the effort the Bulldogs gave in their lackluster 30-10 win against South Alabama, but a win is a win these days. This team can't be too happy with the way it has played in the past two weeks, but it's still undefeated. It's obvious players are losing focus against lesser opponents, and that should change with SEC play starting back up next week.
7. Tennessee (3-1; LW: 7):
There were some tense moments in the Vols' win over Akron Saturday, but the second half belonged to Tennessee.
Tyler Bray
showed off that cannon of a right arm, passing for 401 yards and four touchdowns. The running game also got going with
Rajion Neal
rushing for a career-high 151 yards. The key for this team is to duplicate those kinds of efforts against SEC opponents.
8. Texas A&M (2-1; LW: 9):
Man, the Aggies know how to use that football, right? In the past two games (both wins), A&M has averaged 526.5 yards and 59 points. Sure, you can point your nose up at the competition, but those are pretty good numbers for a team dealing with a brand new coaching staff and philosophy. Let's see how this offense performs with the SEC slate coming up.
9. Missouri (2-2; LW:8):
The Tigers just didn't put up much of a fight against South Carolina. Both the offensive and defensive lines got pushed around and it's looking more and more like the size up front is an issue for this team. Mizzou has too much talent offensively not to get the ball moving, but the Tigers failed to get big plays against South Carolina. You have to wonder what sort of offensive changes might come heading into the Central Florida game.
10. Ole Miss (3-1; LW: 11):
The Rebels really rebounded from that Texas blowout with a 39-point shutout of Tulane. Through four games, Ole Miss is third in the SEC in total offense (488 yards per game) and is averaging 36.8 points per game. This team has to cut down on the turnovers and the defense still needs some work, but the product on the field is much better than it has been the past two years.
11. Auburn (1-3; LW: 10):
The Tigers suffered a tough loss at home to LSU over the weekend. It was a game in which Auburn played its toughest ball of the season, but just didn't have anything going on offense. Like, absolutely nothing. The defense made strides, but the offense is still a major concern. Defense wins championships, but you have to put points on the board and move the ball, and Auburn has issues doing both, scoring only 20 points in two SEC games.
12. Arkansas (1-3; LW: 12):
Things just aren't working in Fayetteville, Ark.
Tyler Wilson
returned against Rutgers, but he couldn't help a defense that gave up 525 yards in the loss to the Scarlet Knights. Arkansas has now lost three straight -- all in the state of Arkansas -- and it's fair to say that leadership is lacking inside that locker room. There shouldn't be any smiling this week as the Hogs prepare for Texas A&M.
13. Vanderbilt (1-3; LW: 13):
The Commodores had nothing in the tank against Georgia. For a team that is supposed to have a different attitude, Vandy lacked any form of passion in its 45-point loss to the Bulldogs. The defense was shredded and the offense just never got into rhythm. This team is also dealing with quarterback issues. You never know who is going to be throwing the ball for the Commodores, and that's not a good thing.
14. Kentucky (1-3; LW: 14):
Nothing seems to be going right for the Wildcats.
Maxwell Smith
missed Saturday's loss to Florida with a bum shoulder and
Morgan Newton
did noting to help in Smith's place. Kentucky's offense has lacked any sort of consistency this season and the defense has been walked over. The bad news is that things get a lot tougher for the Wildcats with the teeth of the schedule coming up.
July, 17, 2012
7/17/12
9:35
PM ET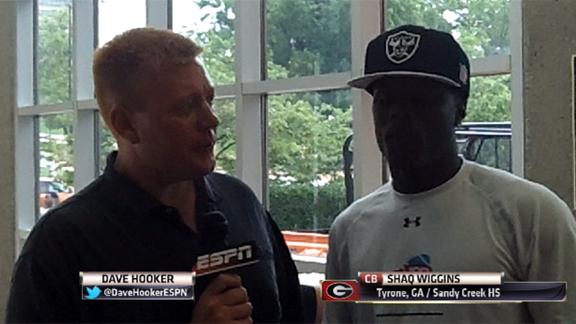 KNOXVILLE, Tenn. --
Shaq Wiggins
couldn't help but wonder what might have been.
Had Tennessee not had a mass exodus of coaches following the 2011 season, the nation's 36th overall prospect could easily see himself draped in orange one day.
"It was Tennessee, Virginia and Michigan," he said of his leaders earlier this year. "If Coach (Lance) Thompson had stayed here, I'd probably be committed right now."
To continue reading this article you must be an Insider
Peach State: Top Tier Recruiting Ground?
SEC SCOREBOARD
Thursday, 9/3
Saturday, 9/5