Georgia Bulldogs:

Paul Johnson
November, 29, 2013
11/29/13
7:00
AM ET
ATHENS, Ga. --
Garrison Smith
is prepared for the inevitable and knows what he has to do against Georgia Tech on Saturday -- something Florida's defenders struggled to accomplish in last Saturday's upset loss against a similar Georgia Southern offense.
[+] Enlarge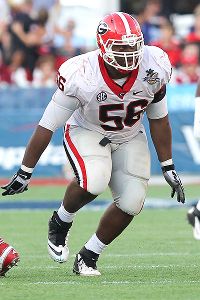 Mark LoMoglio/Icon SMIGarrison Smith and Georgia's defensive line will have to be disciplined taking on Georgia Tech's option offense.
"You've just got to use your hands and keep [the offensive linemen] off your legs. That's what you've got to do," the Georgia defensive lineman said. "You're going to get cut [blocked]. That's going to happen. But you've just got to keep playing."
Smith's first substantial playing time actually came as the result of a questionable cut block that knocked DeAngelo Tyson out of Georgia's 2011 win over the Yellow Jackets. Smith, then a green sophomore, replaced Tyson in the lineup and recorded seven tackles and 1.5 tackles for a loss, earning SEC Co-Defensive Lineman of the Week honors in the process.
Defensive players don't like dealing with triple-option offenses like Georgia Tech (7-4) and Georgia Southern run, and specifically don't like having to keep their eyes out for pesky offensive linemen who consistently dive at their knees.
"It's just like being out on the streets: you've got to keep your head on a swivel and watch your surroundings," Smith said. "Protect yourself at all times."
Otherwise you could suffer Tyson's fate. Or even if you manage to protect yourself, you might fail to fill the proper gap and be the goat when the Yellow Jackets break a long run.
That was the issue for Florida's defense last weekend against Georgia Southern, when the Eagles ran 54 times for 429 yards and upset the Gators 26-20.
Afterward, Gators coach Will Muschamp admitted that the challenges presented in defending that scheme leveled the playing field for the FCS Eagles.
"That's why a lot of these schools run it -- because it takes talent out of the equation," Muschamp told reporters this week. "A lot of talented guys don't like having somebody at their knees every snap, either."
Georgia (7-4) has improved in each successive game against Georgia Tech's option since Todd Grantham became defensive coordinator in 2010. That first year, the Yellow Jackets ran 77 times for 411 yards and Georgia barely held on for a 42-34 win. The Bulldogs have won easily in each of the last two seasons, with Tech running 53 times for 243 yards in a 31-17 loss in 2011 and 67 times for 302 yards in last season's 42-10 defeat where their only touchdown drive came against reserves in the fourth quarter.
The problem for Georgia, however, is that only three regulars -- Smith, cornerback
Damian Swann
and outside linebacker
Jordan Jenkins
-- have played much against the Yellow Jackets' unique attack. It's entirely different from what Georgia's players and coaches see the rest of the season, so that real-time experience is valuable for all parties.
[+] Enlarge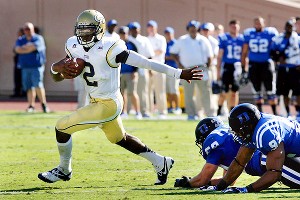 Mark Dolejs/USA TODAY SportsVad Lee and Georgia Tech's offense are averaging more than 300 yards rushing per game this season.
"I think the more you see anything, the better you feel about it from that standpoint," Grantham said. "But they're going to mix up what they do. Every year they try to change up and tweak it.
"But the bottom line, it gets down to players making plays, players executing, being where they need to be, playing with good pad level, playing physical and doing all the things you need to do to stop that kind of offense. Because it's really a team-oriented defense to play against, meaning you've got to take care of your assignment and trust someone's going to be somewhere else because if you don't do that, then you create a seam and that's when they get the explosive plays."
Tech has largely been successful in that regard. As per usual under Coach
Paul Johnson
, the Yellow Jackets rank among the national leaders in rushing offense (fourth at 316.1 yards per game). They have scored 16 touchdowns -- 11 rushing, five passing -- that covered at least 20 yards and rushed for 200-plus yards in every game but one. In fact, they've rushed for more than 250 in all but their losses to Virginia Tech (129 yards) and BYU (237).
As long as Georgia's first-time starting quarterback
Hutson Mason
and his cohorts keep Georgia's high-scoring offense on track, the Bulldogs don't need to hold Tech to fewer than 200 rushing yards to win. If the Bulldogs keep grinding against Tech's deliberate attack and consistently arrive where they're supposed to be to make stops, they should survive.
"Everybody's got to do their job," said Georgia linebacker
Ramik Wilson
, the SEC's leading tackler with 119 stops. "Me and Amarlo [Herrera], the inside-box guys, we've got to stop the dive. And we've got two outside linebackers that have got to stop the quarterback. And we've just got to make the plays. If we don't make the plays, we get gashed, so we've got to do our job and everything should be all right."
That's easier said than done, however, as Muschamp can attest.
"You've got to have your offense moving and scoring because as long as [Tech's offense is] on track and on schedule, it's pretty effective," Grantham said. "It's when there's a separation and they're off track, whether it be down-and-distance or score, then it becomes more difficult. So that's kind of a team thing right there. Fortunately we've been able to do that the last couple years. But it's a challenge to play it."
November, 26, 2012
11/26/12
7:00
AM ET
ATHENS, Ga. -- Let's take a look at three key plays from No. 3 Georgia's 42-10 win against Georgia Tech on Saturday.

Deep ball to Mitchell

The score: Georgia leads 14-3
November, 22, 2012
11/22/12
7:00
AM ET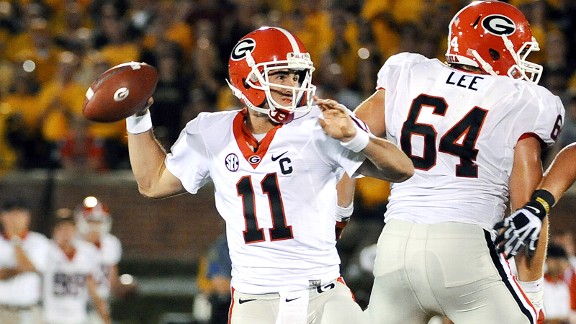 Dak Dillon/US PresswireFourteen yards passing Saturday would give Aaron Murray an SEC-first 3 straight 3,000-yard years.
ATHENS, Ga. -- If Georgia wants next Saturday's SEC championship game -- possibly a matchup between the third-ranked Bulldogs (10-1) and the No. 2 Alabama Crimson Tide (10-1) to determine which team plays for a BCS title -- to truly mean something, it still has a hurdle to clear.
A loss to rival Georgia Tech (6-5) on Saturday wouldn't remove Georgia's chance to win a conference championship, but it would rank among the most devastating defeats in Mark Richt's tenure because it would knock the Bulldogs out of national championship contention.
Georgia Tech has lost just once since dumping defensive coordinator Al Groh at midseason. So the Bulldogs cannot afford to look past the Yellow Jackets -- and Richt has made that point clear throughout the week.
To continue reading this article you must be an Insider
November, 20, 2012
11/20/12
7:00
AM ET
ATHENS, Ga. -- Georgia fans are busy working out their team's BCS title chances, but the third-ranked Bulldogs (10-1) still have a game to play before an SEC championship game victory could potentially allow them to play for a national title.
Standing in their way is a Georgia Tech team (6-5) that recovered from a 2-4 start to claim a spot in next week's ACC championship game against Florida State. The Yellow Jackets' option offense will create headaches for the Bulldogs, but if Georgia beats its in-state rival for the 11th time in 12 tries under coach Mark Richt, the following week's SEC title game will have major national implications for Richt's team.
Record
: 6-5 (5-3 ACC)
To continue reading this article you must be an Insider
November, 15, 2012
11/15/12
7:00
AM ET
ATHENS, Ga. -- When an option offense is clicking, it has the ability to rack up enormous play totals.
[+] Enlarge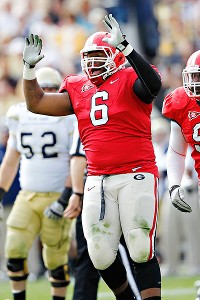 Joe Robbins/Getty ImagesExpect John Jenkins and his defensive linemates to be rotated liberally during the next two games against triple-option offenses.
Look no further than Georgia Tech's whopping 92 plays from its 2010 game against Georgia for evidence.
And for that reason, Georgia's defensive coaching staff must at least be wary of the possible need to rotate players more liberally than usual in Saturday's game against Georgia Southern (8-2), as taking on blocks down after down can be a fatiguing process if the defense is struggling to get stops.
"We kind of go by the game, but we traditionally roll our defensive linemen anyway, so we're going to work to keep those guys fresh and play them that way," Bulldogs defensive coordinator Todd Grantham said.
"Your rotations happen more often [against the option]," he added. "We kind of have a rotation with our guys to try to keep them fresh. It's just because of the amount of plays that they can get that it happens a little more often."
Georgia Southern's and the highly similar Georgia Tech flexbone offense that the Bulldogs (9-1) will face the following week are content to chip away with short option runs over and over until eventually breaking a big play on the ground.
It doesn't always produce a huge play total -- at 66.6 plays per game, Georgia Southern is actually averaging fewer plays than Georgia's 67.4 this season -- but it's always a distinct possibility. Georgia Tech is averaging 68.75 plays against Georgia -- with its offensive play count ranging between 51 in 2009 and 92 the next season -- in four meetings since Paul Johnson brought his unique rushing attack to the Flats.
November, 13, 2012
11/13/12
7:00
AM ET
ATHENS, Ga. -- Georgia's every-four-years series with Georgia Southern continues Saturday, with the lower-division Eagles ready to serve as a thorn in the Bulldogs' side yet again.
Georgia (9-1) is a perfect 4-0 against the FCS powerhouse Eagles (8-2), but Georgia Southern is known for making the Bulldogs work for the victory. In fact, they scored 28 and 21 points in two games (2004 and 2008) against Georgia since Mark Richt became the Bulldogs' coach.
The Bulldogs are taking this game more seriously than their average matchup against an FCS opponent, practicing in full pads on a rainy Monday evening in order to begin preparing for the cut-blocking element to the Eagles' flexbone rushing attack.
To continue reading this article you must be an Insider
October, 14, 2012
10/14/12
12:17
PM ET
ATHENS, Ga. -- With No. 14 Georgia's regular season at the halfway mark and the Bulldogs taking this weekend off, let's take a look at the good and bad among their six remaining opponents:
THREE UP
1. Florida:
Streaking Florida has been one of the biggest surprises in the SEC this season. After last weekend's upset of defending conference champion LSU, the Gators (6-0, 5-0 SEC) catapulted to No. 4 in the Associated Press Top 25 and avoided a letdown at Vanderbilt.
To continue reading this article you must be an Insider
January, 31, 2012
1/31/12
10:42
AM ET
A few days before national signing day 2012, Georgia entertained many of its top targets for the 2013 class. A team can never start too early in the cutthroat world of recruiting.
One of those top targets is offensive lineman
Brandon Kublanow
(Marietta, Ga./Walton). The old-school brawler has a load of offers already and is picking up more by the week. His offer from Georgia, though, had the talented lineman checking out Athens for Georgia's Junior Day.
"It was good. It was a lot of fun," Kublanow said. "I got to talk to the coaches a lot more and see a lot more. On game day everything happened pretty quickly, you have to get to the stadium pretty quickly. But we had a lot more time."
To continue reading this article you must be an Insider
Peach State: Top Tier Recruiting Ground?
SEC SCOREBOARD
Thursday, 9/3
Saturday, 9/5